Looking for laundry room storage ideas? These are the absolute best ways to get your laundry room looking spotless.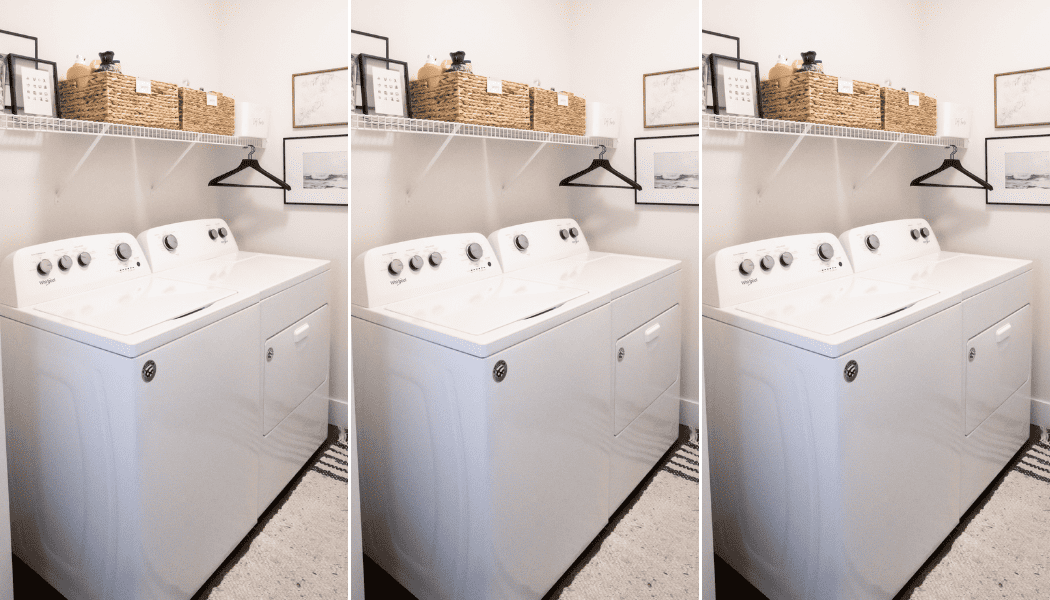 Your laundry room is one space you will use constantly no matter what. So, you might as well make it an organized and functional one!
It's weird but ever since I organized my laundry room I honestly like doing laundry a LOT more. Having all my laundry essentials organized makes it super easy to find what I need and makes the process of doing laundry a lot faster.
If organizing your laundry room is something you are looking to do you are going to need some laundry room storage ideas as well! These storage ideas and products are the best of the best to get your laundry room looking tidier than ever.
This post is all about the best laundry room storage.
LAUNDRY ROOM STORAGE IDEAS:
1. Utilize Wall Shelving
Recreate this coffee table book stack:
Especially if you are working with a small laundry room, utilizing wall space for storage is essential. Depending on the size of your wall you can either buy wall shelves or have shelving custom built. Add baskets and organize your other laundry room essentials on these shelves for easy and accessible laundry room storage.
2. Label Baskets
Recreate this coffee table book stack:
There's something about labels that just make your space look so much more organized. When it comes to laundry room storage baskets will be your best friend and labels make everything that's stored in them super easy to find!
3. Use A Cubby
Recreate this coffee table book stack:
This laundry room storage idea is super helpful if you are doing laundry for multiple people. Cubby storage is an easy way to divide laundry hampers and keep everything organized! To make your laundry room look even more organized, get matching baskets to put in all the cubbies. You can find a ton of different sizes and styles on Amazon and Target!
WANT A FREE Apartment PACKING LIST?
---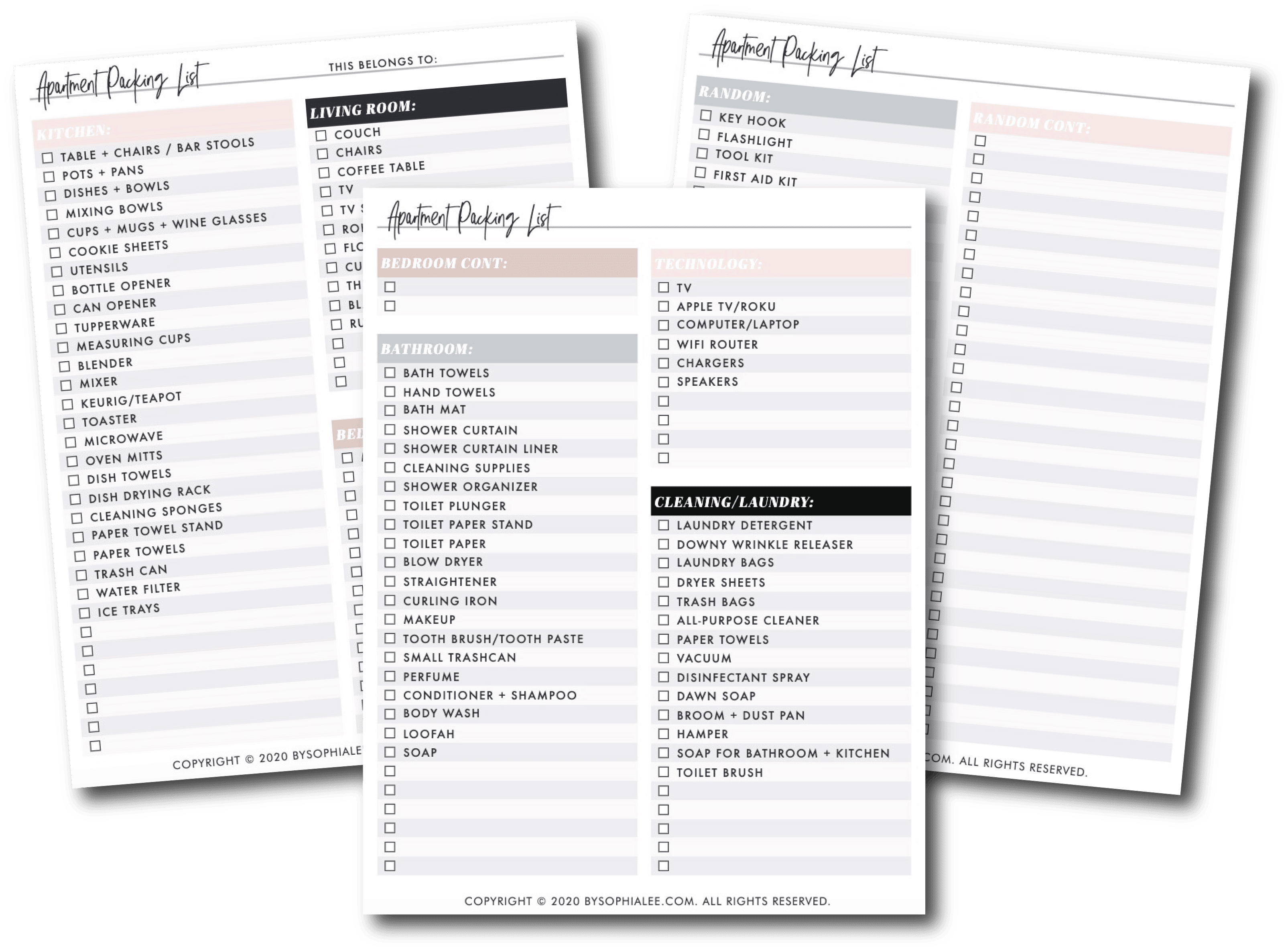 Simplify your apartment move with our amazing FREE Apartment Packing List. Simply click the button below to get your Apartment Packing List delivered straight to your inbox!
4. Use A Tension Rod To Hang Drying Clothes
Recreate this coffee table book stack:
You don't have to be a handyman to make your laundry room storage look professionally built. Tension rods can be used between walls or cabinets to create your own drying rack! This laundry room storage idea comes in handy when you need to hang clothes to dry but don't have a wire rack to hang them on.
5. Wall Mounted Ironing Board
Recreate this coffee table book stack:
Okay, this is genius! I can't believe I haven't thought of this before… If you have a regular ironing board that is taking up space in your closet it's time to throw it out and replace it with a wall-mounted ironing board! This ironing board is half the size of a normal one so it takes up less space. Plus with this ironing board, you always know where it is and can simply be folded down and back up when not in use!
6. Organize Your Laundry Room Closet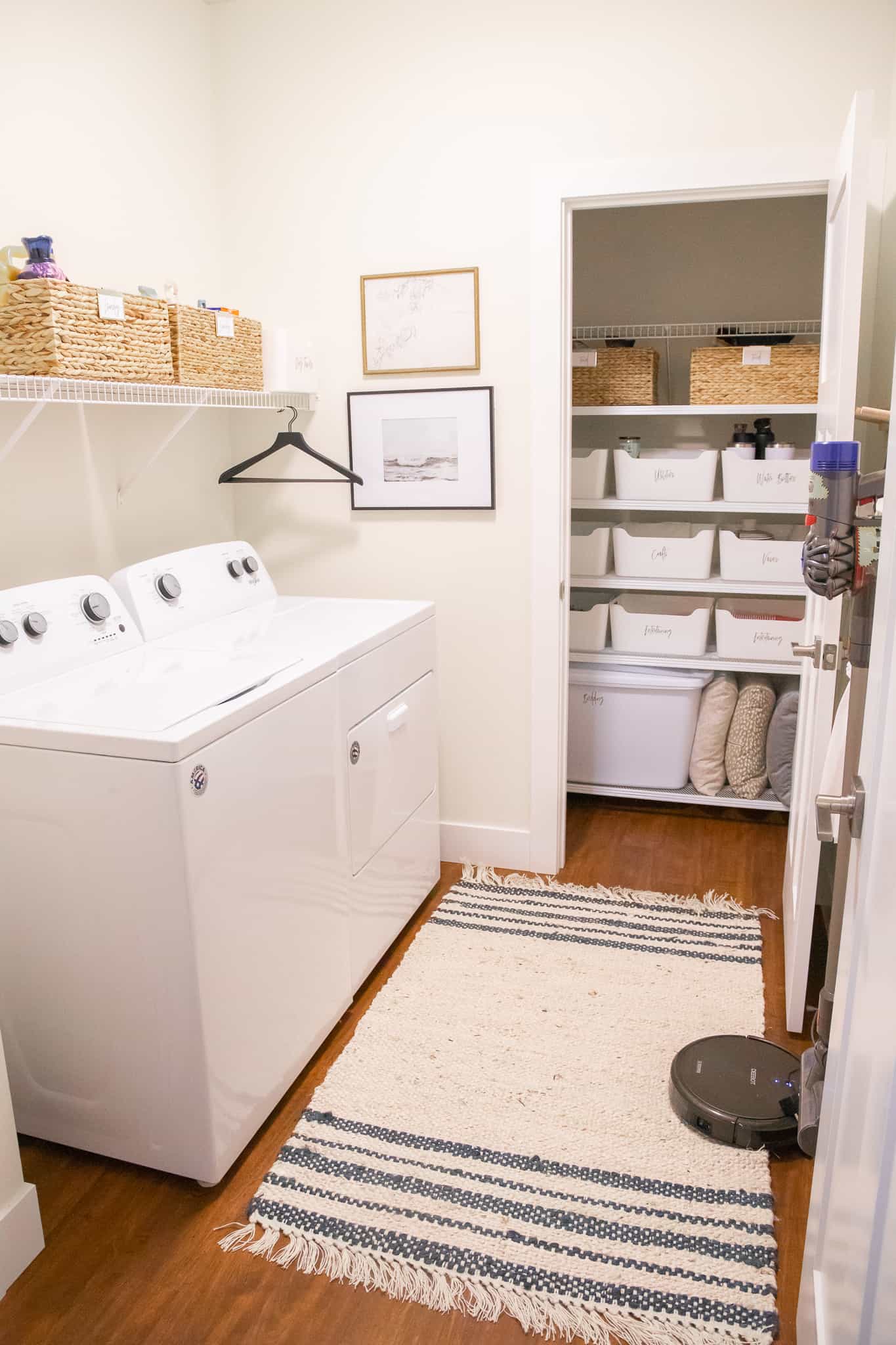 Recreate this coffee table book stack:
This is my apartment laundry room and I have to admit, I'm pretty proud of it. I use my laundry room to store a lot more than just laundry supplies so I needed a solution to storing it all. I ended up using these shelving units and loading them up with baskets and labels. I absolutely love how it turned out and it has made using and finding everything in my laundry room 10x easier.
LAUNDRY ROOM STORAGE PRODUCTS:
7. Yamazaki Home Tosca Under-Shelf Hanger Holder
This little laundry room storage product will make the biggest difference in the way you use your space. If you need a place to hang clothing but don't have a wire drying rack or enough room for a tension rod, this is the perfect solution! It slips right over your shelves to create an accessible and space-saving solution to hanging your clothes to dry.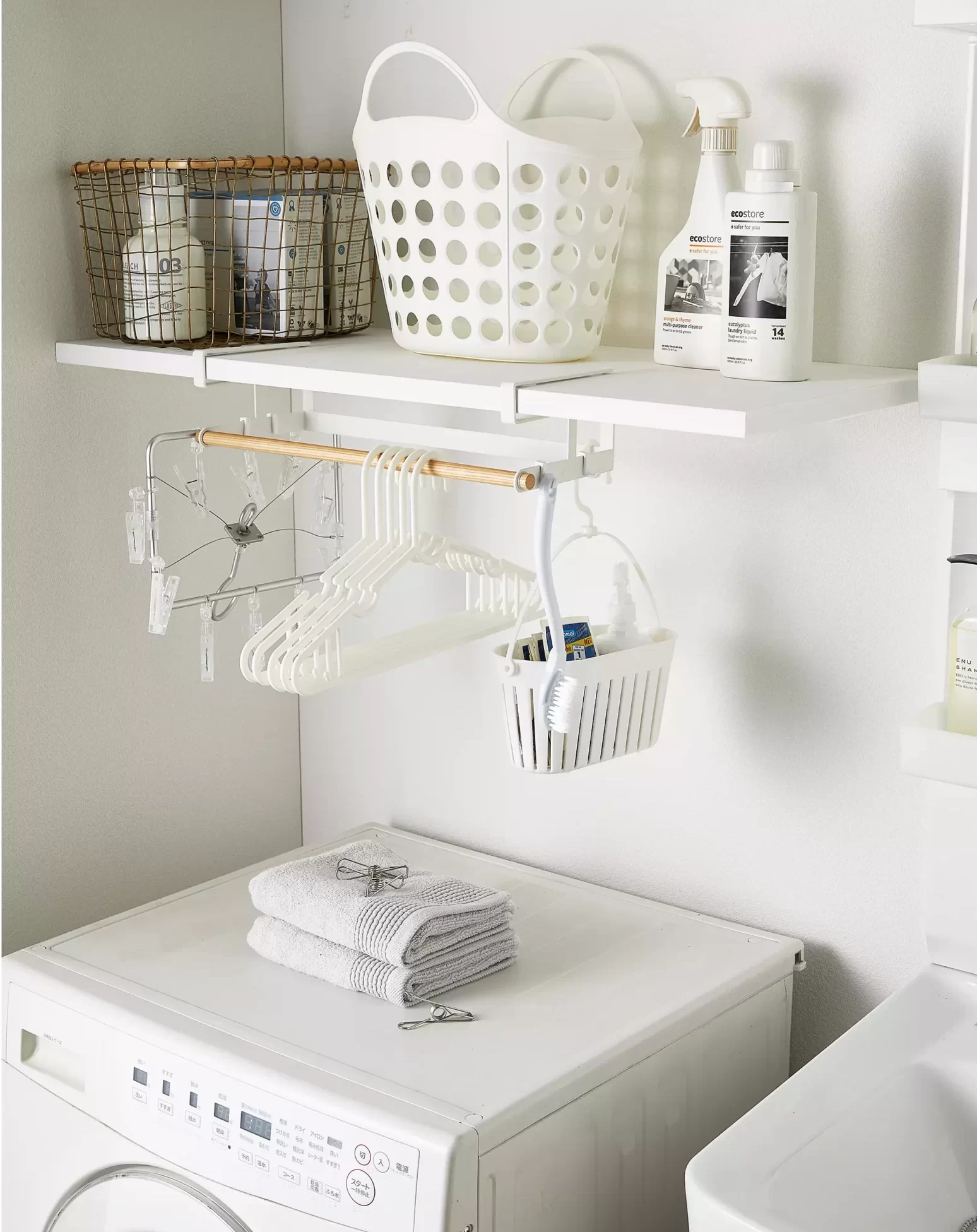 "This little organizer has made the biggest difference in how I do laundry!"
8. Trenton Laundry Drying Rack
Don't have the vertical space to create a drying rack but have space on your wall? Opt for this drying rack instead! Pottery Barn is known for its stylish storage solutions and this drying rack is the perfect example. The "Trenton" wooden drying rack comes in all different sizes so you can pick the size that's just right for your laundry room!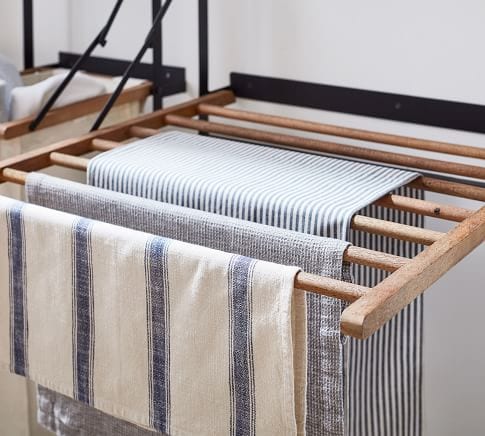 "I haven't found any other stores that sell something like this! This keeps all my drying clothes organizer and does it in style!"
9. Hampton Harbor Hamper Cabinet
If you were to see this laundry hamper cabinet in a laundry room you would never know it wasn't built-in. This cabinet is a stylish way to organize and hide all your dirty laundry!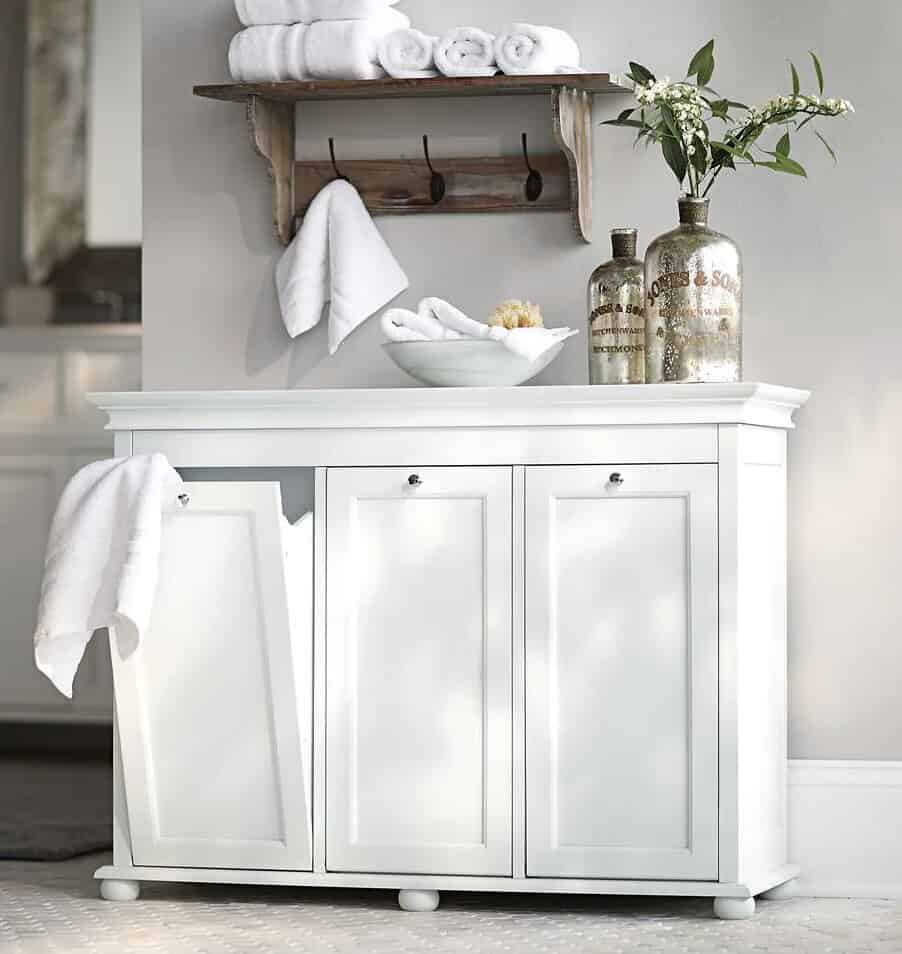 "Looks just like my other built in cabinets!! You would never know it was a laundry divider until you open it!"
10. 3 Section Laundry Sorter
This is the laundry divider I have in my apartment and it seriously has made my life so much easier. I don't know why but dividing my clothes into whites, darks, and colors is the most annoying part of doing laundry to me.
With this laundry hamper, I can divide my laundry as I wear it which saves me so much time when it comes to laundry day.v
"Strong enough to hold my laundry, easy to transport from my bathroom to the laundry room, whether by rolling it out or simply carrying each bag separately as needed."
11. Wall Mounted Broom Holder
If you store any kind of cleaning supplies in your laundry room you 100% want to have some kind of solution to storing them.
 I personally use Command Hooks on my closet door to hang my brooms and mops. But, if you have a good amount of items you need to store you can use a bigger solution like this wall-mounted broom rack!
"This allows my tools to hang freely and off the ground, while being more accessible than ever and not an eye-sore!"
This post was all about the best laundry room storage.
Other Posts You May Like:
WANT A FREE FIRST Apartment EXCEL BUDGET SHEET?
---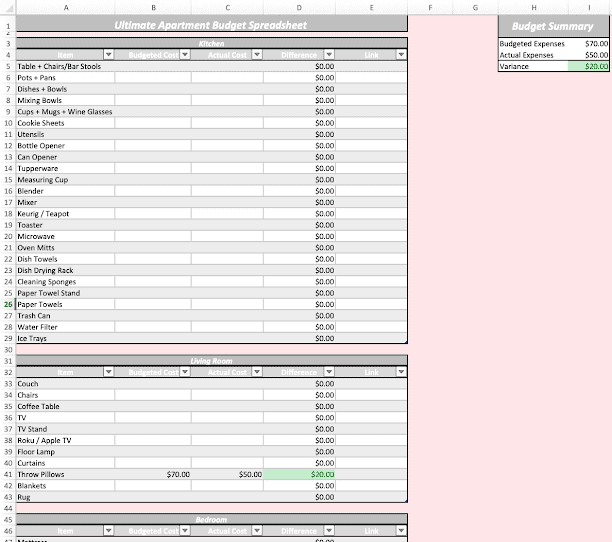 Simplify your apartment planning with our amazing FREE First Apartment Budget Sheet. Simply click the button below to get your Budget Sheet delivered straight to your inbox!
The post These Laundry Room Storage Ideas Will Change The Way You Look At Cleaning Day appeared first on By Sophia Lee.