We've rounded up the ten best wooden play kitchens for kids to help get your little chef's imagination to work.
Cooking is a timeless fascination for children. This type of play goes beyond gender and teaches kids loads of life skills along the way. An investment in a play kitchen is money well spent, as it can provide hours of entertainment. We've rounded up the ten best wooden play kitchens for kids to help get your little chef's imagination to work.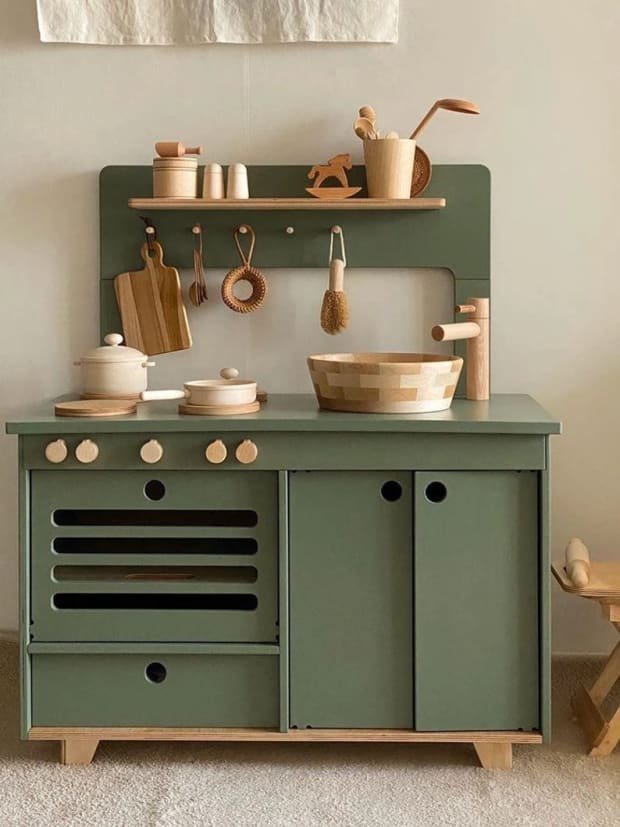 BEST HANDCRAFTED WOODEN PLAY KITCHEN
The ZOE kitchen was spotted on Etsy and has AMAZING reviews. This is the kitchen most likely to get me to play for hours. I love all the hand crafted accessories and the design element makes me swoon. And the artist is willing to CUSTOMIZE this design.
The surface has enough space for them to make a 'bake' which can then be popped in the oven (with magnetic door) or set on the hob to 'cook'. Utensils and equipment can then be packed away in the handy cupboard or placed on the rack above the sink.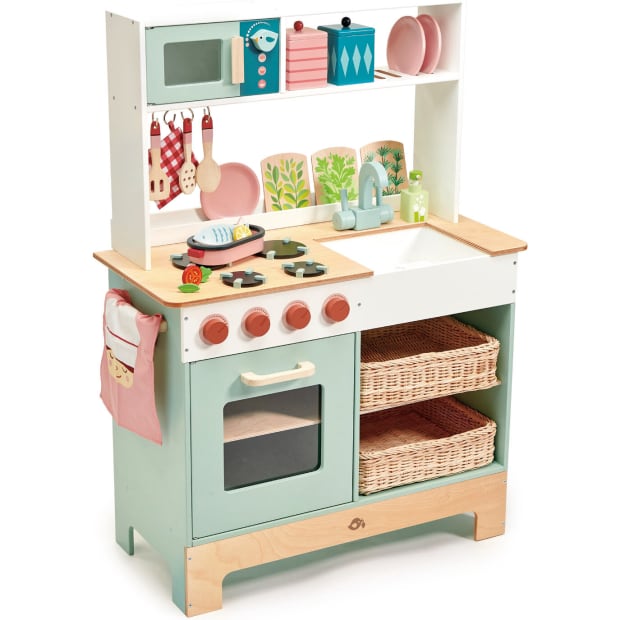 Best Nostalgic Wooden Kitchen
I'm sold on the overall sweetness of this play kitchen. The colors and design harken back to a simpler time when bakers could be found in every home. With an oven and integral microwave and plate rack, this kitchen range is made extra special with a multitude of original accessories.
Two wicker baskets provide lots of storage space for other pretend play food within the mini chef range, two wooden jars, three racks of herbs, three pretty plates, a printed gingham potholder, a printed mini chef tea towel and three cooking utensils. Pretend play food here is a delightful two-part fish with garnishes in an oval fish pan. Lastly but not least, don't forget to wash your hands at the sink with a handy soap dispenser.
Get the on Maisonette here ($249)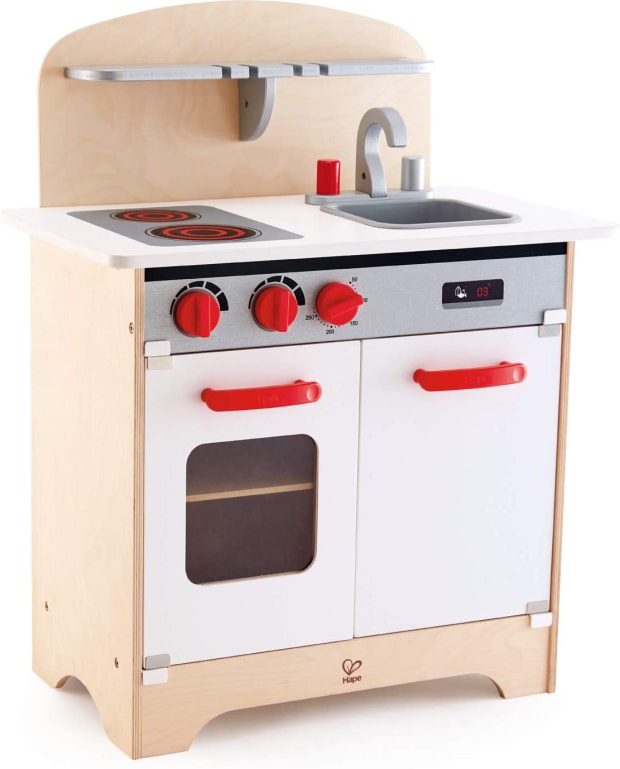 BEST TIMELESS DESIGN
I love the simplicity of the Hape Play Kitchen. It has all a little cook needs with a sink, stove, oven with window, cabinet, spice shelf, and turn able clicking knobs. Hope kitchen and grill Playset is made from durable wood, child safe materials and non-toxic water-based paint. This toy could be passed along for generations. There's nothing trendy about it.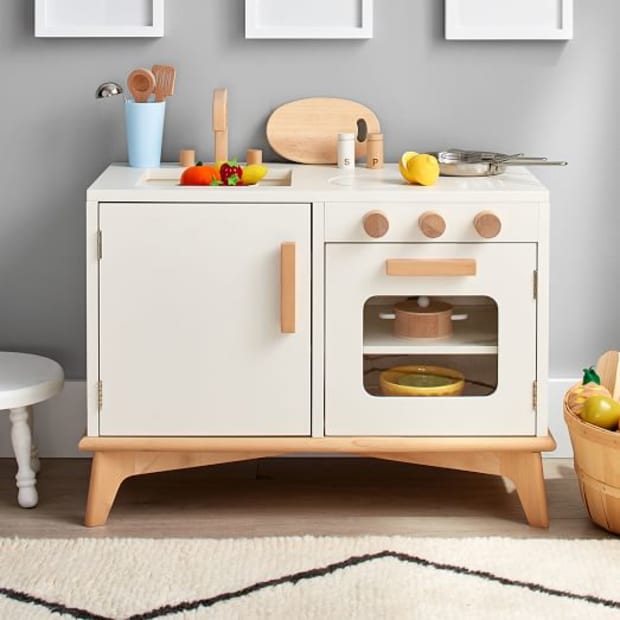 BEST MID CENTURY MODERN PLAY KITCHEN
The Sloan Play kitchen from West Elm will have a home in any home that errs on the side of form over substance. The clean simple lines will look good in every living room, though it's missing the bells and whistles of other brand. It's got a solid poplar frame, solid birch legs and engineered wood body and shelves. It features a pretend sink, oven, fridge and set of salt and pepper shakers.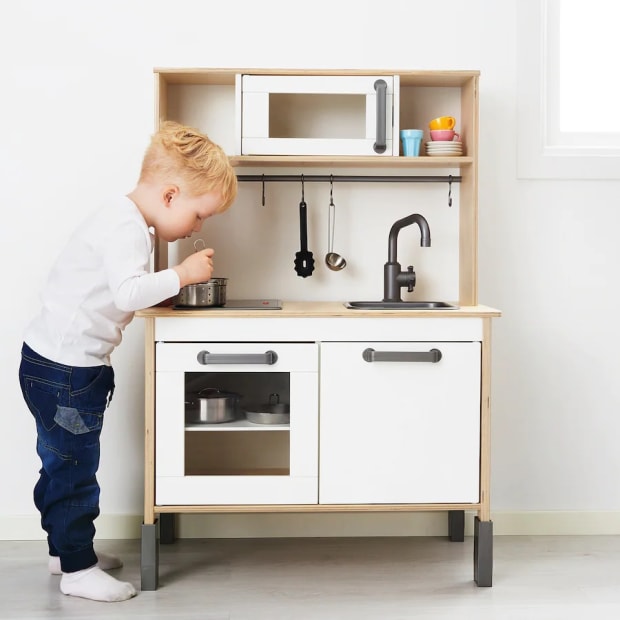 BEST VALUE
The Ikea Duktig is our pick for the budget play. And if you want to save money and know how to quickly assemble Ikea furniture, this is the one for you! The Ikea kitchen is a dream come true for tiny master chefs and bakers. In this modern the cooktop lights can be switched on/off and give a realistic glow but do not get warm.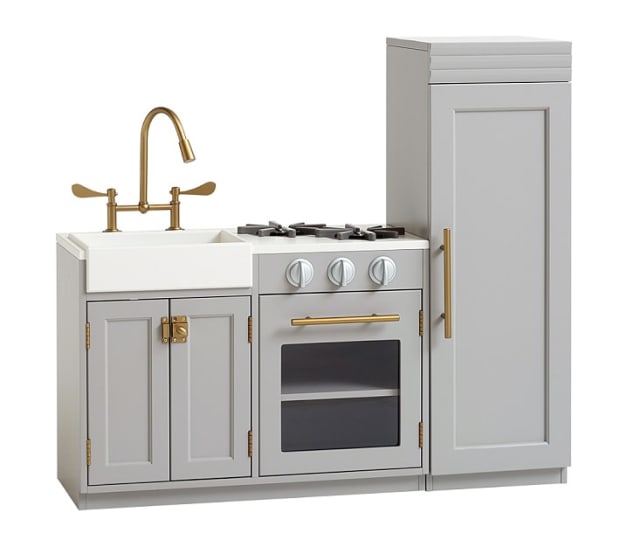 BEST FARMHOUSE WOODEN PLAY KITCHEN
If you love Chip and Joanna Gaines and all things farmhouse, the Chelsea kitchen from Williams Sonoma is the one for you. It's an all-in-one stove, oven and refrigerator with tons of interactive opportunities – knobs turn, doors open and the sink is watertight for real cleanup.
Get it from Williams Sonoma here ($499)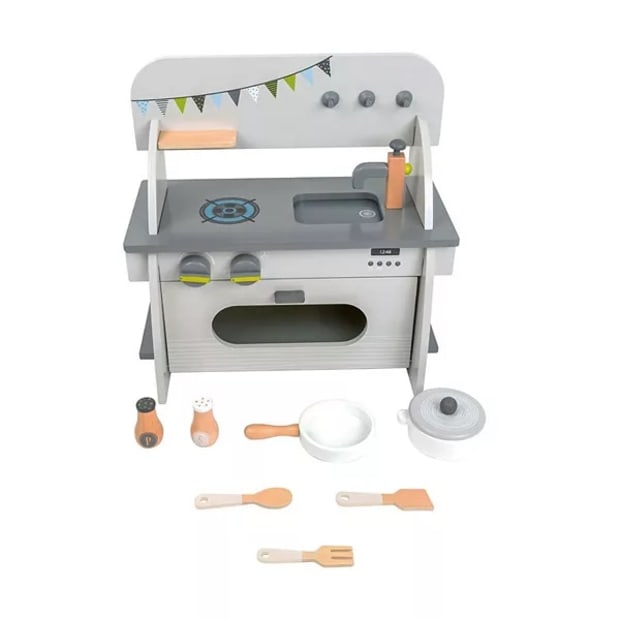 BEST COMPACT PLAY KITCHEN
If you have a super small space, this Small Foot mini play kitchen is perfect. The cooking event can begin! This comprehensively equipped play kitchen, made of FSC certified wood, has everything that young chefs need for preparing a feast. Knobs on the stove and oven make realistic clicking sounds. For the price it also includes folding oven, saucepan, lid, pan, salt and pepper shakers and three small kitchen utensils. The toy measures 14.57" H x 6.5" W x 13.98" H.
Get it at Kohl's here ($45.00).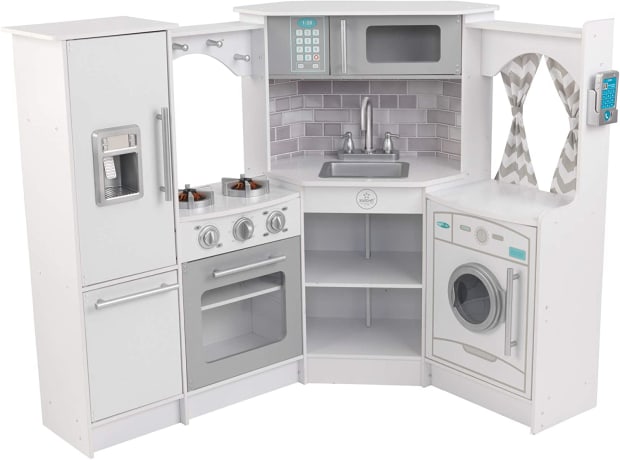 BEST LARGE FORMAT WOODEN KITCHEN
If you child wants a FULL kitchen with every gadget and loads of counter space, this is the one. It's idea for a large family with a big playroom. the set up comes with an oven, microwave, refrigerator, freezer and washer doors. The burners have realistic lights and sounds and there is shelving and hanging pegs for pots, pans and accessories.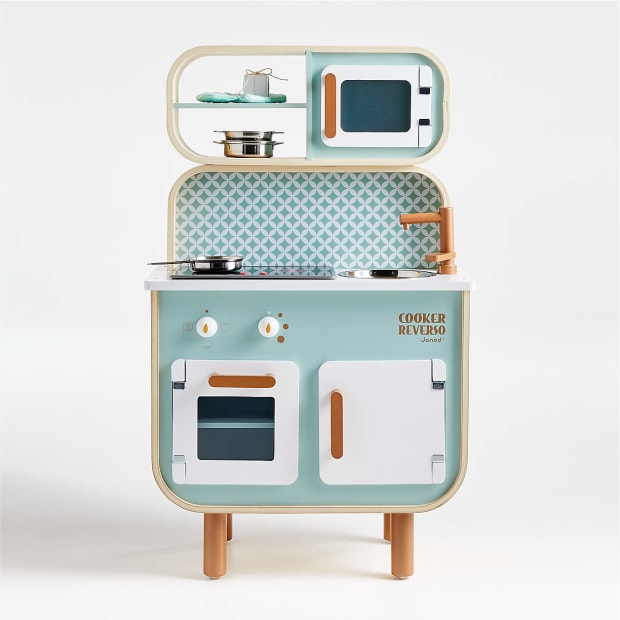 MOST INSTAGRAM READY WOODEN KITCHEN
A dream play set for any growing foodie or mini chef, the double-sided Janod Cooker Reverso has a kitchen on one side and a pantry/washing machine on the reverse. The detail-packed design includes a clock with functional hands, metal sink and stovetop with light/sound effects.
If features a play oven, microwave and cupboard with magnetic doors. Plus, the reverse side features a play washing machine with sound-effect buttons and storage shelves for toy food. Includes 7 metal kitchen accessories: 1 frying pan, 1 saucepan, 1 colander, 1 spoon, 1 spatula, 1 slotted spoon, 1 pasta spoon and oven mitt.
Get it on Crate & Barrel here ($209).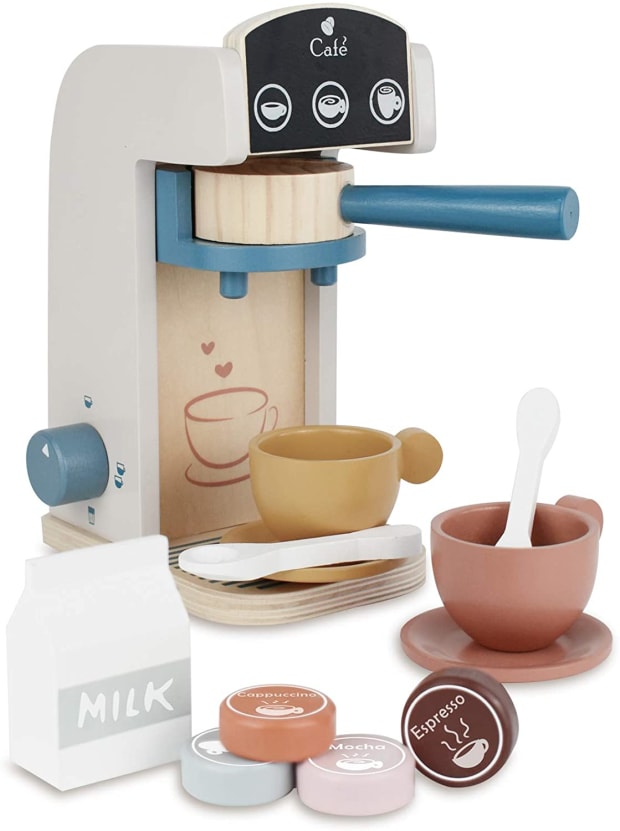 BEST BARISTA KITCHEN
I'm now obsessed with the PairPear Coffee Maker Espresso Playset. et - If you love coffee, you've got to get this for your kiddo. This wooden set comes with 13 pieces and is the perfect way to get your kids started on making latte art. Thanks to it's functional filter, coffee beans will drop into the cup!
Get the PairPear Coffee Maker Espresso Playset on Amazon $34.99
More Toy Picks from Momtrends
PIN IT!
Need more ideas on what to do with the kids? Be sure to follow our Activities to Do with the Kids board on Pinterest here.
Momtrends was not paid for this post.