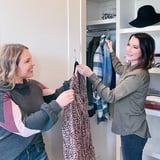 It was September 2020. We'd all reached the six-month mark of quarantine following the first wave of COVID-19 shutdowns. We'd baked all the breads, monetized all the hobbies, and watched all the TV shows. The future of our time spent at home looked bleak. Then, one day, a splash of color appeared on the Netflix home screen. Montages of pristine pantries, bathroom cabinets color-coded by the rainbow, and perfectly organized closets fit for a magazine flashed between impressive celebrity cameos. Joanna Teplin and Clea Shearer of The Home Edit had arrived - and, for many, so had the push to finally declutter and reorganize their lives.
Shearer and Teplin first created The Home Edit, a professional organizing service, in 2015, and since "Get Organized with The Home Edit" aired, its loyal fanbase has only grown, with viewers eager to organize a garage that rivals Khloé Kardashian's or a walk-in closet like Reese Witherspoon's. Shearer and Teplin have released two books, codesigned home organization products with several brands, and now, the two have partnered with fashion retailer Maurices to bring the magic of The Home Edit to even more people.
"We love clothes, we love organizing clothes, and we love when clothes are both stylish and affordable - which makes our partnership with Maurices a perfect fit," Teplin and Shearer tell POPSUGAR exclusively via email. "Everyone needs an organized, aesthetically pleasing closet filled with a fashion-forward wardrobe that'll make [you] look and feel [your] best."
As part of the partnership, Maurices is inviting women across the nation to enter a giveaway, through which one winner will receive a new Maurices wardrobe worth $1,500, as well as an IRL closet makeover with The Home Edit. The winner will also be flown to Nashville to meet with top Maurices stylists and with Shearer and Teplin themselves. Fans can enter the Maurices x The Home Edit giveaway here by Feb. 27 at 11:59 p.m. CT for a chance to win.
Sadly, not everyone can have their closets touched by the magic hands of The Home Edit . . . but luckily, Shearer and Teplin aren't gatekeeping. Ahead, The Home Edit's founding duo tells POPSUGAR their best closet organization hacks that have helped them tackle even the tightest or most disorganized spaces.
POPSUGAR: What are the biggest issues you run into when organizing young women's closets, and how do you deal with them?
The Home Edit: When people are involved in sports or clubs in high school and college, they start collecting quite the T-shirt collection. Literally so many T-shirts. These can be hard to part with because they are attached to a memory. We have them separate T-shirts into three different categories: to wear, to keep, and to donate. The shirts they actually wear can stay in the closet, but anything sentimental should be stored elsewhere. Closets are valuable real estate - don't waste this space with clothes you don't wear.
PS: The surge in casual loungewear has been great for comfort, but it's presented some challenges for storing items like sweatpants, sweatshirts, hats, and more. What are your best tips for organizing those kinds of items, especially in a small apartment closet or dorm-room closet, in a way that's easily accessible?
THE: Folding these items and storing them by category in large open bins is extremely helpful. You can store them on a shelf or even on your closet floor. Just make sure to add a labeled bin clip, so you know exactly where your items live at all times.
PS: As a plus-size woman, I have trouble storing my clothes in many closets, drawers, and shelves clearly designed for smaller people and smaller clothes. As a result, it makes me feel like I have to sacrifice more clothing than someone else would. What tips, hacks, or products do you suggest for storing larger clothing in small closets?
THE: It helps to create your own storage rather than feeling stuck with the original shelving and hanging rod in your closet. Stackable drawers on a shelf allow you to take advantage of vertical space more than anything else. We also suggest large, open bins for storing folded items.
PS: What are the biggest mistakes you see people make when it comes to organizing their own closets?
THE: Trying to tackle their closet all in one day - not just because it's physically challenging, but it can also be emotionally draining and complicated. It's not like a pantry where you get rid of items because they're expired. Clothing holds more emotional value. That's why we always recommend breaking up a closet project into bite-size steps. Start with one category of clothing per session and continue from there.
PS: What's a popular closet organization hack that you think is a total scam?
THE: That any old hanger will do. Investing in matching huggable hangers is one of the best ways to elevate the look of your closet and also save space on a hanging rack. We cannot recommend this simple switch enough.
PS: If you could organize any celebrity's closet (that you haven't organized already), who would it be and why?
THE: Oh, we have multiple: Beyoncé, Michelle Obama, Meghan Markle. We wouldn't be able to sleep the night before; we'd be that excited.
PS: If you two were going on a Maurices shopping spree to refill your own closets, what are you grabbing first?
Joanna Teplin: I'm headed straight to the sweaters. The cozier I am, the happier I am, and Maurices has some of the cutest sweaters for every season.
Clea Shearer: I can't resist a new pair of jeans. [Maurices] Jeans Shop caters to all shapes and sizes, offering the perfect fit we all want and hope to find when shopping for a new pair.