This article originally appeared in the September 1999 issue of SPIN.
"You must be high."
We heard that a lot during the time we spent preparing this issue. Which is understandable. Pronouncing the 90 greatest albums of the '90s is a somewhat presumptuous thing to do. When you're measuring the music this decade is offering to history—the sounds we partied with, copulated to, fought about, and wept over—everyone has an opinion. That ours should be more valid than yours is debatable. But hey—it's our magazine.
What, then, you ask, constitutes "greatest"? Don't even start. Suffice it to say that, after much heated discussion and countless veiled insults, it came down to the factors of both remarkable artistry and cultural shock value. Sometimes a record's knock-you-off-your-Skechers impact helped it tip the scales over more refined craft (Nirvana's Nevermind topping In Utero). Other times, the perfectly cooked beat the brilliantly raw (PJ Harvey's To Bring You My Love over Rid of Me). Tupac Shakur, Ani DiFranco, Jane's Addiction, and other artists whom we love for a million reasons, but who didn't make what we felt was a genuinely great record in the '90s, remain in our hearts—but not on the list.
You may also note that our roster skews a bit toward records from the early '90s, especially for rock and hip-hop. We just called the golden eras as we saw 'em. For all their mackin', neither Puffy nor Jay-Z made LPs that touched the committed passion of Fear of a Black Planet or the musical ambition of The Low End Theory. And for all their sound and fury, neither Korn nor Limp Rizkit made records with Nirvana's burning soul or Rage Against the Machine's missionary zeal. Of course, it can take a few years for a record's legacy to become clear, and many albums sound better in hindsight, even Stone Temple Pilots' Purple. Okay, maybe not.
Still, looking back over the decade, things look good for the '00s. Releases by OutKast, Beck, Lauryn Hill, the Beastie Boys, Radiohead, and the Chemical Brothers—among others in the pages that follow—have pointed rock, hip-hop, and pop toward a mighty freaky future. All we can say is: Bring it on.
1. Nirvana, Nevermind (DGC, 1991)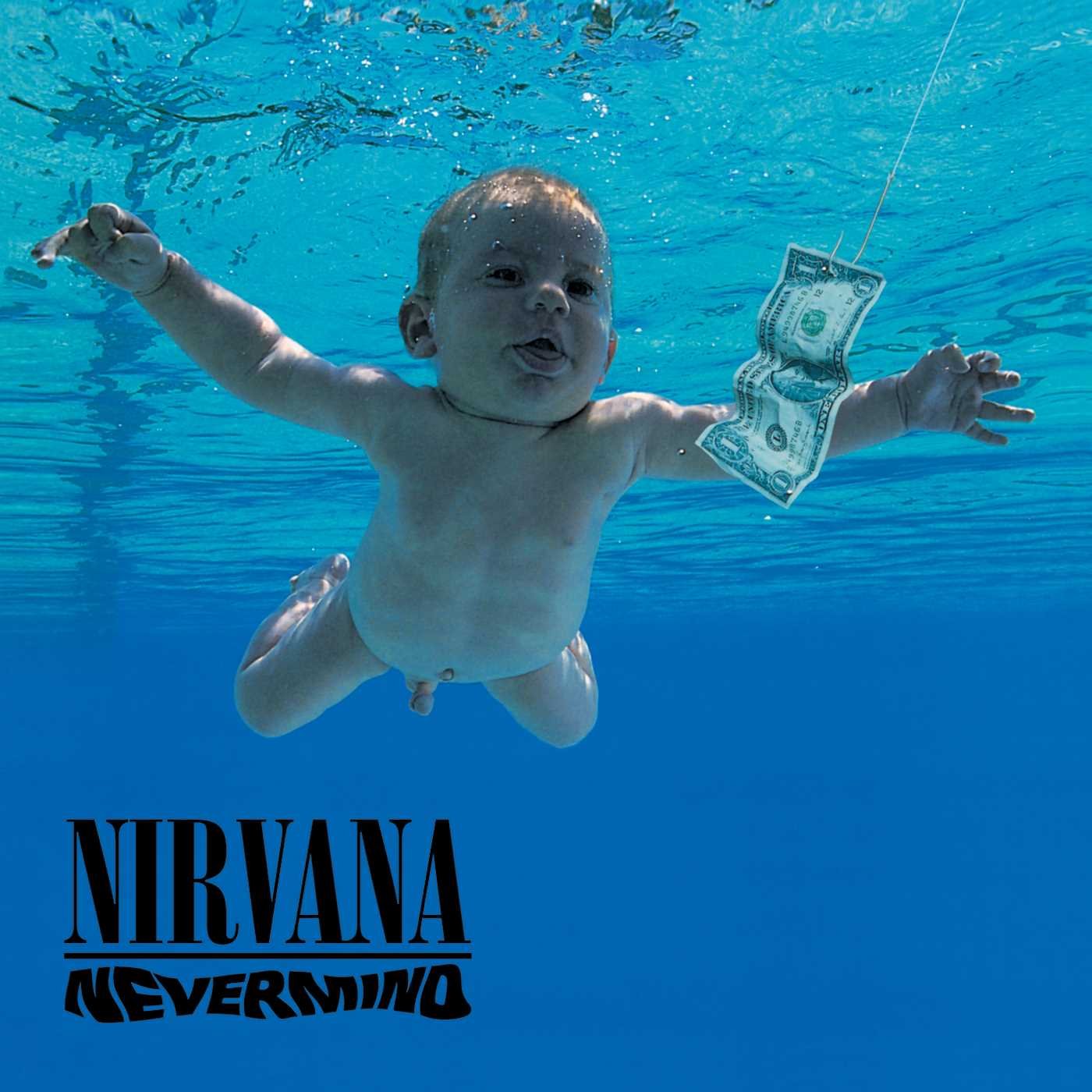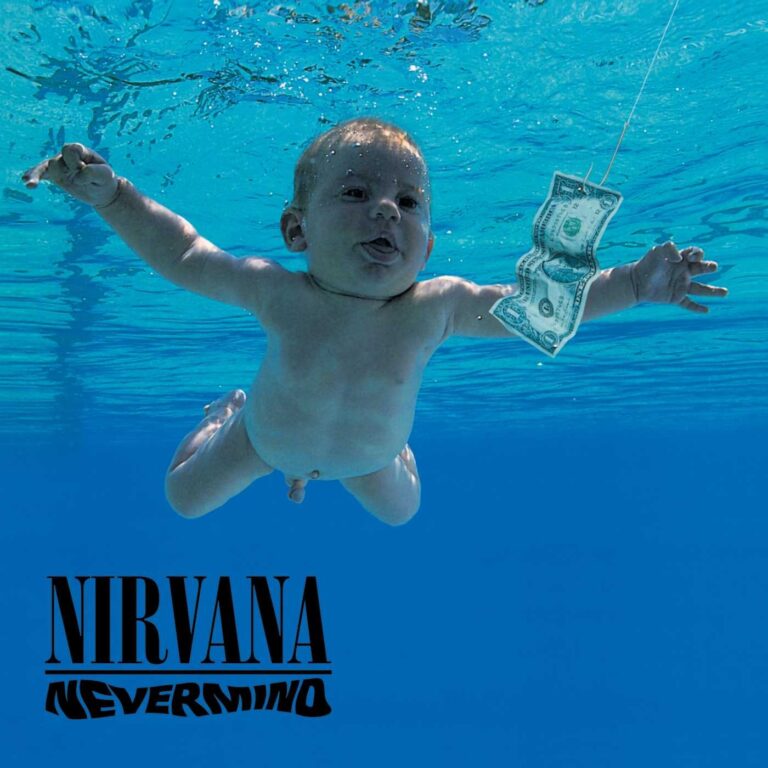 Punk rockers are opinionated little shits who care too much about what does and doesn't suck and get by on a wicked sense of humor. Kurt Cobain was always a wickedly funny little shit. My favorite Cobain quote: "Even the guys in the safety patrol called me 'f——t .'" My favorite Nevermind moment: During the fake-pep-rally video for "Smells Like Teen Spirit," a cheerleader's boobs bounce across the screen sporting an anarchy symbol, while Nirvana ("the band") lurches in the back of the gym almost catatonically. Yo, the punk-rock revolution will be televised 15 years too late! Mom and Dad, guess what? The kids aren't all right! Where have you been?
Here was Cobain on Nevermind, the supposed soundtrack of disenchantment for so-called Generation X (from Michael Azerrad's band bio Come As You Are): "I'm embarrassed by it. It's closer to a Motley Crüe record than it is to a punk-rock record." On "Smells Like Teen Spirit," the "grunge" rallying cry: "It's really not that abrasive at all. It only screams at the end. It's kind of lame."
Like many who had listened to classic rock (Beatles, Who, Sabbath) and '80s punk (Bad Brains, Scratch Acid, Replacements, Hüsker Dü), Cobain knew that his band's sound wasn't astoundingly original; he and bassist Krist Novoselic were even scared that people would nail them for ripping off the Pixies on "Teen Spirit." But behind his sarcastic self-deprecation, Cobain knew he had a gift, and after the band's turgid indie debut Bleach, he knew he was writing much better songs: plus, in Dave Grohl (ex of the D.C. hardcore band Scream), he'd found "the drummer of our dreams." A demo produced by Butch Vig (now of Garbage) got the band signed to major label DGC and not a second too soon. "It was kind of a desperate time," says Grohl, now a Foo Fighter. "Kurt and I were living together, selling amplifiers and 45s of 'Love Buzz' (a rare early single) for food. We actually played an all-ages show in Seattle for gas money to go down to Los Angeles to record Nevermind." But when they finally met Vig at a Van Nuys studio (where Fleetwood Mac's Rumours was dreamed up) months later, hopes were high. "We were just living and breathing the music," Novosolic says. "Kurt was busting out all these riffs and vocal lines, and the songs were coming together so beautifully."
Adds Vig: "The first day, they ran through everything, and it just sounded unbelievable. It was in this sort of warehouse room, Kurt and Krist had these huge, fuckin' stun-volume amps, and Dave was so intensely loud and dead on; he was just thrilled to be in the band, and his enthusiasm infected Kurt."
Nevermind's stark, yearning melodies, darkly witty lyrics, and controlled thrash differ from Nirvana's harsher recordings before and after (Geffen A&R man Gary Gersh even talked about leaving off some catchier songs so the album didn't sound like a sellout). "It was so wild to be tossed into this world of 'professionalism,'" Grohl says. "Nevermind was us dealing with being treated like professional rock musicians, which we weren't. I mean, when we heard 'Teen Spirit' put up on those big speakers, everybody freaked out."
Cobain was obviously writing with an insistent, hopeful voice in his head that argued—and joked—with the famously gnawing pit in his stomach. He even wrote a love song of sorts ('Drain You'), a touching, searing exchange between two sickly infants who share the same hospital bed. Of course, Cobain was also sedating himself with Jack Daniels and codeine cough syrup (the latter to stave off his heroin cravings and preserve his frayed voice). "Kurt could charm the pants off you," Vig says, "then go into a corner and refuse to speak. He had these ridiculous mood swings." There's an old Black Flag lyric that screams (with some sarcasm), "I wanna live / I wish I was dead," and that was Nevermind's eternal tangle. The tenderly surging "On a Plain" features sweet "ah-ah" harmonies and Cobain confessing matter-of-factly, "I got so high I scratched 'til I bled."
After Kurt Cobain died, he became the "voice of a generation," but while he was here, he was beloved because he got life's blackest jokes (unlike, say, Axl Rose, who raged at the void like he deserved an answer). As a result. the songs on Nevermind are sad, cryptic, hostile, childlike, and yeah, funny. From "Lithium": "I'm so lonely, but that's okay, I shaved my head." And for a minute in the early '90s, Cobain's corrosive plaints rasped like the truth—the wisdom of an abused, smart-alecky white kid with a down-tuned guitar and a dream (inject necessary level of sarcasm; Cobain would've). For whatever confluence of reasons—the Reagan-plague's legacy, the industry need for fresh rock meat after hair-metal, the band's talent (!)—that rasp got heard, and sold. Nevermind topped the pop charts in January 1992, displacing Michael Jackson, and punk's scowly, smirky face entered the youth mainstream.
Then we moved on. As the Breeders' Kim Deal sums it up, "Yeah, [Nevermind] changed the way record companies hired VPs and A&R people. But now it's back to being about ass."
Still, after all the death and hype, Nevermind shakes the walls like a storm. You feel it as Grohl's drumrolls make your heart race into the choruses and Novoselic's melodic bass lines give you room to breathe in the roar. You feel it in the way Cobain's discordant guitar never chokes the melody, but stains it with just enough doubt to make it real. But most of all, you feel it in Cobain's paper-thin voice, as he stares down the lethal horrors of growing up, and somehow manages to rock a shit-eating grin. CHARLES AARON
2. Public Enemy, Fear of a Black Planet (Def Jam, 1990)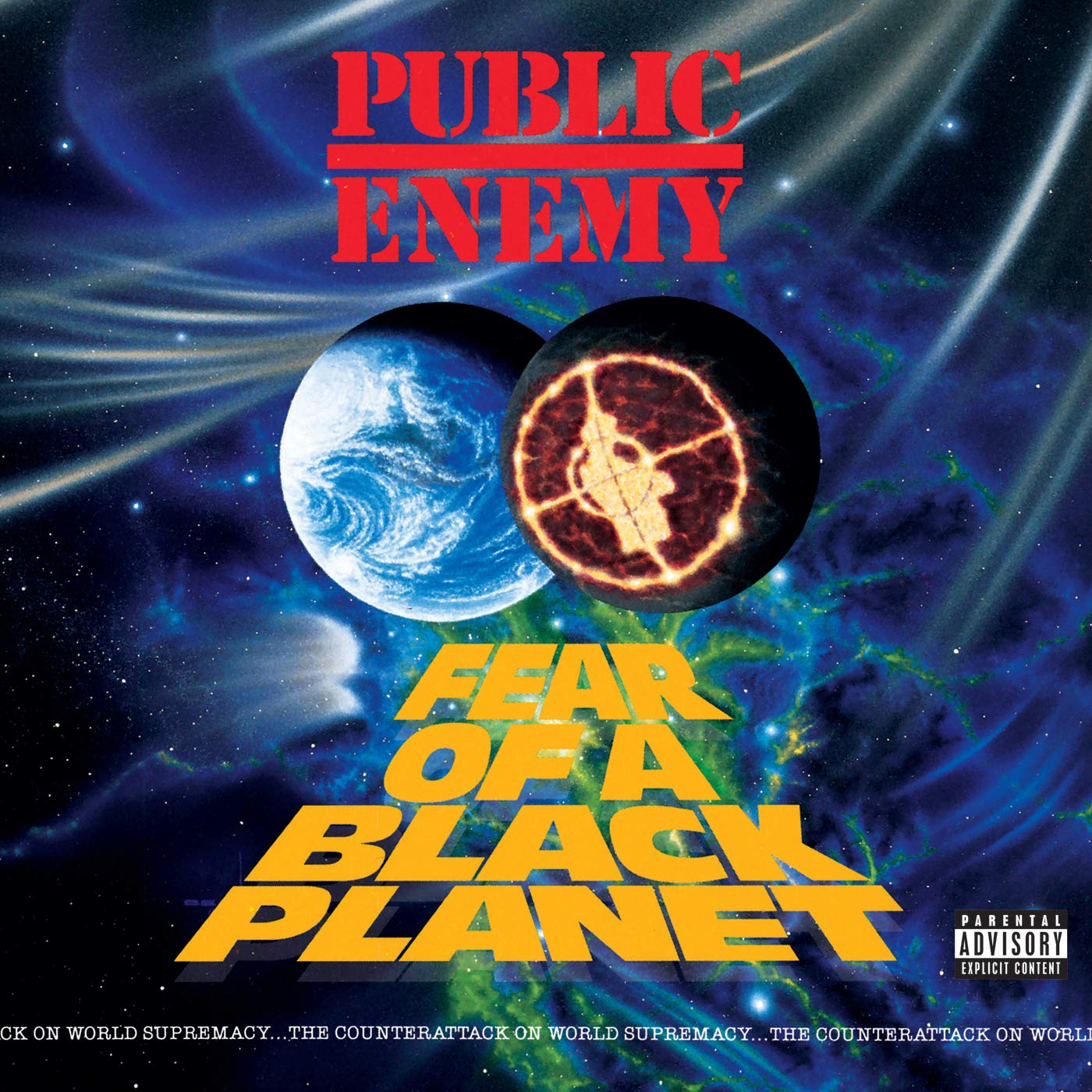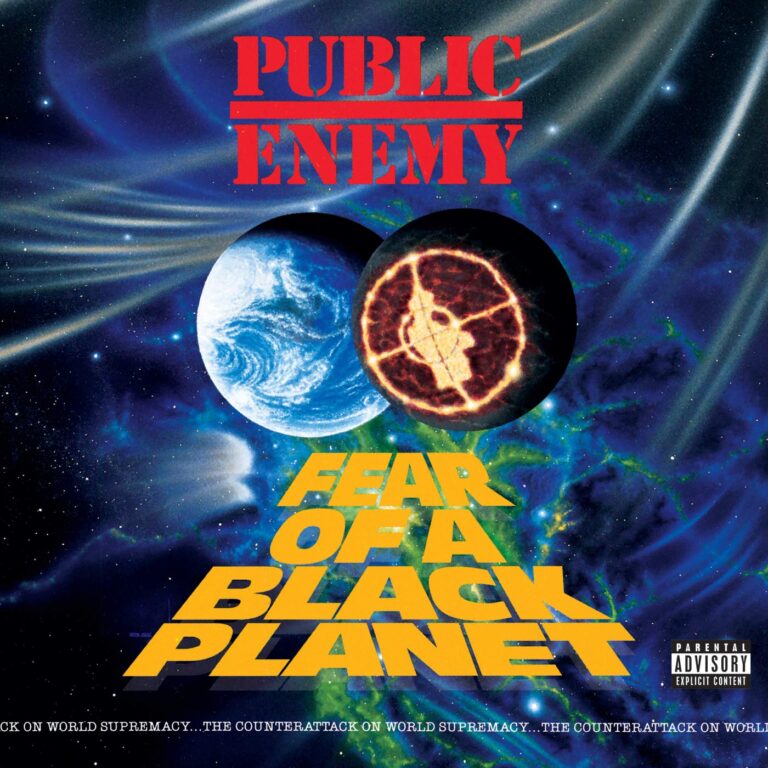 For Public Enemy, the 1990s jumped off like a press conference in progress. After PE's second album, 1988's It Takes a Nation of Millions to Hold Us Back, ingeniously mastermixed hip-hop as fierce Afrocentric theater, they roughed it up with media devils (often over Nation of Islam teachings and the Minister Louis Farrakhan), and then, in early '89, released the Elvis-baiting single "Fight the Power," from Spike Lee's film Do the Right Thing (which referenced racist attacks on blacks in Bensonhurst and Howard Beach, and was tarred in the New York press as an incitement to violence). By the time Fear of a Black Planet dropped in April 1990, the posse of Long Island college men had already disbanded briefly amid charges of anti-Semitism and a flurry of death threats. PE was pop's most embattled group. But they weren't backing off.
"We wanted to hit with the force of a Led Zeppelin power chord," says PE's lead voice/ visionary, Chuck D. "Nobody had ever tried to make such an aggressive, global, intellectual musical statement on a hip-hop record before, and it scared the fuck out of people. It caused such a shitstorm, not too many have had the guts to do it since."
Fear is "just" a hip-hop record like Invisible Man is just a long-ass novel. Originally an attempt to bust up racial barriers and sift through the dust for answers, the album saw PE question their own world as harshly as society at large. The title track, which riffs on America's disgust with race-mixing, toodles a carnival organ before descending into a thrilling/numbing echo chamber of voices, including Chuck's bullish fireside rant ("What is pure? Who is pure?"). The Bomb Squad production team (group cofounder Hank Shocklee, Keith Shocklee, Eric "Vietnam" Sadler, and Chuck, a.k.a. Carl Ryder), first unleashed its churning ocean of funk on It Takes a Nation, but for Fear they seemed to sample the sound of a world skinning itself alive. Fractured breakbeats, horns, sirens, guitars, clueless radio DJs, searing bits of oratory, rewired static, and James Brown's show-biz howl are all patched together into a chugging rhythm engine that recalls Fela's afrobeat rituals as much as other rap music of the day. Even jester-ish sidekick Flavor Flav picks his teeth with the spirits of the dead on the "public service" indictment "911 Is a Joke."
"I remember the Bomb Squad talking about how the sounds on that record were the destruction of music as we know it," says Zack de la Rocha of Rage Against the Machine, who often play Fear over the sound system before their shows. "Sonically and politically, it set a new stage."
Chuck explains, "You gotta remember, we had wider reference points than most kids—we were 30 years old. Rap music is the embodiment of all music that came before it, and we actually experienced what went down in the '60s, '70s, and '80s. We were making our pissed-off funk version of Sgt. Pepper, not some rap record a DJ could drop into his club set."
Fear was also recorded as PE was disintegrating (the Bomb Squad never worked again as a full unit). The first single, "Welcome to the Terrordome," was released in late '89, in the wake of yet another anti-Semitic screed by Richard "Professor Griff" Griffin, PE's "Minister of Information" (or "racist stage prop," as Def Jam label boss Russell Simmons put it then). The group bitterly disagreed over whether to can their childhood buddy, and Chuck D publicly waffled—firing Griff, reinstating him, etc. "Terrordome" reflects his heartfelt bewilderment, as Chuck lashes out at the "so-called chosen frozen" (Jews, critics, Griff?), then declaims, "My home is your home."
"That was such a crazy song," Sadler says. "When Chuck recorded his vocals, he was so intense that he bypassed the chorus, rapped through it completely, and totally altered the song's structure. He was like a man going overboard."
When Chuck D wrestles sexism on the anthemic "Revolutionary Generation," spits homophobic digs on "Meet the G That Killed Me," or strip-mines racist history on "Who Stole the Soul?," he is voicing the weakness, paranoia, and betrayal that damned his family, in desperate hope of redeeming it. Shaping revelatory bursts out of "white" and "black" noise, Fear of a Black Planet still reverberates, as a sonic and psychic template for groups such as Rage, Chemical Brothers, Tricky, and Prodigy, as well as influencing dance genres from jungle to gabber to Big Beat. But with Public Enemy, the message fueled the medium, and their passionate attempt to inject racial politics into pop culture still haunts America's divided house. CHARLES AARON
3. PJ Harvey, To Bring You My Love (Island, 1995)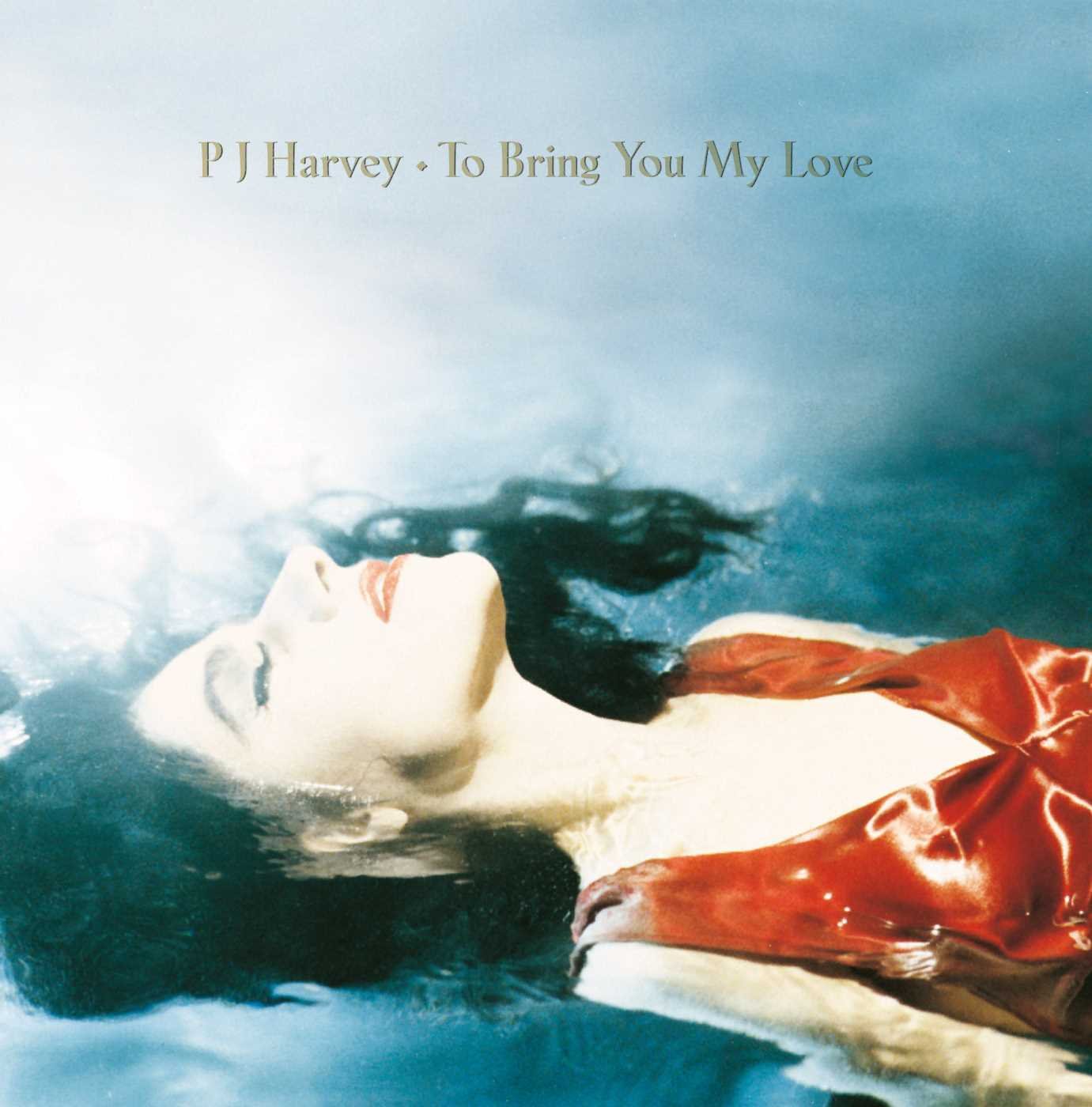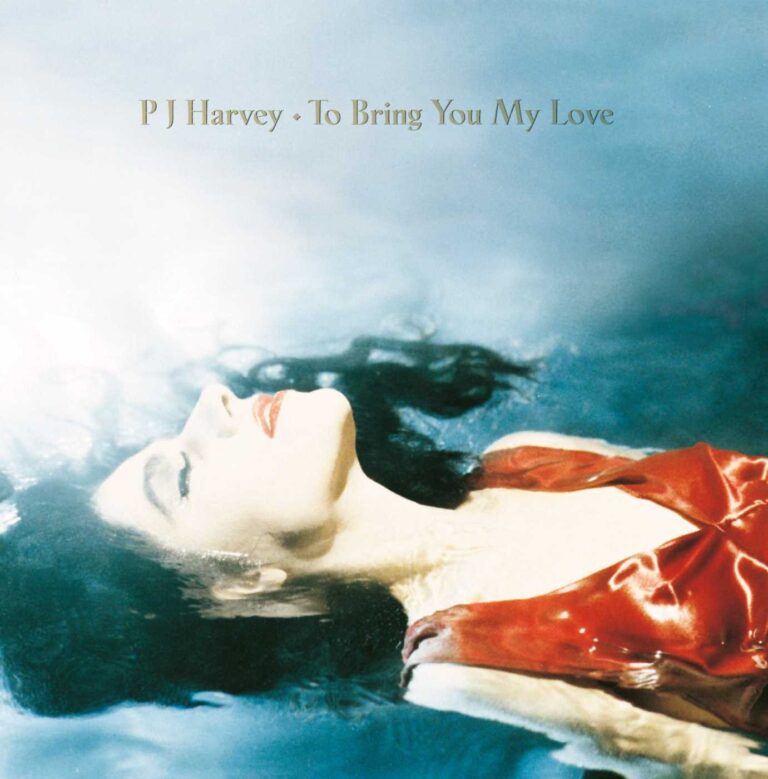 Before Polly Jean Harvey ordered Robert De Niro to sit on her face, before she got her voodoo up and running, she had a revelation. Sitting in a British pub near her parents' farm, watching some shambling indie-rock group, the skinny teenager was suddenly overcome by how meaningless the music was. It made her want to go up to the band and shake them, but she started writing her own songs instead. Nearly five years later, after the furiously searching early-'90s classics Dry and Rid of Me, she was ready to rattle her peers again. As the alt-rock "revolution" was cashing in with sound-alike grunge, chirpy pop-punk, and blowjob-era Alanis, Harvey released To Bring You My Love, a growling, entrancing, blues-wracked vision that made rock's artistic potential feel limitless again. The critical acclaim was deafening. Then everybody bought the Candlebox album.
Not that To Bring You My Love flopped—it sold about 200,000 copies, pretty good for an atmospheric exploration of the extremes of emotion and desire. (The single "Down by the Water" is a fuzzed-out creepfest about a smothering mother who may have just drowned her "blue-eyed girl.") It left even superstar artists humbled. Courtney Love deemed Harvey "the one rock star who makes me know I'm shit." Even today, No Doubt frontwoman Gwen Stefani calls the album "so strong that it scares me."
To Bring You My Love's forbidding perfection didn't come without a cost. Harvey calls the making of the record "the most grueling experience of my life." She was torn between proving herself worthy of the rock-god locker-room (and could she have the locker next to Bob Dylan, please?), and wondering if she really wanted the attendant fame. She also felt that 1993's Rid of Me had taken her abrasive guitar sound and 50-Foot Queenie persona far enough. "I was on the rack emotionally," Harvey says. "I was having a particularly hard time coming to terms with who I am." So, in search of new direction, she did what any Goth-inclined artiste who used to pull dead fetuses out of the family sheep would do: She studied opera and read American Psycho.
Then, in a big old barn, she wrote some songs on the keyboards and sent them to her band—old Automatic Dlamini bandmate John Parish, avant-garde guitarist Joe Gore, Captain Beefheart sideman Eric Drew Feldman, and producer Flood (U2/Nine Inch Nails)—thinking it was probably crap. But "from the moment I popped the cassette in," Gore says, "I knew this was going be a phenomenally great record. When a lot of artists try to evoke the emotional power of blues and gospel, it comes out as lame-ass imitation. Polly doesn't waste any time replicating the gestures, she just taps into the music's deepest core."
A consummate auteur who once jokingly whacked Gore with a cane for playing a few extra notes, Harvey wanted to "be in complete control—who was playing, what, where, when, and how. We were in the studio for more time than I've ever spent, feeling just exhausted." She was in tears almost daily, and the mood was tense. Gore remembers with a laugh: "I was speaking to [Red Hot Chili Peppers bassist] Flea on the phone, and he said, 'Tell Polly I'm such a big fan that I would swim over the ocean just to play one note for free.' When I told John Parish later, he said that after just five minutes with all of us, he'd swim right back."
Where Rid of Me was about noisy exhortations to "bend over Casanova!" To Bring You My Love creates an equally disturbing mood with an understated sound both raw and composed. Singing as man and woman, Harvey takes her folklorish lyrics from birth to destruction, limning maternity as both magic and curse. The title track's withering emotional crescendo—just a simple, sinister riff with the occasional vibes and organ flourish—is ostensibly about the sacrifices the narrator made for a lover, but it's also a metaphor for Suffering for Your Art. "I've traveled over dry earth and floods, hell and high water," Harvey proclaims, a little vibrato tease at the end winking at such pretentiousness.
Though Harvey may now question that sort of commitment (last year's Is This Desire? was considerably less ambitious), To Bring You My Love is the unforgettable sound of someone who plays the dozens with God and the Devil on a daily basis. And Harvey, ever the perfectionist, can't even bring herself to listen to it. "I would love to," she says, "but I'd just remember how some guitar part caused me grief and wish that I could change it." SIA MICHEL
4. Beck, Odelay (DGC, 1996)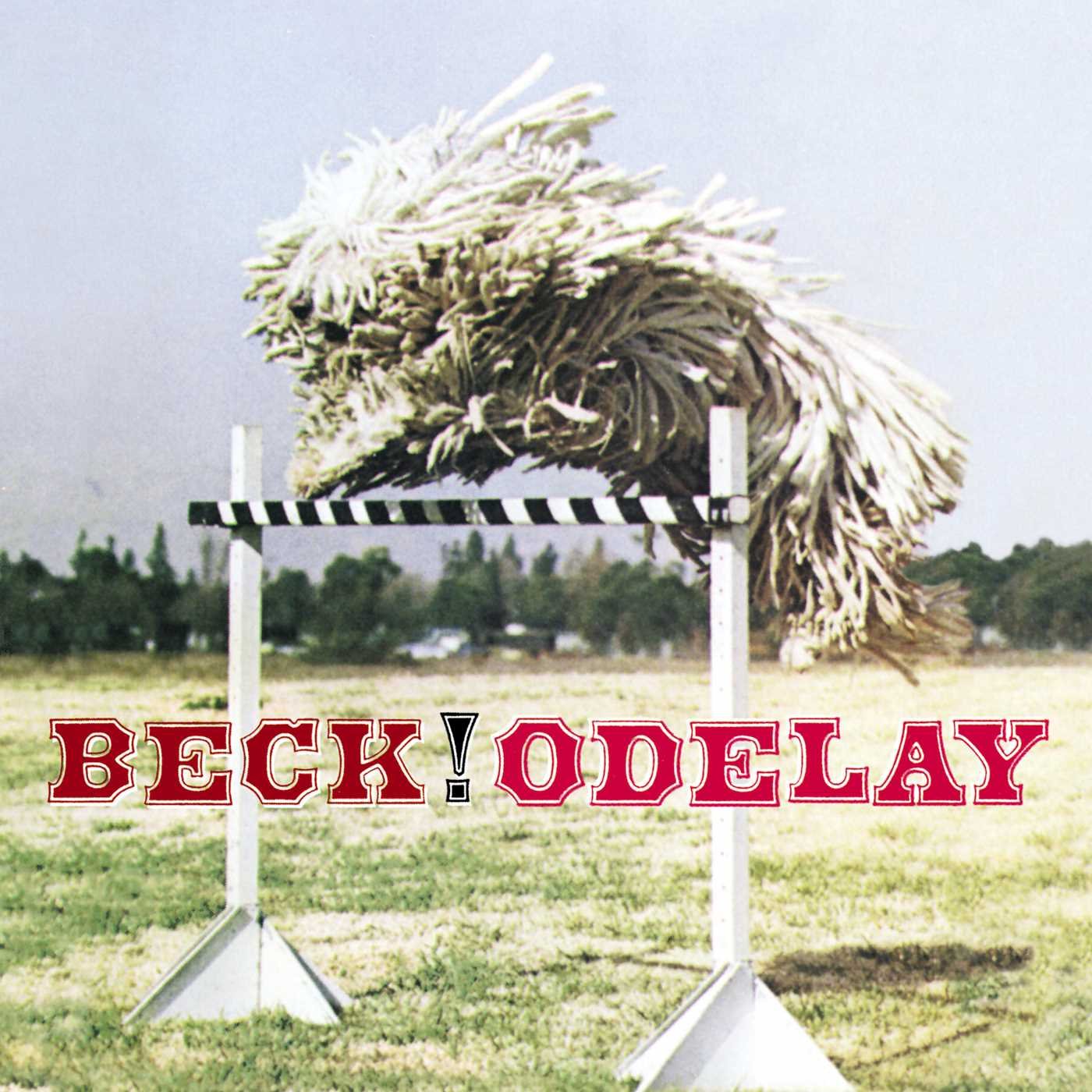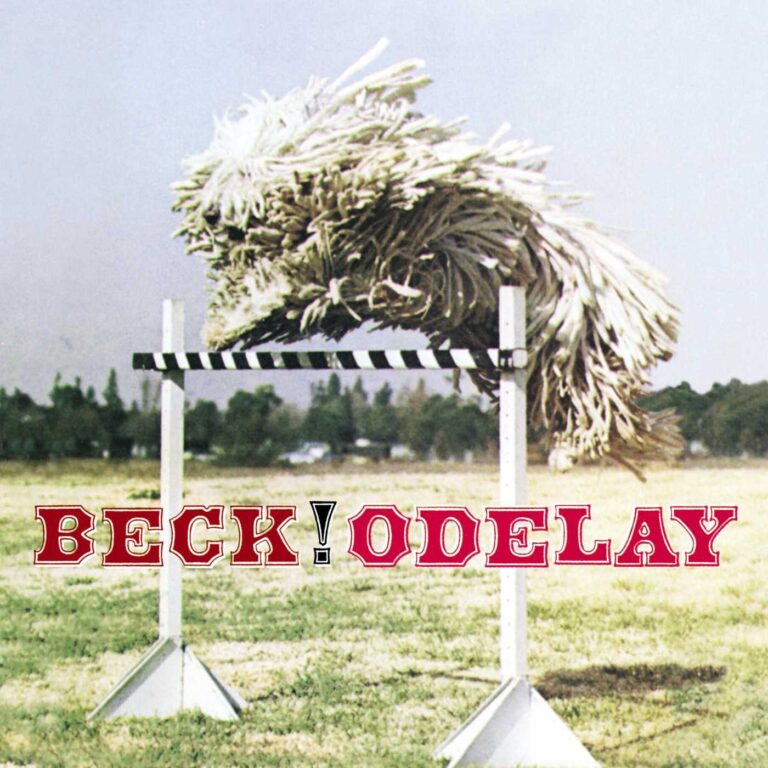 It's tempting to think that Odelay's epochal, pitch-perfect mix of rock and folk, hip-hop and punk, irony and sincerity came from years of market research. Those interlocking shards of Troggs and Old School; those savvy blends of Muzak and Mattel; those hilarious-yet-evocative borscht-belt-by-way-of-Sugar Hill lyrics. It all seems like the result of months spent reading zines and surfing public access, composing and remixing. The truth is somewhat scarier: Beck just decided to get loose.
"He had already recorded an album's worth of straight-ahead guitar songs," says Mike Simpson of the Dust Brothers, the production team that worked on Odelay (and the Beastie Boys' Paul's Boutique). "But he thought they sounded clinical—he said he wanted the album to sound like he had fun." So Simpson and partner John King suggested that Beck come by their closet-size home studio and "just screw around." As they soon discovered, no one screws around quite like Beck. "We'd pull out a record for inspiration, or cue up a beat, and Beck would instantly have a melody for it," Simpson says. "He'd write all the lyrics in, like, ten minutes." For laughs, Simpson pulled out an old educational record called Sex for Teens (Where It's At); King cued up an old Mantronix song with the line "got two turntables and a microphone" and out popped the album's first single and the magazine headline of the year. They wrote and recorded "Devils Haircut" and "The New Pollution" on the same day. "Lyrics, melody, music—everything," Simpson says. "It was incredible."
"I just thought of it as utopianism," Beck says. "It was the liberation of being able to pick the best aspects of all this great music and not get hung up on what's current, what's corny, or what's avant-garde. Everybody has their own definition of what's good about music, and this was mine."
At the time, it seemed like everyone else's as well. Beck's "Loser" had already wrapped all manner of subcultural treasures—lo-fi, breakbeat, Delta blues—into one spectacularly digestible sound bite. But when his little, off-the-cuff dork-jam was seized as a generational anthem, he wasn't too psyched to take it to the next level. So after stepping back into his folk roots with the independent release One Foot in the Grave, Beck's return to the Information Age babble of '90s pop heralded a wave of futuristic, style-blending acts, including Garbage, Cibo Matto, the Chemical Brothers, Cornershop, DJ Shadow and Sugar Ray.
Odelay didn't just bring the sounds, but also the psychology of an entire nascent, smart, post-punk, post-rap society of listeners into mainstream splendor. His level-headed embrace of the whole crazy-sexy-cool musical feast of the '90s may be Beck's most impressive achievement.
On his next album, Mutations, Beck went further into a softer, somber, more finely turned sincerity, singing darker songs about loss, guilt, and resurrection. In some ways, it's a fitting coda to Odelay, an album that fretted about the cultural detritus and hand-me-down blues of a fading century even as it remade them into a masterpiece. "It was weird—at the time, I thought the album was kind of behind," Beck says. "It was funny to hear people say it was ahead. I thought at the time, 'Oh, using Moogs is kind of played out. Hip-hop beats with the folk songs are kind of played out.' I was fairly convinced that I'd just done this thing to please myself." CHRIS NORRIS
5. Pavement, Slanted and Enchanted (Matador, 1992)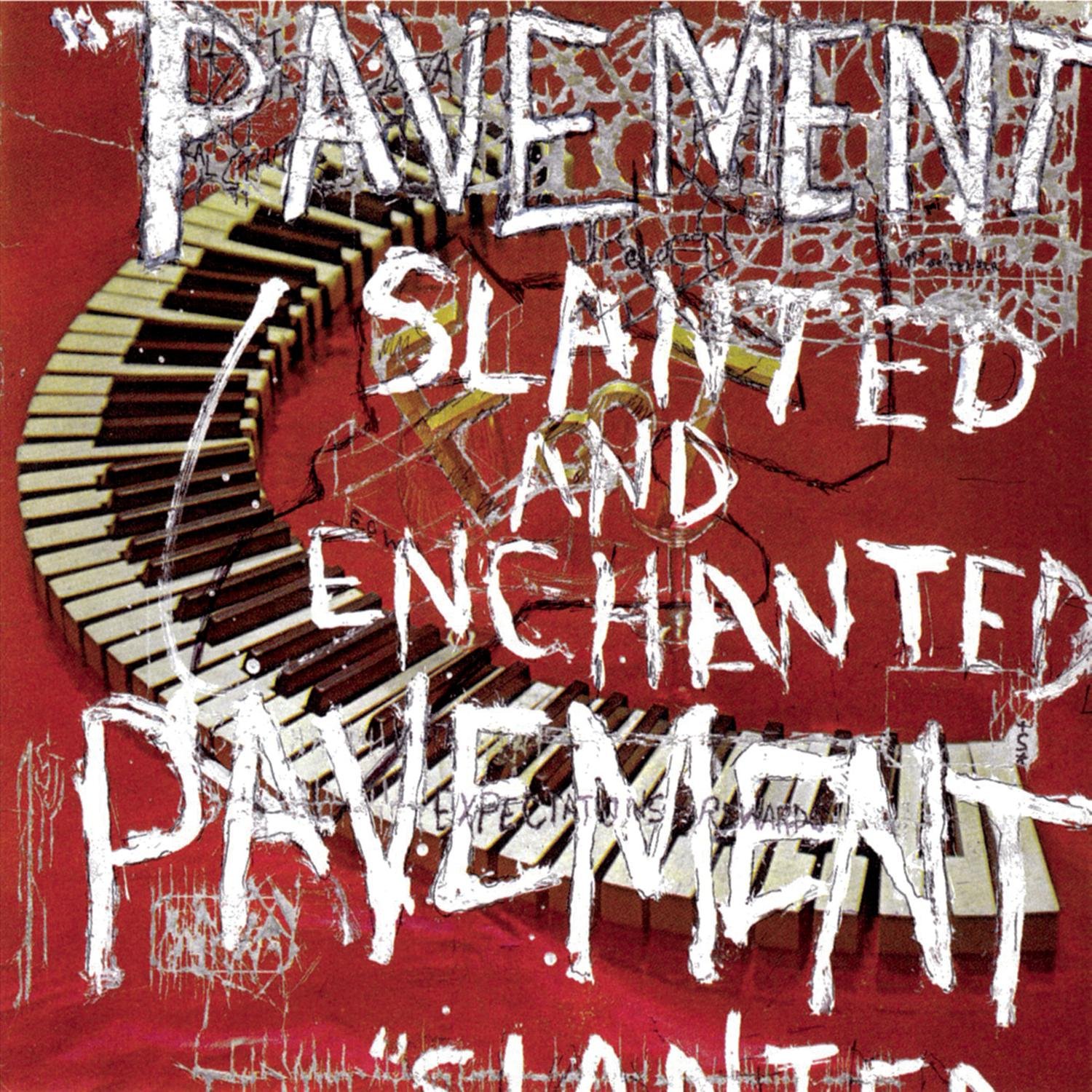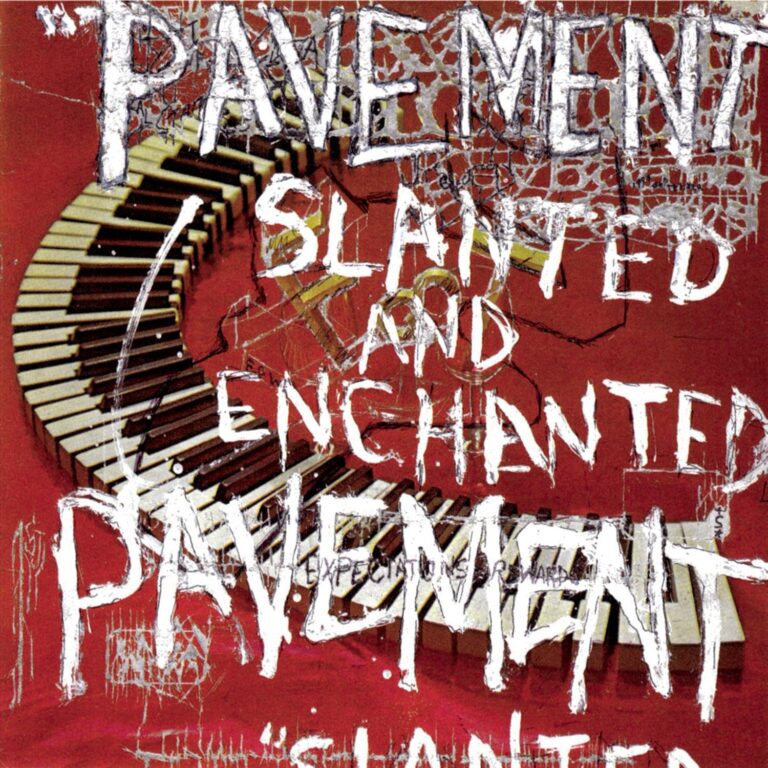 How's this for timing: The album that defined indie rock, that epitomized the way a decade's worth of bands turned hardcore punk into a collegial playground of sound, was recorded about the same time as Nevermind—the record that destroyed the scene forevermore. Slanted and Enchanted, Pavement's full-length debut, was "influenced by all the indie-rock icons—Sonic Youth, Dinosaur Jr., Replacements," says Pavement guitarist Scott Kannberg (a.k.a. Spiral Stairs), still sounding reverent. "You felt lucky 'cause these were the greatest bands."
Friends from Stockton, California, Kannberg and singer/songwriter/guitarist Stephen Malkmus (a.k.a. S.M.) were in their early 20s when Slanted was recorded. But as Malkmus remembers, "We were already confident that we were hot shit." Indeed, three limited-edition EPs—later collected as Westing (by Musket and Sextant)—had earned them the adoration of the hipster priests. Recorded at Louder Than You Think, the garage studio belonging to pushing-40 drummer Gary Young, Pavement releases were thorny collages: flattened-out guitars, radio static, cut-up cover artwork, and Malkmus—a surf-dude existentialist—spouting erudite nonsense. But Pavement rocked like a poltergeist with good timing. and when Malkmus let up on the torture, he created melodies as twilit as anything by the Velvet Underground or Brian Eno.
With a $1,500 advance from Matador (the label that was to indie rock what Sub Pop was to grunge), the trio took the music Malkmus had daydreamed as a security guard at New York's Whitney museum and haphazardly fashioned a legend. The reluctant anthem "Summer Babe" and the sing-songy "Trigger Cut" (in which Malkmus somehow turns "Lies and betrayals / Fruit-covered nails / Electricity and lust" into a call to arms) slapped five with song snippets that treated slackness as a birthright. Earlier indie had rooted its greatness in revitalizing rock; this stuff exploded like genius let out of a bottle.
"We were experimenting with cool sounds," Kannberg says. Malkmus, as is his nature, is more sardonic. "When we didn't have anything to do, we ripped off the Fall—'New Face in Hell' for 'Conduit for Sale,' The Classical' for 'Jackals, False Grails.' The melodies and the lyrics and stuff were from the '70s rock that was still in my head: [Jim] Croce, the Eagles, Carole King."
But the secret weapon was Young, an eccentric, long-haired classic rocker who admits, "I didn't really understand what we were doing," but who was an intuitive anarchist nonetheless. His disruptive live antics—which once included handing out mashed potatoes as the audience arrived—were key to Pavement's early aura. "At one show," recalls Greg Dulli of the Afghan Whigs, "Young decided to do a balancing act on top of his stool while the band played the opening riff. On cue, he played the first hits standing on his throne. Then to my amazement, he dropped his ass on the chair just as the song kicked in. It remains one of the coolest rock'n'roll moments I've ever seen."
One EP later, Young began acting so drunk and disorderly that Malkmus and Kannberg decided to go on without him. It was the end of an era—Pavement went on to tackle alt-rock on Crooked Rain, Crooked Rain and the post-indie weird-ness explosion on Wowee Zowee! yet never recaptured the organic sound that defined lo-fi. But for years, bands like Archers of Loaf and the Grifters considered "Pavement-esque" their Platonic ideal. "For a certain generation of people, Slanted was, like, a big thing," Malkmus says. "That's never going to happen with another Pavement record for them because they grew up. But it's nice to be known for something, I guess. Even if it is a lo-fi Fall rip-off album." ERIC WEISBARD
6. Hole, Live Through This (DGC, 1994)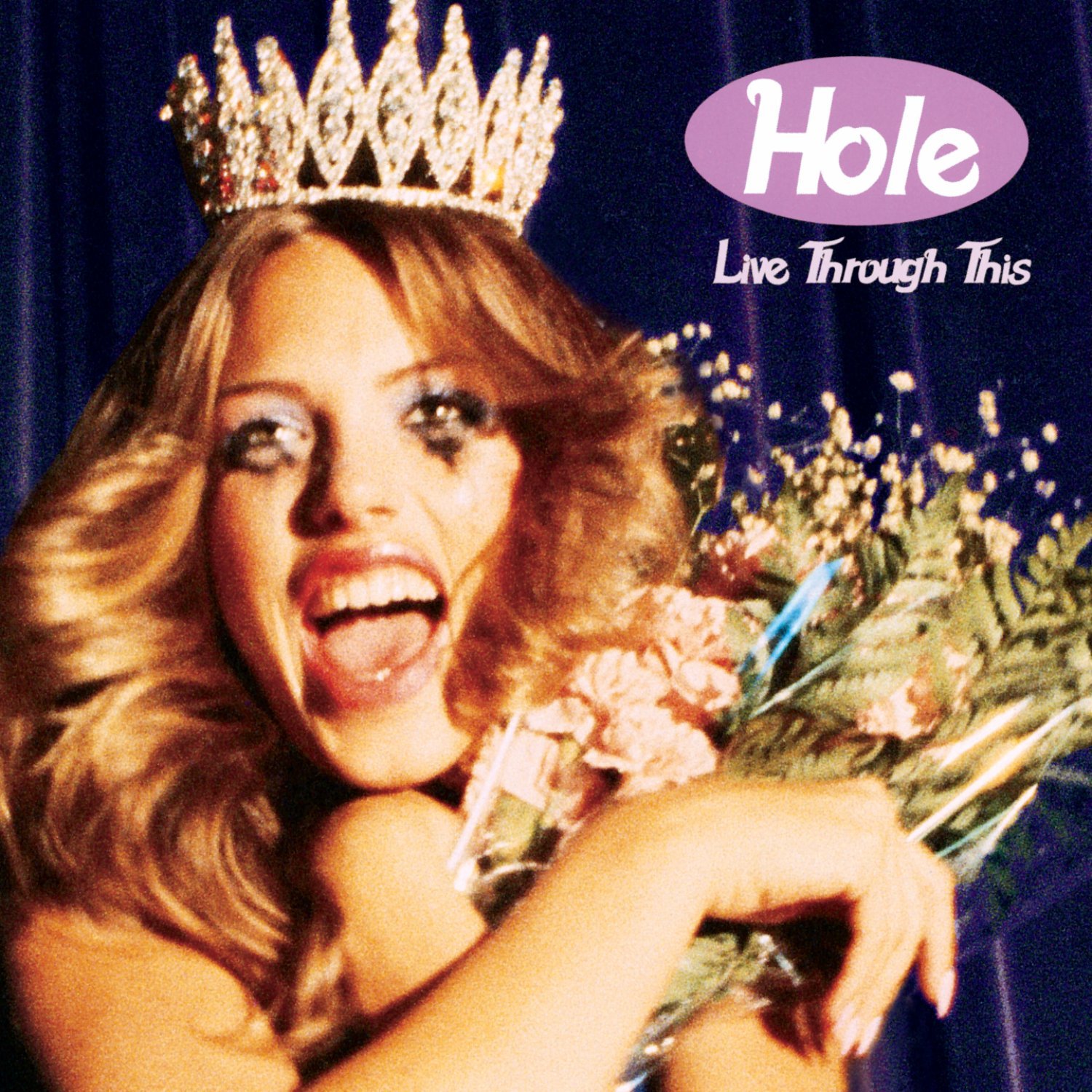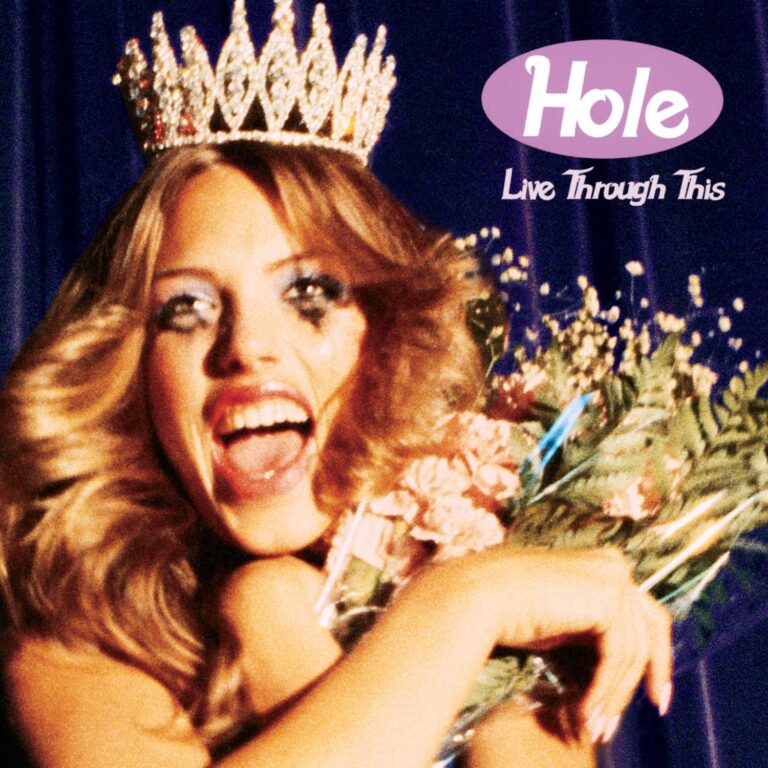 She sings three different songs, among the most wrenching blues of the century, about the mother's milk in her breast—the virtue of her femininity—and how it has gone sour, makes her sick, has a dick. Tracks like "Doll Parts," "Miss World," and "Violet" have the opposite effect of koans: Deceptively wispy and strummy, filled with commonplace phrases, they destroy your serenity the more you contemplate them. When she closes the record with a throwaway slam at the riot grrrls of Olympia, it lands with almost as much punch as Dylan's shot at the folkies in "Positively 4th Street."
Courtney, you made a really good album.
But because it was released only days after Kurt Cobain blew his head off, Live Through This has never been heard as just another piece of music. Courtney Love, his wife and mistress, accused hanger-on and contributor to his delinquency, was too controversial for that and wrapped that controversy too tightly into her art. "I was a lot more misanthropic when I wrote Live Through This," she says. "My marriage gave me a bunker mentality. Going back to Seattle recently, I was thinking: Pretty city. Too bad I never saw any of it."
Love's punk credentials and inherent gremlins have never been questioned. Her longtime friend Roddy Bottum of Imperial Teen says, with the right kind of poetry: "When we were younger, Courtney taught me the magic of smelling the dental floss after flossing. It's vile and disgusting, it's the rotten smell of death, and it's fascinating and unavoidable." But then she became a rock star, initially more on the basis of marriage than her previous work, and applied the same shambolic energy and paranoiac cynicism to an industry and press corps still grappling with the mainstreaming of grunge.
The results weren't pretty, and they only got worse with time. There was the Vanity Fair article suggesting that Love had used heroin while pregnant with Frances Bean and the battles with musicians from Axl Rose to Kathleen Hanna to Sonic Youth. Nastiest of all, perhaps, were the allegations that Kurt had secretly written Live Through This. Not a shred of evidence has been offered, though The Stranger, a Seattle alt-weekly, recently reported that "Old Age," which Love has said she and Cobain did write together, and which appeared credited only to her on a Hole EP, exists full-formed on a tape of Nevermind demos—from before Love and Cobain became involved.
Does anyone really believe that the self-incriminating, girl-germs-infested, quote-worthy lyrics of Live Through This came from a notebook other than Courtney Love's? As for the music, it certainly shares the soft-raw dynamics of the time with Nirvana, but with a rose/thorn quality that suggests Love knew exactly what she wanted, drawing on her own obsessive and idiosyncratic musical canon. A cover of the Young Marble Giants tune "Credit in the Straight World," for instance, gave some recognition to a postpunk pioneer, while the lyric precisely suited her purposes. And besides that scorched-earth yowl, her vocals throughout the record had the dexterity of great acting, finding the poise to make lines like "I fake it so real I am beyond fake" credible and moving.
Love refuses to put Live Through This above her other work, but no album better represents alternative rock in all its compromised glory, trying to reach for a status no one believed it was entitled to. "At Geffen," she recalls, "it was like, 'Oh, this is a shift from Axl to Kurt to Courtney.' There was no sense that the values had changed. Top 40 was getting obsolete, it didn't have any of the force that it has now. You could do what you wanted."
She thinks, then goes on, with a determination that should outlive the doubters: "And you still can." ERIC WEISBARD
7. Björk, Post (Elektra, 1995)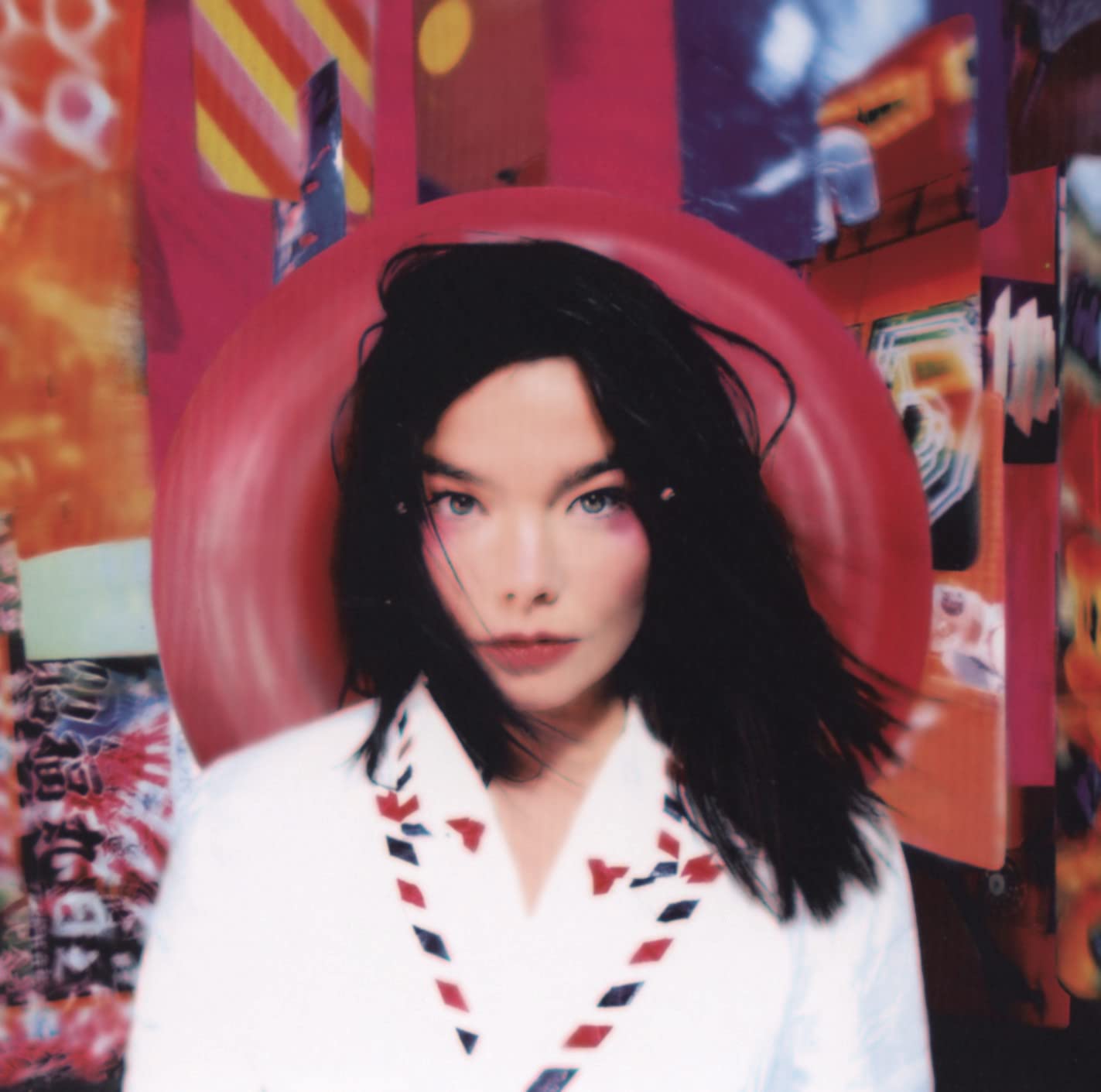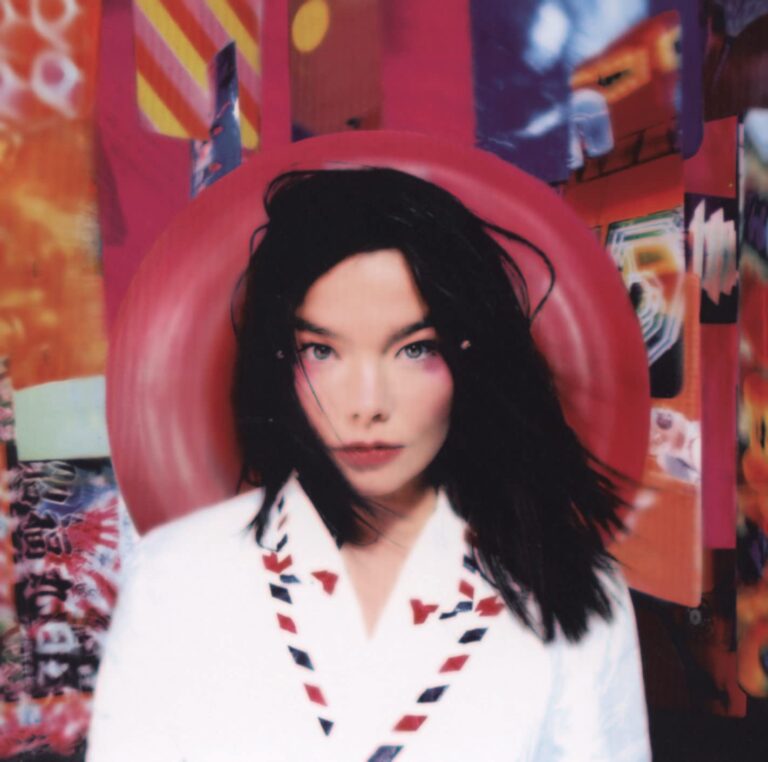 Björk's career has been a series of test cases to determine just how much strangeness a song can contain and still work as pop. On Post, the Icelandic eccentric revelled in the possibilities opened up by the multiplatinum success of 1993's Debut (her first solo album after quitting the Sugarcubes). Instead of playing it safe, Björk brought the weirdness—from jazz fusion's edgy tonality to dance music's rhythmic science. In retrospect, she'd felt that Debut had been too tame. "I had very safe pop songs…and I was sort of shy and humble toward the whole thing," she said in 1995. "This time I felt more at ease."
Shedding the boutiquey qualities that allowed some to dismiss her as a Sade for the '90s, Björk hooked up with multiple collaborators to forge an eclectic tour de force that challenged the agility of her starburst voice. The orchestral grandeur of "Isobel," the technoid seduction of "Possibly Maybe," the industrial juggernaut of "Army of Me," and the big-band retro romp of "It's Oh So Quiet" each highlight a different facet of her fascinatingly mutable identity (magic-realist dreamer, cyber-diva, space-pixie, etc.). These personalities are further dramatized in a series of brilliantly inventive videos such as "Army of Me" and its Tank Girl tyke. A TV-friendly ambassador for all things avant, Björk offers electronica with a human face for those intrigued by new sounds but alienated by the genre's anonymity.
"Post helped popularize the modern idea of an album as a delicatessen," says Björk collaborator Graham Massey of techno outfit 808 State. The two tracks co-written and co-produced by Massey—"Army of Me" and "The Modern Things"—actually date from the Debut sessions. Recorded in just one day in 1991 at a Manchester home studio, the demo versions were deemed too harsh for Debut's lush sound-world, but the songs were reactivated for Post. The lyrical concept of "Army of Me"—Björk in tough-love mode telling a self-pitying friend to shape up—was suggested by the implacable, monolithic groove, not vice versa. "Most vocalists just sit in the corner and get tortured over the lyrics," Massey says. "But being a formidable musician as well as a singer, Björk develops melody before words—the lyrics all start out as this wordless mumbo jumbo. That approach works brilliantly with electronica, 'cause you're forming the music as you go along."
The album is also very much a product of the creative turmoil of 1994-95 London, where Björk had relocated from Iceland. Jungle was exploding out of the underground, and strange hybrids such as trip-hop were percolating. "If Björk had moved somewhere else, like New York, it would have been a totally different album," Massey says. Yet Post was actually recorded and mixed in the Bahamas at Nassau's famous Compass Point Studios. According to DJ/U2 collaborator Howie B., who engineered Post, "Despite being in this Caribbean vacation paradise, we only had one day off in three weeks. And because the studios have no windows, we might as well have been in London." Björk did record some of her vocals with her feet in the ocean, though, thanks to a long microphone cord.
The frigid climate of Iceland was the setting for two collaborations with Tricky—the sensuous "Headphones" and the shatteringly intense "Enjoy." "They were like rough demos," says Tricky, who later dated Björk. "I kept waiting for her to say, 'Let's take them to an expensive studio.' But Björk had the courage to release the songs as they were, and that still shocks me. She ain't scared of nothing." Of their first meeting, Tricky says, "I thought she was mad cute but didn't think anything would come of it—she was on a different planet than me, a superstar."
But then, the cool thing about Björk is precisely the elegance with which she manages to straddle the murky underworld of marginal music and the overlit overground of MTV pop. Certified gold in the U.S., Post represents Björk's balancing act at its high-wire pinnacle. SIMON REYNOLDS
8. Dr. Dre, The Chronic (Death Row/Interscope, 1992)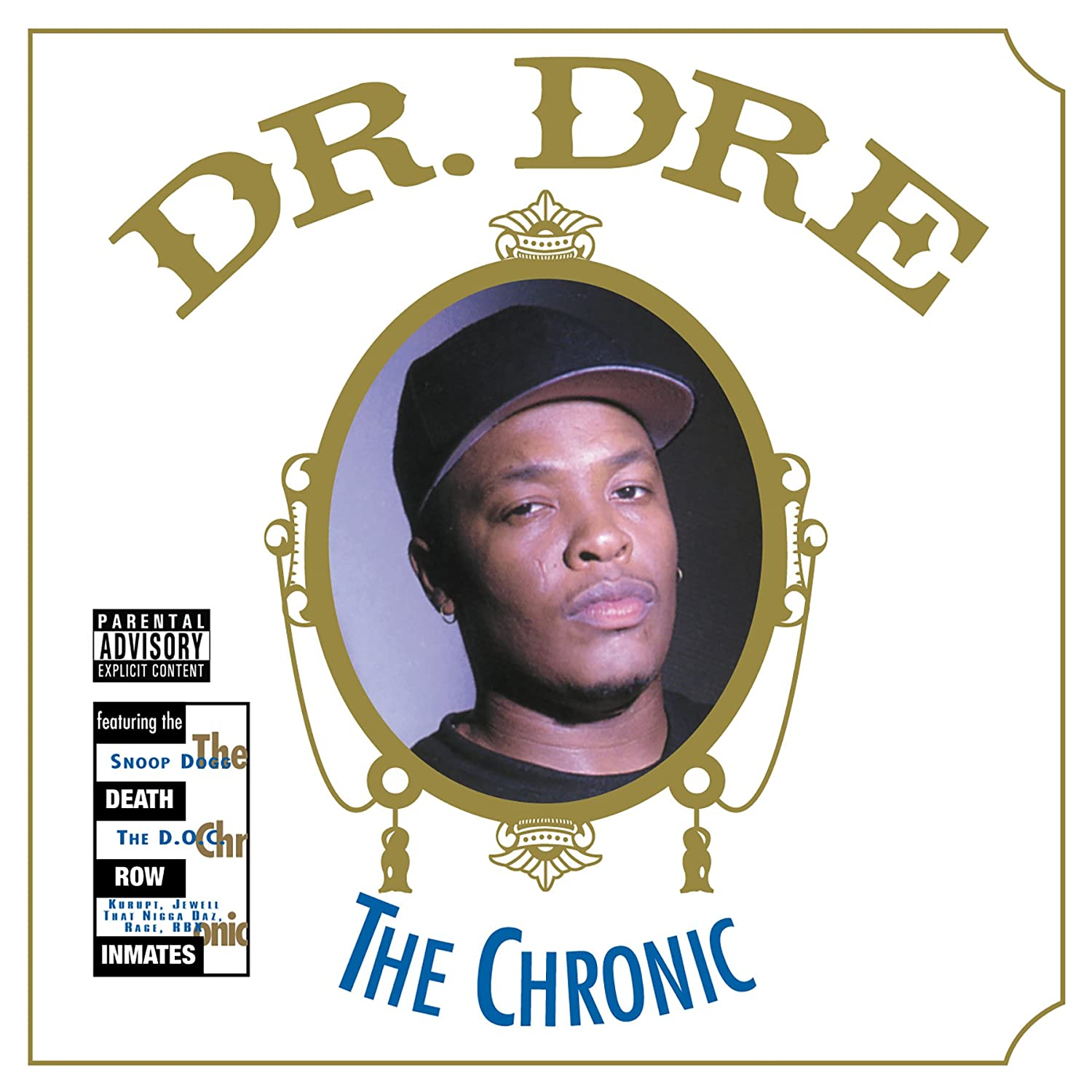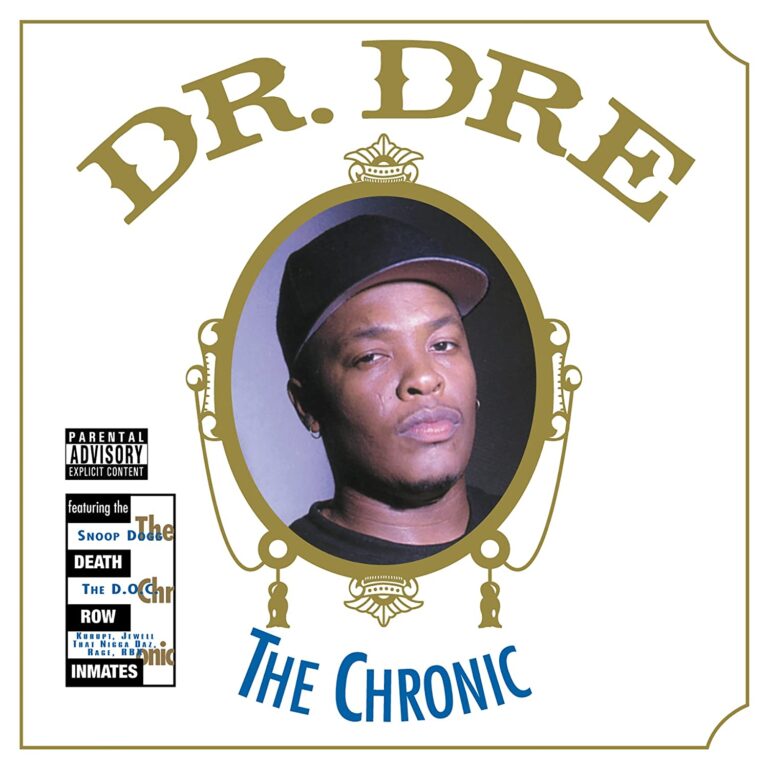 The Chronic opens with the sound of a jail door slamming, and before the tumblers went click, Dr. Dre had a lock on the '90s. As a record, Dre's post-N.W.A debut gave African-American resentment and ghetto nihilism a seductive, cinematic flow. As a cultural force, it rolled over all resistance, defining the entire country as Death Row Records turf and selling the West Coast gang mythos to the suburbs. "Dre fuckin' slowed down the '90s like The Matrix," Public Enemy's Chuck D says. "That record transformed everything—all that laid-back California shit."
Dre says he makes "feel records," and the feel of The Chronic is riot-time Los Angeles, 1992, bitterness grazing across territorial lines, anger edging into stoned hilarity. The album's gaggle of rappers sounds reborn in rage, posing as "niggas with big dicks and AK-47s" like they're having the time of their lives. But all that anger flowed from a very personal need for revenge. "It was a period in my life when I had just left [N.W.A's label] Ruthless, and talk on the street was I wasn't going to be able to do it without those guys," Dre says. "So I felt I had something to prove."
The Chronic rolls on drum-machine beats, like most rap albums, but Dre revolutionized the genre by deemphasizing samples, bringing in a Moog keyboard, live horn players, and crucially, multi-instrumentalist Colin Wolfe, who played the bass lines and eerie, high-pitched synths that provided the outrageously catchy hooks. Recreated P-Funk, Isaac Hayes, and Donny Hathaway melodies complete the essence of "G-Funk": cold-compress grooves applied to street-corner static, a budded-out haze that makes the anger seem serene and spacious. The cast was pulled from the 50 or so people who dropped by "the Lab" on a typical day to get high and get heard—MCs That Nigga Daz, Kurupt, RBX, the Lady of Rage. But the album's secret weapon is Snoop Doggy Dogg, a young Crip who'd recorded the underground hit "Deep Cover" with Dre the year before, and whose dry, graceful drawl dominates the record ("I guess I just wanted it a little more than everyone else," Snoop says). As he drops "a jimmy joke about your mama that you might not like," Snoop sounds lighthearted, almost giggly, like nothing can touch him.
Hip-hop's energy source had been going West for years, and The Chronic's four million copies sold, two Top 10 singles ("Nuthin' But a 'G' Thang,"Dre Day"), and omnipresent videos, were the final victory. The album's barely ambivalent, skitlike vision of the ghetto as a bullet-riddled sex-and-drug party had white kids in front of the mirror enunciating "beeee-yatch," while conservative activist C. DeLores Tucker went on a Washington rampage against so-called "gangsta rap." It's even said that the album's success caused the price of the herb it was named after to skyrocket. The Notorious B.I.G.'s 1994 debut, Ready to Die, brought attention back East, but even he sampled Dr. Dre's "Lil' Ghetto Boy" and The Chronic's narrative structure.
After Dre hit it was truly the G-Funk Era: Snoop's Doggystyle debuted at No. 1 In 1993, and Dre's stepbrother Warren G concocted the brilliant Regulate; then came the reserves—the Twinz, Tha Dogg Pound, etc. Violent drama became a hip-hop industry standard; even records by experimentalists like the Wu-Tang Clan and the Fugees needed a body count for credibility. The Chronic funded Suge Knight's Death Row, and its doctrine of revenge articulated label policy on both coasts, leading to Knight's feud with Bad Boy's Sean "Puffy" Combs. For years after The Chronic, "never hesitate to put a nigga on his back" was rap policy. Before things cooled down, Death Row's Tupac Shakur and Bad Boy's B.I.G. were murdered; Knight went to jail on a parole violation; Dre and Snoop eventually fled Death Row; and Snoop toured with 1995's Lollapalooza in a bullet-proof van.
Today, Dre attributes some of the above—plus hip-hop's onslaught throughout the '90s—to the triumph of The Chronic. "If that record wasn't successful, at least 50 percent of that shit wouldn't have happened." Then he laughs—now he can laugh. RJ SMITH
9. Radiohead, OK Computer (Capitol, 1997)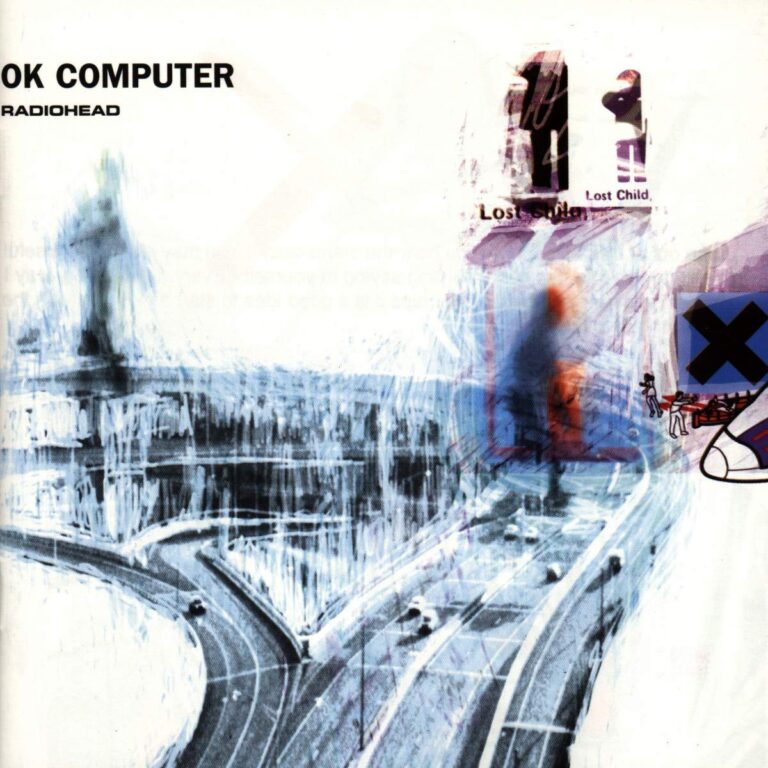 By the end of 1996, Radiohead was a one-hit wonder (thanks to 1993's self-loathing "Creep") whose second album, The Bends, sold half as well in the U.S. as their first. But as they toured the world for a bleary-eyed year and a half to try to cultivate an audience for their increasingly experimental music, they came up with their great theme: In the future that's two minutes away, everywhere looks the same and no place is home.
But to tell the world that postmodern life is rubbish, Radiohead had to take themselves out of it—at least for a while. So the band repaired to a 15th-century estate outside of Bath, England, and brought in producer Nigel Godrich, and some mellotron tapes that once belonged to Krautrockers Tangerine Dream. The music they made could have been a Teutonic bomb, but Thom Yorke's piercing voice always highlighted the desperation at the core of their songs. For all its sonic layers, "Airbag" is driven by a propulsive drum track, and "Electioneering" is a streamlined guitar rave-up. Thanks to the bucolic setting, the mood never got too heavy—even when they were singing about paranoia and technological overload. "It was like being at home with your friends one day after school and doing a record," guitarist Jonny Greenwood says. "We set out not knowing how we were going to do what we wanted to do. [OK Computer] is what results when you're struggling and thrashing about."
Arriving at a time when rock was stuck in the past and electronica acts like Prodigy and the Chemical Brothers were connecting with a Tomorrowland vision of the future, Computer's sense of isolation-in-a-crowd was initially unfathomable to grunge-educated ears—a thematic series of Twilight Zone tales told in a twisted narrator's voice. "When we first gave it to Capitol they were taken aback," Yorke said in 1997. Yet at a time when record companies were increasingly reluctant to get behind uncommercial music, Capitol promoted its artistes as though they were the next Monkees, sending review copies of the tape glued into Walkmans and announcing unprecedented (and expensive) plans to make videos for each of the album's 12 songs.
OK Computer debuted at No. 21, then sank like a stone, but during the next year, a growing number of fans were seduced by its cryptic sweep. "People really took to it," says Greenwood, and the band's second single, "Karma Police," went into rotation on MTV.
Along the way, the group's industry showcases become must-sees, and musicians from every genre became obsessed with the album's ravelled textures and elliptical lyrics. Michael Stipe took Yorke under his wing, and the Roots gave them a shoutout on Things Fall Apart. UNKLE mastermind and Mo' Wax label chief James Lavelle still identifies Computer as one of the only recent rock albums to cross back over into the dance scene. "The whole sound of it and the emotional experience crossed a lot of boundaries," he explains. "It tapped into a lot of buried emotions that people hadn't wanted to explore or talk about."
It didn't make Radiohead any happier either. In Meeting People Is Easy, director Grant Gee's arty documentary about the emotional exhaustion of promoting an album in the age of MTV Singapore, a reporter asks Yorke how he feels about an upcoming show, and the singer replies that he's terrified. As on Computer, what should be a mindless interaction with the machinery of daily life brings on a nameless dread. "The wheels start turning again and the industry starts moving again," Yorke says. "It just keeps going—basically outside of our control." RJ SMITH
10. The Chemical Brothers, Dig Your Own Hole (Astralwerks, 1997)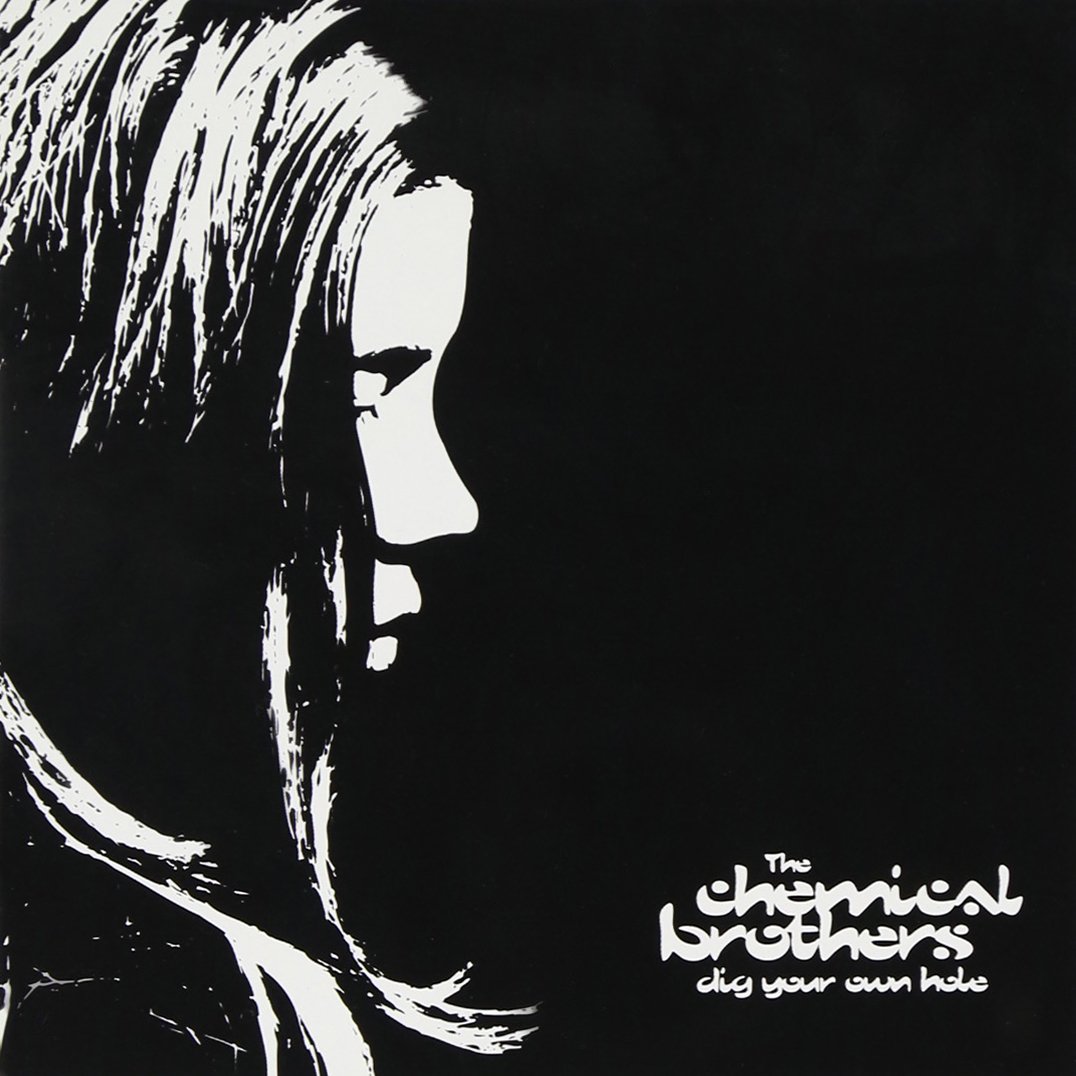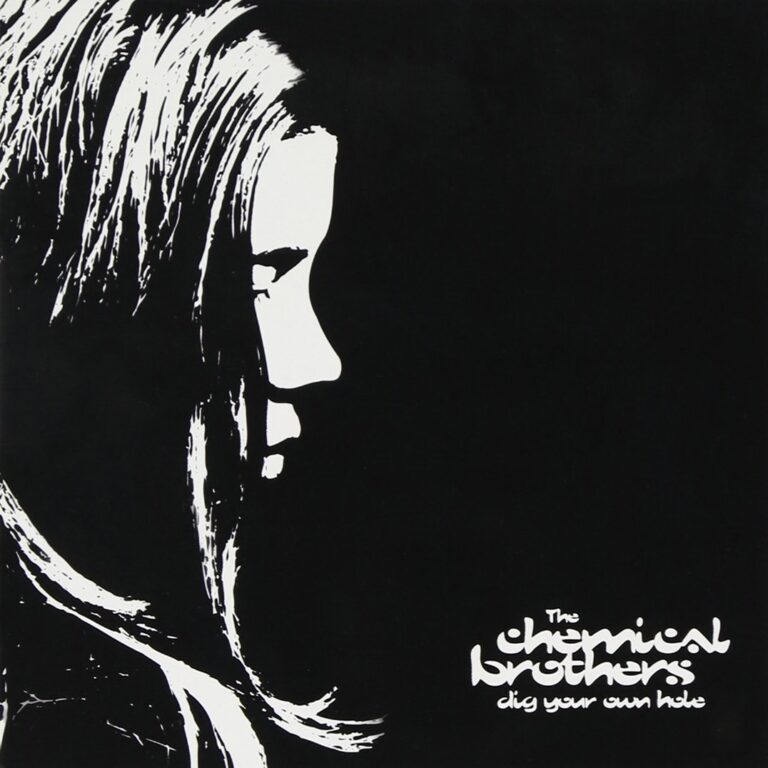 Tom Rowlands lost it in the back seat of his older brother's Fiat 126. "Hearing Public Enemy's Yo! Bum Rush the Show spun my world around totally," says the Chemical Brother, recalling his first exposure to the group's production prowess on the car stereo. "I remember hearing 'Miuzi Weighs a Ton,' and I'd never heard music so powerful. It was just power, funky power, so powerful and tight and controlled."
Fight the power? Fuhgeddaboutit. In the years since that awakening, Rowlands and Chemical sibling Ed Simons have channeled the power into their own mad engines. Their 1995 debut, Exit Planet Dust, was the album that introduced the world to what the Chems had been brewing at the legendary Heavenly Social Club, where the so-called "Big Beat" scene got its start and even Fatboy Slim would stop in to take notes ("That's why my first album is called Better Living Through Chemistry," Norman Cook admits. "My girlfriend used to say that all I do is rip off the Chemical Brothers.")
But it was the follow-up, Dig Your Own Hole, that spun our world around totally. "Exit was a complete worldview of what we wanted in music," Rowlands explains. "Dig Your Own Hole was a record borne out of where we ended up after Exit—playing a lot of live gigs to bigger audiences. It's got big feelings, big emotions."
Size matters. Dig Your Own Hole isn't a perfect album, but it's suffused with such an overwhelming sense of arrival you tend to ignore the holes in the fabric—if not outright dig them. The album starts with the undeniable "Block Rockin' Beats," an anthem of delirious brainlessness warning the listener that this was genuinely New Rock, independent of the foundation of blues, teen angst, and social commentary the old rock was built on, Rowlands and Simons turn the beat around again and again, cramming more drama into the record's first half hour than most DJs manage in a night. And just when they seemed ready to burn the disco down, they beam themselves to another venue altogether: the grotty rock arena of "Setting Sun," where Noel Gallagher, the homely face of Britrock in the '90s, was waiting for them.
"Setting Sun" was never a huge hit this side of the Atlantic, but in Britain it all but defined an era. It's not just that Gallagher's mordant vocals caught the feel of Britain on the downside of the Ecstasy revolution; it's that his imprimatur on the Chems' barrage of electronic noise signified a changing of the pop guard. The sun wasn't only setting on the smiley-face rave era, it was setting on the electric guitar's dominance-of youth culture. Gallagher, in essence, got to testify at his own wake. "'Setting Sun' was our first No. 1 record, even though our music hadn't changed," Rowlands says. "What had changed was people's notion of what a pop record was. Radio people didn't like 'Setting Sun,' but they had to play it."
The Chems' influence on the Big Beat scene notwithstanding, there have always been differences between their music and what followed in its wake. While most Big Beat acts sound like they're as drunk or E'd up as their audience, the Chems' finely calibrated sound suggests a couple of grad-school grinds who toil so that we might party. In a sense, they've stayed true to Chuck D's notion that in beats begin responsibilities. Even Chuck recognizes the kinship. "I think of that shit as PE records without the characters and politics," he says. "It's cool; I like it?" JEFF SALAMON
11. Nine Inch Nails, The Downward Spiral (Nothing/Interscope, 1994)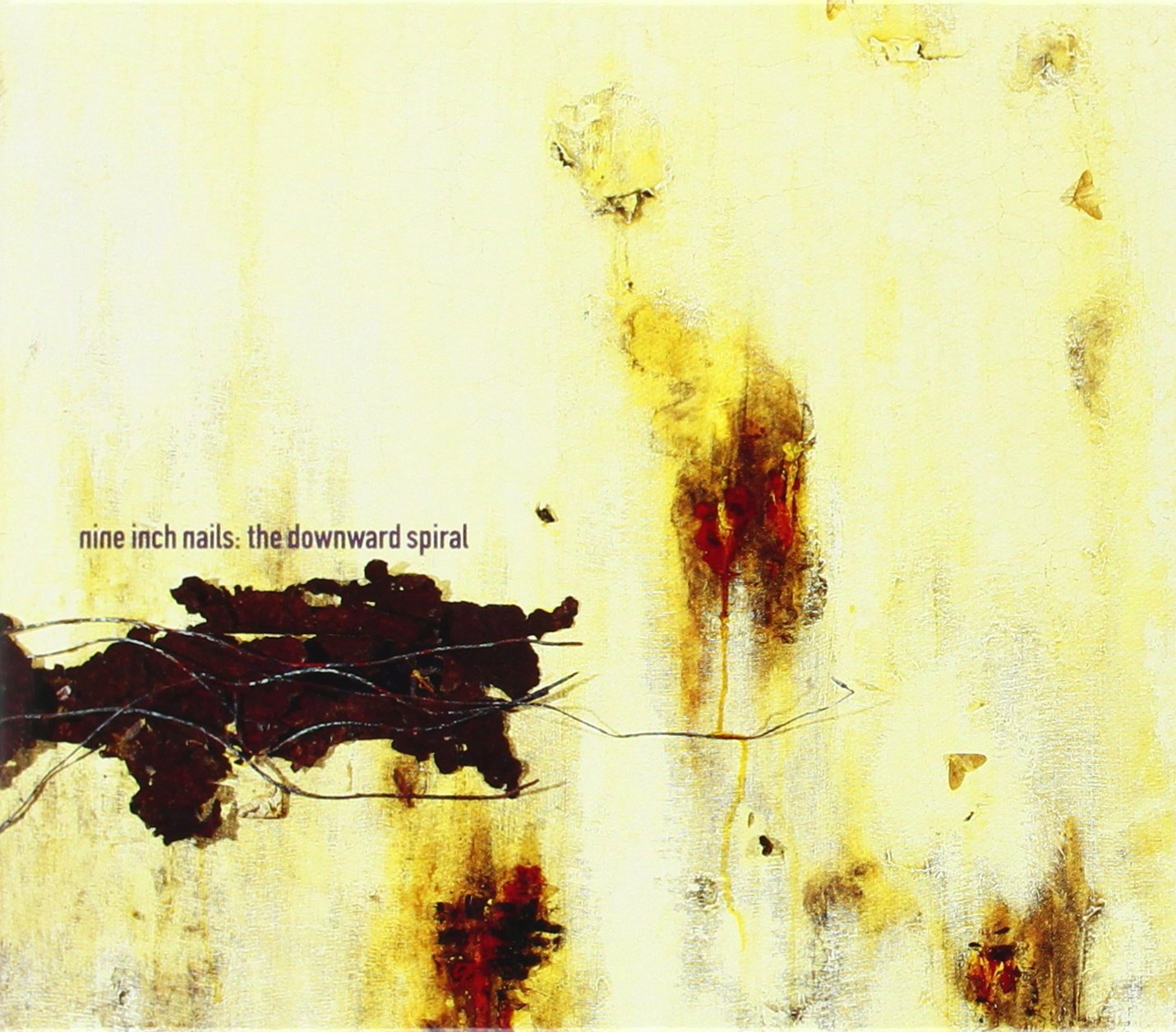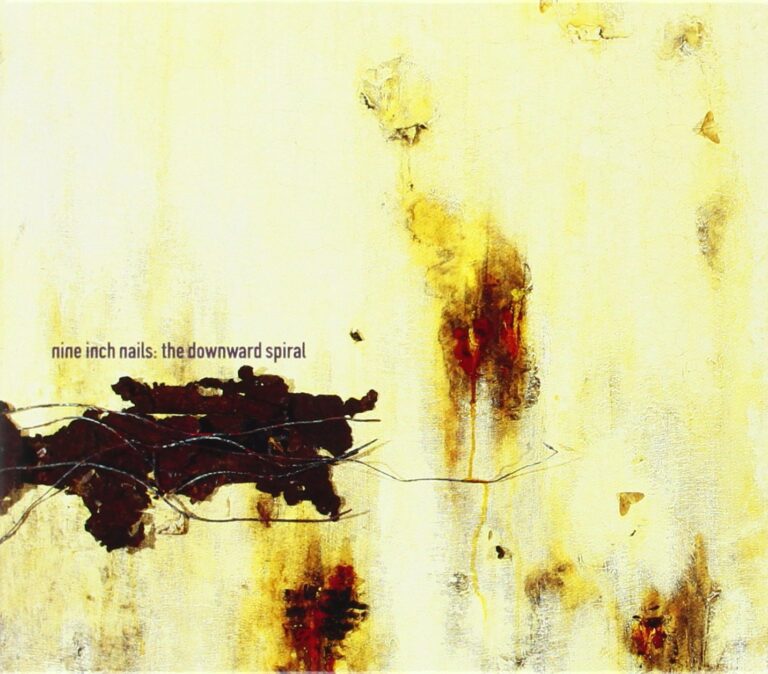 It was the best of sounds, it was the worst of sounds. In a Los Angeles recording studio, Trent Reznor filtered the nails-on-chalkboard textures of industrial through a blend of punk, metal, hip-hop, stoner rock, and New Wave, which made the machinery pulse as if it were human—and still sounds fresh today. But the studio in question was located in the house where Charles Manson's "Family" slew actress Sharon Tate, and Reznor paid tribute with plenty of sophomoric "pig" lyrics. Even he only half-heartedly defended the tossed-off horror show "Big Man With a Gun," which put him on a collision course with conservative activist C. DeLores Tucker and former U.S. Secretary of Education William Bennett. Anything went, and without much thought to the consequences.
Still, it could have been worse. As Reznor said in 1995, "There was another song that I didn't put on there called 'Just Do It.' It was a very dangerously self-destructive, silly little snippet. You know, 'If you're going to kill yourself, just do it, nobody cares at all.' But [Downward Spiral coproducer] Flood freaked out and said, 'No, you've gone too far. I don't want to be involved in that.'"
Reznor's embrace of the extreme could seem disturbingly manipulative, but his anger was real. The results, drawn in part from Ministry's work in the '80s but far more grand and personal, synthesized a new brand of rock'n'roll rocket fuel. Reznor obviously influenced industrial-types like Filter and his seamier protégé, Marilyn Manson, but he also paved the way for anyone mixing guitar-slinger rage with modern-day beats. And despite the controversy swirling around Reznor, the synth-pop tour de force "Closer" made "I want to fuck you like an animal" a heavy-rotation message. Tori Amos admires "the way he stuck to what he believed in and could draw a line with the record company." Today, as Reznor finishes his long-long-awaited new record, he says, "I had a story to tell [with The Downward Spiral], and I was—and still am—very pleased with how it turned out. I didn't realize at the time, however, that it was about to become a self-fulfilling prophecy." ERIC WEISBARD
12. Beastie Boys, Check Your Head (Grand Royal/Capitol, 1992)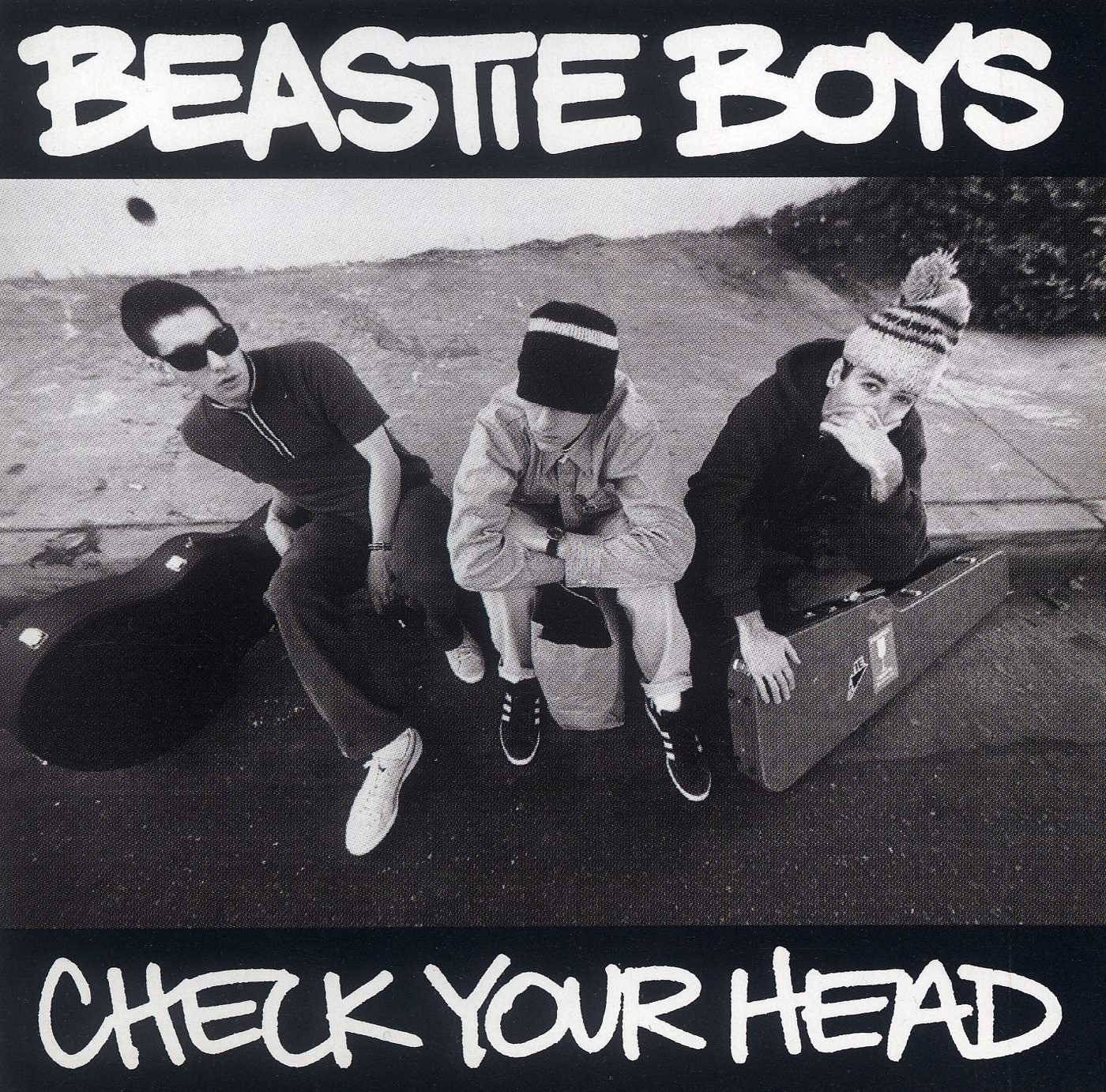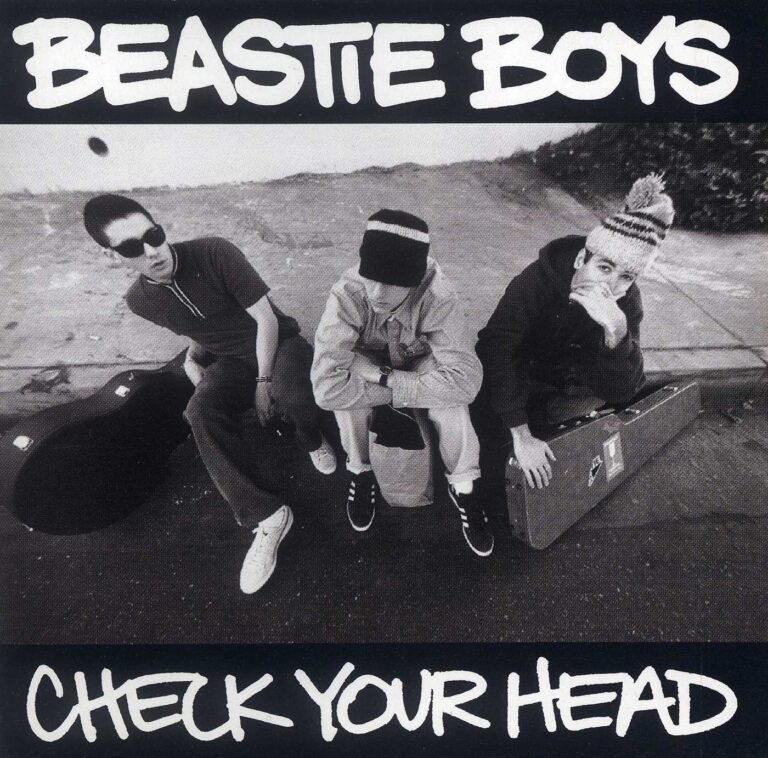 "The climate was kind of weird in hip-hop when we went in to do Check Your Head," says Adam "MCA" Yauch. "A lot of the hip-hop that was coming out was really angry, and we felt a little alienated from that. There were plans for the album to be instrumental."
After their cut-and-paste musical mystery tour Paul's Boutique flopped commercially, it would have been easy to write off the Beastie Boys as overly ambitious frat-rappers. But as they searched for a new direction in the crates of '70s funk records they had mined for Paul's samples, the Beasties decided to pick up their instruments again—not to return to their punk-rock roots but to try to get into the groove the old-fashioned way. Eventually, with the encouragement of producer Mario Caldato, Jr.—and some inspiration in the form of a studio visit from Biz Markie—they decided to pick up their mics again as well. "It just started to feel like, well, what the hell," Yauch says.
The first release on the Beasties' Grand Royal label, Check Your Head mixes Old School rhymes with instrumental jams, plus a blistering hardcore cover of Sly Stone's "Time for Livin'." It not only helped make the Beasties the decade's standard-bearers of cool, it created the skater-centric rap-rock aesthetic out of distorted mic sounds, grainy videos, and extra-large workwear fashion. The stuttery "So What'cha Want" got the Beasties back on the charts, and their organic fusion of beats and thrash established the blueprint for scratch'n'spliff rockers like Korn and Limp Bizkit. "I knew they played instruments, so I wasn't too shocked to hear the album," Kid Rock says. "But it was cool that they did it right." ALAN LIGHT
13. Liz Phair, Exile in Guyville (Matador, 1993)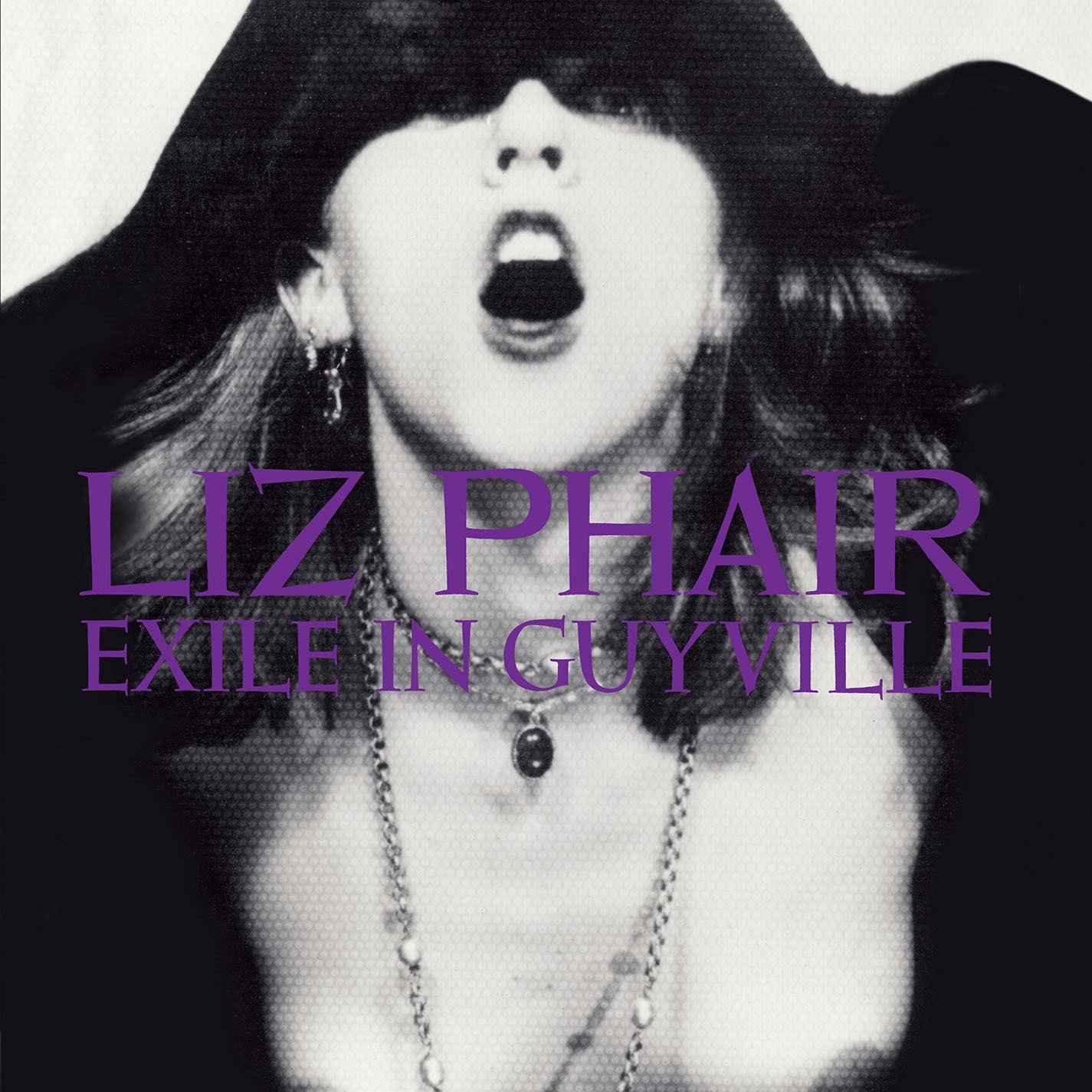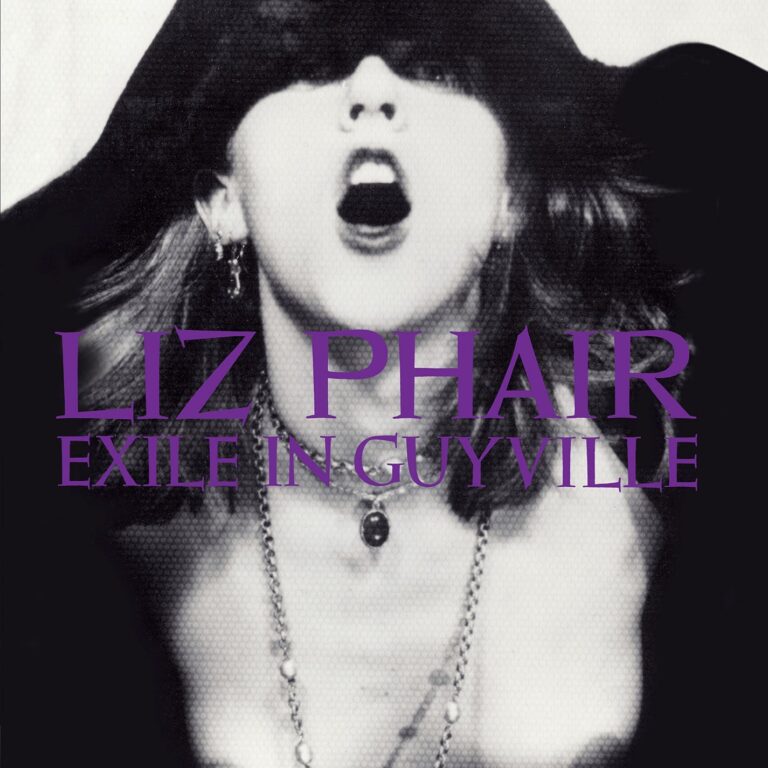 Liz Phair swears she just wanted to make an "answer record"— not so much to the Rolling Stones' Exile on Main Street as to the local boys. "I was a band girlfriend, and that world was so sexist, so conservative. I wanted to get back at the people in my life," Phair says. But if she was thinking locally, she was acting globally. Exile in Guyville ruled the '93 critics polls, resurrecting a moribund scene and leaving the big labels wondering what to do (as usual, the answer was: Sign everyone, stupid!). Phair pulled this off not by doing the majors' job better, but by exploiting indie's freedom to write songs as if the fundamental rules didn't apply—as if that inter-office memo about verse/chorus/verse and never proclaiming yourself "a cunt in spring" had yet to be written.
Phair wasn't just changing the way the big boys thought about confrontational women with weirdly shaped songs and dirty dictionaries, though; she was truly changing minds. Even people who disliked the insular hipster world she came from had to recognize the way the record grafted ambition and immediacy. Meanwhile, the gatekeepers of indie-land couldn't just holler "Sellout!" and exile the record to Main Street. In its way, Exile diverted the course of rock culture as much as any other record of the decade. It even incited an almost unbroken series of "Years of the Woman" in the music press.
Such clichés are just ways of containing what is, in the end, a difficult album to hold in check. Exile isn't a record of new forms, but of anti-formalism, from wandering microfictions such as "Divorce Song" to sing-song bathroom graffiti and strange loops. Maybe, like producer Brad Wood says, it was Phair who blew up into a media darling "because there are no chicks in Pavement." This "Blowjob Queen" certainly knew how to work her ironic ingenue persona. But if the scene from which she sprang was short on sex appeal, it was also notoriously delinquent on delivering what Phair named her legendary rough-draft basement tapes: "Girly Sound." "It was amazing to hear a song like 'Flower,' to hear a woman sing about her sexuality that way," says former Bikini Kill leader Kathleen Hanna. "She was this really strong femme character."
You know you're a rebel when the empire strikes back. Exile summoned into existence not only megaplatinum Blowjob Princess Alanis Morissette but Jewel—if not the Antichrist, at least the Antiphair—and girlie action returned to a reassuring format certain not to frighten the horses. If such responses underscored the center's knack for consuming any revolution, they couldn't answer Exile's wildness, its uneasy drive into a landscape where anything could happen next, where punk vitriol rides with the ballad of sexual dependency. Peaking with "Fuck and Run," the album is an attempt to return rock 'n' roll to a time when the rules weren't carved in stone. JOSHUA CLOVER
14. Tricky, Maxinquaye (Island, 1996)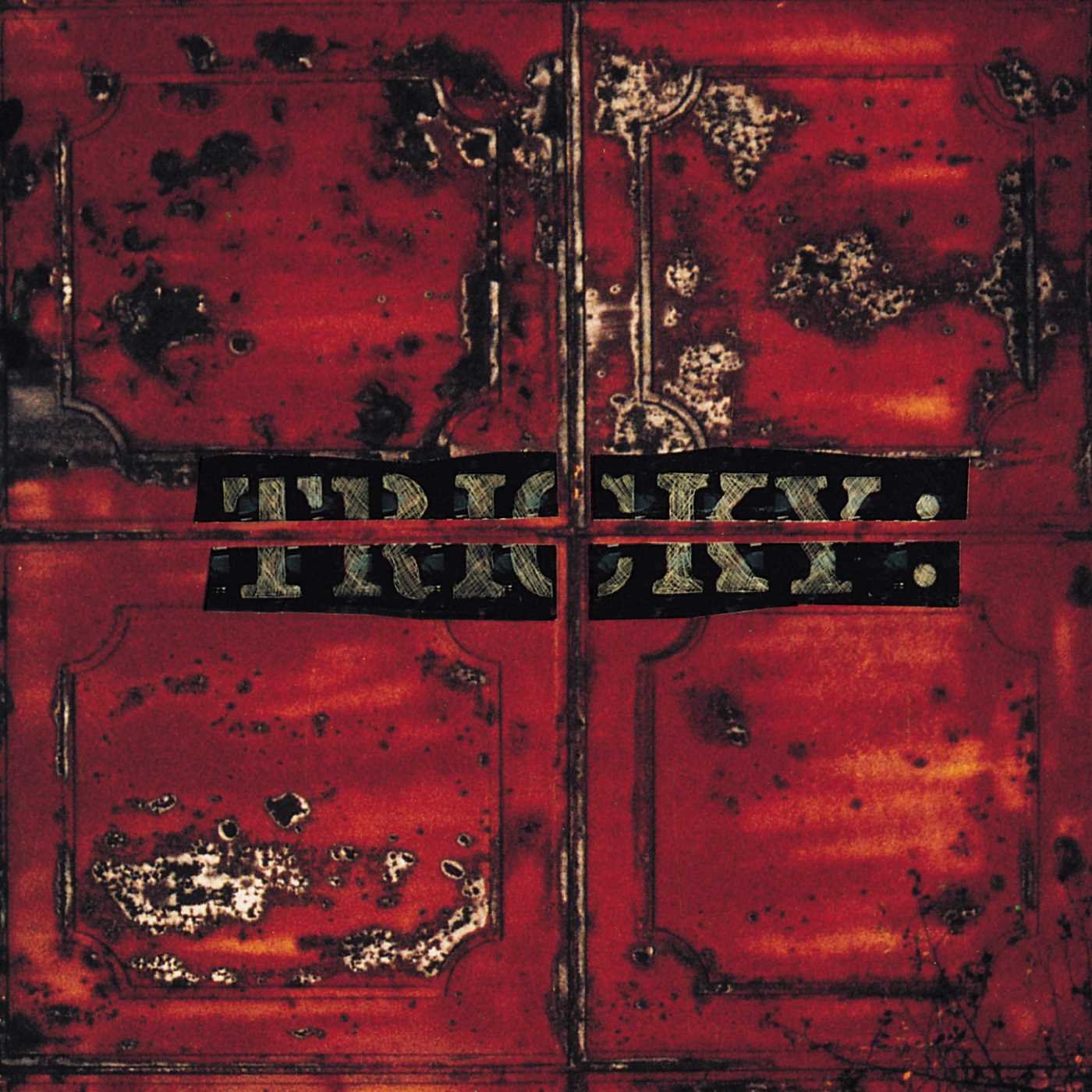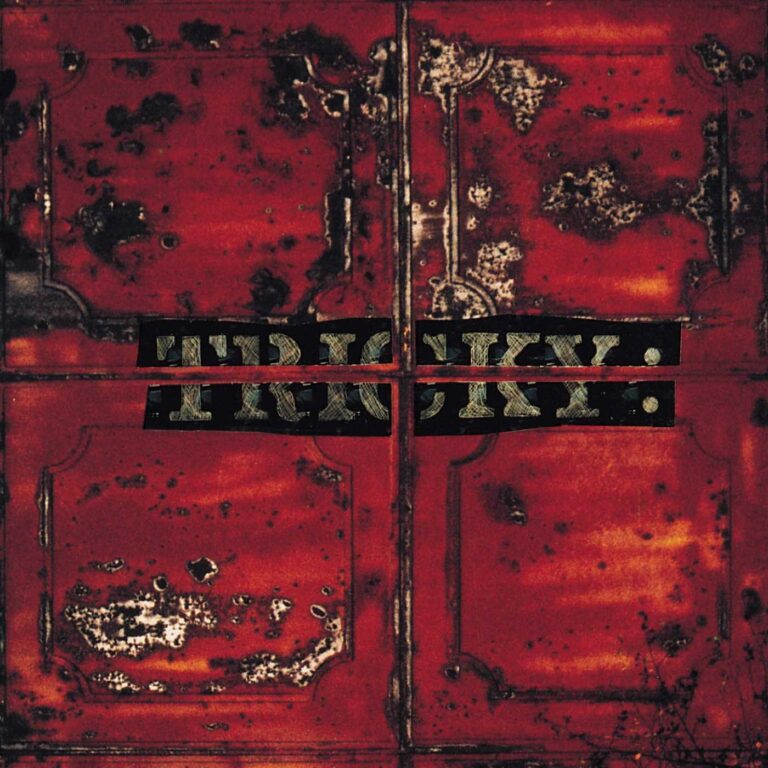 Revealing former Massive Attack member Tricky as one of the most inventive producers and lyricists around, Maxinquaye also helped establish "trip-hop" as a genre (though Tricky himself fiercely rejected the term). The album was recorded almost entirely in London, but it has everything to do with Bristol, 'I'ricky's hometown. "In the '80s, all the different ghettos were interbreeding," says Tricky's friend Mark Stewart, formerly of avant-funksters the Pop Group. "We'd all be checking out reggae 'blues' parties, industrial-punk events, and hip-hop jams." You can hear this Bristol mix percolating in Maxinquaye's hybrid soundscapes that incorporate everything from Public Enemy's righteous noise to garish art-rock weirdness and postpunk angst.
"Mark Stewart, he's my chaos," says Tricky of the mentor who acted as unofficial executive producer on the single "Aftermath," Tricky's first solo recording outside Massive Attack. It was Stewart who persuaded Tricky to scam funds from Massive's management for studio time, and after blowing half the money on booze, the pair finally recorded a downtempo haze of "hip-hop blues." Outside his house, Tricky met teenage student Martina Topley-Bird while she was waiting for a bus, and he invited her to sing. There may have been a fourth conspirator—Tricky believes the postapocalyptic lyrics were channeled from his mother, Maxine Quaye, who committed suicide when he was four.
Tricky offered "Aftermath" to Massive Attack but says Massive's 3D told him, "It's shit, you'll never make it as a producer!" While "Aftermath" languished on cassette for three years, Tricky sank into depression, complete with marijuana-induced hallucinations of demons in his living room.
After a collaboration with engineer Howie B disintegrated because of management conflicts, Tricky and Topley-Bird went to work in a home studio. The massively acclaimed Maxinquaye works as both an autobiographical account of one man's struggles and as a cryptic allegory. Capturing the orphaned drift of the mid-'90s, just as Sly Stone's There's a Riot Goin' On had crystallized the curdled idealism of the early '70s, the album concerns the inability of Tricky's generation to even imagine a utopia. "We're all fucking lost!" Tricky declared in 1995. "I can't see how things are gonna get better. I think we have to destroy everything and start again." Yet despite its relentlessly bleak vision, Maxinquave's sheer aesthetic splendor makes it oddly life-affirming. SIMON REYNOLDS
15. DJ Shadow, Endtroducing… (Mo' Wax/FFRR, 1996)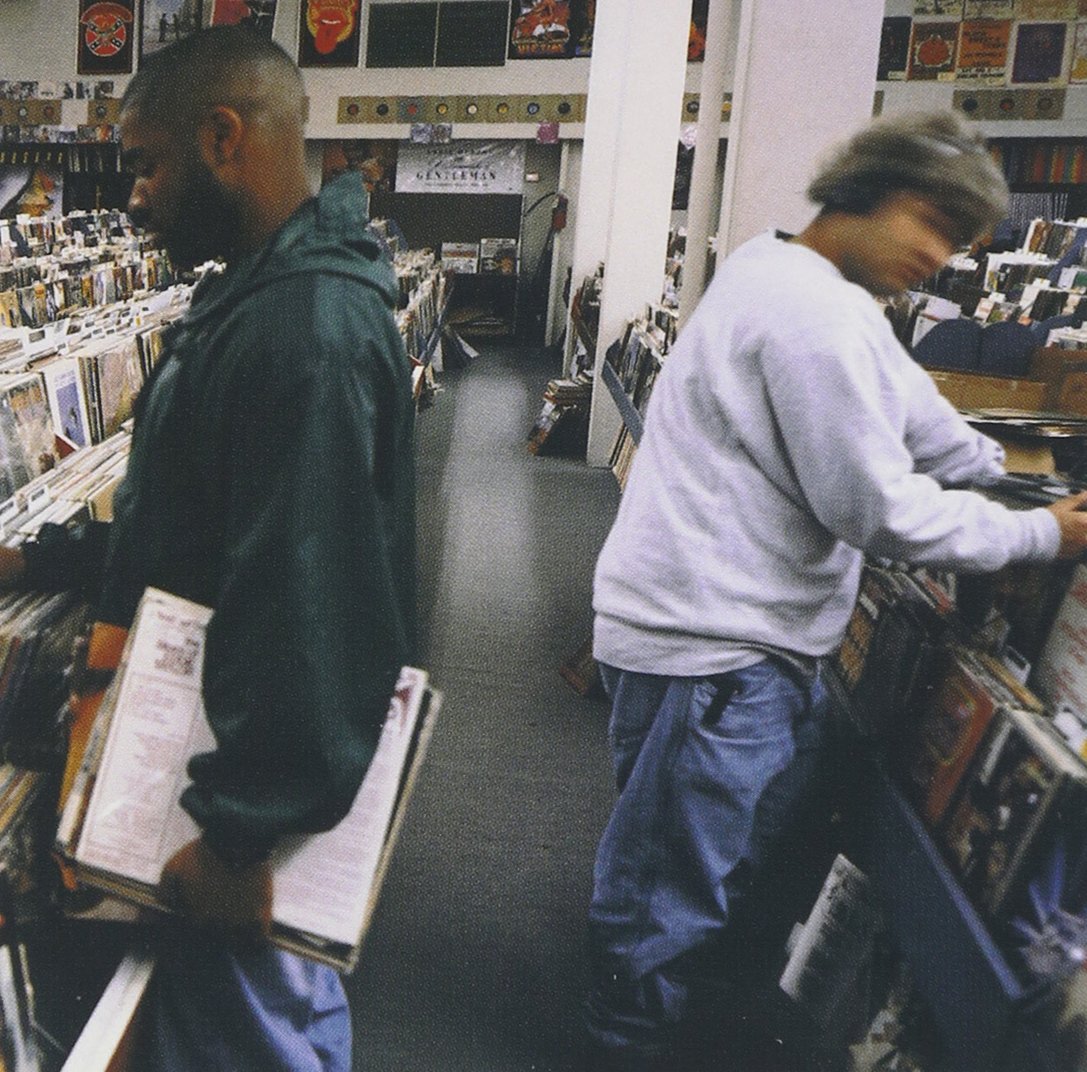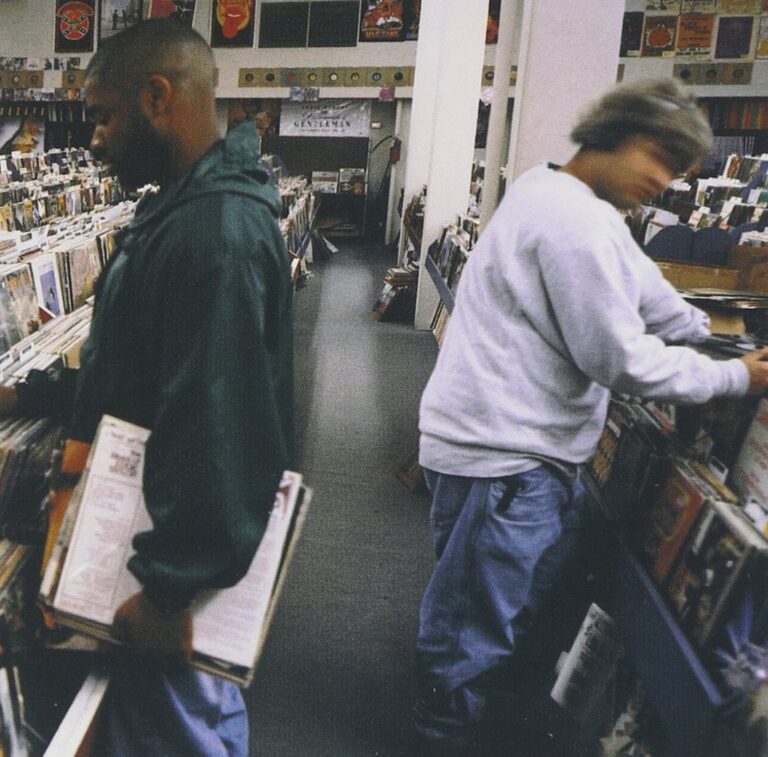 The most unlikely DJ savior of the '90s was a 23-year-old white kid from Davis, California, with a B.A. in communications and a record crate deeper than the San Andreas Fault. Half beathead blowout, half egghead epiphany, Endtroducing… sent the dark, edgy dub-hop of the Mo' Wax underground careening through symphonic soundscapes, surrealist spoken-word routines, and micromanaged breakbeats en route to its creator's dream of "the ultimate sample record." During a year and a half of intensive labor, DJ Shadow pulled samples from recordings by Björk, Metallica, and '60s Swedish folksinger Pugh Rogefeldt into tracks that could be as explosive as B-boy fave "The Number Song" or as arty as the doper's delight "Changeling."
"I wanted to challenge people," Shadow says. "That's what I understood hip-hop to be. If your mentor is Puffy, you have a certain mentality. If you grow up on Afrika Bambaataa or Grandmaster Flash—people who were trying to break down boundaries—you have a different mentality." Endtroducing… brought together a DJ underground obsessed with reviving the Old School and an alt-rock nation frayed with premillennial burnout. "Endtroducing… was a big influence on OK Computer," says Radiohead's Jonny Greenwood. "We liked how he was cutting up beats quite minutely."
Shadow is surprised he influenced anyone. "After the record, I'd always bump into these world-class producers who'd say, 'Yeah, Endtroducing…—what a great piece of production,'" he says. "I just did it on one sampler in a tiny little studio." JON DOLAN
16. My Bloody Valentine, Loveless (Sire, 1991)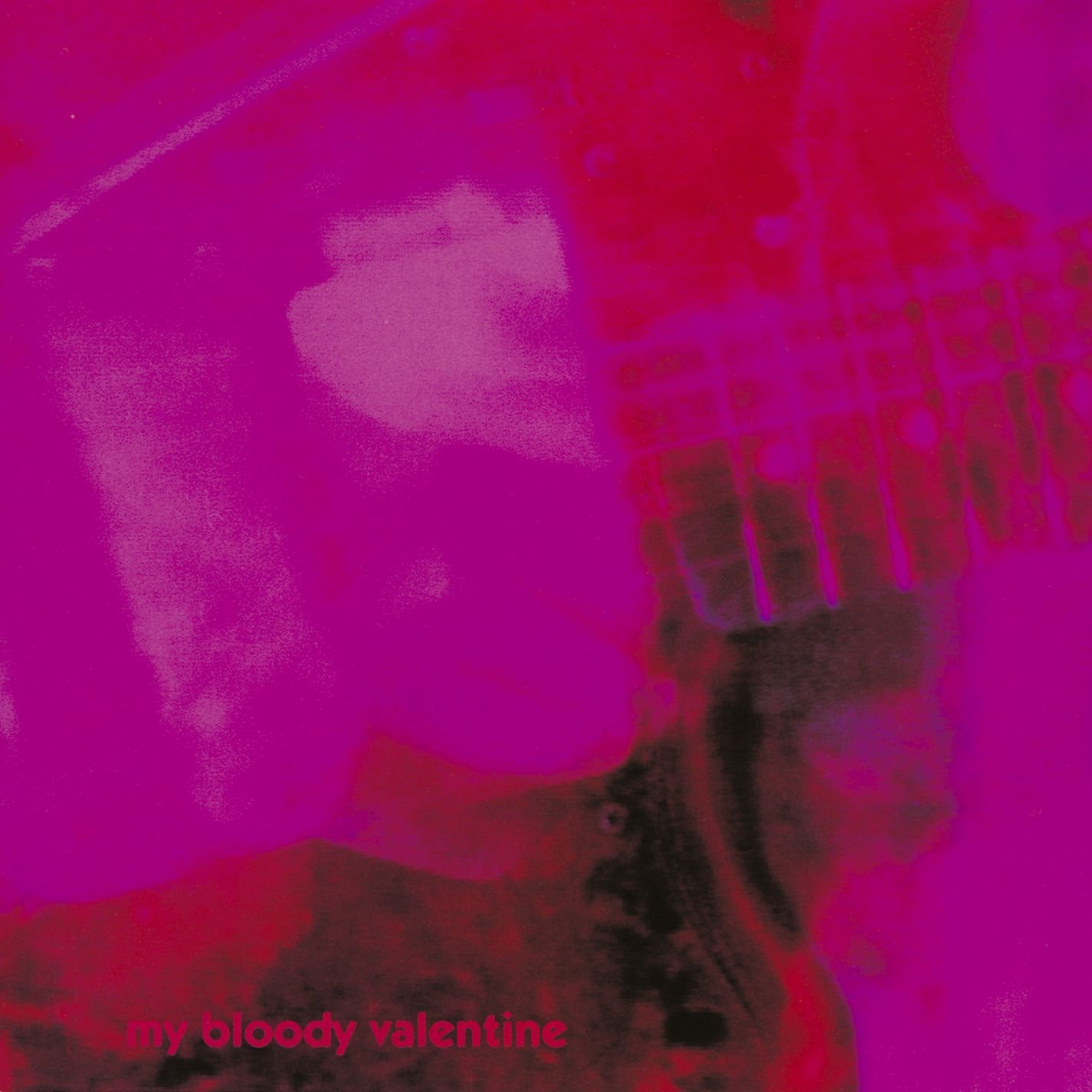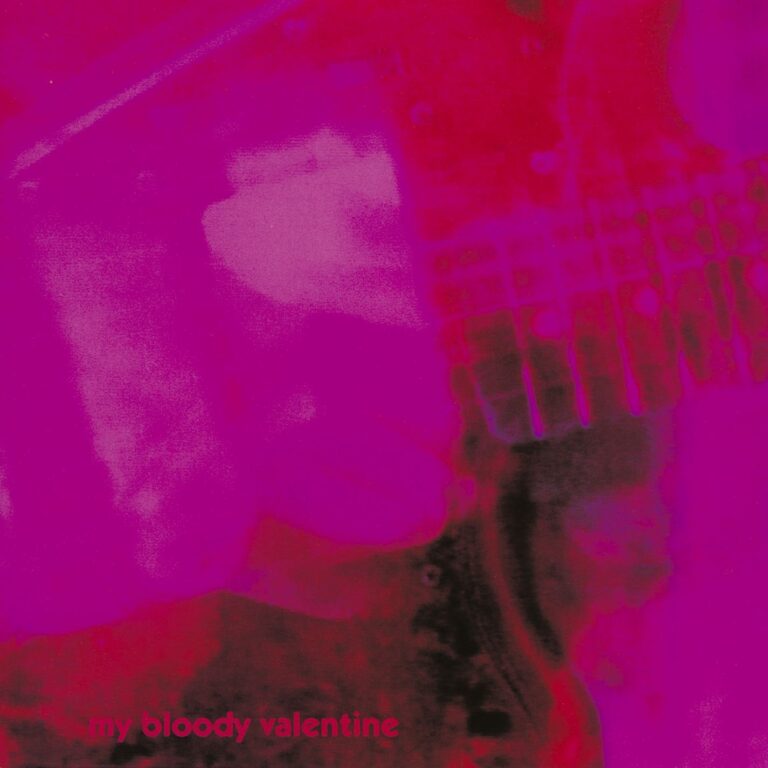 Almost as famous for the reclusive silence that followed its release as its swoon-inducing reinvention of rock guitar, Loveless was itself a long-delayed sequel to a critically acclaimed predecessor (1998's Isn't Anything). "Loveless cost £270,000 [now $430,000], and nine years ago that was a fortune," says Alan McGee, head of the band's U.K. label, Creation. "MBV were in the studio relentlessly—all-night sessions virtually every day for two and a half years. I could see my label slipping away. I'd even mortgaged my house! In the end, I had to emotionally blackmail [Valentine leader] Kevin Shields to get him to finish."
MBV were daunted by acclaim, according to McGee, and their emotional confusion was complicated by their immersion in London's dance scene. "We all went to house clubs three times a week, getting shitfaced and having these intense spiritual experiences," McGee recalls. All that psychedelic excess fed the group's creative process, pushing MBV to breakthroughs such as the Ecstasy-addled rave 'n' roll of "Soon" and the blissful blur of their trademark "glide guitar," which was copied by a legion of "dreampop" bands (Lush, Ride, Slowdive, etc.). Eventually, McGee repaired his friendship with Shields, and sometime last year, Loveless even recouped the money spent on it. SIMON REYNOLDS
17. Fugees, The Score (Columbia, 1996)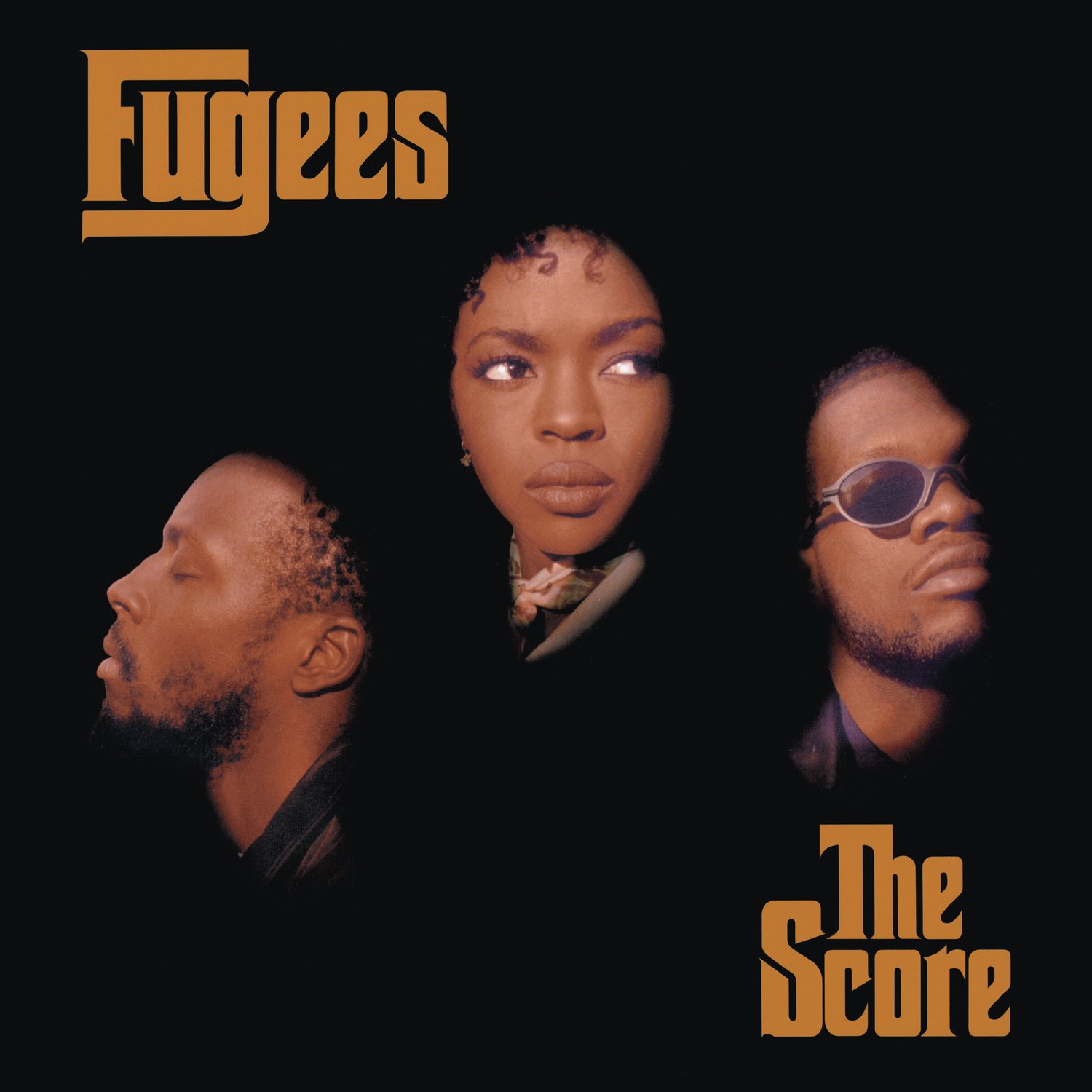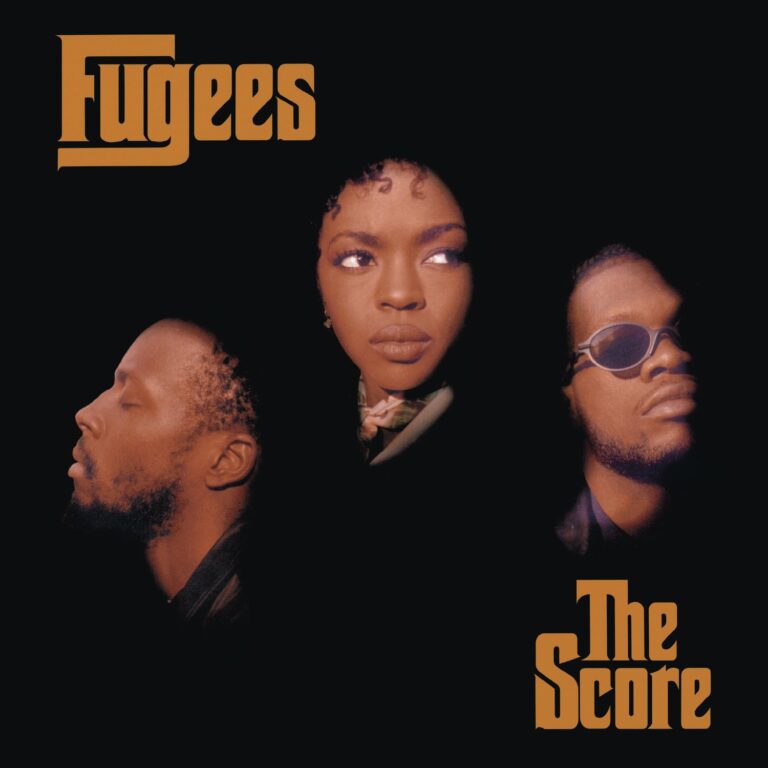 You'd never know it from the hits—dark, sweeping, cinematic arias such as "Ready or Not" and "Fu-Gee-La"—but The Score began with modest ambitions. "It was like, 'Yo, let's do this album like we want to do it,'" rapper/producer Wyclef Jean says. "Hopefully it'll go gold or something, so I can get some sneakers and L. can get a Honda." Well, it definitely went gold or something, selling 18 million copies worldwide and paving the way for changes both sublime (an open-minded inclusiveness) and crass (countless pop-song retreads) in rap music.
But two years after stiffing with their spotty debut, Blunted on Reality, the Fugees weren't exactly industry powerhouses. So the Haitian-born Wyclef Jean, his cousin Prakazrel Michel, and their high-school pal Lauryn Hill met at Jean's New Jersey home studio and set about being themselves: well-read, mixed-culture, multi-instrumentalist fans of everything from Bob Marley to Gary Numan to Doug E. Fresh. They sampled the Delfonics, jammed on electric guitar, and covered Roberta Flack's "Killing Me Softly." They penned racist-cop diatribes and rifted on Jim Garrey and Guinness stout. What gave the results such power (besides criminal amounts of talent that led the threesome to successful solo careers) was the Fugees' deceptively simple contention that their soulful, melodic, genre-blending music is hip-hop because they are hip-hop—native speakers of a diverse, urban-based culture that needn't soften to uplift. "The Fugees created a poetic hybrid that has become hip-hop's universal amalgam," says Elektra Records CEO Sylvia Rhone. "It's the new definition of pop." CHRIS NORRIS
18. Nirvana, In Utero (DGC, 1993)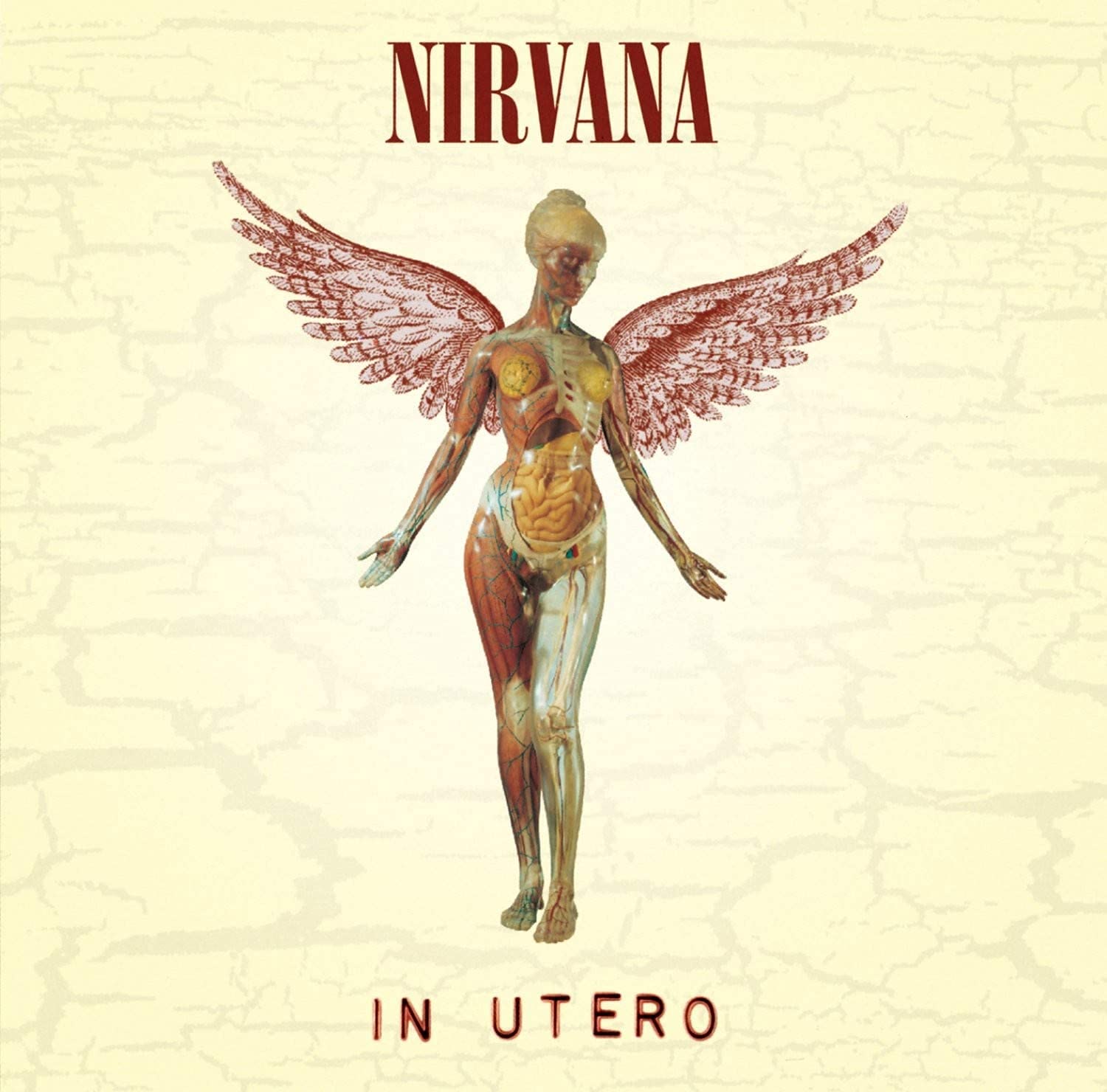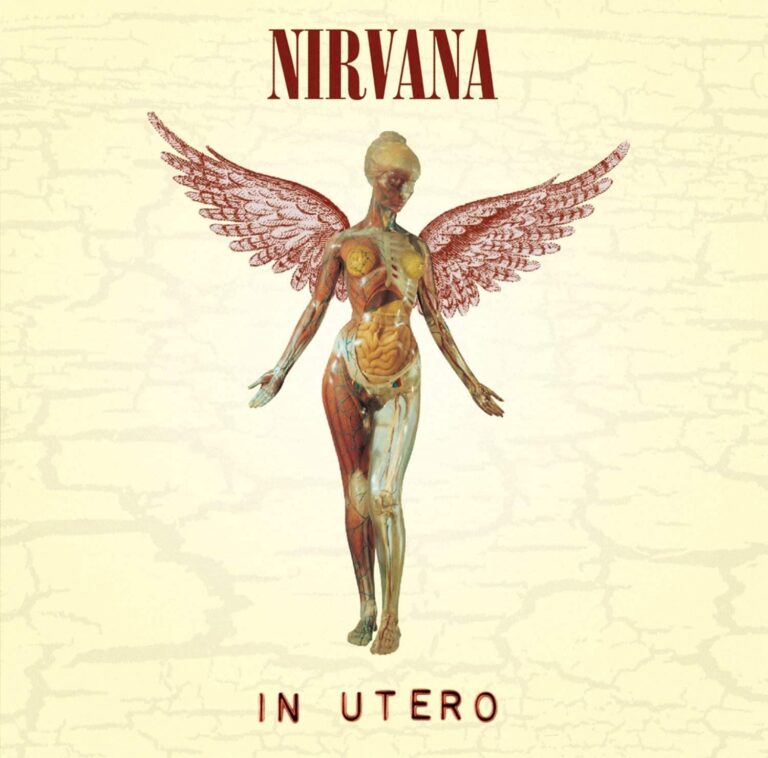 This poisonous sequel to the hardly saccharine Nevermind was heard as a fame-spurning volley in the early-'90s alternawars, but In Utero makes more sense as an honest attempt to portray life with Kurt Cobain's famous stomach—the measure of beauty available to someone rolling around on a hotel bed, wavering between pain, spew, and fog.
The facilitator was postpunk ideologue Steve Albini, who treats the recording studio as a knife-sharpening device. Loud drums. unadorned vocals, and guitar and bass lurching in dead air produced "as close to the sound that I hear in my head [as] I've ever found," Cobain once said. Krist Novoselic remembers Albini "looking through the glass, standing by the tape deck with his arms crossed, just staring at us, and we were like, 'Okay, here you go, Steve.' We were bombing these songs off—we showed him we had the goods." "In recordings that are done quickly," says Dave Grohl, "you get this quality of, I don't know, desperation."
A worried Geffen Records persuaded the band to overdub some commercial sweetness into "Heart-Shaped Box" and "All Apologies," but In Utero still ranks among the most forbidding rock-smash follow-ups ever, respected far more than it's played. Yet the performances aren't self-pitying in the least—just indie rock trying to find handholds in the stratosphere. As Novoselic still takes satisfaction in noting, "When we wanted to play, Nirvana could slay." ERIC WEISBARD
19. U2, Achtung Baby (Island, 1991)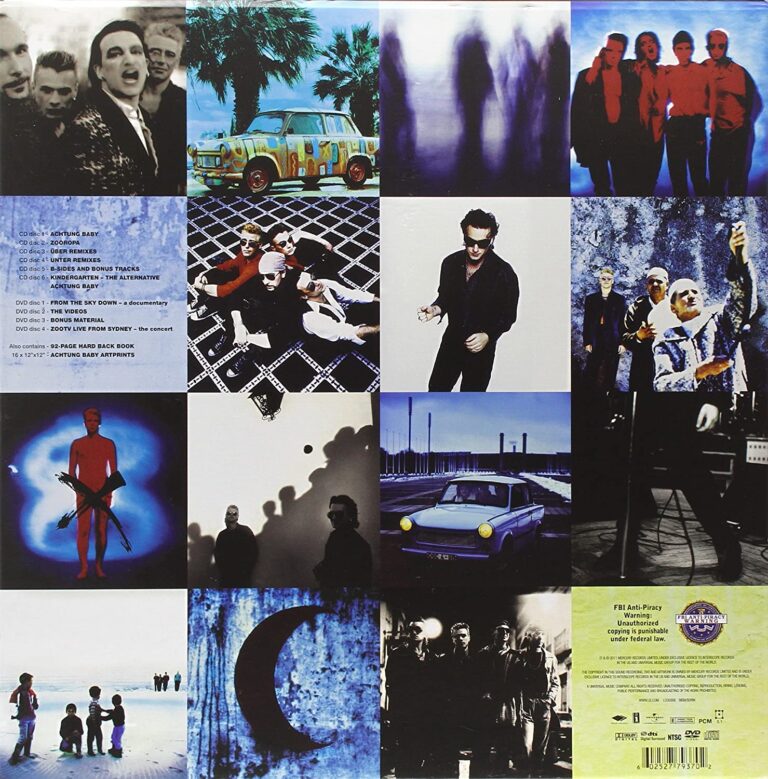 Recorded in Berlin after the Wall came down, Achtung Baby did the unimaginable: It made one of the world's biggest bands seem edgy again. The righteous chest-beating of anthems like "Sunday Bloody Sunday" gave way to a worldly cynicism influenced by media overload and the albums David Bowie and Brian Eno collaborated on in Berlin in the late '70s. But U2 weren't pretending to be the Orb; the electronic rhythms and effects are there to shine up singles like "One" and "Mysterious Ways."
The mix of rock majesty and dance-floor ephemera influenced Garbage and Radiohead, and U2's ironically overblown stadium tour gave Bono and the boys a perfect excuse to sit out the identity crises of alternative rock. "We embraced the absurdity of being rock stars," the Edge says. "It didn't seem to fit well at all, being so over-paid and given so much attention. So we said, 'Hold on. Let's enjoy the silliness of it.' And in a funny way, it stopped being an issue." At least for a while: After Achtung Baby gave way to the less compelling Zooropa and Pop, ironic pop-star posturing threatened to become its own burden. "Maybe that's where we are right now," the Edge says. ERIC WEISBARD
20. Moby, Play (V2, 1999)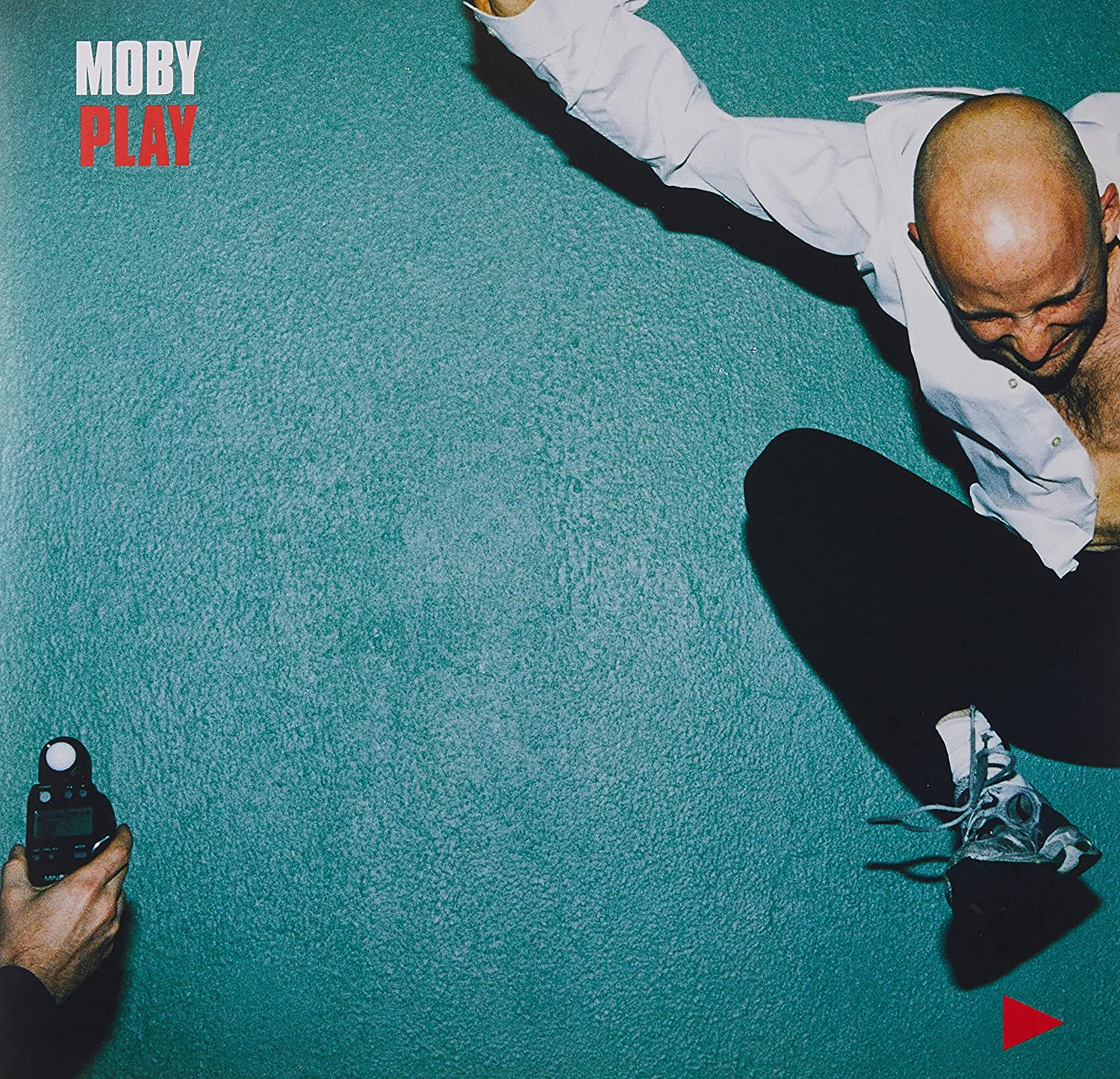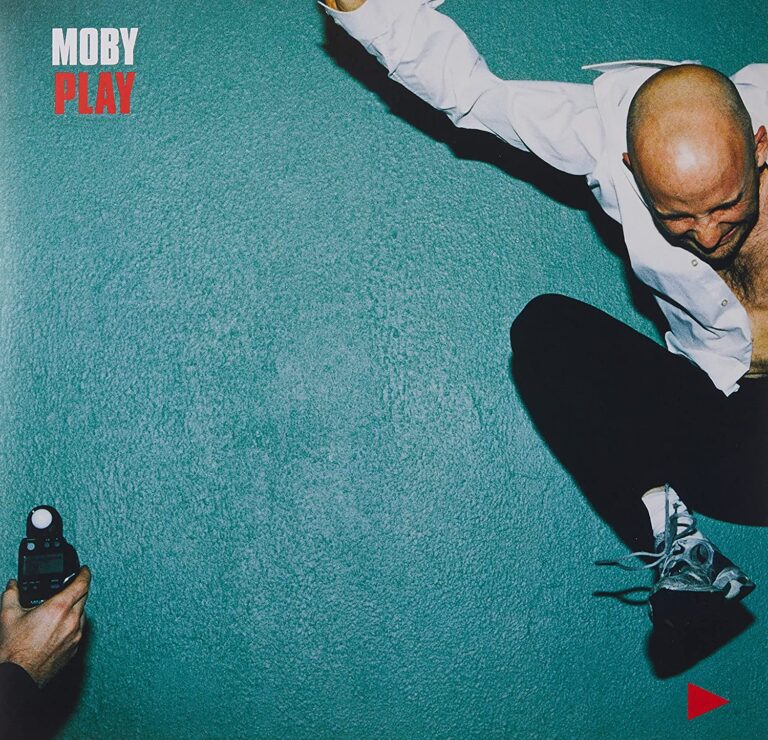 A gospel chorus testifies over a synth-drum track. A long-gone woman wails the blues over a house-hymn piano riff. Mixing early 20th-century folk (including field recordings by archivist Alan Lomax) with end-of-the-millennium electronic music, Moby's fifth album has convinced many naysayers this early prophet of techno music is the genius he's long been hyped as. But despite the seeming urgency of such spirit-fueled tracks as the handclap-and-wah-wah-driven "Honey" and the synth-happy "Natural Blues," Moby insists Play is not the product of divine inspiration but of practical mechanics. "I realized it was shaping up to be more of a down-tempo record than things I had done before," he says, "and the old blues and gospel vocal samples fit nicely into that. I didn't even have to change their tempo. Plus, they were a cappella, and isolated sounds are an electronic musician's dream." As on Moby's equally stunning major-label debut, 1995's Everything Is Wrong, Play explicitly equates the ecstasy of rave music with the rapture of church music. Although none other than Jesus Christ is thanked on the liner notes, Moby—who packs his albums with essays on the failure of ideology and named a previous release Animal Rights—says he isn't proselytizing. "As for the spiritual traditions reflected on this record, I'm responding more to the striving and emotion in the voices rather than to any specific religion," he says. Though a few critics questioned the white, Connecticut-born DJ's appropriaton of Black music, fellow culture-masher DJ Spooky says, "Music is all about building bridges, and collage is a place where one plus one equals three." EVELYN McDONNELL
21. Sleater-Kinney, Dig Me Out (Kill Rock Stars, 1997)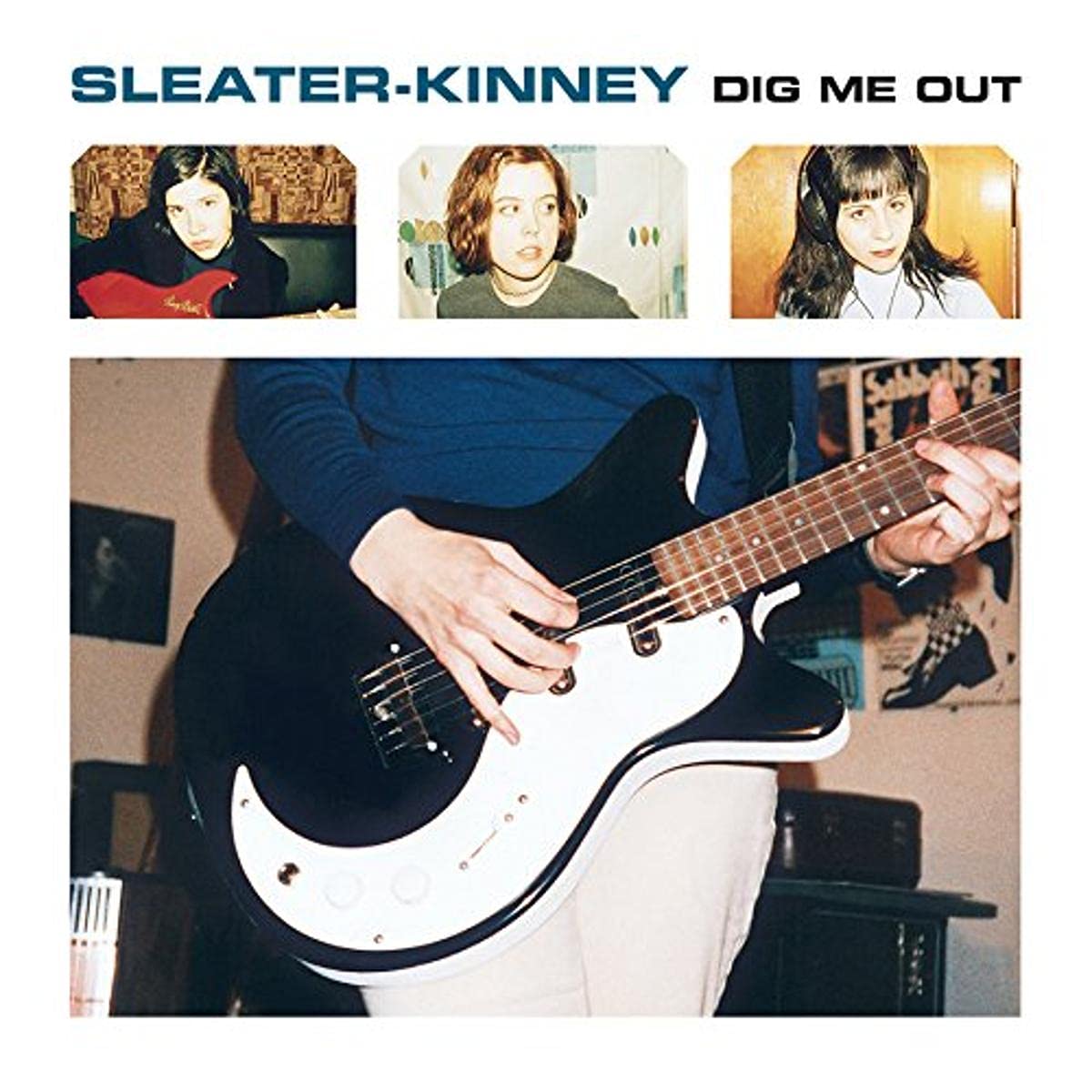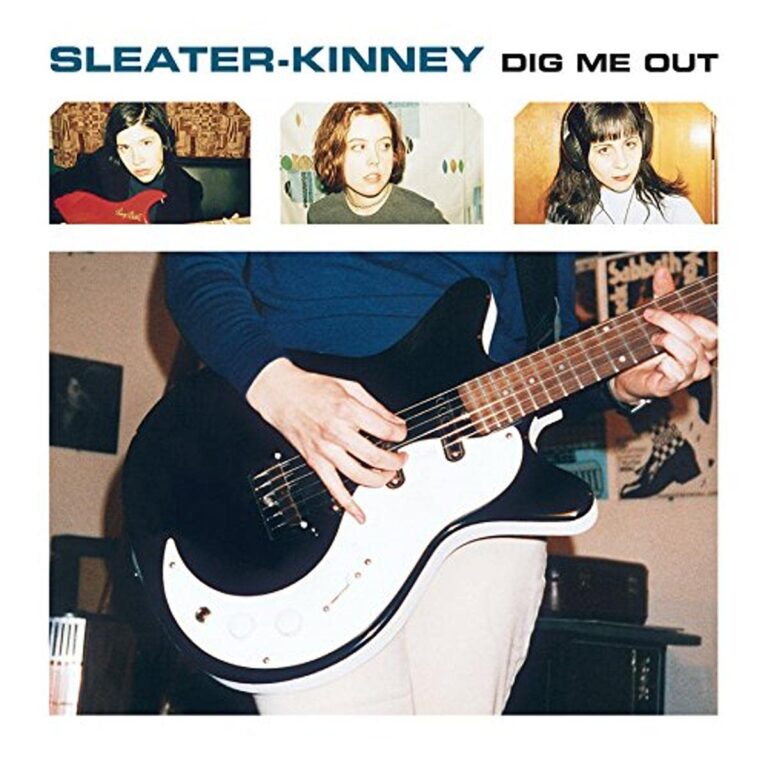 "I want to be your Joey Ramone," Sleater-Kinney sang on 1996's Call the Doctor. On the follow-up, Dig Me Out, they got their wish, breaking through to a wider audience with a sophisticated interplay of X-Ray Spex-meets-Television instrumentation shaped by new drummer Janet Weiss. The vocals are even more striking: Guitarists/singers Corin Tucker and Carrie Brownstein wove their parts together with the timing of polished actors. "The way our voices play off each other is like a conversation," Brownstein said in 1997 "Corin is the conscious and I'm the subconscious, the voice of reason coming in behind her. When we combine them, it's very powerful."
Much of Dig examines what it's like to want to be a Joey Ramone—but on a label called Kill Rock Stars. On the ironically girl-groupy "Little Babies," Tucker asks her fans, "Are you hungry? Did you eat before the show?" "That's about feeling the intensity of the role that I play as a person," she has said, "as a woman and as a performer, and how all those intertwine—how you can want to fill a role and at the same time be enraged by it." Fan Stephen Trask, who was inspired by Sleater-Kinney when he wrote songs for the drag-queen musical Hedwig and the Angry Inch, says that "'Little Babies' seems to be about sexually turning on your audience.  I imagine girls watching, and some sort of seduction going on." EVELYN McDONNELL
22. Wu-Tang Clan, Enter The Wu-Tang: 36 Chambers (Loud/RCA, 1993)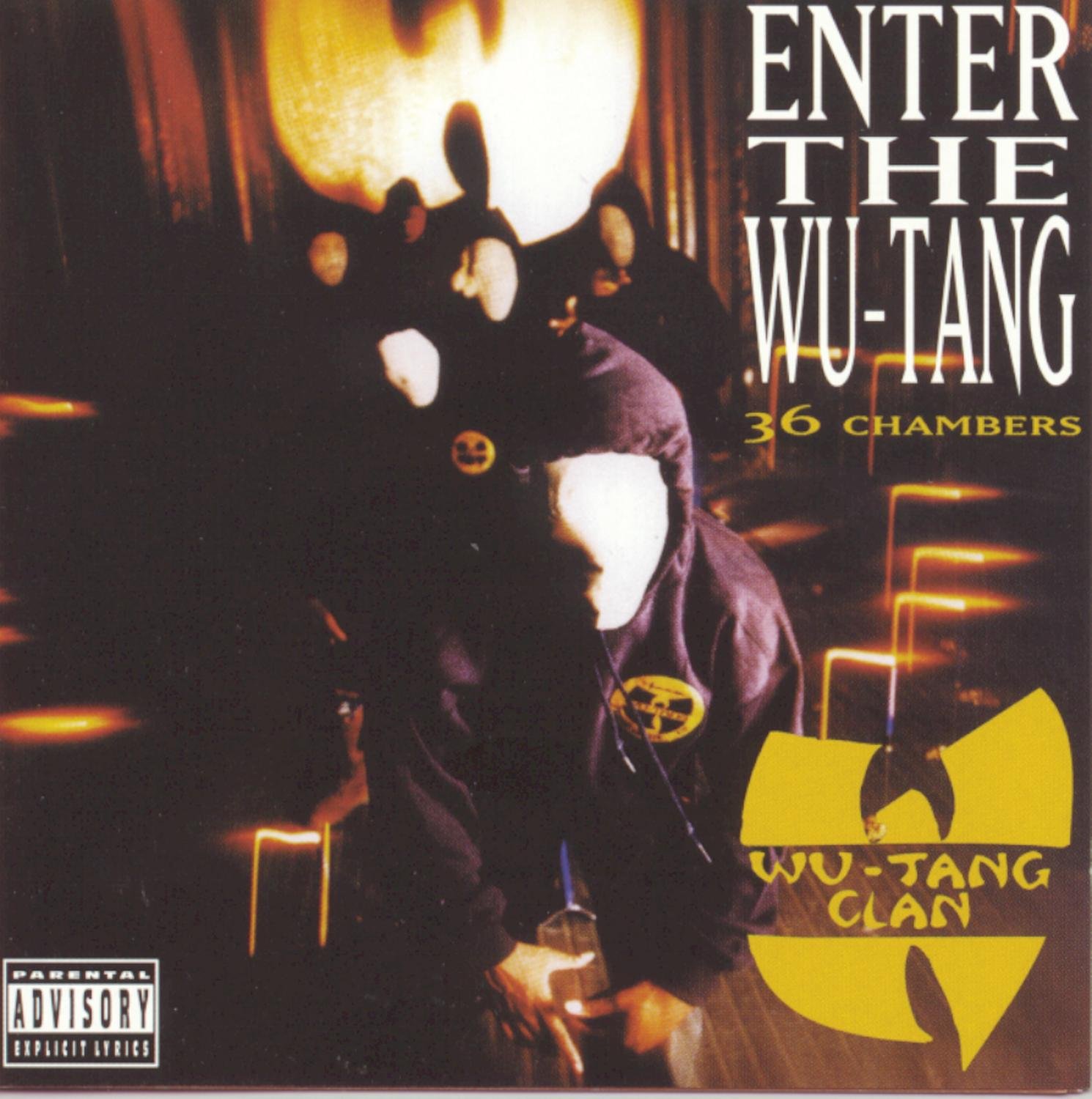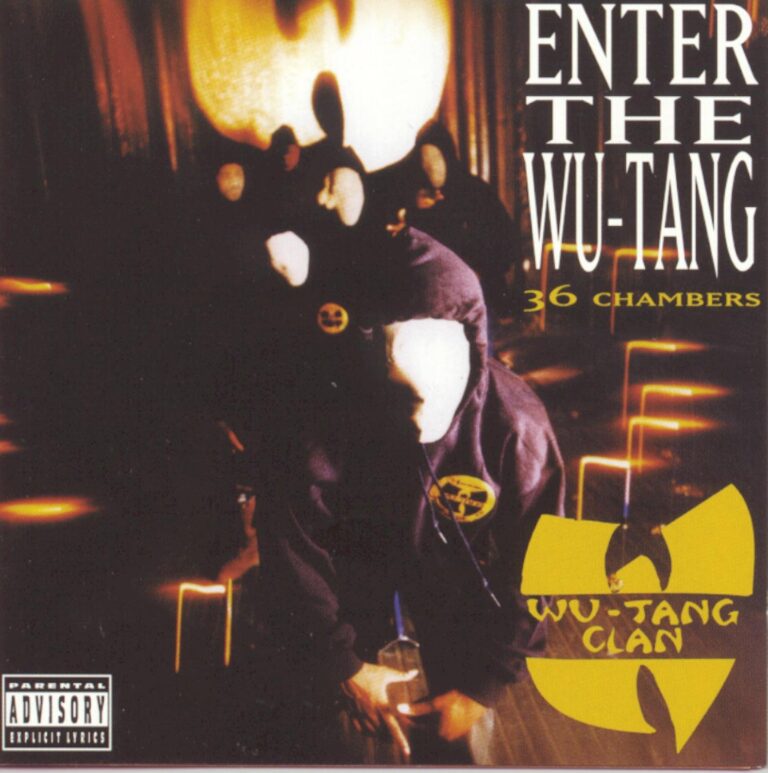 In a rap climate dominated by smoothed-out G-funk, Wu-Tang Clan's debut arrived like a stripped-down bat out of hip-hop hell (actually, from the projects of Staten Island). Kung-fu flicks not only provided the inspiration for the nine-man unit's name, they fueled much of 36 Chambers' cryptically aggressive aesthetic, particularly its "sword style" lyricism. "We was takin' it back to '86, '87—back to when hip-hop was raw," the Clan's grand wizard, RZA, said in 1996. No, they were taking it somewhere else entirely: RZA's fragmented piano melodies and eerie hip-hopera on tracks such as the first Wu single, "Protect Ya Neck," reinvigorated rap with an illmatic otherworldliness, making him one of the most respected producers in the business. "RZA's work was such a breakthrough, just like when the Bomb Squad came out," says producer/bassist Bill Laswell.
Never before had a hip-hop outfit boasted so much vocal talent, so many larger-than-life personas. Rather than focus on one lead voice, songs like the plaintive smash "C.R.E.A.M." provided showcases for individual members (in this case, Raekwon and Inspectah Deck). Therein lay the true genius of the group: its knack for diversification and its entrepreneurial spirit. Presciently, RZA structured the Wu's record contract to allow each charismatic Clansman to pursue a concurrent solo career on the imprint of his choice—something Method Man, Ol' Dirty Bastard, Raekwon, Genius, Ghostface Killah, and RZA all did with star-making results. In 1995, the Wu's brand-name recognition would even enable the crew to spin-off a clothing line; Puffy's "Sean John" label was only a matter of time. CHAIRMAN MAO
23. Smashing Pumpkins, Siamese Dream (Virgin, 1993)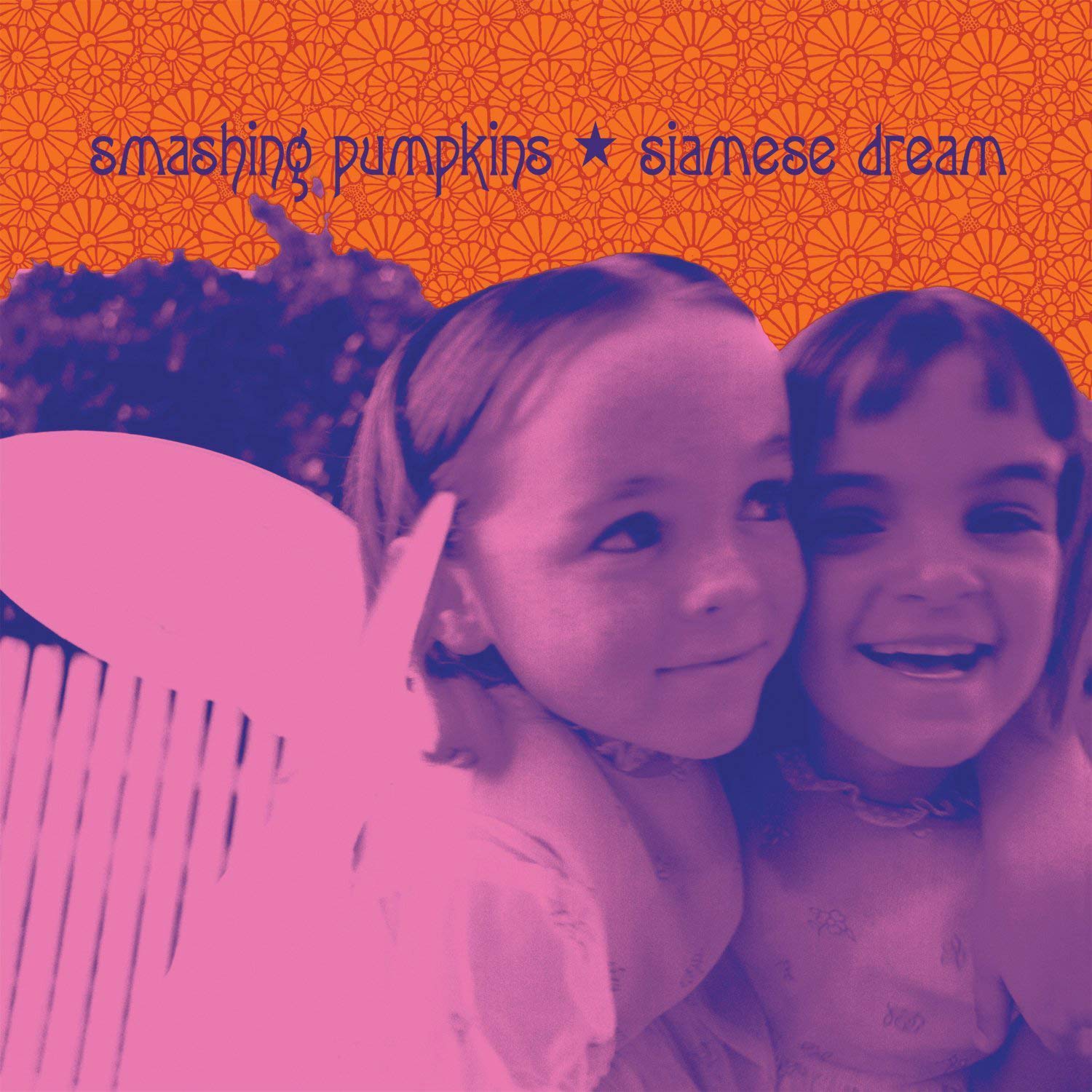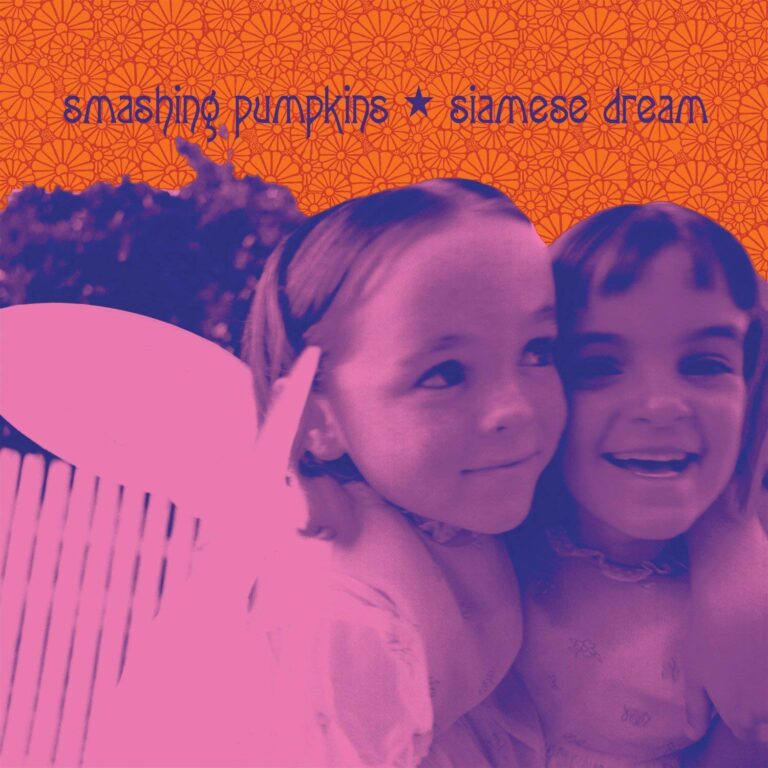 Kicking off with two dramatic drumrolls that swell into a symphony of multitracked guitar, the Smashing Pumpkins' second album captures the moment when alternative rock picked itself up out of grunge's gutter and began looking at the stars. Driven by what vocalist/guitarist Billy Corgan described as "this great pressure to make the next album set the world on fire," the Pumpkins locked themselves in the studio and turned tension about who was in control of the band (and Corgan's inner torment) into a slick but sonically adventurous plea to the punk scene to "Let me out," as a line from the hit single "Cherub Rock" puts it. "That song was a knife in the back to the whole indie-purism thing," says Garbage's Butch Vig, who produced the album with Corgan. "Billy was trying to get at the idea that those people were hypocrites who were just afraid of making great records. And not just in terms of the lyrics—the album's grandiose production was a kind of 'fuck you' too."
The slacker world didn't take the insult lying down: Pavement mocked the Pumpkins' quadruple-platinum success a year later on the Crooked Rain, Crooked Rain song "Range Life" ("I don't understand what they mean / And I could really give a fuck"), and there were reports Corgan used his leverage as a 1994 Lollapalooza headliner to bar them from the tour (he has denied this). "Pavement does not write emotional, personal music," he said later that year. "When you see me, when you hear me, you're getting the warts and the beautiful. I'm not hiding anything." Perhaps, but full disclosure has rarely had such ten-der beauty or dramatic scope. ROBERT LEVINE
24. Massive Attack, Blue Lines (Virgin, 1991)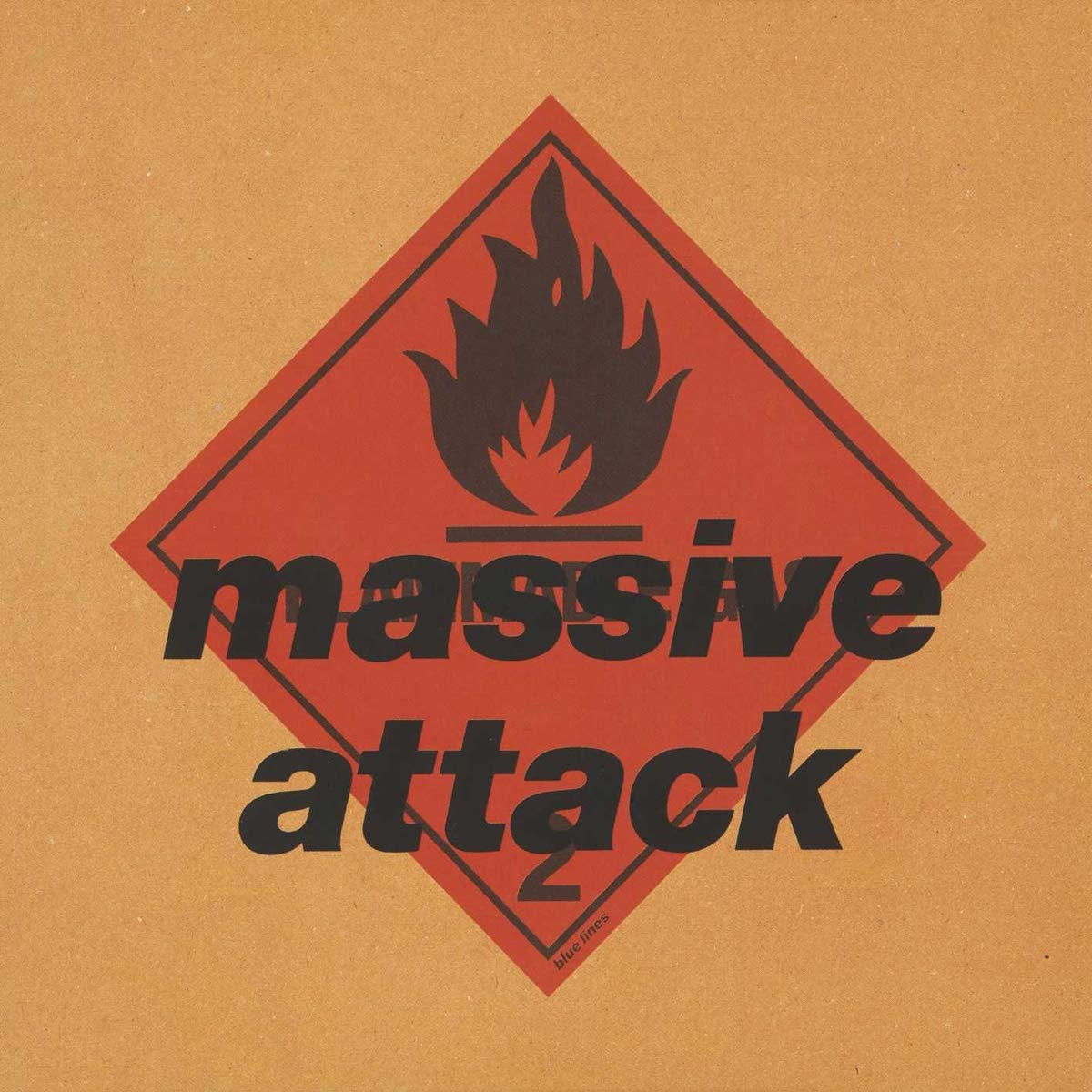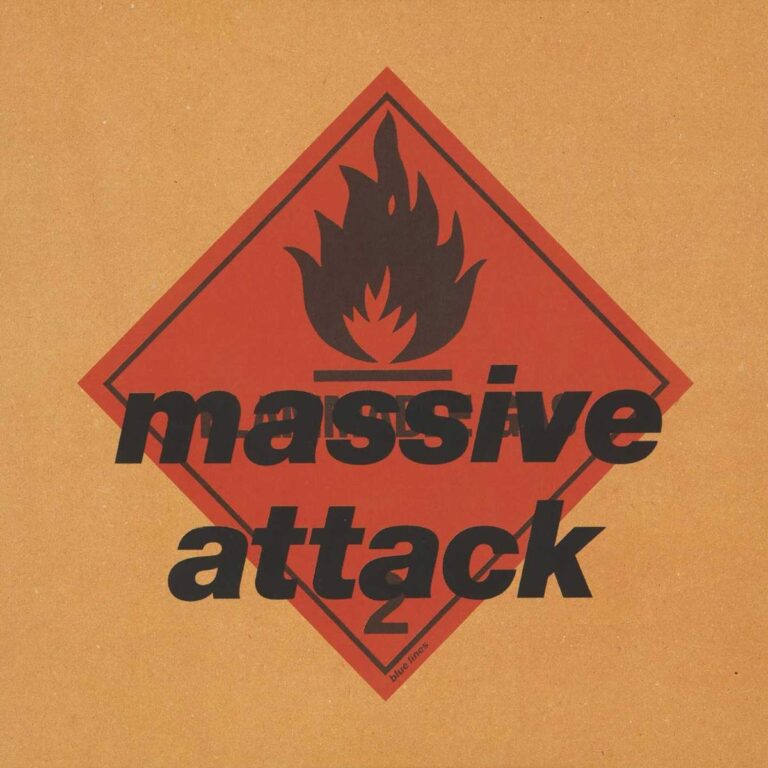 Massive Attack's debut is a ferment of arty bohemia, dancehall dub-culture, and imported B-boy street beats, born in the laid-back coastal city of Bristol, England. The album's torpid BPM rate was a break from the hyperkinetic norm of the time and was influenced by artists ranging from Isaac Hayes to PiL. From the latter, Massive also derived the idea of operating as a collective: the inner core was 3D, Mushroom, and Daddy G, but they drew on a range of satellite talent—soul chanteuse Shara Nelson, roots-reggae nightingale Horace Andy, producer Jonny Dollar, and a rapper then known as Tricky Kid.
The orchestral soul epics "Unfinished Sympathy" and "Safe From Harm," sung by Nelson, were U.K. chart hits. But Blue Lines' most inventive tunes are "One Love," a skank-tempo jazz-fusion ballad crooned by Horace Andy, and "Daydreaming," a showcase for the low-key, British rhyme style launched by Tricky and 3D. "We knew we couldn't be Rakim or Slick Rick, so we drew on the reggae sound-system vibe and came up with our own thing," Tricky says. This meditational style fit the stream-of-semi-consciousness lyrics like a glove. "People associate it with smoking weed, a sort of Bristol-style detachment from real life," 3D says.
Blue Lines' merger of British art-rock and American soul basically defined trip-hop. "That album inspired me to start a label," says UNKLE chief and Mo' Wax founder James Lavelle. "UNKLE wouldn't have happened without Massive's idea that you could be a collective rather than a band. Blue Lines is my favorite album of all time." SIMON REYNOLDS
25. Various Artists, Return of the DJ, Vols. 1&2 (Bomb Hip-Hop, 1996, 1997)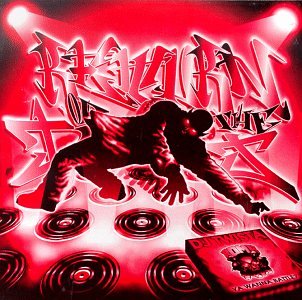 These compilations from San Francisco-based Bomb Hip-Hop Records helped put turntablism—the transformation of phonograph decks into actual instruments—back on the map, showcasing some of the most reckless driving behind the wheels of steel yet committed to record. Realizing rap acts were no longer including DJ cuts on their albums, Bomb founder David Paul called the turntablists in his Rolodex and invited them to submit tracks for an all-scratch LP. "I told them to make it any way they wanted, do a lot of scratching, and try to keep it under five minutes."
Return of the DJ Vol. I and its equally inspired sequel emphasized the sound of violence against vinyl, as well as the potential for repetitive stress injuries; there hadn't been so much scratching in one place since that old commercial for Off mosquito repellent. Volume 1 boasted contributors who would soon become turntablism's biggest American names (including Rob Swift, Invisibl Skratch Piklz, Mixmaster Mike, and Cut Chemist), while for Volume II, Paul sought out more obscure "bedroom DJs" and international talent, from Canada's Kid Koala to Norway's Tommy Tee. "The DJ was underacknowledged until that time," says hip-hop producer Dan "The Automator" Nakamura, who did final mixes for both records. "Now people know." MIKE RUBIN
26. Rage Against The Machine, Rage Against The Machine (Epic, 1992)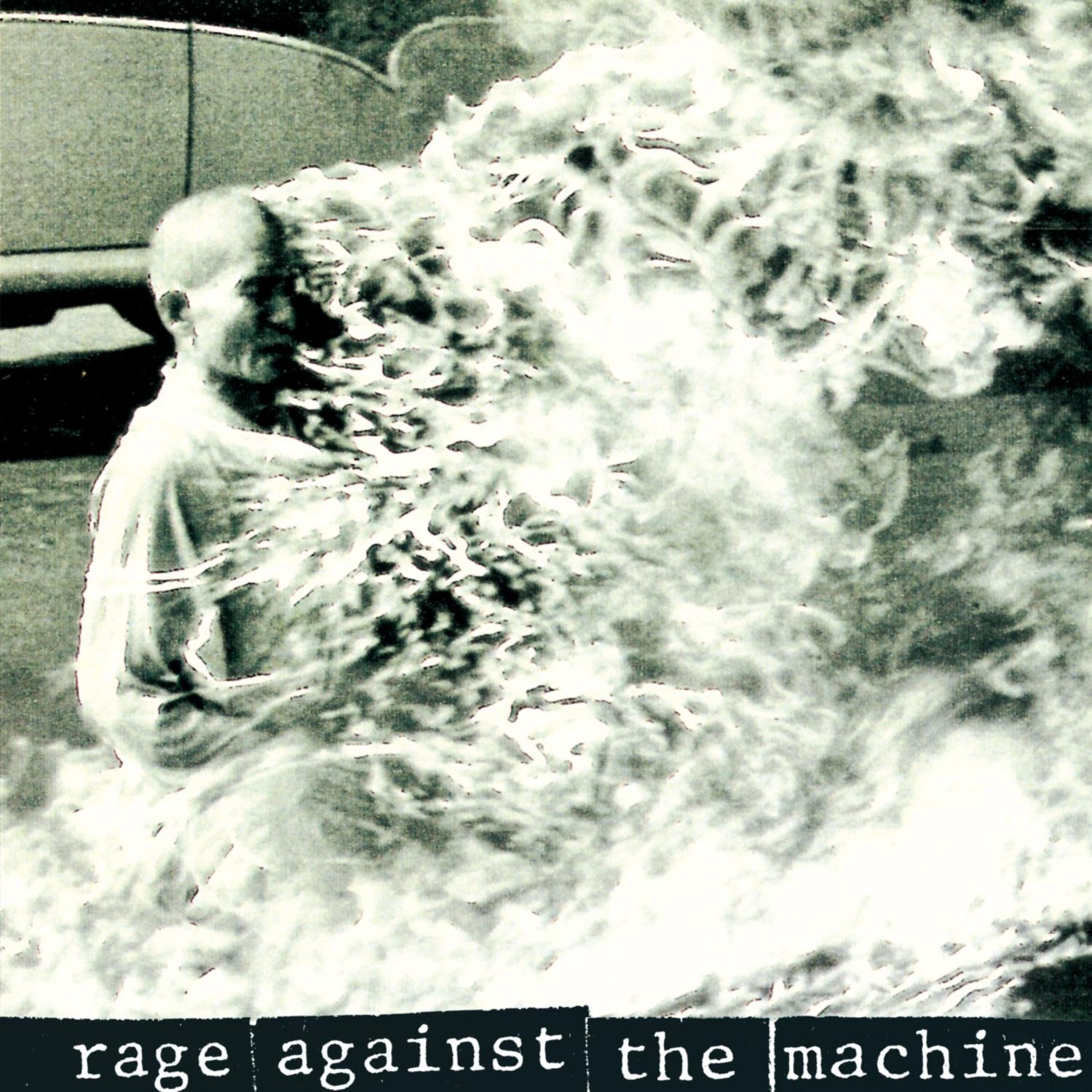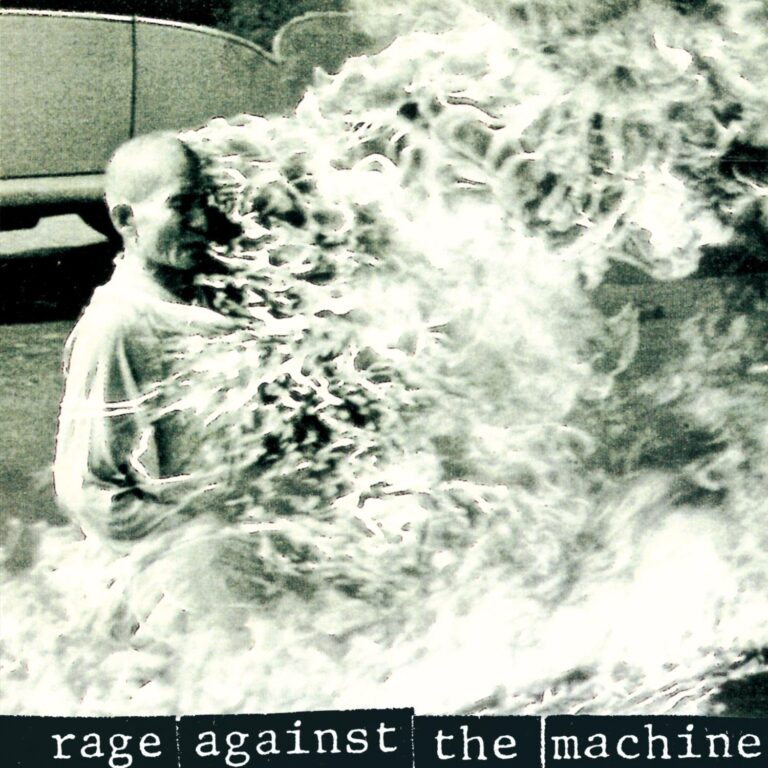 The only self-proclaimed Marxist band to shake MTV in a mostly complacent decade, Rage Against the Machine blindsided the world with a rap-rock hybrid that addressed subjects weightier than babes and beer. Fueled by frontman Zack de la Rocha's furious rhymes and Tom Morello's scratchy guitar, their 1992 debut was a blisteringly conscious wake-up call that inspired dozens of genre-crossing offspring.
"The goal of the first record was to document our experimentation with hip-hop and punk, but also to destroy the boundaries between art and politics," says de la Rocha. "This had been done before, but the greed and indifference of the Reagan '80s had spilled over into the '90s. Given that climate, Rage wasn't supposed to be popular."
But after incessant touring and a high-profile opening slot on 1993's Lollapalooza, the Los Angeles band made baggy-panted fans used to Jane's Addiction and Dr. Dre stop to consider the world outside the mosh pit (raising issues like America's treatment of its poor and the Chinese occupation of Tibet). "I was inspired by the conviction behind the music and the sincerity behind the lyrics," says Deftones singer Chino Moreno. "It's not like they were the first band [to mix hard rock and rap], but they were the first to do it right." LORRAINE ALI
27. The Notorious B.I.G., Ready To Die (Bad Boy/Arista, 1994)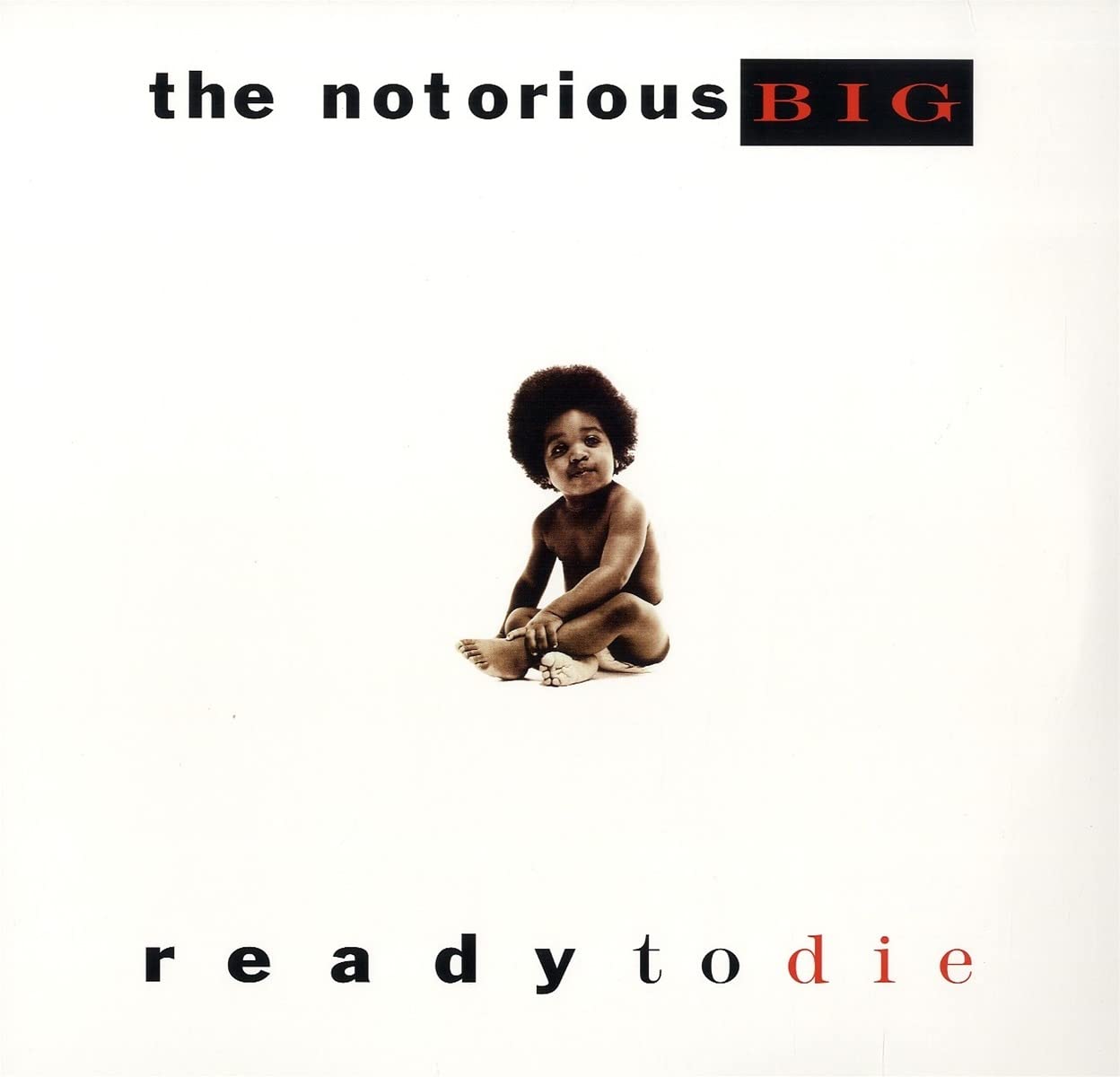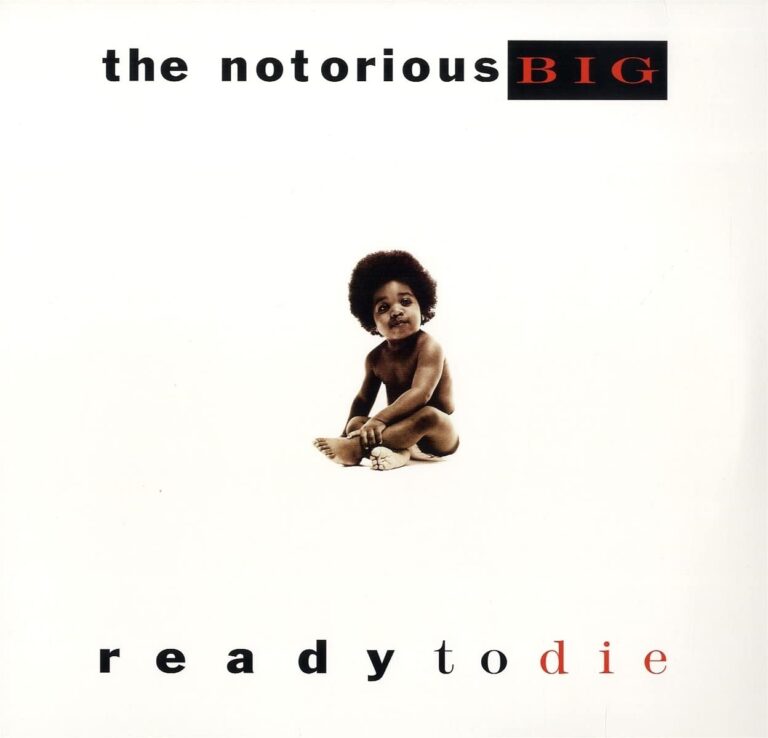 At the height of the gangsta era, the Notorious B.I.G.'s debut responded to Dre with a different kind of shock value. Ready to Die is the rare hardcore hip-hop album on which a gangster expresses real remorse about his tumultuous lifestyle, the drugs that have ruined his neighborhood, and the pain he's caused his loved ones. His solution for absolution? On "Suicidal Thoughts," he pulls out a gun and blows his brains all over the room. "[When I wrote that song] I felt that if I were to die, not too many people would miss me," Biggie said in 1997. "Having to wake up every day and sell drugs and do what I had to do was wack."
The best rapper to emerge in the '90s, one with a cinematic sense of description and a wicked sense of humor, Biggie was a charismatic contradiction, the kind of MC who could laugh about robbing pregnant women of their "#1 Mom pendants" in "Gimme the Loot," then lament the roots of street nihilism in "Things Done Changed" ("Back in the day our parents used to take care of us / Look at them now, they even fuckin' scared of us"). "I'd never worked on an album that dark before," says Easy Mo Bee, who produced several tracks. "One time in the studio, he was rapping, 'Fuck the world, fuck my mom and my girl,' and I had to stop and ask myself, 'Do I want to be a part of this?' But the whole thing isn't just 'murder, murder.' Biggie had raps that could make you cry, make you reexamine who you were." And smash singles such as "One More Chance" and "Big Poppa" are backed by a catchy mix of gritty funk and R&B velvet.
Tragically, on March 9, 1997, just as Biggie was celebrating the birth of a son and the impending release of his second album, Life After Death, he was murdered in a still unsolved Los Angeles drive-by. But in a genre of here-today-gone-tomorrow superstars, Ready to Die assures that Biggie will live on. CHEO HODARI COKER
28. Lauryn Hill, The Miseducation of Lauryn Hill (Ruffhouse/Columbia, 1998)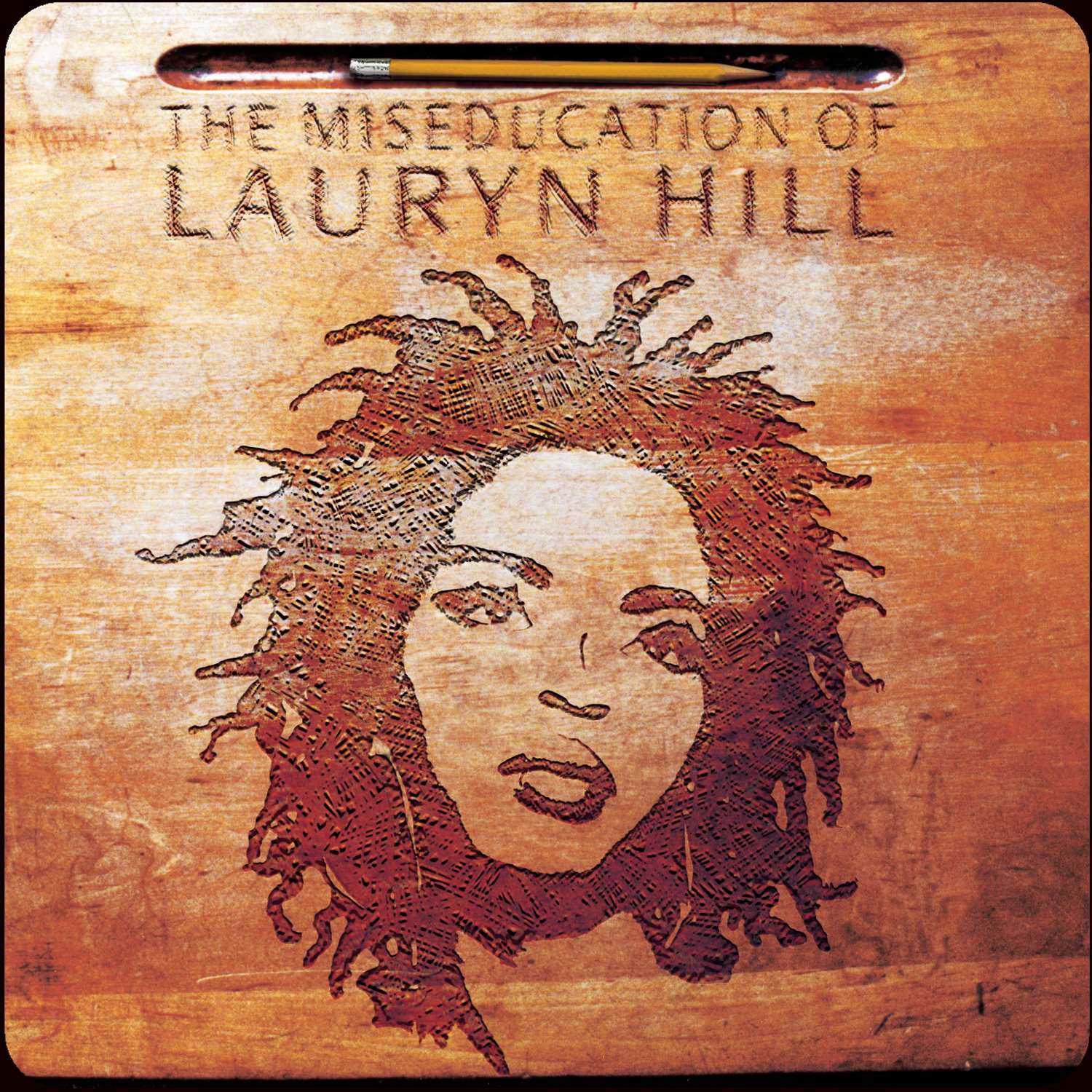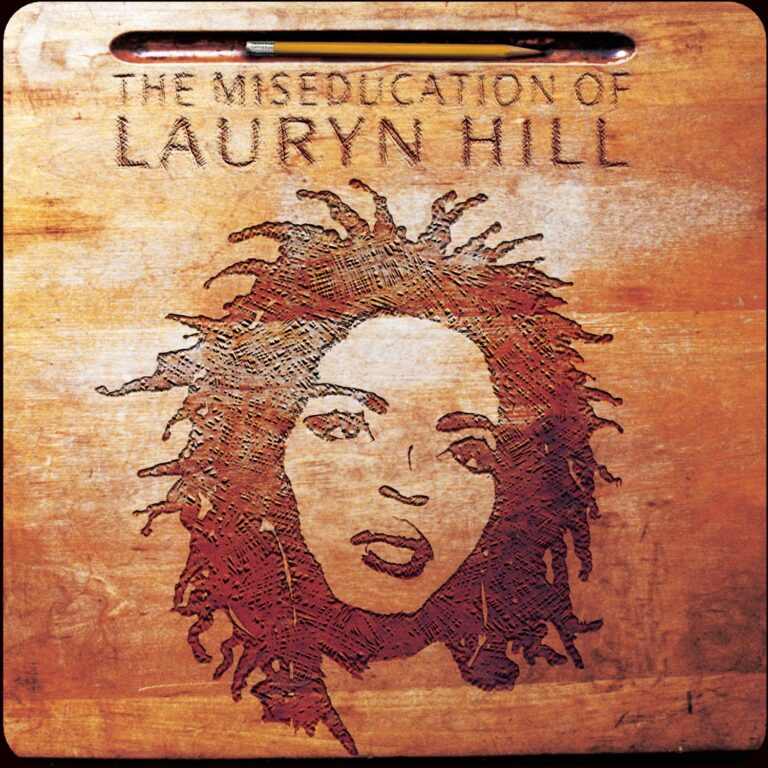 Lauryn Hill's aggressive faith may be her sweetest sacrilege. "I'm not embarrassed to mention God in songs," she said in 1998. "Some people find that corny. Some people find that offensive. And it's always funny to hear that people think I'm too goody-goody because there's so much baddie-baddie."
From her bullet rap on "Superstar" to the tortured soul of "Ex-Factor," the singer/writer/producer/arranger shows a remarkable comfort with 30 years of African-American sound. "I know exactly what I want [in the studio], so I'm really, really clear," Hill said. Some of the producers who worked on the album challenged her sole authorship, but the tour that followed was equally assured. "Lauryn is the consummate director," says Gordon Williams, who engineered the album. "She puts really good feels together."
"Every Ghetto, Every City" turns her upbringing in New Jersey into an American epic, while "To Zion" practically transforms her decision to give birth into a latter-day nativity. Too much? Perhaps, but ambition is the coin of the realm and Hill has made hip-hop at home in undreamed-of places. "The Miseducation of Lauryn Hill is my favorite CD of this decade," says Rosie O'Donnell, host of this year's Grammys, where Hill won five awards, including Album of the Year. "'To Zion' brought me to my knees." When so many tracks are written to survive the test of time, the only proper response is to believe. ERIC WEISBARD
29. Bob Dylan, Time Out of Mind (Columbia, 1997)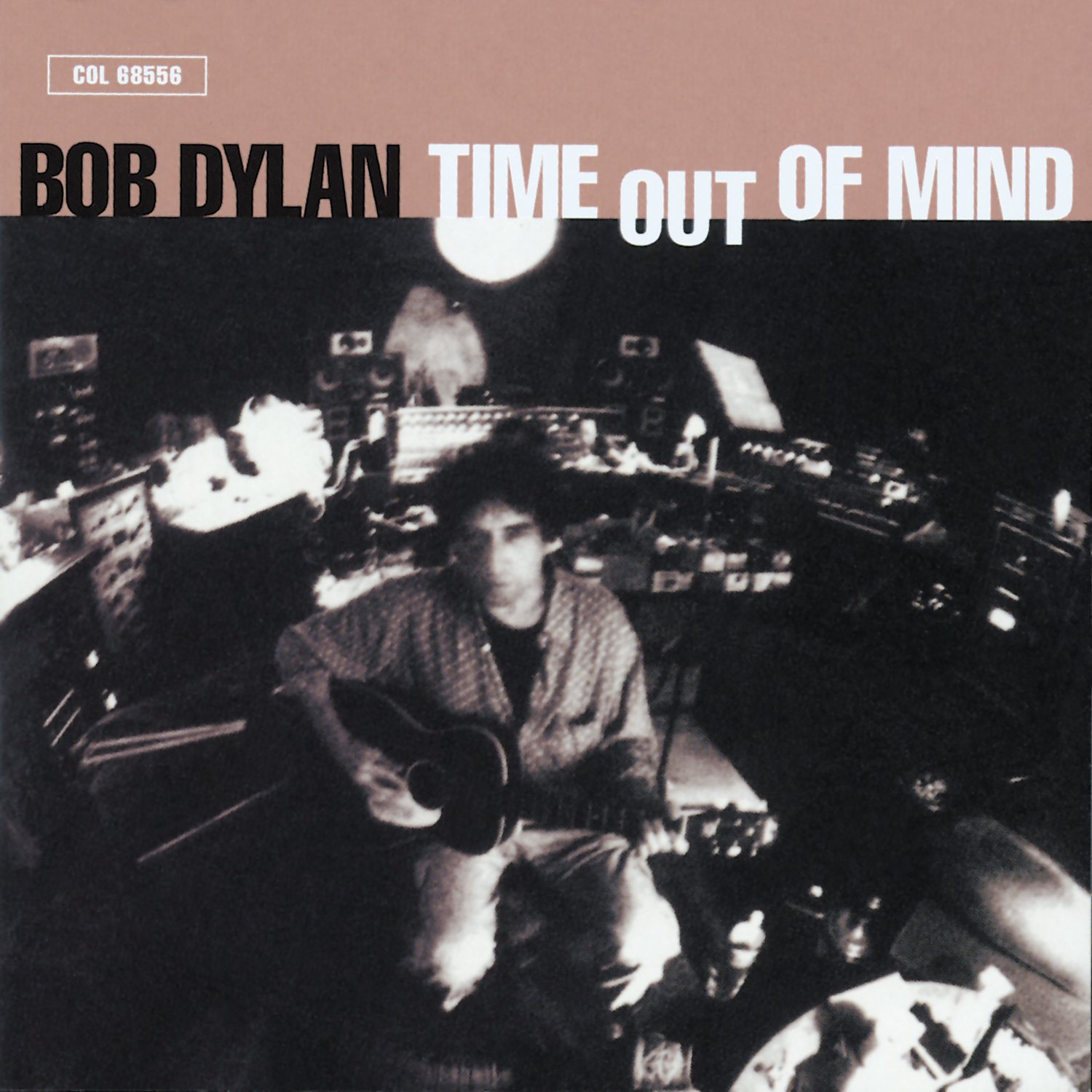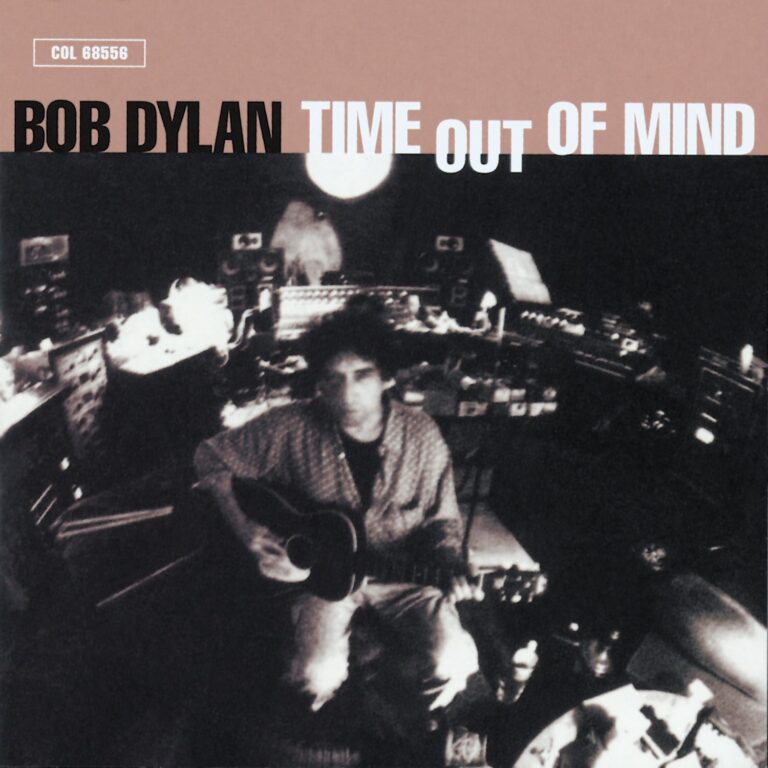 For most of the decade, rock's greatest songwriter was content to be its most prolific performer—Bob Dylan was playing more than 100 shows a year but hadn't released an album of new material since 1990's scattershot Under the Red Sky. Instead, he recorded two albums of folk and blues standards because "he had decided that there were enough Bob Dylan songs," says Jim Dickinson, the Memphis musician who played keyboards on Time Out of Mind. "Then he started noticing his concert audience was getting younger, and he figured a new audience deserved some new material."
What they got was an album that captured the ghostly fragility of the old songs he had been covering. "Bob has a fascination with the sound of those wonderful records from the '40s and '50s," says Daniel Lanois, who produced Time Out of Mind. "We were after that depth of feeling." But like his best '60s sessions, "Dylan was obviously interested in spontaneous combustion," Dickinson says.
Released just months after Dylan recovered from a potentially fatal heart infection (though it had been completed months before that), Time Out of Mind was scrutinized for its obsession with mortality—songs like "Tryin' to Get to Heaven" and "Not Dark Yet" paint a sepia-toned portrait of a man looking ruefully back on his life. Justifiably, the media called it a comeback: Dylan's subsequent concerts were his strongest of the decade, and he won his first Album of the Year Grammy. "It's hard to know what's going on in Bob's mind," Lanois says, "but I believe he sensed there was some magic in the air." ROBERT LEVINE
30. Nusrat Fateh Ali Khan, The Supreme Collection Volume I (Caroline, 1997)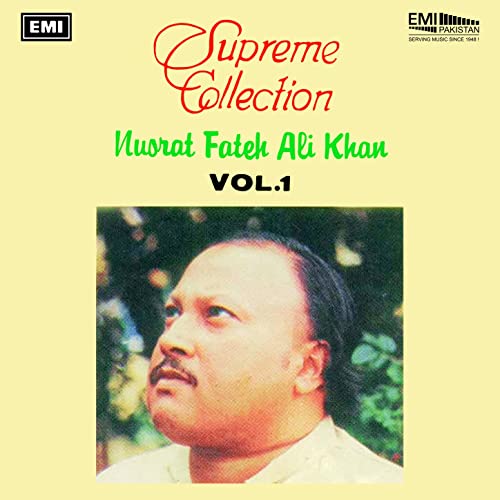 The Supreme Collection Volume I was released in 1997, the year Nusrat Fateh Ali Khan died at age 48. There were more heavily produced recordings available, but this double CD (licensed from the U.K.'s Sovereign Sirocco label) was the way to experience the Pakistani qawwali vocal master's ground-zero ecstasy in its purest form. In seemingly telepathic empathy with his "party"—who come bearing harmonium, tablas, hand-claps, and chanting backup—Nusrat soars and swoops, delving deep into the blissful verse of Sufi devotional poets.
"Part Buddha, part demon, part mad angel" was how the late rock explorer Jeff Buckley, writing in the liner notes, characterized the most influential Eastern musician since Ravi Shankar. Singer Joan Osborne studied technique with Khan while he was alive. "I still learn from his recordings," she says. "Things are there for the asking that I have to figure out how to ask for." Nusrat's music was also embraced—and widely sampled—by a generation of Anglo-Asian musicians. "We used his voice and tried to capture the energy of his live performances, which was like that of a punk show," says Pandit G of Asian Dub Foundation, who excellently remixed Nusrat's "Taa Deem" on the Star Rise album. "We've been playing 'Taa Deem' live since he died, and it's become almost an anthem for other second-generation British Asians." RICHARD GEHR
31. Tori Amos, Little Earthquakes (Atlantic, 1992)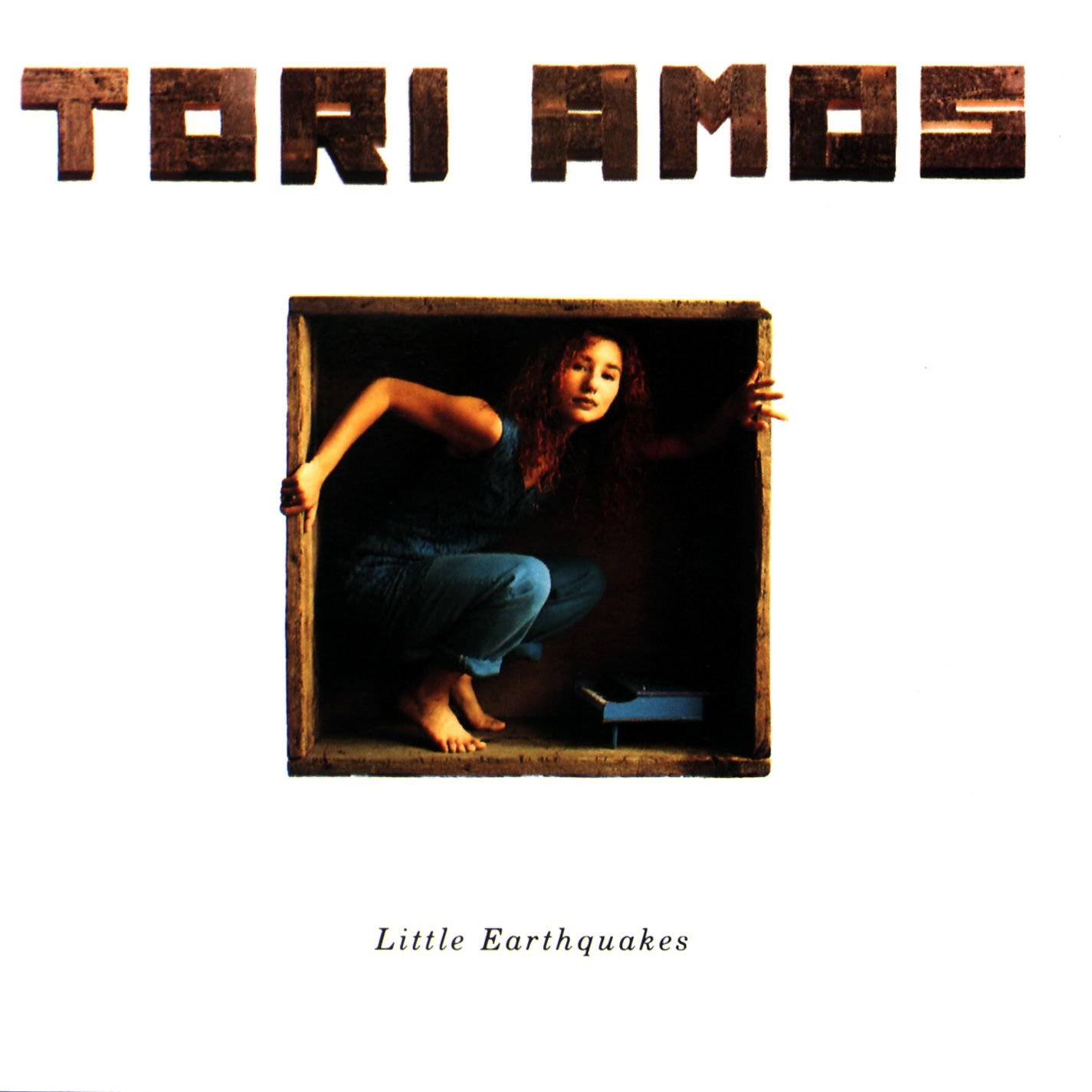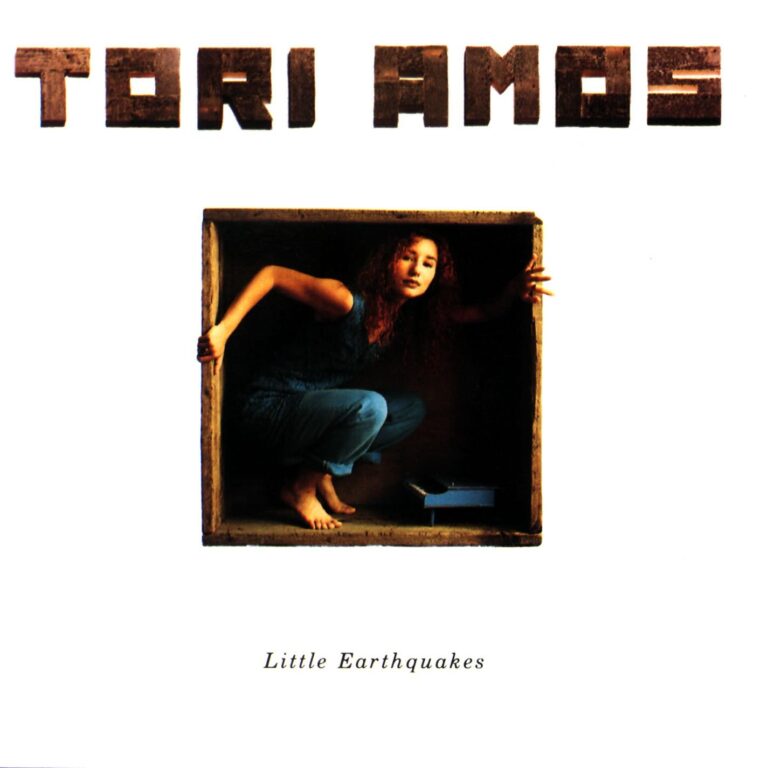 Little Earthquakes was half-debut, half-retreat from the big rock trip/tragedy of Y Kant Tori Read. So it came to pass that preacher's daughter Tori Amos packed up her piano, her Sylvia Plath books, and her renegade theology and headed off toward a labyrinth of dreams and memory, of fury, sex, and guilt-driven psychodramas. She almost ended up nowhere instead. "When I brought the album to the label, it was rejected," Amos says. "Nobody really cared what I was up to." Amos agreed to write four new songs, as long as she didn't have to sell her soul to the big-guitar sound then annexing the universe.
It turned out that the holy soul jelly roll had been there all along—not just in the emotionally loaded dice of the rape narrative "Me and a Gun," but also in the dense, mercurial melodies of "Crucify" and the unadorned piano of "Silent All These Years." No one else this side of Prince during his golden era had climbed so far down into sex and so far up into heaven at the same time. The final version of the album, with its expressionist clothes and naked feeling, offered an alternative to the alternative scene's boys 'n' guitars monopoly. And it quickly inspired the most obsessive following in the biz, turning the Web into a global Torifest. "A lot of her fans are really shy and different, and they feel safe on the Internet," says Schuyler McGraw, who interned at the Amos-sponsored Rape Abuse and Incest National Network. Such a far-flung fandom replicates Little Earthquakes itself, a record about fragmentation and the struggle not to come apart entirely. Or as Amos puts it, "I make music from the divisions inside myself." JOSHUA CLOVER
32. A Tribe Called Quest, The Low End Theory (Jive, 1991)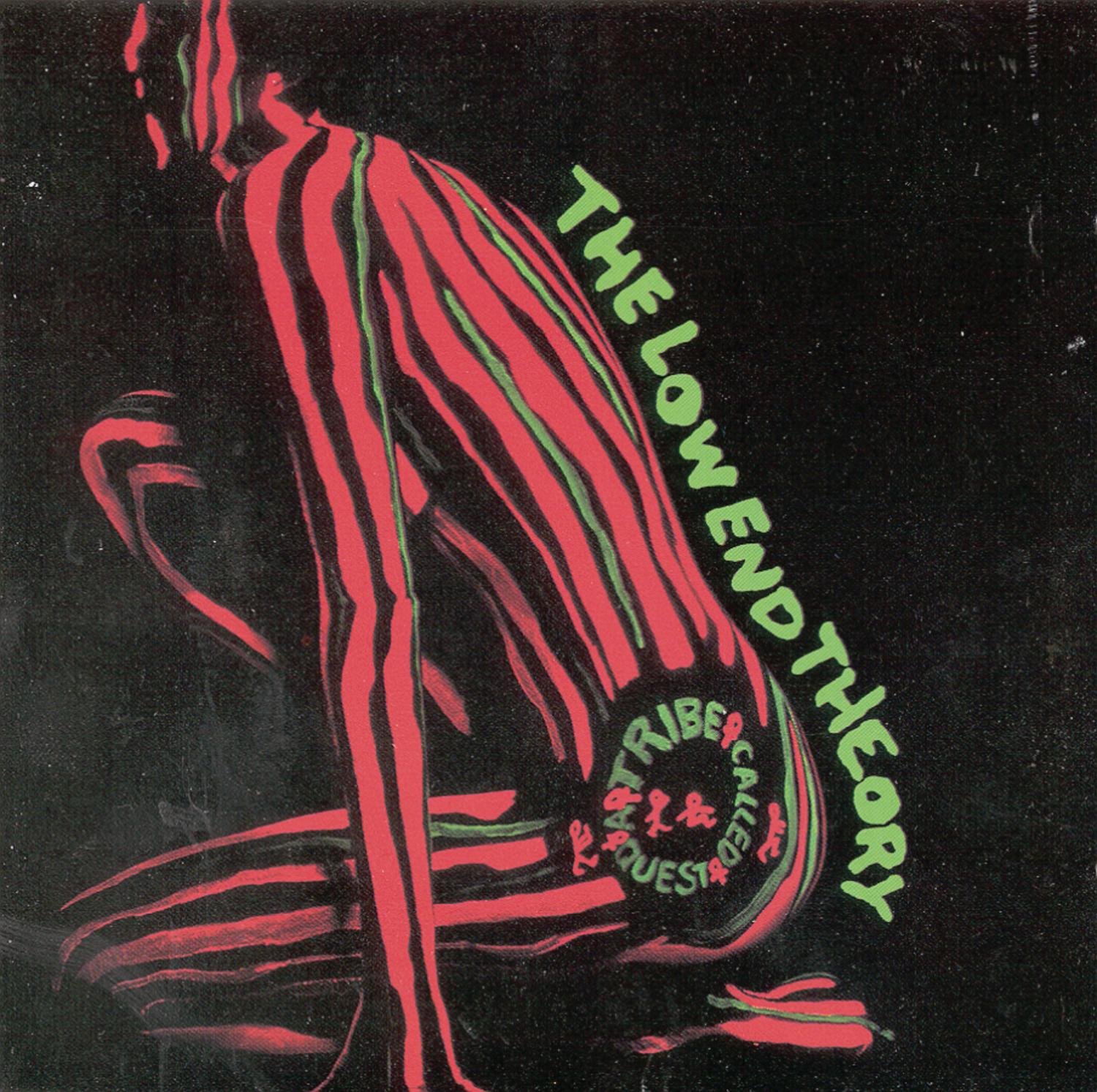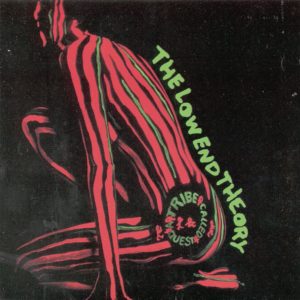 One of the great artifacts from rap's coming of age, this second album by the breeziest of the Native Tongues groups was self-aware enough to claim a jazz heritage, yet spry enough to rap about booty, not Dizzy. Bursting with happy, horny life, rappers Phife and the butter-voiced Q-Tip skip along through free associations and Queens reminiscence—letting the '50s saxes and airy guitar chords behind them invoke the larger context of their travels.
"It was never our intent to make a jazz hip-hop album," said producer Ali Shaheed Mohammed in 1991. "We chose the samples because we like the music." But more than any other rap group, Tribe made the beats-and-life aesthetic feel like a knotty, groovy, completely organic outgrowth of a profound musical tradition. Powered by dark acoustic bass lines and cracking snares, songs such as the percolating "Excursions" offer some of the most electrifying spaces that rhyme tales have ever enjoyed. "I knew people were sampling jazz musicians, but Q-Tip actually knew who Charles Mingus was," says jazz bassist Ron Carter, who played a live, loping groove on the album's "Verses From the Abstract." "Tribe had a sense of what the music could mean, and they were using it to make their poetry do something." And it did, blazing a trail for enlightened, unapologetically musical hip-hop from the Roots to the Fugees—funky, raw, smart without being soft, and full of banging possibility. CHRIS NORRIS
33. Pearl Jam, Ten (Epic, 1991)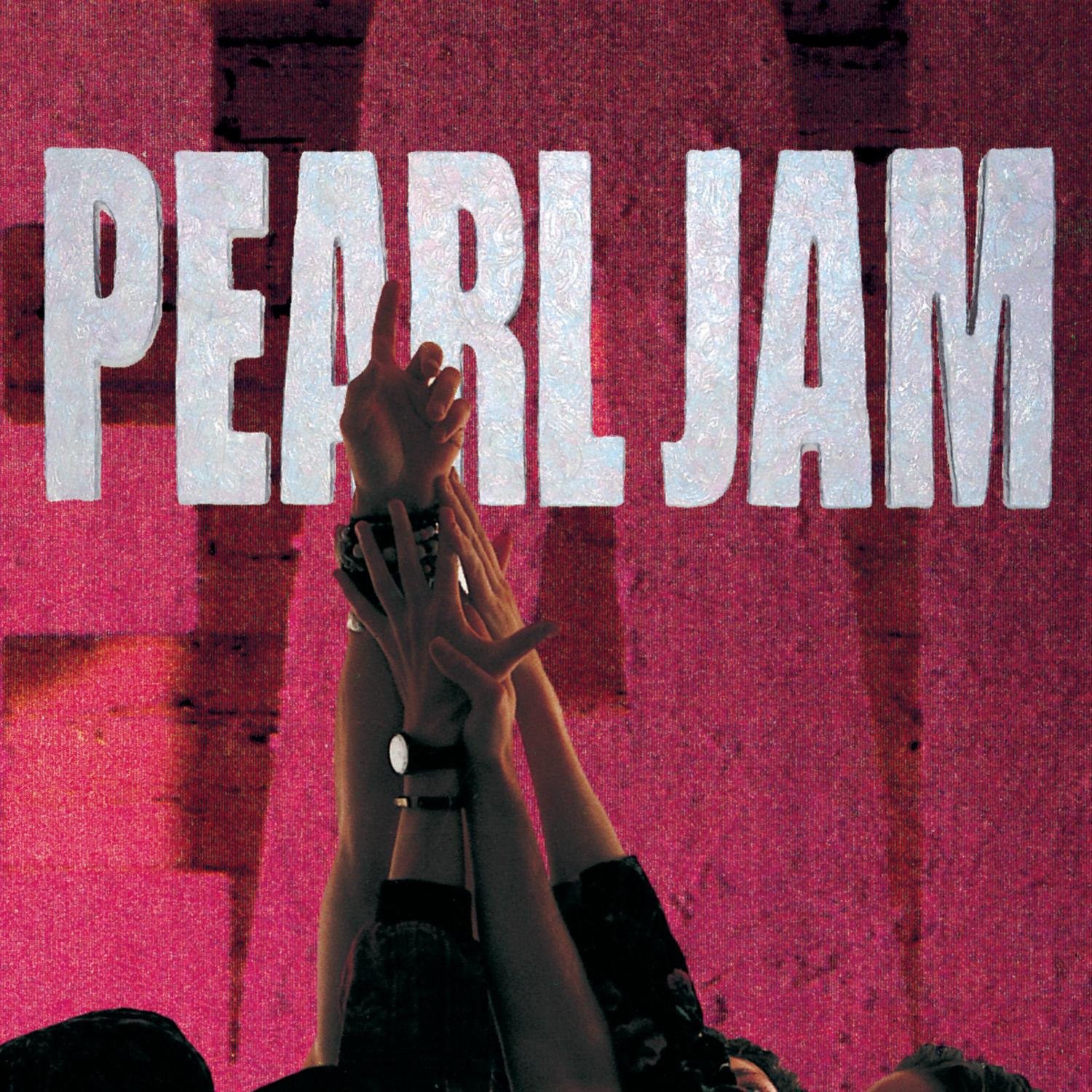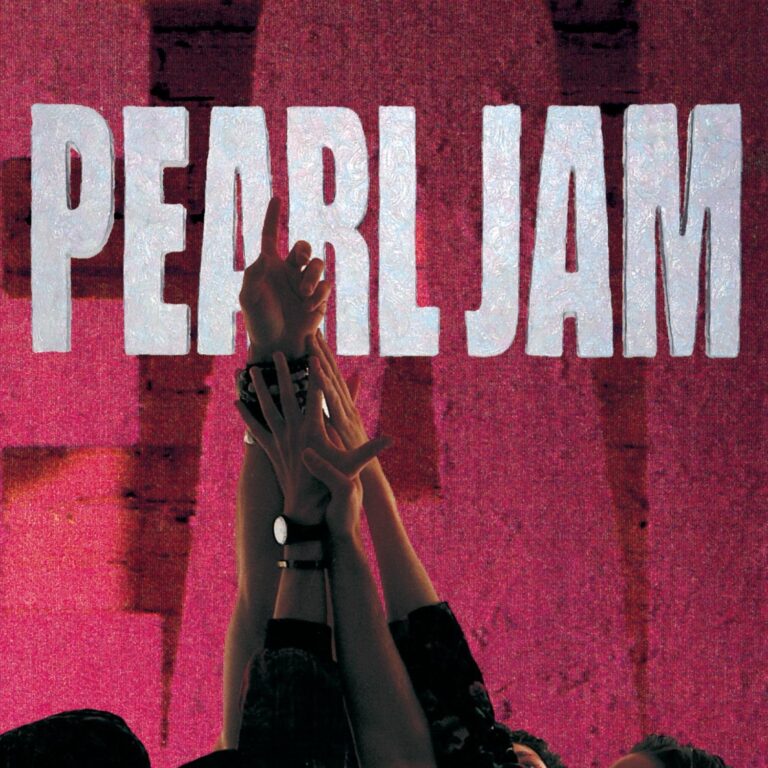 "Have I got a little story for you," Eddie Vedder booms in an epic baritone on "Alive," one of the deeply personal tales of familial dysfunction and his search for identity—he sings to music that combines the Who's dramatic sweep with Minor Threat's punk energy. "Ten is life or death," Vedder says. "[Bandmatesj Jeff Ament and Stone Gossard [of Seattle's Mother Love Bone] had just lost their singer, and I was trying to deal with the loss of my father, who I never got to know."
After a friend handed San Diego-based Vedder a tape of instrumentals by Ament and Gossard, he stayed up all night listening and wrote lyrics while surfing in the morning. "As soon as we heard the work that he'd done, I called up Stone and said, 'We gotta get this guy up here now,'" Ament remembers. They played "Alive" the second Vedder got behind the mic and spent the next six days writing more than half the album. "Release" came together in one take, and "Oceans" was written to the bass line he heard Ament playing through the wall while accidentally locked out of the basement they were rehearsing in. "I was in this rainy alley in godforsaken Seattle missing [now-wife] Beth," Vedder says. "I just didn't waste any time." As the video for "Jeremy" made his alienation iconic, Vedder was reluctantly cast as a voice of generational angst. But Ten was ultimately about hard-won survival—the chorus of the first single is, after all, "I'm still alive." JESSICA LETKEMANN
34. Cornershop, When I Was Born for the 7th Time (Luaka Bop/Warner Bros., 1997)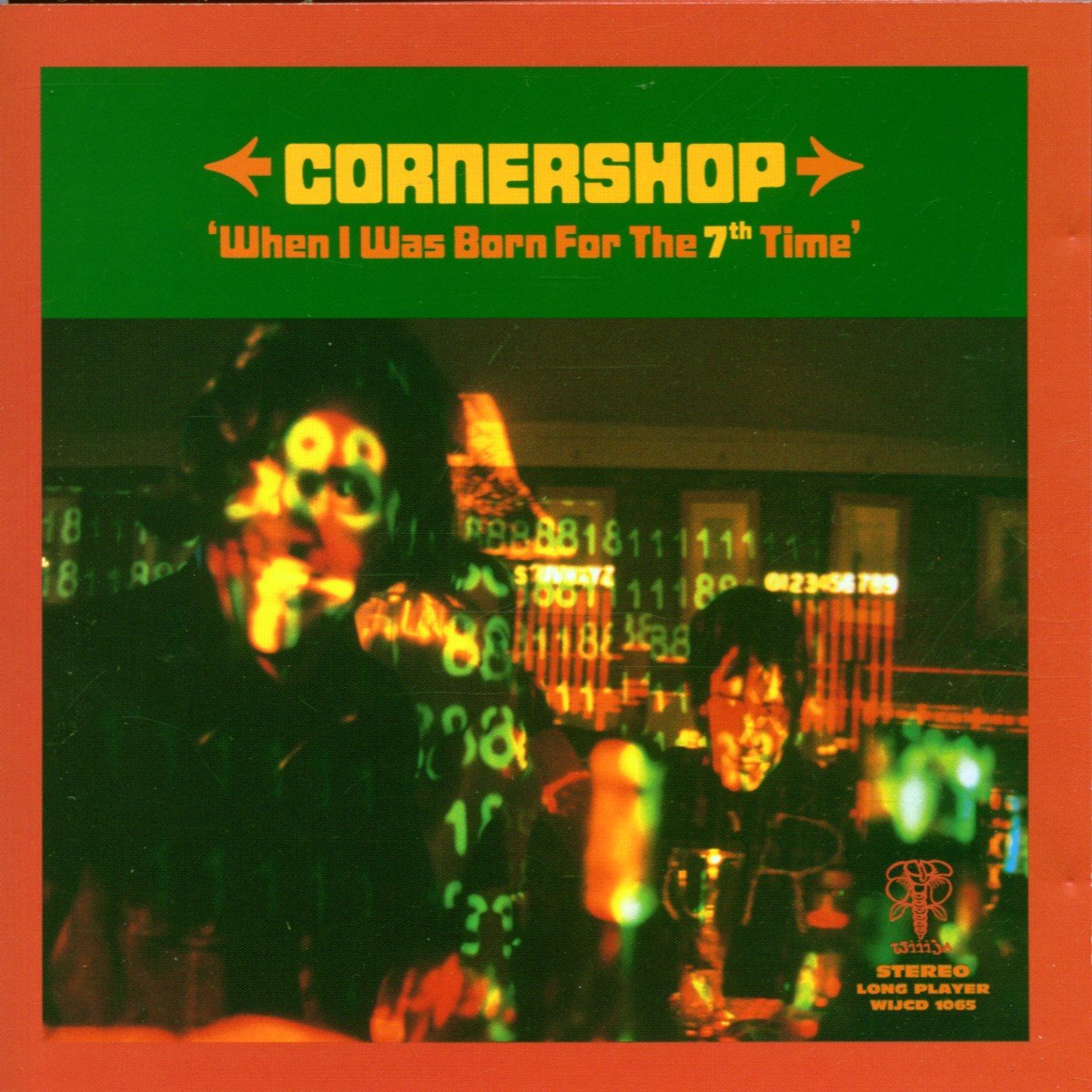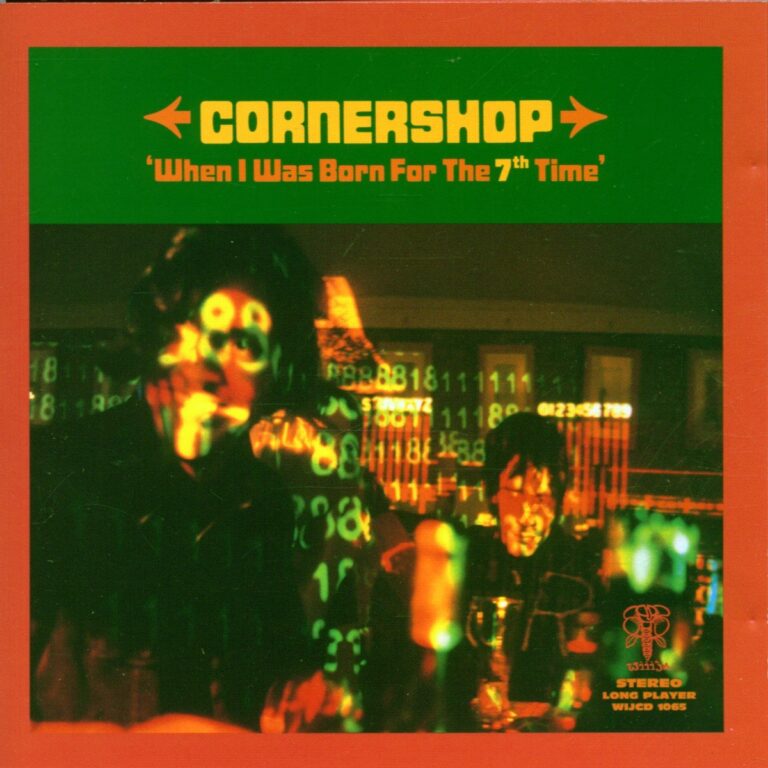 When it was released in 1997 in a post-Odelay haze of collagadelica, Cornershop's third album made the sitar-soaked history of East-meets-West musical crossbreeding seem entirely beside the point. After years of borrowing and exoticizing, an Anglo-Indian and a white Brit were script-flipping between English and Punjabi on a groovy, politically pointed joyride into chronic-laced hip-hop and lo-fi incense funk. "We wanted to keep it varied and upbeat," frontman Tjinder Singh says. "Everything was quite relaxed and summery."
Cornershop's laid-back hunting and gathering made When I Was Born for the 7th Time a critical favorite in America and a modest commercial success in the U.K. when Fatboy Slim's disco-flavored remix of "Brimful of Asha" became a hit single. In both countries, it had kids humming the name of Bollywood diva Asha Bhosle and critics misreading the band's Punjabi makeover of the Beatles' "Norwegian Wood" as a scolding instead of an homage ("It's a damn good song—that's why we did it," Singh says).
"The record is an extension of the essence of the '90s—the blending of different styles," says Dan "The Automator" Nakamura, who co-produced several tracks. "Where Beck was mining through American cultural history, this was mining through world history." JOSH KUN
35. OutKast, Aquemini (Laface/Arista, 1998)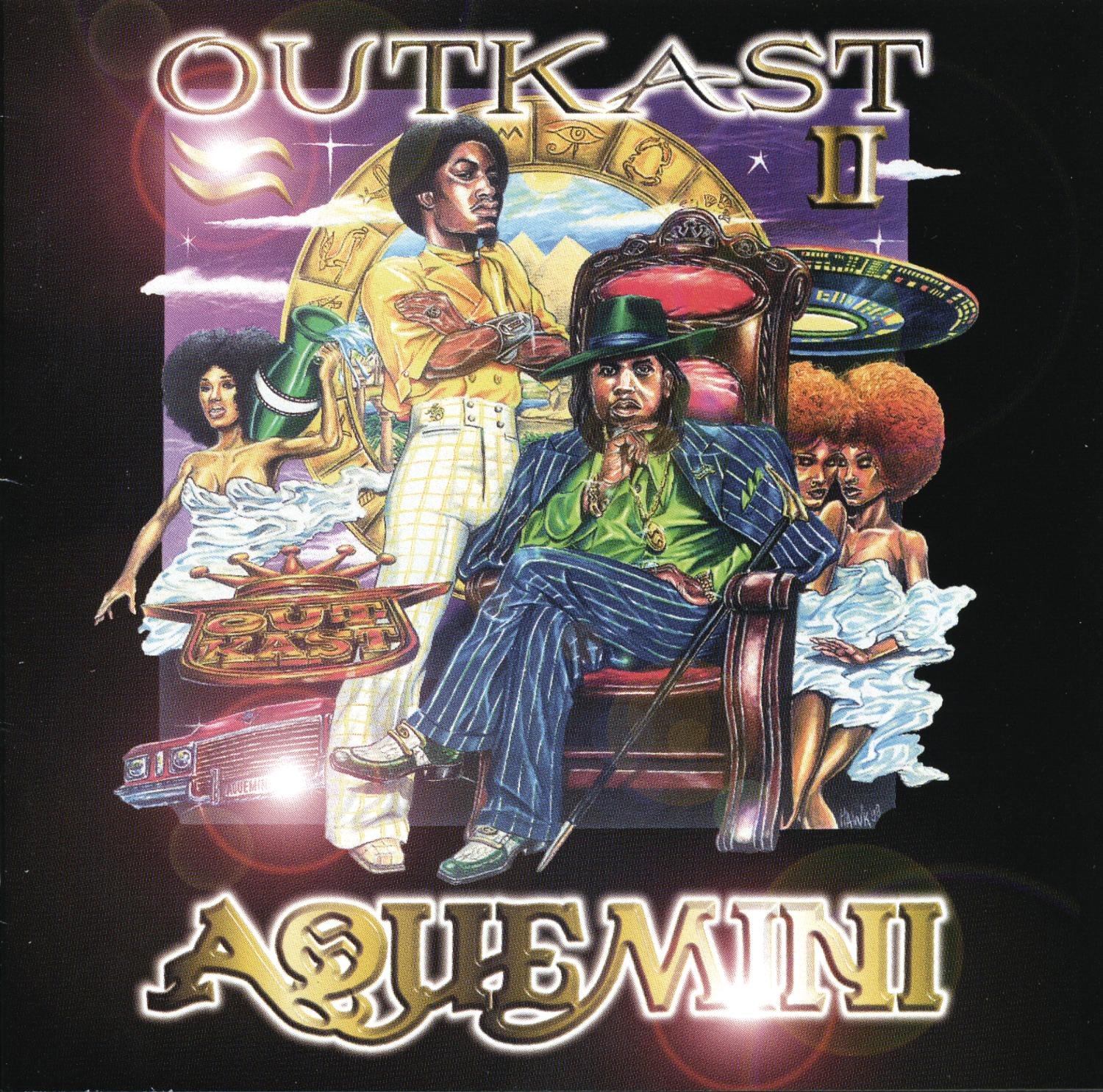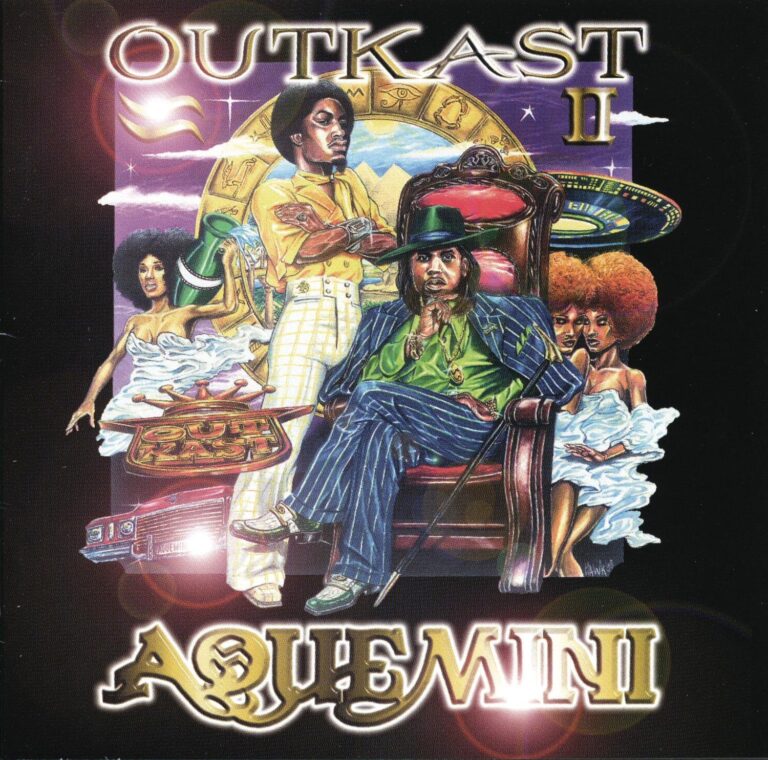 Until 1998, Atlanta's OutKast were small fish in a Southern pond, and they defined the strengths and weaknesses of regional hip-hop: They had tons of local flavor and also seemed a little bit outside the action. But with their third LP, Aquemini, they left the sticks without moving anywhere. Values that once would have gotten them labeled "alternative"—live musicians, saving the gun for self-defense—now got play across an increasingly diverse hip-hop horizon. "It's just life music," says Big Boi, one-half of OutKast, alongside Andre "Dre" Benjamin. "Alternative is like something going against the grain. But we are the grain."
For Aquemini they reunited with the production gurus in the Organized Noize crew and brought in neighborhood pals like the Goodie Mob and Cool Breeze along with newer friends Raekwon and Erykah Badu (Benjamin's baby-mommy). The sound is spacious like a luxury-liner ballroom, with the MCs tag-teaming on everything from world peace to instant grits. After Aquemini went platinum, OutKast toured with Lauryn Hill and recorded with both Slick Rick and Mystikal. They've even gotten huge enough to be hugely misinterpreted: Civil Rights icon Rosa Parks has sued them for appropriating her name for the title of Aquemini's first single. "Just like she refused to go to the back of the bus, we refuse to make that same unoriginal music that everyone else is making," Big Boi says animatedly. "We're gonna sit up front and make a change." RJ SMITH
36. Fugazi, Repeater (Dischord, 1990)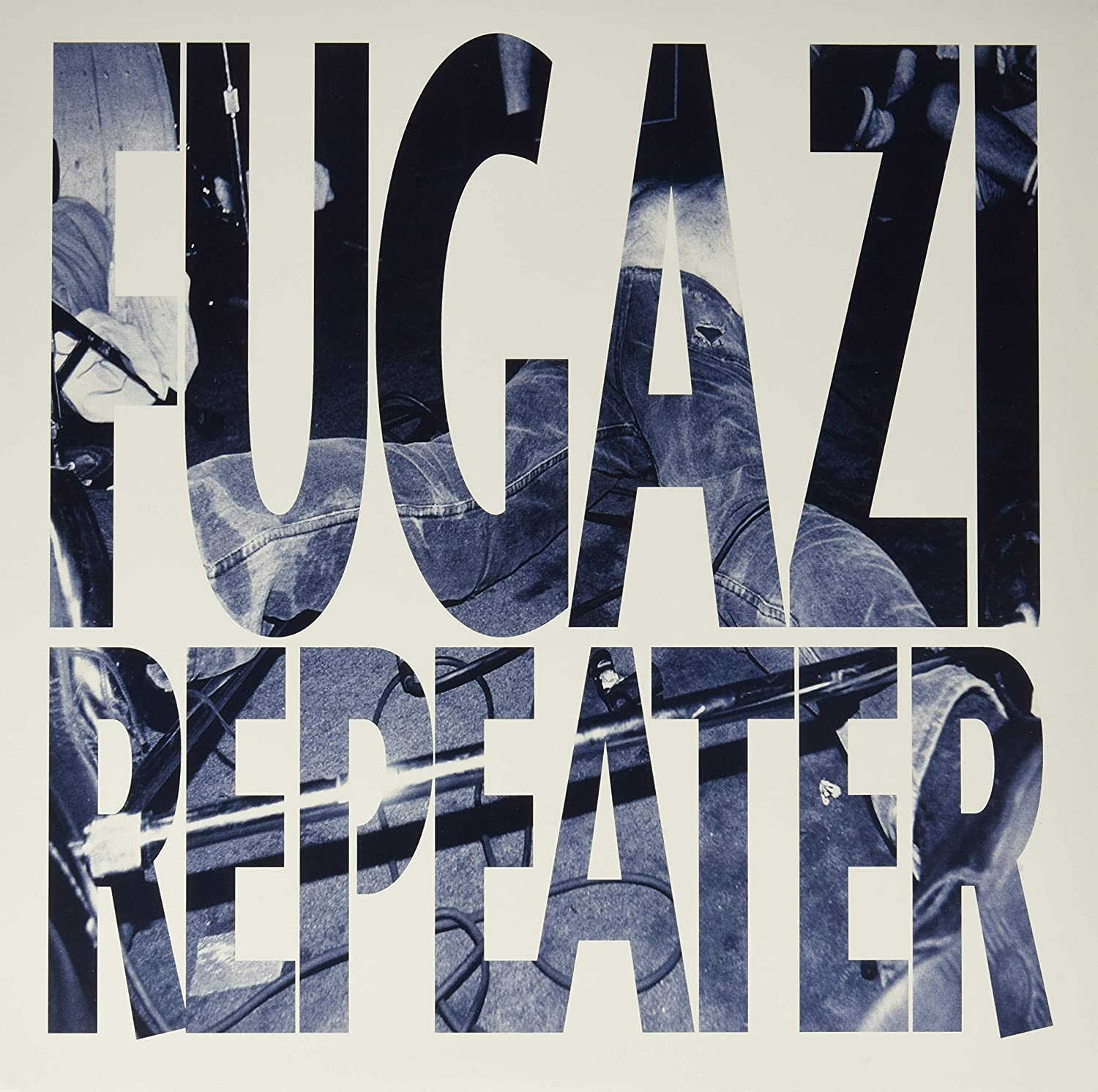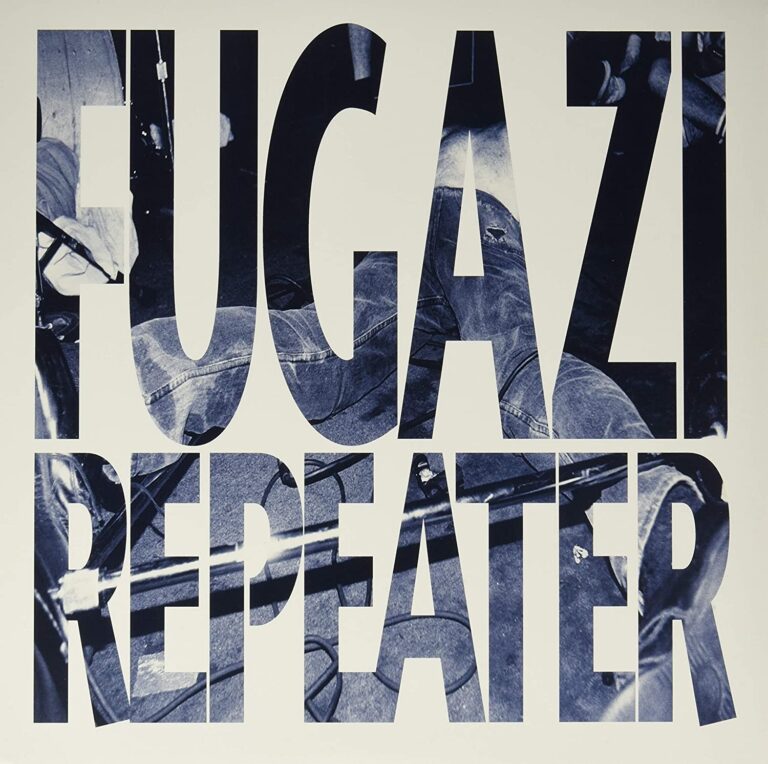 "You are not what you own," Fugazi's Ian MacKaye counsels on 1990's Repeater, but at the time, Fugazi were underground rock's hottest commodity. The anti-consumerist, politically conscious band's late-'80s EPs outsold Nirvana's Bleach easily, and Pearl Jam once opened for them. Fugazi defined punk populism—forever freezing their ticket prices at $5—and treated music-making like a serious, potentially uplifting endeavor. Even more than their records, Fugazi's ferocious live shows energized a new musical community. "In those days, the records were the menu, and the shows were the meal," MacKaye says, but Repeater's propulsive, fight-the-Man anthems such as "Merchandise" and the title track translate Fugazi's manic live energy to disc.
With roots in harDCore heroes Minor Threat and emo-core pioneers Rites of Spring, Fugazi combine the rhythmic vigilance of the Bad Brains and D.C. go-go with catchy Britpunk choruses, New Wave shimmy, and brutal guitar skronk. "Fugazi can be as forceful as the MC5 or as minimal as King Tubby, but those references fall short of defining their sound," says Rage Against the Machine mouthpiece Zack de la Rocha. "It's the spontaneous projection of soul and resistance, a new musical language." Fugazi's next album, Steady Diet of Nothing, came out the same week as Nevermind. Soon enough, the locus of punk-rock success shifted, much to Fugazi's relief, jokes MacKaye. "We always said Seattle took the hit for us." GREG MILNER 
37. PJ Harvey, Rid of Me (Island, 1993)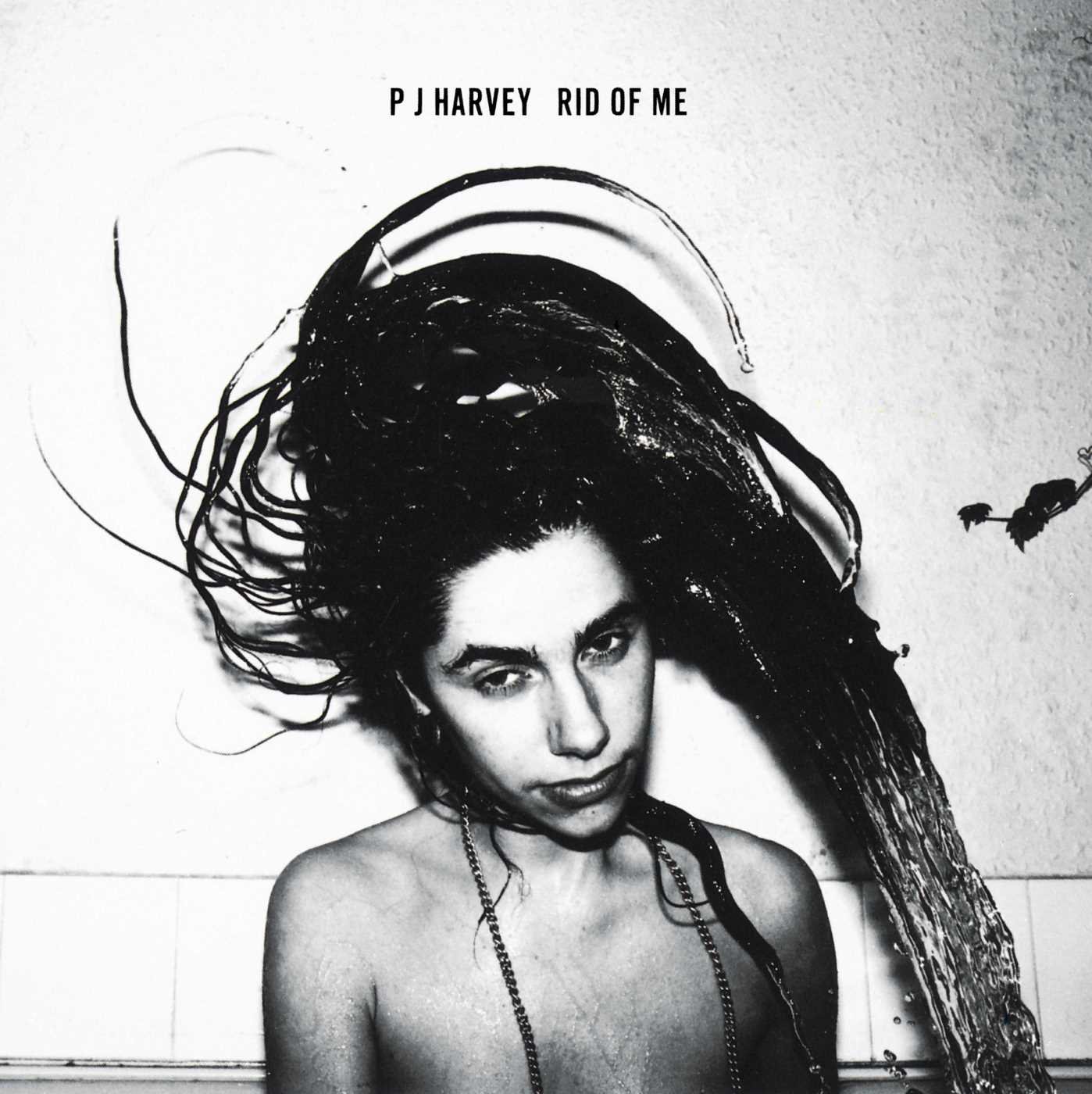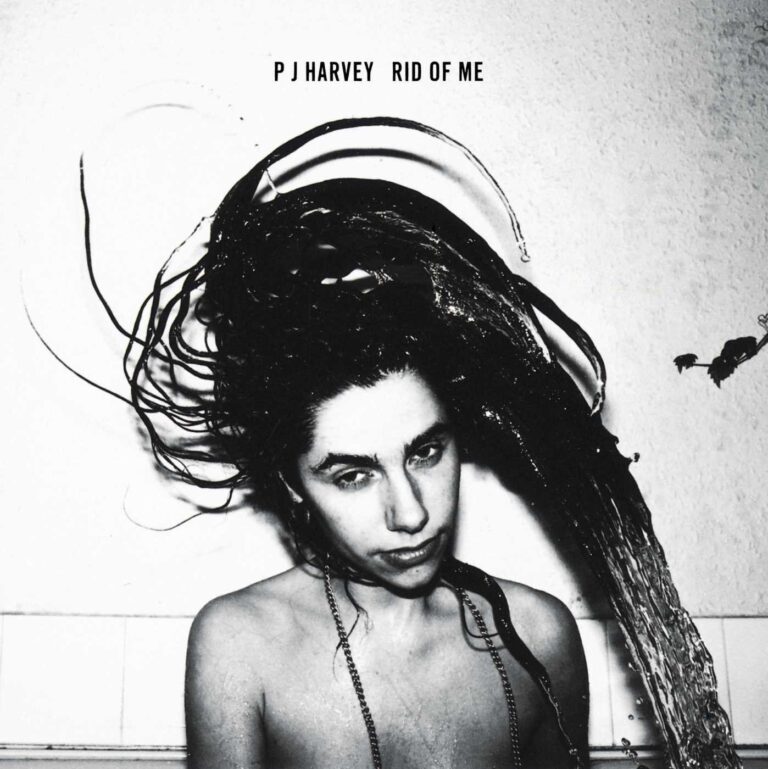 Love it or fear it, Rid of Me is the record on which Polly Jean Harvey burrows deepest into herself. "When I listen to [my first album] Dry," she says, "I feel like I sound really young—full of young energy and life. Rid of Me is a bit harder, as I'd had a few more disappointments. There's quite a lot more anger." Opening her relationship wounds, Harvey explores neediness ("I'll make you lick my injuries") with the same intensity the punk forefathers had brought to emotional estrangement, imagining herself as Eve, Mary Magdalene, and even Jane of the jungle in the menstrual-themed "Me Jane" ("Tarzan, can't you see I'm bleeding/Stop your fucking screaming"). And her raw howl turns arrestingly sweet to deliver the ultimate female kiss-off: "You leave me dry."
By the way, she rocked harder than any woman ever, as furious with a guitar as she was on the mic. Rid of Me's scuzzy, abrasive sound was controversial, engineered for maximum friction by Steve Albini. Some fans, including Courtney Love, prefer the alternate versions Harvey released on 1994's 4-Track Demos. "That's such a beautiful, raw, four-in-the-morning, I'm-doing-this-for-my-fucking-self thing," Love says. Harvey's follow-up, To Bring You My Love, gave her demons more Springsteenian outreach. But Albini's intransigence puts Rid of Me's songs into all-too-appropriate bondage gear, and the album remains a landmark. ERIC WEISBARD
38. Roni Size/Reprazent, New Forms (Talkin' Loud/Mercury, 1997)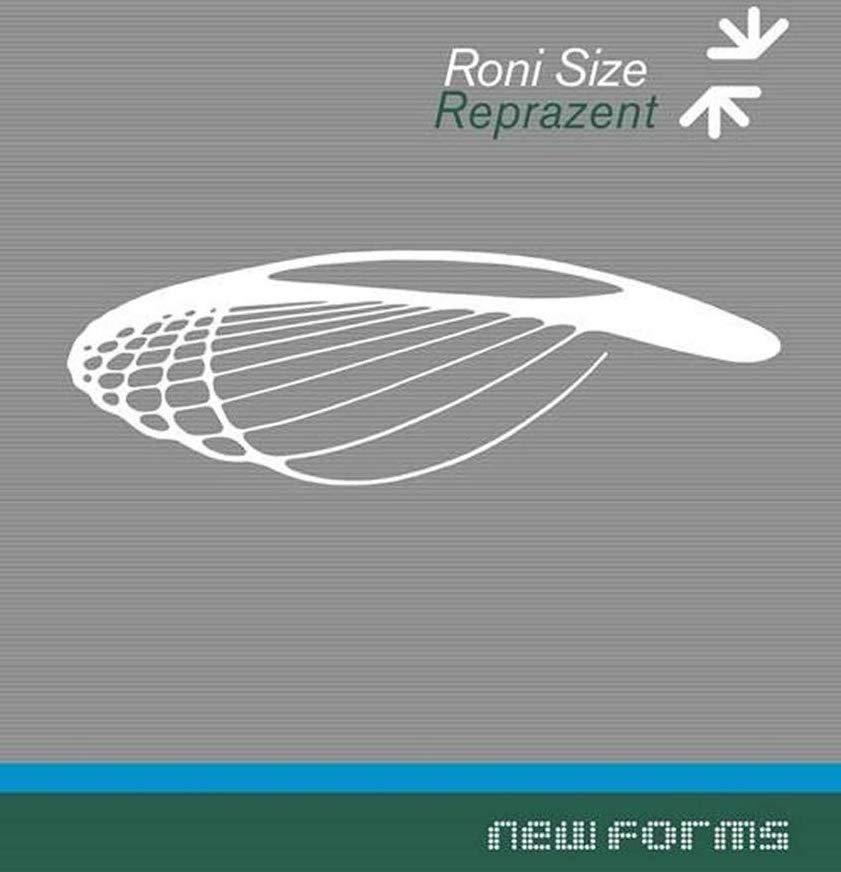 "Are we going to be No. 90?" Roni Size asks. For a guy with the stones to call his debut album New Forms, Bristol's most famous junglist can be awfully self-effacing. "My music is very sometimes-ish: Sometimes we get it right, sometimes we get it wrong." On the two CDs of New Forms, Size and the Reprazent crew mostly get it right. The music jumps from MC Dynamite's jungle chat on "Brown Paper Bag" (featuring a bass line hook that ended up on more than a few outgoing messages) to Onnalee's soul-diva workouts to "Destination," which samples a horn riff from Everything but the Girl's "Each and Everyone." EBTG's Ben Watt is thrilled that something he wrote wound up on Reprazent's debut. "Our song was owned by Warner Bros., and they got really heavy over the money. And we were just saying, 'For Christ's sake, this is Roni's first album. We love his music—give the guy a break!'"
In the end, New Forms summarized where drum 'n' bass was at, and where it hoped to be going. "We used vocals, we used instruments, we used jazz, soul, R&B, and hip-hop," says a suddenly not-very-self-effacing Size. "We're not just a bunch of kids from the rave scene. We had a vision." JEFF SALAMON
39. The Breeders, Last Splash (4AD/Elektra, 1993)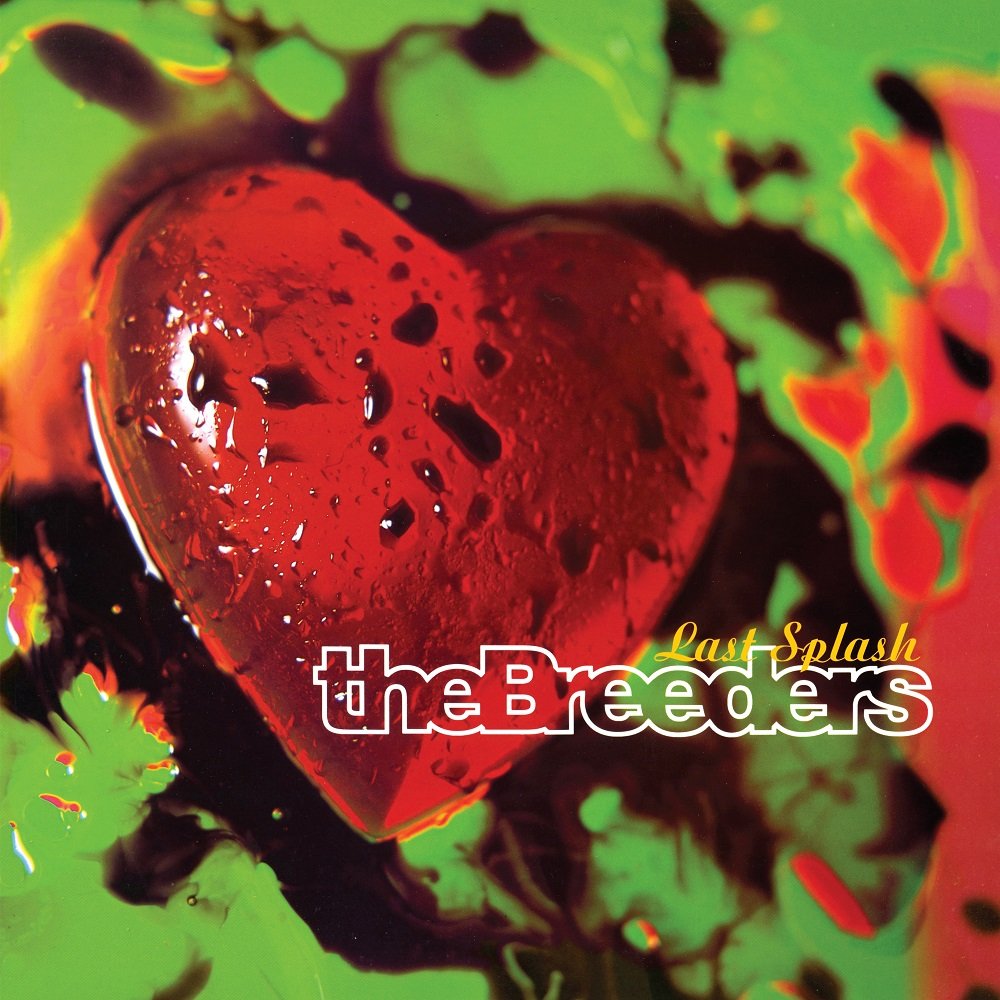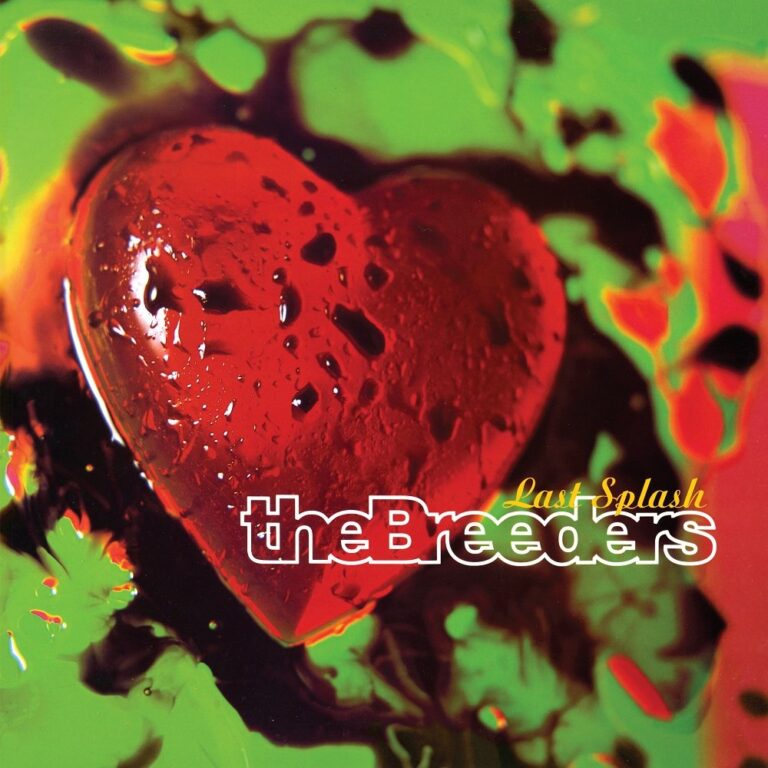 Last Splash represents the triumph of a great rock 'n' roll tradition: messing around. The Breeders began as a moonlighting gig for Pixies bassist Kim Deal, Throwing Muses guitarist Tanya Donelly, and Perfect Disaster bassist Josephine Wiggs. After the second Breeders record, 1992's Safari EP, Donelly left to feed trees with Belly, Kim's identical twin, Kelley, took over guitar duties (despite not knowing how to play), and the band drove a U-Haul from their native Dayton, Ohio, to record in San Francisco. Her second day there, Kim awoke to the news that Pixies frontman Black Francis had declared the group kaput, and the platinum-selling Last Splash went on to sell as many copies as that groundbreaking alt-rock band's entire catalog.
"It wasn't a plan for world domination," Kim Deal says. Nonetheless, helped by a rollicking video by Sonic Youth's Kim Gordon, the good-timey "Cannonball" single rolled onto the modern rock charts with its contagiously catchy guitar riff and sticky-sweet lyrics about summer fairs. (The song remains unstoppable, providing the soundtrack for this summer's South Park film trailer.) The instrumental interlude "S.O.S." has also had quite an afterlife: It was sampled by Prodigy for their hit "Firestarter." And "S.O.S." features what may be a recording first: a sewing machine. "Kelley decided she was going to finish up the quilt she was working on," Kim says. "The sound that goes dzhthhthzhzh, that's the sewing machine miked through the Marshall—on a zigzag stitch." Their knack for making wackiness work was key to the Breeders' unconventional success. They approached the recording of Last Splash like the rest of their life: as a low-key party—living on a houseboat and playing pool in the local bars. "It wasn't rock star-y," Kelley says. "There was no one famous hanging out in the studio. Just people we picked up." EVELYN McDONNELL
40. R.E.M., Automatic for the People (Warner Bros., 1992)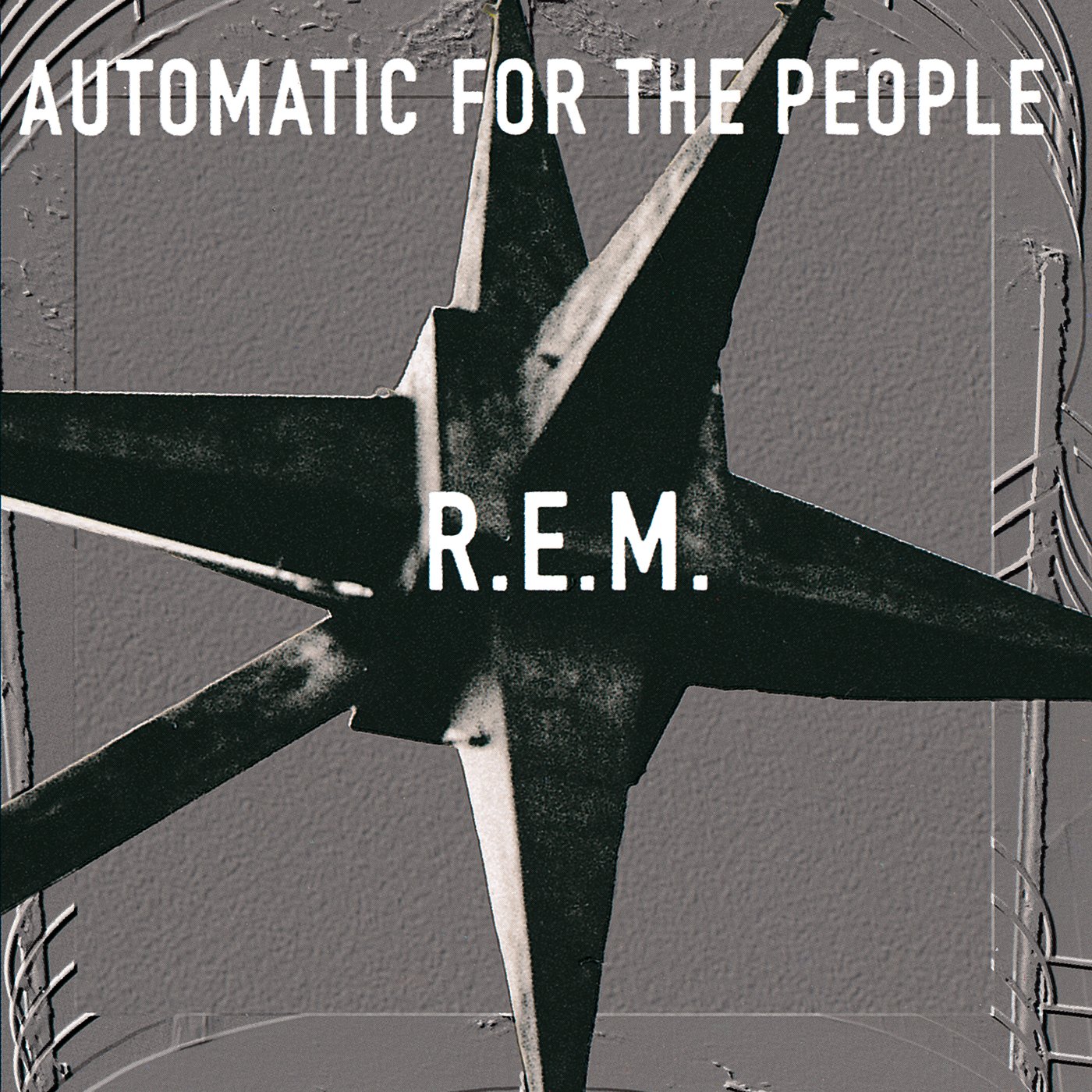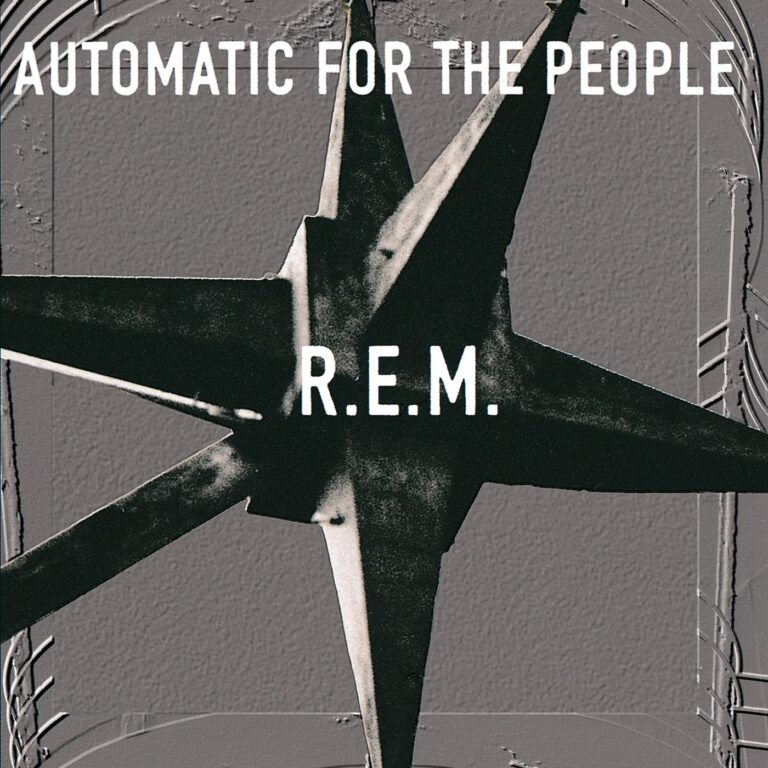 In 1992, sometime in the 30-month cycle known as the Year Punk Broke, when grunge was gold and all the songs that mattered were screeching "Hey! Kids! Rock and Rolllllllllll!!!!!!!!!!!!!," Automatic for the People opened with Michael Stipe practically whispering, "Hey [low-key pause] kids [what's your hurry?], rock and roll." And you thought their previous record was out of time. According to Stipe, it wasn't R.E.M.'s original intention to flout the louder-faster zeitgeist. "We had tried to make a really raw, thrashy punk-rock record," he says. "It just wasn't in the DNA. Instead, we were turning out this chamber music."
Good chamber music. Über-fan Courtney Love says that of all the R.E.M. albums, Automatic "is my favorite one. But it wasn't at the time—I was still listening to Murmur. For a long time, I didn't recognize Automatic for the fucking thing it is, which is epic." That epic-ness might have something to do with how the songs glow with a sense of both time and place: the observation on "Nightswimming" that "September's coming soon," the lush antebellum strings, and the homey peach fuzz of Peter Buck's guitar. Still, one song stands out from its earthy brethren—the extraterrestrial pop rave-up "Man on the Moon," a tribute to the late Elvis-impersonating comedian Andy Kaufman. Of course, the song's highlight is Stipe's own Presley impression, the recurring lip swerve of 'Hey, baby." "I always thought, at the age of 23, I should have done the Elvis biopic," Stipe says. "I've got the mouth, I've got the voice, I've got the hips." SARAH VOWELL
41. Sebadoh, Sebadoh III (Homestead, 1991)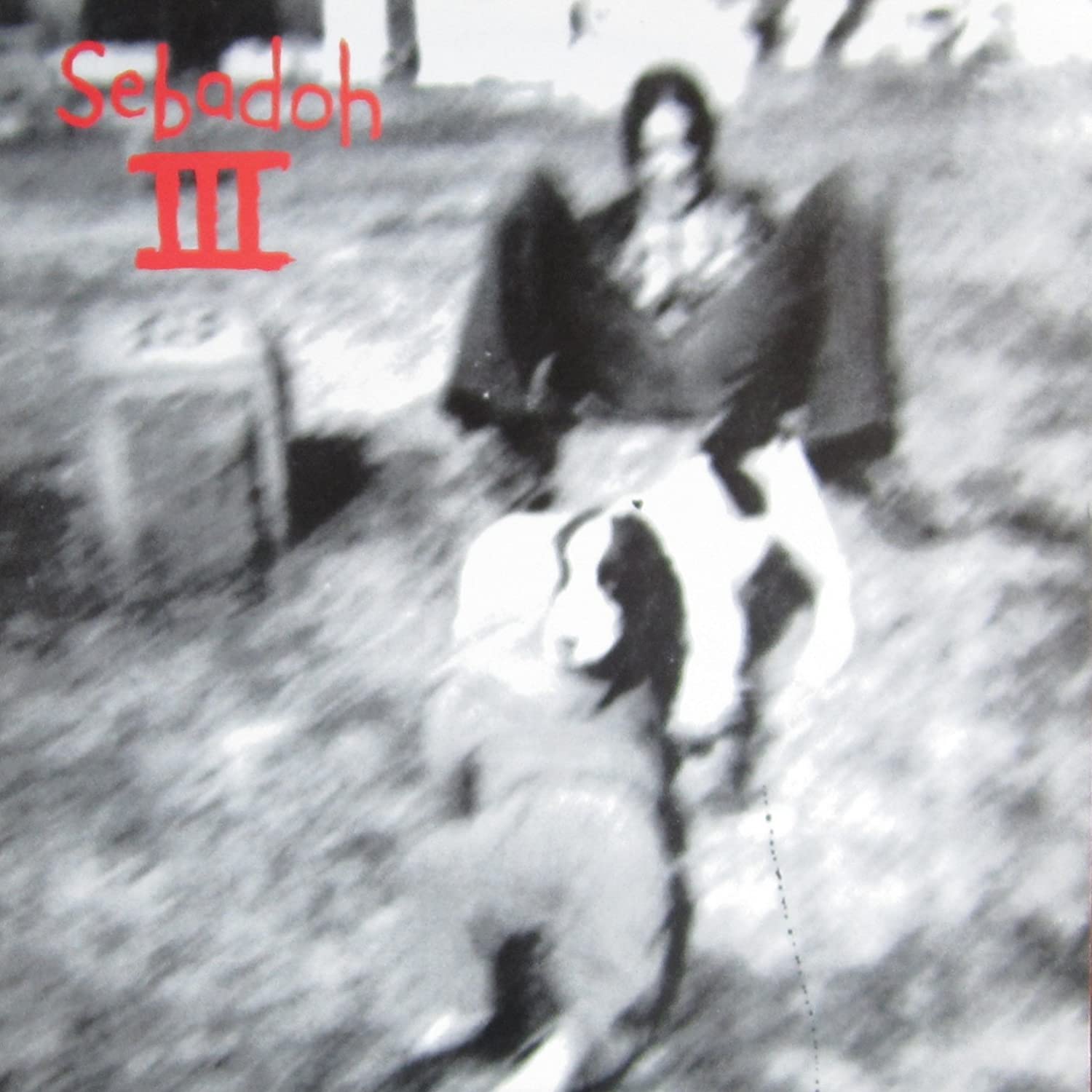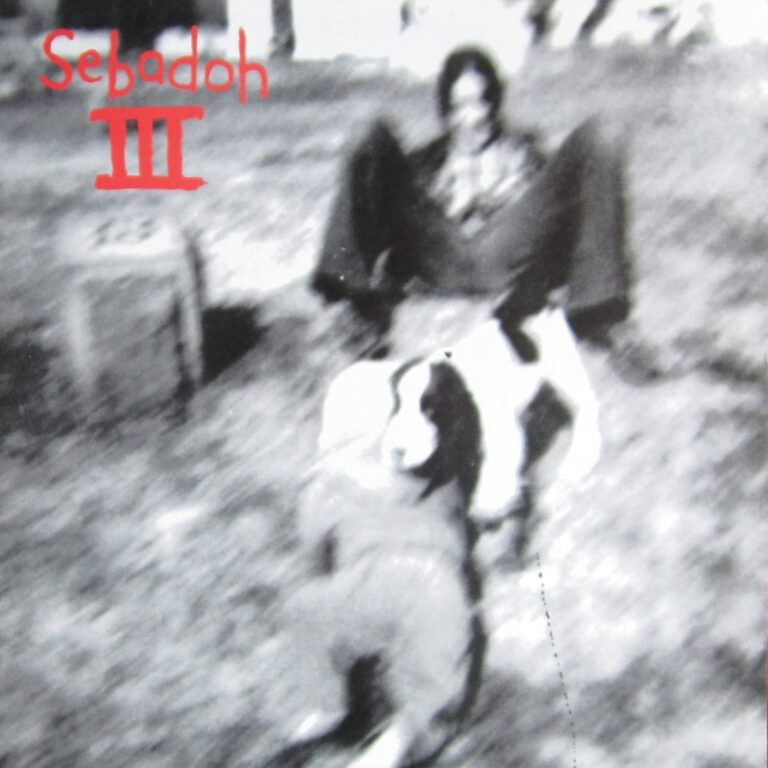 "It was a completely confused time, a post-Gulf War time," says Lou Barlow of the recording of Sebadoh III. "We were all broke, and I was being supported by my girlfriend. I was angry. And we were alone." But mostly, Barlow was still pissed at J Mascis for kicking him out of Dinosaur Jr. two years earlier. He began writing songs that pitilessly dissected his psyche, gushed about true love, analyzed his need to masturbate, and railed against Mascis. Among this last category is the opener, "The Freed Pig," one of the finest songs ever written about hating someone as much as you hate yourself. (Mascis claims that he never heard it: "I think the fact that I never gave Lou a reaction probably made him crazier.")
Unfortunately for Barlow, his bandmate Eric Gaffney wouldn't play on the track because he thought the singer was overreacting. Somehow, all the hoo-ha added up to one of the most lasting relics of the early-'90s lo-fi four-track movement. Peaking with the haunting "Spoiled," the album funnels hardcore punk's accusatory "you" and self-flagellating "I" through '70s soft-rock solipsism. "When we finished it, I thought we'd recorded a monster," Barlow says. "It was a beautiful thing." GREG MILNER
42. Portishead, Dummy (Go Discs!/London, 1994)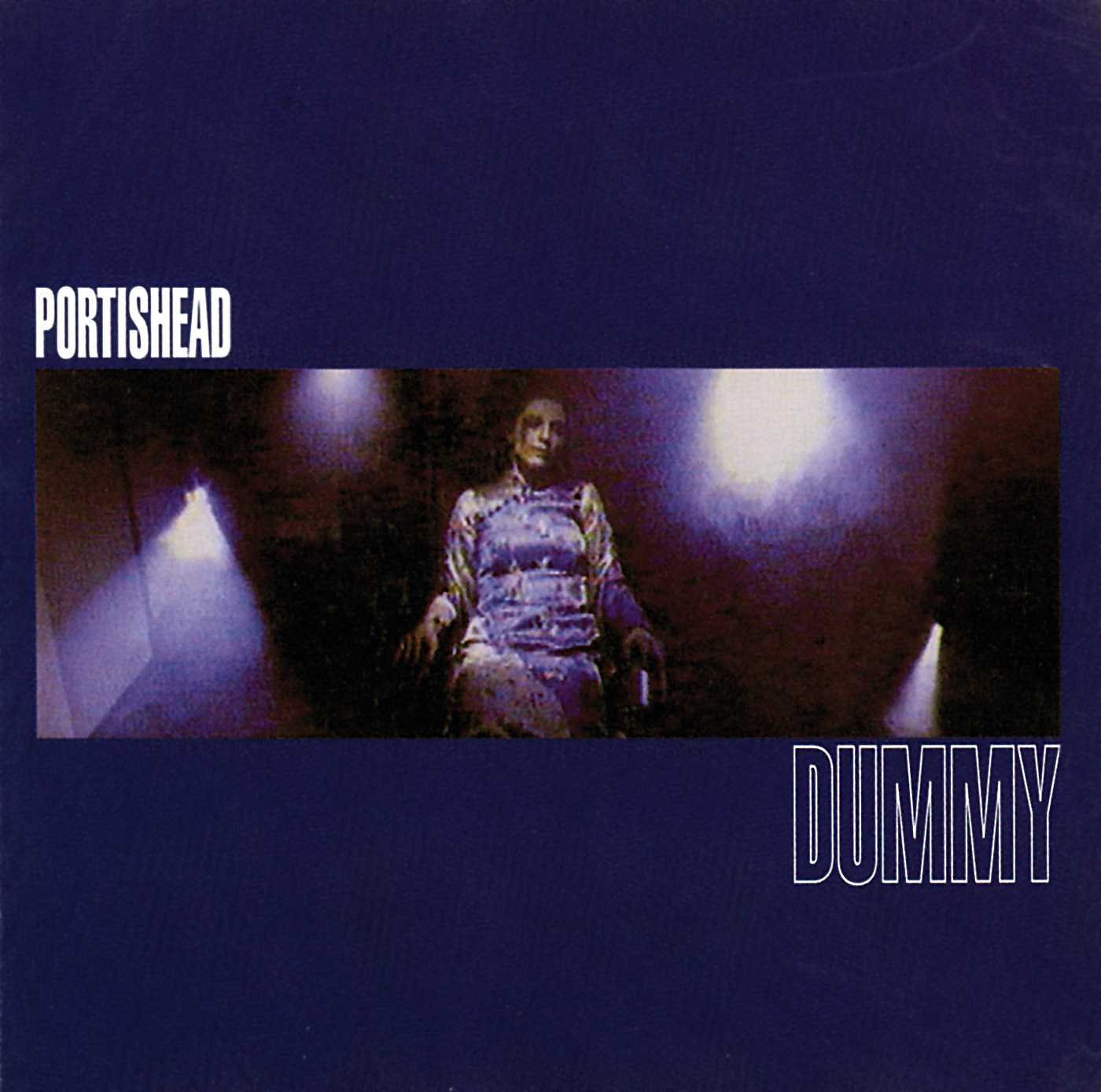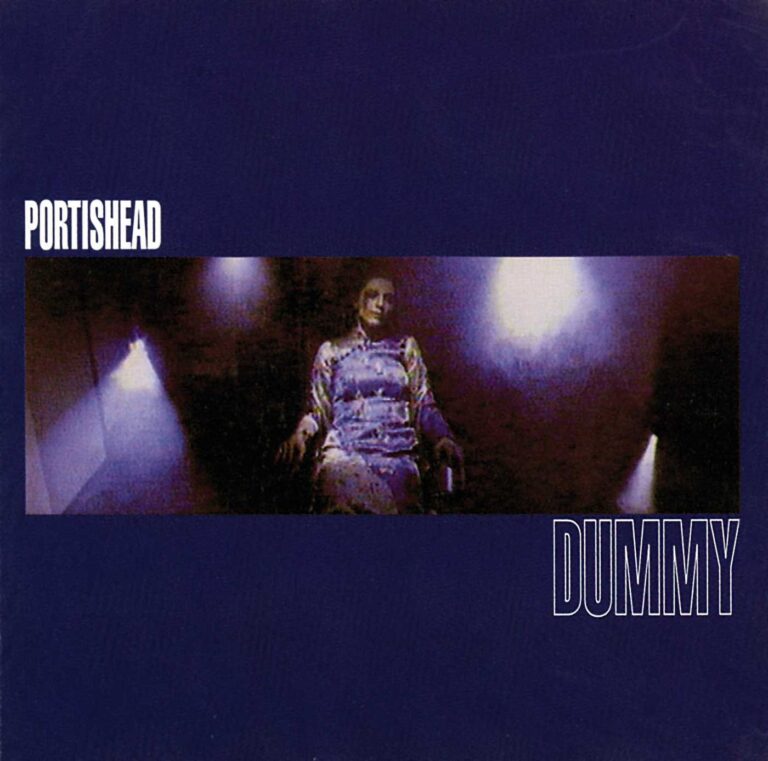 Records this somber and weird usually stay underground, but Portishead's debut brought trip-hop into the mainstream. "We had no idea that what we were doing had historical value," says DJ/programmer Geoff Barrow. "Because it was our first record, we had a blank canvas we could fill with all the things we'd been listening to and thinking about." On Dummy, sad siren Beth Gibbons, jazz-literate guitarist Adrian Utley, and hip-hop and Nirvana fan Barrow put their own spin on the combination of beats, songs, and moodiness Barrow heard while working as a studio hand for fellow Bristol acts Massive Attack and Neneh Cherry.
Portishead combined sample-and-loop production techniques with old-fashioned chops so restrained they're rarely acknowledged (check out Utley's slo-mo guitar abuse on "Glory Box") and brought back the nuanced art of arrangement at a time when visceral expression was everything. Dummy's influence was heard on records by Tori Amos and Air—and even Timbaland and Prince Paul have sampled tracks. "I always seemed to hear it in clothing stores, restaurants, and other people's houses," recalls Everything but the Girl's Ben Watt. "It became a soundtrack to that period." BARRY WALTERS
43. Pulp, Different Class (Island, 1995)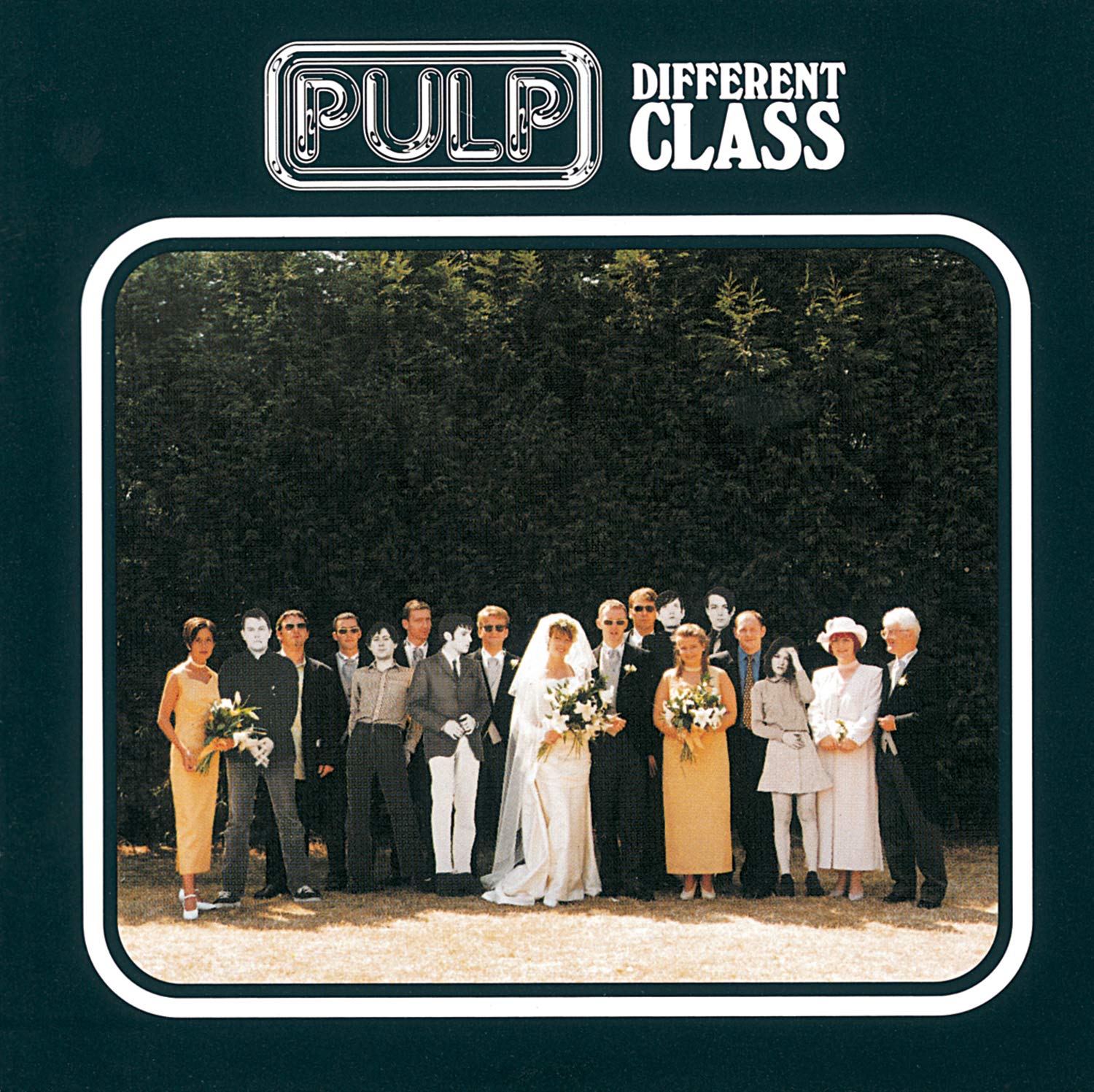 "We felt like this class of people who'd grown up during the '80s when there was lots of unemployment and we always seemed to be denied access to the mainstream," Jarvis Cocker says. But when Britpop's spotlight fell on Pulp, Cocker seized the moment with "Common People," an acidic first-person account of a slumming socialite seeking sex with a working-class hero. "Suddenly we were allowed to do something for a mass audience, and I was thrilled to force people to listen to all these mundane details of life."
As the single stormed the charts of the class-obsessed U.K., Pulp scrambled to finish the Different Class album. Veteran producer Chris Thomas helped anchor the sprawling art-rock arrangements with dramatic hooks that—true to Cocker's outside-observer persona—look over glam-rock, lounge-pop, and Eurodisco without ever really participating in any of them. Although the album never got beyond cult status in the U.S., Cocker became a reluctant celebrity in the U.K., and later a tabloid target when he bum-rushed Michael Jackson's performance at the Brit Awards, Britain's equivalent of the Grammys. Pulp's introspective 1998 follow-up, This Is Hardcore, lacked a rallying cry like "Common People," and Cocker's moment at the center of the U.K. zeitgeist was over. "I suppose people must've thought, 'He's become successful, he should be really happy about it.'" Cocker reflects. "And I suppose I should've, but I'm just a miserable person." BARRY WALTERS
44. Sinéad O'Connor, I Do Not Want What I Haven't Got (Ensign, 1990)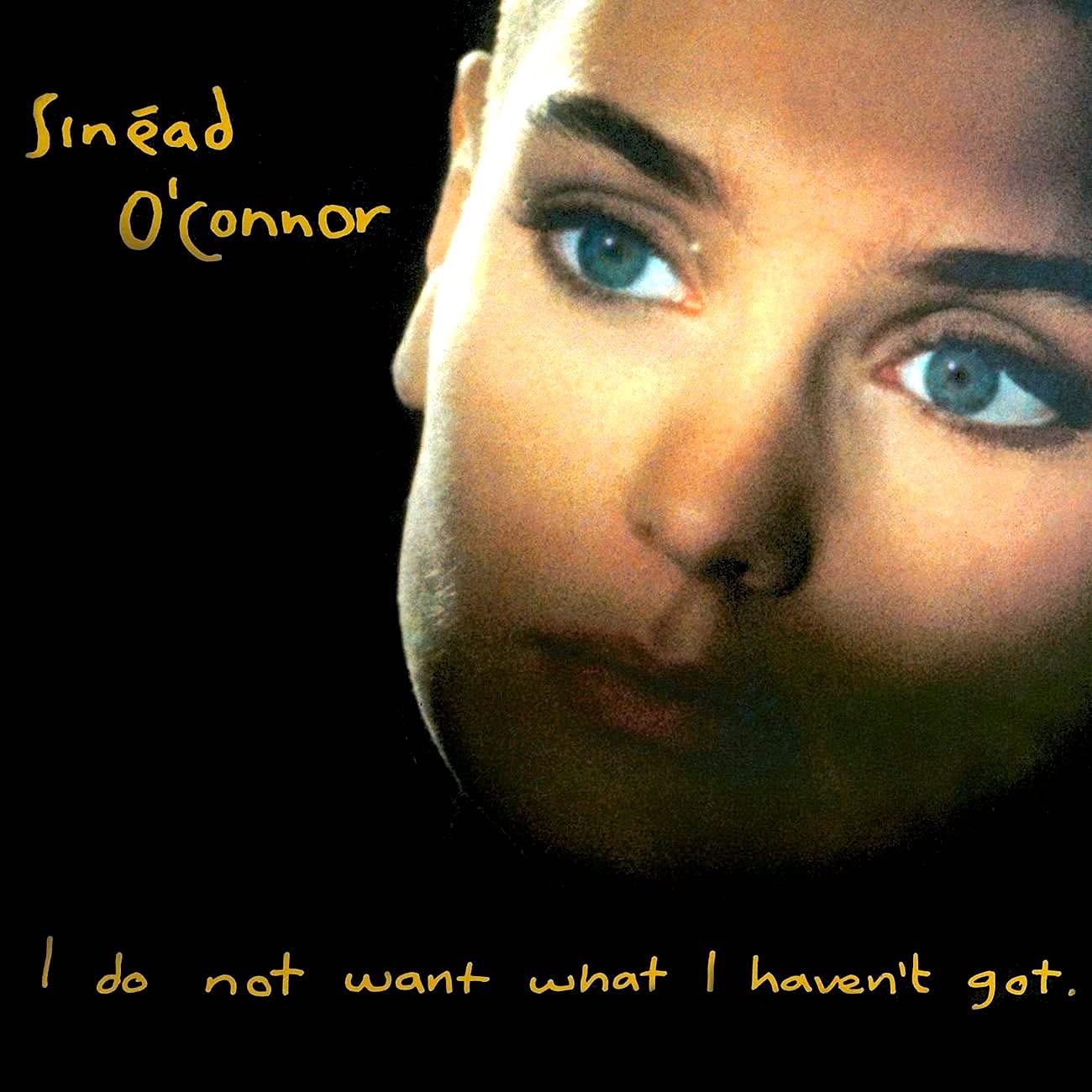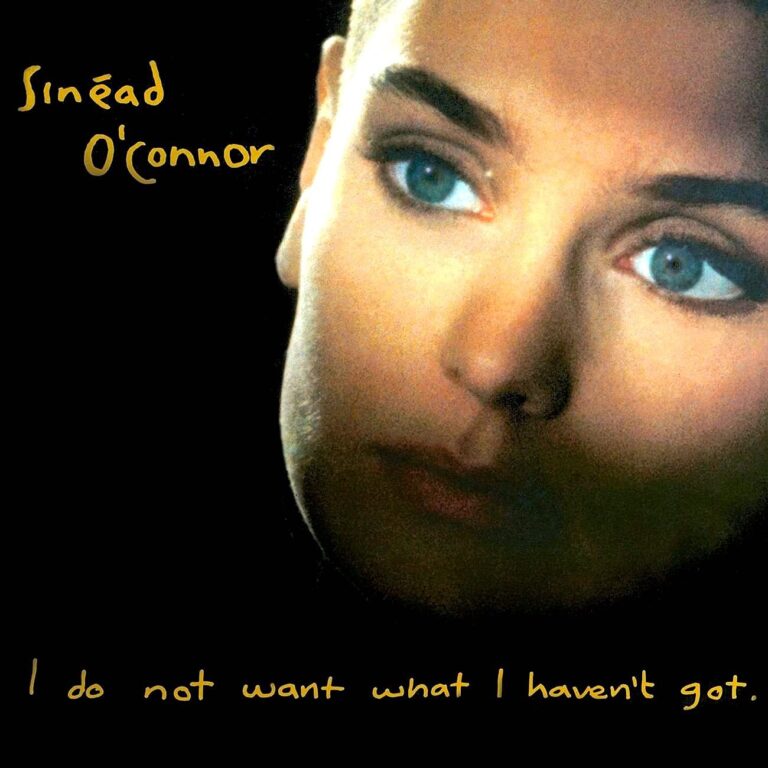 "The main thing for me is to take responsibility for myself," said Sinéad O'Connor shortly after finishing her second album. "That's the lesson I need to learn." Over the next few years, she learned it the hard way. From verbally sparring with Andrew "Dice" Clay and Frank Sinatra to shredding a photo of the Pope on live television, O'Connor got herself into trouble not just because of her beliefs, but because she had the audacity to act on them in ways few female entertainers ever had. Combined with her shaved head and the raw power of her singing voice, she scared the shit out of people.
I Do Not Want What I Haven't Got gave O'Connor a platform radicals don't usually have: the attention of ordinary softies who like a nice love song. Her haunting rendition of Prince's "Nothing Compares 2 U" won her an instant audience that wasn't prepared for the proto-riot grrrl lurking within—or the rest of her starkly personal album. "The label didn't want to release it because they said it was like reading someone's diary," says John Reynolds, O'Connor's then-husband and current drummer and musical director. "There was an argument, and Sinead said, 'Drop me.' They changed their minds." BARRY WALTERS
45. Basement Jaxx, Remedy (Astralwerks, 1999)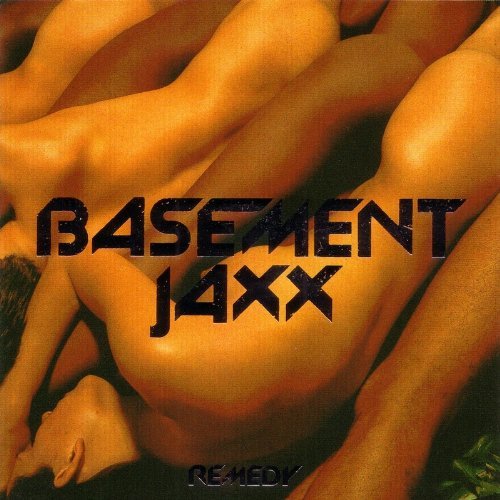 Reflecting the rarely acknowledged diversity of late-'90s house music even as it pushes that genre's envelope to the bursting point, Basement Jaxx's debut, Remedy, stands among the most inventive dance albums of the decade. Based in South London, the Jaxx—Simon Ratcliffe and Felix Buxton—call their wildly impurist style "punk garage." "What we admire in deep house and American garage is the music's untouchable sexiness, which U.K. house has always lacked," says Ratcliffe. "At the same time, we like to rough up that polished sound with some English punk attitude."
It results in killer tunes like "Same Old Show," based around a surprisingly eerie vocal loop from "On My Radio" by British ska revivalists the Selecter, and "Jump N' Shout," with its raucous dancehall reggae vocal and menacing gangsta-strut bass line. Remedy's every-which-way creativity also encompasses the Timbaland-style stutter beats of "U Can't Stop Me" and funk fantasia of "Rendez-Vu" and "Yo-Yo." "When we started out, we were just trying to be house producers," says Ratcliffe. "Now that we've achieved that, we're trying not to be house producers." SIMON REYNOLDS
46. Stereolab, Emperor Tomato Ketchup (Elektra, 1996)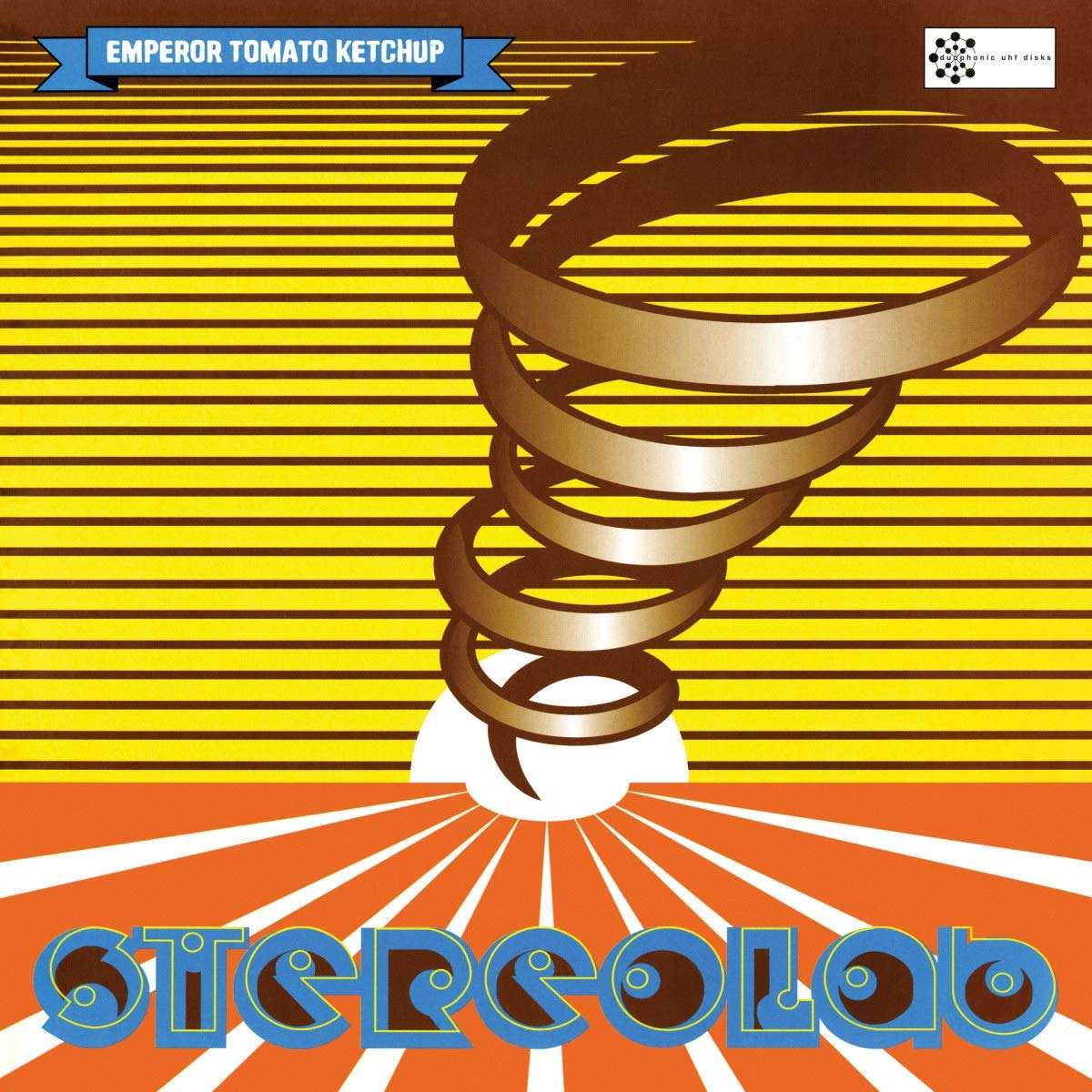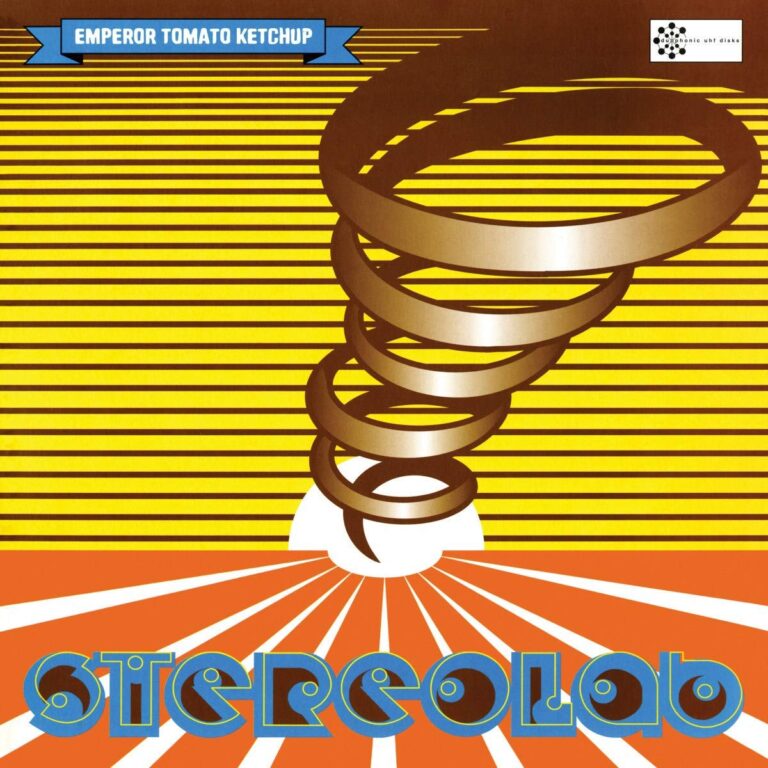 Stereolab were ready for a change. Over five years, they'd made a series of extraordinary albums by leavening the two-chord guitar-and-keyboard pulse of Neu! and the Velvet Underground with singer Laetitia Sadier's aphoristic politics and Francophone cool. But guitarist/record collector Tim Gane was growing more interested in worlds beyond rock. During the first sessions for Emperor Tomato Ketchup, Gane had more ideas for sounds than for songs. "After two weeks, all we had was six bass lines, six drum parts, and about 900 alto saxophones playing the same riff," he says. The saxes mostly disappeared, and scores of edits, overdubs, harmonies, and orchestrations transformed his ideas into dazzling constructions with a warm Krautrock groove. They recorded five more tracks in Chicago with Tortoise's John McEntire, who encouraged Stereolab to play with effects and timbres; they used guitar, bass, and drums for color and texture, and let Sadier's lush, twinkling melodies carry the songs. In the end, ETK presented a new way of thinking about rock instrumentation. The album "made me want to learn how to play guitar," jokes Pavement axeman Scott Kannberg. DOUGLAS WOLK
47. LL Cool J, Mama Said Knock You Out (Def Jam, 1990)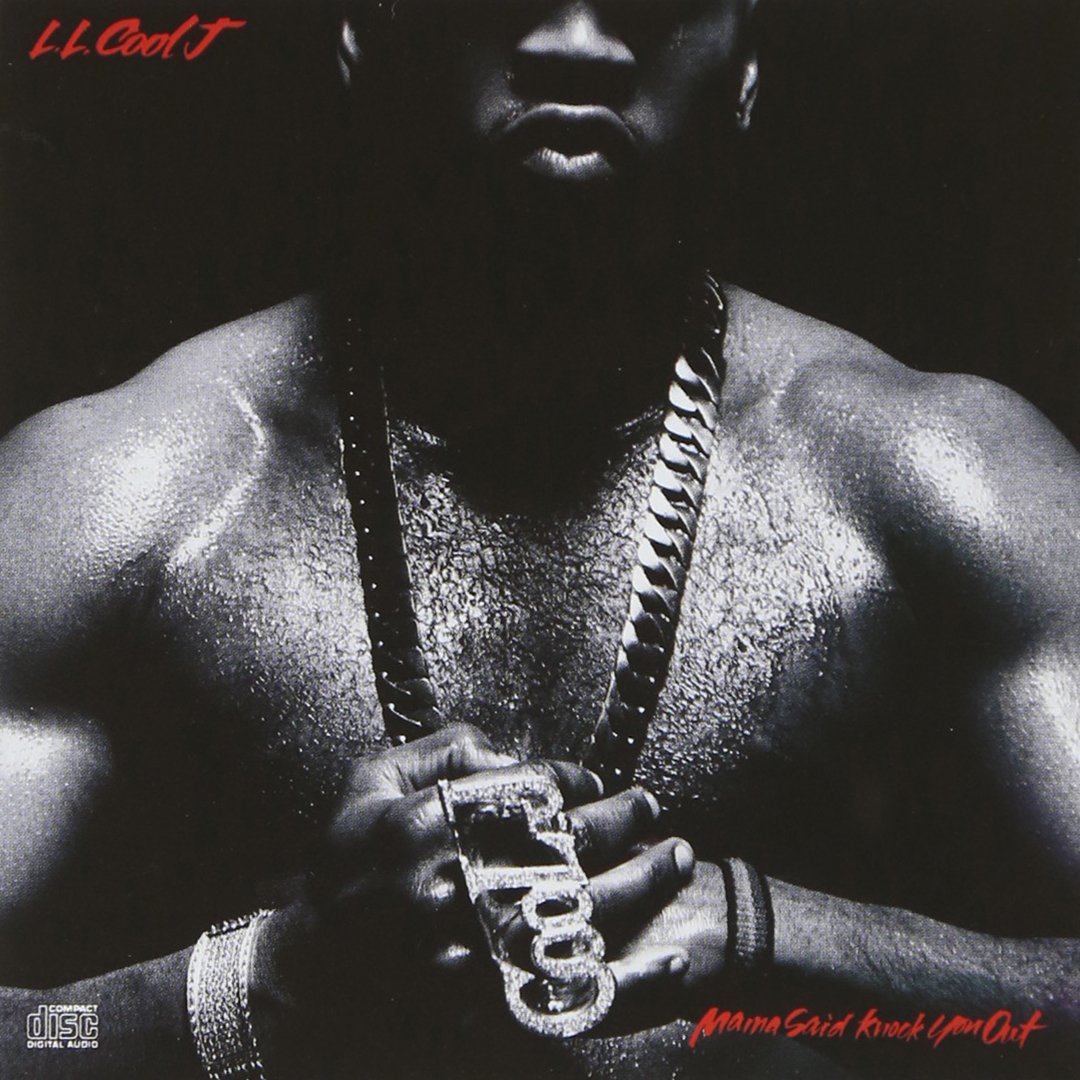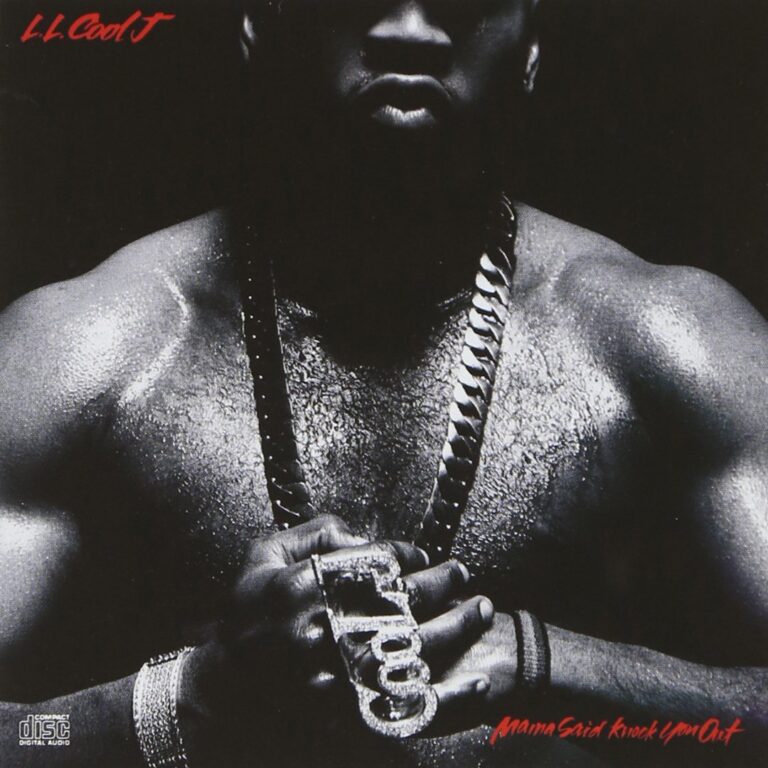 Before Mama Said Knock You Out changed the course of both his career and all commercial rap, L.L. Cool J was up against the ropes—career skidding, lips split, rap crown in shattered pieces. His previous album, 1989's Walking With a Panther, had gone platinum but turned off many of his core fans. Black political consciousness was at its peak, thanks to groups like Public Enemy and X-Clan, and with his gold chains and Kangol hats, L.L. seemed painfully out-of-date. He was even booed off the stage at a rally in Harlem.
But L.L. responded with classic Muhammad Ali-style rope-a-dope. Teaming with Juice Crew founder Marley Marl, he stripped his sound down and rediscovered the battle rhymer within. The James Brown sample behind En Vogue's dance hit "Hold On" was tweaked until it became the rugged street anthem "The Boomin' System." The smash "Jingling Baby (Remix)" and the R&B-flavored "Around the Way Girl" asserted that from the dance floor to the boudoir, Ladies still Loved Cool James.
But it was the album's title track that dismissed all challengers. With guitars blaring behind a voice that raged with fury, passion, and soul, "Mama Said Knock You Out" unrolled a manifesto matched only by his previous battle epics "I'm Bad" and "Jack the Ripper." As Ahmir "?estlove" Thompson of the Roots says, "There's nothing more satisfying in hip-hop than being underestimated, only to bring the unexpected." CHEO HODARI COKER
48. Sublime, Sublime (Gasoline Alley/MCA, 1996)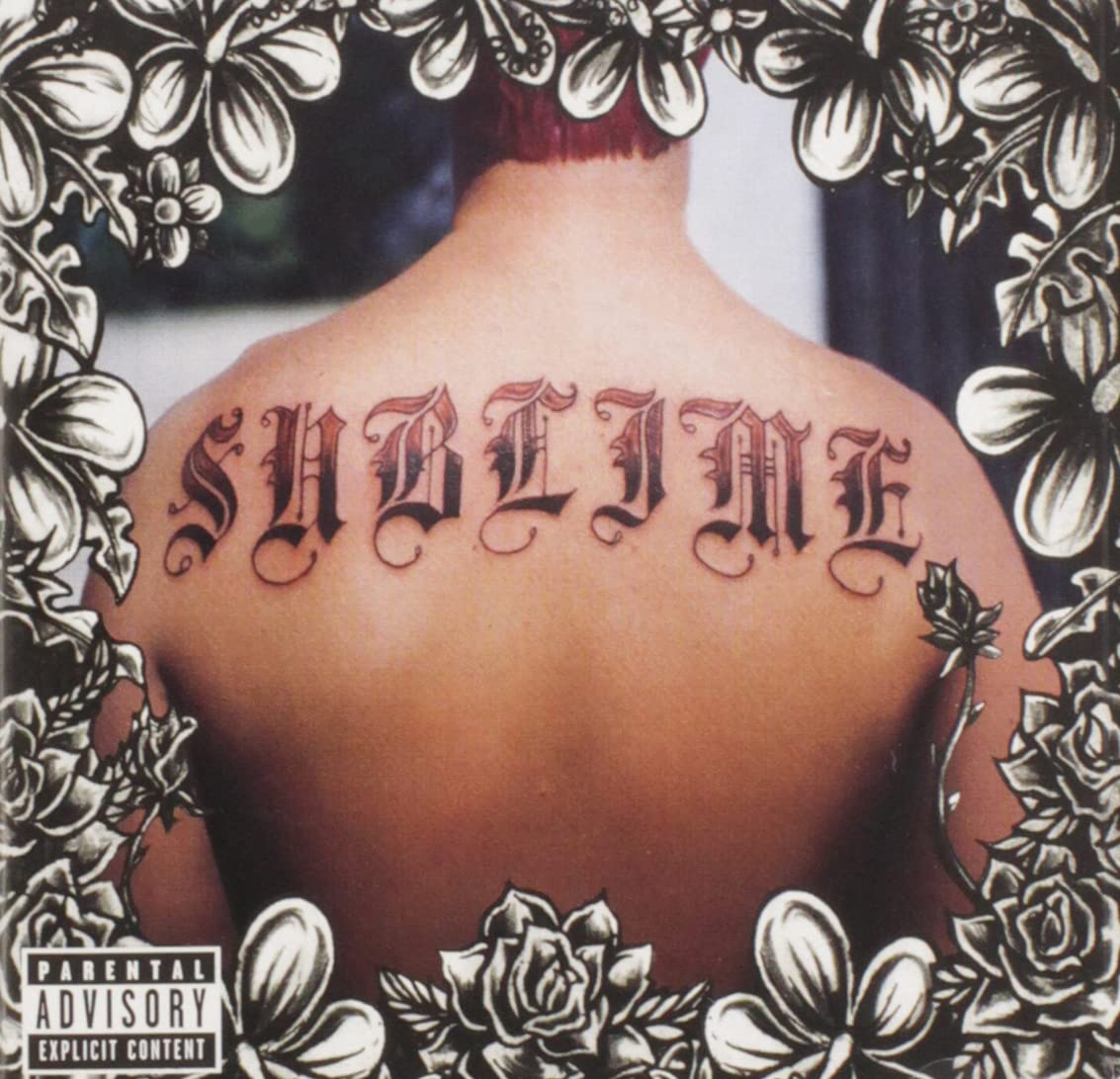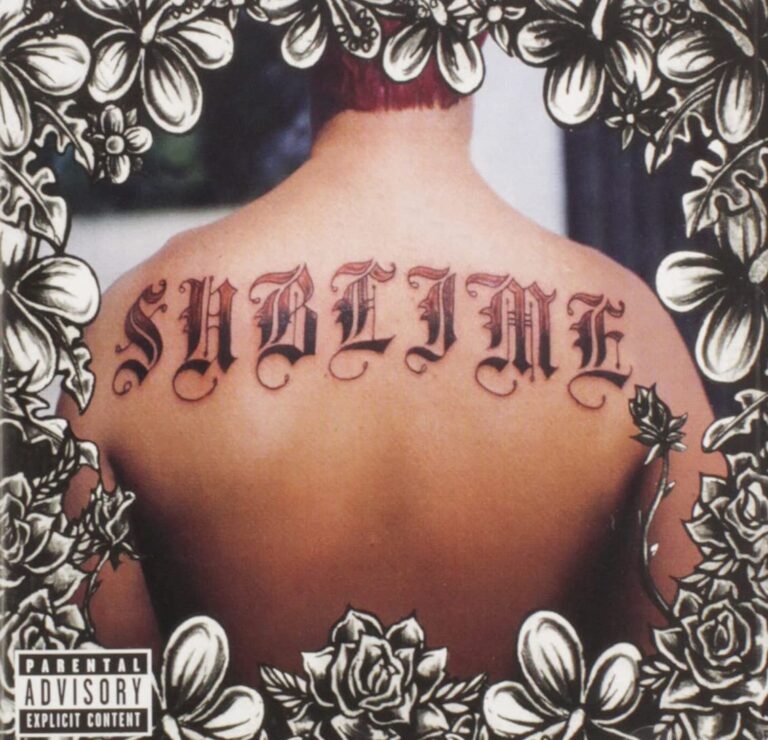 The people who knew Bradley Nowell before he overdosed on heroin in 1996 and went to rock-star heaven were mostly from Los Angeles, where Sublime's mixture of ska, rock, and hip-hop was just the latest offshoot of a scene that made reckless fun more of a priority than aesthetic correctness. "They were so punk rock, in a sense," says Gwen Stefani of No Doubt. "Bradley would be hot in the middle of a song, so he'd just stop and take his shirt off and then continue the song. I loved the way they didn't have any rules." What Nowell did have was songs—skanking slices of a skankier life in Long Beach—that pulled his influences together into an utterly individual shape and redeemed modern-rock radio in the post-grunge years.
Nowell was reportedly so dope-addled during the sessions for Sublime that he was shipped home before the album was finished. The completed record is a tragic contradiction: a confident, clearheaded work by an artist coming into his own and at the same time losing control. "When you're strung out, you get a deeper sense of reality," says Sublime drummer Bud Gaugh. "The things you're talking about might seem sweet, but the way you're feeling is bittersweet. You're standing outside." Not a path to honor, perhaps, but a document too vital to ignore. ERIC WEISBARD
49. Maldita Vecindad y Los Hijos Del Quinto Patio, El Circo (BMG Mexico, 1991)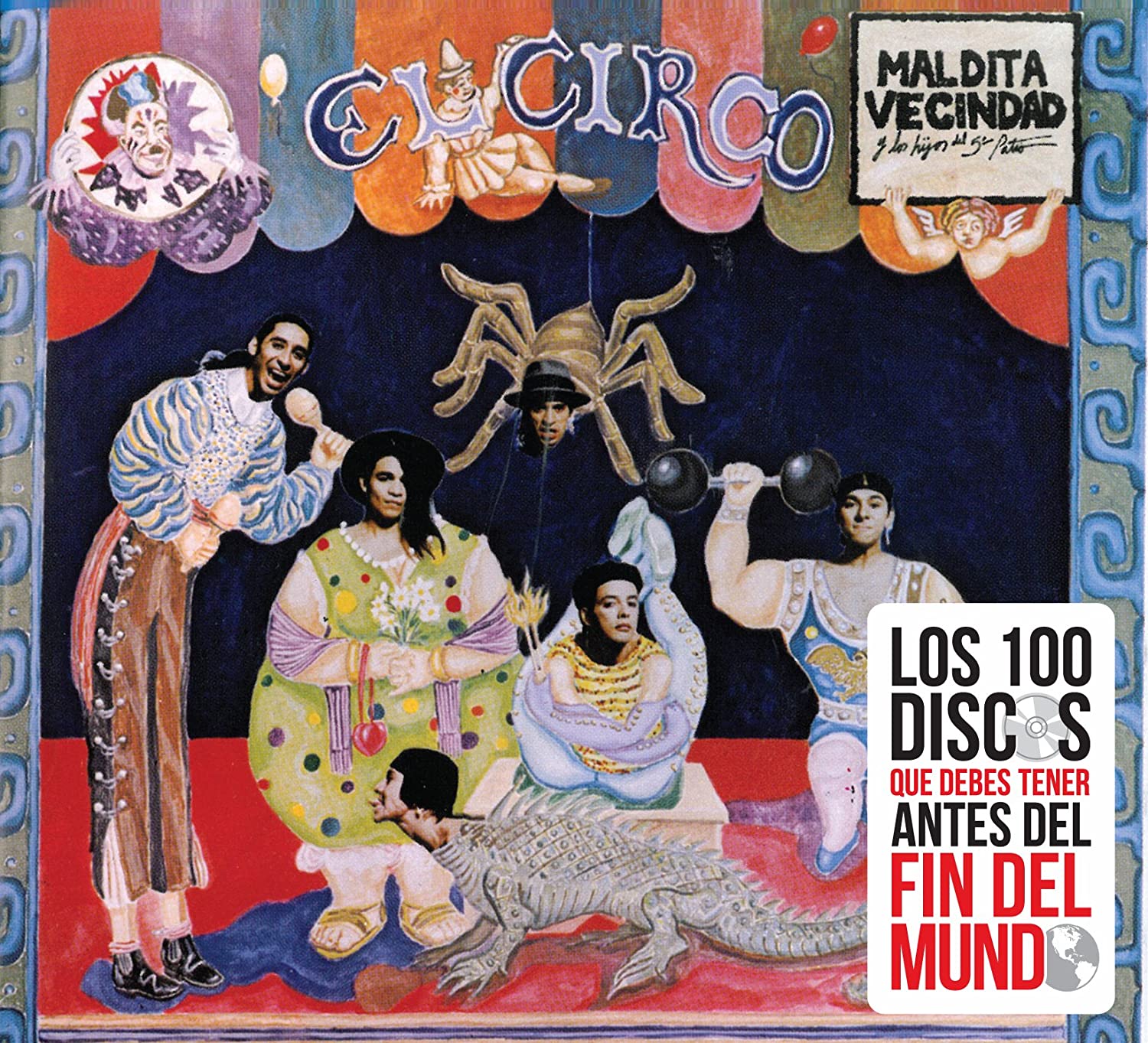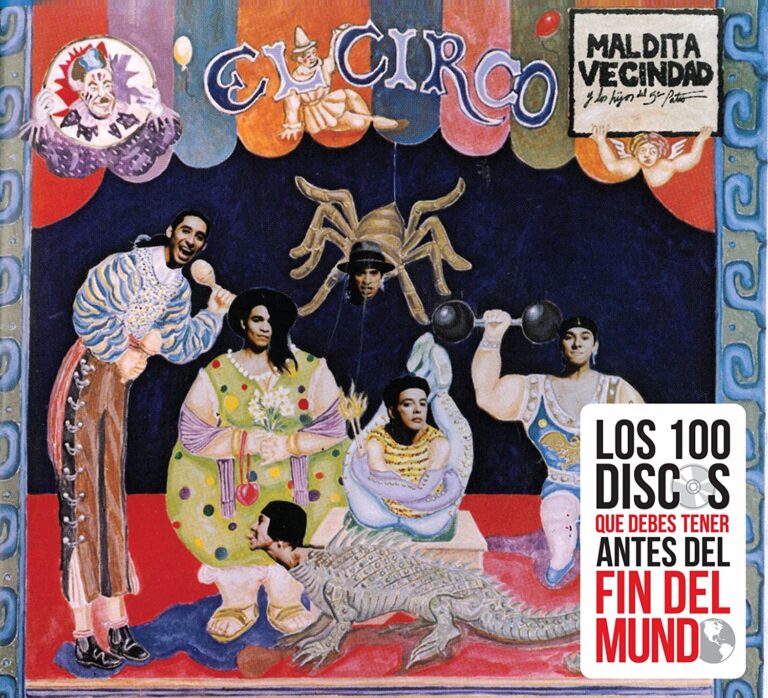 For veteran Mexico City rock alchemists Maldita Vecindad y Los Hijos del Quinto Patio, the source for the culture-clashing that rips through their landmark El Circo is easy to trace. "You have to think of us in our neighborhood," Maldita drummer Jose Luis Paredes Pacho says, "listening to Fela Kuti and Pérez Prado and the Sex Pistols, but with the window open so you could hear a street musician playing the marimba. That is how we are as Mexicanos, a total mix of all these different cultures. And that's the way we wanted El Circo to sound."
The album forever changed the direction of Mexican rock, galvanizing a whole new horde of south-of-the-border storytellers (see Cafe Tacuba and Victimas del Doctor Cerebro). It also pricked the ears of postpunk U.S. style-swappers such as Jane's Addiction, whose Ritual de lo Habitual was greatly influenced by the group. "When I saw them in Mexico, I felt like they were how [Jane's Addiction] were in L.A.," says Perry Farrell, who collaborated with Maldita on the 1993 film, Gift. "The kids loved to touch them." JOSH KUN 
50. Air, Moon Safari (Source/Caroline, 1998)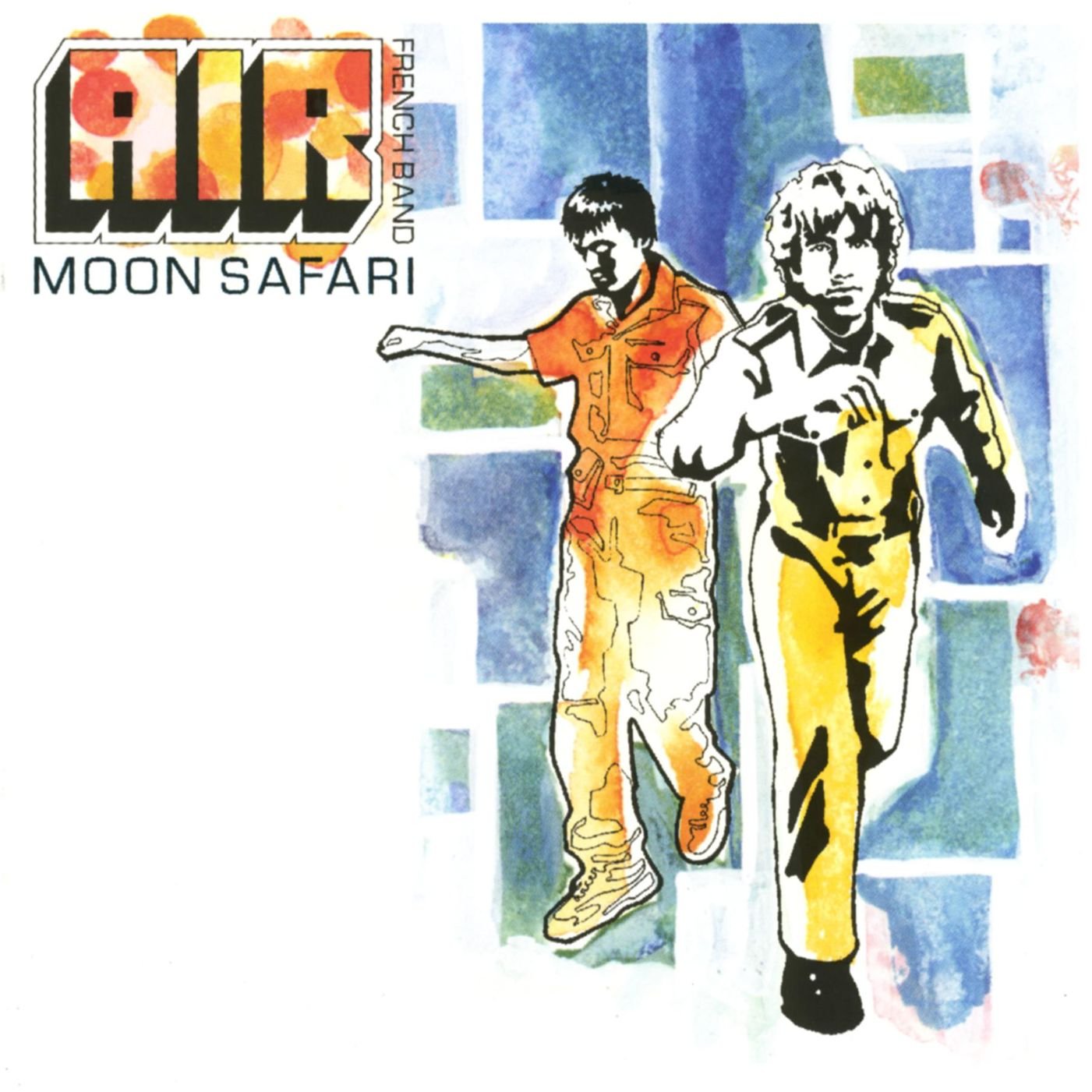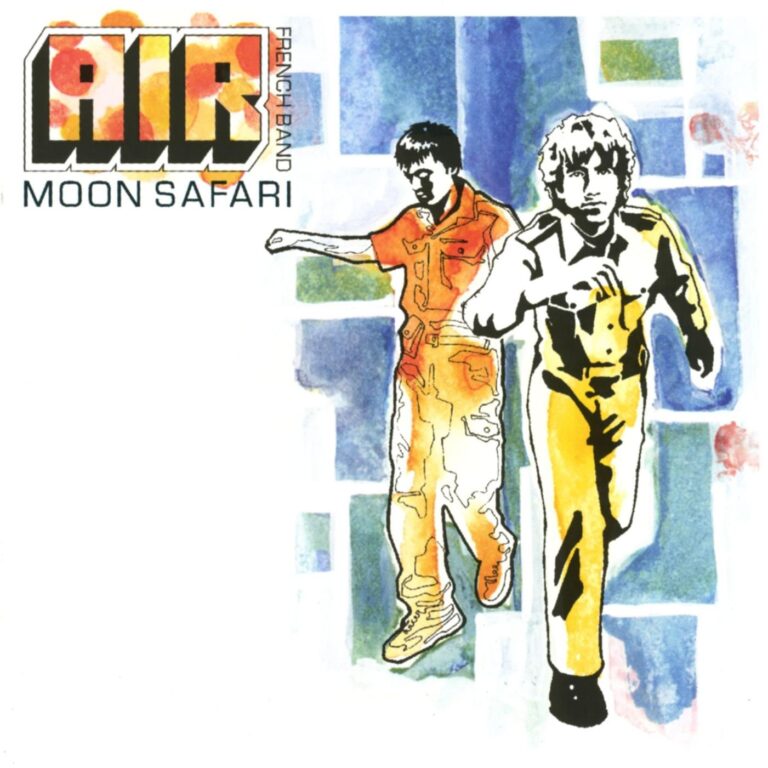 Sultry, silly, spiritual, and spacey, Air's Moon Safari comes on familiar while remaining strangely mysterious, like a deep kiss from a stranger or ennui on a sunny day. It's easy listening designed to provoke an uneasy response, and fans like Beck (who says he tried to give his remix of the Air track "Sexy Boy" a "West Coast G-funk booty slap" feel) were quick to declare their awe of the duo's disquieting quietude. "We wanted to do something that was very deep, something that would touch you," says Jean Benoit Dunckel, one half of the duo, explaining the difference between the cheap thrill of French house music (the scene that birthed them) and Air's loftier goals. "Our specialty is the love melodies."
If the Vocoder cheek of the almost-dance singles "Sexy Boy" and "Kelly Watch the Stars" caught the world's attention, it was the album's other-worldly instrumentals and gorgeous cameos by American vocalist Beth Hirsch that kept it. Air believes in cultural exchange. "French people can do a lot of things very well, but not music," says Dunckel's partner, Nicolas Godin. "They are always too busy talking about love." BARRY WALTERS
51. TLC, CrazySexyCool (LaFace, 1994)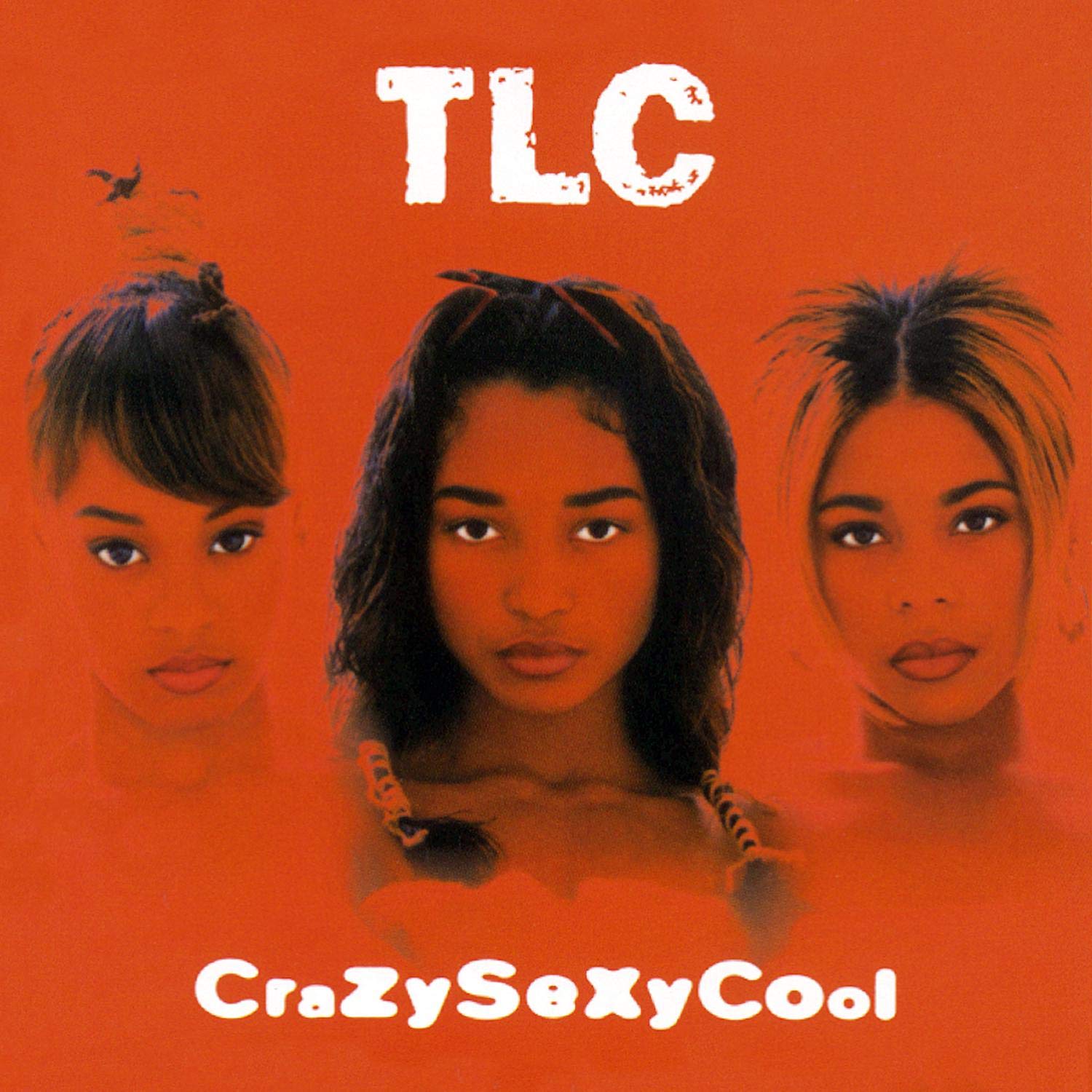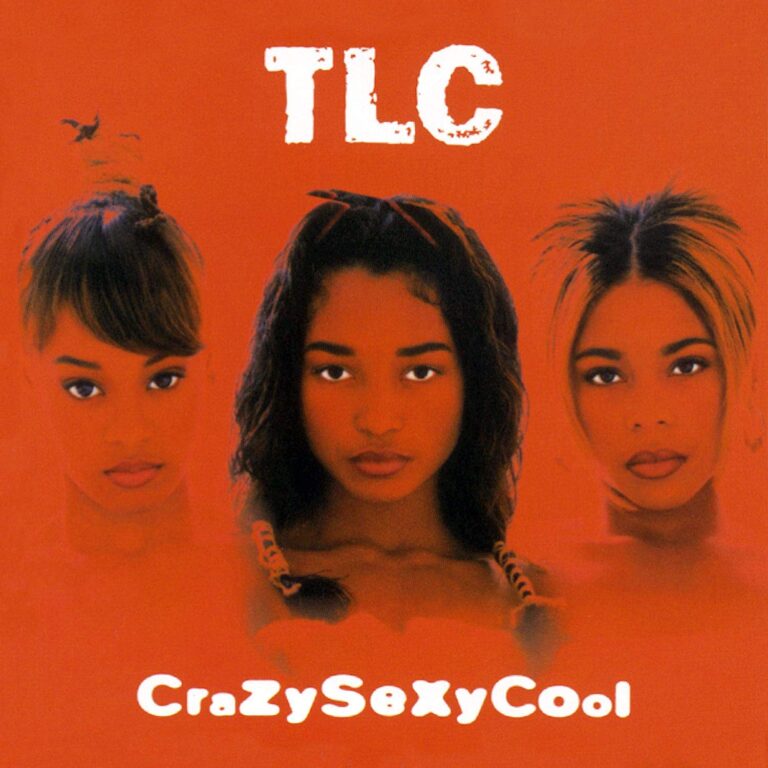 On their 1992 debut, Ooooooohhh…On the TLC Tip, TLC rocked with a rowdy girl-gang energy and plain talk about condoms, oral sex, and fake friends. On the sleek follow-up, CrazySexyCool, the trio's look and sound went from adolescent frontin' to slick pop poise. In the ubiquitous MTV clip for their first single "Creep," the gals shed those XXL tees for silk pajamas. T-Boz's raspy voice, once the sound of a ruffneck hoarse from telling n****s where to go, became late-night sexy. Likewise, Chilli's girlish croons deepened into full-bodied cries. But Lisa "Left Eye" Lopes, the dominant rhyme force on the first album, was absent for most of the Crazy recording. "This was when I was serving time for burning down [boyfriend and NFL star] Andre Rison's house," she says. Still, during a two-day pass, she turned in one of her most memorable flows ever on the "Waterfalls" single, a clunky-cool, Sly Stone-inspired funk number produced by then-newcomers Organized Noize (of OutKast fame).
But Left Eye's incarceration wasn't the group's only problem. "To this day, I'm surprised the record ever came together," says T-Boz, who developed throat trouble from recording so many songs back-to-back, which was necessary because the recording was behind schedule. So how did the group produce such a monster critical and commercial smash (10 million sold) under conditions that would later inspire a juicy VH1 Behind the Music special? "This group is just blessed," says producer Dallas Austin. "God has His eyes on them for real." And to judge from such next-generation girl groups as Total, Blaque, and even the Spice Girls, He wasn't the only one watching. CRAIG SEYMOUR
52. Metallica, Metallica (Elektra, 1991)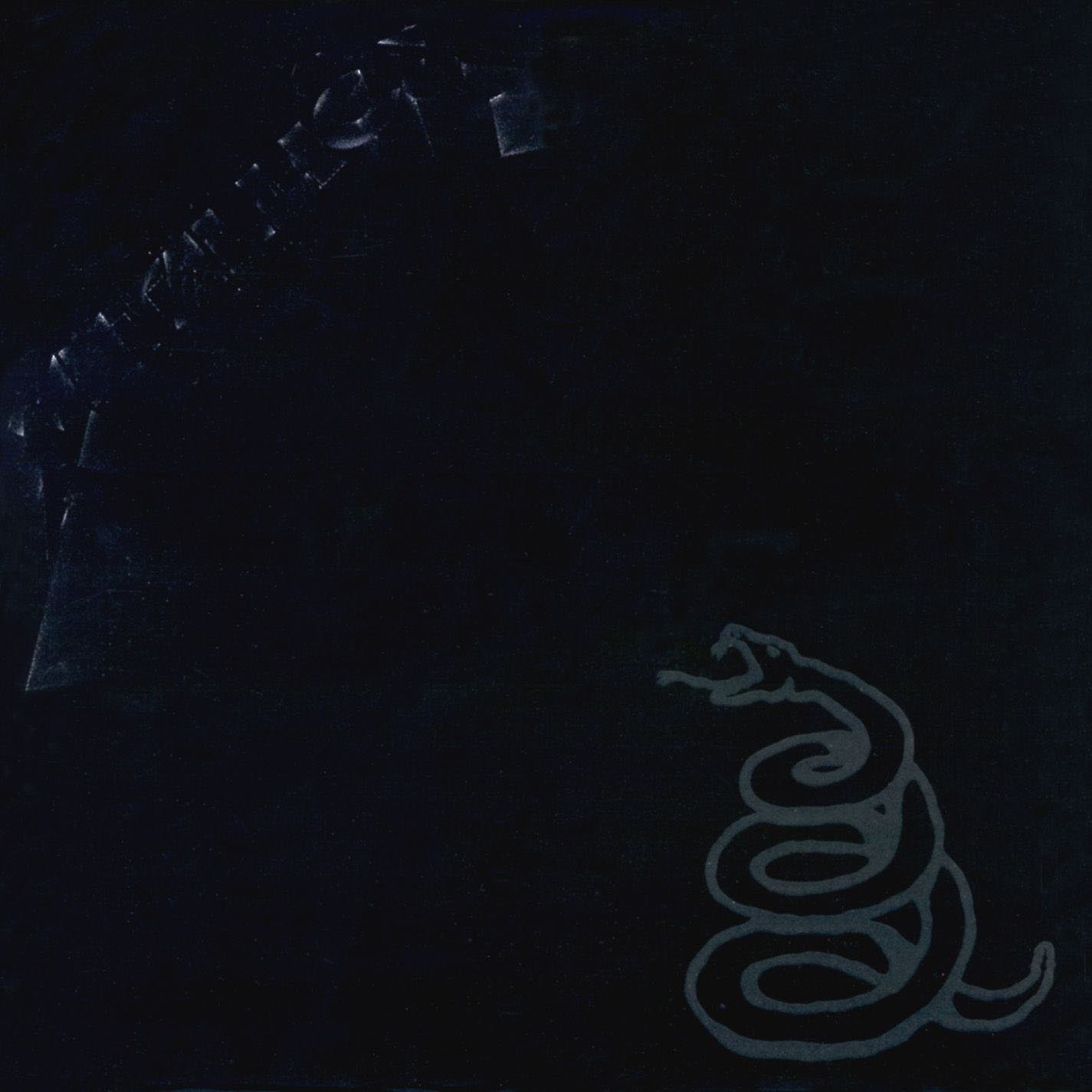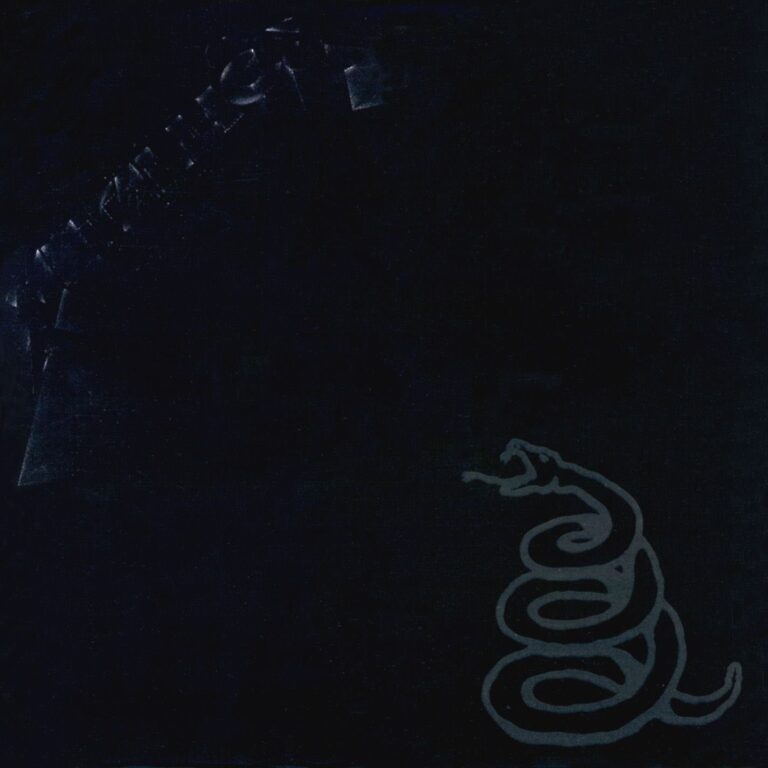 Before the summer of 1991, Metallica was a hard-rock band known for lightning speed, thunderous riffs, and ghoulish T-shirts. Though the San Francisco-based quartet raised the emotional stakes of metal with their 1983 debut Kill 'Em All, the raw power of their live show had never been captured on album. "Up until then, our records sounded sterile," says Metallica founder and drummer Lars Ulrich. "So we contacted producer Bob Rock [who worked with Mötley Crüe and the Cult]. We said, 'We're Metallica—no one tells us what to do. But would you be interested in mixing the record?' He said, 'Yeah, but I also want to produce it.' We were like, 'Were you listening?' Three months later, we were in a rehearsal room, where Bob sat with a notepad and metronome saying, 'Why not try and change keys here?'"
Titled Metallica but popularly known as "The Black Album" due to its all-black cover, the opus not only captures the band's intensity—it brought them to a whole new audience by pitting radio-ready hooks against the apocalyptic din they had become known for. Although it may have been too intimidating to spawn direct offspring, "The Black Album" helped make Metallica as much a part of hard rock's pantheon as Led Zeppelin and still sells almost a million copies every year. "It appealed to people who wanted to like Metallica—who had the T-shirt but didn't understand the previous albums," Ulrich says. "It was for the masses." LORRAINE ALI
53. Green Day, Dookie (Reprise, 1994)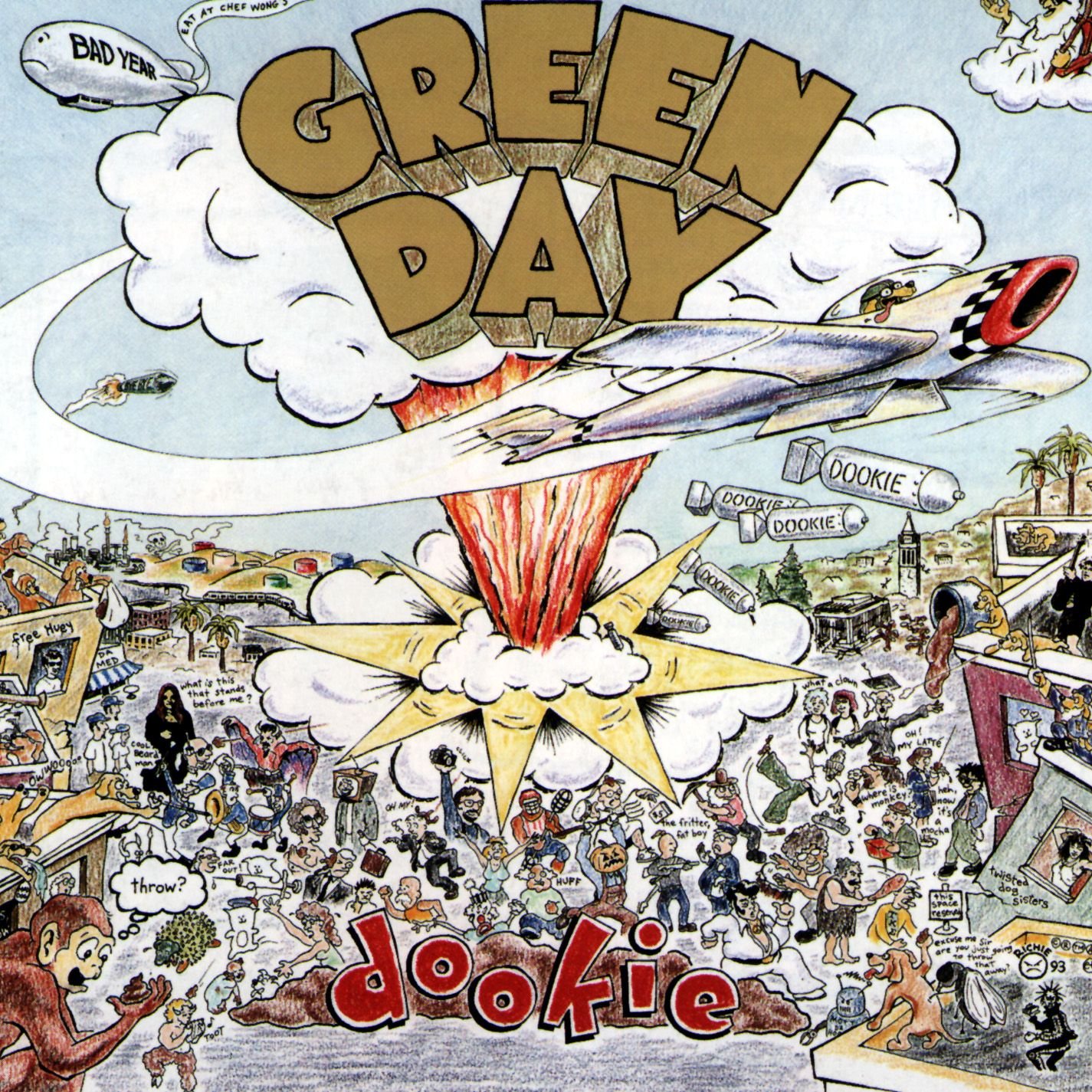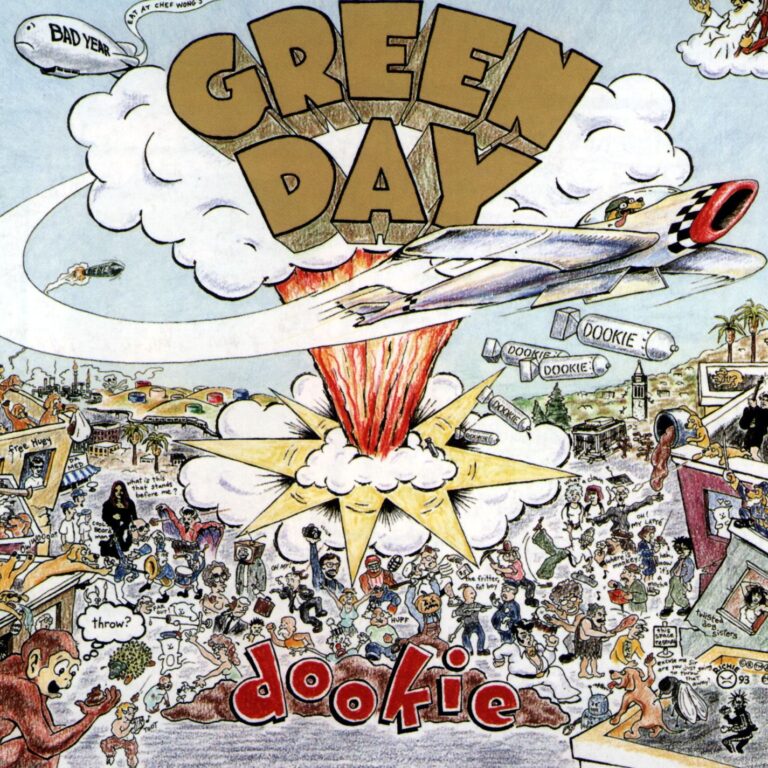 When Billie Joe Armstrong wrote the lyrics for Dookie, he was living in a dank Berkeley, California, basement, sleeping on a couch beside a giant bong. So when he got his record company advance, he paid his rent for a year, just to be safe. "I couldn't go back to the punk scene, whether we were the biggest success in the world or the biggest failure," he says. "The only thing I could do was get on my bike and go forward." He rode off into a post-grunge punk explosion that led to an album that went ten-times platinum, a Woodstock '94 mud bath, and the flowering of punk as the new American pop. Green Day made disaffection seem strangely loveable, and their success encouraged the Sex Pistols to reunite, Pearl Jam to turn toward punk, and Warped Tour bands such as Blink-182 to come forward and celebrate their bodily functions. "All of a sudden you had Guns N' Roses and the Seattle bands saying, 'We want to reflect our punk-rock roots,'" says Dookie producer Rob Cavallo. "But Green Day were the ones who broke punk." The album also gave Armstrong, now married with child, the money to move out of the basement. "My life completely changed because of that record—in ways I'm still coping with." RJ SMITH
54. Bikini Kill, Bikini Kill EP (Kill Rock Stars, 1992)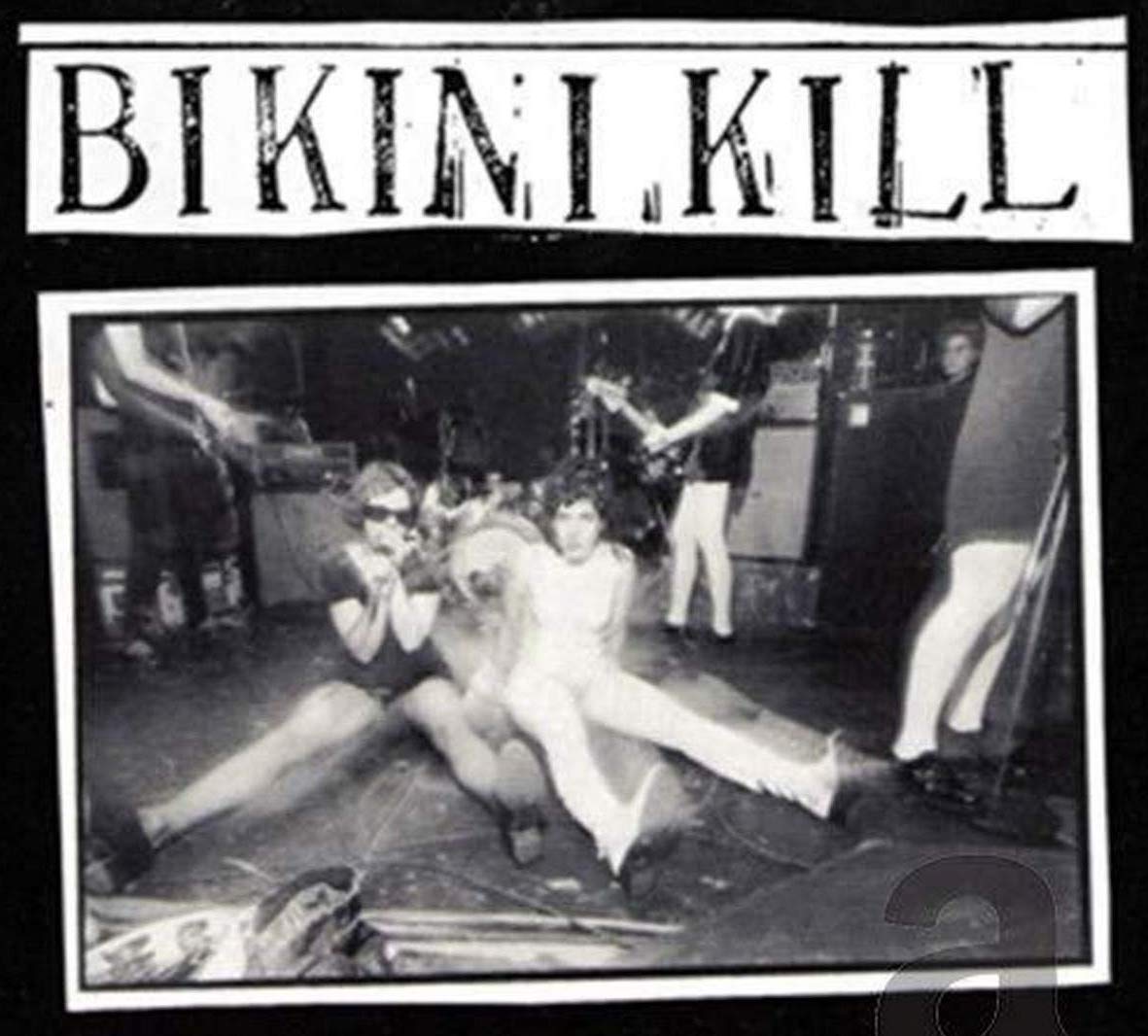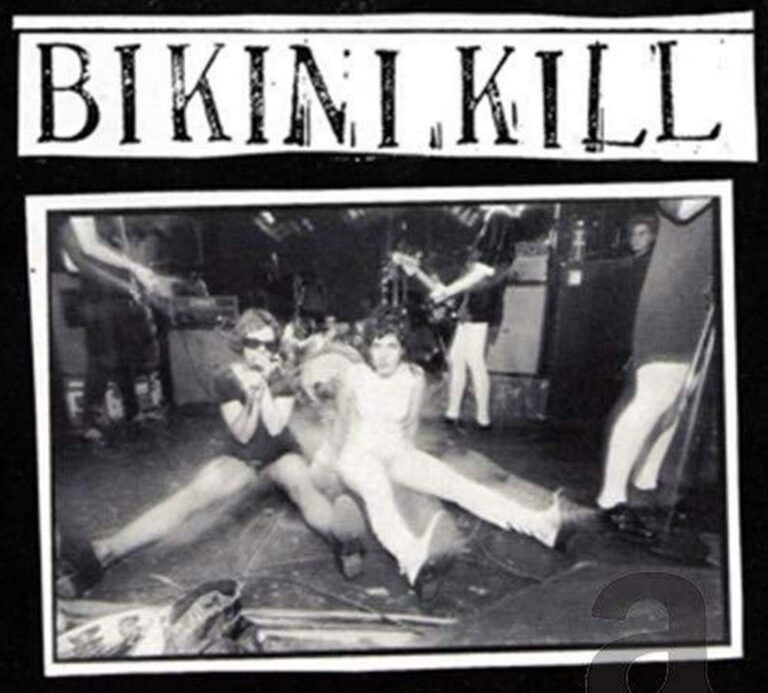 This punk-rock quartet's debut EP opens with a feminist call to arms: "We're Bikini Kill, and we want revolution—girl-style—now!" Frontwoman Kathleen Hanna exhorts in a tone that starts out Valley-girl high and winds up a drill-sergeant bellow. With such unminced words, driven by a catapulting, squalling, feedback-and-snare sound, Bikini Kill—three gals and one boy—quickly became one of the most famous musical exports of Olympia, Washington, and the flagship act of the loose coalition of female-powered bands that were tagged "Riot Grrrl" (actually the name of both a zine and an activist network). "Dare you to do what you want / Dare you to be who you will / Dare you to cry right out loud," Hanna challenges girlfriends in one song. "Suck my left one!" she shouts at molesters and abusers in another. To young feminists who had been languishing during the conservative backlash of the '80s, Bikini Kill were third-wave consciousness-raisers who could really kick out the jams.
Trouble was, Hanna, Tobi Vail, Kathi Wilcox, and Billy "Boredom" Karren didn't want their revolution publicized. When the media began to lap up their provocative slogans and penchant for performing with words like "slut" written on their bellies, the group (who broke up in early '98) stirred up even more controversy by declaring a press ban. "It's insulting when people act like you're the first woman to be in a band, and you know you're not," Hanna says now. "We were definitely not the first band to have feminist or anticapitalist lyrics." She adds that such acts as Scrawl, L7, and especially Babes in Toyland inspired her own music. "We saw Babes at a party, and we were just like, 'Wow!'" Hanna says. "[Singer Kat Bjelland] was like Linda Blair in The Exorcist, playing the craziest, most inventive guitar chords, and wearing a dress. She wasn't assimilating into the rock-dude thing—she had her own thing going. That band influenced so many people."
Still, there was something uniquely incendiary and crystalline about Bikini Kill, co-recorded by Fugazi's Ian MacKaye and Don Zientara. "It hit the nerve button," says Marcelle Karp, coeditor of the femalecentric zinc Bust. "They made it okay for women to bond together like they did in the '70s and say, 'Fuck this, we're going to start all over again.'" EVELYN McDONNELL
55. Neil Young and Crazy Horse, Ragged Glory (Warner Bros., 1990)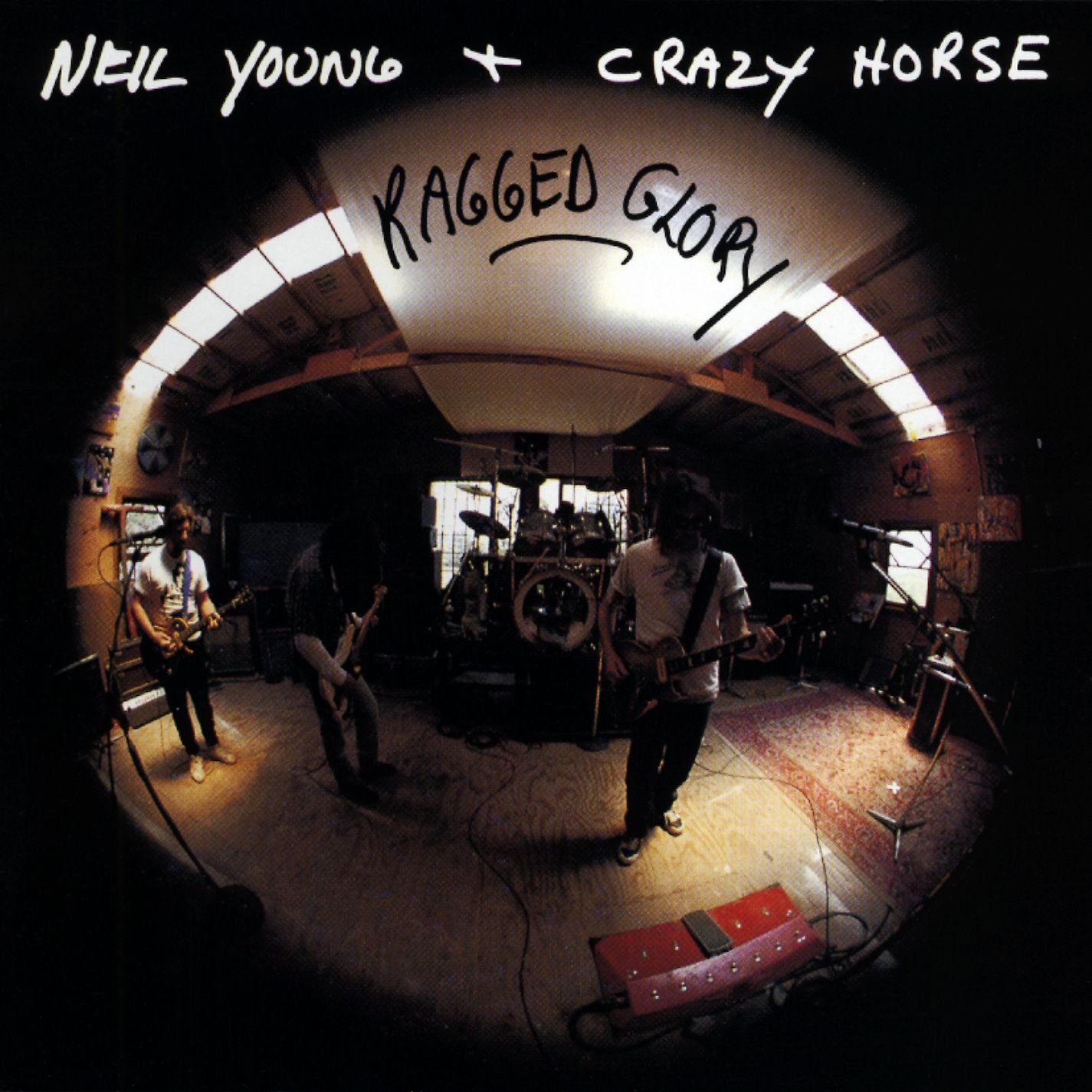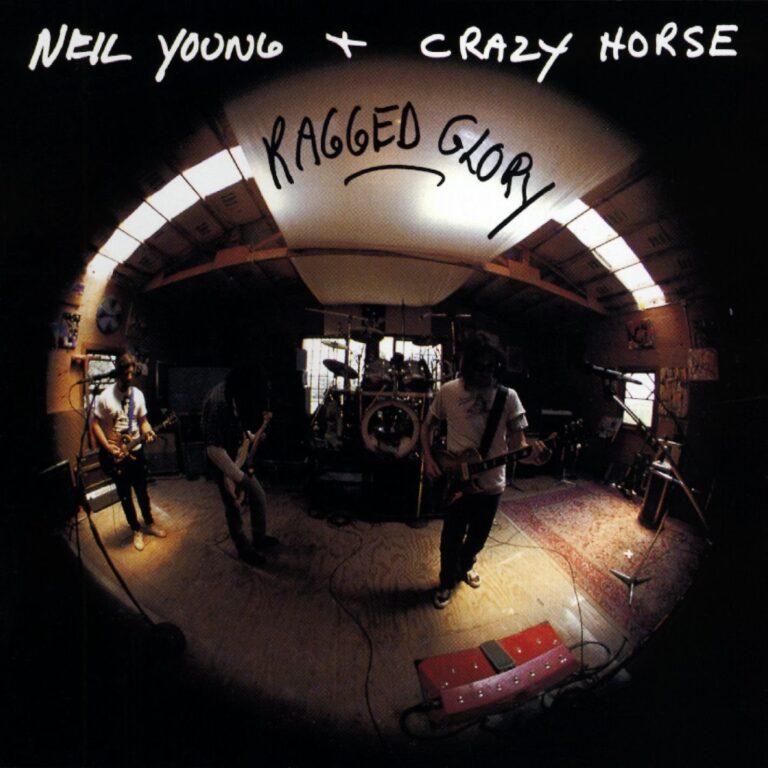 When Neil Young and Crazy Horse recorded Ragged Glory, the earth moved. Literally. According to Crazy Horse guitarist Frank "Poncho" Sampedro, they didn't even notice the earthquake. A camera was videotaping them, "and you can see the camera rocking [on the tape]. But we never stopped."
What was the song? He laughs. "It could have been 'F*!#in' Up.'"
That's the one that asks the musical question: "Why do I keep fuckin' up?" Answer: Because fuckin' up is the whole point of guitar-based rock 'n' roll. On Ragged Glory, Crazy Horse, probably the greatest garage band of all time, works their wonders with songs that shouldn't work. They redeem hippie lyrics on songs like "Mother Earth" and "Mansion on the Hill," and the hippie-length jams still con listeners into feeling like they're listening to tough, two-minute punk songs. Jeff Ament, of occasional Young collaborators Pearl Jam, recalls the Ragged Glory tour: "It was so inspiring. Neil was probably more important to me at that moment than he ever was."
And how did the band get Ragged Glory's gloriously shitty sound? At one point, Sampedro recalls, their guitar tech "came in with a shovel of shit and put it in front of the microphone, and Neil stood in it to sing. We had to get authentic." SARAH VOWELL
56. Aphex Twin, Selected Ambient Works 85-92 (R&S, 1992), Selected Ambient Works Volume II (Warp/Sire, 1994)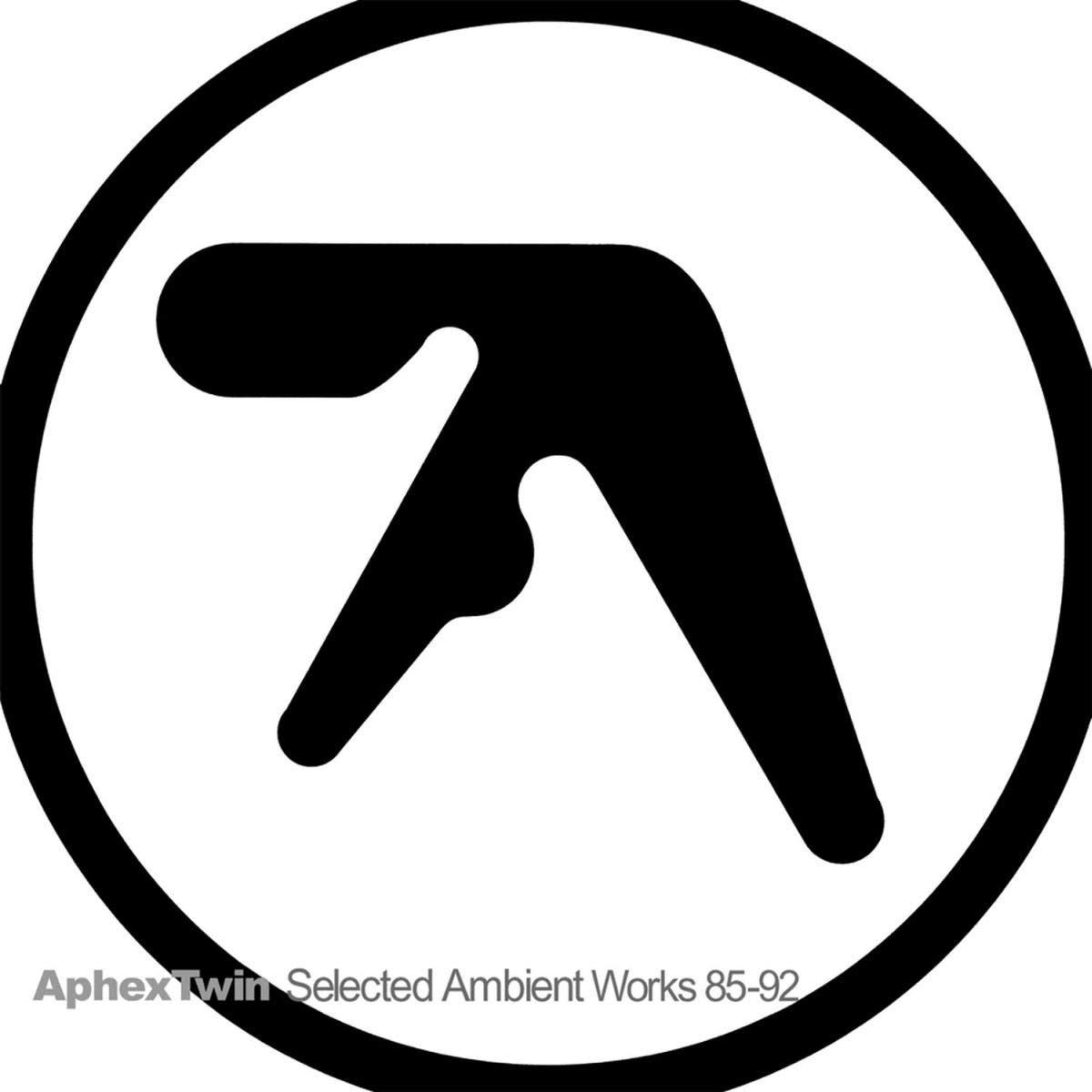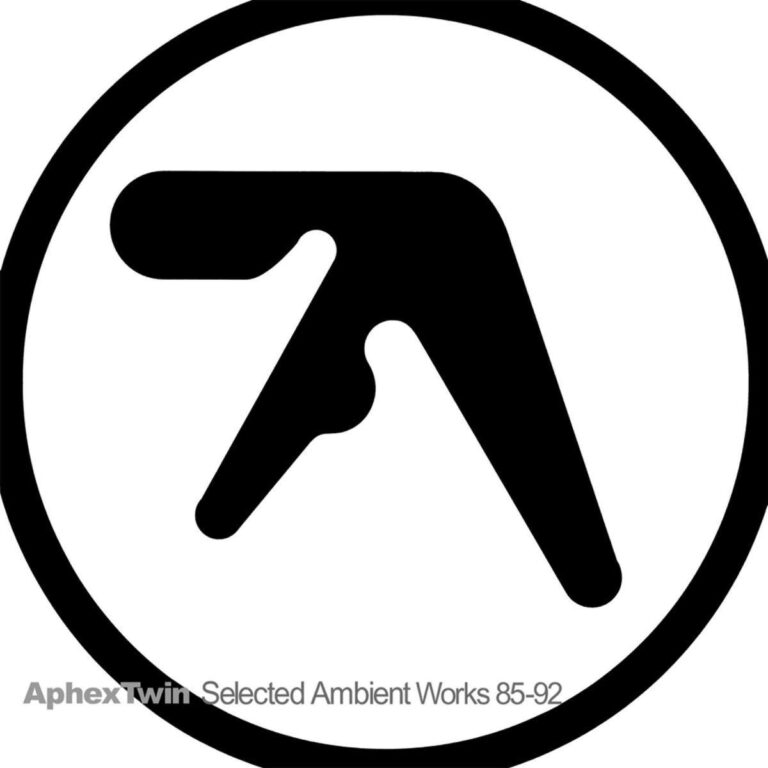 In terms of sheer sonic beauty, Aphex Twin's debut, Selected Ambient Works 85-92, is simply the best pure electronic album of the '90s, offering the most emotionally and texturally rich synth-musik since prime Kraftwerk. But what made creator Richard James that rare thing, the techno icon, wasn't just his genius for exquisite melody but the slyly fabricated Aphex mythology, i.e., James as rural child prodigy, constructing his own synthesizers from scratch and sleeping two hours a night.
Many in the Aphex cult were thrown for a loop by Selected Ambient Works Volume II, a triple album of eerie, ultraminimal tonescapes mostly devoid of melody or beat. James claimed many tracks were "based on sounds I first heard while dreaming. When I wake up, I go straight into the studio and try to create what I've heard." Volume II is an awe-inspiring feat of avant-techno texturology and mood-sculpture, but Aphex aficionados remain divided. "The first album is a pop album," reasons James's friend Mike "u-ziq" Paradinas. "Volume II takes a long time to learn to like, but it's probably more rewarding." SIMON REYNOLDS
57. Cypress Hill, Cypress Hill (Columbia, 1991)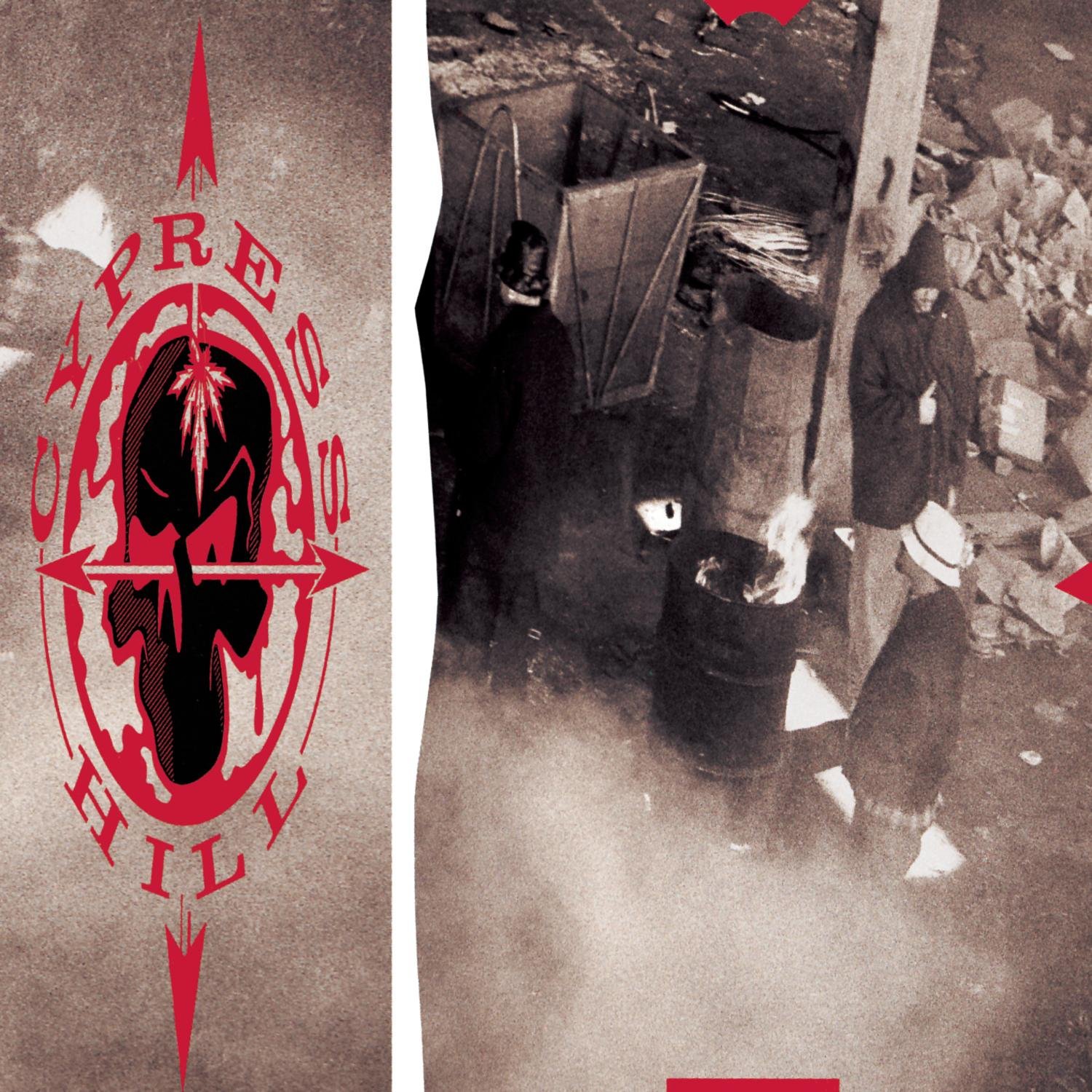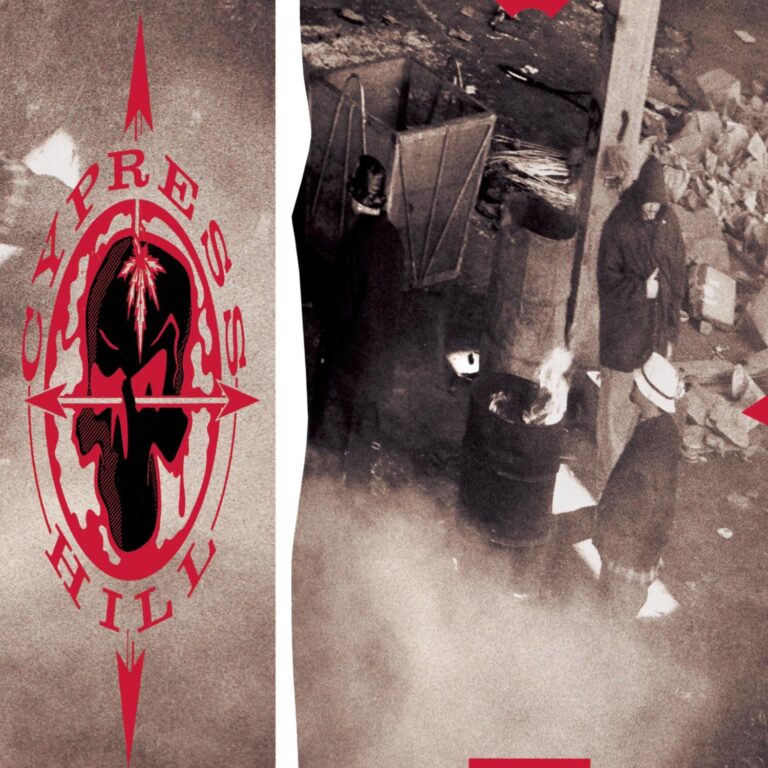 Hard to believe it now, but there actually was a time when blunts and shotguns were the stuff of visionary music. Back in early-'90s L.A., three kids from Cypress Avenue got sick of all the N.W.A clones and found a new way to sound ill. "Everyone was using clean sounds and familiar samples," rapper B-Real says. "There wasn't anything weird or mysterious or in-your-face." Cypress Hill was all of the above. With the gritty, wheel-rim-on-the-pavement breakbeats of East Coast-raised DJ Muggs, the album introduced a shocking avant-gangsta style, one spiked by errant squeals, blues-guitar shrieks, and a spacey air of paranoia (which arguably laid the groundwork for later-'90s heroes Wu-Tang Clan). Over these scary new sounds, B-Real added an equally bold vocal presence: a sarcastic vato whose murderous nursery rhymes and bizarre nasal twang made such drive-by tales as "How I Could Just Kill a Man" sound unsettlingly gleeful.
"We were just clowning around," says B-Real, who rapped uncongested prior to this record. "Someone said, 'Hey, man, why don't you try it in that funny voice you did that one time?' I was like, 'Fuck that.' And they were like, 'No, man, that shit sounds crazy!'" It did—brilliantly—and Cypress Hill's songs of guns, cars, and, most of all, weed attracted a huge crossover audience who required little evolution to be faithful. "By their second record, Cypress Hill made some real progress," says Steve Bloom, music editor at the pot-centric magazine High Times. "They went from blunts to bongs." CHRIS NORRIS
58. Red Hot Chili Peppers, BloodSugarSexMagik (Warner Bros., 1991)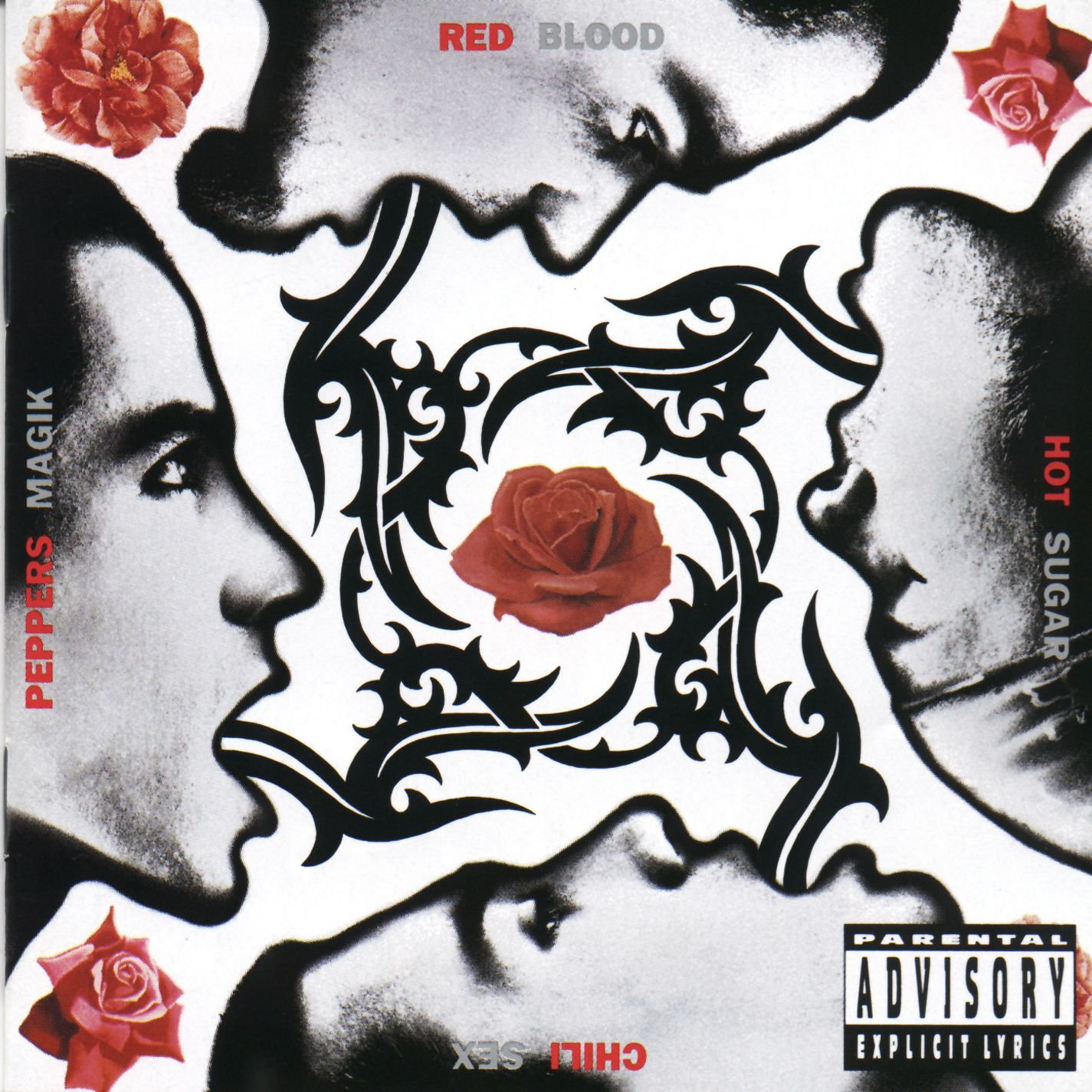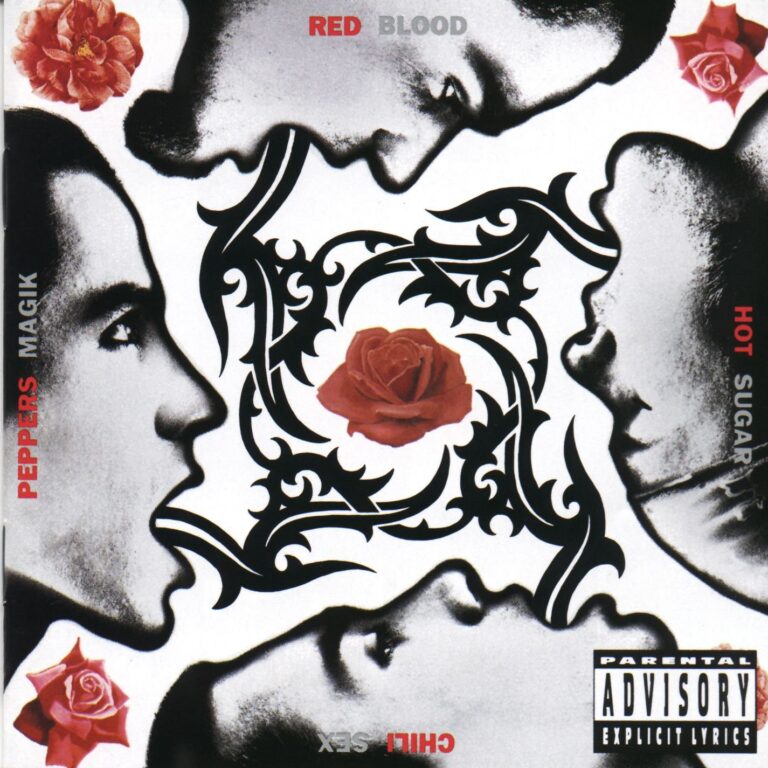 By the early '90s, the Red Hot Chili Peppers' sock-on-the-dick schtick wasn't so funny anymore. Anthony Kiedis and Flea were nearing 30, facing a media backlash after individual sexual misconduct convictions, and still reeling from the 1988 overdose death of original guitarist Hillel Slovak. They decided to record the follow-up to 1989's Mother's Milk with producer Rick Rubin, who attempted to keep the Peppers focused by renting them a house in the Hollywood Hills. The band claimed the place was haunted, but they fought off its ghosts as well as their own with a sense of brotherhood that comes through on songs like "Funky Monks." Hearing BloodSugarSexMagik "gave me a team feeling, like I was playing point on a B-Ball squad," says former Minutemen bassist Mike Watt, to whom the album is dedicated.
The first single was the raucous "Give It Away," but it was "Under the Bridge"—a bittersweet valentine to smacked-up Los Angeles—that made the Peppers a big enough draw to headline 1992's Lollapalooza. "I would go into a urinal and a guy next to me would be singing the song under his breath," Kiedis said in 1992. "We'd never had a radio hit." It was only their first—a resurrected "Give It Away," "Breaking the Girl," and "Suck My Kiss" also proved that punk-funk and radio-ready pop songcraft need not be mutually exclusive. MARC SPITZ
59. Sonny Sharrock, Ask the Ages (Axiom, 1991)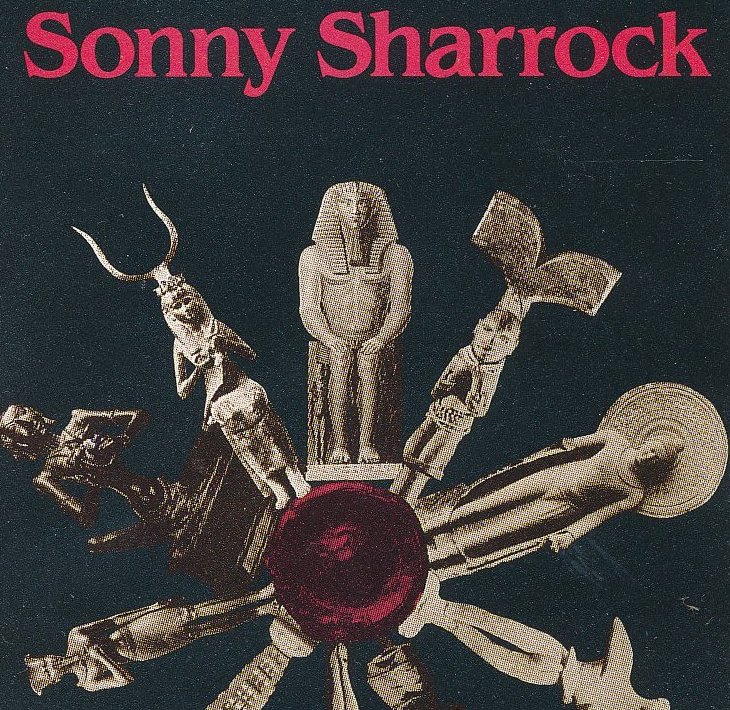 By 1970, guitarist Sonny Sharrock had played the most superspazzy guitar this side of Hendrix on hippie-jazz records by Pharoah Sanders and Miles Davis. Come the late '70s, he was out of the business, having chosen the sharp lines of a chauffeur's uniform (among other jobs). But avant-garde bassist, producer, and fan Bill Laswell installed him at the apex of his free-jazz supergroup Last Exit, and by the early '90s, Sharrock had regained his reputation as a master blaster—and rock bands like Sonic Youth and Pussy Galore owed his skronk some royalties. It was time to bring the noise, but instead, Sharrock responded with a meditative OM: Reunited with Sanders and playing with legendary Coltrane drummer Elvin Jones, Sharrock chose nuance over wallop. "There was a conscious effort to bring out more of the melodic side of Sonny's guitar," Laswell says. "It's not so far from what Carlos Santana or Jeff Beck does."
Tragically, the 54-year-old Sharrock suffered a fatal heart attack soon after his comeback. Says Ask the Ages bassist Charnett Moffett: "I'm just starting to realize the impact that the record is having to this day. But Sonny was aware that he was documenting something on a higher level." D. STRAUSS
60. The Prodigy, Music for the Jilted Generation (XL/Mute, 1994)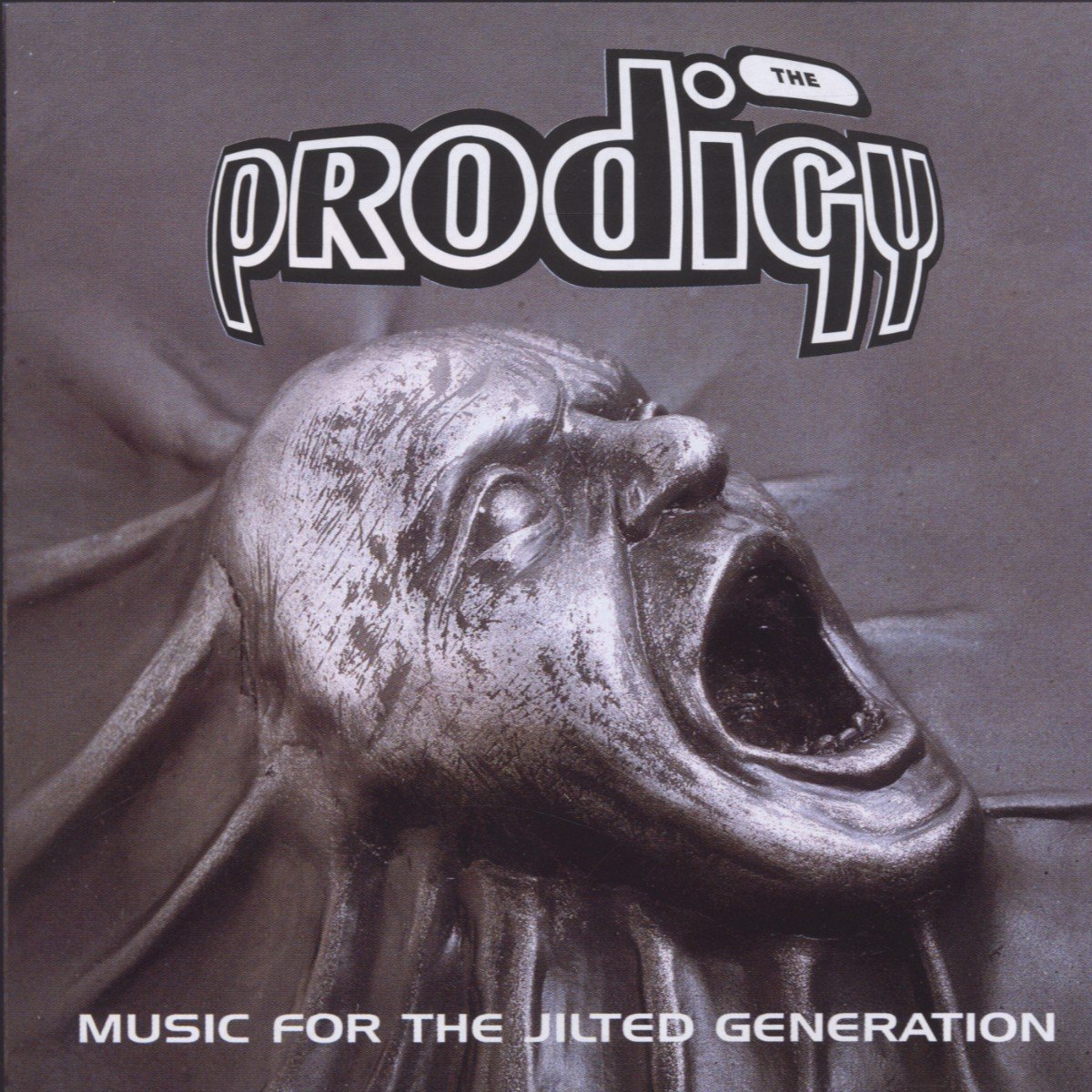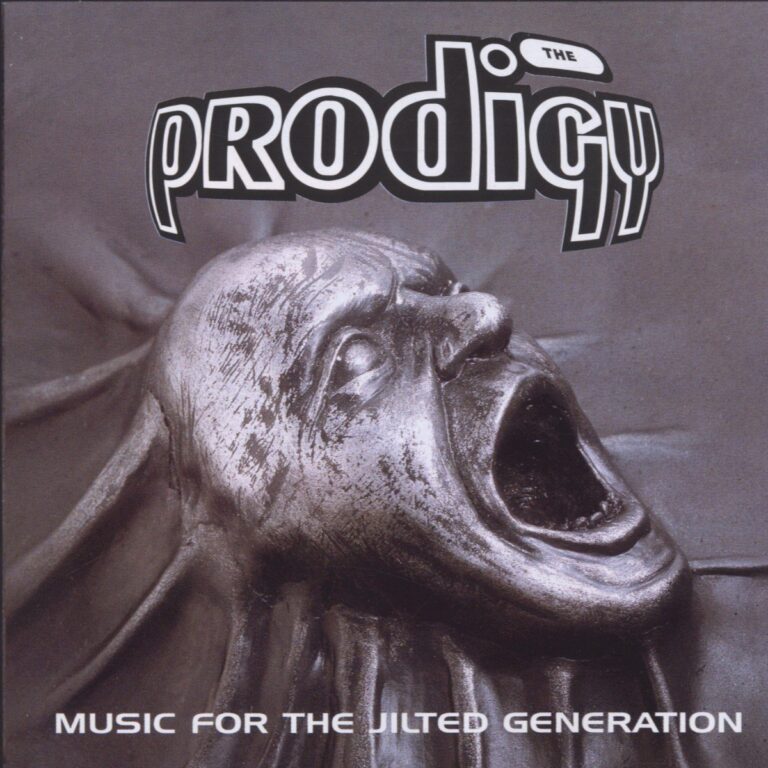 After "Firestarter," the notion of Prodigy as a futuristic rock band doesn't seem startling. But in 1994, Music for the Jilted Generation was a shocking reinvention, rocketing the group out of Britain's rave culture and winning them an audience of alt-rockers. The grungy guitar on "Their Law" and "Voodoo People" helped convert many. But the album's concept also got them taken seriously as spokesmen for youth: The Prodigy's Generation J was Generation X with a U.K. spin—alienated kids whose weekend rave nirvana was being threatened by repressive policies. "There was never trouble at the outdoor raves we used to play," says Maxim Reality, Prodigy's MC. "It was just serious government paranoia about youth massing together."
The album is perfectly poised between the E-beat roller coaster of the group's 1992 debut, Experience, and the cyberpunk postures of 1997's rocktronica breakthrough, The Fat of the Land. Jilted's stand-out is "Poison"—the first time the Prodigy used "real" rather than sampled vocals and down-shifted into hip-hop boombastics. "Poison" was "the stepping-stone toward 'Firestarter,'" says Reality, who supplied the track's fierce vocals.
Jilted begins with a voice-over: "I've decided to take my work back underground, to stop it falling into the wrong hands." Despite beatmaster Liam Howlett's obsession with street cred, Jilted showed that the Prodigy's irrepressible populism had them locked on an unstoppable course for global stardom. All that remained was for vocalist Keith Flint to change his hairstyle. SIMON REYNOLDS
61. Lucinda Williams, Car Wheels on a Gravel Road (Mercury, 1998)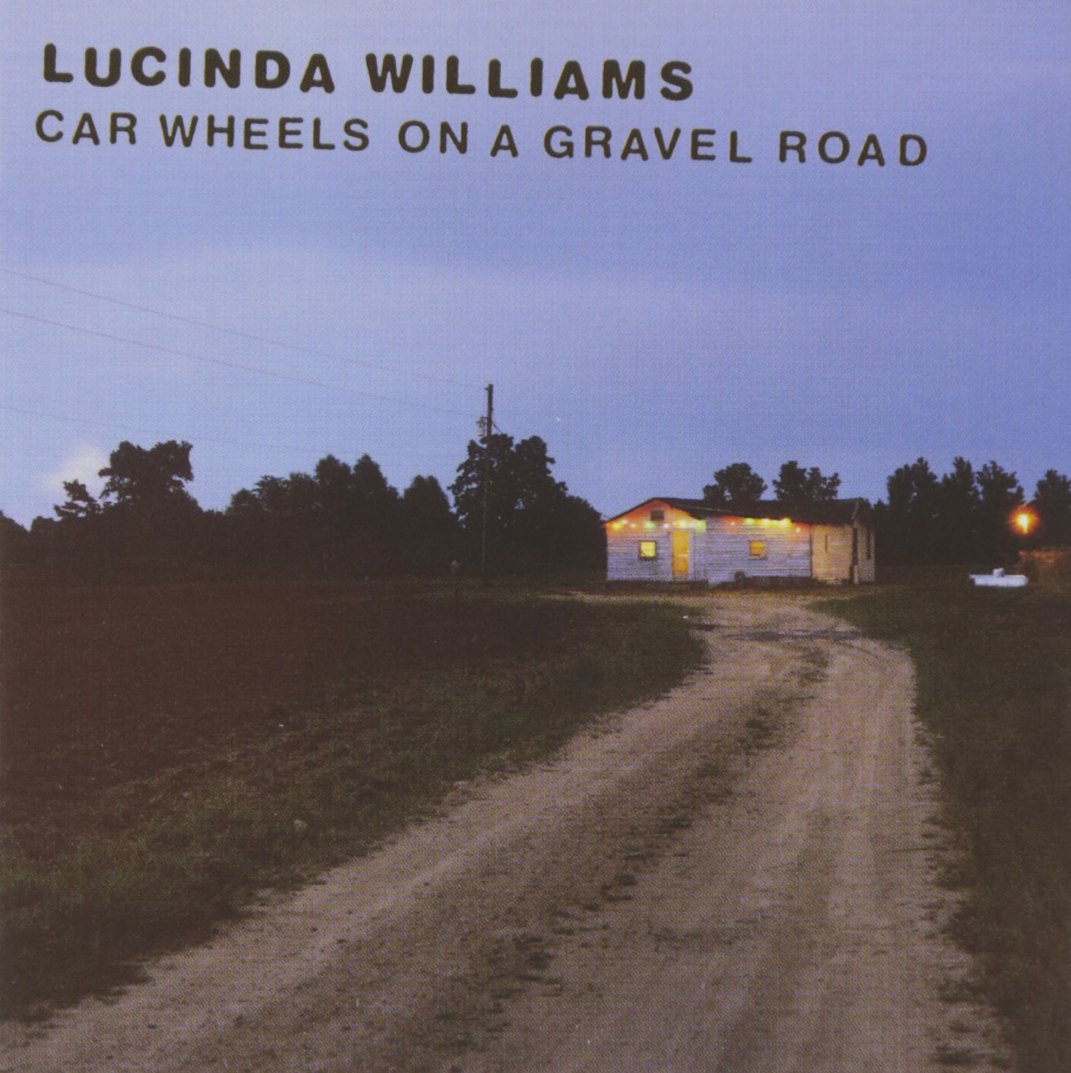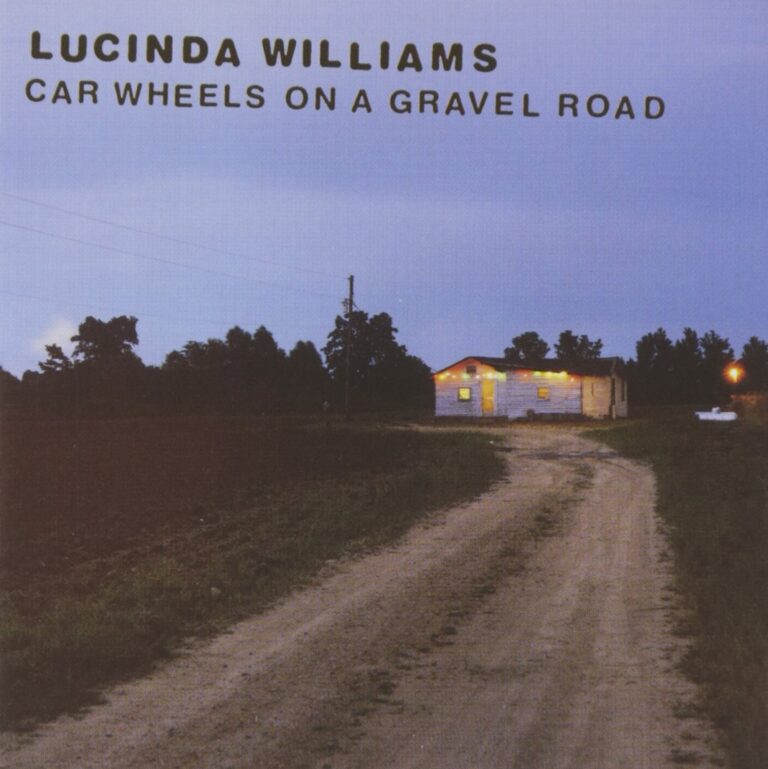 On the title track of her fifth album, singer/songwriter Lucinda Williams remembers a childhood home in Macon, Georgia, and the sound of cars pulling away. Car Wheels unfolds like a Southern travelogue, with lyrical stops in Lake Charles, Opelousas, Algiers, Lafayette, Greenville, Slidell, and Jackson. "It's nostalgic for certain times in my life, and I associate places with those times," Williams says.
Fittingly, the album itself underwent an epic three-year odyssey from Austin to Nashville to Los Angeles. Williams switched producers, studios, and musicians more than once, rerecording many of the songs and triggering reports she was too demanding in the studio. "I think there was some fear of completing the project on her part," says Steve Earle, credited as one of the album's producers. Williams attributes the time lag to being signed to two different labels that folded and says she just did what any attentive musician would do. "I have good instincts," she says, "and I want to have the freedom to follow them."
The story-songs on Car Wheels topped 1998 critics polls and found Williams a new audience among fans of bands like Wilco. "It seems like the longer things took, the more momentum built up," Williams says. "It's a roll of the dice. If it had gone the other way, I think I would have gone in a cave somewhere and hid." EVELYN McDONNELL
62. Pavement, Crooked Rain, Crooked Rain (Matador, 1994)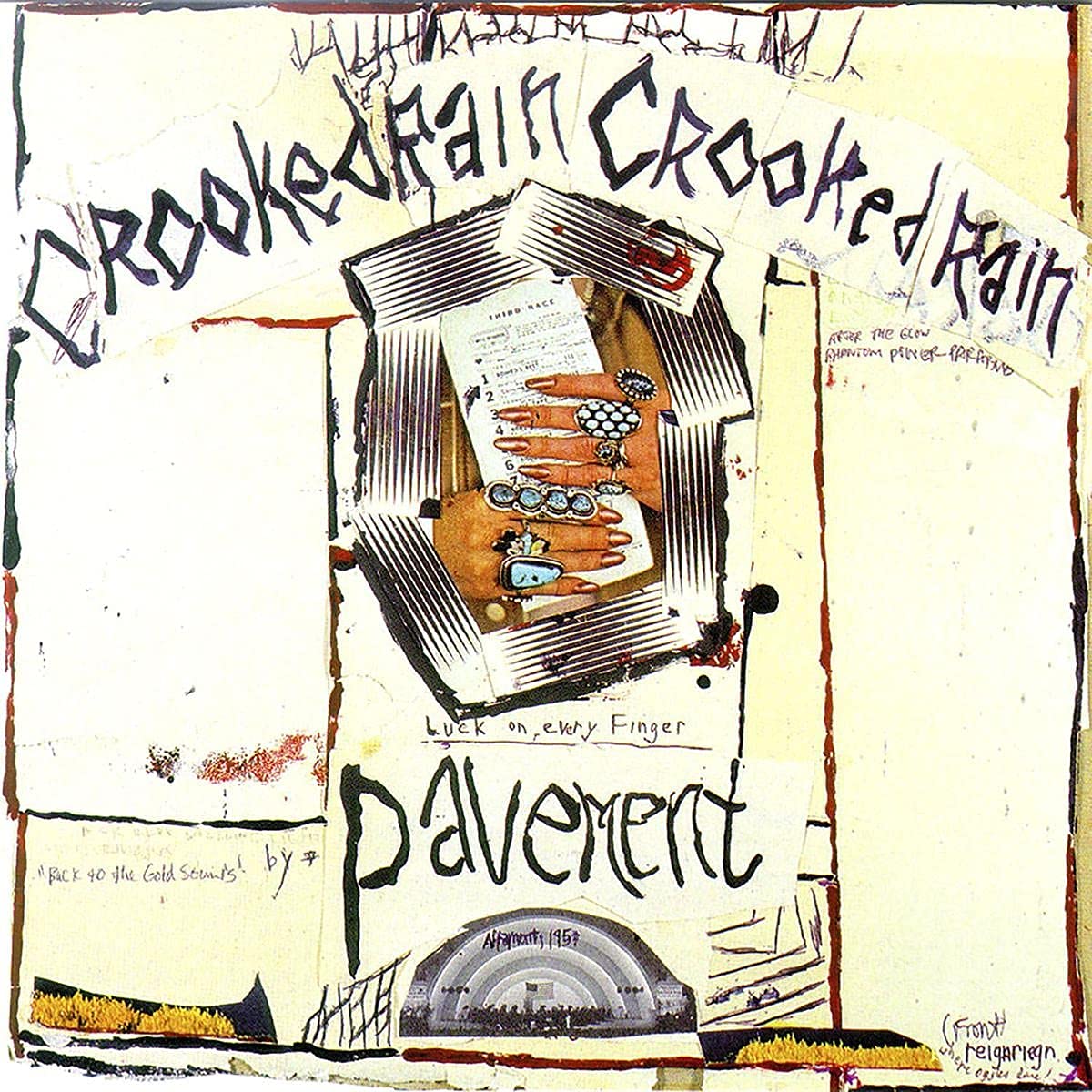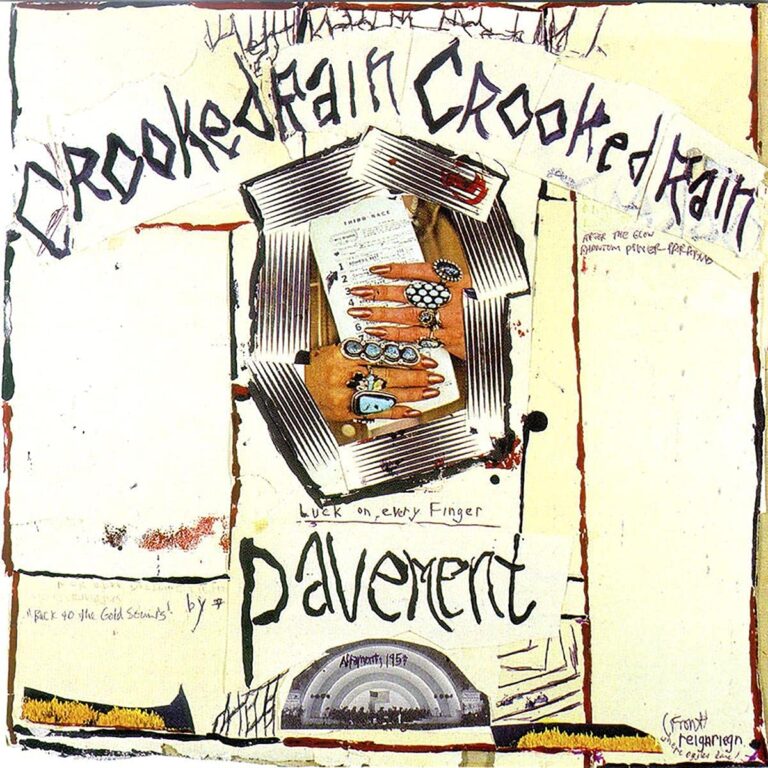 Soon after Crooked Rain, Crooked Rain came out on Valentine's Day, 1994, Pavement frontman Stephen Malkmus visited CompuServe for an online chat. Crooked Rain is, among many things, a concept album about ambivalence, a dizzy skateboard ride through indie culture on which Malkmus coolly examines the pleasures of a "brand-new era"—drugs, hip haircuts, jerking off after a gig—and can't decide whether to take a flamethrower to it all or just read the new issue of Sassy. As elusive as it is allusive, it's larded with clues, such as "We need secrets" and "(Mumble) like a puzzle." But puzzles demand solutions, and when fans e-mailed Malkmus, they wanted answers: "What do you really think of Stone Temple Pilots?" "Where did you steal the guitar riff on 'Silence Kid' from?" Responding to the last question, Malkmus cited "All Right Now" by Free, reflecting the album's mainstream inspiration. "I'm sure it sounds lo-fi to some people," Malkmus says, "but to us it sounded really big and brash, like '70s classic rock." That's part of the album's draw: No one plays puzzles that aren't fun. And as fans repeatedly asked about the anti-STP sentiments in "Range Life," Malkmus stonewalled—it was the only fitting way to promote an album that ends with an incomplete sentence. "Pavement was like a group of smart, confident guys in class that everybody liked," says Sebadoh's Lou Barlow. "People felt smarter when they heard it." ROB TANNENBAUM
63. Uncle Tupelo, No Depression (Rockville, 1990)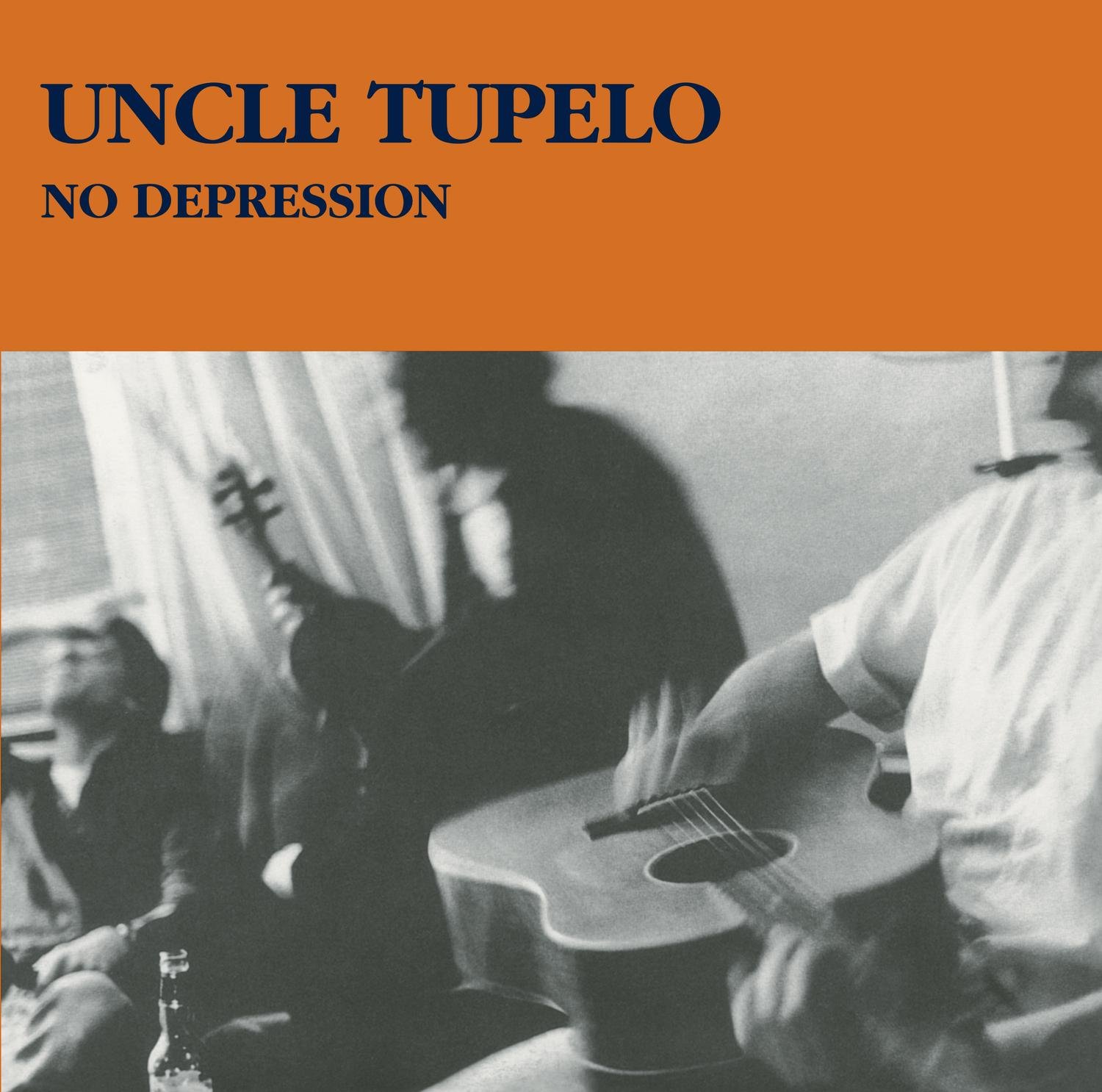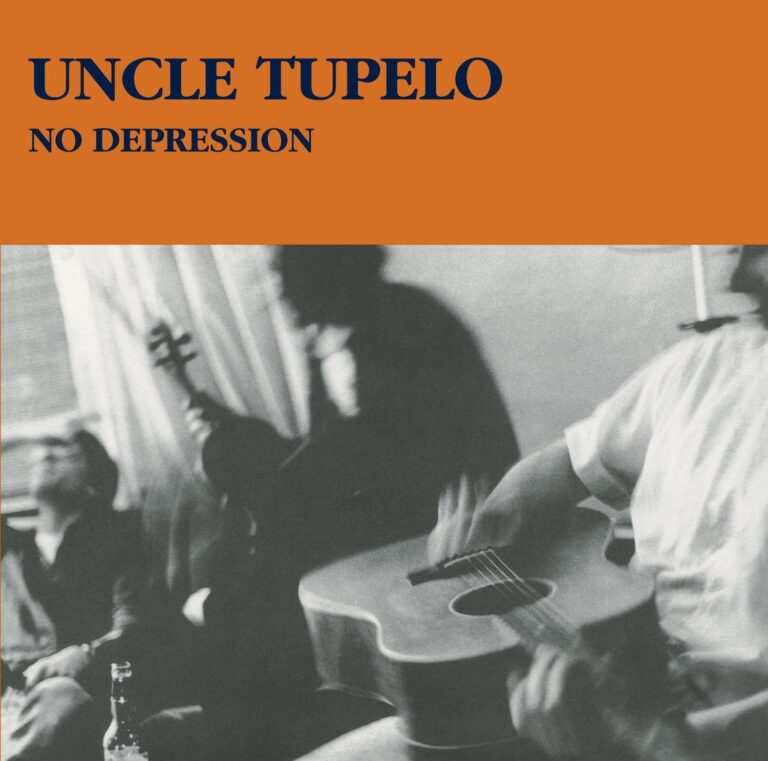 America's musical past rarely gets dragged into the present with the force and fury Uncle Tupelo brought to No Depression. Kicking off the roots-oriented musical movement named after the album, these three schlubs from downstate Illinois approached their parents' country albums with the same mix of awe and irreverence their inner-city counterparts brought to P-Funk. "To us, [the Louvin Brothers'] 'Knoxville Girl' was more terrifying than anything Henry Rollins could come up with," recalls bassist Jeff Tweedy, who shared songwriting duties with guitarist Jay Farrar. "Our music came out sounding like punk rock because that's what we felt we had a right to play."
No Depression wrote a new chapter in the American roots-rock saga, but it was also the last important artifact of the get-in-the-van aesthetic pioneered by the indie label SST. Tupelo's whip-smart arrangements and blue-collar populism nodded to the Minutemen, but the album's singular charm was the way it illuminated the present by looting the past. "What Uncle Tupelo had that a lot of alt-country bands don't is the 'genuine lonesome' sound," says Steve Earle. Farrar and Tweedy refined it on three more albums before splitting to form, respectively, Son Volt and Wilco, but No Depression still stands as blazing proof that great American artists don't just inherit roots—they cultivate them. GREG MILNER 
64. Built To Spill, There's Nothing Wrong With Love (UP, 1995)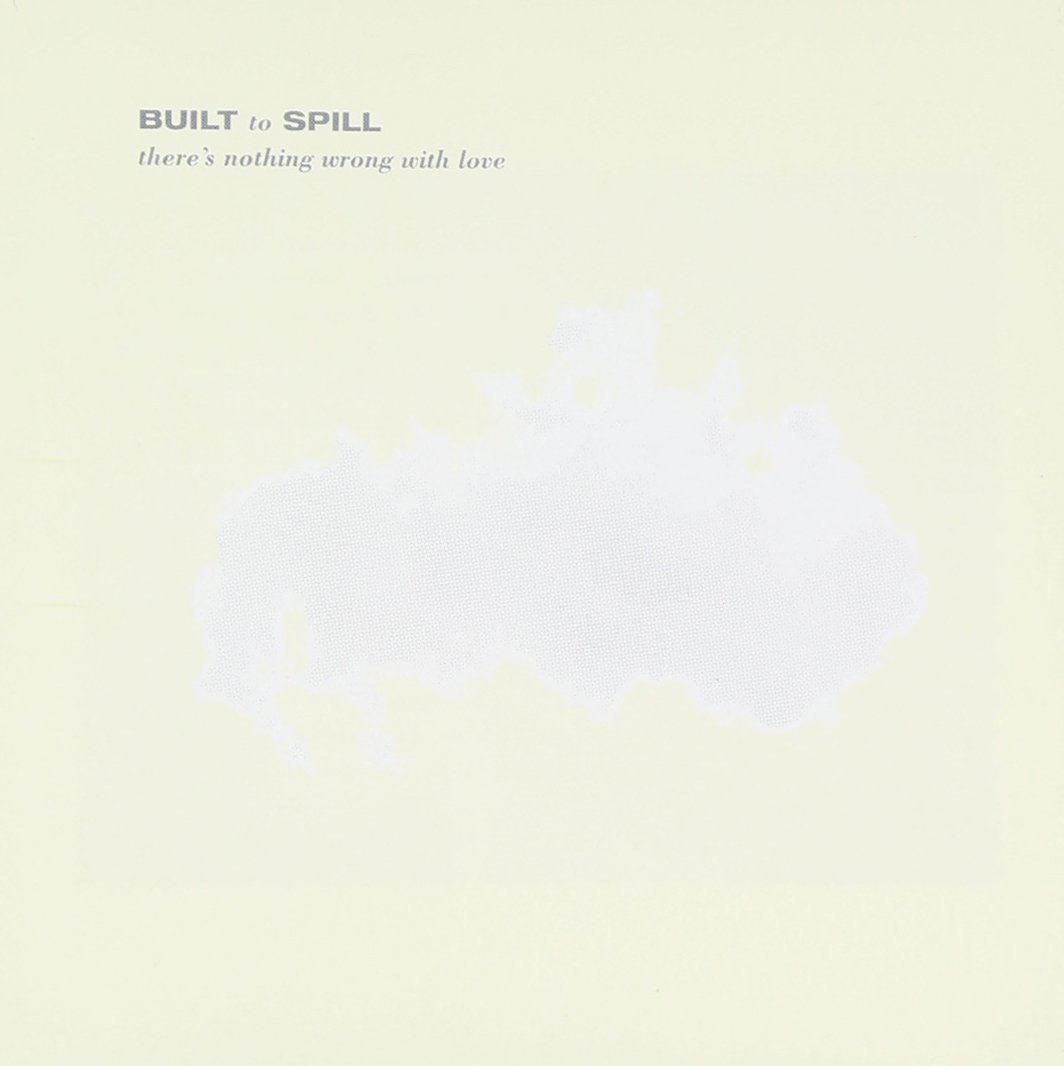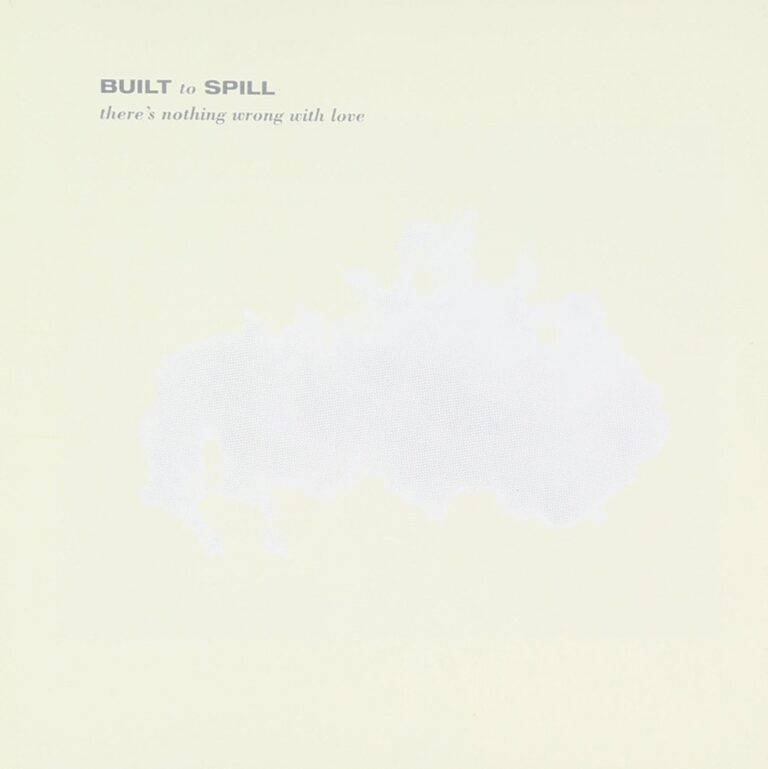 The second album by Boise, Idaho's Built to Spill was the cuddliest little guitar epic of the decade. Just as the luster was wearing off the grunge gold rush, singer/guitarist Doug Martsch challenged slacker cynicism with basement-band symphonies that turned his own private Idaho into indie-rock's last unknown country. "I'd had my fill of sarcasm in music when I was younger," says Martsch, who wrote the album in 1993 while working at a landscaping job and waiting for his girlfriend to give birth to their son, Ben. "I like sincerity."
There's Nothing Wrong With Love did for the guitar hero what Kurt Cobain had done for the rock star: subvert ego with touching vulnerability. "It was a time when people were, like, 'Grunge is dead, riot grrrl's dead—what's happening in Northwest music?,'" says Olympia, Washington-based songwriter Lois Maffeo. Martsch's break with indie amateurism—rooted in "not being afraid to have strong musicianship," according to producer Phil Ek—influenced such emo-core bands as Modest Mouse, though Martsch never quite recaptured that same innocence. "That was the last record when I was able to make music without thinking a lot of people would hear it," he says. "It makes a difference. I'd like to think it doesn't, but it does." JON DOLAN 
65. Basehead, Play With Toys (Imago, 1992)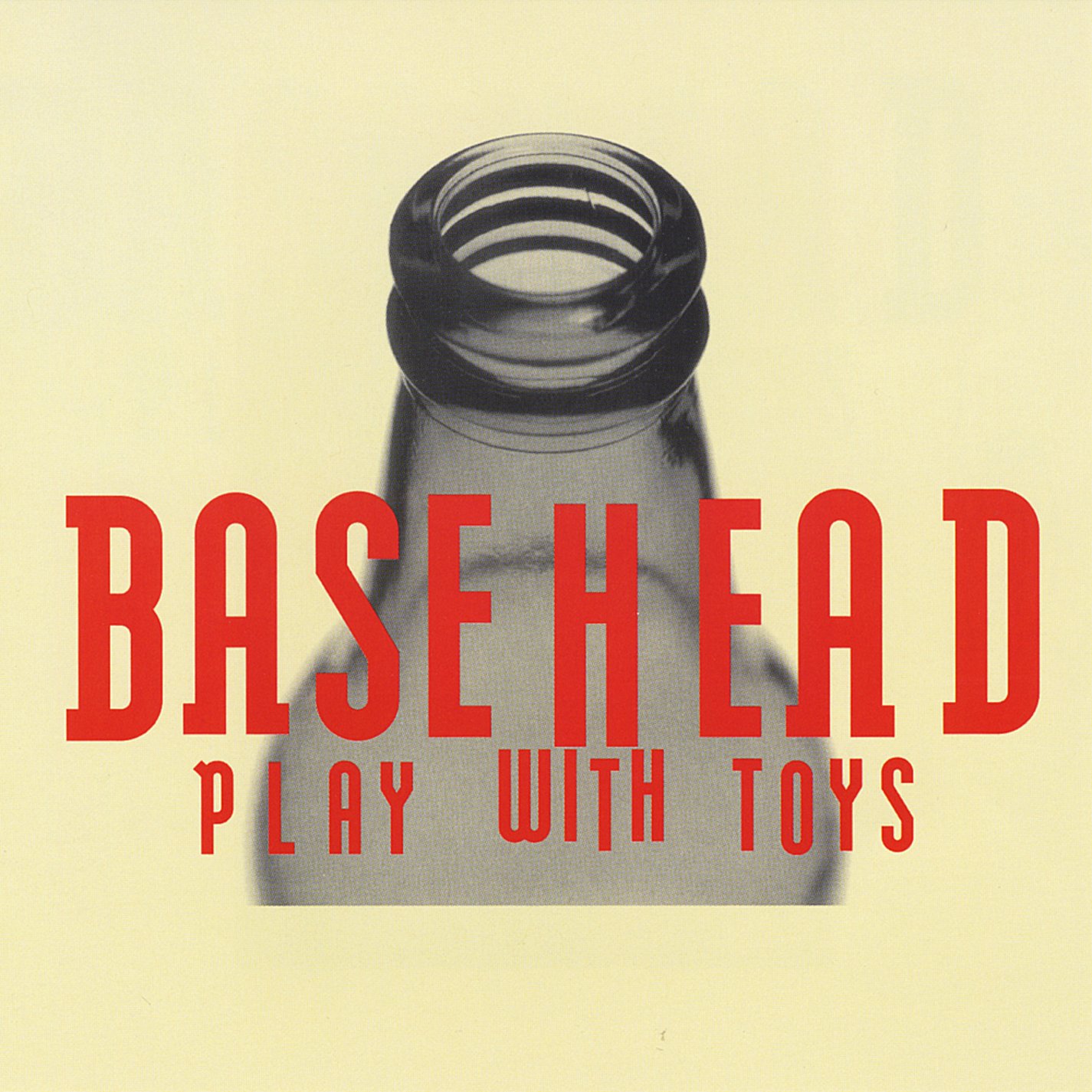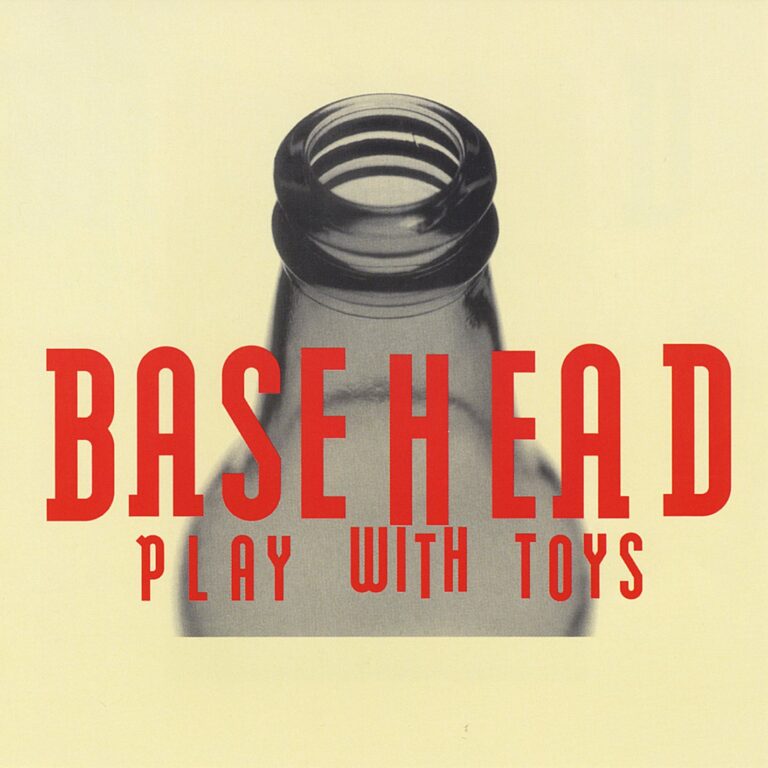 Equal parts rap and slacker rock, Basehead's Play With Toys mixes nod-time breakbeats, mumbled vocals, and acoustic guitar grooves with subversive expression. This 1992 debut by Howard University student Michael Ivey posed a wry, edgy alternative to early '90s gangsta rap and 5-Percenter proselytizing, and its boho vibe prefigured the indie hip-hop movement by a few years. "It's one of the most emotionally engaging hip-hop records ever—and one of the most underrated," says former Living Colour guitarist and Black Rock Coalition founder Vernon Reid. Though Ivey sweetened the delivery with odes to beer and sly, low-key humor—like the skit depicting an R&B band trying to pass in a redneck bar—his messages beamed through the stoner haze. Such lovesick narratives as "Not Over You" also speak about misogyny and depression, while "Evening News" examines poverty, bigotry, and violence.
"Part of my intention was to expose a black audience to some different stuff, to open up some R&B minds," Ivey says. "But it kinda ended up that the African-American audience wasn't the one that took to my record." Instead, it was indie-rock fans who connected. Ivey later underwent a spiritual conversion, and recently finished an album titled In the Name of Jesus. "Just like my first record, I'm approaching my music by not caring about what the response will be, just doing something that inspires me," he says. "But this time, I'm approaching it with a little more wisdom and focus—and less alcohol." SUZANNE McELFRESH
66. Missy Elliott, Supa Dupa Fly (Eastwest, 1997)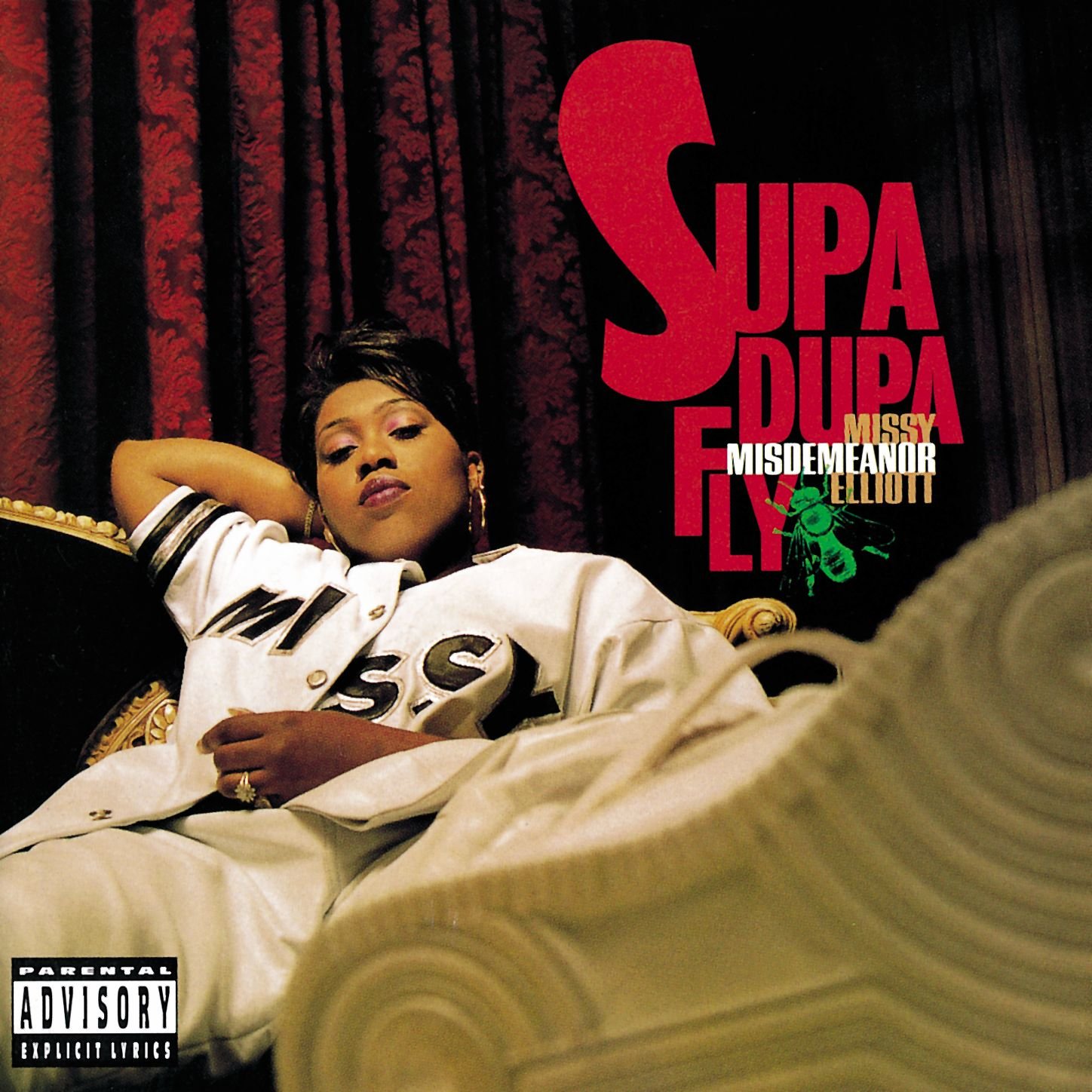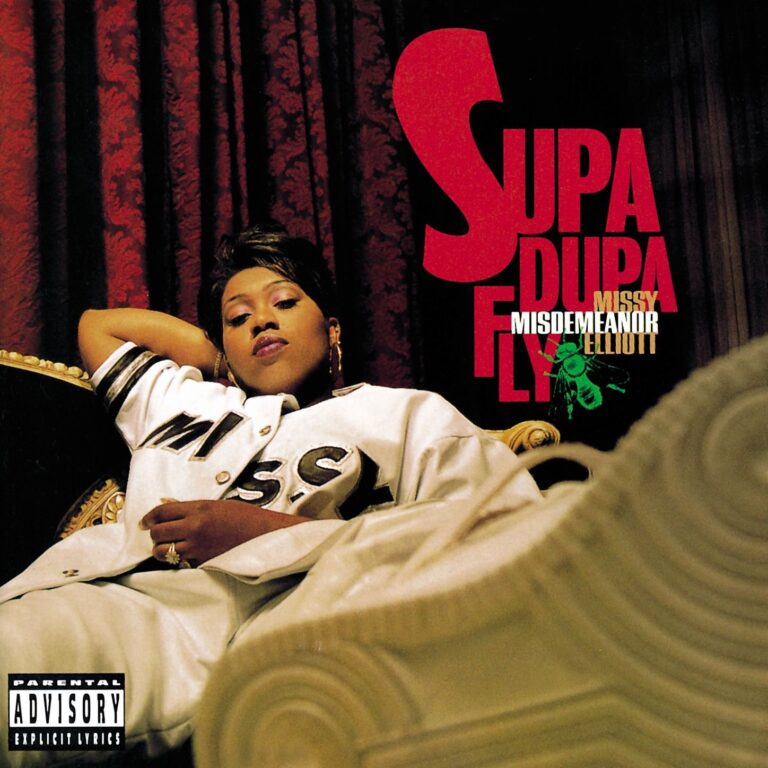 Missy "Misdemeanor" Elliott's genre-shattering platinum debut fancifully mocked glamour-girl obstacles. In the video for the first single, "The Rain (Supa Dupa Fly)," the Virginia-based rapper blasted hip-hop and R&B's obsession with hair-weave-wearing waifs by donning an inflatable garbage bag in one scene and a long, straight fright wig in another. Elliott even had an infectious "fuck all y'all" laugh ready for any naysayers: "Hee hee hee hee ha." "People used to treat that girl like shit," says longtime friend Mary J. Blige, "but look at her now." Before Supa Dupa Fly, Elliott and producer Tim "Timbaland" Mosley had collaborated on Aaliyah's One in a Million, inspiring a slew of imitators. "What people doin' now with samples, we was doin' five years ago," Elliott said in 1997. The two friends went a step further with Supa Dupa Fly, brewing a catchy but rule-breaking blend of hip-hop, Southern booty, and drum 'n' bass. And featuring cameos by Missy pals like Lil' Kim and Busta Rhymes, it was the joyful statement of friendship and survival that hip-hop needed after the deaths of Tupac and Biggie. CRAIG SEYMOUR
67. Tortoise, Millions Now Living Will Never Die (Thrill Jockey, 1996)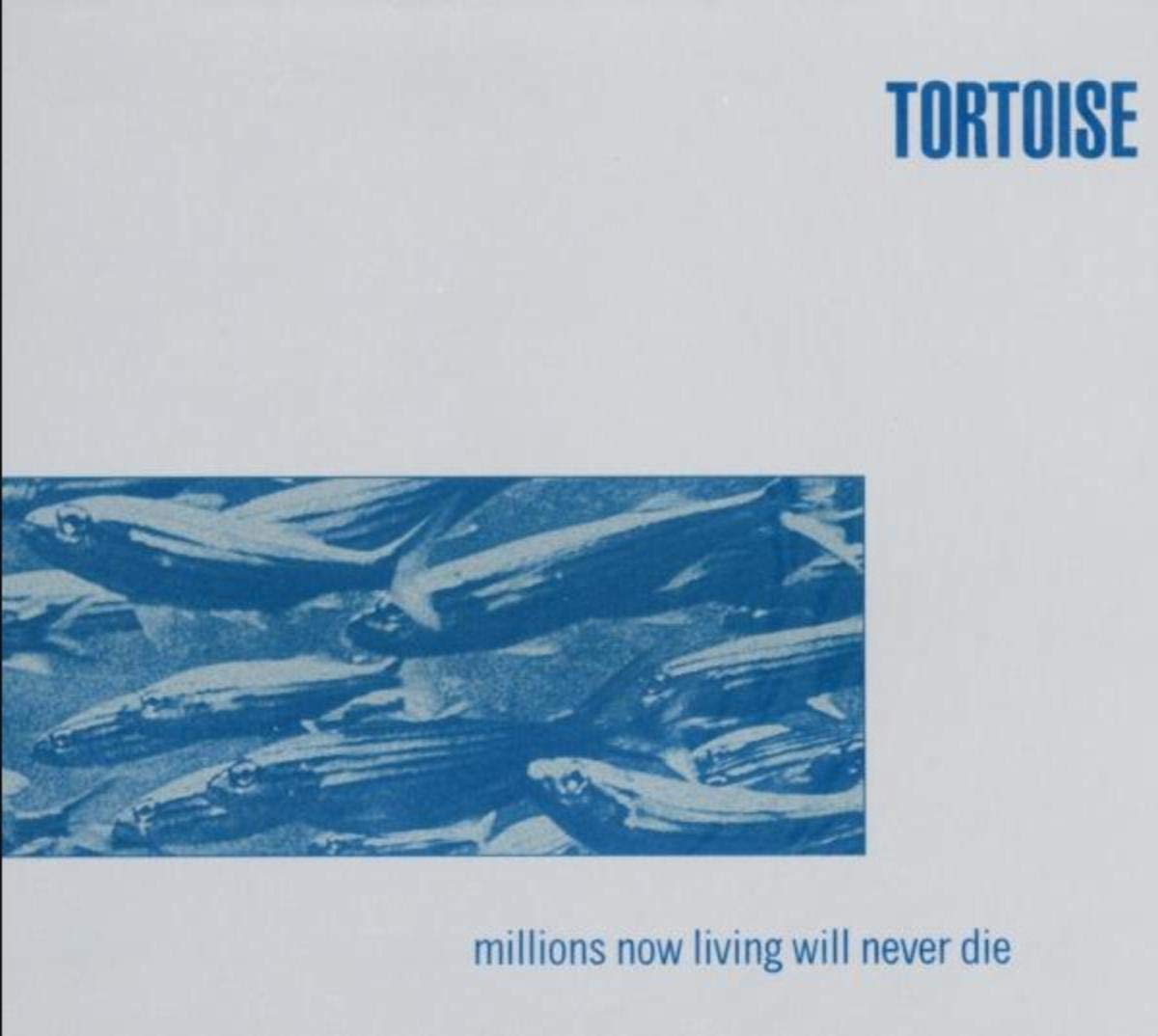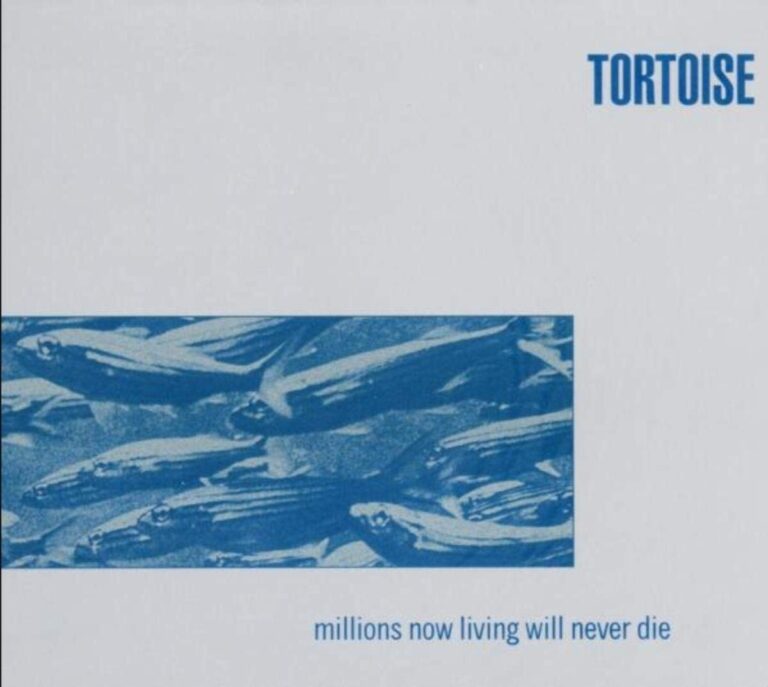 Named after a 1920 book of Jehovah's Witness prophecy, Tortoise's Millions Now Living Will Never Die was received with music-geek rapture. Here was a Chicago band that used the materials of rock, but treated the genre like ancient history. Tortoise didn't bother with voices, and, as Jonathan More of the U.K. sample-surgeons Coldcut puts it, they "reintroduced the guitar as more than Riffs 'R' Us." The album drew on electronic music, dub, and a bit of Slint's stop-motion indie-rock precision, and subsumed them all into bubbling, egoless music-making. "In retrospect, it was naive in a really good way," says drummer/producer John McEntire.
Millions was assembled phrase by phrase. "We stayed at this farm and played each other ideas for about five days," bassist Doug McCombs says, "and tried to think of ways to link them together." The grandest result was "Djed," a 21-minute assemblage of instrumental fragments that's been post-rock's DNA ever since. A series of remixers would later deconstruct Millions further on a series of 12-inch singles. The indie-rock world had discovered the art of the mix, and it would never be the same. DOUGLAS WOLK
68. Fatboy Slim, You've Come A Long Way, Baby (Astralwerks, 1998)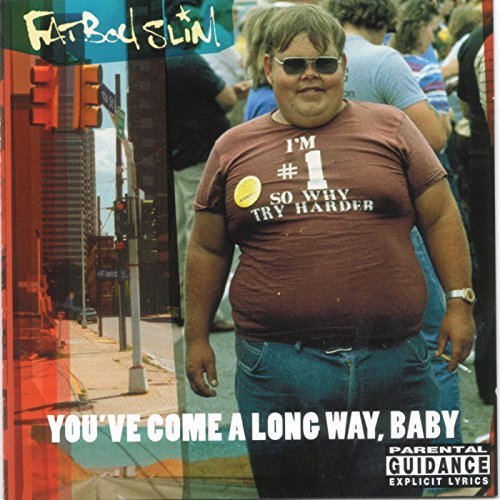 If the '90s were the age of collage, Fatboy Slim was a kid loose in a sound museum with scissors and glue. Balding hedonist Norman Cook made an unlikely electronica ambassador to the mainstream, but the sample-drunk pop of his second album, You've Come a Long Way, Baby, staggered onto MTV, television commercials, and even teensploitation flicks. Months after the album's release, "Praise You" became the first dance-oriented single to scale modern-rock-radio playlists without a videogenic face to pin it on.
Cook started out in the mid-'80s as bassist for the jangly Housemartins and moved onto the dance floor with the pastiche-oriented Beats International before hitting his groove in the Big Beat scene, which championed booty over brains. "We live in a shitty country that once was great and spend a lot of time apologizing for how useless we are," Cook says. "So we'd rather have a laugh than worry about whether we're good at cricket anymore."
Cook makes it sound like he could piece together a kooky hit like "The Rockafeller Skank" between pints—"That's the amount of thought that goes into it," he says—but his lager-lout approach to dance music is undeniable. "To make records as intoxicating as what he does is quite a skill," says Chemical Brother Tom Rowlands. "He gives people euphoria." BARRY WALTERS
69. Slint, Spiderland (Touch and Go, 1991)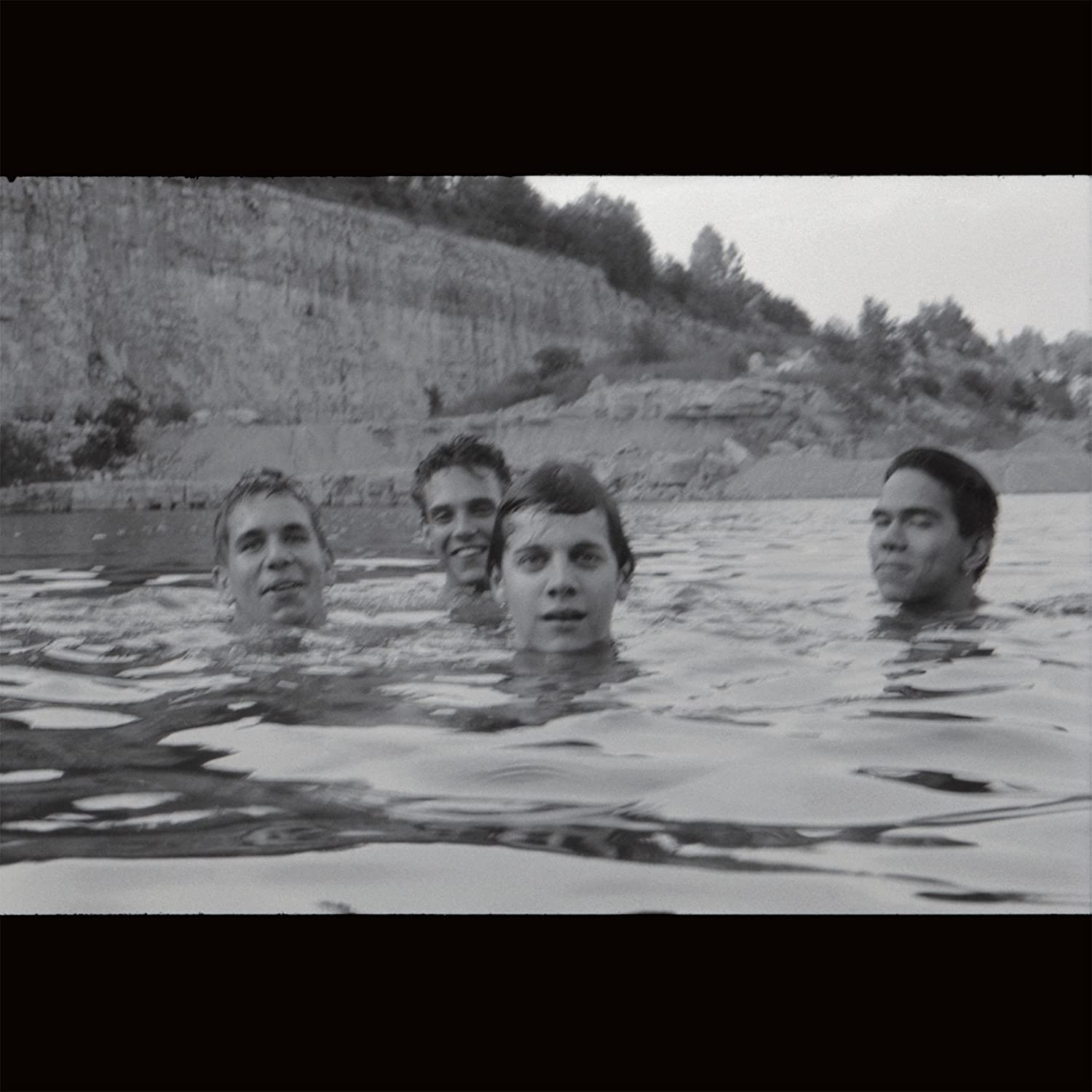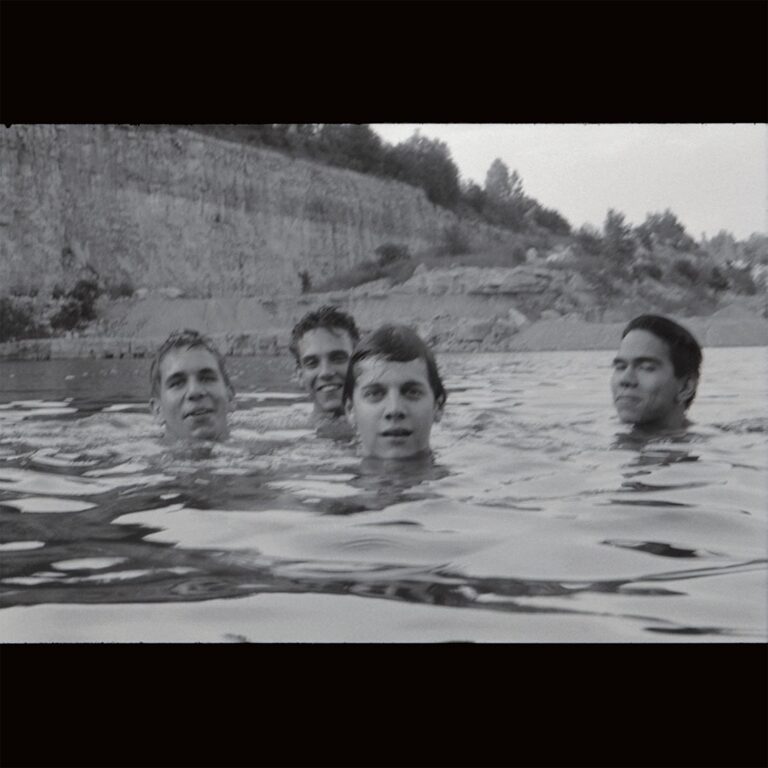 At the dawn of the decade, Spiderland washed up on the shores of indie rock like a Dead Sea scroll cast in vinyl. Hailing from Louisville, Kentucky, Slint took their roots—and half their four members—from Squirrel Bait, baggy-shorted high-school brats who spent the mid-'80s nipping at Hüsker Dü's heels. When they formed Slint in 1987, they slowed their tempos and whittled their songs down to their brutal core under the direction of drummer Britt Walford. "Britt was a very stubborn pursuer of the sublime," says guitarist Brian McMahan, who now fronts the For Carnation.
On the strength of one album and a few singles, the Chicago independent label Touch and Go agreed to give Slint $3,000 to make another LP, if the band would forgo a promotion budget. Recorded over two weekends, Spiderland wasn't so much lo-fi as low-flying—it quietly slipped in under rock's radar. Slint split up almost immediately after, but Spiderland continues to hover specter-like over the indie-rock landscape. (Two years after its release, McMahan quit his day job to live on the royalty checks.) The album documented postpunk's increasing drift toward the "post," but its introspection proved experimental music could be emotionally jarring. "Spiderland had a huge impact on us," says Sebadoh's Lou Barlow, who wrote a song called "Slintstrumental" after hearing the album. "It was dynamic, emotional, and perfectly articulated. It was quiet-to-loud without sounding like grunge or even indie rock. It sounded more like a new kind of music." GREG MILNER
70. Soundgarden, Superunknown (A&M, 1994)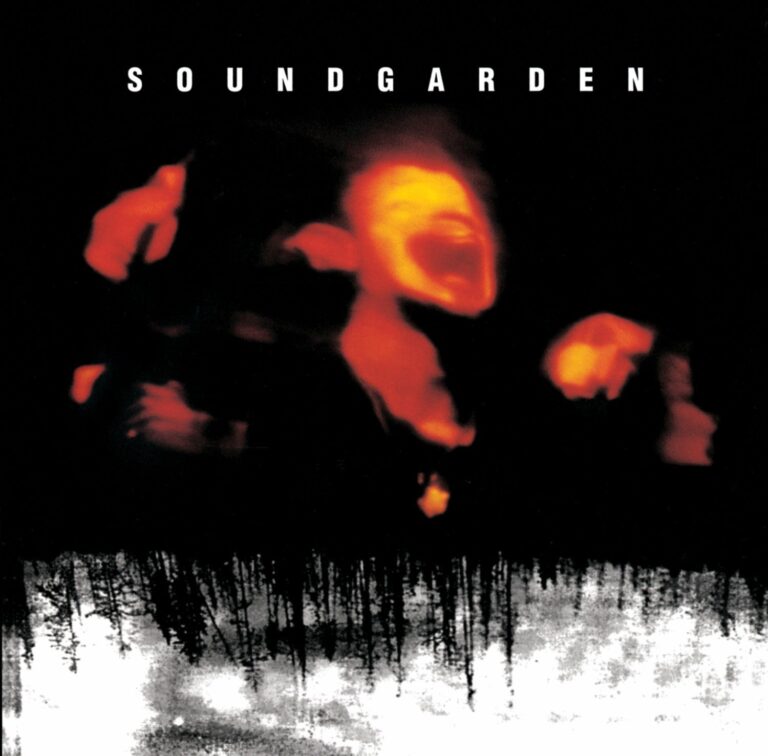 Nirvana saved rock, but Soundgarden saved rawk. Their early albums laid the Black Sabbath-meets-Big Black blueprint for grunge, but Superunknown, which entered the Billboard chart at No. 1 weeks before Kurt Cobain's suicide, remains the subgenre's most technically sophisticated musical statement. Part man-rock rumble (by way of Rainbow and Free), part garage psychedelia, it combines the eccentric production of the Beatles's "White Album" with the downy catharsis of Metallica's "Black Album." By 1993, "we'd done riff-rock as many ways as we could think of," says singer Chris Cornell. "It was time to do something different—otherwise, why keep making records?" It was an ambitious step, and the avant-rock of tracks like "Fresh Tendrils" cannily charted the outer limits of grunge. "I don't know if that's what they originally visualized themselves doing," producer Michael Beinhorn said in 1994, "but I know that's the direction they felt really comfortable with."
"Black Hole Sun" became Soundgarden's biggest hit, and Superunknown "should have been the record where we played in 41 countries and became the biggest band in the universe," Cornell says. "But after five records, we just didn't feel like doing it. In a sense, we really shot ourselves in the foot." They'd only make one more album—1996's less commercially successful Down on the Upside—before throwing in the flannel. But Superunknown was really grunge's last will and testament—even if most of the inheritors never quite lived up to its ambition. JAMES ROTONDI
71. Buena Vista Social Club, Buena Vista Social Club (World Circuit/Nonesuch, 1997)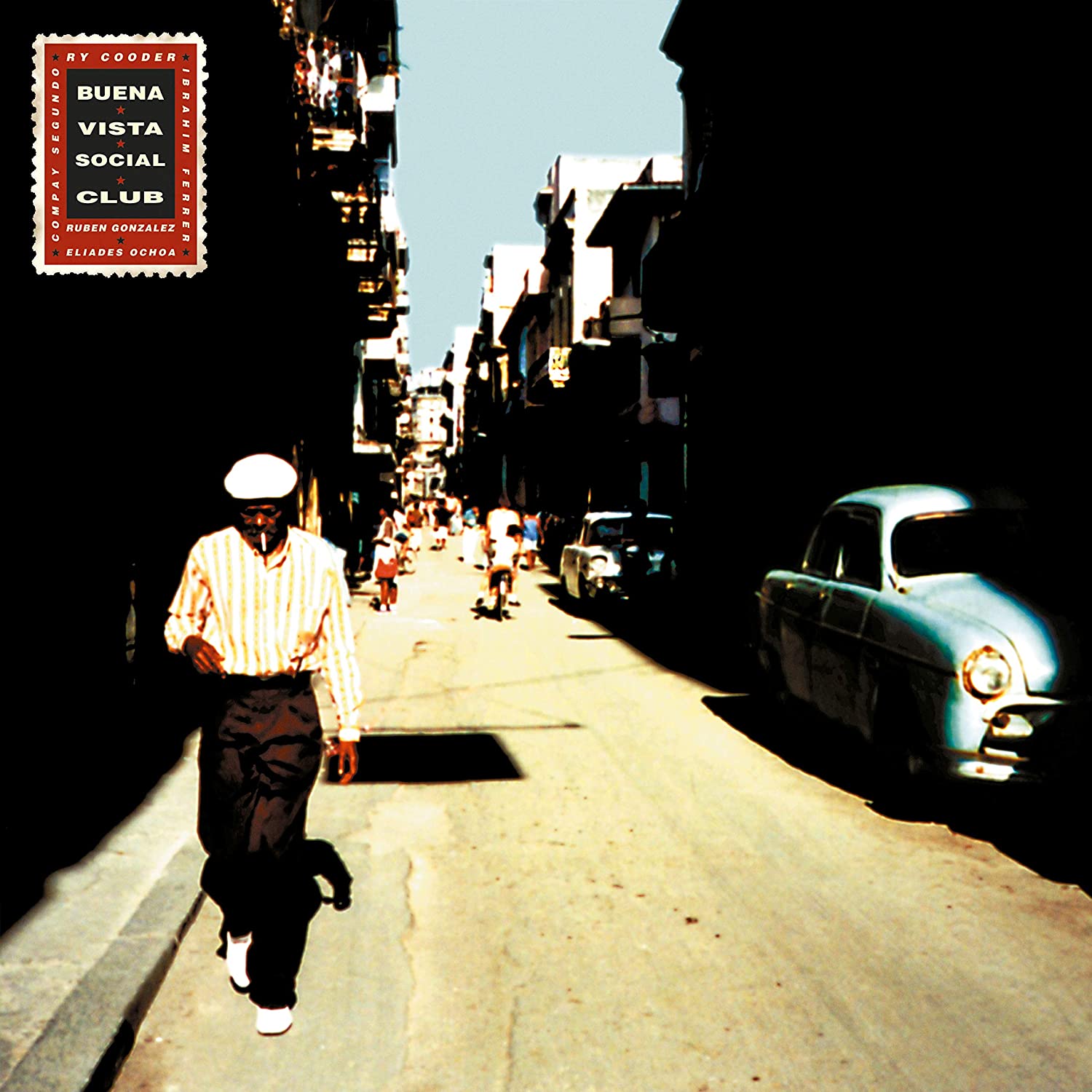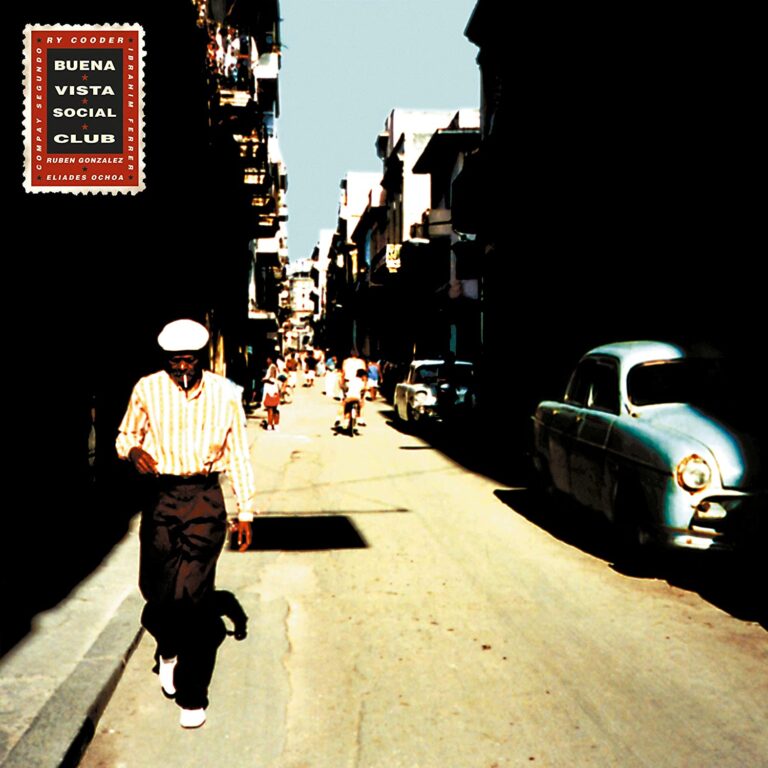 It's easy to wax rhapsodic about the Buena Vista Social Club project: a triumph of roots music over glossy pop and of art over politics. The story: A globe-trotting American musician/producer (Ry Cooder) travels to Havana and gathers a group of elderly masters of Cuban traditional music and jazz. The result is a Grammy-winning album, a documentary film, and triumphant concerts from America to Amsterdam. Cooder helped provide a forum for nearly forgotten virtuosos such as pianist Rubén González and vocalist Compay Segundo. The resulting music is sophisticated, multilayered, complex, hypnotic, and deeply emotional, combining folksy ambience with percolating urban polyrhythms. Cognoscenti appreciated the work from the start: according to Lou Reed, it's "mesmerizing, a truly wonderful record." But it struck a chord among lumpen fans internationally, selling nearly a half-million copies in the U.S. alone.
"That album gave the world a good representation of Cuban music," says 72-year-old singer Ibrahim Ferrer, who was shining shoes in Havana when Cooder recruited him. "It made people realize that true Cuban music still exists." TONY GREEN
72. Mary J. Blige, My Life (Uptown, 1994)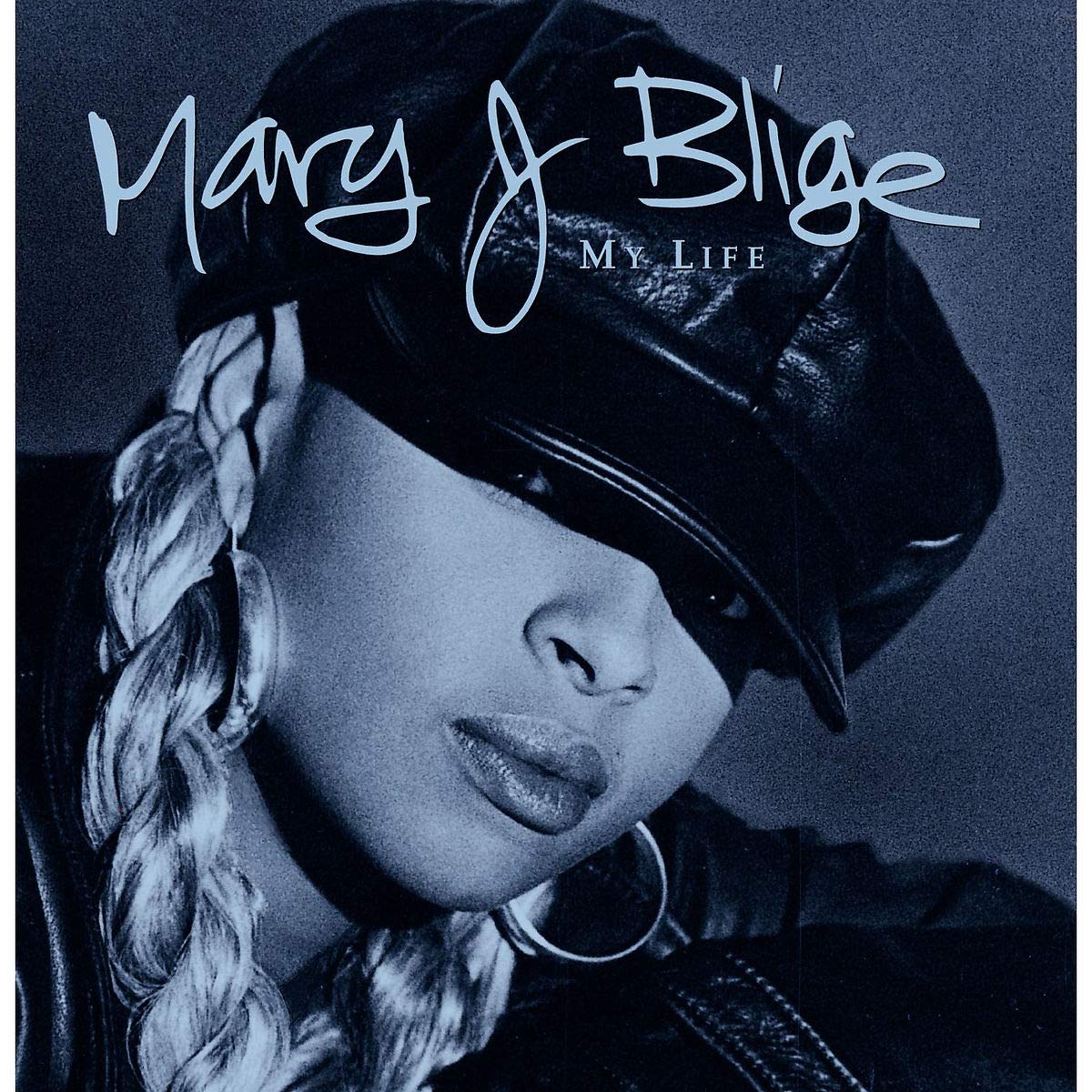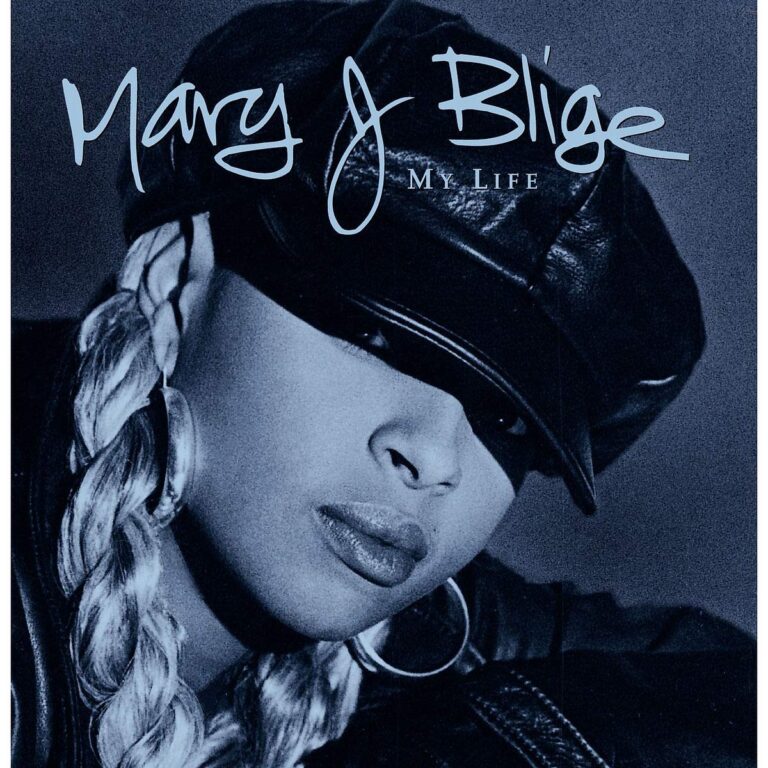 The stuff of R&B legend, Mary J. Blige's scorching second album involved nearly every major playa of the '90s urban-music scene: Puff Daddy executive-produced it; Death Row honcho Suge Knight was rumored to have busted heads at Uptown to get Blige a better deal; and "Who Shot Ya"—the infamous Notorious B.I.G. B-side that riled up an incarcerated Tupac Shakur—began as a My Life interlude but was nixed for being too hard.
But most striking was the behind-the-music narrative of a young woman struggling to make sense of how drastically her world had changed since her debut, What's the 411?, blew up two years earlier. Sporting soul-aching vocals, deeply personal lyrics, and tracks fit for a dope MC, My Life spent 85 weeks on Billboard's R&B chart (thanks, in large part, to a cover of Rose Royce's "I'm Going Down") and pioneered the sort of introspective hip-hop soul that would one day fuel critically acclaimed records by Erykah Badu and Lauryn Hill. "We knew we were doing something groundbreaking," says Tony Maserati, one of the album's engineers. Surprisingly, most of the musical tracks were written and co-produced by Chucky Thompson, a 23-year-old newcomer who stepped in once various big-name producers priced themselves out of the running. "I was, like, I'll do the whole album for free," Thompson says. While a dream job for him, making the album was "a real nightmare" for Blige. "I was writing down my feelings in tears," Blige says, "because that paper was all I had to talk to." CRAIG SEYMOUR
73. Elliott Smith, Either/Or (Kill Rock Stars, 1997)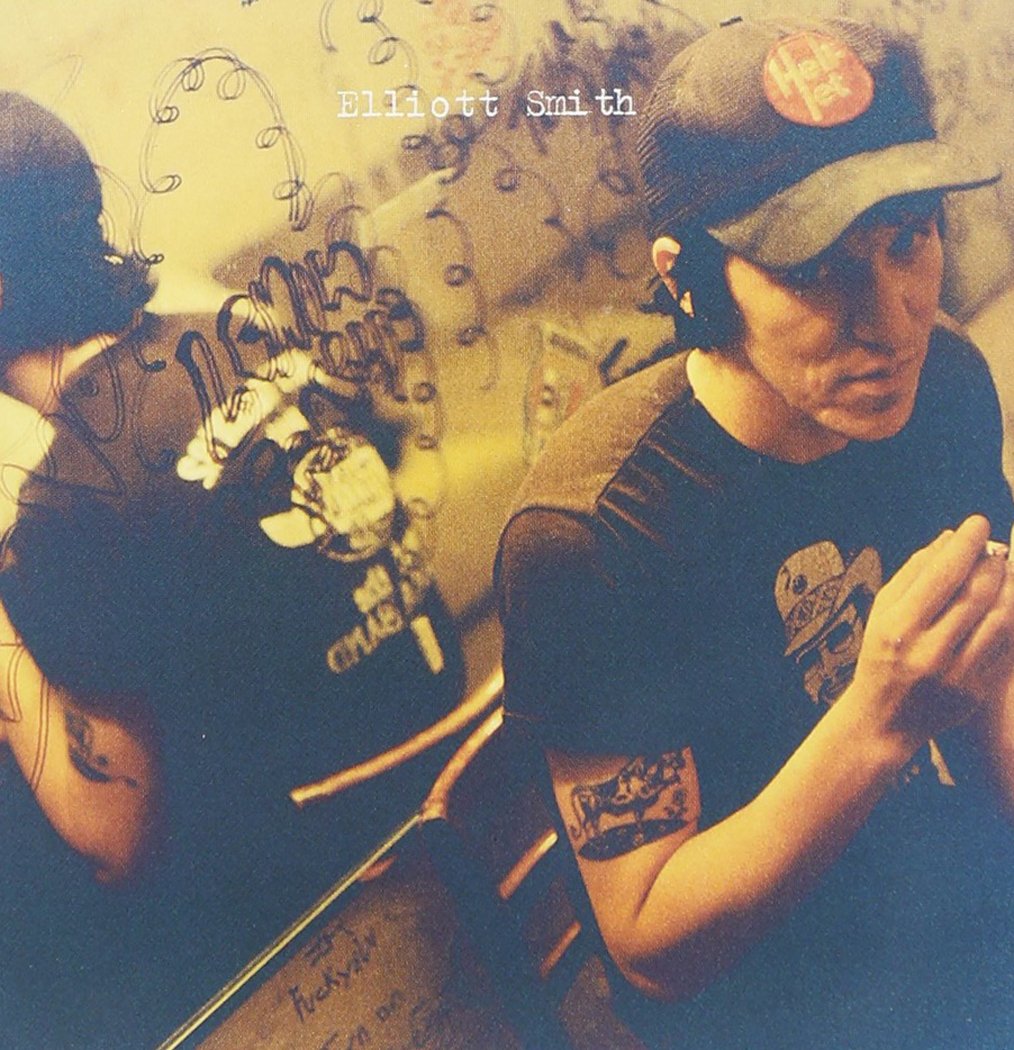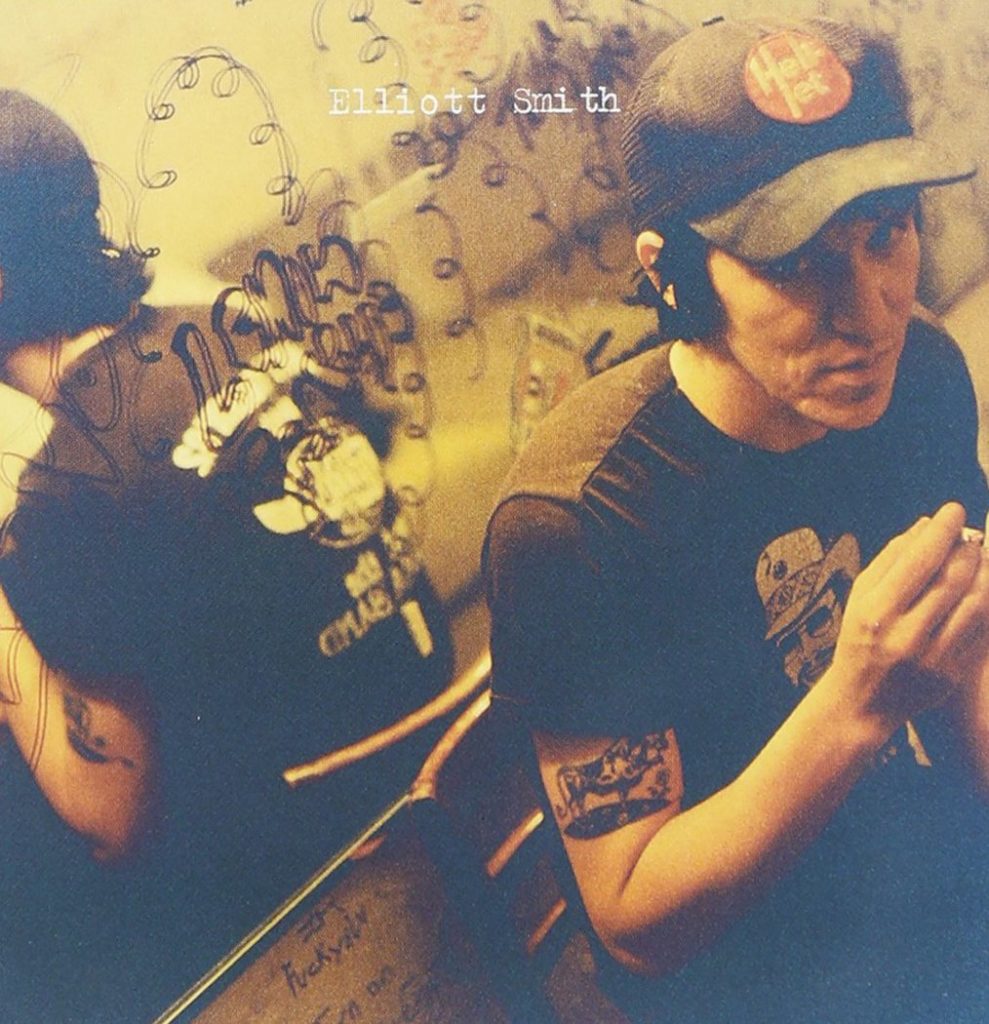 The moment at last year's Academy Awards when Elliott Smith took his bow with Trisha Yearwood and Celine Dion was an unforgettable bit of underground-meets-mainstream weirdness. A skinny, frail-voiced singer/guitarist with a grunge-casualty vibe, Smith had three very indie albums and the Oscar-nominated "Miss Misery" (from the Good Will Hunting soundtrack) to his name, and was up on that stage for exactly one reason: He's a songwriter of astonishing power. His lyrics are heartbreaking and unsentimental, universalist and brutally specific, and they're backed up by a remarkable tune-sense that draws more on the Beatles than Smith's punk roots.
Smith is also his own harshest critic. By the time he recorded Either/Or (note that the title's from Kierkegaard), he was tormented by fear of fame and self-doubt. "I recorded 30 songs for the album, and I couldn't pick out any that I liked," he told the Seattle alternative weekly The Stranger. "I thought they all sucked." But plenty of people disagreed. Sleater-Kinney drummer Janet Weiss says that when she backed Smith on tour last year, "not a night went by when 'Ballad of Big Nothing' wouldn't move me nearly to tears." She's not the only one. DOUGLAS WOLK 
74. De La Soul, De La Soul is Dead (Tommy Boy, 1991)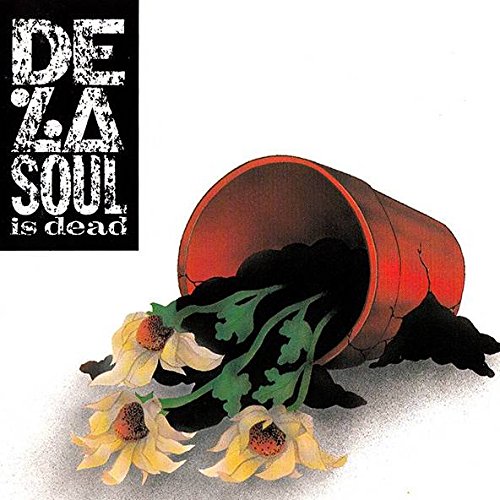 "We didn't want our first album cover to be us with flowers and all that," De La Soul's Trugoy says of the group's 1989 debut 3 Feet High and Rising. "We wanted an elevator halfway up with just our faces. But our vision wound up getting thrown in the garbage." So with De La Soul is Dead, the Long Island threesome moved as far as they could from the hippie trappings of 3 Feel High's "D.A.I.S.Y. Age" (the video for "Ring Ring Ring (Ha Ha Hey)" includes a falling pot of daisies smashing to bits). The efforts to prove their own hardness were sometimes a bit heavy-handed, but breathtaking narratives such as the incest-themed "Millie Pulled a Pistol on Santa" and the blisteringly personal "My Brother's a Basehead" took hip-hop to places it had never been. "We were trying to show we weren't just a one-album act," producer Prince Paul says. "And there was a lot of disillusionment with the music industry. When I listen to it now, the raps sound—shall we say—bitter?" Maybe so, but that bitterness saved De La Soul from turning into a Day-Glo cartoon, paving the way for one of hip-hop's longest-lasting, most consistent careers. TONY GREEN
75. Steve Earle, I Feel Alright (Warner Bros., 1996)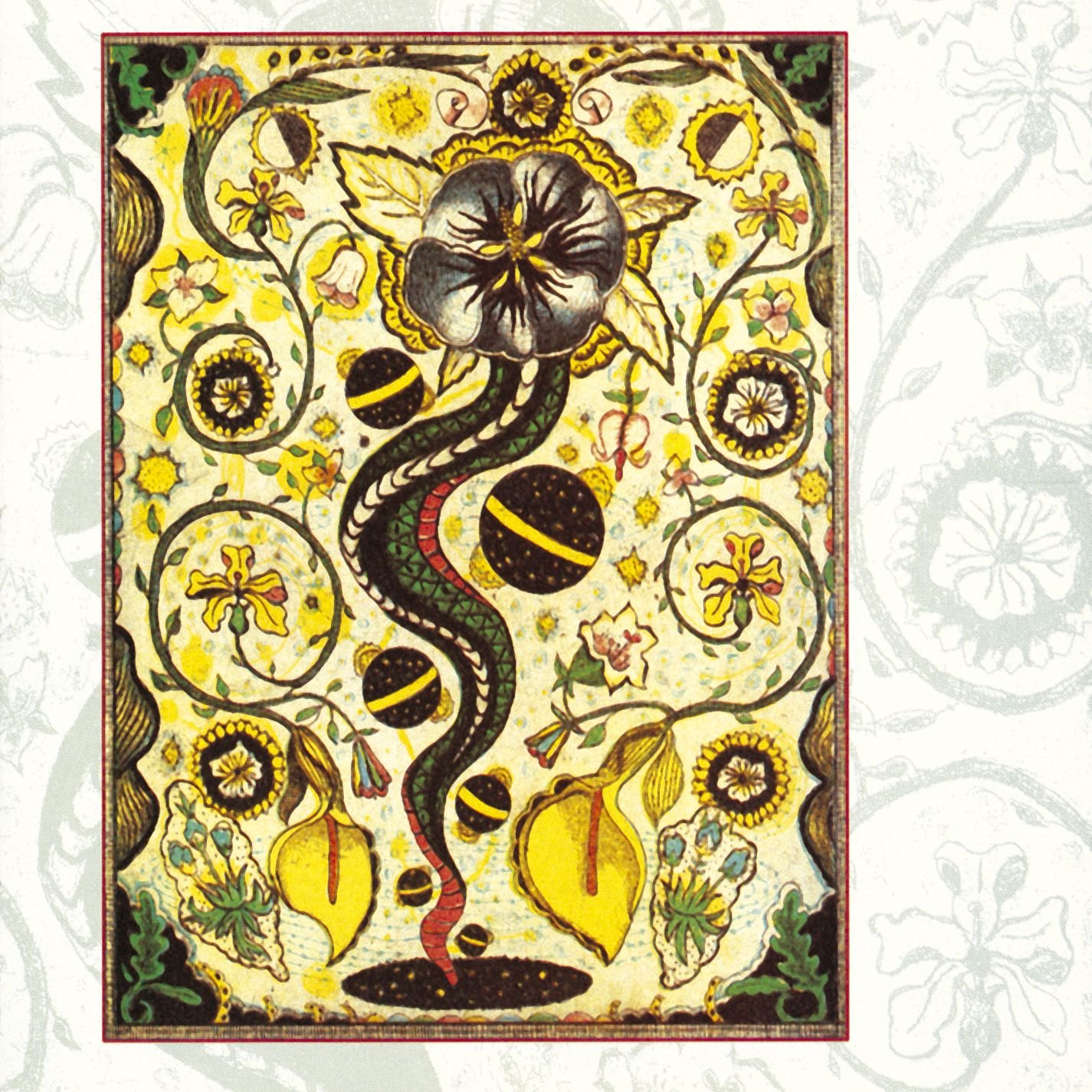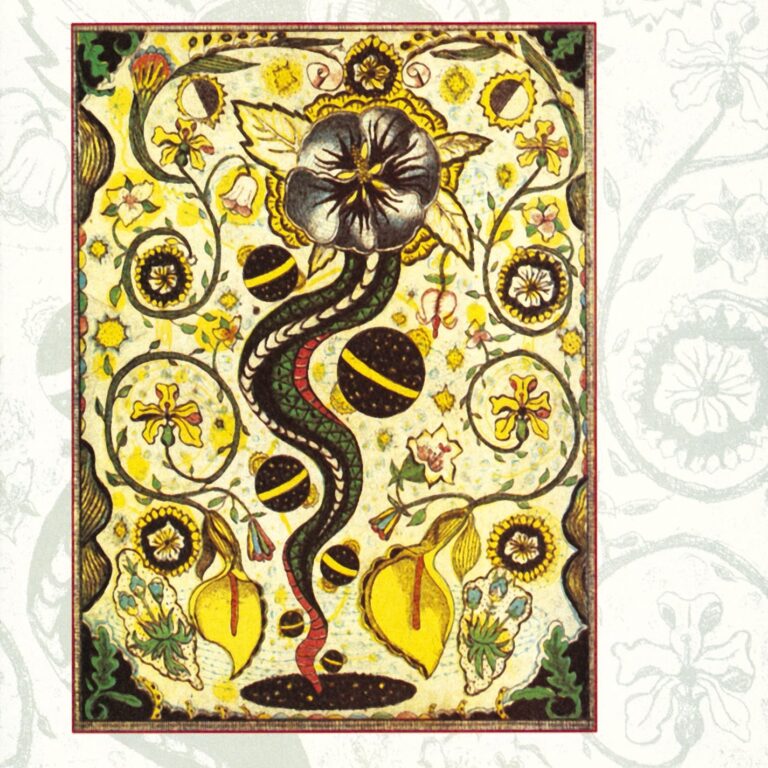 "Every one of my albums has a 'state of me' song," says Nashville rebel Steve Earle. "The song 'I Feel Alright' was sort of my 'Fuck you, I'm not dead' song." At the time—March 1996—that came as something of a surprise because from 1991 to 1994, "I didn't make any records because it was a full-time job just to find dope." When old friends ran into Earle at the supermarket, he'd start babbling about his new album—one he said would sound like Rubber Soul. They would just nod, knowing that after Earle made country-rock respectable on 1986's Guitar Town, he eventually sunk into arena-ready pomp, and then full-blown heroin and crack addiction.
But within months of rehab, Earle wrote I Feel Alright, which made good on the grocery-aisle pledge of his four-year lost weekend: On "More Than I Can Do" and "Now She's Gone," Earle tweaked mid-period Lennon-McCartney with his hillbilly tics. His timing couldn't have been better: He came back to a world that gave him props as an alt-country icon. "For a while there, he kind of drifted off into wanting to be Guns N' Roses," says Richard Bennett, who produced the album. "This was a return to form." MARK SCHONE
76. Daft Punk, Homework (Virgin, 1997)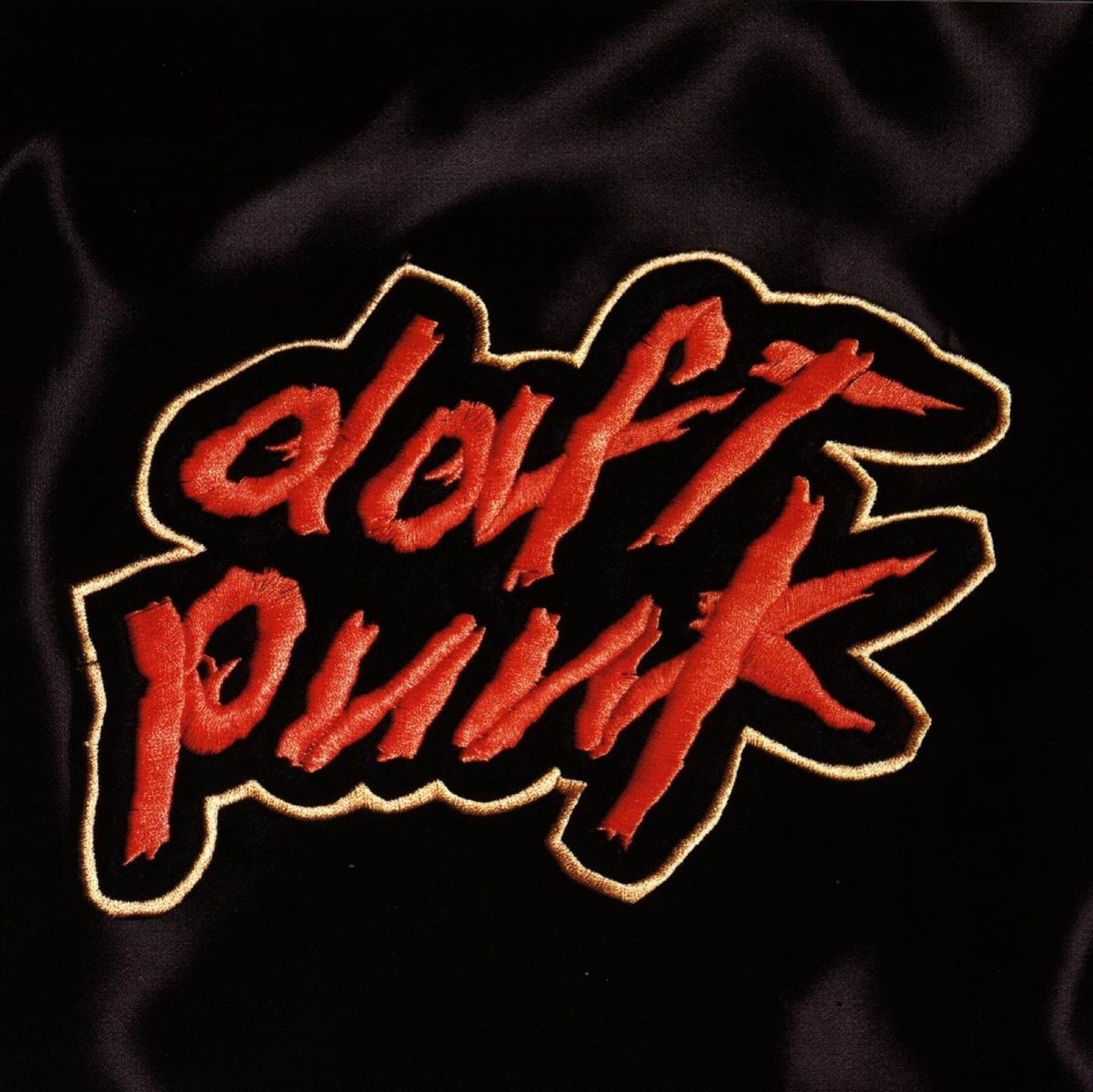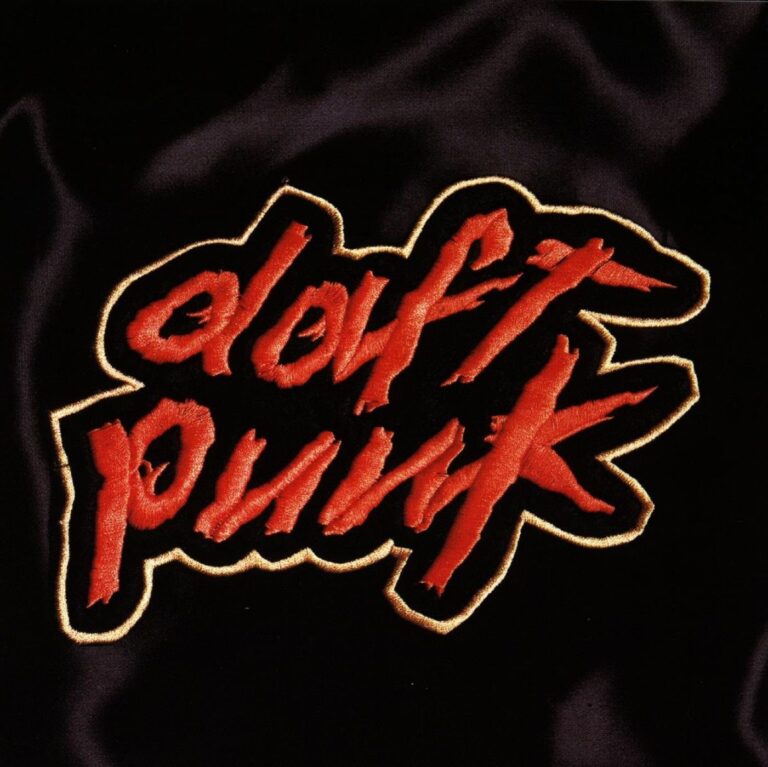 Enfants terribles of French house music, the Parisian duo of Thomas Bangalter and Guy-Manuel de Homem-Christo employed insistent Chicago house beats, Roland 303 "forge" squelches, Vocoder vocals, and a little je ne sais quoi to a relentlessly danceable party record that never fails to pack more bounce to the ounce. "The album was called Homework mainly because it was recorded in a bedroom," Bangalter said at the time, though its origin belies the record's living room rug-cutting capabilities. The fuzzed-out filtering on songs like "Rollin' and Scratchin'" and "Rock 'n' Roll," for example, builds and builds until the boogie fever exceeds dangerous temperatures.
Listening to Warren G's "Regulate" and Dr. Dre on the radio, the pair were inspired to come up with the nasty roller-disco throwdown of "Da Funk." "The original riff was actually a siren," said Bangalter, "but we wanted to make it more of a gangsta rap thing, more dirty, so we changed the sound a bit." The song ended up a worldwide dance-floor smash, as did Bangalter's side project Stardust ("Music Sounds Better With You"), and Daft Punk remain one of the world's most respected club acts. "'Da Funk' was a big record for us," says Tom Rowlands of the Chemical Brothers. "It was so fresh and exciting. We got a very early copy, and it was always part of our set—their records are a dream to DJ." MIKE RUBIN
77. Boredoms, Super æ (Birdman, 1998)
"We always doing what we like at the moment" is about the deepest insight you'll get from a group interview with Japan's Boredoms, the world's premier dadaist rock band. And "We like the sound of it" must suffice as explanation for the band's prolific use of the word "super," which appears on many of their songs and albums, most notably last year's super-hypnotic Super æ. That's fine, since the Boredoms' music speaks loud and clear. Their early work relied on spastic punk weirdness and acrobatic stage theatrics, as those few who witnessed their early opening sets on 1994's Lollapalooza tour can attest. But on Super æ, the Boredoms show a stunning maturation. It's a psychedelic experience both brutal and delicate: The waxing and waning of bombastic guitar noise, desperate screams, and urgent percussion and Stereolab-ish melody communicate what Will Hart of Olivia Tremor Control calls "the power of metal, but also of the sun—solar power!" No longer solely reliant on brevity and monolithic skree, the band has learned to trust slower rhythms and the simplicity of a single distorted guitar. In turn, we've learned to expect that the Boredoms will never live up to their name. WINDY CHIEN
78. Yo La Tengo, I Can Hear the Heart Beating as One (Matador, 1997)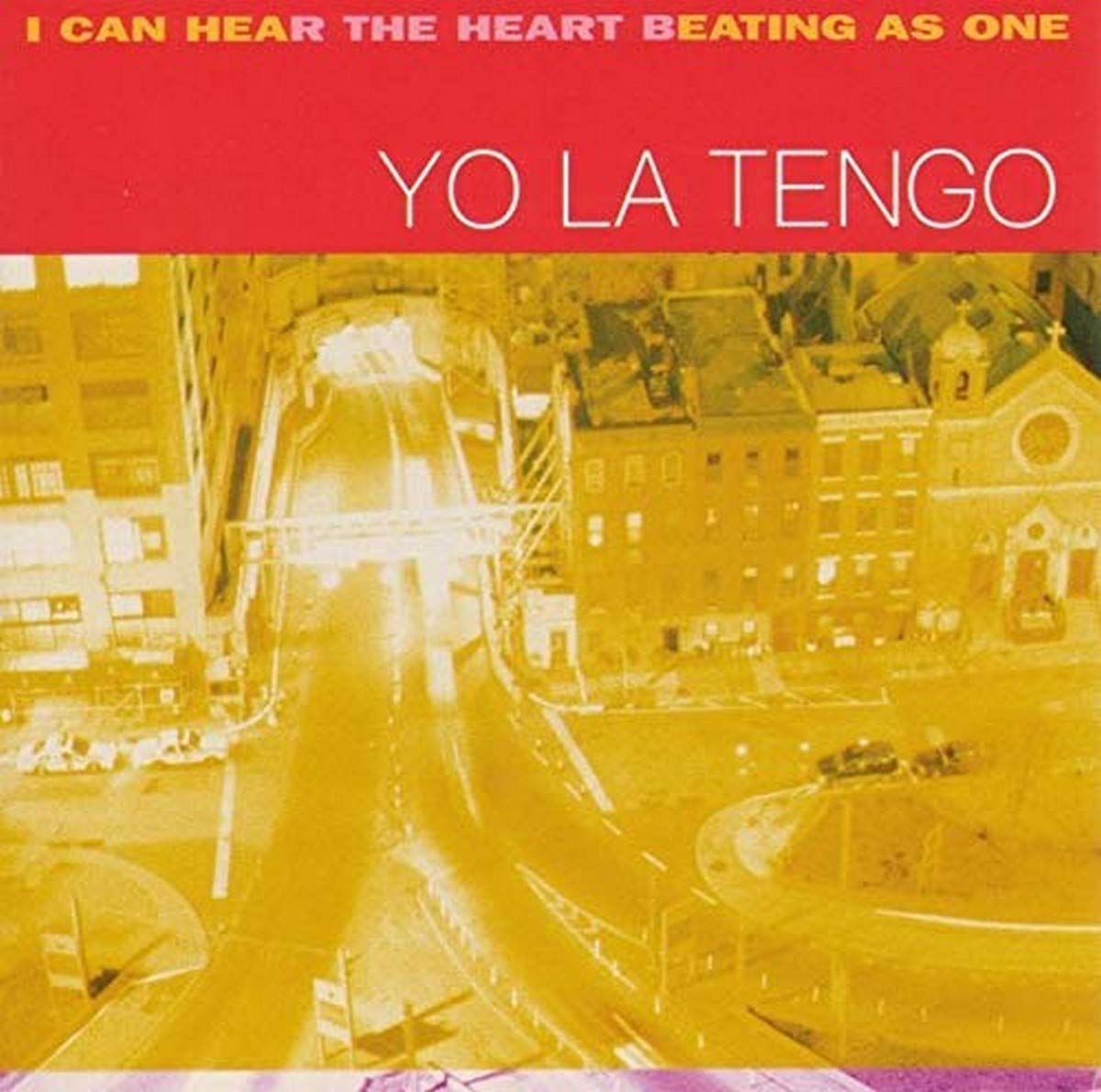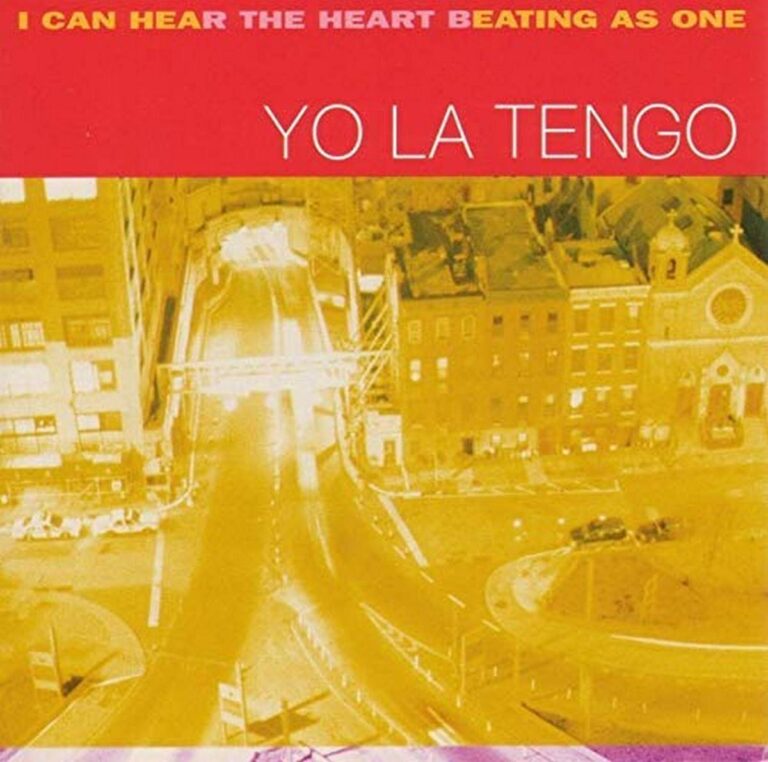 Yo La Tengo had been making gorgeous noise-folk records for more than a decade, but on their eighth album they opened up their sound, let down their guard, and turned their little corner of the world into a garden of indie-rock delights. Georgia Hubley reinvented herself as a funky drummer against a heavenly Farfisa on "Autumn Sweater." Ira Kaplan gave the Beach Boys' "Little Honda" a shiny new coat of feedback, and the two celebrated the giddy wonder of marriage on the Casio-tinged bossa nova "Center of Gravity." Loose, experimental, and sometimes downright groovy, I Can Hear the Heart Beating as One was makeout music for college-loan refugees from Olympia, Washington, to Athens, Georgia.
It was the result of this most insular band becoming "a little braver about revealing feelings and letting them come out in the music," according to Hubley. Yo La Tengo had been suggesting such ambition since 1990's Fakebook, but they delivered it here. "A lot of the things that our group has done over the years we've done to try to get over our shyness," Ira Kaplan says. "Maybe we did better at that on this record." JON DOLAN
79. Oasis, (What's The Story) Morning Glory? (Epic, 1995)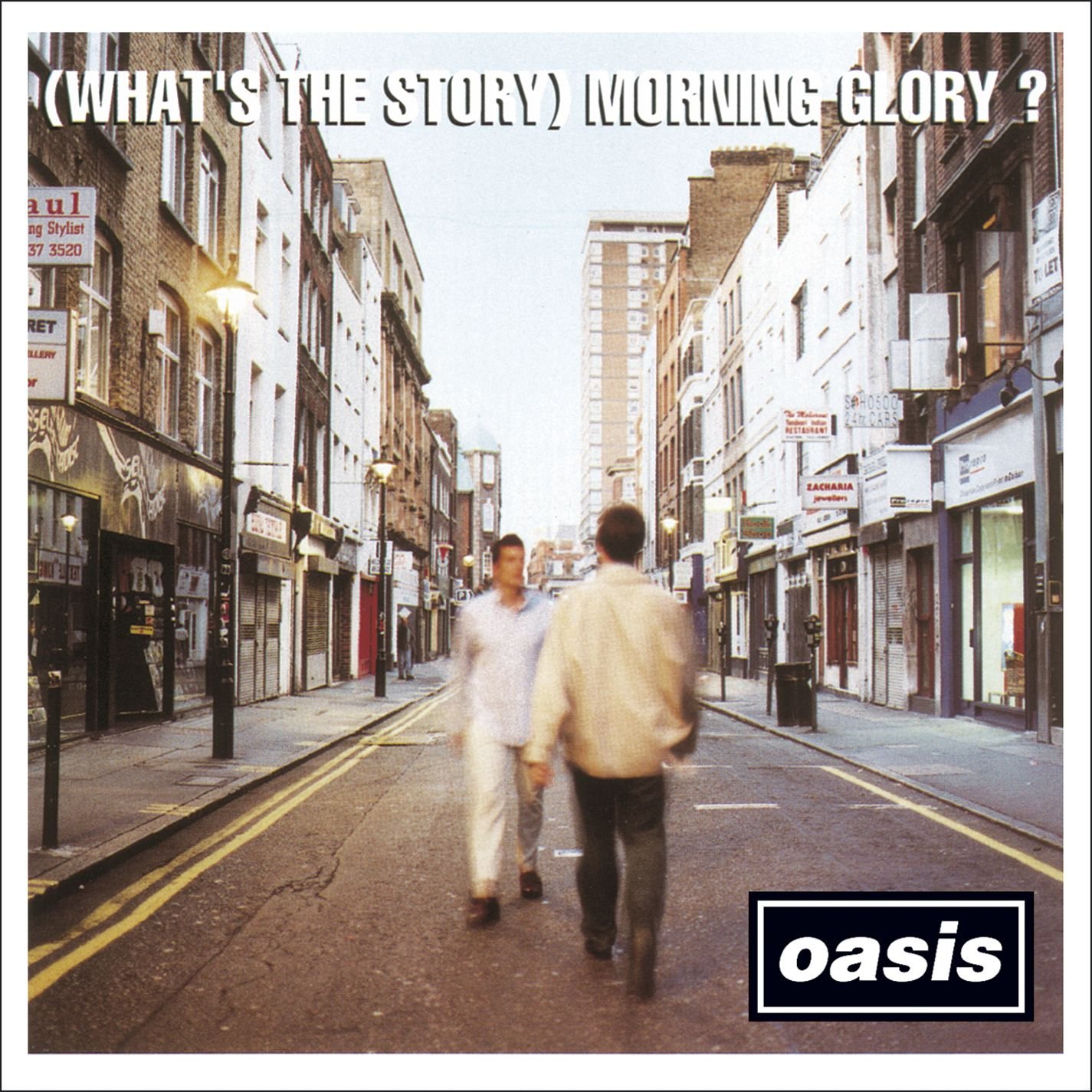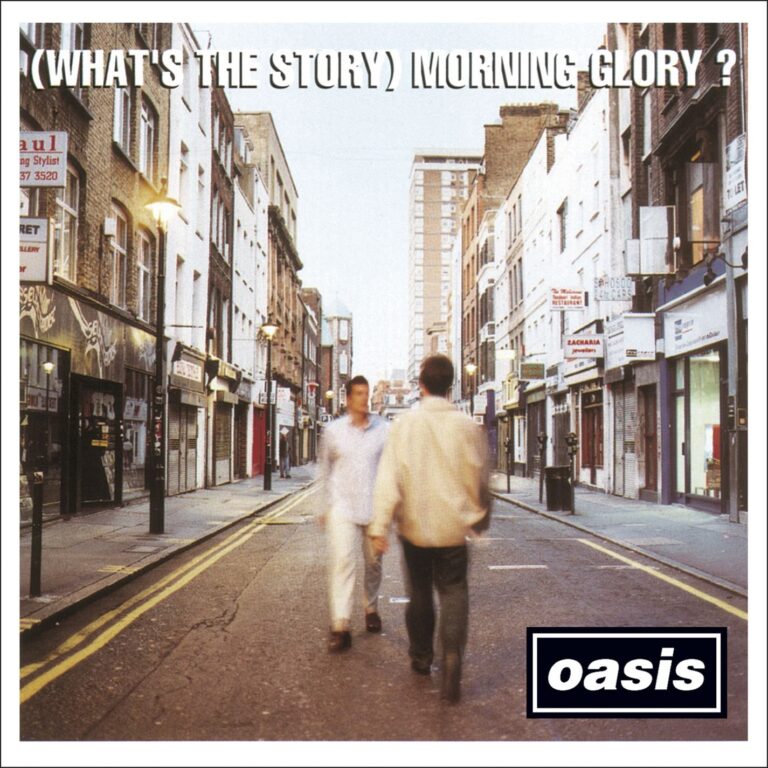 At a time when most British bands were awkwardly trying to become the new Nirvana, a surly Mancunian quintet decided to try to become the new Beatles. By the time Oasis went into the studio to record their second album, Definitely Maybe had become the best-selling debut in U.K. history, and the band's ego and production ambitions inflated accordingly. "'Champagne Supernova' went from an acoustic song to, like, fucking 'Stairway to Heaven," says Noel Gallagher. Though nearly all their new songs were anthemic, cocksure odes to fame and rock-star misbehavior, the title track went nowhere, and in America, Oasis were still playing clubs.
Until they released their next single. "People tell me that whenever they hear 'Wonderwall' it transports them back in time to when they first heard it, which is all you can ask for from a record," Noel says. "That and a big fucking car and house." Oasis got those, too—not to mention a backyard soccer field (Noel) and actress Patsy Kensit (Liam). They even found a multiplatinum audience in America when the earnest "Wonderwall" and then the plaintive "Don't Look Back in Anger" became MTV hits. By creating the definitive Britpop document, they also took rock's World Cup back to England—at least for a while. Says Ash's Tim Wheeler: "Suddenly, it was okay for a British guitar band to be British again." MARC SPITZ
80. Ice Cube, AmeriKKKa's Most Wanted (Priority, 1990)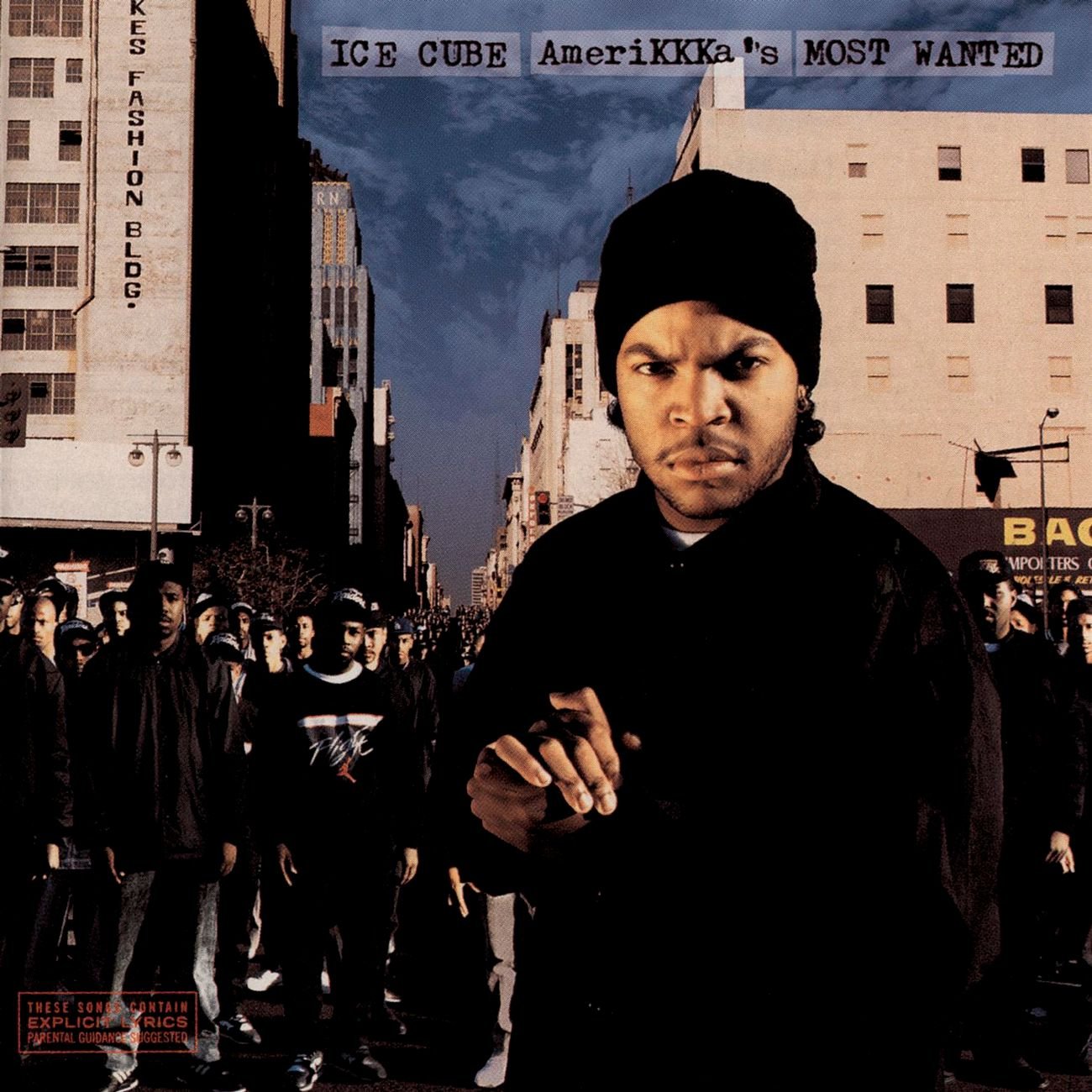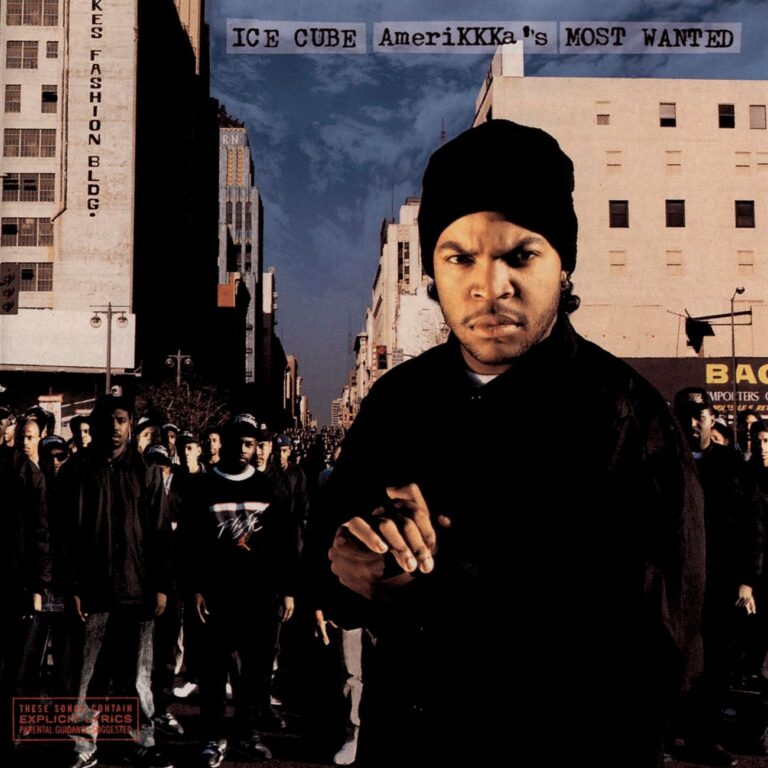 To the Bomb Squad's Eric "Vietnam" Sadler, the Ice Cube of AmeriKKKa's Most Wanted was an intense, thoughtful, personable guy with a heavy Southern accent and a relentless work ethic. To the rest of the world, the ex-N.W.A frontman was the n***a they loved to hate. With N.W.A, Cube's formidable storytelling ability enjoyed a sonic backdrop as incendiary as his rhymes. After an acrimonious split from the "world's most dangerous group," Cube hooked up with Public Enemy's legendary production team. "Dre had changed the game as far as the rugged street sort of vibe," says Sadler. "So we had to one-up them, and do the best work we had ever done."
The Bomb Squad and Cube's crew, Da Lench Mob, worked 20 hours a day for 26 days straight, trying to make sure Cube not only came with it, but came with it before N.W.A released their next single. The internal and external pressure produced a roiling, thunderous work that hits all the glandular response buttons—repulsing with violent misogyny ("You Can't Fade Me") and seducing with superliterary tales from the 'hood ("Once Upon a Time in the Projects"). "I know we're all addicted to sex and violence," Cube said in 1993, "but you've got to put some knowledge on top of that, so you can get the medicine you need to fight this beast we've got to fight." AmeriKKKa's "knowledge" is ugly at times—and on Cube's later albums, it turned dull and rote—but combined with the Bomb Squad's unparalleled production, it was frighteningly undeniable. TONY GREEN
81. Kristin Hersh, Hips and Makers (Sire/Reprise, 1994)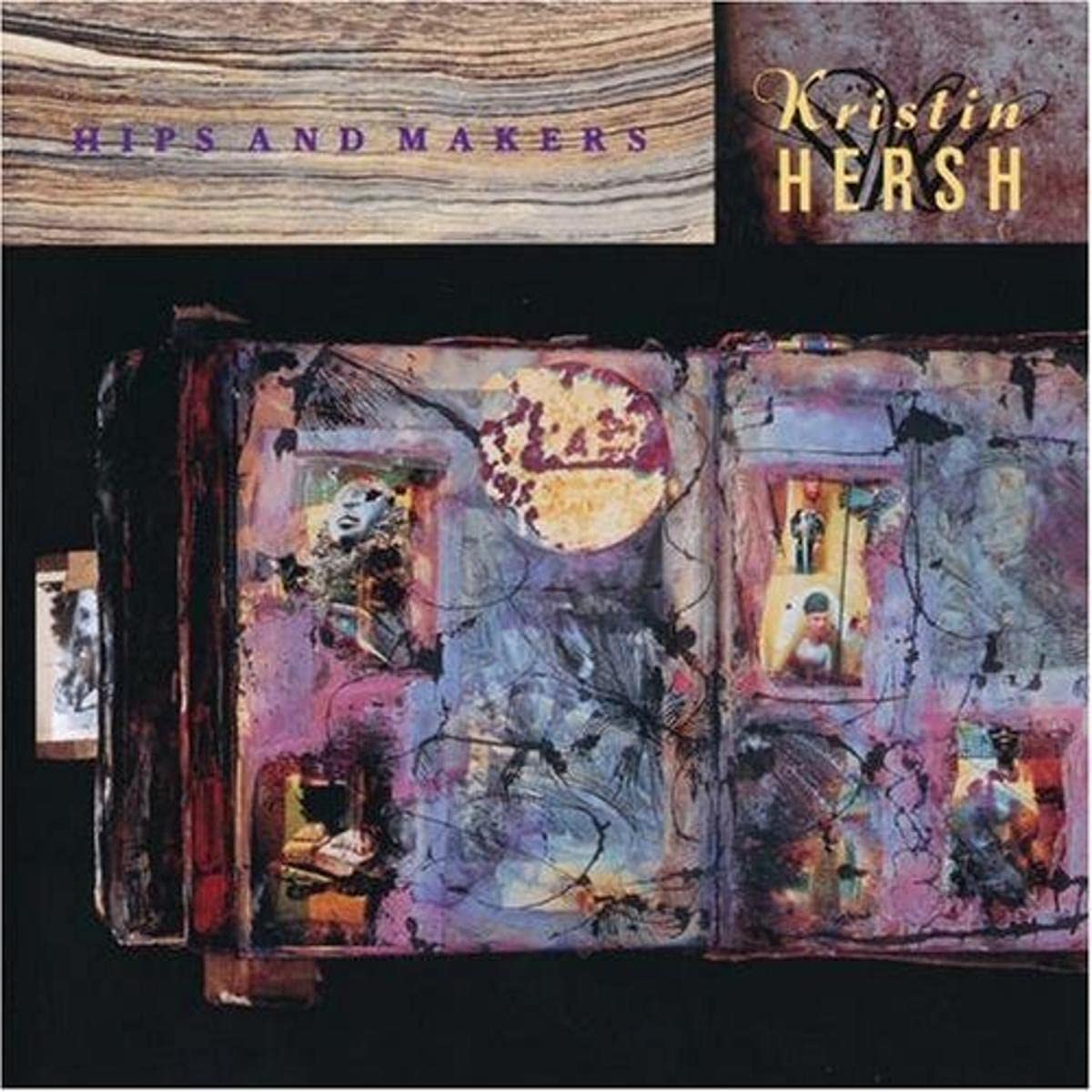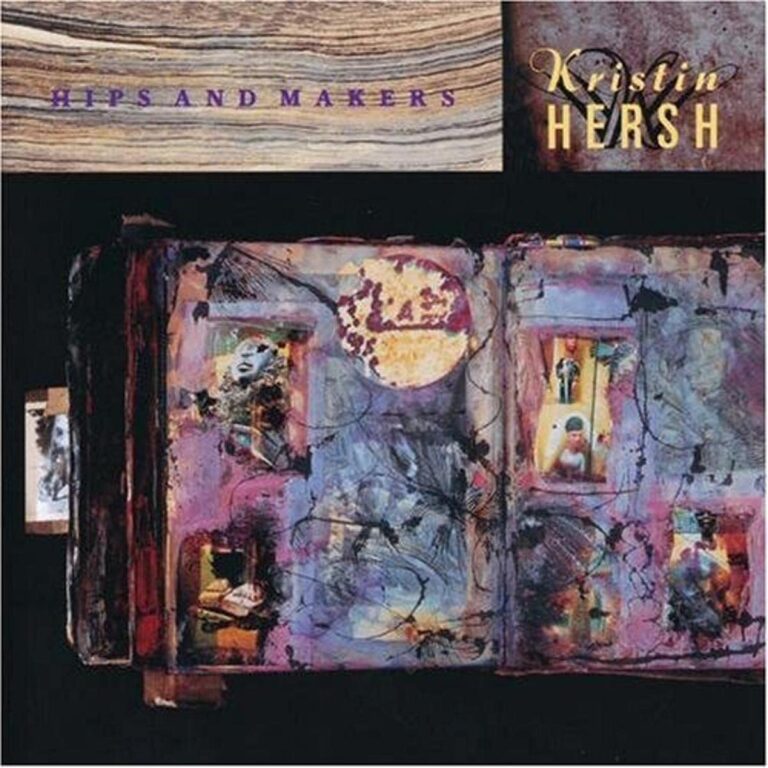 The solo acoustic debut of Throwing Muses frontwoman Kristin Hersh doesn't scream great album: It is too elusive, too often dazed by the confusion that attends everyday miracles such as love and motherhood. But that was also what so many listeners loved about the confessional pieces for guitar, cello, and vocals, produced by punk guru/Patti Smith sidekick Lenny Kaye. "I was worried it would seem obnoxious," says Hersh, who originally recorded the songs as a gift for her husband/manager Billy O'Connell. "Like: 'These are my thoughts and feelings, and you should pay me!' I was surprised anyone released it."
The single "Your Ghost," a breathtaking duet with Michael Stipe, featured chilling intuitive harmonies and a hypnotic melody. Says Sleater-Kinney's Corin Tucker: "Kristin opens the door to possibilities and just walks right through." Hips and Makers earned Hersh comparisons to pop priestess Joni Mitchell, but where Mitchell often uses words to create a critical distance from emotional chaos, the rock-bred Hersh was a gonzo war reporter trying not to get killed by her own story. KATE SULLIVAN
82. The Orb, The Orb's Adventures Beyond the Ultraworld, (Island, 1991)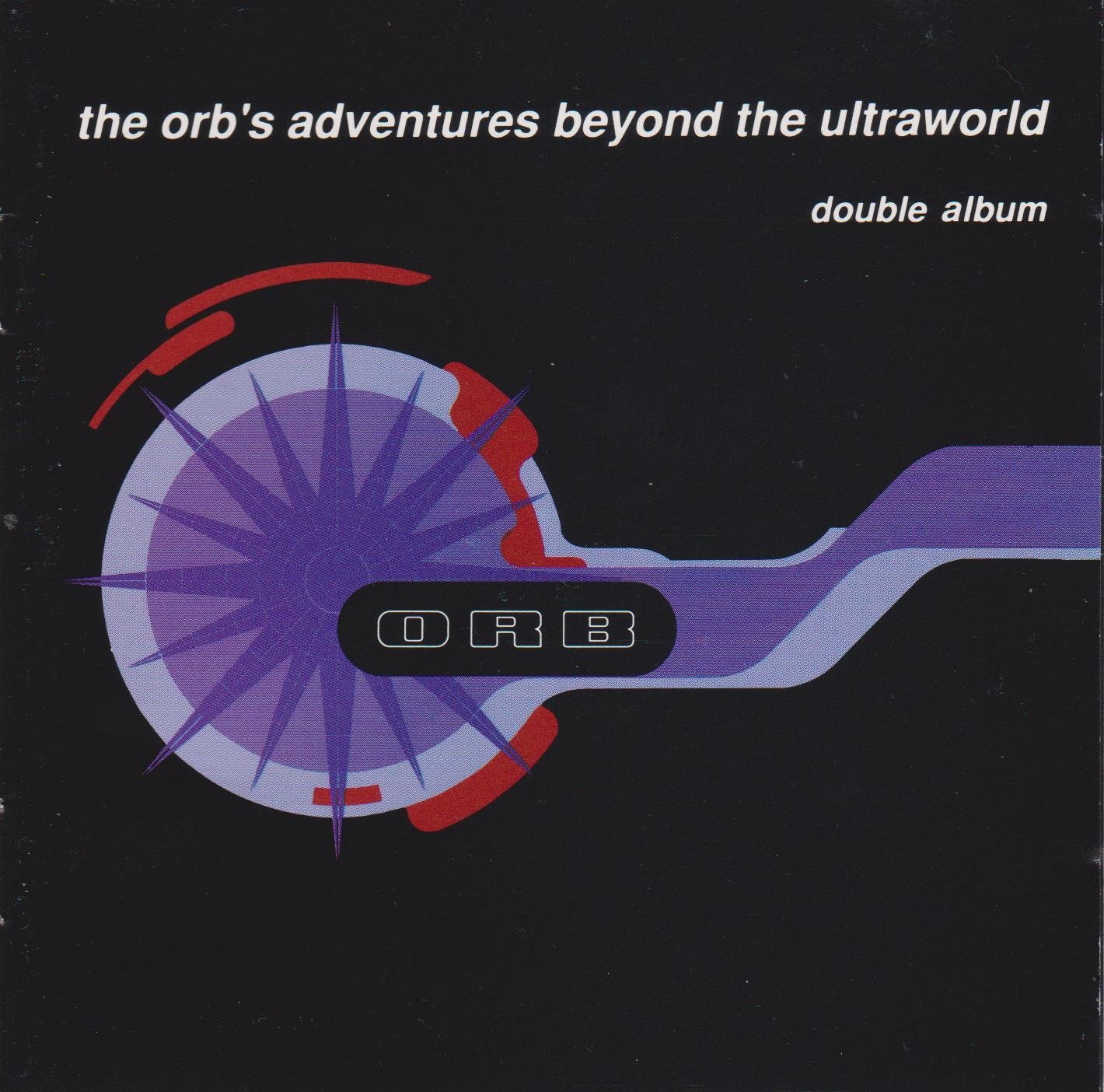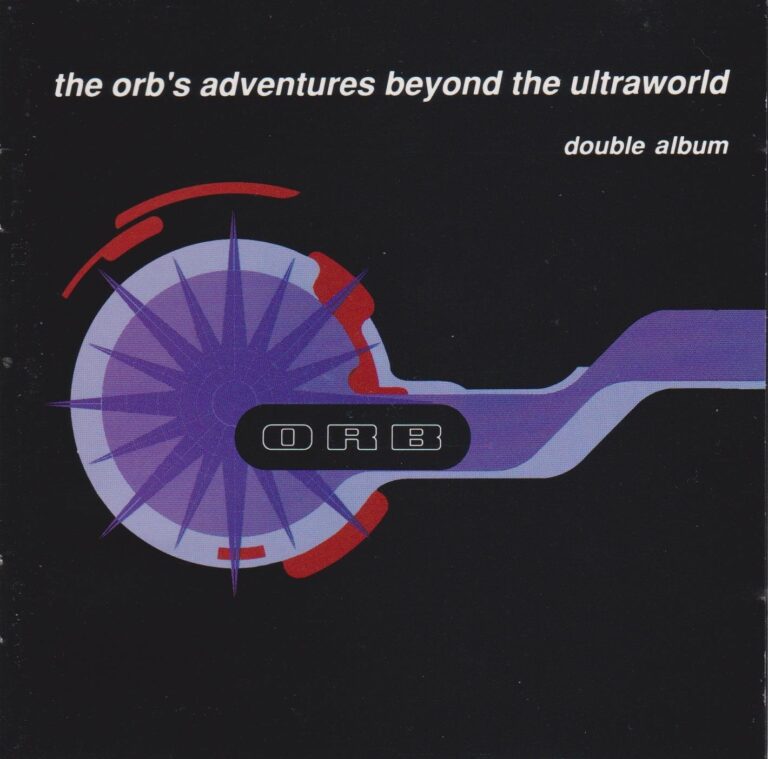 "Ambient house for the E Generation" or thinking-woman's disco—pigeonhole it as you like—the Orb's album debut (skip the single-disc version and go for the full double trip) is one serious chill pill, a harmonic convergence of found sounds, electro psychedelia, and reinvigorated ambience. Adventures Beyond the Ultraworld was produced and directed by Alex Paterson with KLF member Jimmy Cauty, and with help from hippie guitar-hero-turned-electro-shaman Steve Hillage. "I was an A&R man [at Brian Eno's EG Records] during the day, and at night, I DJed around town," says Paterson of the period when he was brewing the record. "It took me 29 years to collect all the sounds—radio shows, Indian flute noises, bird songs, waves, and everything else." Ultraworld's opening track, "Little Fluffy Clouds" (recently used in a VW commercial) turns a sound bite of Rickie Lee Jones ruminating on Arizona weather into a wide-screen couch-therapy session; its 18-minute closer, "A Huge Ever Growing Pulsating Brain That Rules From the Centre of the Ultraworld," uses the bubblegum-soul of Minnie Riperton's "Lovin' You" as a launching pad into hyperspace. Ultraworld is art at its most functional: It works equally well as both acid-peak booster rocket and as Prozac-ian relief from an ecstatic all-nighter. RICHARD GEHR
83. Raekwon, Only Built 4 Cuban Linx (Loud, 1995)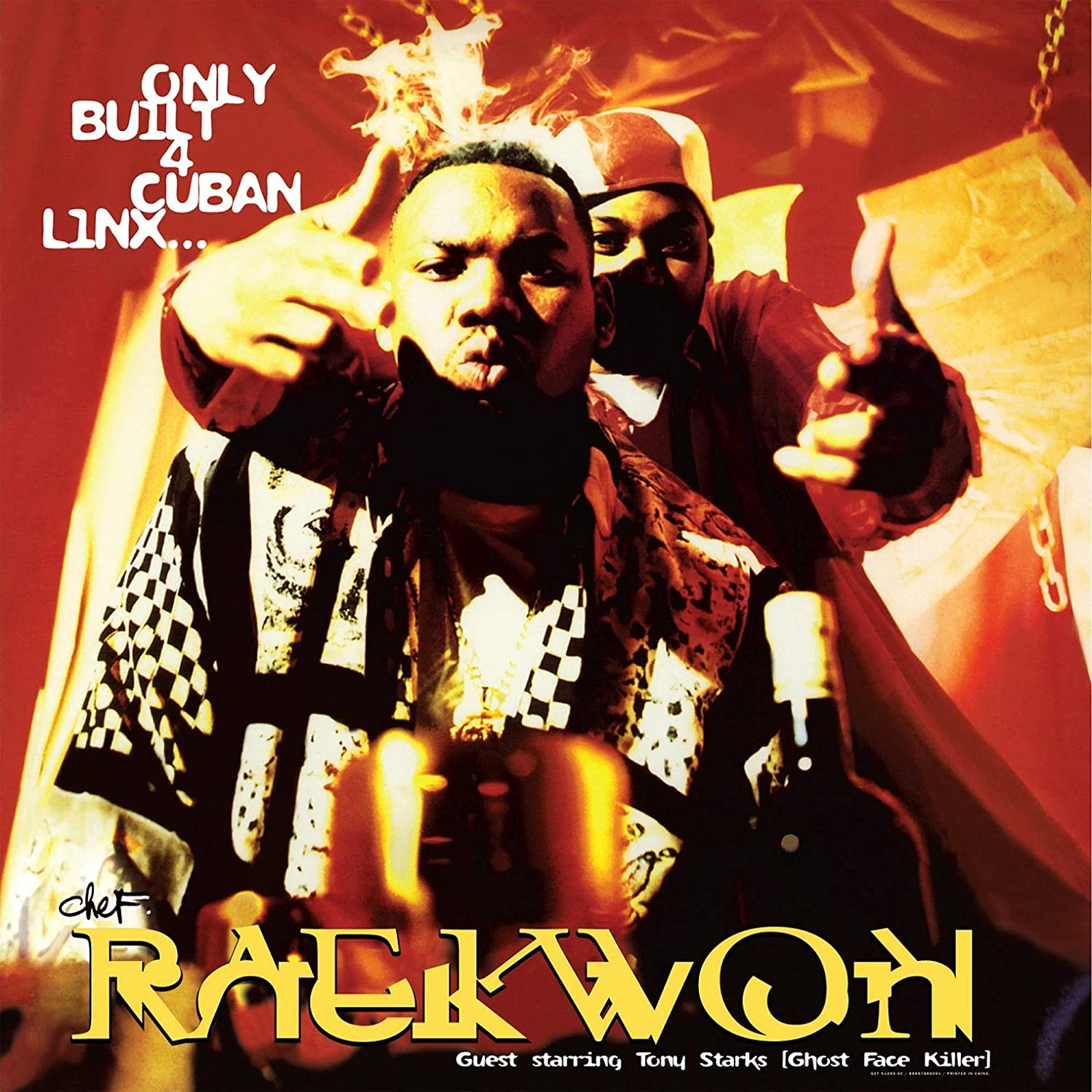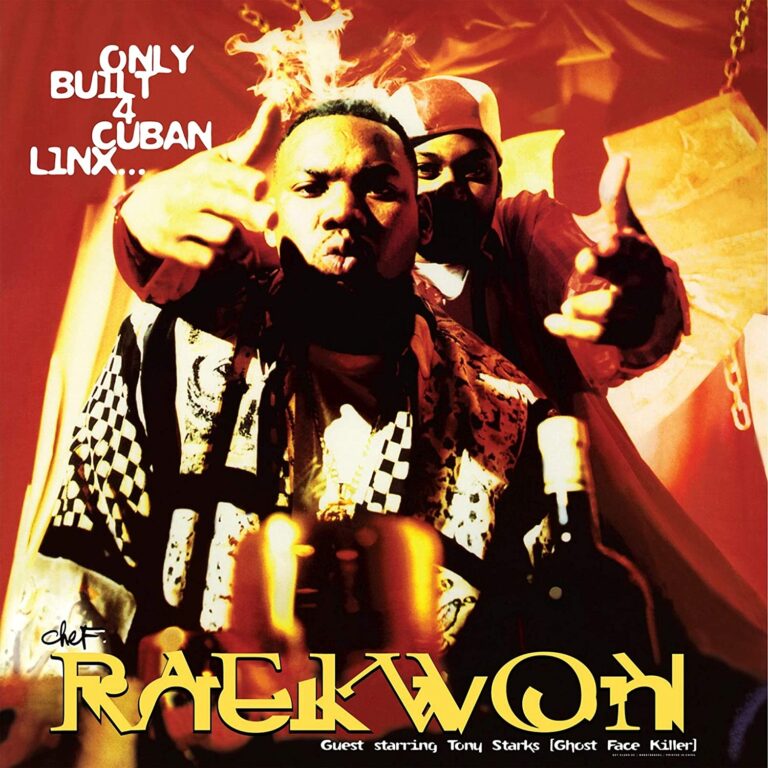 The greatest of all Wu-Tang Clan solo efforts, Raekwon's hard-core platter was far ahead of hip-hop's conceptual curve, tapping the music's potential for epic, cinema-scale crime drama. Only Built 4 Cuban Linx also set off a Cristal-popping, Mafia-nickname craze that's still being abused by fleets of lesser rap dons. Liberal samples of dialogue from John Woo's shoot-'em-up The Killer provide an effective narrative framework for this collection of abstract underworld-yarns-meet-5 Percent Nation-manifestos—particularly the adrenaline-pumping "Incarcerated Scarfaces" and the beautifully melancholic "Rainy Dayz." Meanwhile, RZA's most orchestral production ever fleshes out each scene with terse strings and minor-key piano. "Basically, it's a big-boy tape," Rae said in 1995. "You gonna respect it either way—on some tracks it'll be 'I like the music,' on others it'll be 'I like the lyrics.'" A half-million fans apparently favored both. "It was one of the most inspirational albums to me ever," says Nas, who made a song-stealing appearance on "Verbal Intercourse." "That album gave you the lifestyle, the mind state, the persona—the whole science—behind a street nigga in the early '90s." CHAIRMAN MAO 
84. Lisa Germano, Geek the Girl (4AD, 1994)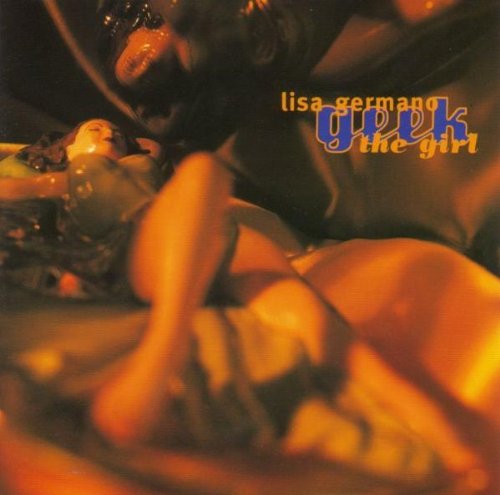 Lisa Germano's third release, 1994's Geek the Girl, is quietly devastating. Recorded on four-track in her Bloomington, Indiana, apartment, it chronicled the depths of fear—and romantic hope—with dark humor and biting clarity. "I wanted it to be a fun record about the silly things girls do, but instead I went where the songs took me," says Germano, who served time as a fiddle player for both John Mellencamp and Bob Seger. Unfortunately, Geek was overshadowed by the more aggressive grrrl rock of the moment—see Courtney Love's retributional "fuck you" and Liz Phair's ability to "take full advantage of every man" she met. On Geek, Germano was the one taken advantage of, channeling her resultant rage into discomfortingly pretty songs like "Cry Wolf" ("A change of mind in that backseat or dirty room / They say she got just what she wanted.") and "A Psychopath," where she samples a 911 call while numbly singing, "That thing of mace, where did I leave it?" Far too intense for casual listeners, it's one of the decade's most painfully honest releases. "Geek's just one of those records you put on and it's so natural," says Giant Sand's Howe Gelb, who later worked with Germano on her side project, OP8. "You don't fight it. It just sinks into your skin. Some may find it depressing. But that's because it's pushing their buttons—and revealing things they don't want to see." LORRAINE ALI
85. Various Artists, Macro Dub Infection Volume I (Caroline/Virgin, 1995)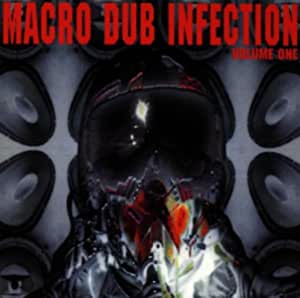 "Dub was really the first form of techno music," says champion dub producer Mad Professor. "[Originators like] King Tubby and Lee Perry were pushing overdoses of reverb, high levels of echo, EQs that were extreme." No album shows the long-ranging influence of Jamaican dub better than Macro Dub Infection, a sprawling two-CD compilation that bumps post-rockers like Tortoise and trip-hoppers like Tricky up against Old School loyalists like Mad Professor and Rootsman. The result is a bass-mad, three-dimensional bad trip that reaffirms the '90s as the decade when low-end theory became fact. The bulk of Macro Dub is computer-savvy, but it preserves the free-wheeling spirit of '70s dub. Tortoise's John McEntire says his band cranked out "Goriri," a remix of their own song "Gamera," overnight. "If we had had more time, it probably would have come out less interesting. But I guess that's sort of in the tradition." JEFF SALAMON
86. Dr. Octagon, Dr. Octagon (Bulk, 1996/Dreamworks, 1997)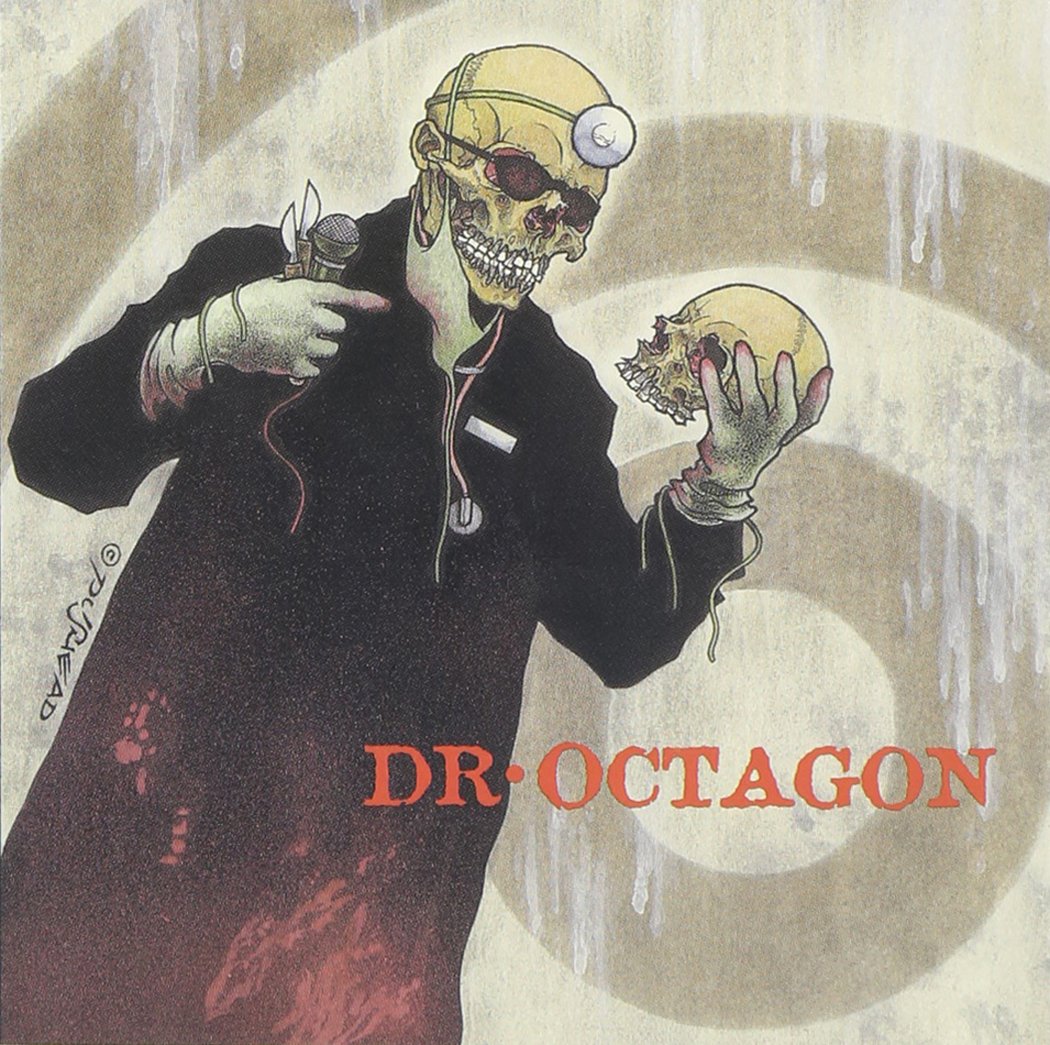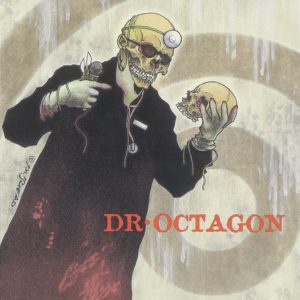 One of the most bizarre hip-hop albums ever made, this collaboration between eccentric Ultramagnetic MC rapper Kool Keith and San Francisco producer Dan "The Automator" Nakamura (with scratching from Invisibl Skratch Piklz turntablist Q-Bert) arrived with the stealth and unreality of an alien visitation—complete with anal probe. Part stand-up comedy routine, part downtempo groove workout, this concept album about the misadventures of a Jupiter-born gynecologist leaves butts wiggling and brains scrambling as listeners try to figure out exactly what to make of Keith's stream-of-subconsciousness flow ("Paramedics FedEx your legs with eggs you can hatch / Can't finetooth a dead ex but the skin don't match"). "It was an album that let you get off all your left-field verses that didn't make sense," says Keith.
Dr. Octagon's innovative backing tracks came courtesy of the Automator, who watched such films as the gross-out horror parody Dead Alive for inspiration. The result is a crazy-quilt of sci-fi soundscapes, from the Mantronix-like machine vibe of "Earth People" to the classical violin cascades of "Blue Flowers." "People often characterize Octagon as a very futuristic record," says the Automator, "but I look at it as a throwback to the era [in hip-hop] when people would try anything." MIKE RUBIN
87. Everything but the Girl, Walking Wounded (Atlantic, 1996)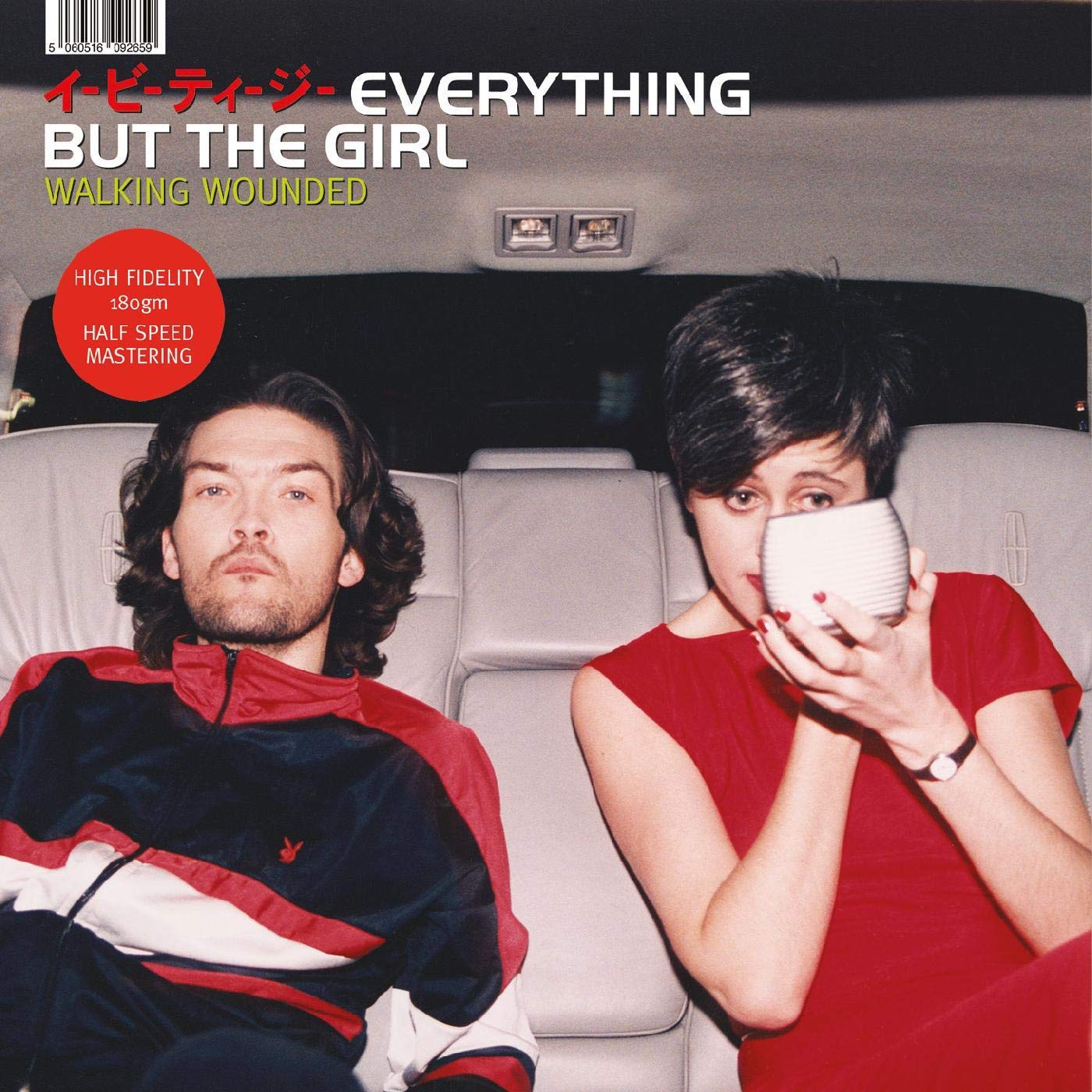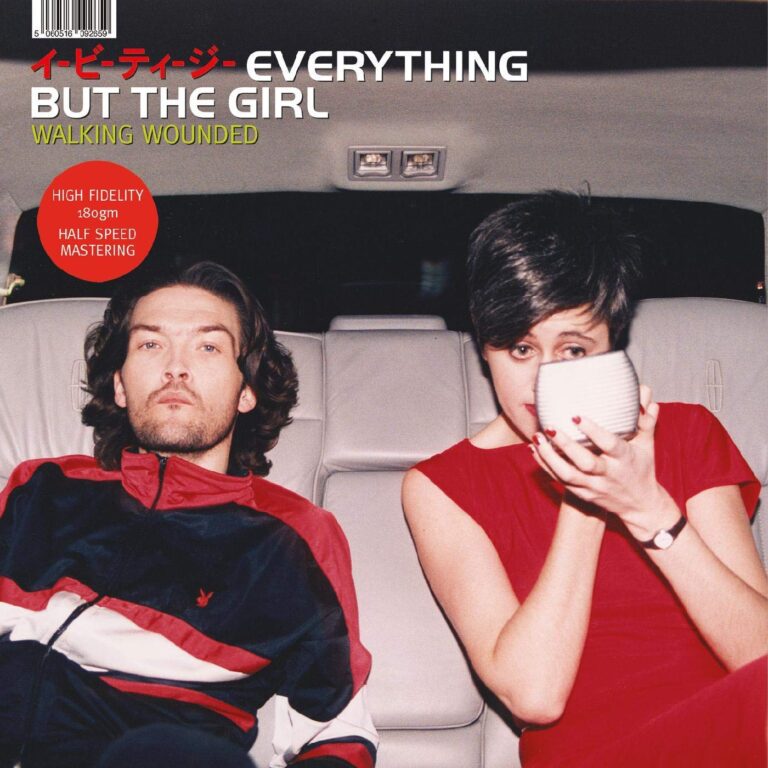 It took a personal nadir for Everything but the Girl to reach their creative zenith on the aptly titled Walking Wounded. Songwriter/producer Ben Watt and vocalist Tracey Thorn were on the verge of being dropped by their label; at the same time, Watt was locked in a death match with Churg-Strauss syndrome, a rare autoimmune disease. He survived, after four brutal operations and the loss of 80 percent of his intestines. "You don't come through a thing like that without being changed in some way," Watt says.
You can hear that transformation on Walking Wounded. Reinvigorated by the success of house maestro Todd Terry's remix of their 1994 single "Missing," Watt approached Wounded with a DJ's mindset. "I can remember being really excited about drum 'n' bass," he says. "I was going to clubs like Speed and getting into a lot of the early Metalheadz music." Watt enlisted Spring Heel Jack and Howie B. to help him produce, but he learned quickly and finished most of the record's tracks himself. "I feel what Ben was doing," jungle overlord Roni Size says. "You could just hear his relationship with Tracey Thorn growing and growing." The end result: a classic that bridged the gap between plaintive pop and electronic music more elegantly than any other album of its time. ANDY GENSLER
88. Neutral Milk Hotel, In The Aeroplane Over The Sea (Merge, 1998)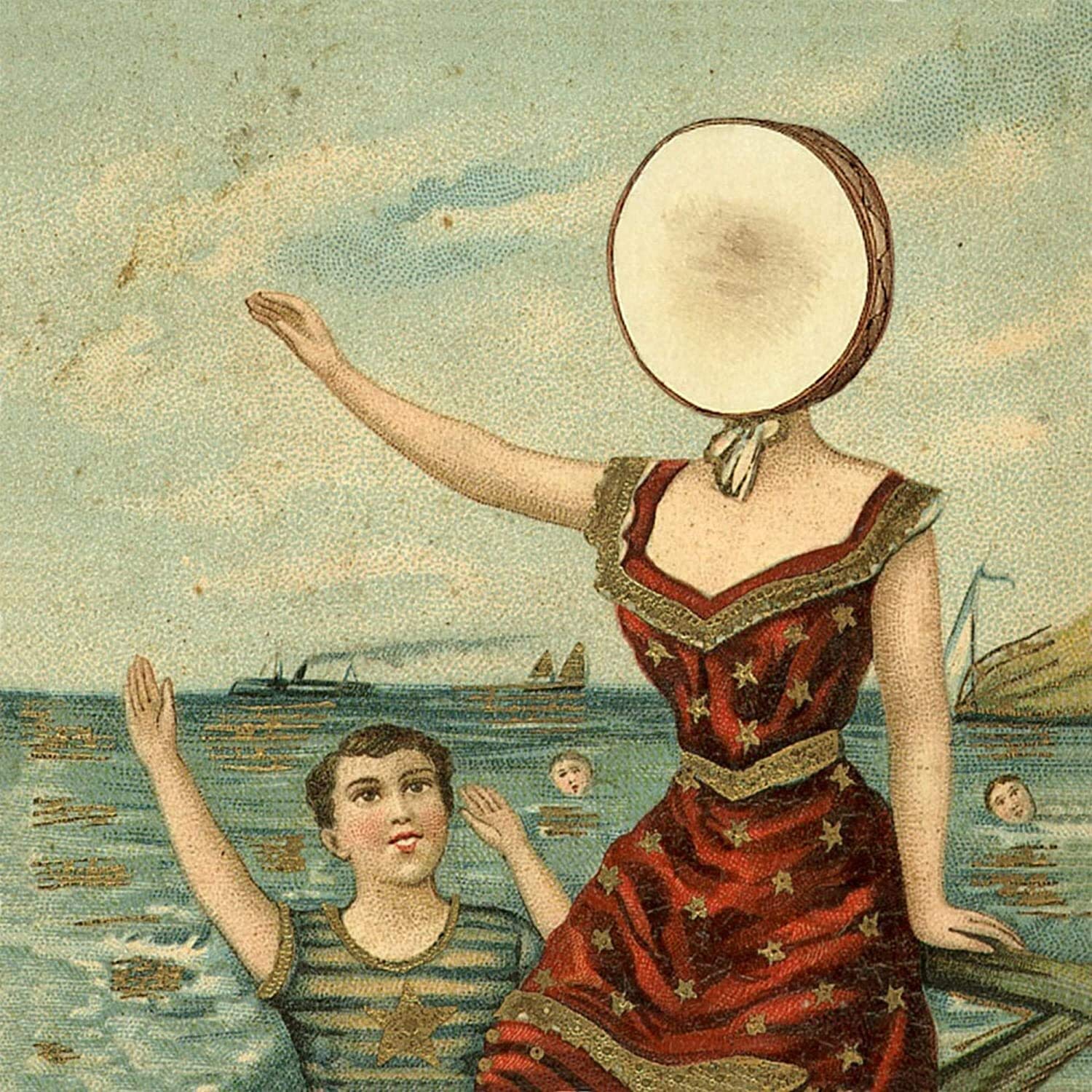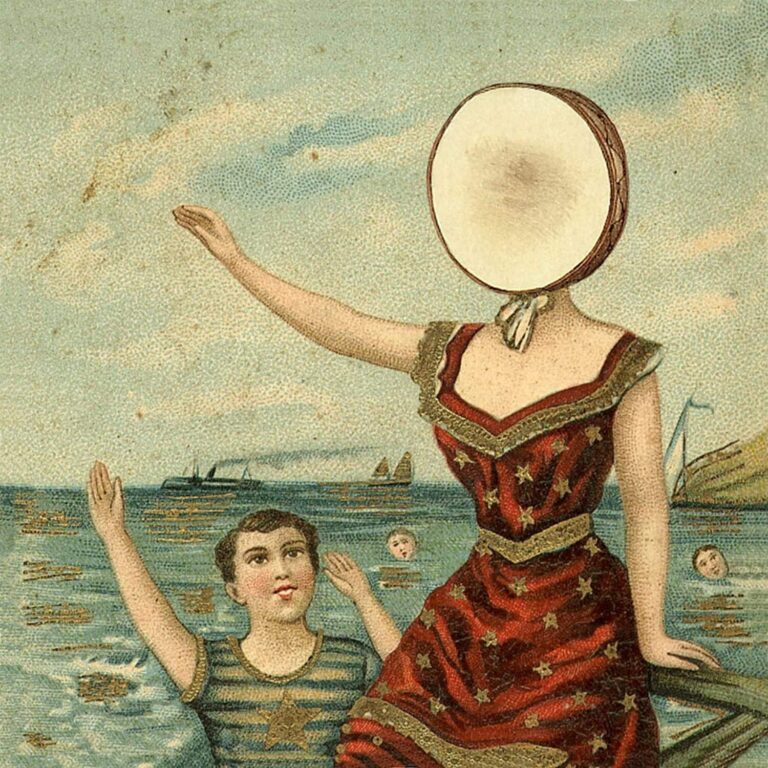 "I love you, Jesus Christ"—a line that rattles your stereo speakers near the outset of In the Aeroplane Over the Sea—isn't a sentiment often associated with indie rock. But perhaps more than any other singer of late, Neutral Milk Hotel's Jeff Mangum possesses pipes you can believe. "He's a vocal poet with such eloquent delivery that every verse is like a painting," rhapsodizes Phil McMullen, editor of the psychedelic culture zine The Ptolemaic Terrascope.
If that's the case, then Aeroplane is like Brueghel via Norman Rockwell. A Whitman's Sampler of music that engages the pathology of faith, the album moves from Salvation Army brass to spinning-room folk, with a little punk thrown in. While atypical, it may stand as the finest record to come out of the Elephant 6 camp, the aggregation of Southern bohos that includes Olivia Tremor Control and Apples in Stereo. "I relate more to the Zen Buddhist train of thought than anything else," Mangum says of his spiritual bent, adding that his personal quest has little to do with rock stardom. "I may not make another record for another decade. There's no point in making a career out of this." D. STRAUSS
89. Prince Paul, A Prince Among Thieves (Tommy Boy, 1999)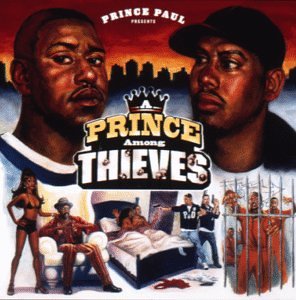 Long after he helped introduce the hip-hop skit during his trailblazing work with De La Soul on Three Feet High and Rising, producer "Prince Paul" Huston created the most ambitious narrative effort of the hip-hop era: an album-length drama recounting the tragicomic travails of an up-and-coming MC and his brutal introduction to the music industry. The soundtrack to an as-yet-unfilmed movie, A Prince Among Thieves also succeeds as a collection of memorable Old School-flavored tunes. Says hip-hop producer Dan "The Automator" Nakamura, "It's the first record I've ever heard that reminds me of the little Superman records I had as a kid, where it would beep and you'd turn the page."
While Prince boasts a supporting cast that includes Big Daddy Kane, Everlast, and Kool Keith (who took the Method-acting approach to his part as a weapons dealer, arriving at the studio armed with gun magazines), there was one performer Paul coveted but was unable to secure: Vanilla Ice. "I called up his manager," Paul says, "and he was, like, 'Oh, sounds great,' and then never called me back. I would have given Ice a real dope rhyme over an incredible beat…so that people would have thought he was actually really, really good." Later, when Paul watched Ice spin his tale of woe on VH1's Behind the Music, he couldn't help but laugh. "Man, come on, it wasn't that pitiful—I was trying to give him work." MIKE RUBIN
90. Cibo Matto, Viva! La Woman (Warner Bros., 1996)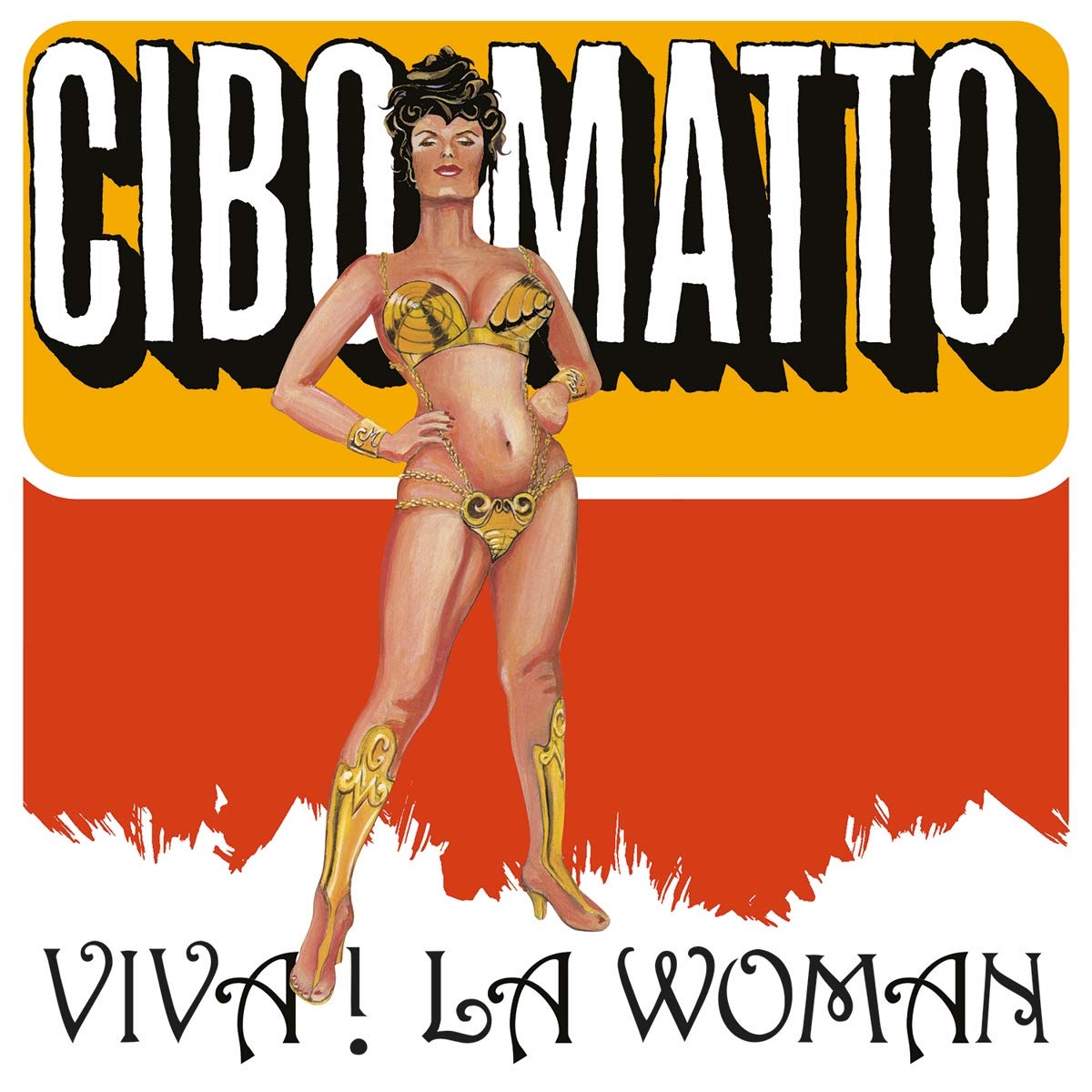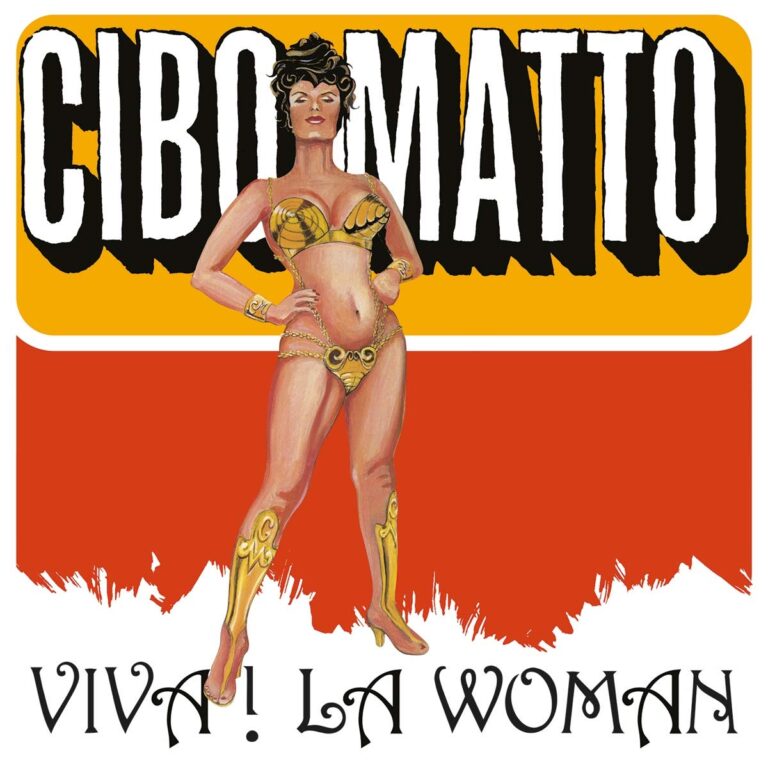 Cibo Matto's debut seemed to spring from nowhere (Italy? Japan? New York?), yet it bore recognizable markings: hip-hop beats, piquant samples, ESL food poetry, and girl-power signifying that suggested superhero Venusians who'd learned to smoke from the Beastie Boys. In fact, Miho Hatori and Yuka Honda were Japanese transplants to the East Village who had consumed everything from riot grrrl to Brazilian jazz and Yoko Ono while concocting their own mastermix. Says Tim Carr, the A&R man who signed them to Warner Bros.: "Their music reminded me of Nabokov in the U.S. in the way they came here and conquered American pop music in a way nobody who had it as their first language would." And like Björk, Cibo prove technology and female intuition can groove together, yin-yang-style. "Viva! La Woman has that element of Miho and I sitting in our living room and talking very privately," Honda says. "We wanted to celebrate the womanhood." KATE SULLIVAN
The post The 90 Greatest Albums of the '90s appeared first on SPIN.