Founded in 2014, Graduate Hotels is a relatively new chain, with 30 locations across the U.S. in college and university cities. Curious to see what this group of hotels was all about, I decided to take a quick getaway and stay at one of three locations close to my home in Baltimore: the Graduate Charlottesville in Virginia.
For more TPG news delivered each morning to your inbox, sign up for our daily newsletter.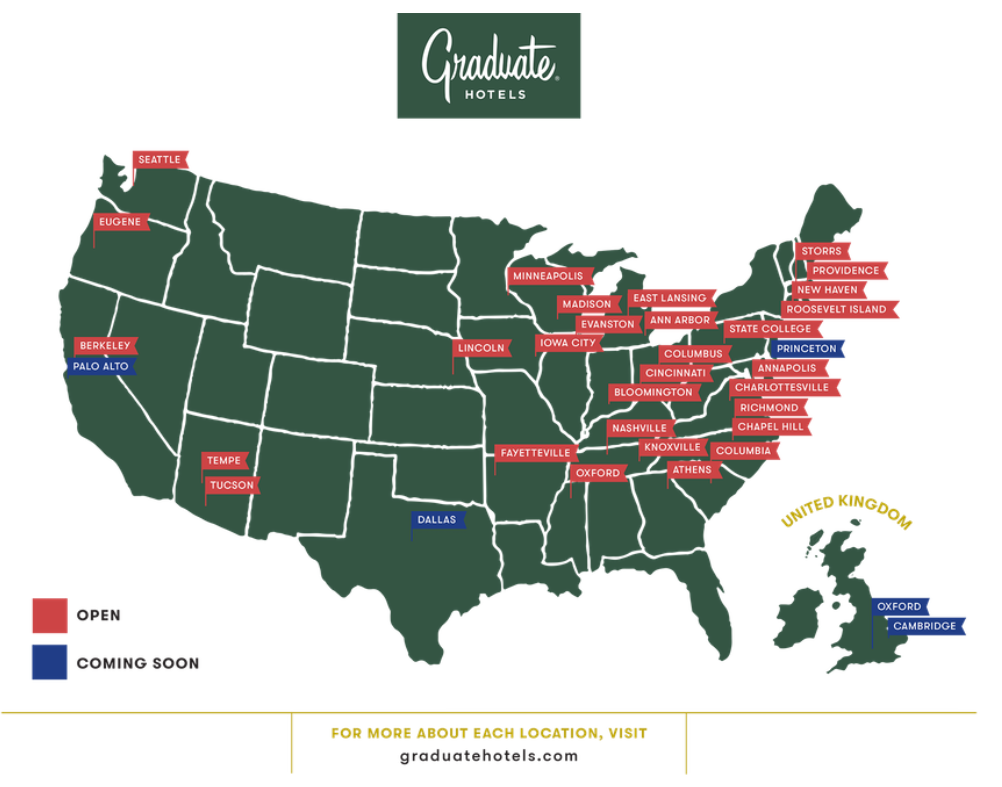 Quick take
One of the dozens of properties "where the school of life meets your favorite place to stay," according to the brand, the Graduate Charlottesville draws inspiration from its location in Charlottesville, Virginia, and its proximity to the University of Virginia campus.
The decor is an interesting mix of tweedy patterned fabrics from the 1950s, retro-inspired furnishings, vintage University of Virginia pieces and old-school art from the 1700s to the 1950s — all of which tastefully push the college-days theme. While the property lacks some of the amenities you might expect to find, like a formal restaurant, it offsets that with a few quirky touches, such as a game room with Colonial figures flanking a neon sign that reads, "We are all students."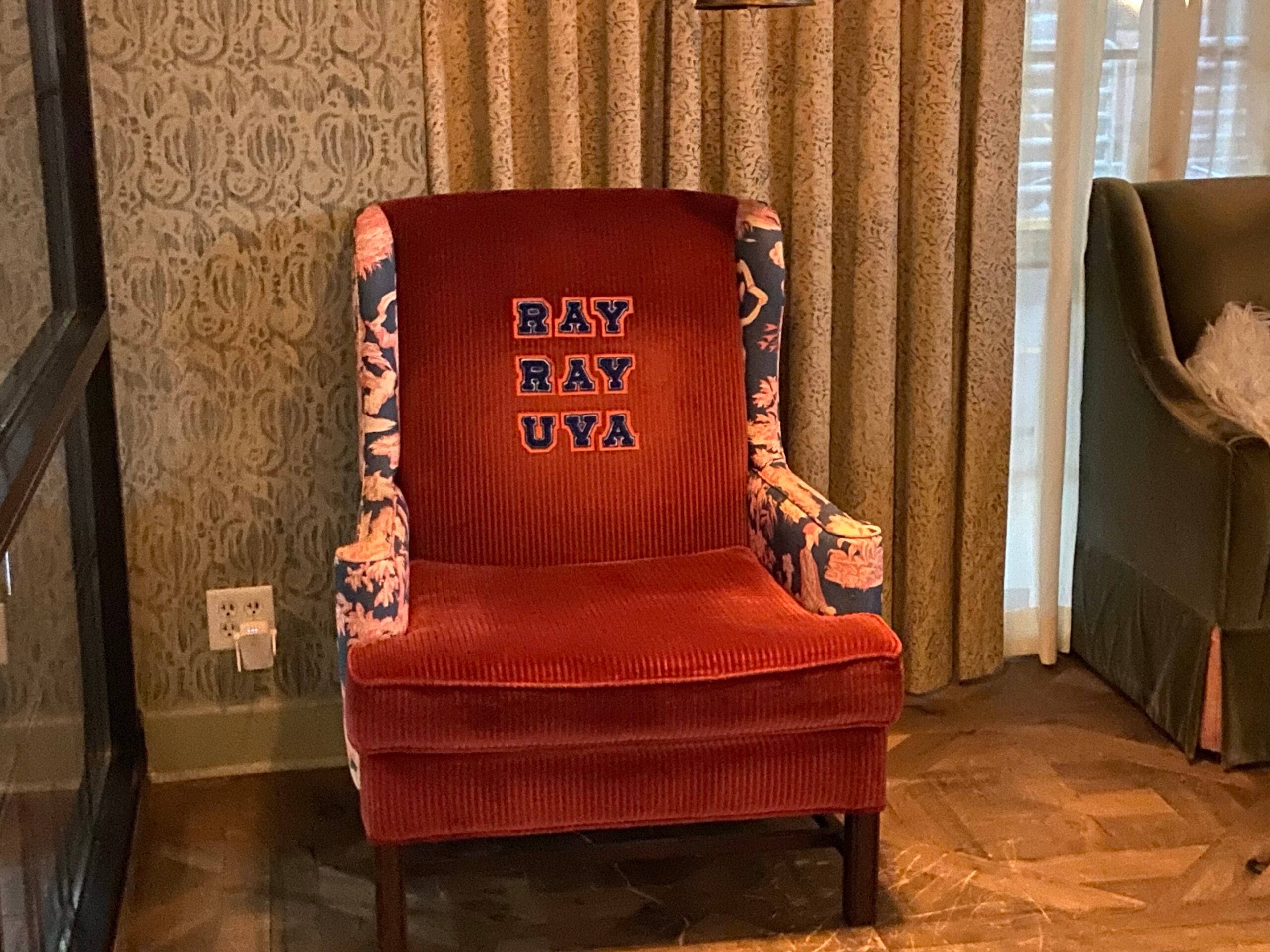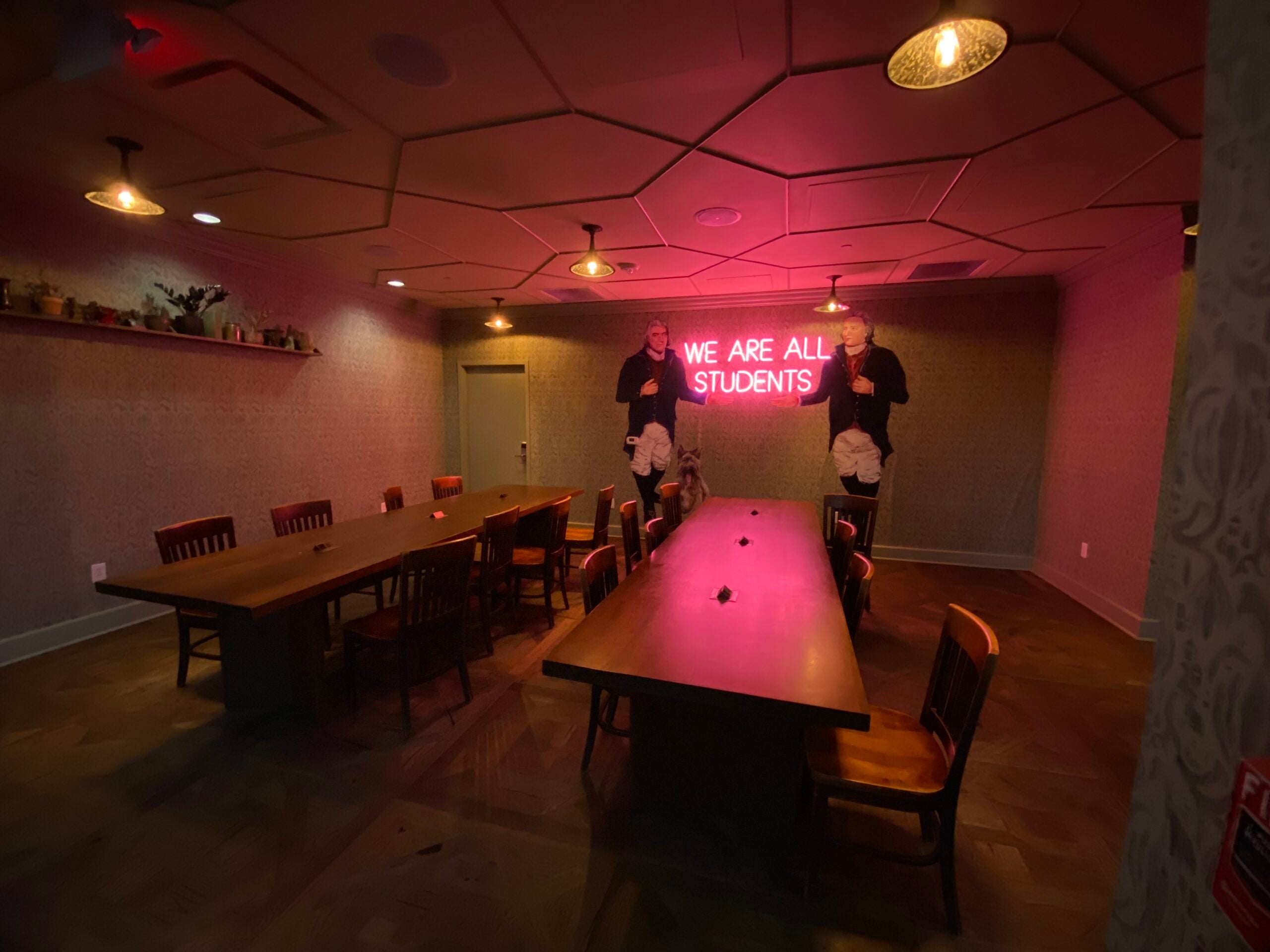 Getting there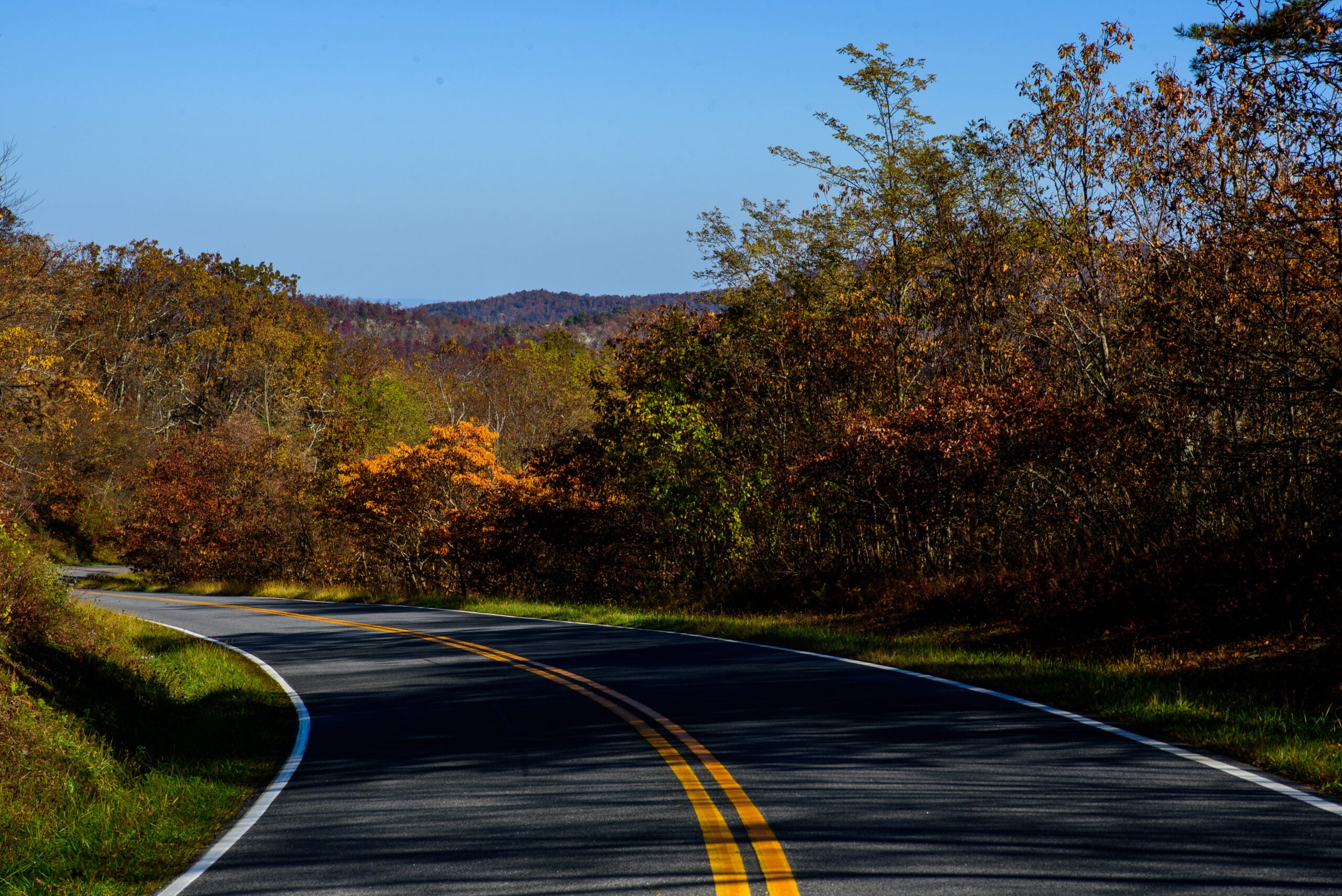 The Graduate Charlottesville is located just west of downtown at the eastern edge of the University of Virginia campus.
It's easiest to reach by flying into Charlottesville-Albemarle Airport (CHO), which is served by American Airlines, Delta Air Lines and United Airlines. You can also visit before or after a side trip to Washington, D.C.
If you decide to fly into Washington Dulles International Airport (IAD) or Ronald Reagan Washington National Airport (DCA) and spend some time in the capital first, you can rent a car and drive to Charlottesville, which sits less than three hours southwest. Or, you can take Amtrak — the Northeast Regional and Crescent lines, which stop in Charlottesville, run a couple of times a day from D.C.'s Union Station to the Charlottesville station. The journey by rail takes about the same amount of time as it does to drive.
I chose to drive from Baltimore because it's only three hours away, though my trip took a little longer since I was visiting in autumn and decided to take the back roads to check out Virginia's spectacular fall foliage.
Related: Road trips
Booking details
Booking one of the hotel's 134 accommodations was pretty straightforward. I chose a standard room with two queen beds, though there are also rooms on higher floors, as well as a few suites. Rates for my two-queen room start at $278 a night in spring; however, weekend rates can be twice as expensive in fall when it's peak leaf-peeping season and the University of Virginia football team is playing at home. This was the case during my fall stay, so I paid $552 per night, including taxes and fees.
If you drive there and choose to park at the property, you'll also have to allot $18 per day for valet parking. There is a $35 a day pet fee for those bringing their four-legged friends.
Those obsessed with hotel loyalty programs will be disappointed to learn that the Graduate chain does not participate in one. However, it does offer seasonal promotions. Since I couldn't use points at this property, I chose to pay for my room with The Platinum Card® from American Express so I would get 5 points per dollar spent on the room.
Related: How to choose a hotel loyalty program
Standout features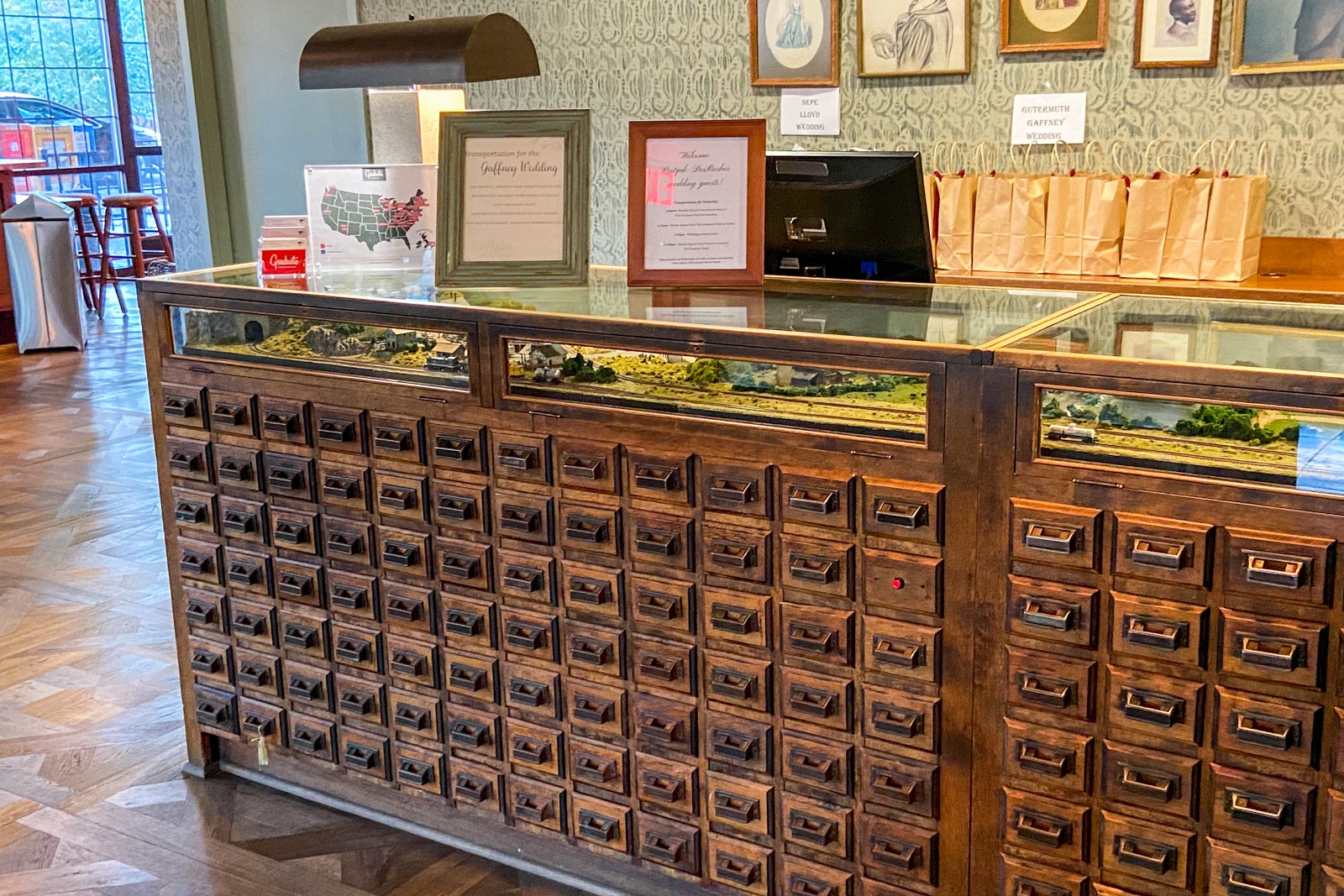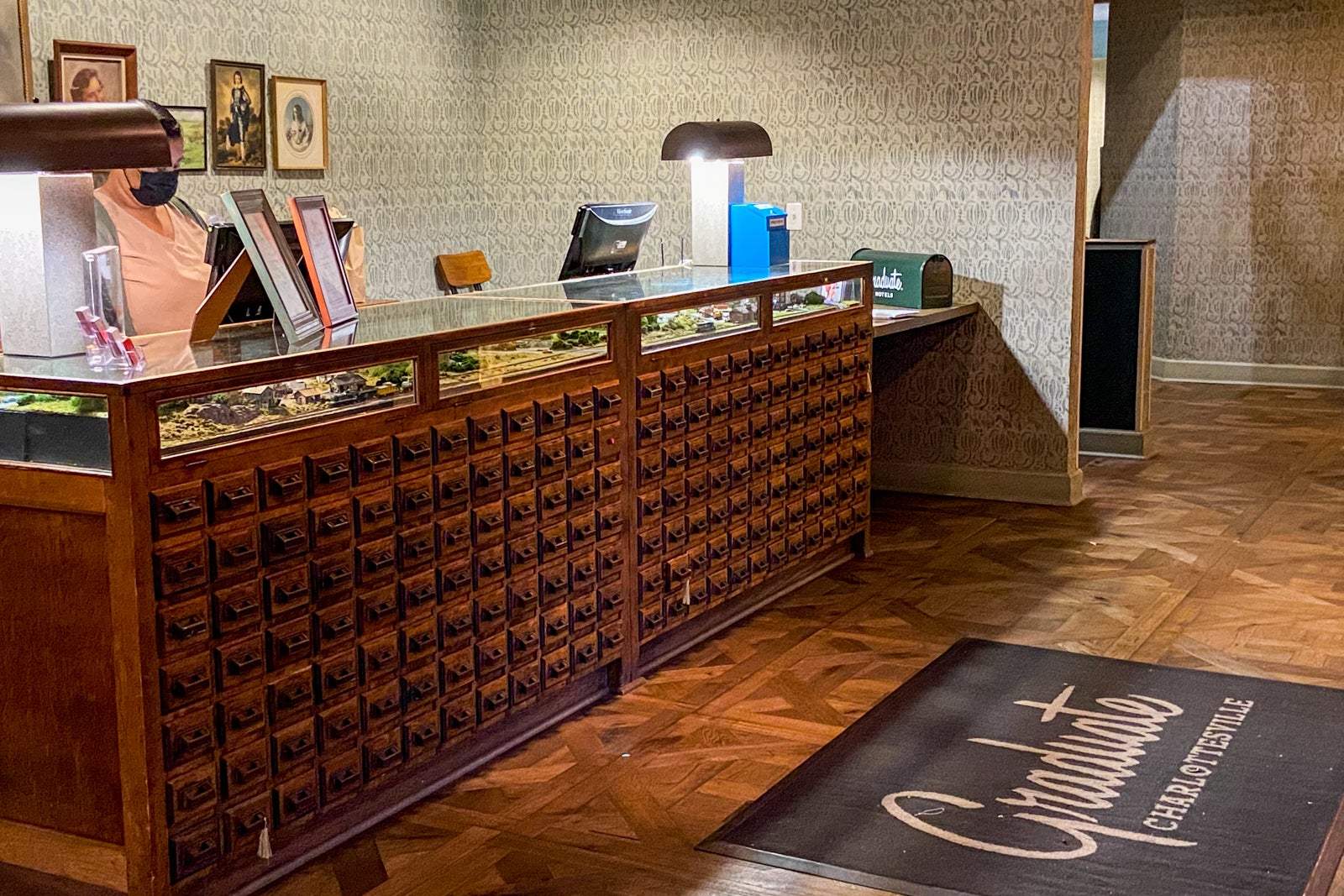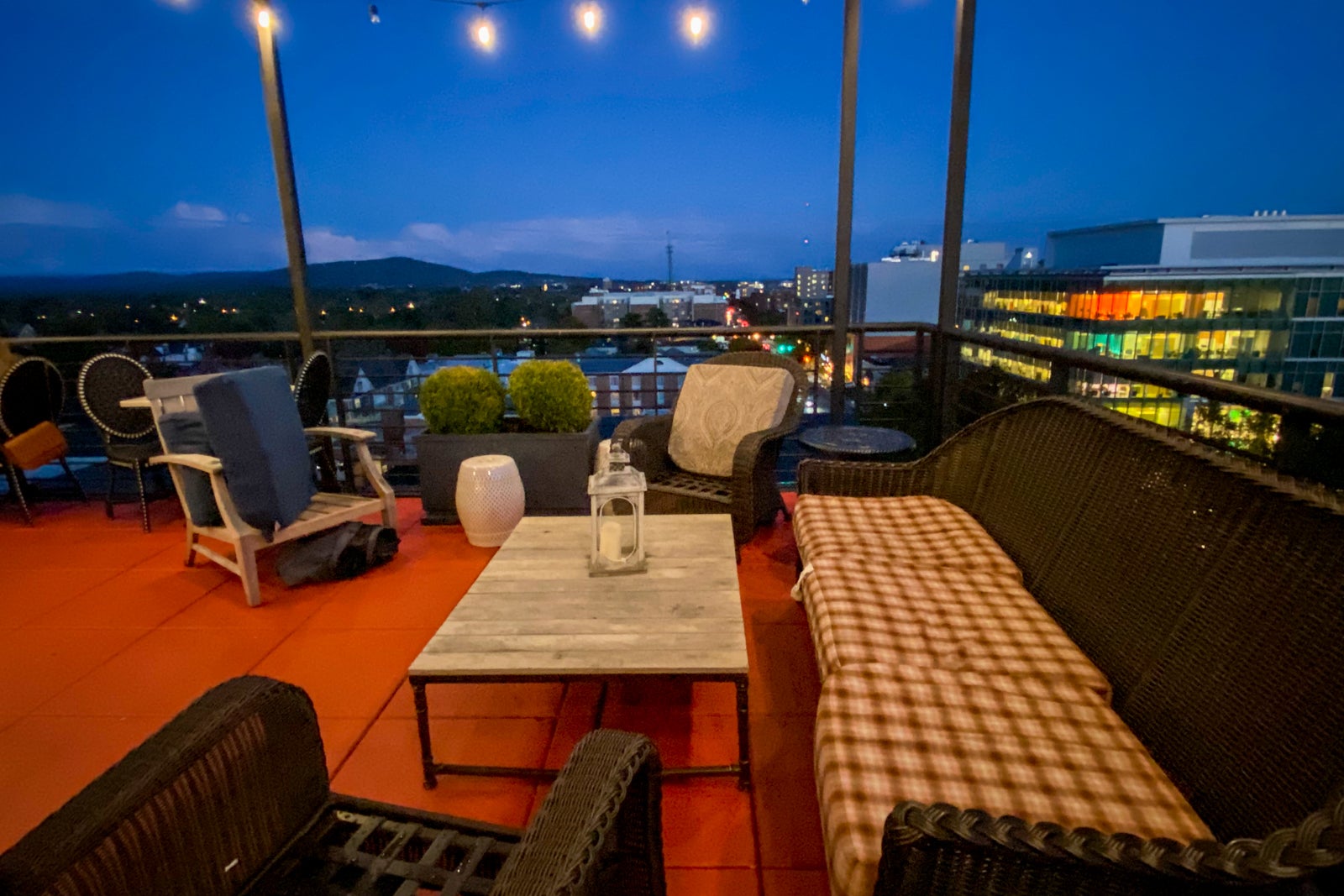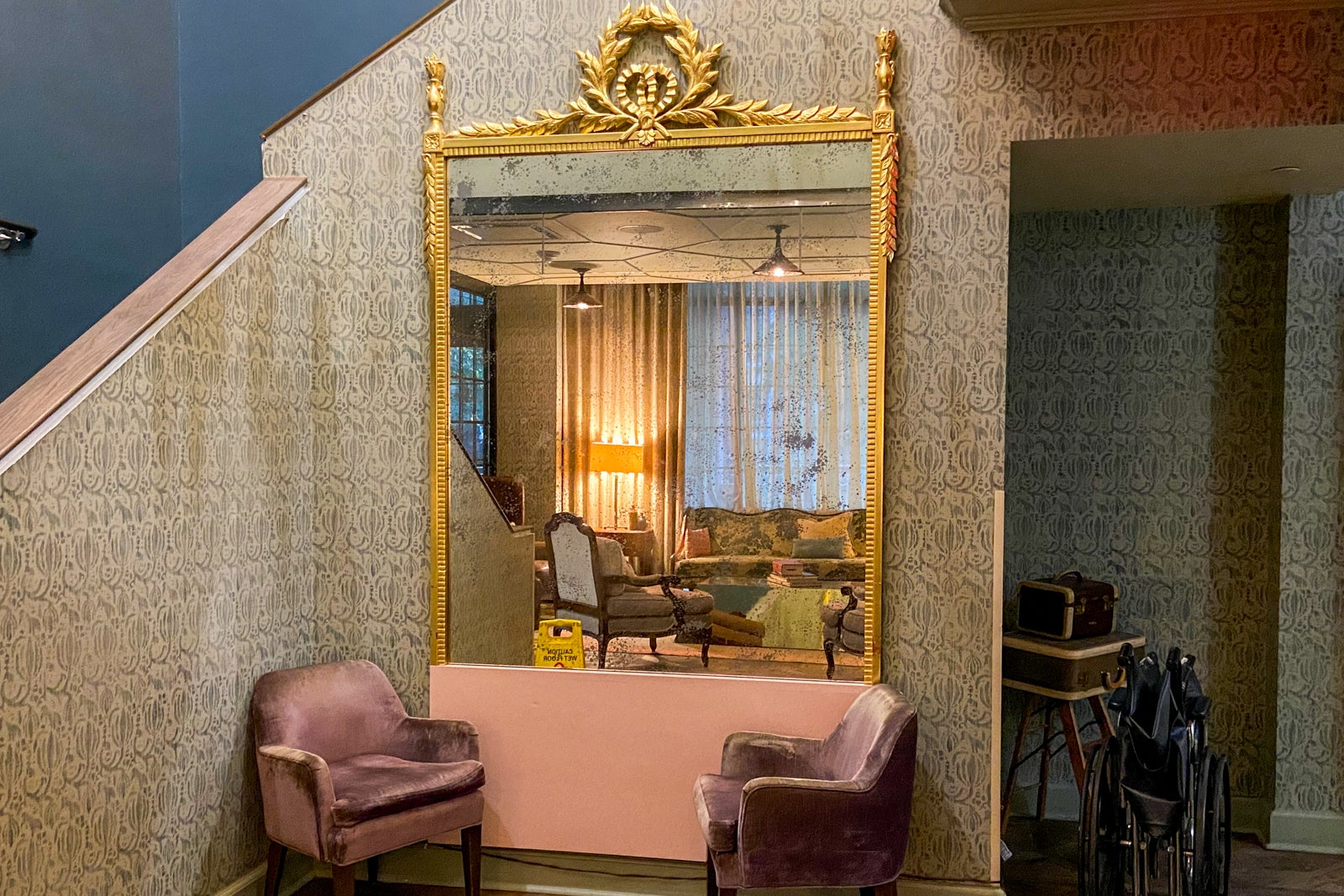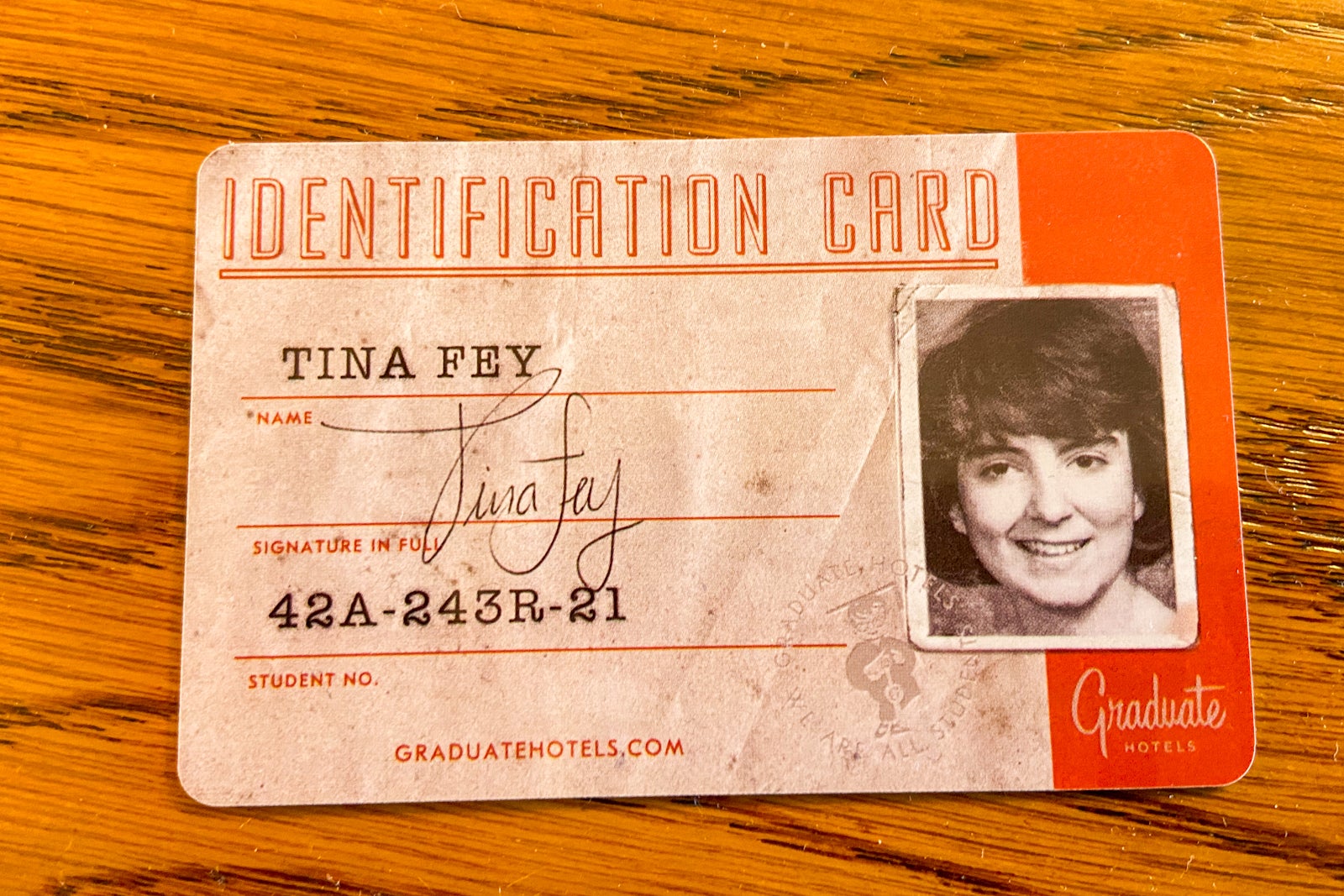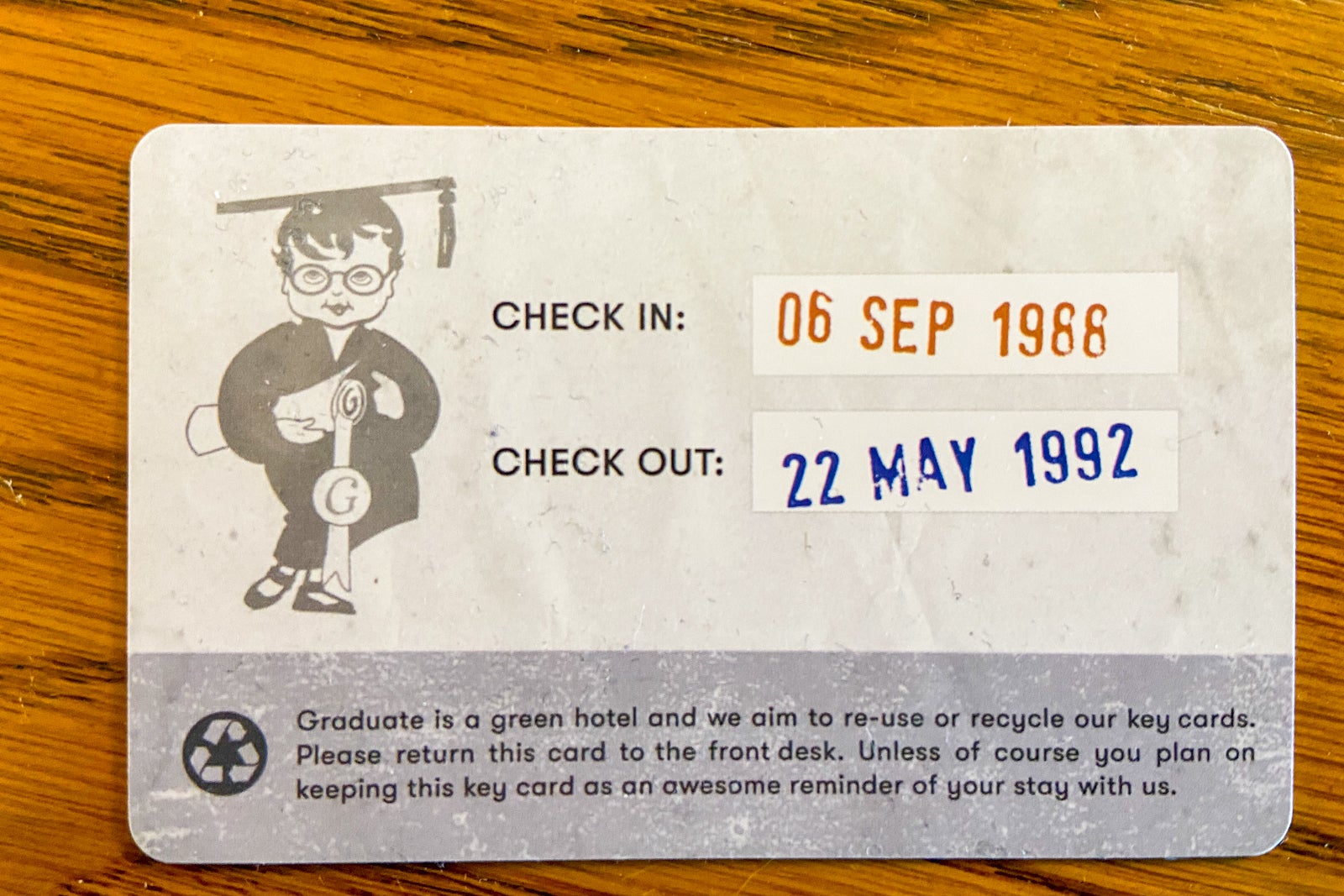 The hotel's decor features a funky blend of 1950s college memorabilia and Colonial touches, such as a front desk made from a library card catalog cabinet and prints that resemble period-appropriate portraits.
Keycards display the actual college yearbook photos of University of Virginia alumni, including Oscar-winning actor Jessica Lange and Emmy Award-winning comedian and actor Tina Fey.
On the hotel's top floor sits a lovely deck attached to the Trophy Room bar, where you can enjoy a sweeping view of downtown Charlottesville while sitting beneath string lights.
From the front desk to the bar, the staff was friendly and always willing to help.
Room rates include several free amenities, such as coffee and tea every day in the lobby and loaner bikes with helmets.
Drawbacks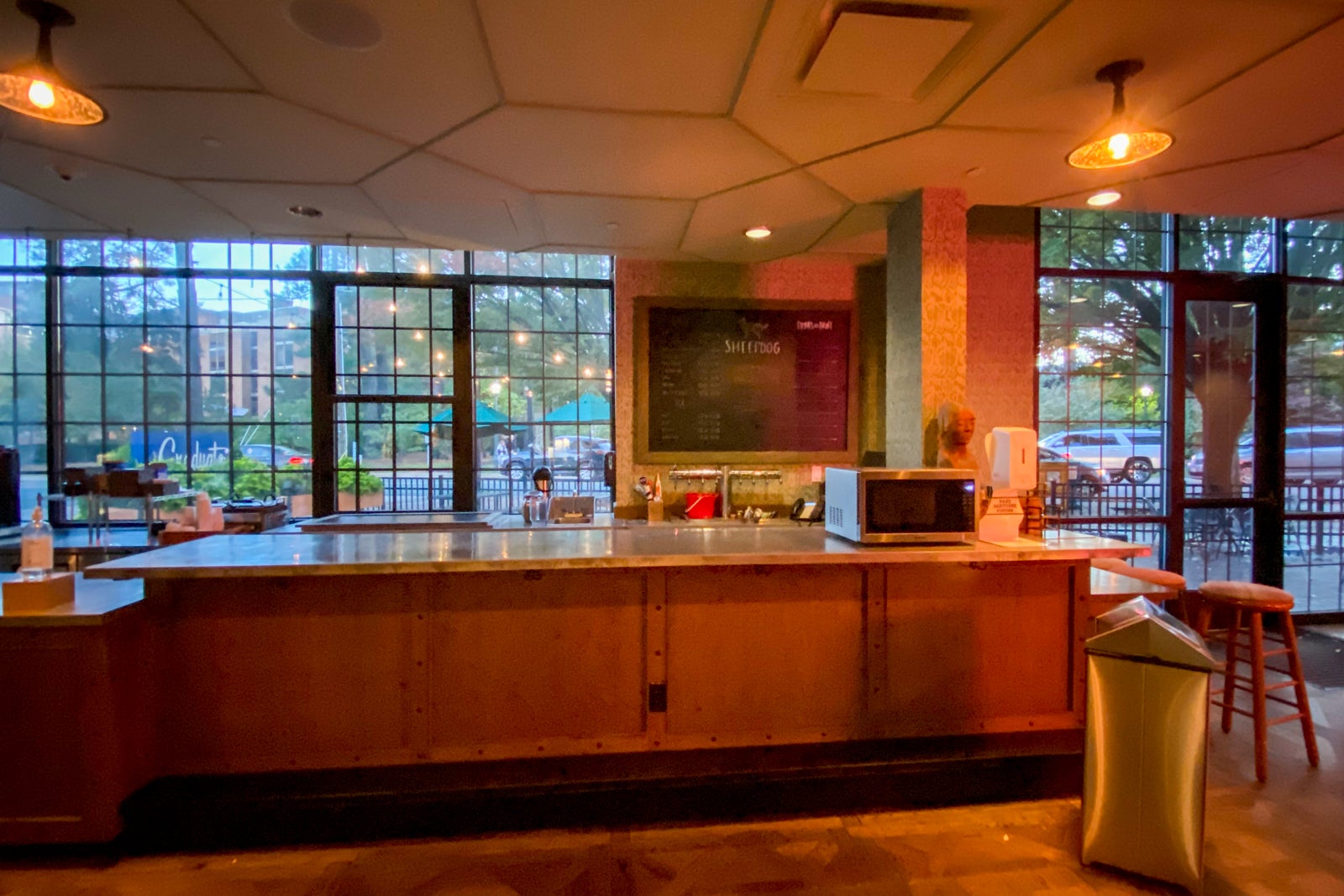 There is no full-service restaurant on-site, and only a limited menu is available at the Trophy Room bar.
Guest rooms do not have in-room coffee makers, though you can grab a cup of joe in the lobby.
Certain room details, like the bath towels, were showing signs of age.
The hotel is very pet-friendly, but you'll have to shell out $35 a day to bring Fido.
The vibe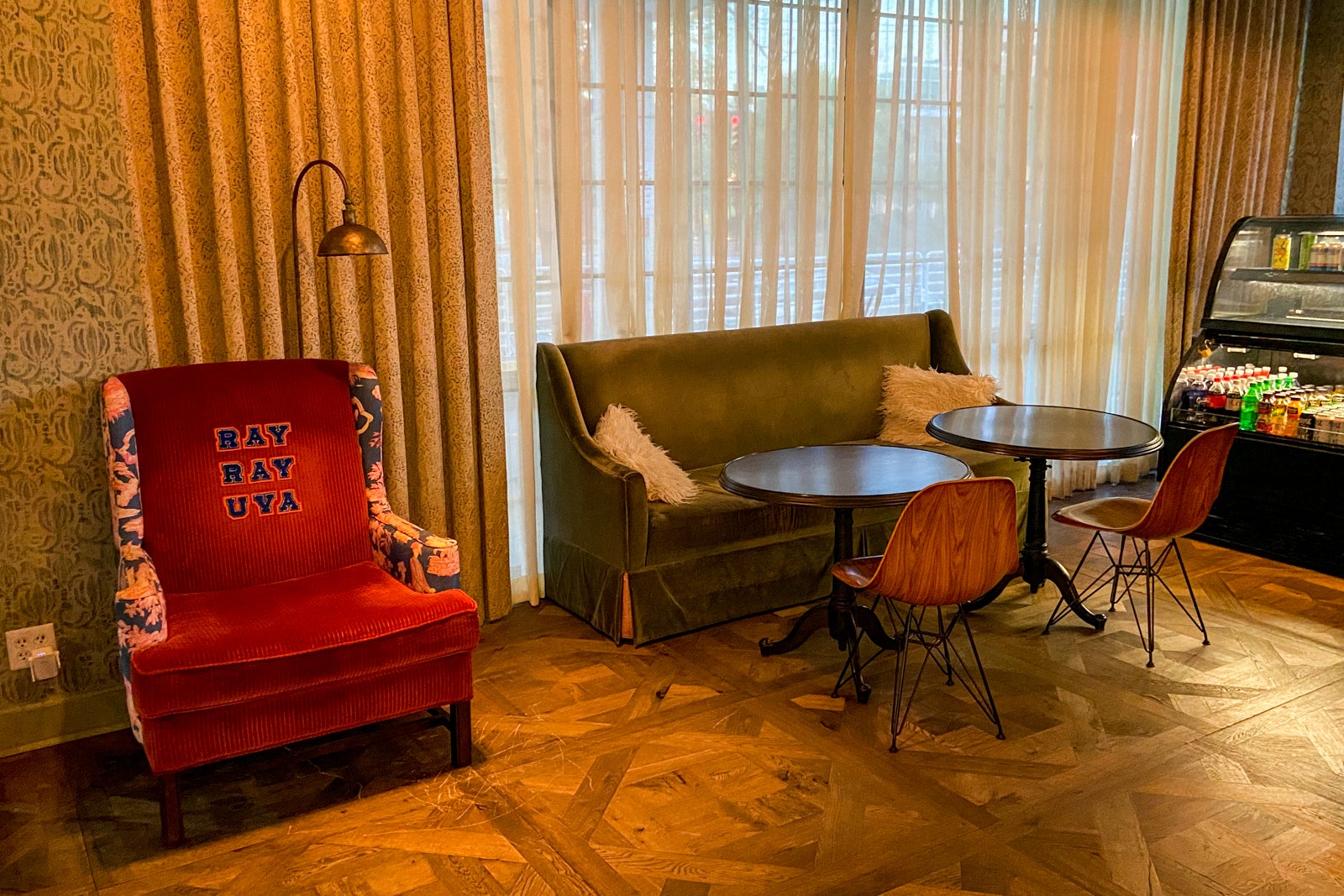 Because of the Graduate's location by the University of Virginia campus, there's a lot of the university's vintage memorabilia scattered around the hotel. Old photos and period-inspired art hang on the wallpaper-covered walls, and furnishings made with leather, plaid fabric or velvet in bold colors are situated in multiple areas.
Nods to the nearby Blue Ridge Mountains and the outdoors (think: wall-mounted fish in rooms and fishing gear on a wood-paneled feature wall in the Trophy Room) are also evident throughout. The mix of colors, textures and styles creates a cozy yet elevated atmosphere ideal for everyone from Shenandoah National Park visitors to college students, visiting families and alumni.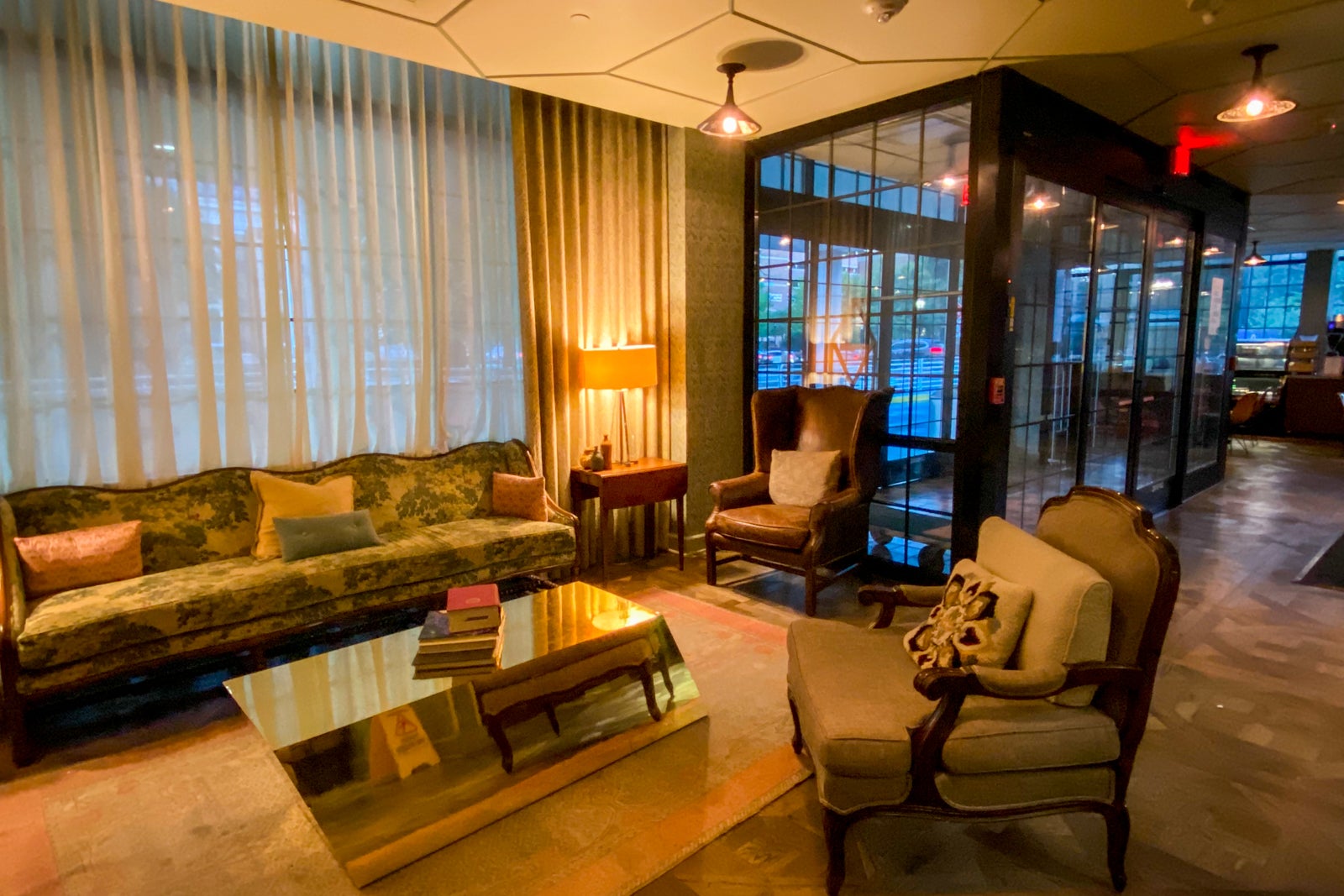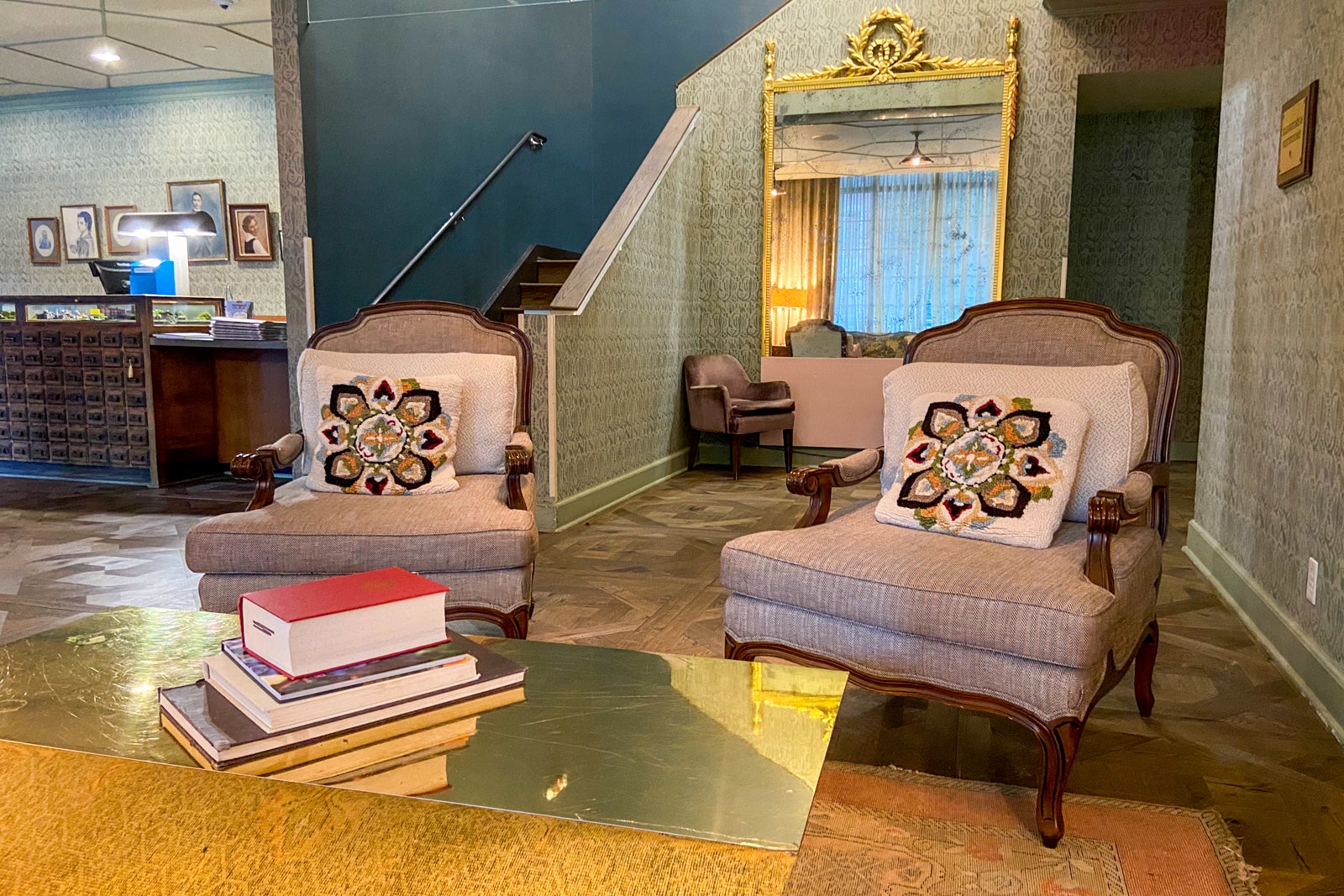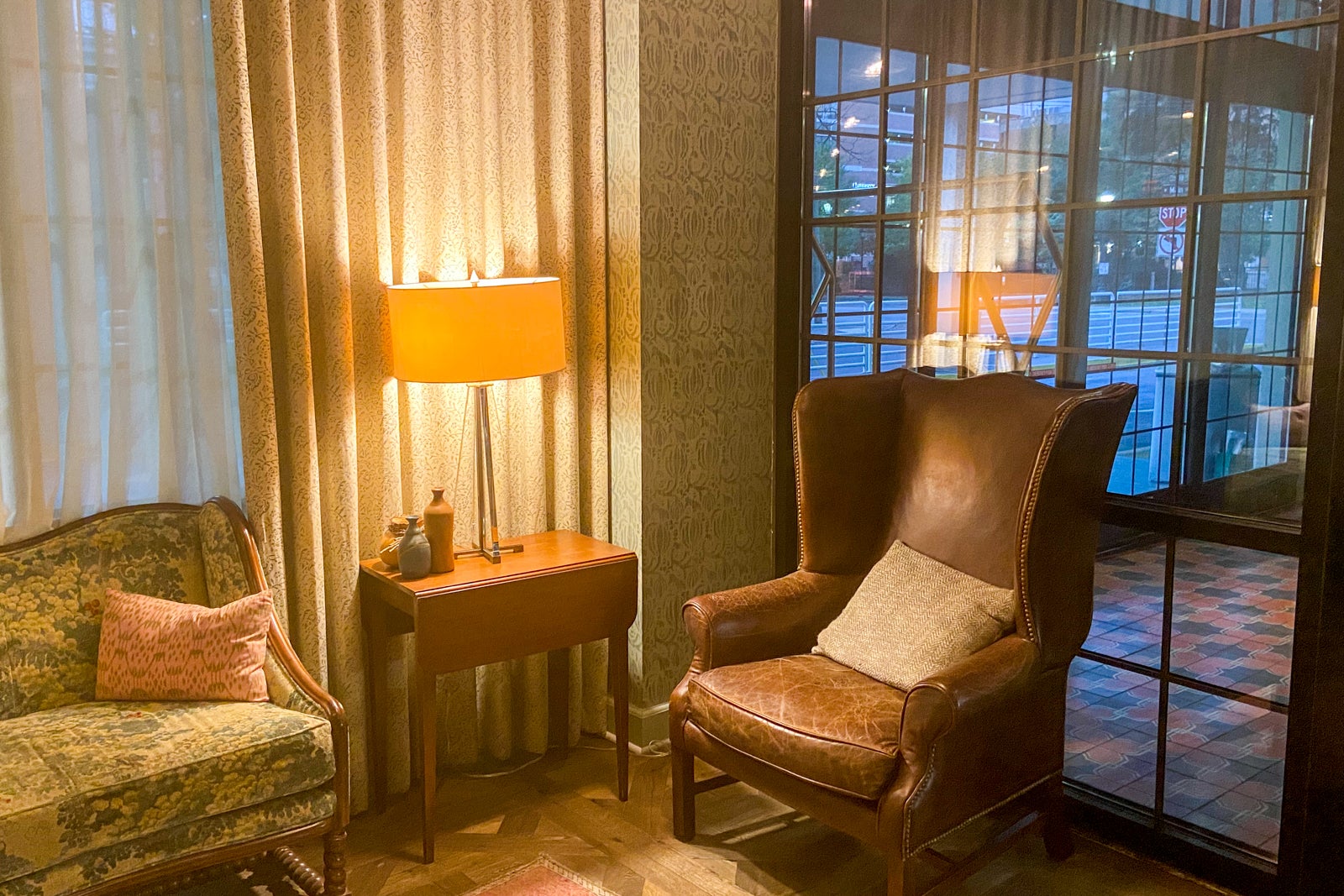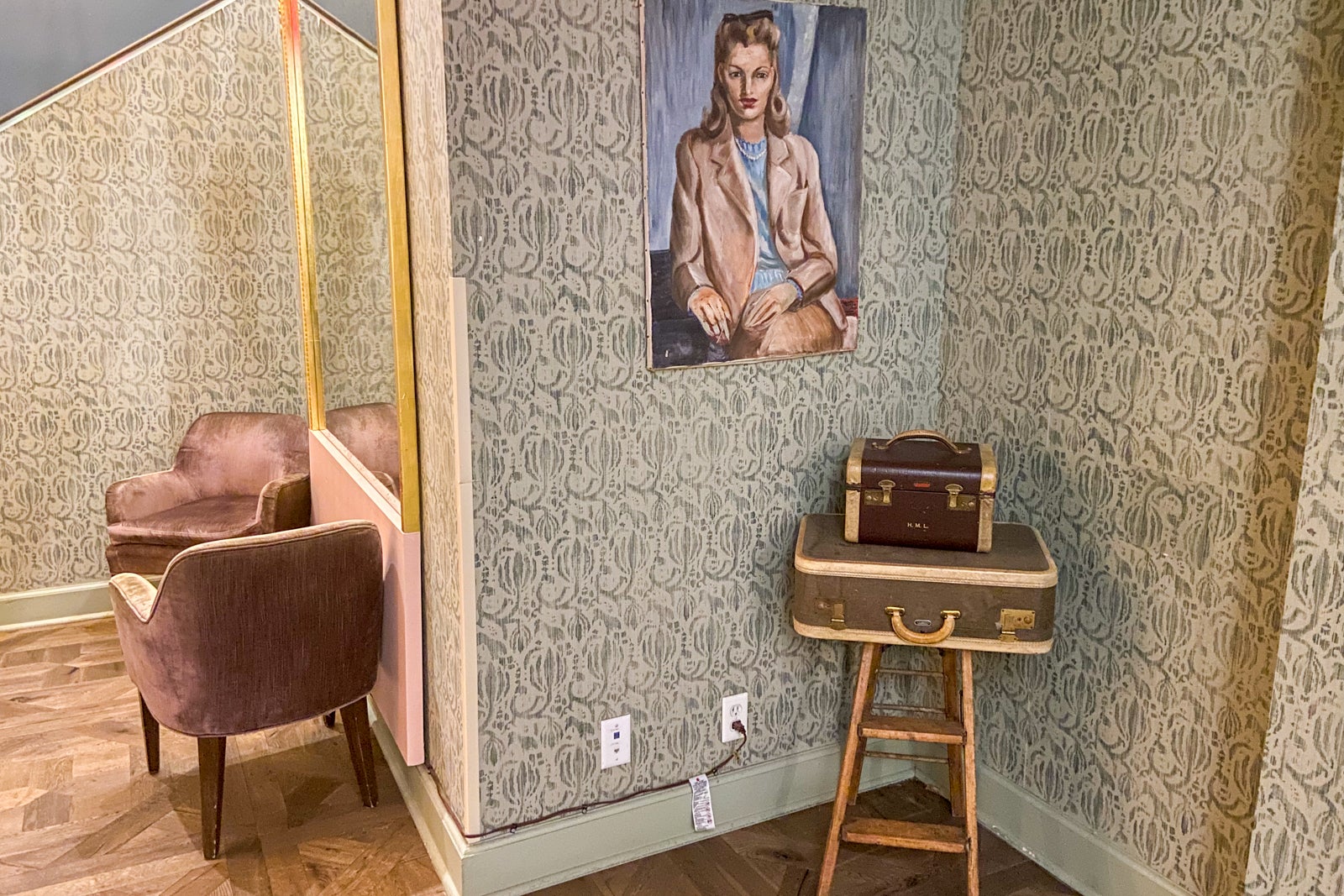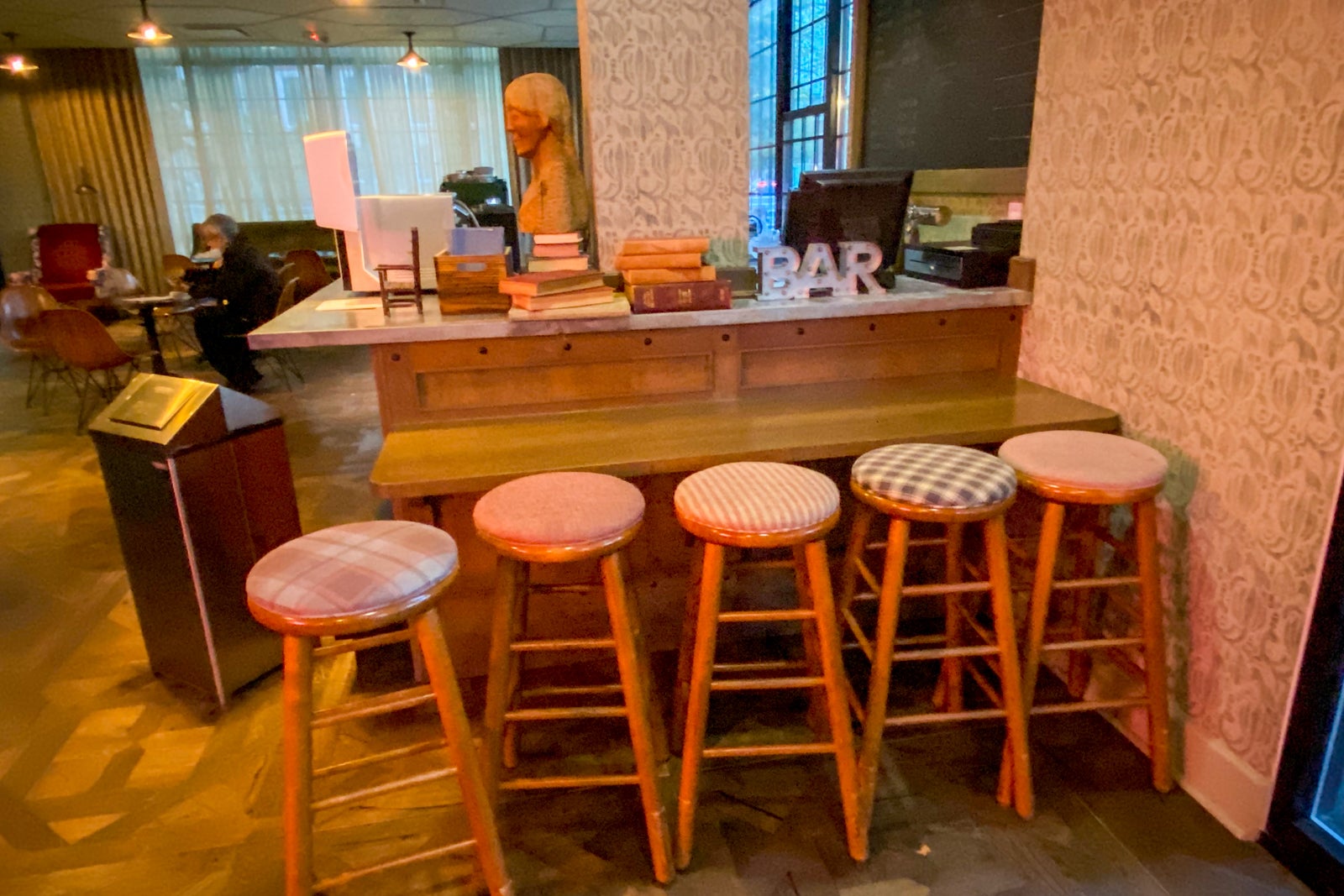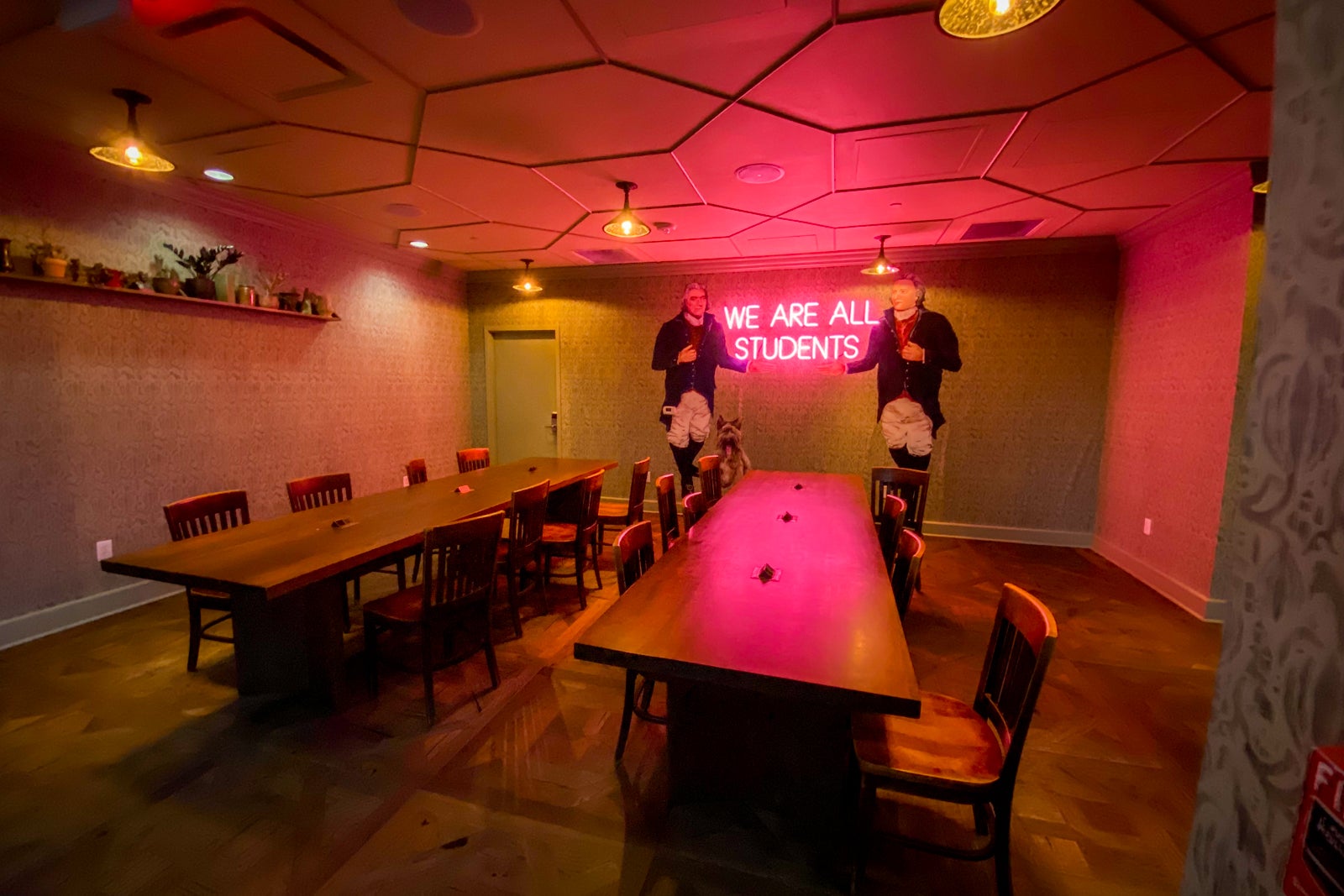 The room
Sitting on the sixth floor of the nine-story property, my standard room with two queen beds measured an intimate but manageable 240 square feet.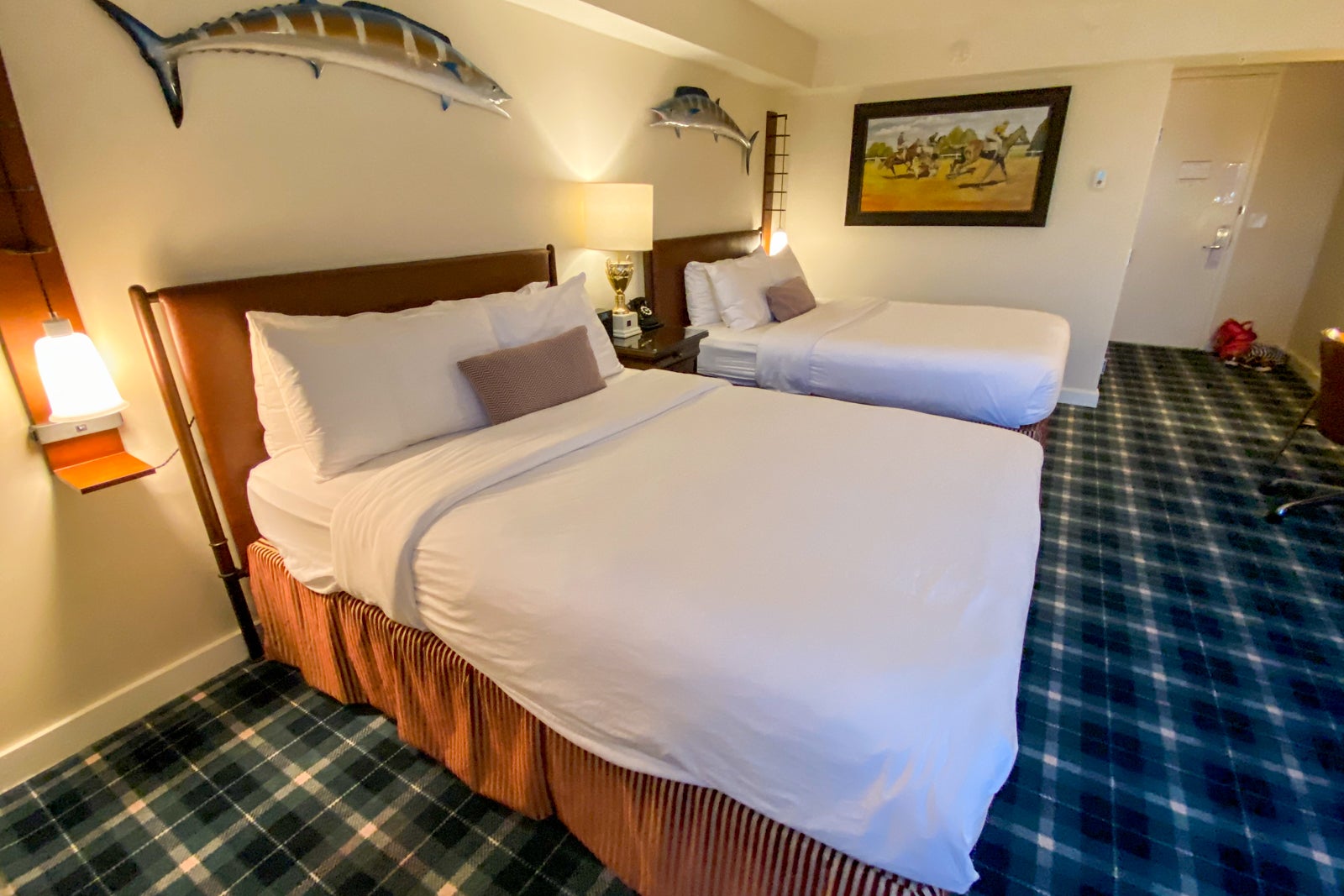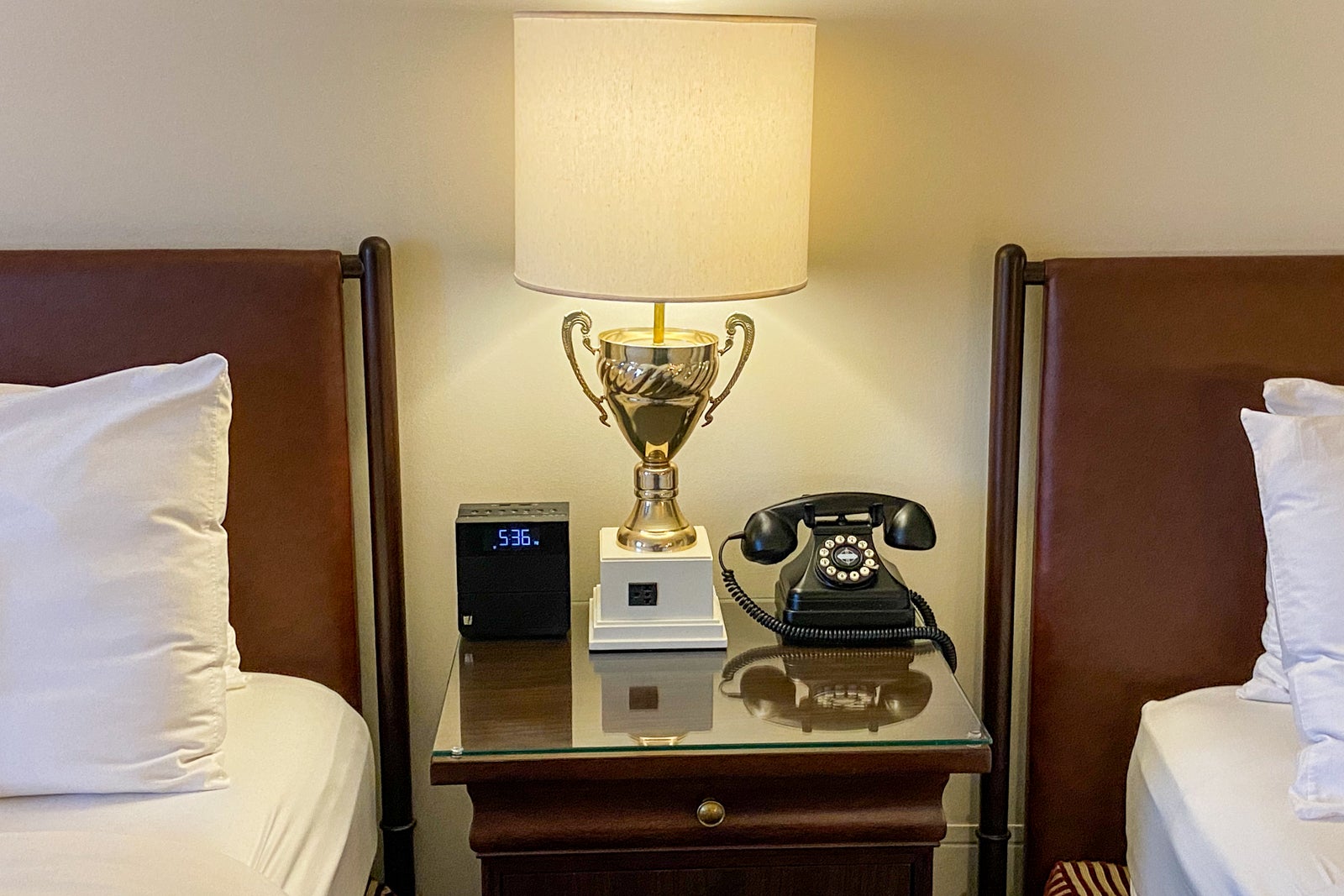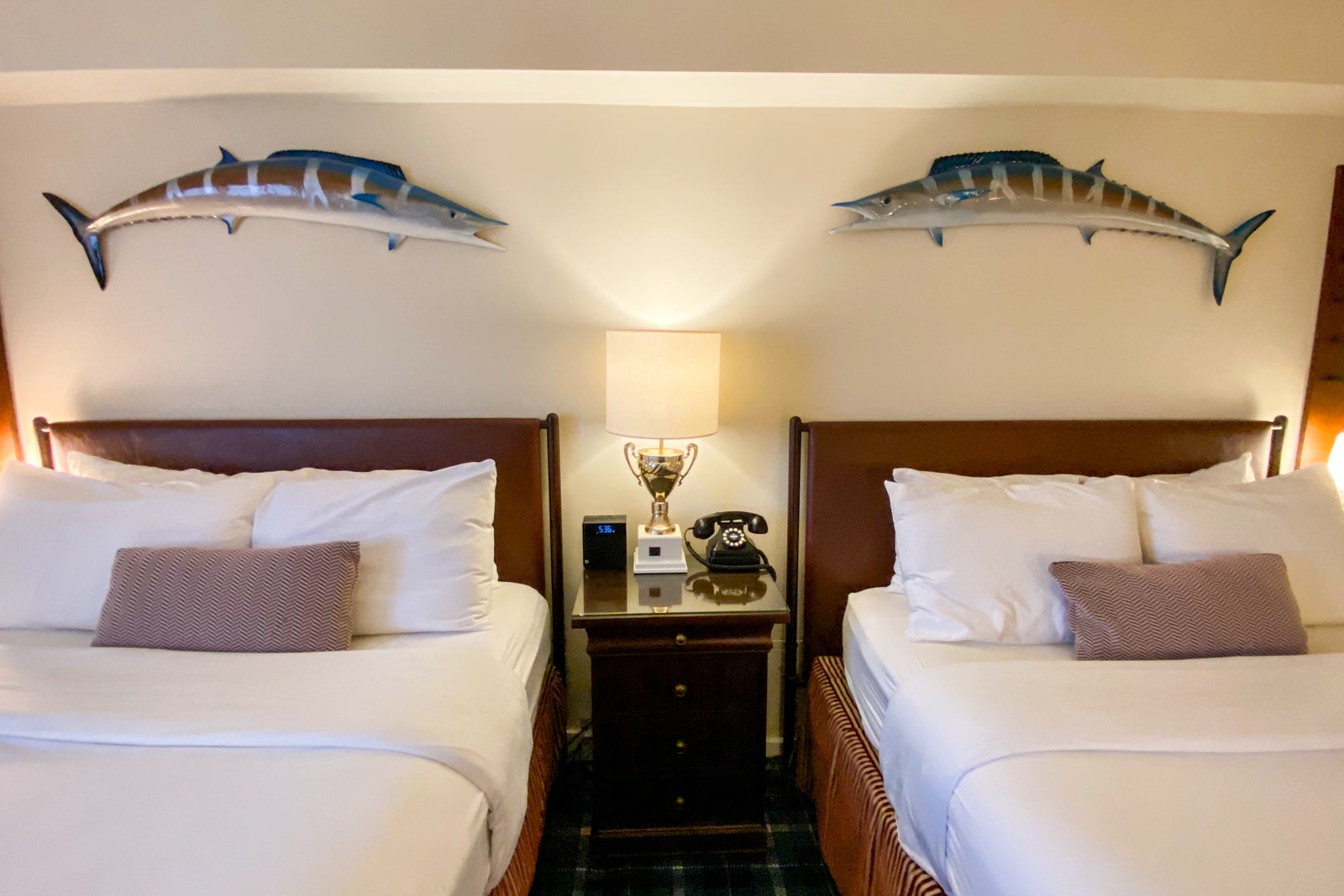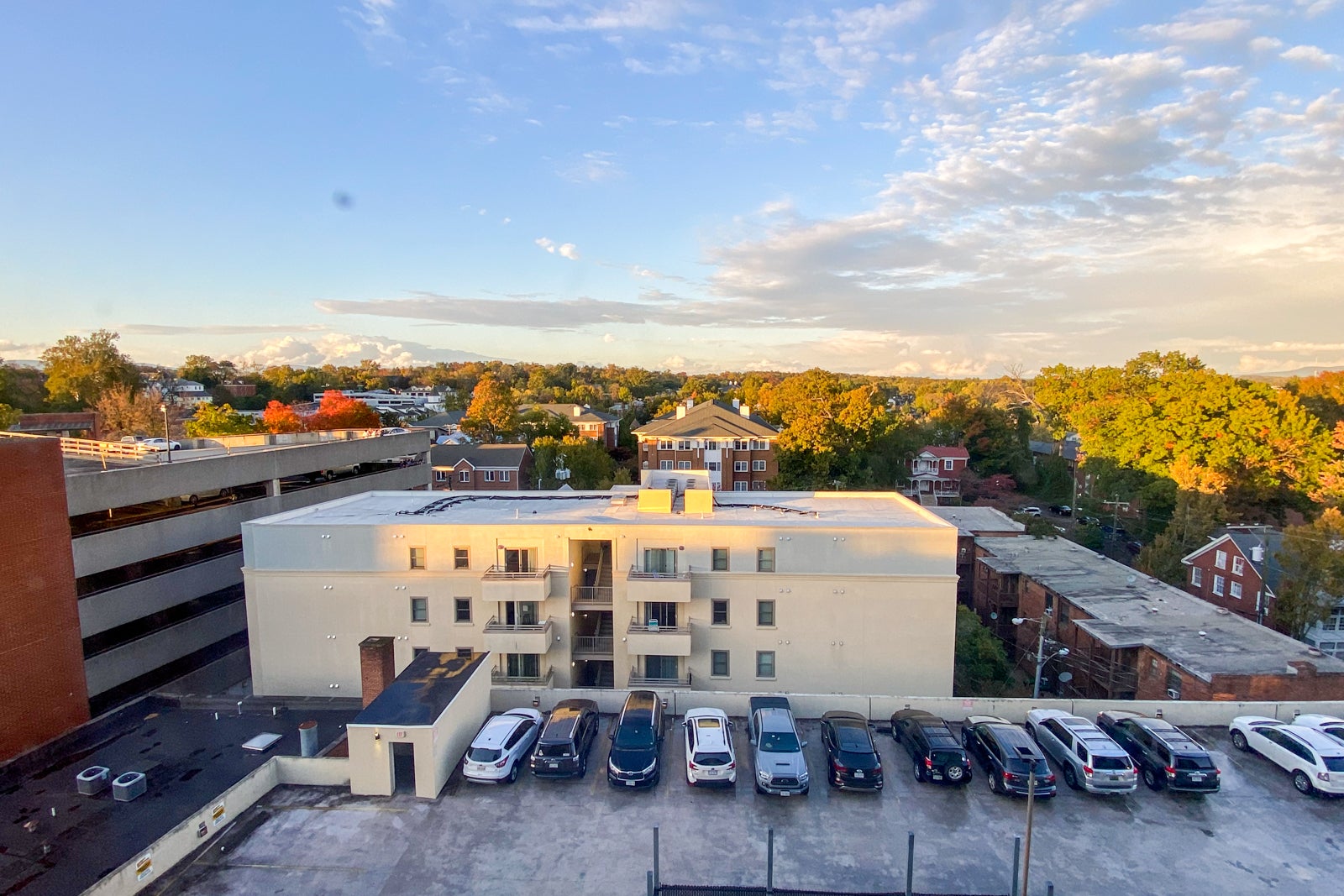 From the moment I stepped foot in the room, the outdoorsy theme was front and center. On top of the jarring blue plaid carpet — which immediately reminded me of the burnt orange variety that was in my grandmother's house — were two beds with leather headboards, crisp white linens and the feather-free pillows I requested. The wall art was quite eclectic, with a 3D rendition of what appeared to be a barracuda mounted above each bed and a painting of a horse race that went horribly wrong on a wall to the side of one bed.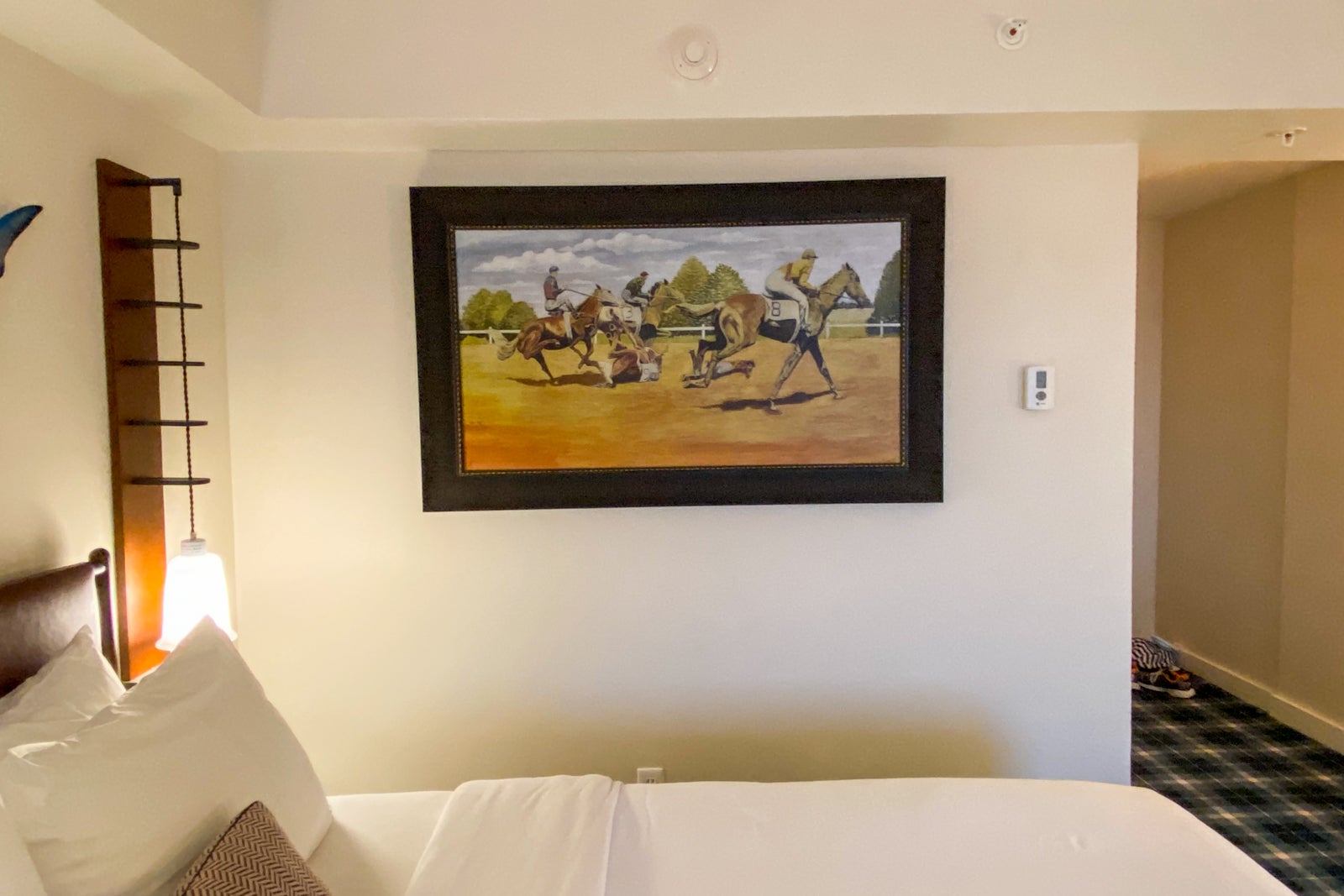 Across from the beds sat an oversized desk with a brass lamp with its own outlet, plus a leather office chair comfortable enough for a day of work. One disappointment, though, was the in-room Wi-Fi. Despite my Wi-Fi test indicating that it was "fast" at 40.8 Mbps for downloads and 2.29 Mbps for uploads, it was actually slow and pretty glitchy. The Wi-Fi in the lobby seemed to work much better.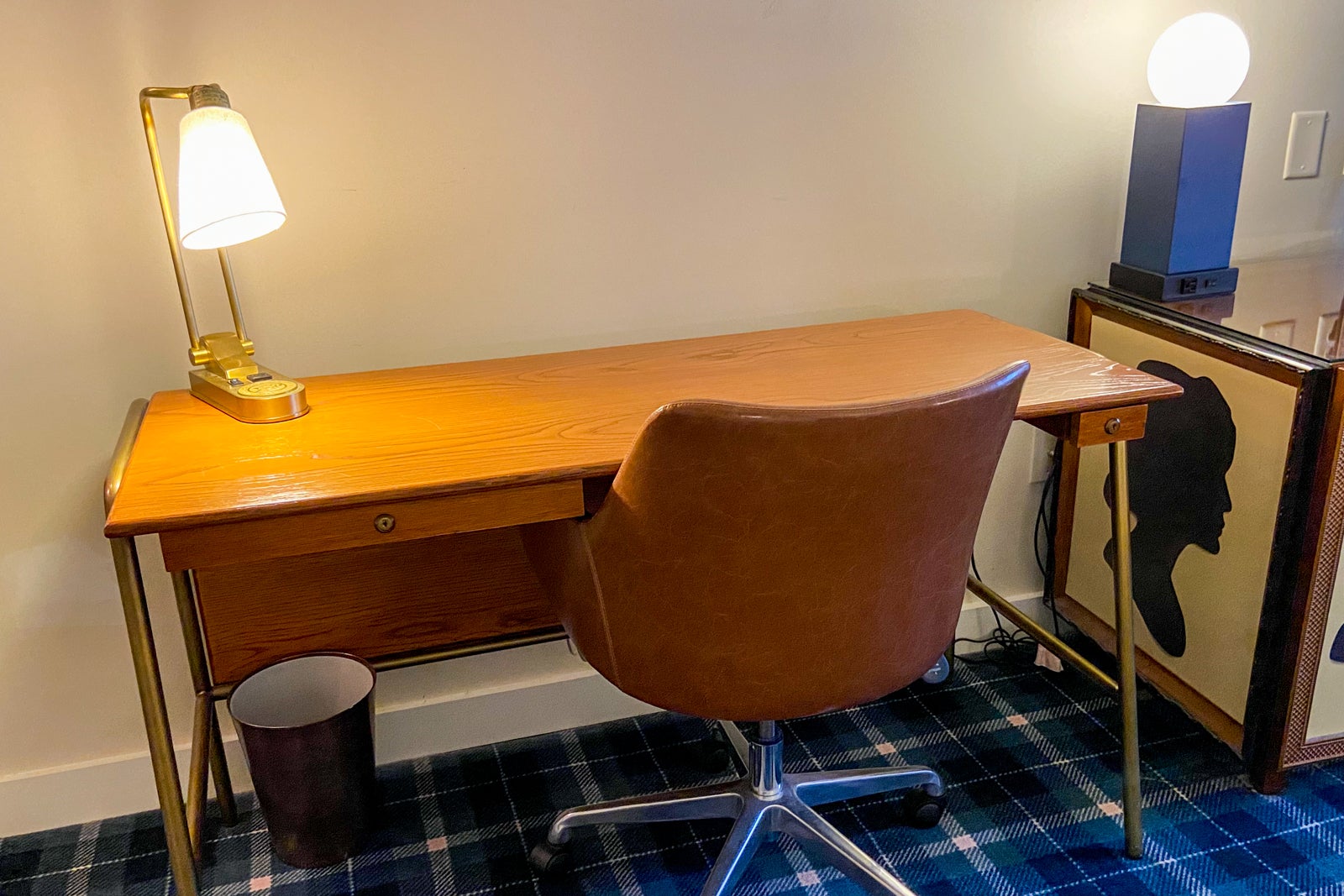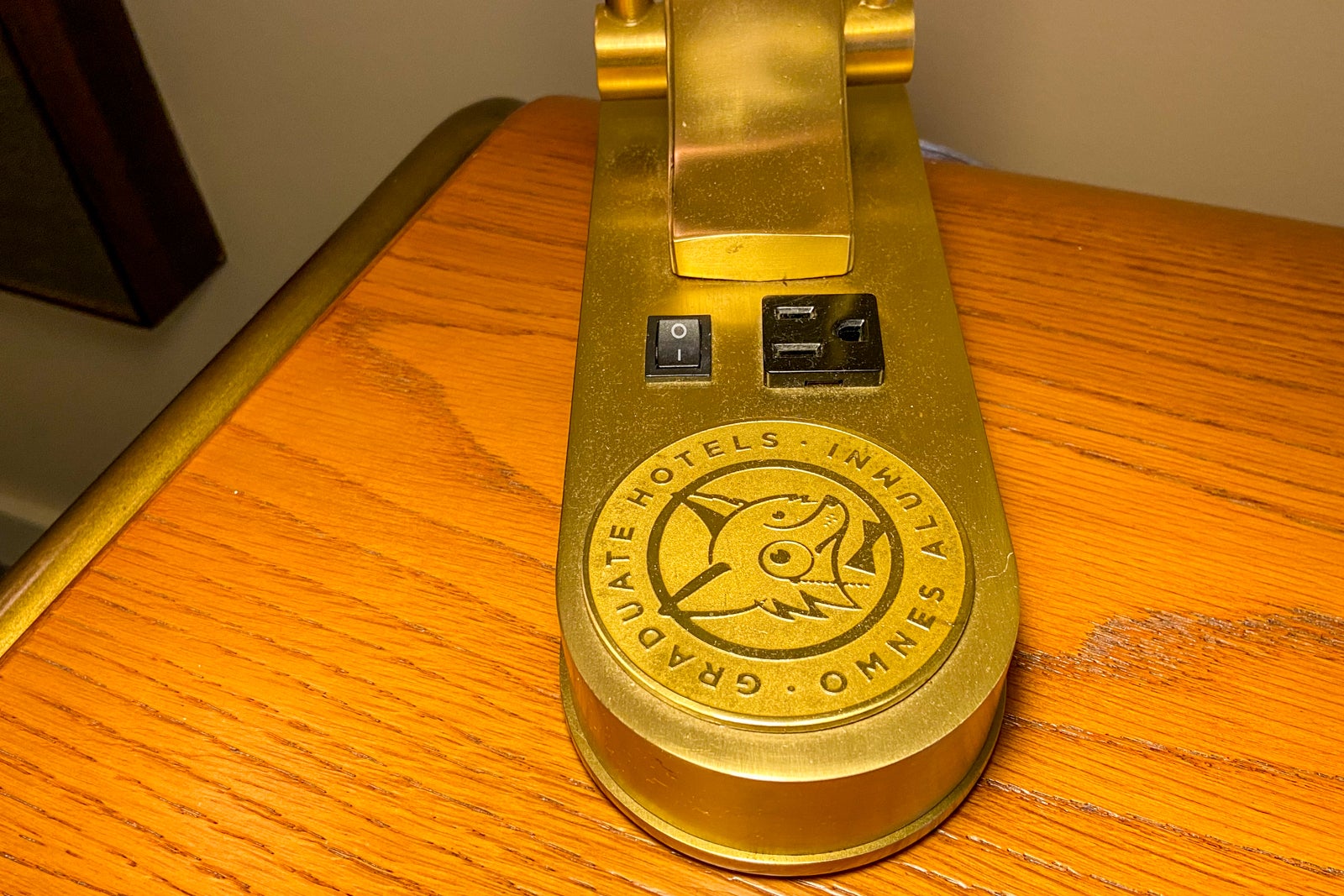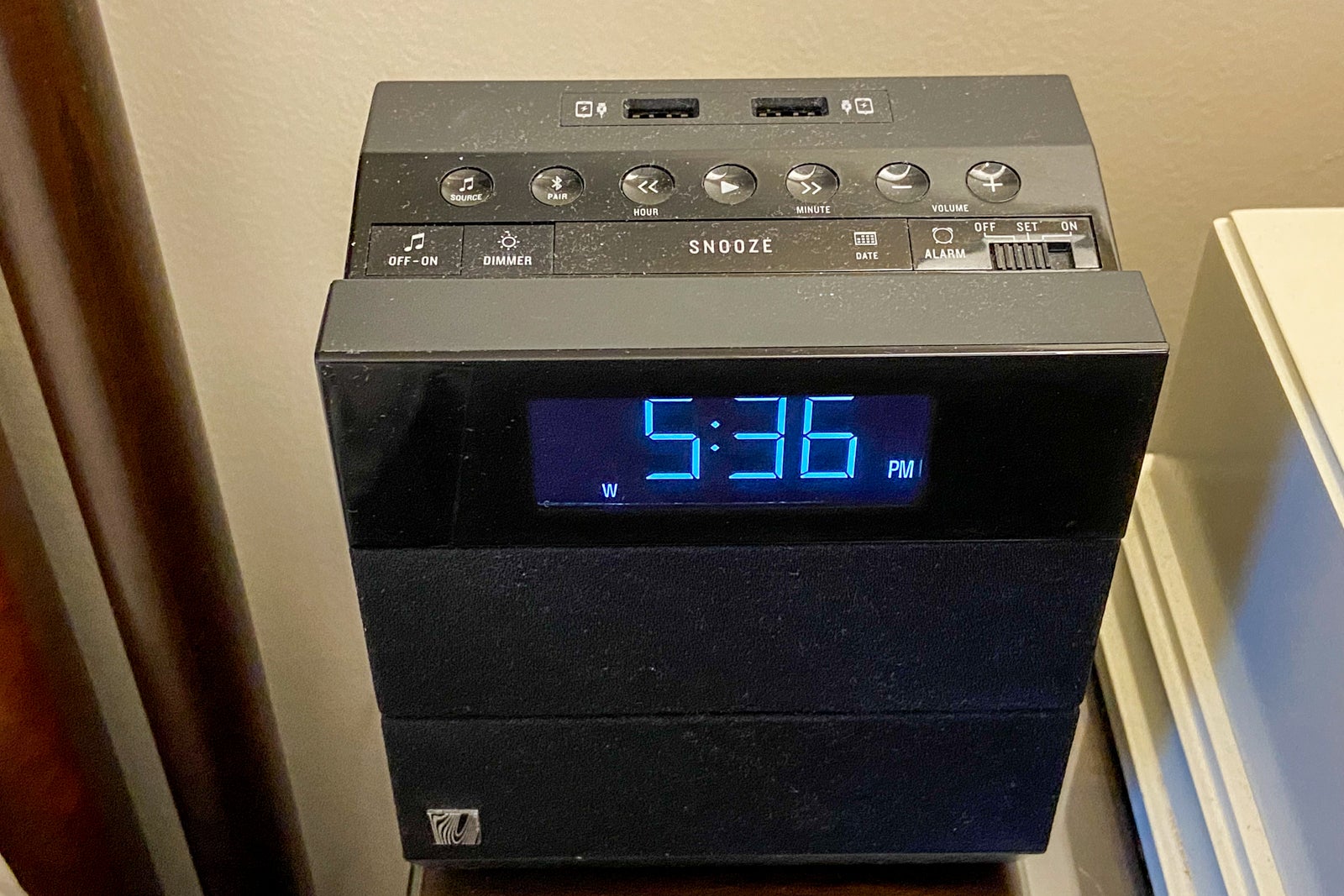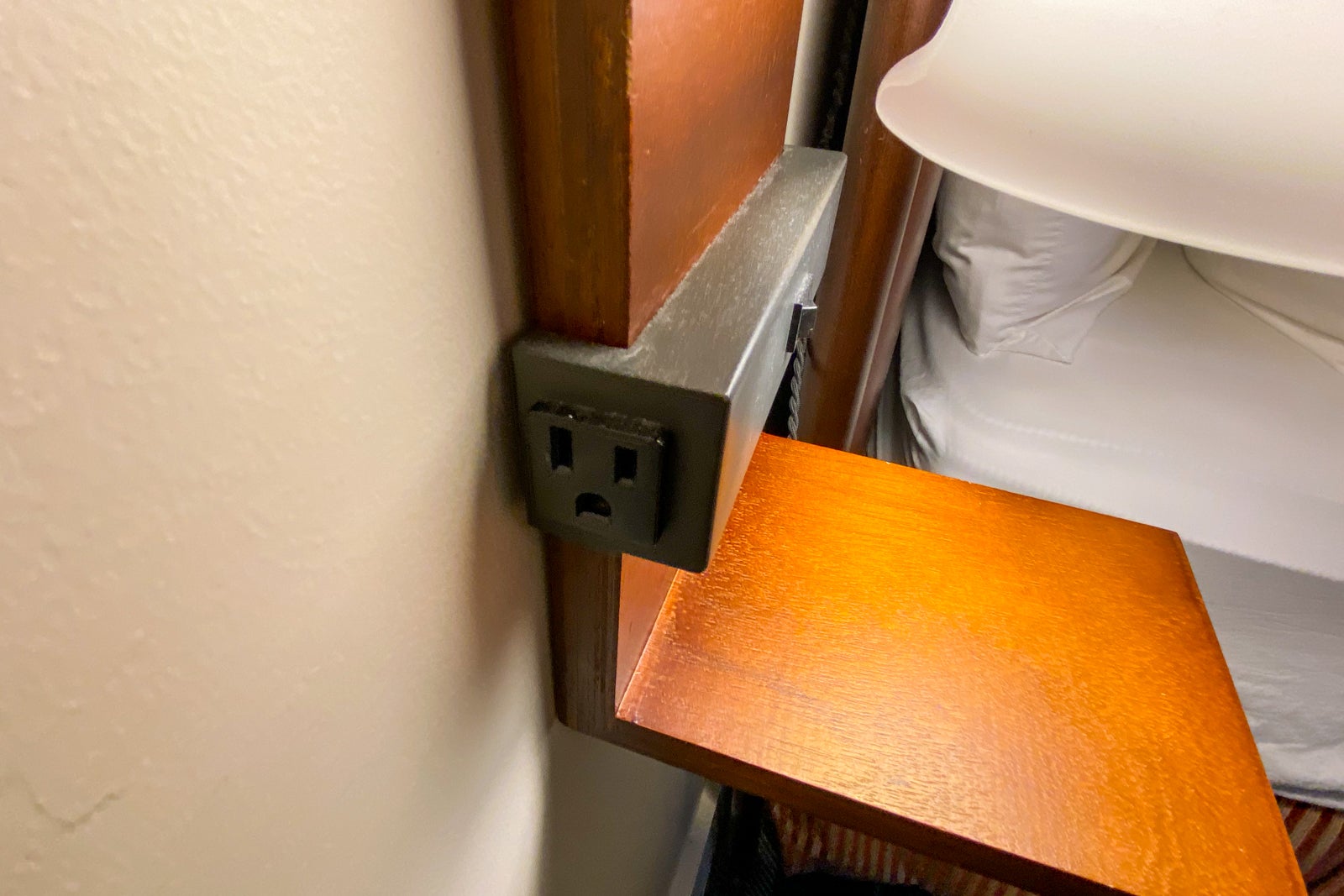 As someone who travels with a laptop, a smartphone and a tablet, I was impressed with the number of outlets and USB ports available in the room. They were in the desk lamp, in a lamp by the TV, on the clock (which had the correct time — gasp!) and on the lights next to each bed. My guest and I had a host of electronics but didn't have to jockey for plugs or pull out a multiprong travel charger.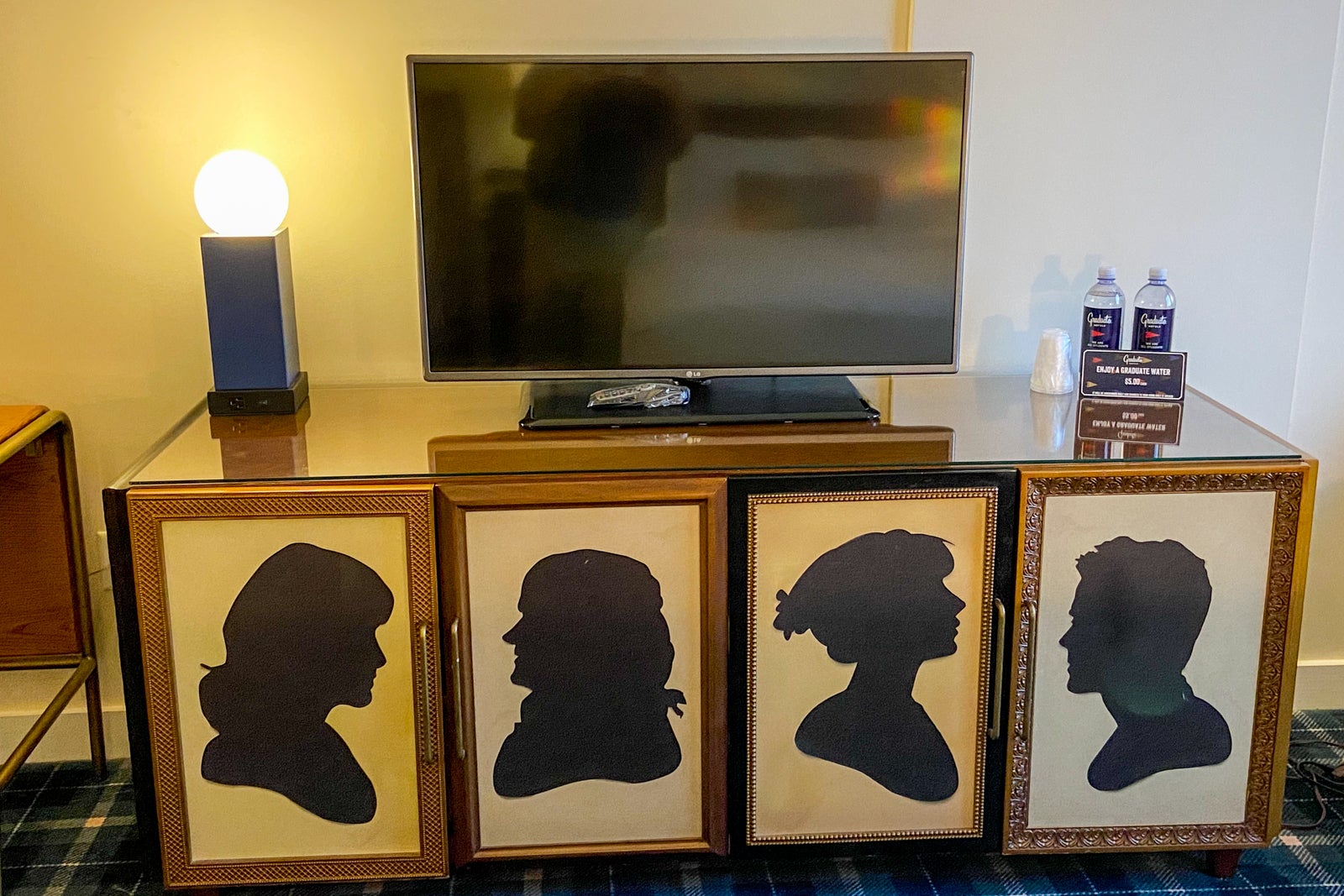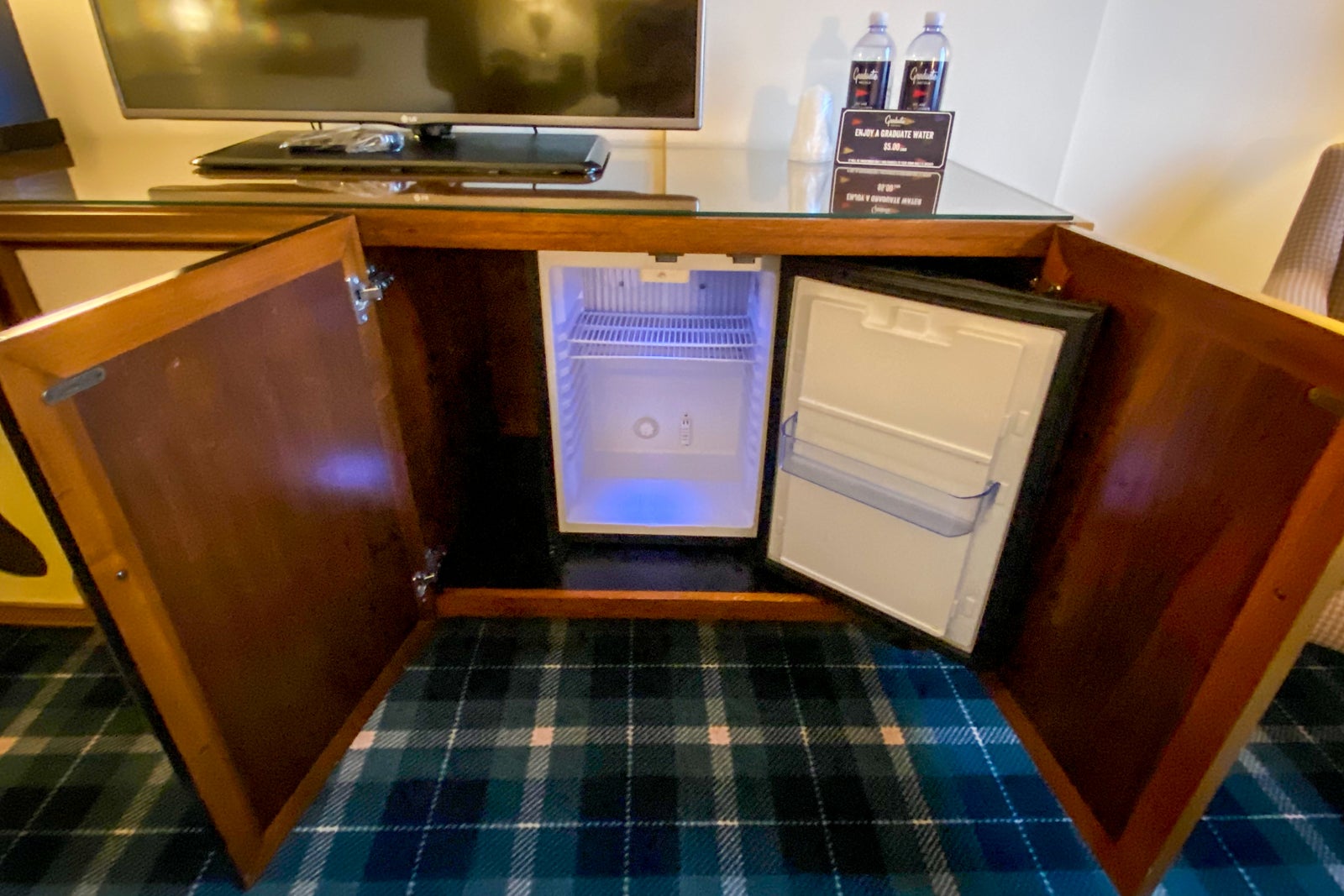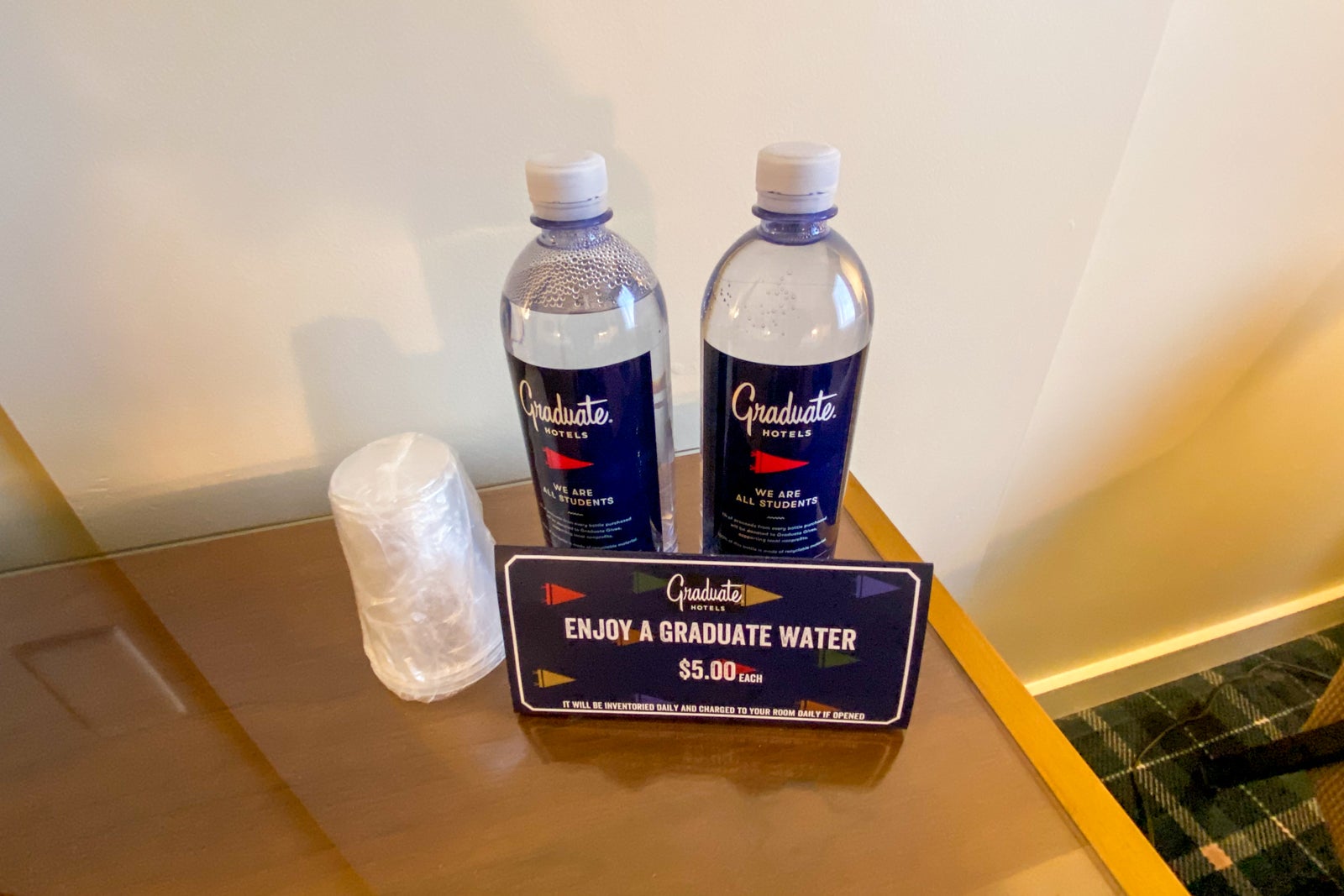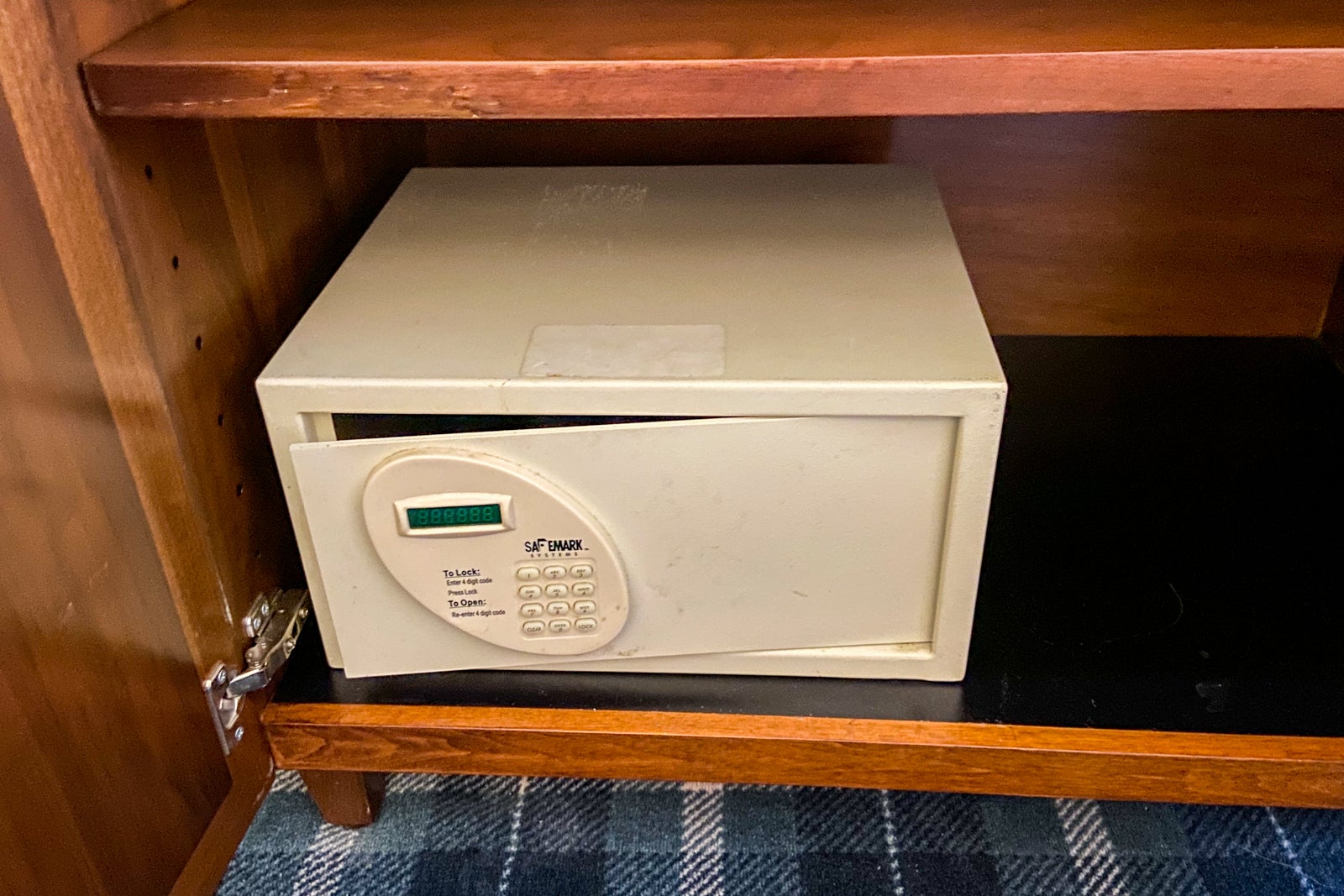 A long console decorated with Colonial-style silhouette profiles paid homage to the area's history. One side held an empty minifridge, while the other provided some shelving and a safe. Two bottles of Graduate Hotel-branded water positioned on the corner were available for $5 each, making me miss the two free bottles of water I get as a World of Hyatt member with Globalist elite status.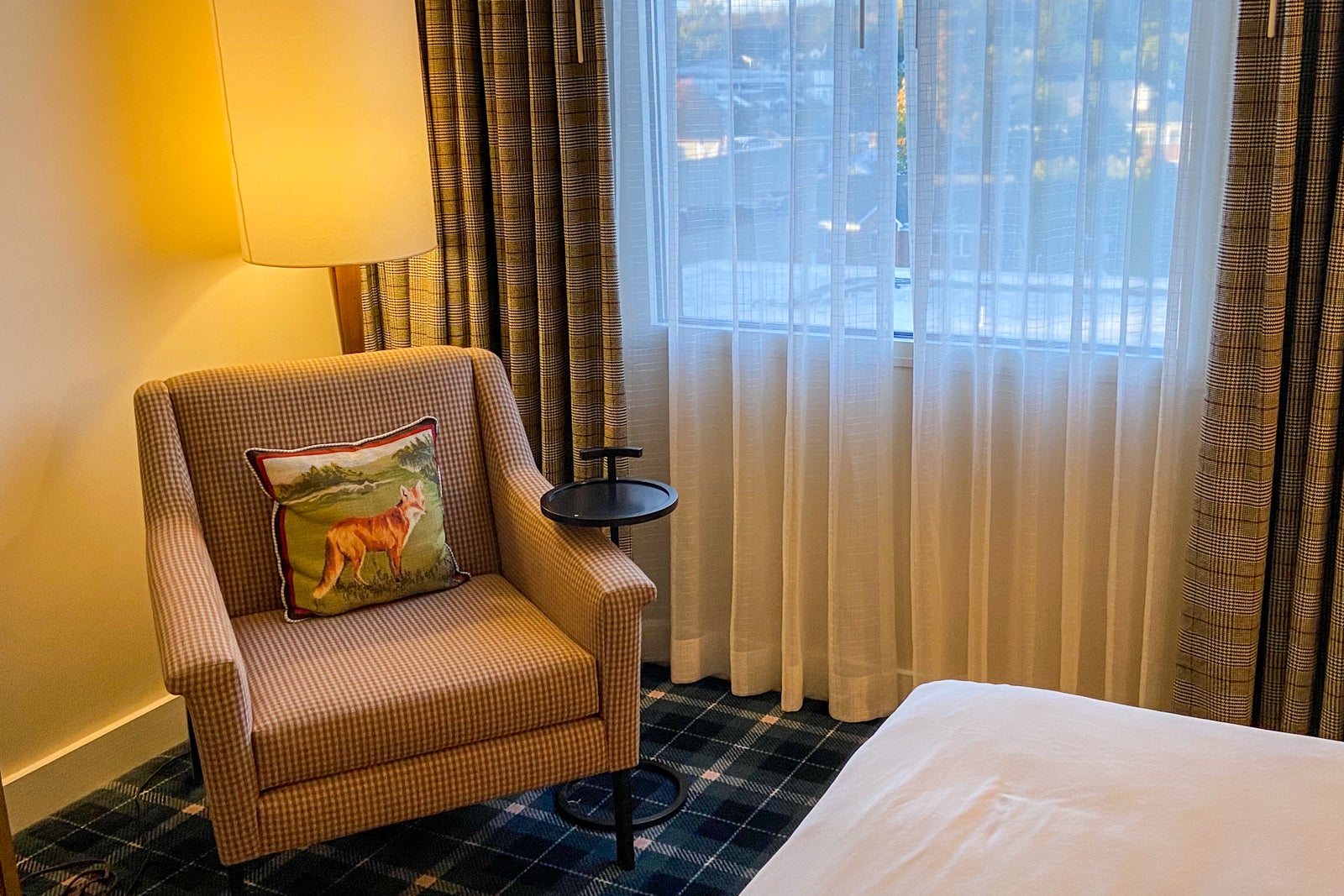 The only other furniture available for storage was the nightstand between the beds, but it only offered one drawer — not nearly enough space to stow clothing. The old-school rotary phone and college-inspired trophy lamp that sat on top of the nightstand were fun decor touches, though.
Between the beds and large window was a small sitting area with a comfortable chair and a tiny round table large enough to hold a drink or snack. Although the window offered a view that was underwhelming — I could see a parking lot and some apartment buildings — it had the best blackout curtains I've ever come across at a hotel. I didn't have to use a pants hanger to keep them closed, and not one sliver of light escaped from the edges.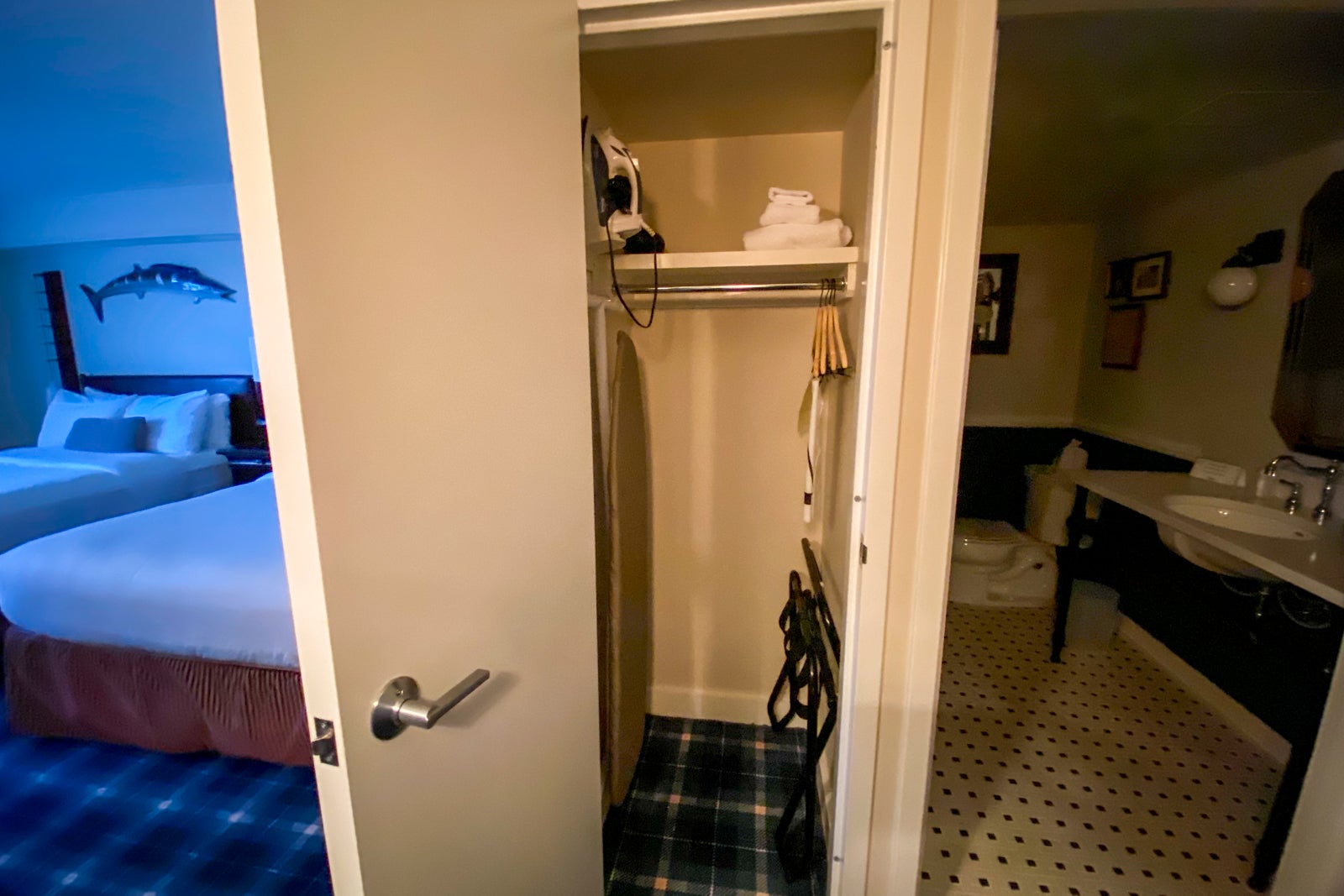 In the hall by the door was a tiny closet that only held two regular hangers and two pants hangers, plus a full-size ironing board and a luggage rack. A small shelf was available above the rod for hanging clothes, but it was mostly used to store an iron, a blow dryer and a second set of towels.
The bathroom, however, was pretty spacious, with a large vanity that had enough space to accommodate two sets of guests' personal amenities. It was stocked with plenty of great-smelling Malin + Goetz toiletries, including hand soap and lotion. On the wall by the door was a magnifying mirror, which I appreciated, but I wished it had come with its own light.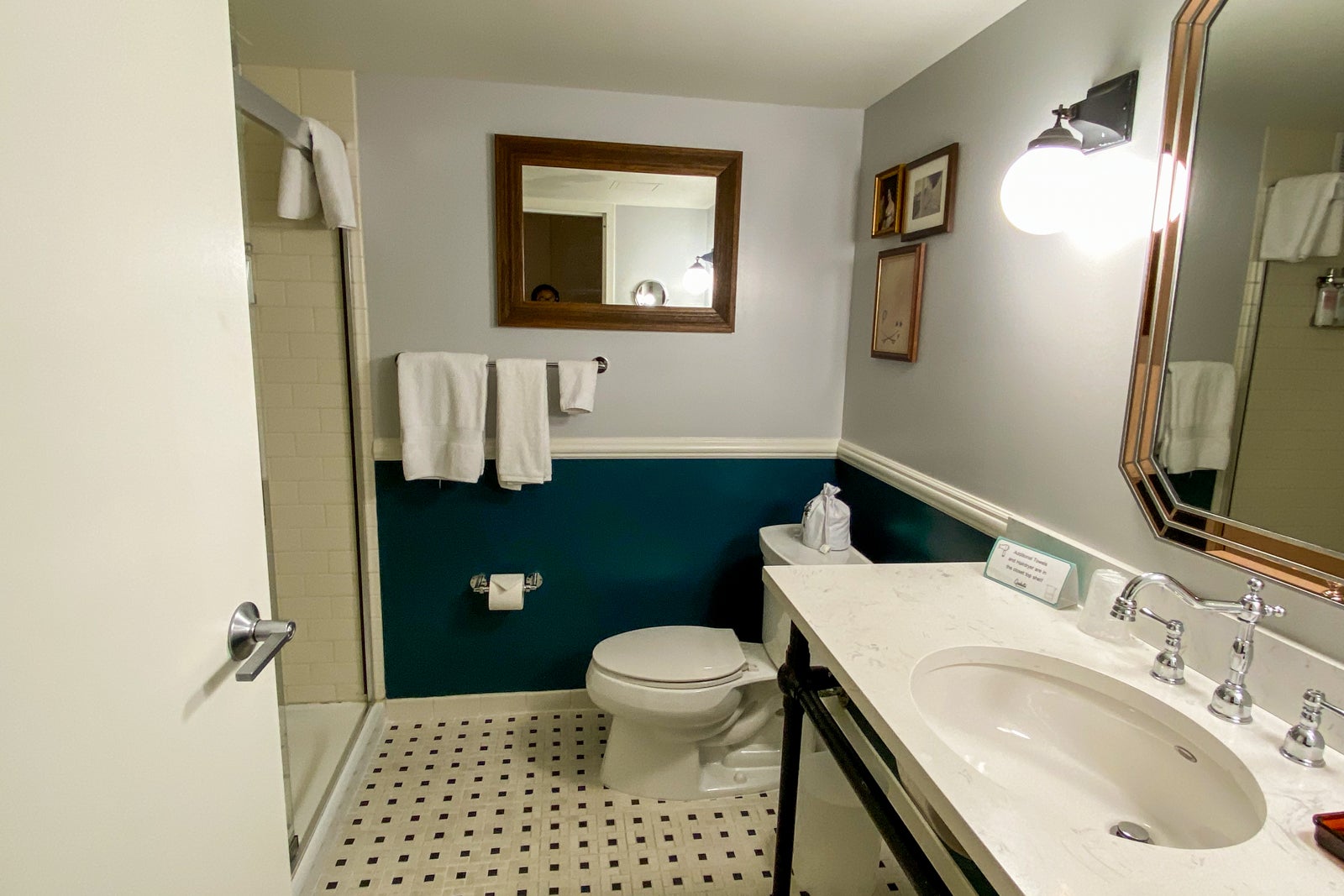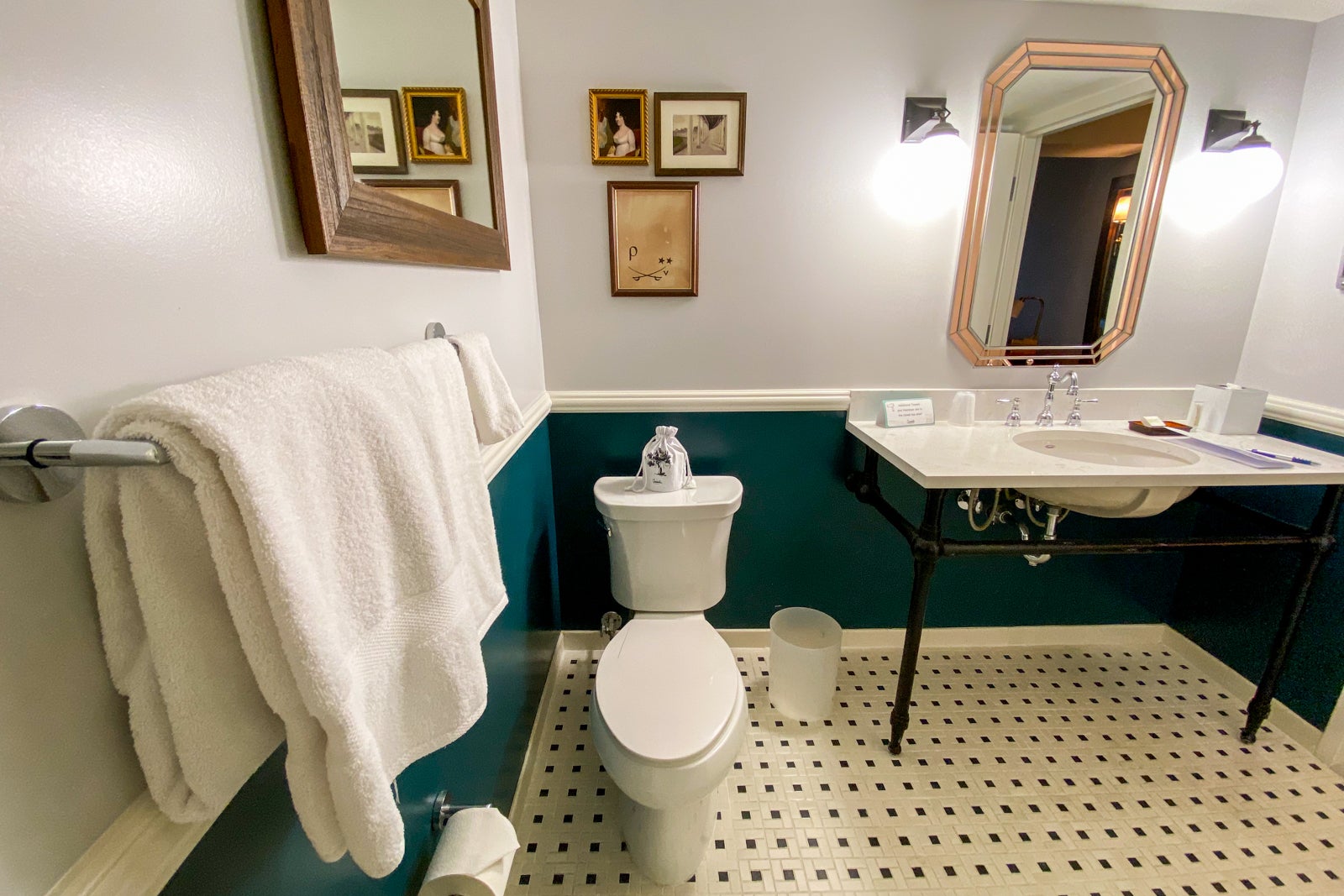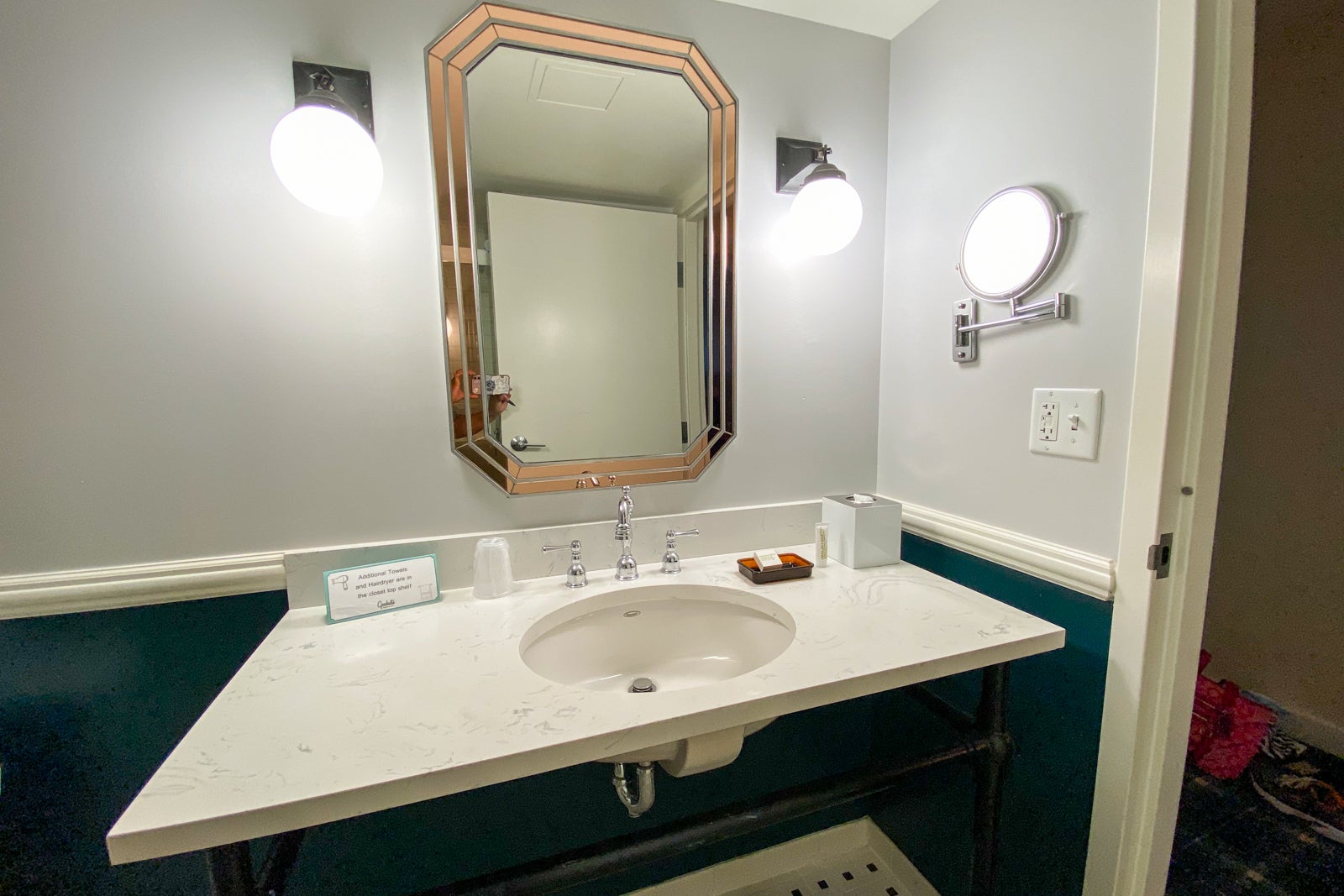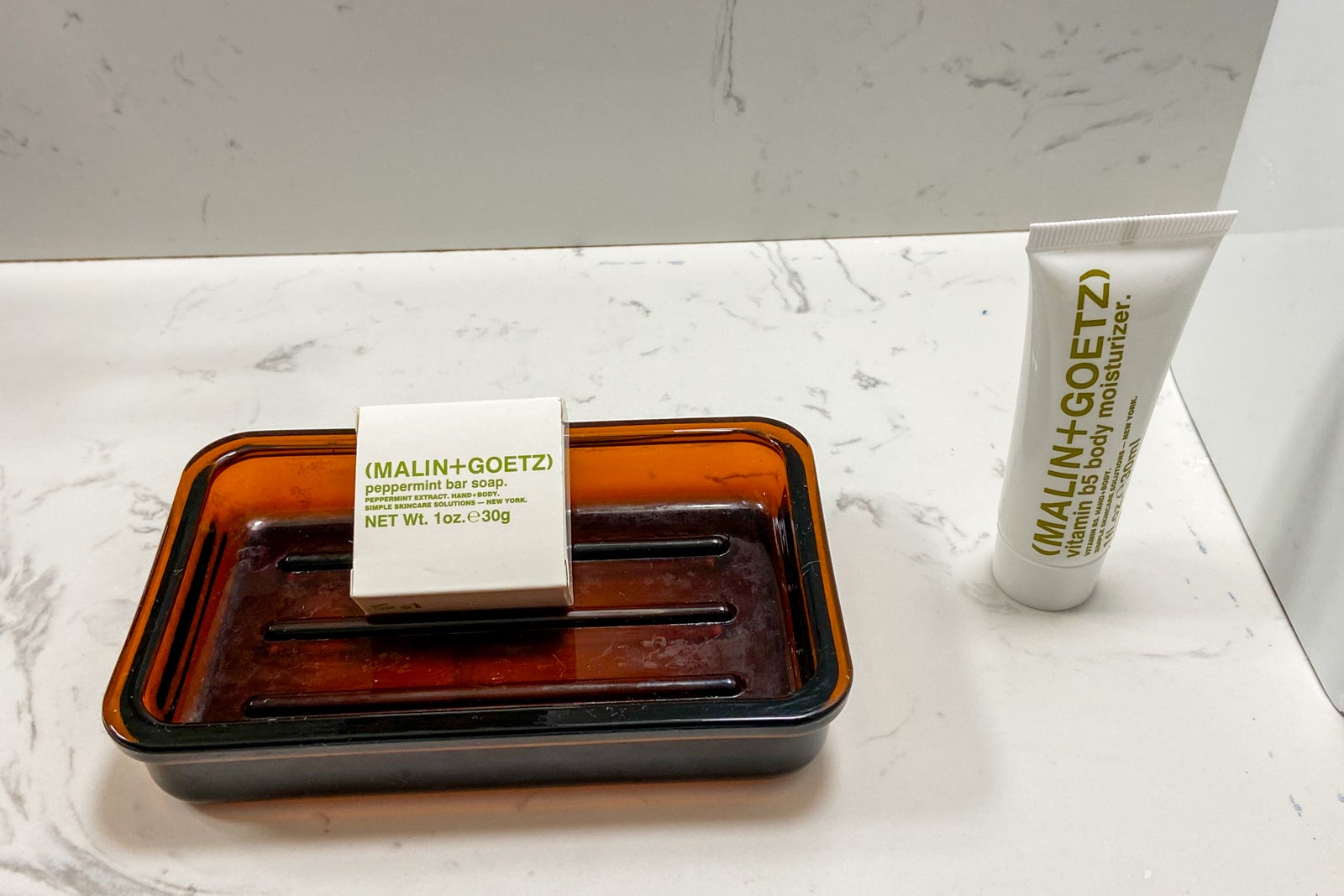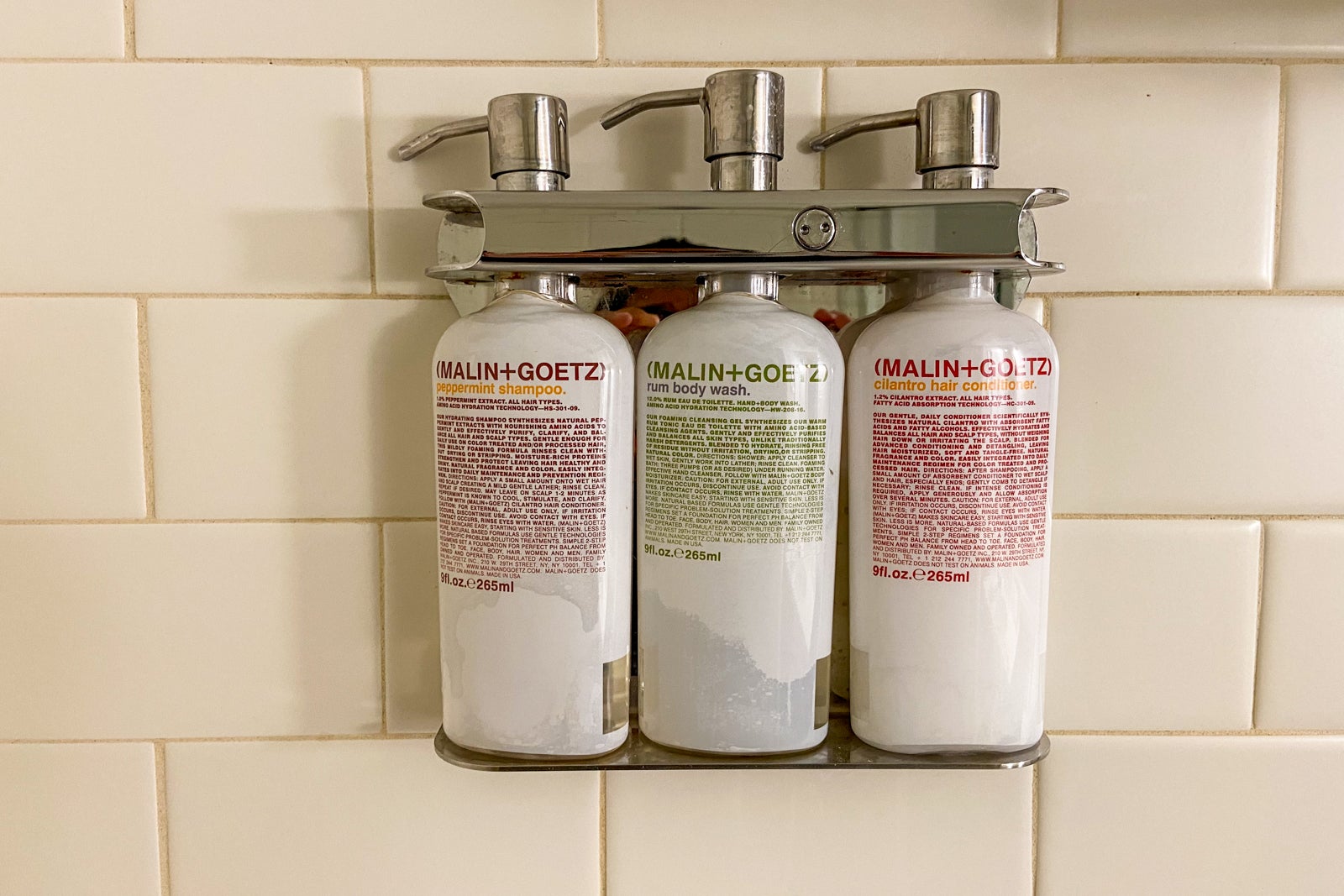 The walk-in shower offered ample space and excellent water pressure, though the vent inside could have used a good dusting and cleaning. While pump bottles of shampoo, conditioner and body wash hung on the wall, there was hardly any space to set your own shower toiletries. Fortunately, the ones I brought were pretty small and able to fit. Only one set of towels could be hung at a time, and the ones in my room had seen better days, as evidenced by the strings hanging off the edges.
Food and drink
The pickings were slim at the hotel during my stay, although they have improved since. Typically, guests have access to a lobby-level coffee shop and a top-floor food and beverage venue, but the coffee shop — Poindexter Coffee — was closed during my stay. The hotel did offer free coffee and tea every morning in the lobby, along with a fridge with a few grab-and-go items such as soft drinks and water available to buy. The coffee bar is now back open.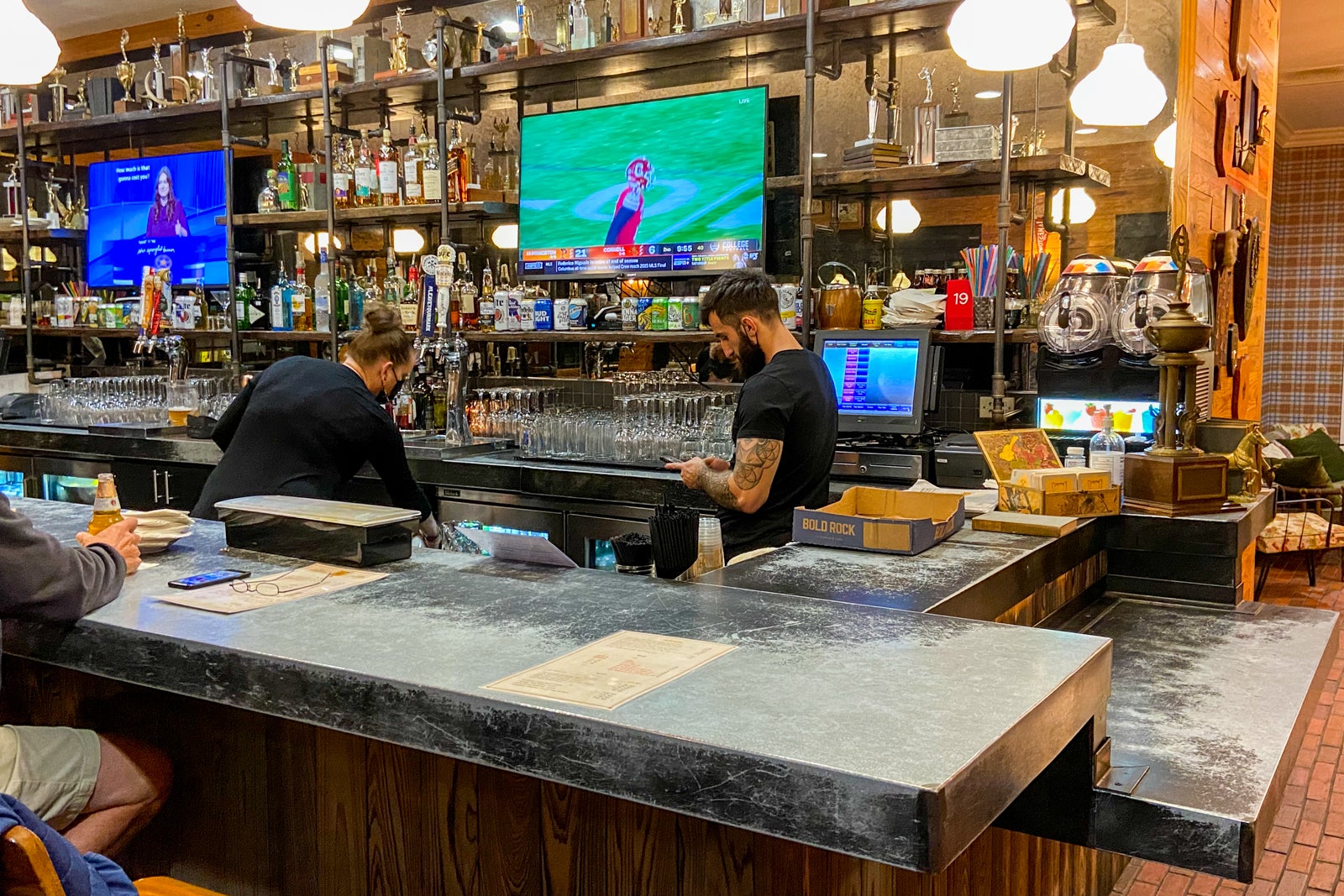 The Trophy Room was open during my stay, but its limited menu made it a better place to drink than eat. There was a full bar with specialty cocktails, a mix of local and national brand beers, a small wine list and jello shots — perfect for college students.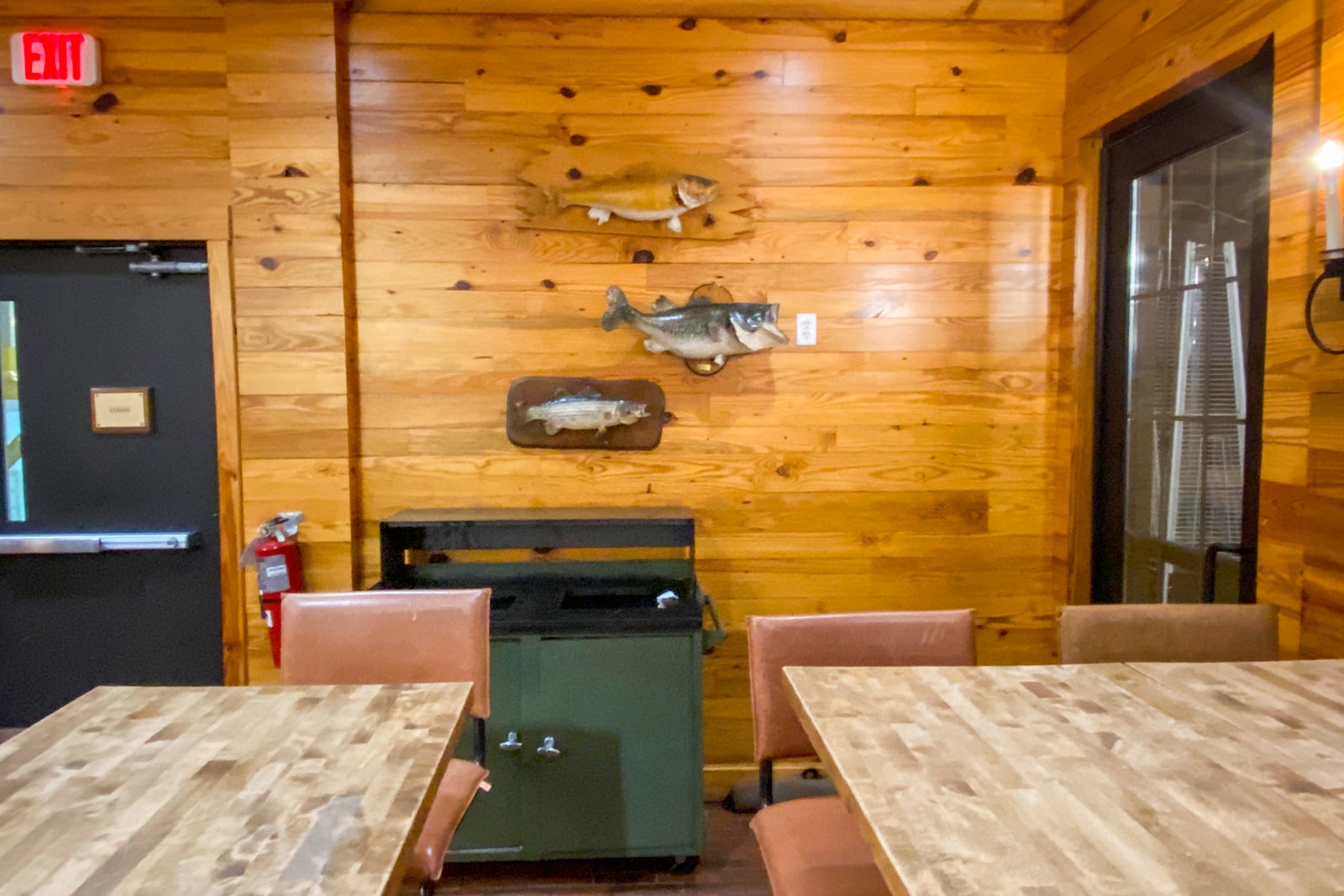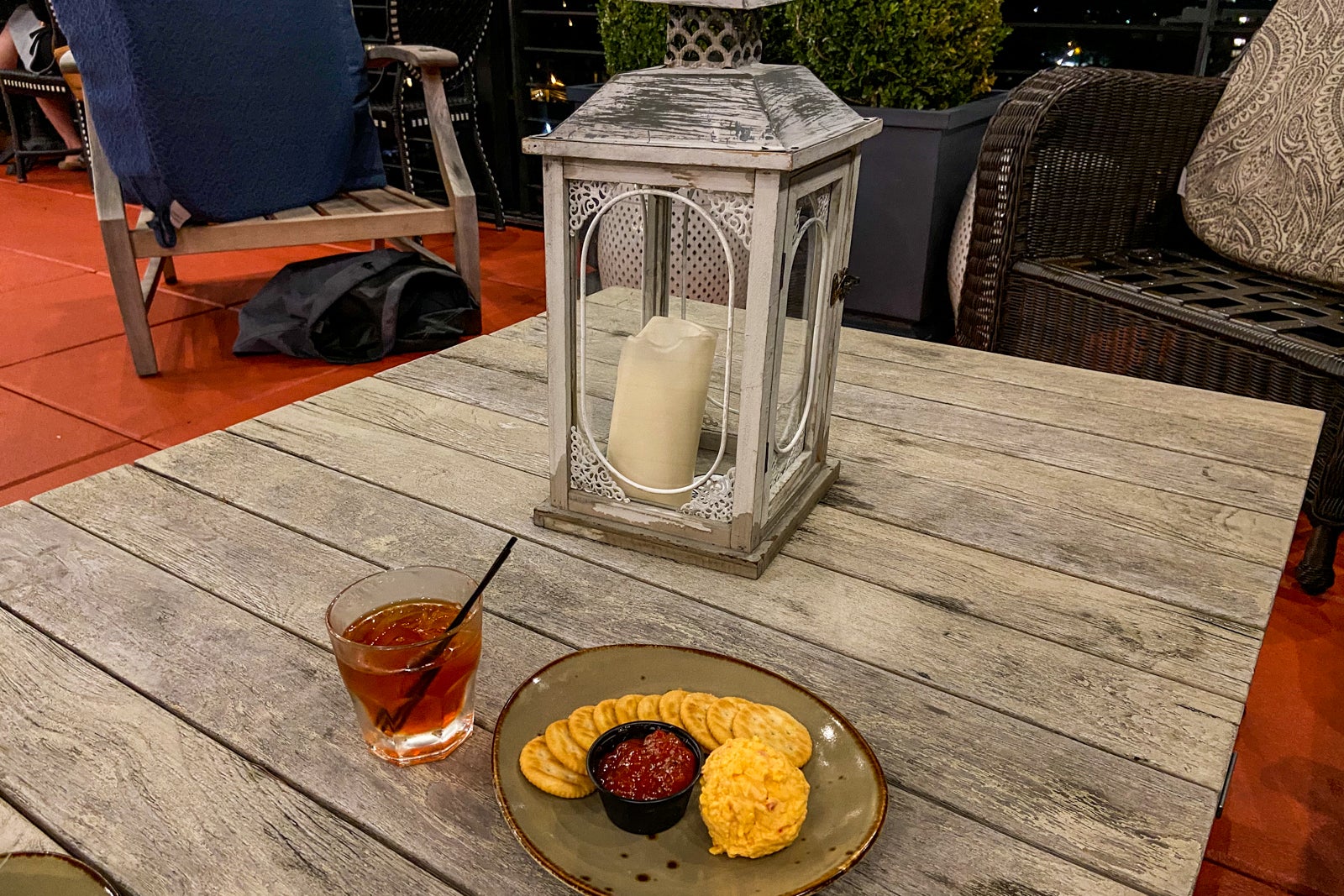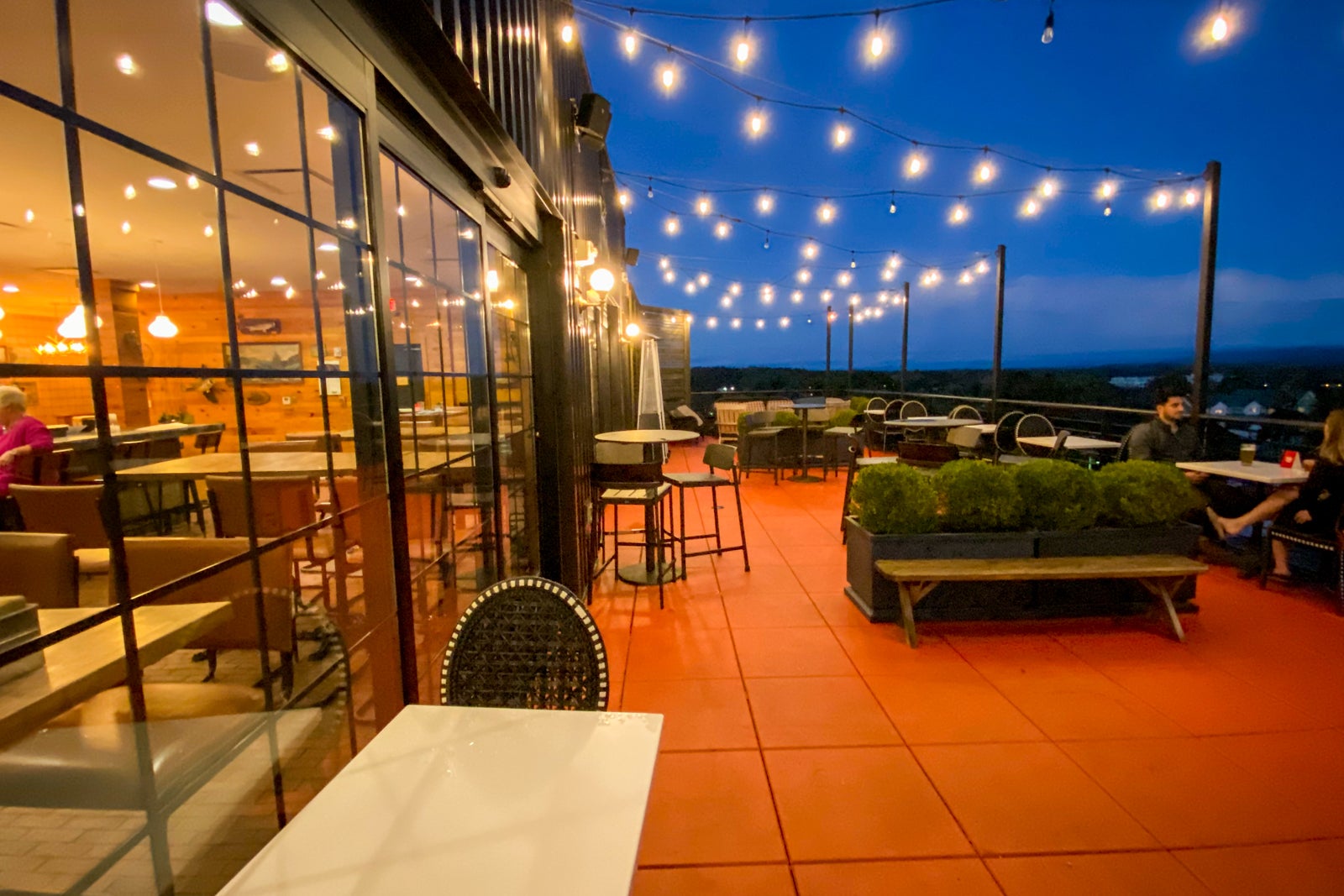 My guest and I shared the pimento cheese with crackers and pepper jelly ($9) and fried cauliflower coated with buffalo sauce ($11), both of which were tasty. The menu also featured two salads (a Cobb and a Caesar), two burgers, a grilled chicken avocado club sandwich and a chicken barbecue bowl, plus a side of fries and a skillet cookie dessert. All cost no more than $15. No other dishes were available, so you'll need to visit the attached Mellow Mushroom pizzeria, order delivery or walk to a spot nearby for additional options.
If you like drinking beer, book the hotel's Sip & Stay package to enjoy two drinks and receive two keepsake pint glasses at Three Notch'd Brewery Company. The brewery, which offers a variety of locally sourced beers and regionally inspired craft beers, is about a five-minute walk from the hotel.
Amenities and service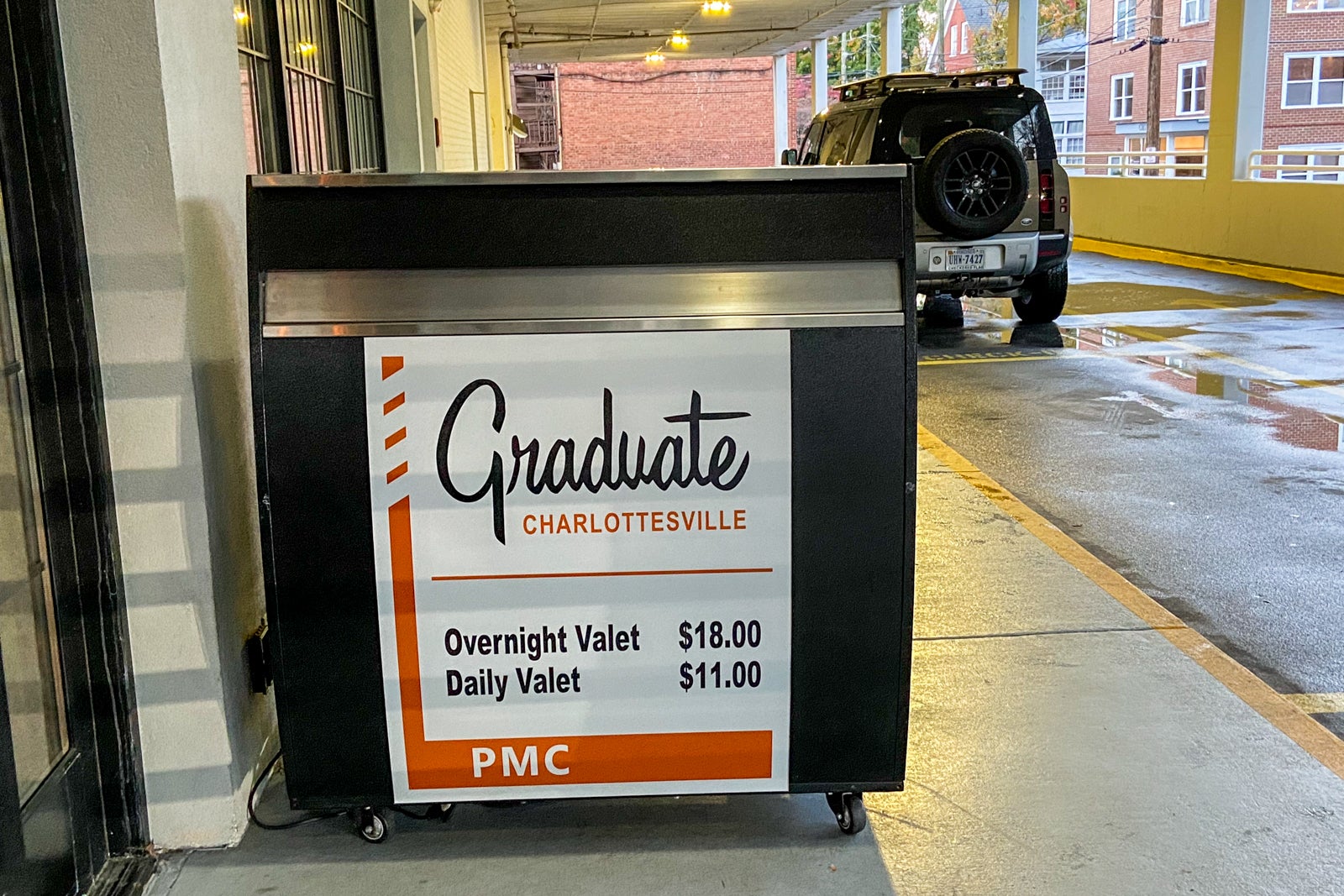 Although you won't find some traveler favorites like a spa and room service here, you'll have access to a few noteworthy amenities.
If you bring a car to Charlottesville, you can take advantage of the property's valet parking service. I did this and found the $18 overnight rate to be reasonable. The attendants were always friendly and quick to bring my car. Additionally, room rates cover use of loaner bikes with helmets, so if you don't have your own set of wheels, you can borrow two to explore downtown Charlottesville. Simply visit the front desk to pick up a bike.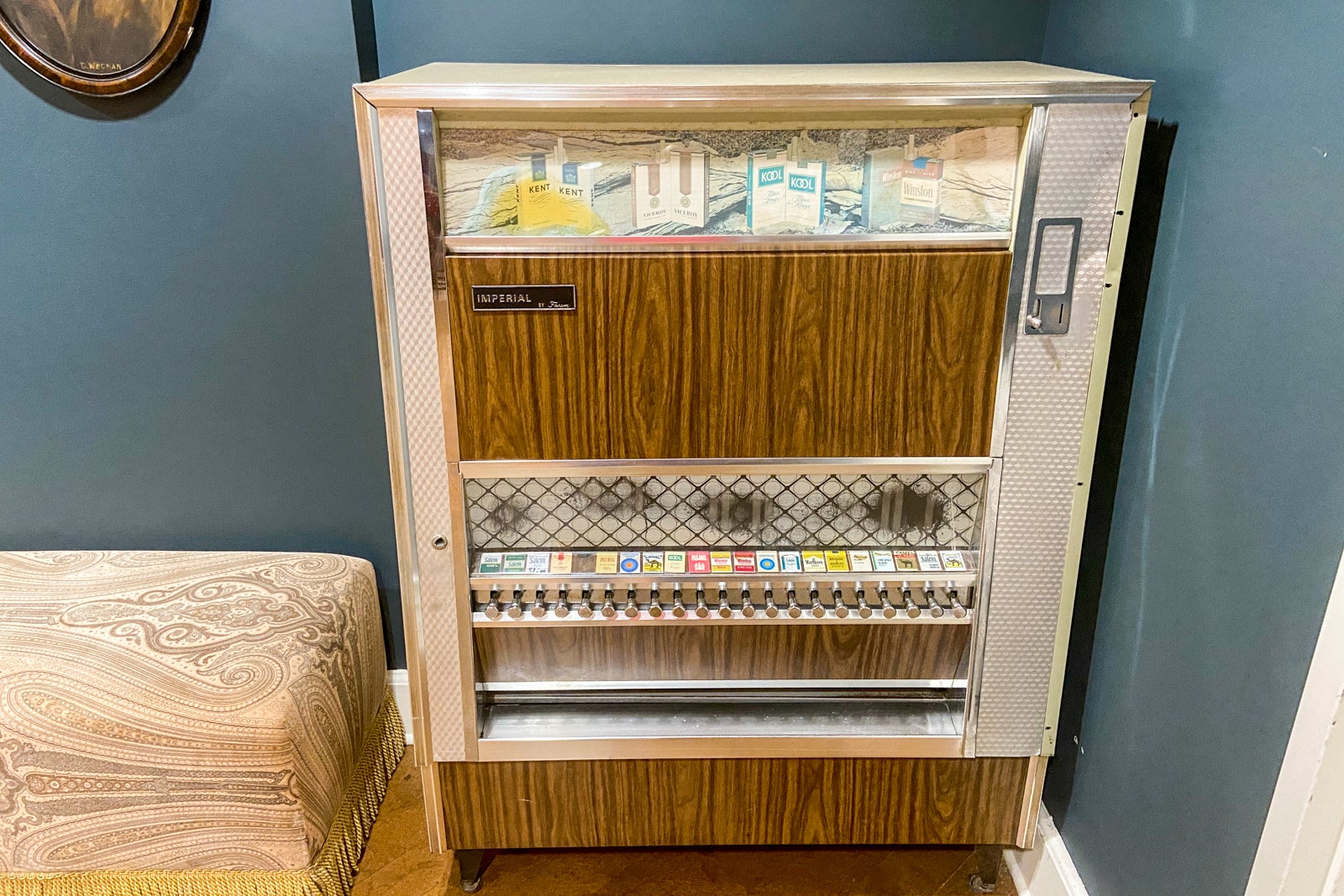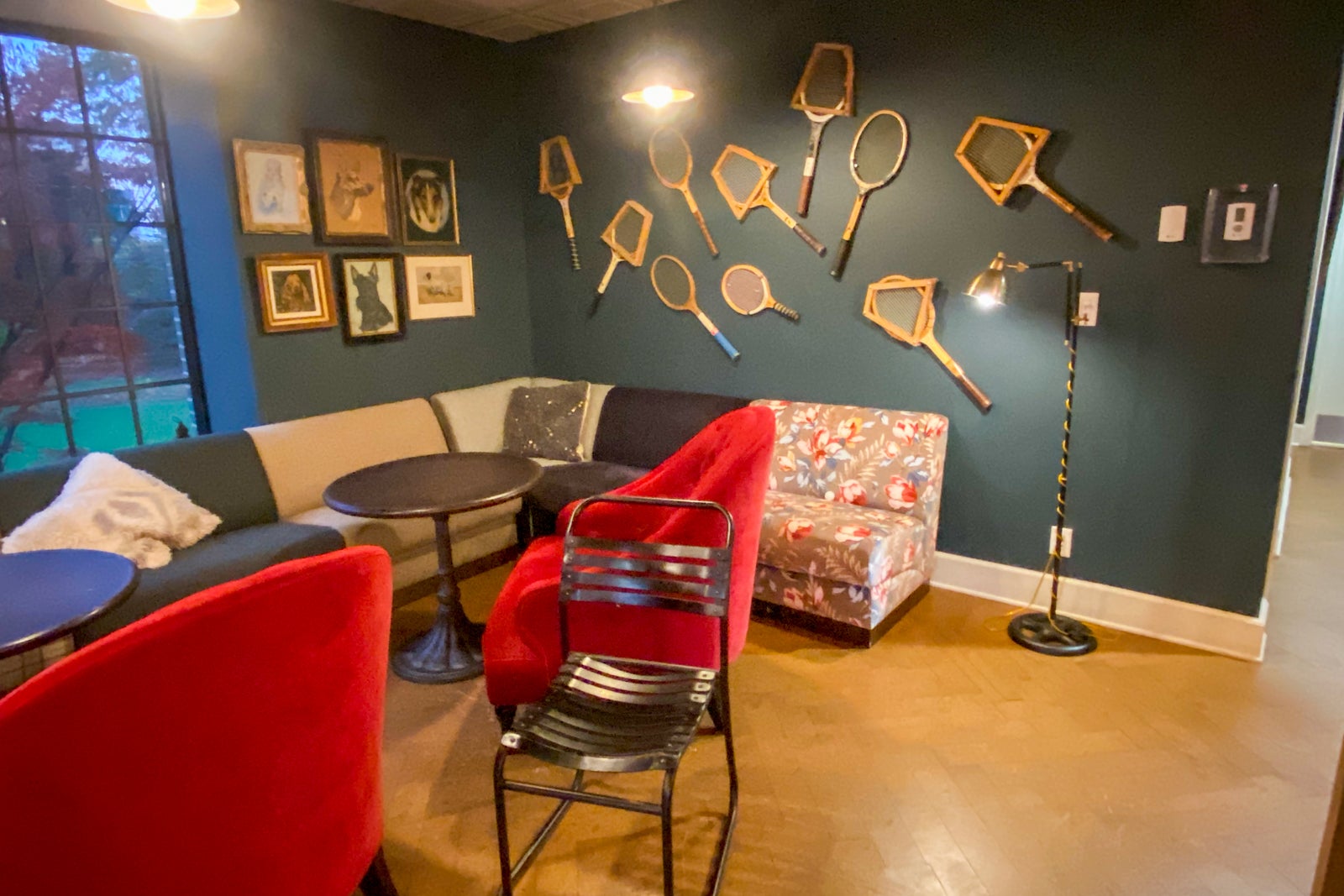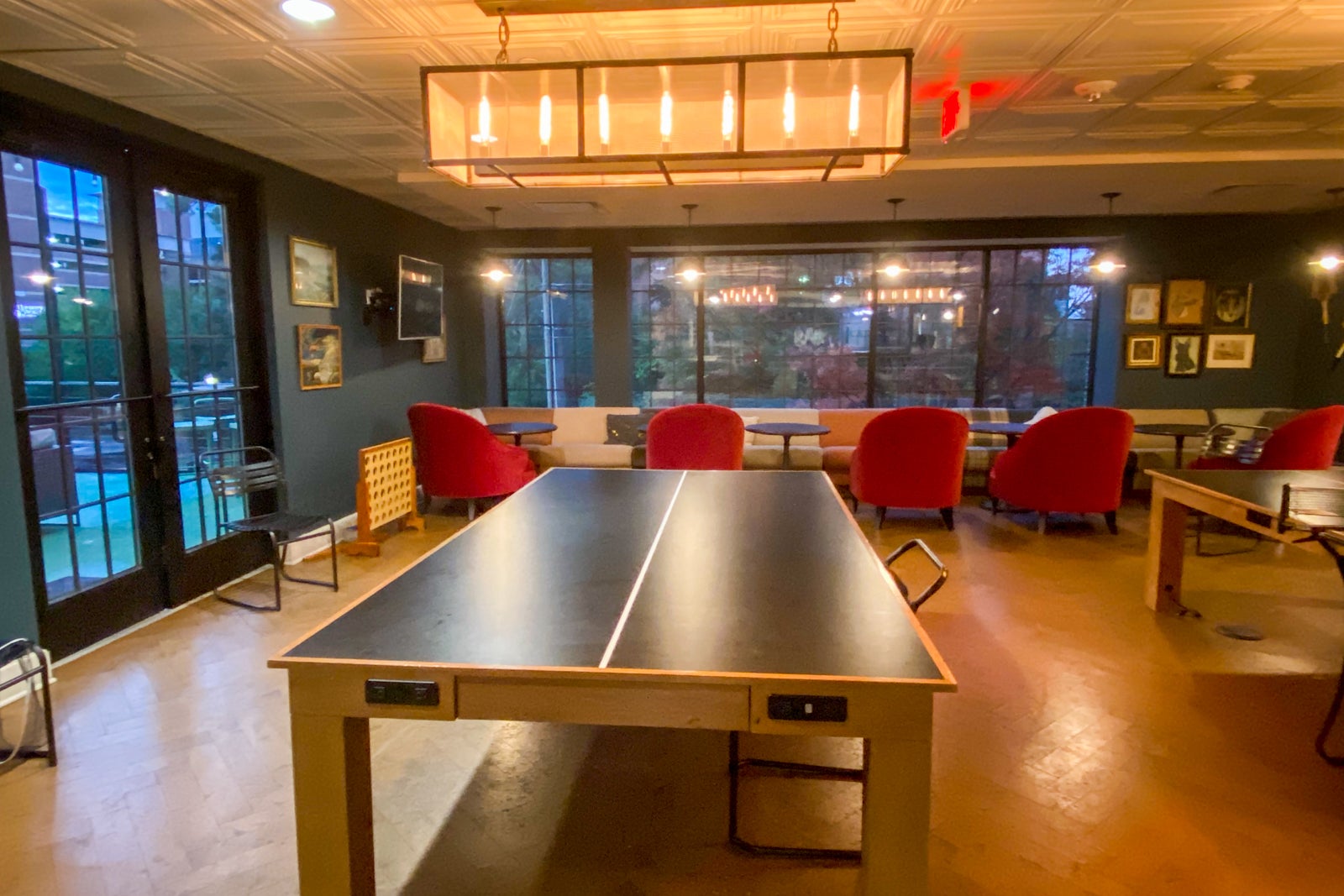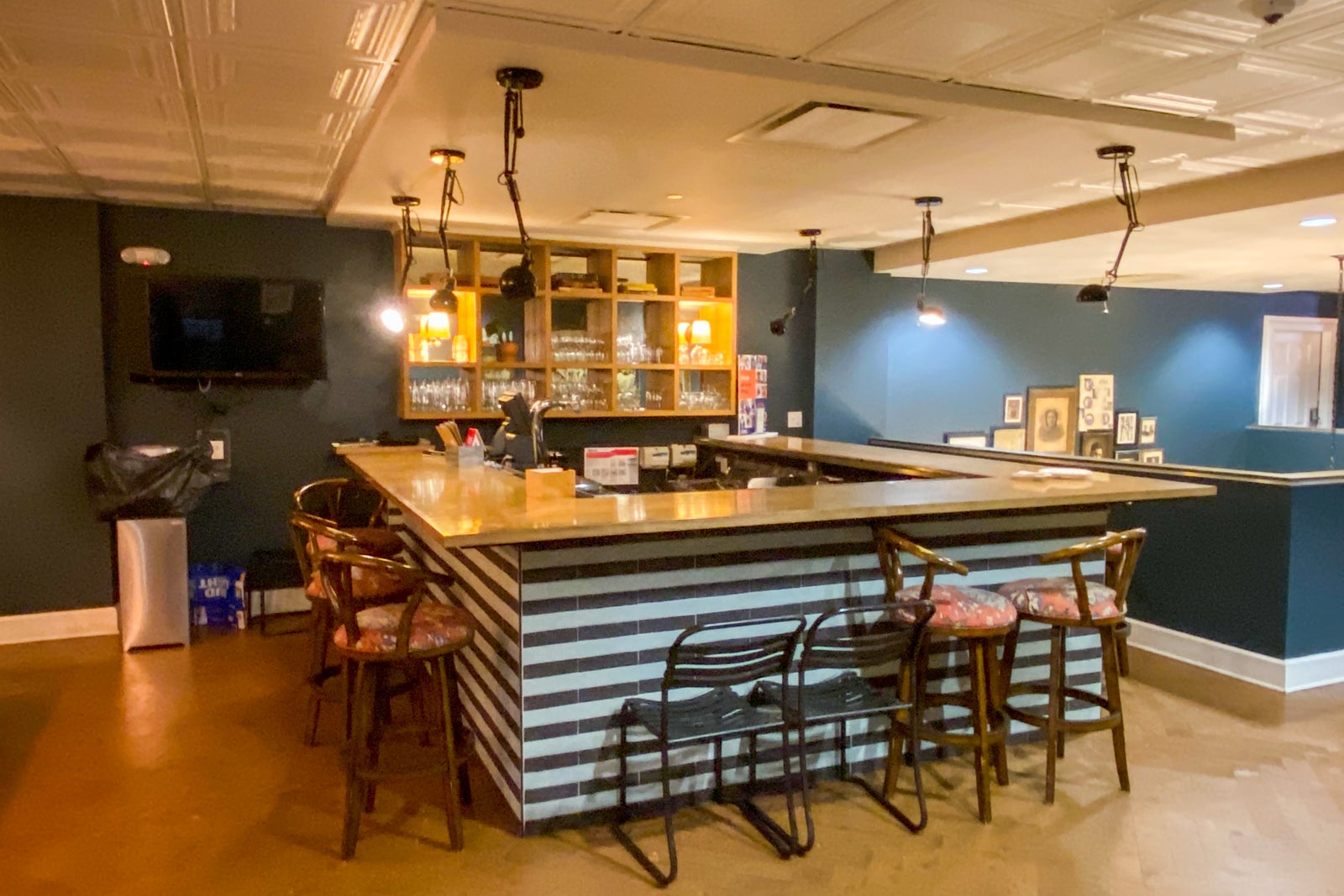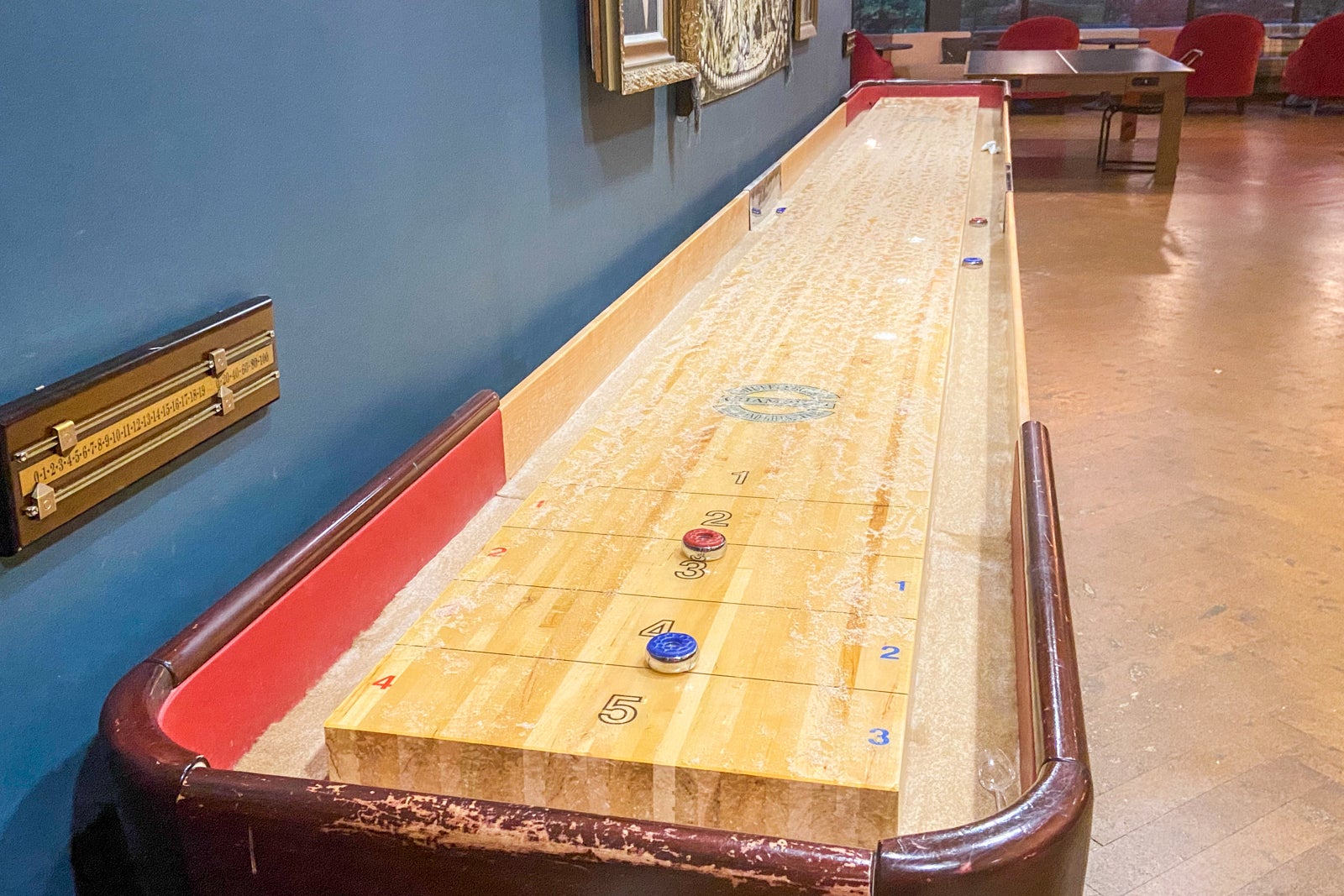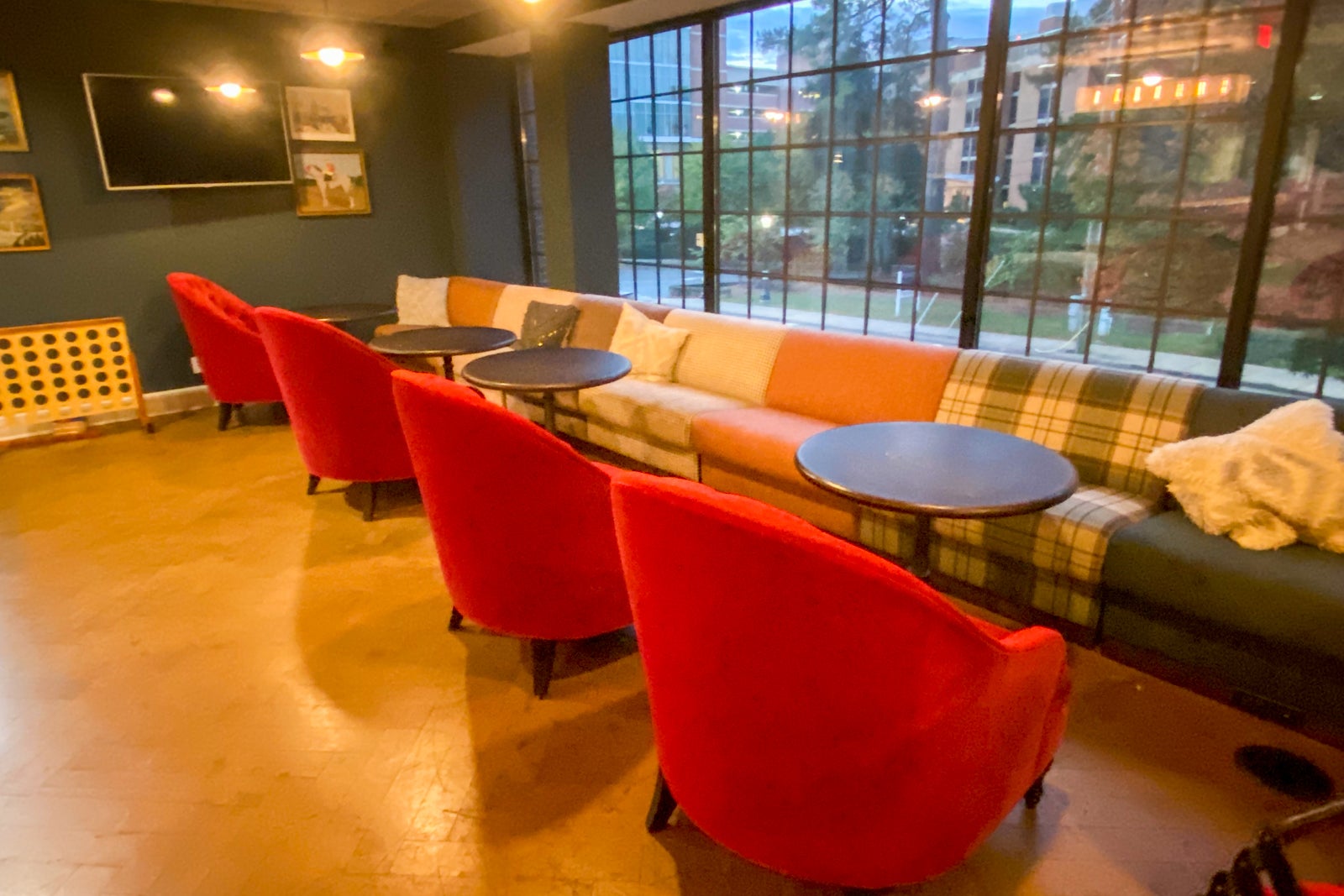 On the second floor, you'll find a game room stocked with everything from a vintage shuffleboard to two ping-pong tables. The space was a hoot, as it featured some unexpected relics like an empty cigarette vending machine that had labels for brands I remember my parents smoking when I was a kid. There was plenty of seating, too, perfect for watching a game on one of the flat-screen TVs or enjoying a drink from the bar (though the latter only opens when the Trophy Room is full). From spring through fall, a small outdoor patio attached to the space is available as well.
The fitness center was closed at the time of my stay but is welcoming guests again. The website says the second-floor space is open 24 hours a day.
Out and about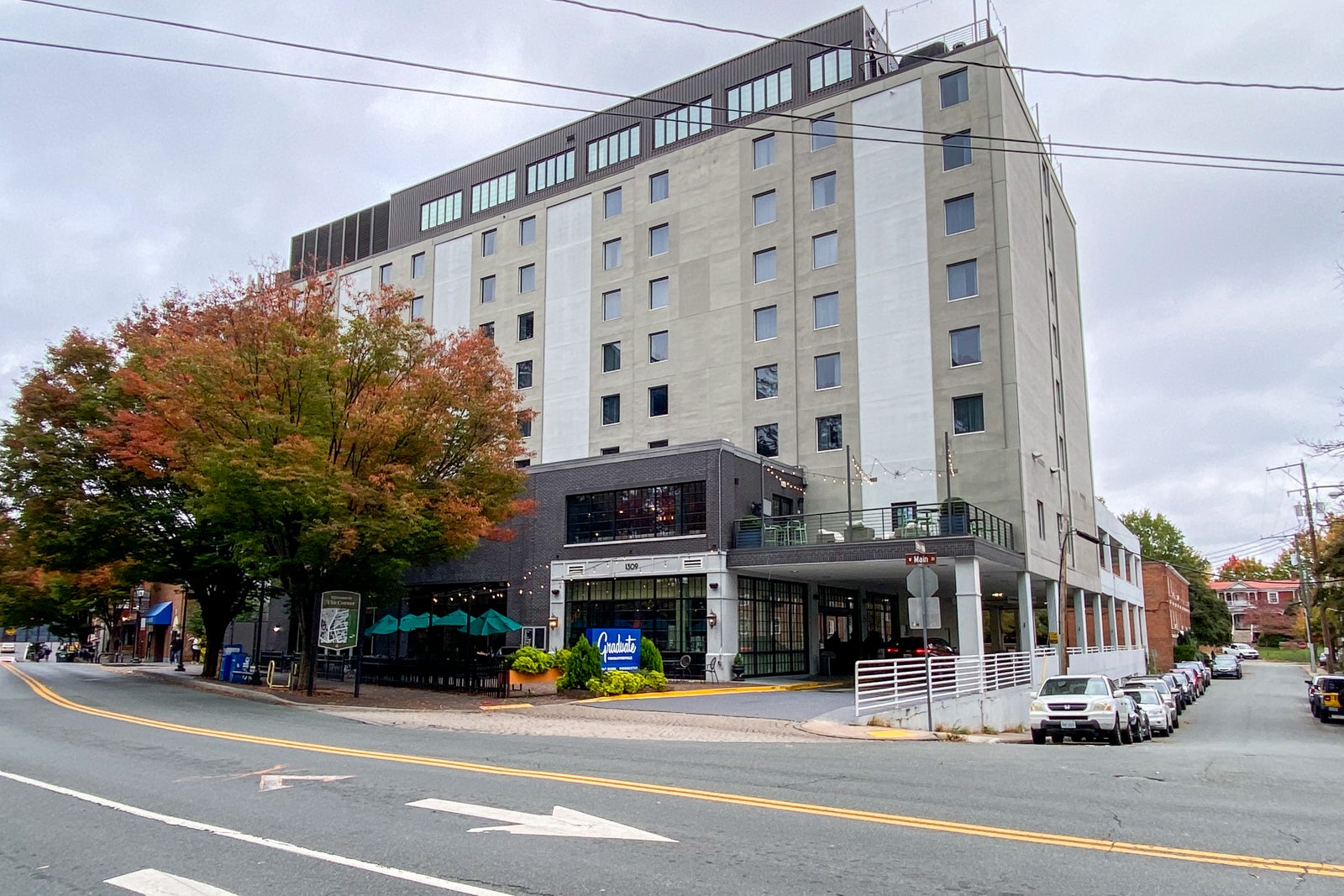 The hotel's location on Main Street means it's within walking distance of all kinds of shops and restaurants. Whether you crave a burrito or a poke bowl, odds are you'll find something close by that will satisfy you, regardless of what you're craving.
If you're into wine, you're in luck: Charlottesville is a great jumping-off point to Virginia's wine country, so you can do several tastings while in town. Jefferson Vineyards, which was founded by the third U.S. president in 1774, is where the state's wine industry began. Barboursville Vineyard and Michael Shaps Wineworks are two additional vineyards worth checking out.
Other spots you may want to visit include Shenandoah National Park, which is less than an hour north of Charlottesville, and Monticello, where former President Thomas Jefferson lived. I chose to go to the latter during my stay and found that it struck a delicate balance between focusing on the former president's accomplishments and his life as a slave owner, despite its troubling past as a plantation. Make sure you save time for the exhibit devoted to Jefferson's slave mistress, Sally Hemings; it was the highlight of my time at the property.
Accessibility
The Graduate Hotel Charlottesville has a separate tab on its website devoted to booking accessible rooms with queen- or king-size beds. However, the room descriptions only mention accessible bathtubs and lowered guest room peepholes as in-room ADA features. I had to dig around the hotel's website to find that other accessible amenities, including lowered electrical outlets, toilet grab bars, adapted telephones and audible emergency alarms for sight-impaired guests, are also available.
There are additional accessible features in the public spaces, too. Guests will find accessible elevators with Braille instructions, accessible car and van parking, automatic sliding doors for the Trophy Room's patio and wheelchair-accessible entrances throughout.
Related: 5 easy ways you can be an ally to disabled travelers
Checking out
The Graduate Hotels' concept is unique and fun. It's refreshing to stay at a hotel that comes with such a strong sense of place. That being said, the Charlottesville outpost didn't impress me enough to justify my $552 room rate. However, the eclectic design of each property made me want to try visiting another location — if I can score a much lower room rate.
Related: The state of hotel loyalty programs: Will this year's status earnings be worth it next year?
Featured photo by Benét J. Wilson.