Last week I kicked off my annual gift guides with my
Gift Guide for Kids
which included a list of gift ideas I think would be great for kids over two years old. For those with toddlers and babies, I didn't forget about you! I'm coming at you today with a gift guide for  the littlest boys and girls in your life!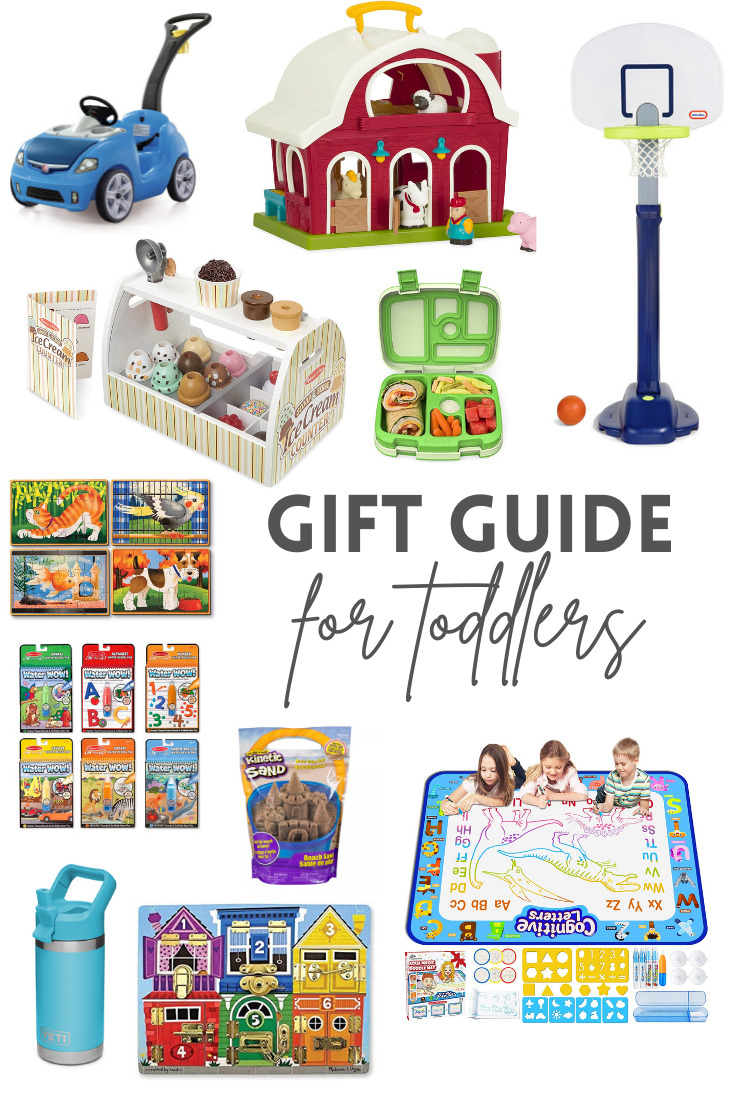 Like my Gift Guide for Kids, I'm following a similar format in today's gift guide and sorting everything into the following categories:
Something They Want
Something They Need
Something To Wear 
Something To Read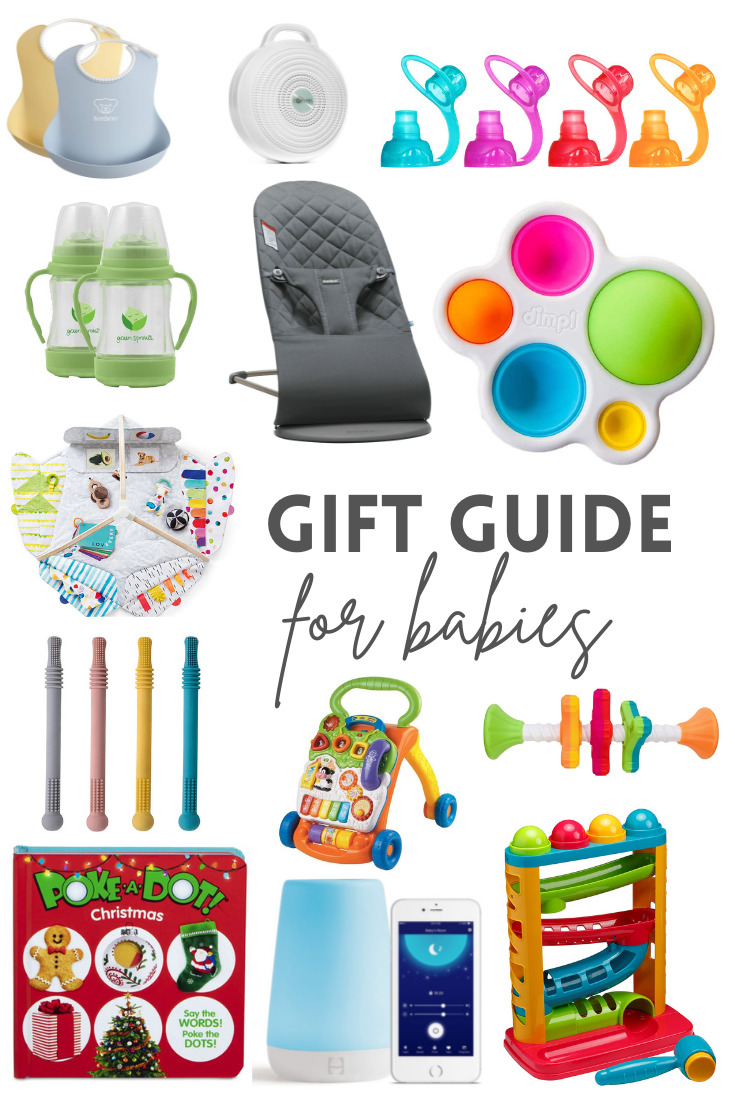 As always, I tried to provide a variety of price points below and the vast majority of the gifts included in this gift guide are below $30. I've also saved a bunch of these gifts to my Amazon shop which you may find here: Gift Guide for Babies and Toddlers 2021.
Almost every single thing on this gift guide is either something our boys have and love or something they adored when they were babies and toddlers. They are all gifts I'm confident recommending and I hope something pops out at you for a very loved little one in your list!
SOMETHING THEY WANT
TODDLERS (AGES 1-3):

Please note, some of these ideas are better for older toddlers while some are better for younger toddlers. You know the little ones in your life best but if you need any help deciding which gifts are better for a one-year-old versus a three-year-old, please let me know! 
Push Car: We got a push car for Ryder last summer it was love at first ride. Now Rhett (14 months) is 100 percent obsessed, too! We also gave this push car to my niece last year and now my younger niece is all about it as well. You can't go wrong with this one!
Scoop-and-Serve Ice Cream: Boys and girls alike have the best time scooping up pretend ice cream cones and playing restaurant with this adorable set. This play coffee set is another toddler winner!
Mud Kitchen: My aunt and uncle made a mud kitchen for their granddaughter it blew my mind! What a great gift for kids who love to play imagination games outside! There are options on Etsy that are beautiful but very pricey. Perhaps the super-handy people out there can make their own with this blueprint!?
Star Projector Light: It's so cute to see how this simple light absolutely blows the minds of toddlers!
Wooden Activity Board: This one keeps busy hands busy and curious minds engaged.
Mega Blocks: A great first set of building blocks.
Train Table: This is another splurge (or perhaps you can find a used one on Facebook Marketplace?) but it's another one that all of our boys have used and loved for years.
Create-a-Road Dinosaur Set: Chase received this as a birthday gift when he was three and both he and Ryder still play with it regularly. We've added additional tracks to it so they can build a ton of different longer road designs and they love it!
Water Doodle Mat: Perfect for painting, stamping, drawing and coloring with water. Clean up is a breeze!
Lovevery Play Kits: My love for Lovevery play kits runs deep. The toys are educational and engaging and the quality is fantastic. They are some of the only toys we will be keeping as heirloom toys because they are THAT good.
Doctor's Kit: We gave this to Chase "from Ryder" after Ryder was born and the boys still enjoy performing "checkups" on each other and their stuffed animals.
Scooter: A three-wheel scooter is a great starter scooter. Ryder wasn't even two when he began scooting around on Chase's old scooter!
Balance Bike: The best pre-real-bike bike out there! Great for helping kids understand balance and preparing them for riding a bike without training wheels.
Plasma Car: We discovered Plasma Cars through the boys' preschool and all of the kids are 100 percent obsessed with them. This is a gift that is great for toddlers and big kids and will be used for YEARS. Wiggle cars are a more affordable option and still great.
Sensory Play: Kinetic Sand and Water Beads are our favs.
Play Sink: A play sink was included in one of Ryder's Lovevery deliveries and he went crazy for it!
LeapFrog Laptop: We save this learning laptop for car rides and I'm convinced it's helped both Chase and Ryder learn their letters early.
Power Wheels Car: Ryder began driving Chase's Power Wheels at 2. Both big kids (ages 3 and 6) still drive this almost every single day! It can go 3(ish) miles on one charge and the boys drive it all over the neighborhood.
Large Dump Truck: Ryder loves this so much! It's also a great indoor/outdoor toy since the wheels are big and can easily roll over grass, rocks and dirt.
Barn + Farm Animal Play Set: If your toddler loves animals, this is a win for sure!
Little Tikes T-Ball Set + Adjustable Basketball Hoop: Great for the littlest sports fans.
Pop Up Play Tent: This is one of those gifts that seems HUGE to kids but is super affordable (under $25!). Our boys love this rocket ship pop up tent but there are so many options out there from princess castles and firetruck tents to clubhouses and race car pit stop tents.
Additional Ideas: Cars/Trains/Buses, Play Kitchen, Play Tools, Water WOW! Pads, Puzzles (these 12-piece 4-in-1 wooden puzzles were Ryder's first favorite puzzles he began doing when he was just under 3)
BABIES (AGES 0-12 MONTHS): 

Something They Need
TODDLERS (AGES 1-3): 

BABIES (AGES 0 – 12 MONTHS) 

SOMETHING TO WEAR
TODDLERS (AGES 1-3): 

Books to Bed Pajamas: These are adorable pajamas paired with a new book that coordinates with the jammies!
Puffer Vest: We're in prime puffer vest weather right now. Our kids run around like crazy outside and often say they get too hot in jackets so puffer vests are where it's at for our crew. Old Navy and H&M always have a bunch at decent price points.
Non-Slip Socks: We love these socks from Amazon for safely running around inside without sliding around on our hardwood floors all winter.
StitchFix Kids Delivery: The boys always get excited when a box arrives for them and love having a say in what we keep and what goes back. You can set your price point and I've found the clothing, jackets, pajamas and shoes they've sent our way high-quality and affordable.
Rain Boots or Snow Boots: Bogs are a splurge but if you have multiples, the quality is amazing and they hold up well enough to be used as hand-me-downs.
Winter Hats and Mittens
Pajamas: Some of our favorites include Mightly Organic Cotton Pajamas, Vaenait Baby cloud pajamas and these buffalo plaid footie pajamas
BABIES (AGES 0-12 MONTHS): 

Zipper Onesies: Because zippers are the best! In terms of softness, you cannot beat Kyte Baby onesies.
Baby Bunting Suit: To keep baby cozy and warm. We have this one for Rhett and Ryder says he looks like a little teddy bear whenever he wears it.
Freshly Picked Moccasins: We've loved these adorable soft-soled moccasins for all of our boys. We've been able to use them as hand-me-downs and they've been great for our boys as they've started to learn to walk.
SOMETHING TO READ
TODDLERS (AGES 1-3): 
BABIES (AGES 0-12 MONTHS): 
The post PBF Gift Guide 2021: Babies and Toddlers appeared first on Peanut Butter Fingers.