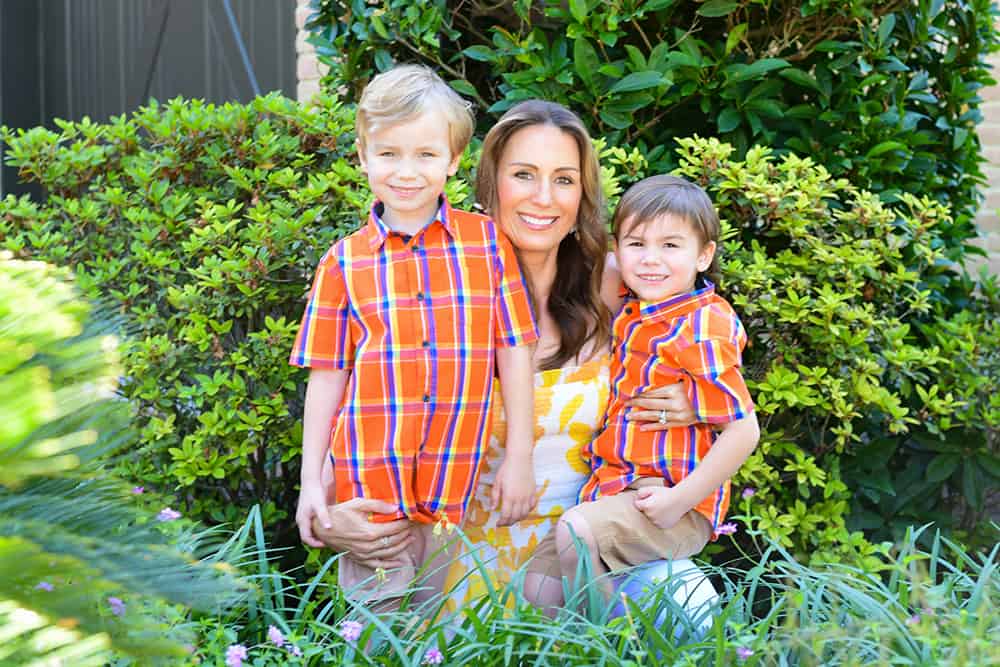 Raising children, balancing a career, and being a partner is the challenge of many mothers' lifetimes. And, despite the ease many see from the outside, women who seemingly "have it all" are often struggling greatly. Such is the case of

Brooke

Bentley Gunst, a Houston-based mother of two and former television anchor and sports reporter. Below, she shares her story of hitting rock bottom while striving to do all the things, all at once.
At nine months postpartum, I stood in a scorching hot shower and did what any mom would do when her breast pump breaks around midnight during a work trip. I milked myself like a cow. 
As breast milk splattered against the tile, tears rolled down my face. I couldn't wipe them because my hands were too busy cupping and squeezing my rock-hard breasts. I squeezed and splattered for about an hour, while trying to keep my meticulously blow-dried and curled hair from getting wet. 
This was my first road trip since having my second child, and it was a doubleheader. I had reported from the sidelines for a college football game on Saturday and would be providing color commentary for the broadcast of a volleyball conference championship game on Sunday. As a former collegiate volleyball player, I savored the opportunity to call a women's game. It immersed me in the sport that had brought me such joy and fulfillment. The volleyball game was also indoors with close proximity to private bathrooms, so I could strategize my pumping sessions to get through the game without leaking or engorgement. Issues that had plagued me during the football games I had worked in the fall and had caused me to get mastitis four times.
I crawled into bed, fluffed my limp curls over the pillow and searched the internet for the nearest Walmart. First thing in the morning, I would buy a new breast pump and a curling iron. 
You've got this. I thought to myself as I closed my eyes. You've got a thriving career as a TV anchor and sports reporter. You've got two healthy, happy boys. You've got a sweet, supportive husband.
Then, I began to cry. The truth was I didn't have it together at all. I was exhausted from trying to keep up with a fast-paced, competitive job that required me to work nights, weekends, and holidays. I still had a few more pounds of baby weight to lose, which had been pointed out to me by a work superior. I was juggling scheduling babysitters, sleep training a sleep-adverse baby, potty training a toddler, making dinners, taking care of the house. I was trying to be the best employee, mom, and wife I could be. I was trying to "have it all." But I was flailing, drowning in a sea of work-mom-wife duties, and not doing anything particularly well.
After the holidays, I decided to take a sabbatical from my television career. I needed to catch my breath. I wanted to enjoy my young children and spend quality time with my husband.
It has been four years since then. When my children went to preschool, I tapped into my journalism background and began writing grant applications and development reports for the nonprofit my sister founded. That position has grown. I am now the Development Director at Homemade Hope, a grassroots organization in Houston that teaches at-risk youth how to cook healthy meals from readily available ingredients. 
I have found a greater sense of purpose through this work than I could have ever imagined. The crippling effects of food insecurity and deep poverty in my community had been reduced to statistics I read about when I worked in sports reporting. Now, I know the faces behind those numbers. I see firsthand the psychological and emotional toll homeless takes on children, and I can be part of a support system to help improve the outcomes of their lives.
Of course, I still mourn my past career. I watch my idol Michelle Tafoya on Sunday Night Football and face the sharp reality that my dream to be the next NBC sideline reporter is over. I thumb through old headshots from my days working at a Fox affiliate in the small town of Beaumont, Texas, and relive all the sacrifices I made to launch my career. It stings.
I tell myself that my career isn't over, it's just taken deviant, unexpected twists and turns. I am still a journalist. At my core, I am a writer and a storyteller. I always will be. 
But a question pesters my subconscious, nagging me when I am hiding from my kids in the pantry on a conference call or when I'm trying to plan a date night in a month crammed with little league games and PTA commitments. Can moms really have it all? Can we be outstanding employees, attentive parents, and emotionally available partners?
There might be some "have it all" mom unicorns out there. For most of us, something has to give. 
In her documentary Being Serena, tennis star Serena Williams shares the grueling reality of returning to professional tennis in her mid-thirties after having a baby. She straps on plastic cones and hooks herself up to a breast pump hours before taking the court. After disappointing losses, Williams' coach tells her that she needs to move away from her husband and 7-month-old daughter and train with him in France for two months. It's the only way for her to shed weight, strengthen her game, and sharpen her mental edge. He says that a year ago she only had tennis in her life. Now, she has tennis, a baby and a husband—and she can't have it all if she wants to claw her way back to the world's top ranking. Serena refuses to leave her baby and strikes a compromise with her coach. She will move to France for six weeks with the baby and leave behind her husband. 
Williams, who is the closest thing to a superhuman on this earth, said she never habitually doubted herself until she became a mother. Then, she began questioning if she was good enough at everything, especially being a mom.
Many moms wrangle with similar questions and doubt. And trying to do it all to have it all leaves us depleted and, at times, defeated. At least, that's how I felt in the shower four years ago. It took hitting rock bottom in the "having it all" rat race to finally jump off the hamster wheel and reevaluate my momming-working-wifing balance.
I still have a lot to learn, but I have made the powerful realization that there are seasons to my life—times when I am focused on my children and critical stages of their development, times when I need to buckle down and prioritize work, and times when I get to pour extra TLC into my marriage. These three seasons don't occur concurrently, and I'm okay with that. 
I am also trying to create a more tenable definition for "having it all." Perhaps "having it all" really should mean having a full heart and an empathetic soul. Afterall, isn't that what motherhood is all about?
Are you a mother with something to say? Send us an email to be considered for our "Mom Talk" column.
The post Mom Talk: The Pressure to Have It All appeared first on MOTHER.