Animals are a high-interest way to engage children with language. Below you'll find favorite activities for kids to learn animals in Spanish. 
Whether children are learning farm animal vocabulary or learning about the animals of the rain forest, living creatures introduce them to culture and language. Pets and farm animals connect to daily routines, emotions, and appear in many children's books and stories in Spanish. Wild animals connect to geography, climate, and again, feature prominently in children's literature in Spanish.
Just as important, children connect at an emotional level with animals. They love animals and want to learn about them, and that makes animals ideal content for Spanish learners.
Be sure to check out our other Spanish vocabulary activities arranged by theme. We have lots of ideas and materials for you to share with children.
On this page you'll find:
Printable vocabulary practice for farm animals and wild animals
Activities to learn about specific animals
Jokes
Books and stories about animals
Poems
Games
Songs
Animal Vocabulary in Spanish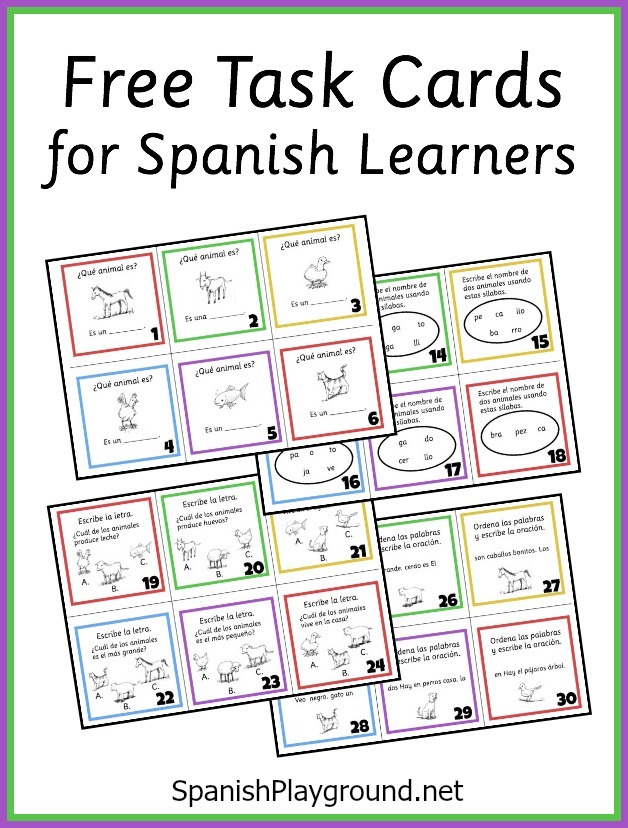 These activities focus on mastering vocabulary for common farm and wild animals. They are all picture-based, and I use them in conjunction with stories and songs. 
Spanish Task Cards: Animal Vocabulary – Task cards are a set of cards with a single question for students to answer on each card. This is a set of my Spanish task cards to practice animal vocabulary.
I Spy Games for Brown Bear Brown Bear – I made two I Spy games for this classic read-aloud. They both have pictures of the animals in the book and list the animals at the bottom. Kids write the number of each animal they find.
Farm Animals in Spanish – If you're looking specifically for farm animal resources, this collection of resources will come in handy. You'll find songs, printables, books and online games that focus on life on the farm. 
Animals in Spanish: Wild Animal Activities – If you're looking specifically for wild animal resources, this collection of resources is a good place to start. You'll find songs, picture cards and crafts to reinforce Spanish words for wild animals 
Spanish Zoo Animal Activities – These activities overlap with the wild animal vocabulary above and also include resources related to zoos, including songs and virtual tours. 
Spanish Animals: Picture Cards and 25 Activities – This PDF has animal picture cards in various sizes and syllable cards for beginning readers to form the words. It's a very useful set!
Spanish Activities about Specific Animals
Dolphin Activities in Spanish – These dolphin activities include a combination of reading with comprehension questions, graphic organizers, photos, videos and crafts.
Monarch Butterfly Activities in Spanish – All my favorite activities for learning about Monarchs in Spanish. 
Armadillo Facts and Stories in Spanish – Armadillos live throughout Latin America and often appear in traditional stories and songs. In the post you will find a printable reading with basic armadillo facts and an activity, as well as stories about armadillos to print or read online. 
Preschool Spanish: Mouse Activities – I do a preschool unit on mice. It's lots of fun and the kids love it. These are the activities I do with my students. 
Jokes about Animals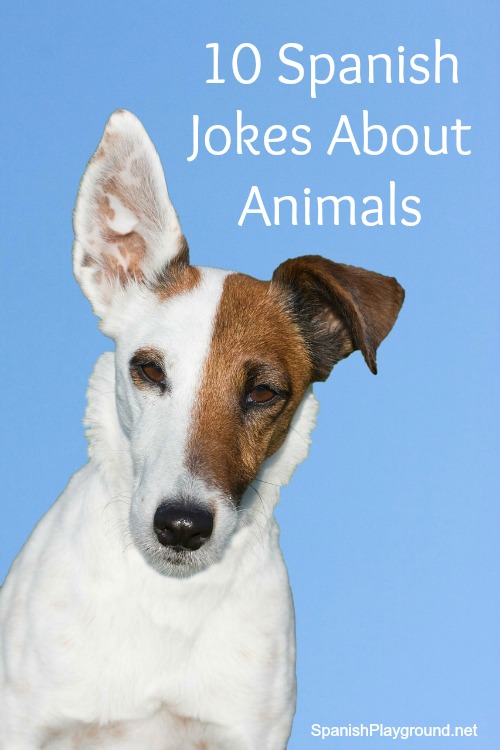 Here are 10  jokes to share with kids learning about animals in Spanish. They are just right for language learners.
Spanish Jokes for Kids: Animals
Books and Stories to Learn Animals in Spanish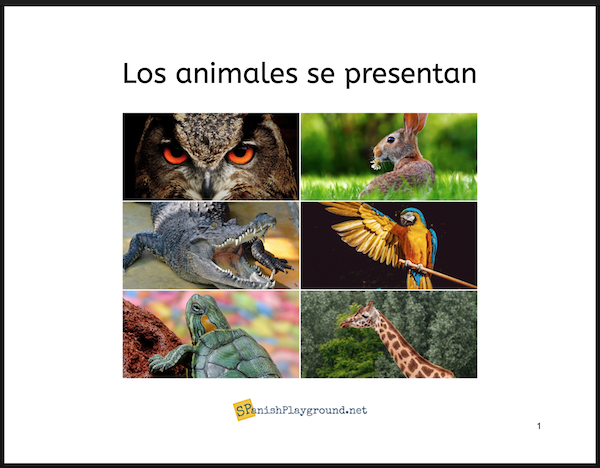 Free Spanish PDF Book : Los animales se presentan – This free Spanish PDF book targets the first person of the present tense of ser and tener.
Los Pollitos Dicen Lyrics and Printable Coloring Book – This is a free download of a coloring book with the lyrics to the classic song Los pollitos dicen. I use it every spring and kids love the illustrations!
Spanish PDF Books for Kids: Animals and Houses – These two Spanish PDF books focus on animal and house vocabulary. Les gusta la nieve has beautiful photos of animals in the snow and ¿Dónde está el gato? has fun photos of cats at home. 
Printable Spanish Story and Scene: El oso y sus amigos – The story, El oso y sus amigos, is about a bear who lives alone in the forest and how he makes friends. There are downloads of the printable Spanish story at two different levels. The printable Spanish story has black and white illustrations that children can color. There are also figures to cut out for telling and retelling the story. 
Spanish Story for Kids: 7 Brown Bear Activities and Free Printables – These are some of my favorite activities to do with this classic read aloud.
Spanish Poems about Animals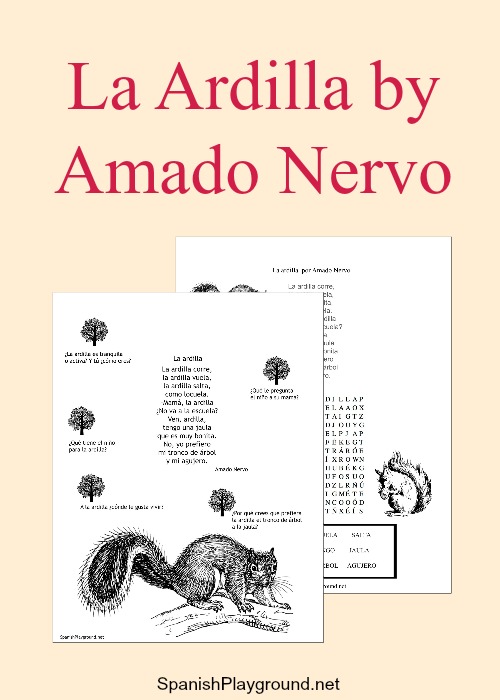 Poem La ardilla with Printable Activities – The poem La ardilla by Amado Nervo has concrete, familiar vocabulary. There is a printable version with questions. 
Spanish Poem Los Pollitos – This is not the children's song, but rather a fun poem by Argentine author Olegario Víctor Andrade. There is a printable version with questions. 
Games to Learn Animals in Spanish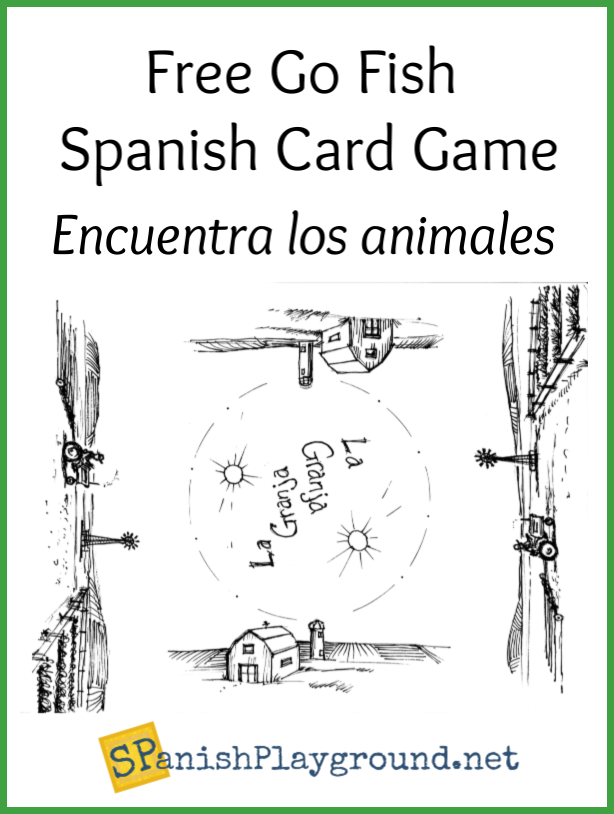 Go Fish Spanish Animal Game – Encuentra los animales is a free Go Fish Spanish game to practice animals, places and verbs. 
Spanish Reading Games: I Spy Dogs and People – These Spanish reading games have a printable game board with pictures. One is I Spy Dogs and the other is I Spy People, with a set of description cards for each of the game boards.
Spanish Movement Cards for Preschoolers – A post about using movement in class and with a set of Spanish movement cards for preschoolers.
Spanish Vocabulary Review Games: Connect 4 – An explanation of how to use animal picture cards to play Connect 4. 
Songs to Learn Animals in Spanish
There are many fun animal songs in Spanish. Here are a few of our favorite song resources about animals for little ones.
Spanish Song Books with Built-In Music  These song books that sing are from Lufi and Friends and they are a fabulous way to get kids singing and reading. My granddaughter is 2 and she has been obsessed with them for the last year. One of the books is Mis primeras canciones de animales, but all the books are lots of fun. 
Un Elefante Se Balanceaba Lyrics and Activities – Un elefante se balanceaba is one of the best known Spanish children's songs. It is a counting song and the rhyme helps children learn the words. In the post you'll find lyrics, videos and activities for Un elefante se balanceaba.
5 Spanish Chicken Song Favorites – There are lots of songs about chickens in Spanish. These are a few I like best. 
Spanish Sequencing Cards: The Itsy Bitsy Spider – The Itsy Bitsy Spider is a fun fingerplay to do with language learners. There is a set of printable sequencing cards in the post. 
Additional Resources for Learning About Animals in Spanish
If you're looking for more resources to learn about animals in Spanish, be sure to check out our Learn Spanish with Pictures activities. Many of the picture-based conversations feature animals, and they are a great way to get children speaking Spanish.
We also have several fun videos with stories and conversations about animals on the Spanish Playground YouTube channel. Be sure to take a look!
Animals appeal to our emotions and our curiosity. Regardless of the kinds of activities you do, few topics will engage young language learners the way animals do. So, take advantage of the natural interest kids have in animals to help them learn more Spanish!
The post Learn Animals in Spanish appeared first on Spanish Playground.