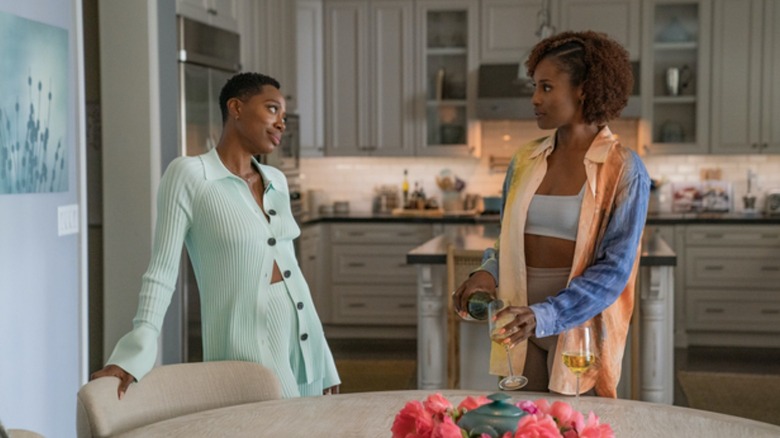 10 years ago, Issa Rae caught Hollywood's attention with her hit YouTube comedy series "The Misadventures of Awkward Black Girl." Rae created and starred in the series about a young Black woman navigating dating, friendships, and her career. By 2013, the creator was working on a pilot with Larry Wilmore that captured some of the same specific magic as "Awkward Black Girl" but included plenty of new ideas, too. The pilot became "Insecure," a funny, touching, romantic, and dramatic series that's unlike anything else on TV. Now, after five great seasons, "Insecure" has come to an end.
The final season of "Insecure" included some major moves for every main character, even ahead of the finale. Issa (Rae) started a company called The BLOCC and rekindled her relationship with Nathan (Kendrick Sampson). Molly (Yvonne Orji) found a love match that felt like a good fit, but also had to cope with her mother's declining health. Lawrence (Jay Ellis) adapted to life as a father. Meanwhile, Kelli (Natasha Rothwell) went through a minor identity crisis after her alma mater accidentally published an in memoriam claiming she was dead.
First, Let's Talk About The Fight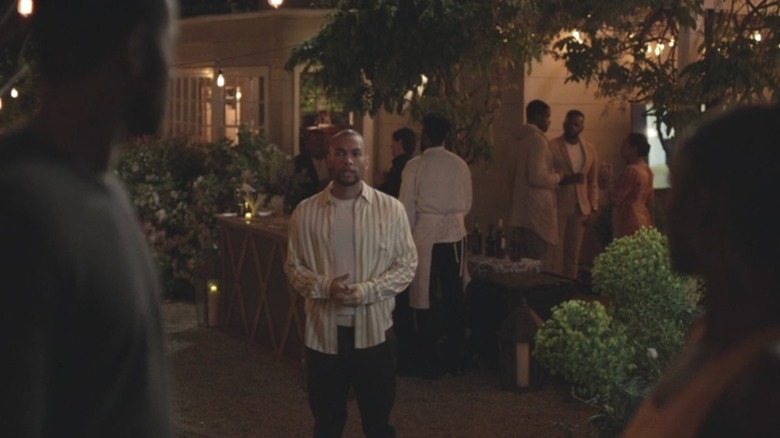 In one of the last episodes ahead of the season finale, viewers learn that Issa's close friends, Tiffany (Amanda Seales) and Derek (Wade Allain-Marcus), are moving their family to Denver for work. The show has a knack for setting up moments of drama so they unfold at high-stakes parties and get-togethers. This is exactly the case in "Out, Okay?!" the second-to-last episode of the series. The episode starts with Issa and Nathan apartment shopping, and ends with them on the verge of breaking up at Tiffany and Derek's going away party.
The reason for the break-up is, unsurprisingly, Lawrence. One of my favorite things about "Insecure" is the way it realistically depicts relationships that fade out, largely due to a seed of misunderstanding that grows into an awkwardness that widens into a rift. This happened with Issa and Molly in one of the series' best plots, and in this episode, we learn it was part of why Lawrence never made it work with her, too. Lawrence's roommate points out that he never actually fought for Issa, but passively let their love dissolve. This inspires Lawrence to approach Issa at the party and -- after accidentally giving her a jump scare -- admitting he still loves her. "I would hate to leave here tonight knowing that I didn't say something that I should have," he says, before dropping the L word right as Nathan walks up.
Nathan doesn't take this well. He tries to instigate a physical fight with Lawrence in the middle of the party, then steps away. That's where the episode leaves off, but the series finale, "Everything Gonna Be, Okay?!" picks up right where it left off. "This messy s*** is just toxic to me," Nathan tells Issa in the car outside the party, effectively ending their relationship. "Insecure" fans have debated the pros and cons of each of Issa's love interests since the series began. Some people love Nathan, but he and Issa are both unpredictable in different ways that have always read as incompatible to me, so this feels like a natural end point to their relationship.
Here's Where The Finale Picks Up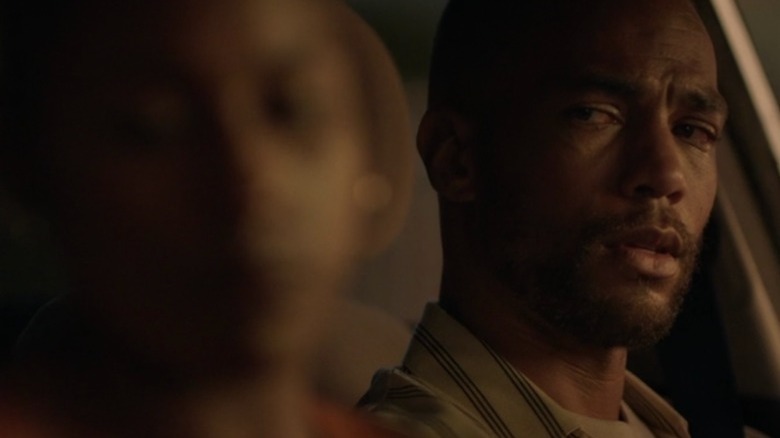 The "Insecure" series finale, which is directed by showrunner Prentice Penny, is framed around a clever conceit. At Tiffany's going away party, the friend group decides to make a pact -- to always be there for each other's birthdays, no matter what. The finale takes place across several birthdays, showing the passage of time and speeding up the narrative to give our favorite characters their happy–and bittersweet–endings.
First up, it's Molly's birthday. Tiffany travels back to LA and says that she's settling down fine in Denver. Kelli introduces her to her new boyfriend, Desmond (James Bland), and the two fall into a fit of giggles when asked how they met. That's a story for another time, apparently. Molly and Issa have a low-key discussion about how Issa still feels out of sorts after her breakup, and as with every scene between the pair this season, it's so nice to see them relax together after the painful friend break-up they endured. This birthday doesn't bring about any big revelations, but it does show Molly allowing her friends to treat her in a sweet bit of character development for the workaholic character. "Thank you so much for forcing me to celebrate myself," she tells Issa.
Next up, it's Issa's birthday. She's led to Crenshawn's studio space, where she's told there's a problem with a busted pipe. Just kidding, it's a surprise party! Her friends donate $5,000 to The BLOCC, and Kelli and Molly try to talk her into finding some "birthday d***." Somehow, Nathan gets an invite to the party, and shows up. He brings a donation for The BLOCC, and says L.A. is "finally starting to feel like home" to him. That closes the book on him and Issa, but there don't seem to be any hard feelings. She rejoins the party, and says hi to a new guy.
The Finale's Most Realistically Heartbreaking Moment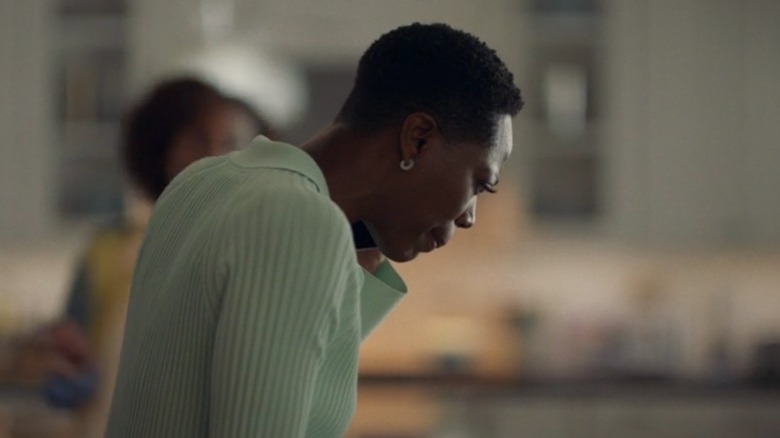 Third, we've got Tiffany's birthday. The crew shows up to her Denver home, which is, of course, pristine and beautiful, only to find out Tiffany actually hates Denver. She hasn't met any friends, she's not working, and her daughter is the only Black girl in her preschool class. Derek says none of his friends have even bothered to come visit him. The show addresses the situation with typical realism, with Tiffany's friends able to offer support but no easy solution. "I want to tell her to give it time, but that just feels like a thing that people say," Issa admits. There's not a blueprint for this stuff.
Issa mentions that she's seeing someone, and also talks to Molly about Lawrence, but the scene's most poignant moment is its ending. In the middle of a casual conversation, Molly's brother calls, and it's clear through a few short sentences that her mom has suddenly passed away. This sequence is only a few seconds long, but it's some of Orji's best work. It's also devastating. I've talked about the realism of "Insecure" plenty already, but nothing in this half hour feels more real–nor more painfully specific–than the moment when someone's whole world flips like a switch. It's hard to watch. Issa catches Molly as she crumbles to the ground.
The Birthday Train Doesn't Stop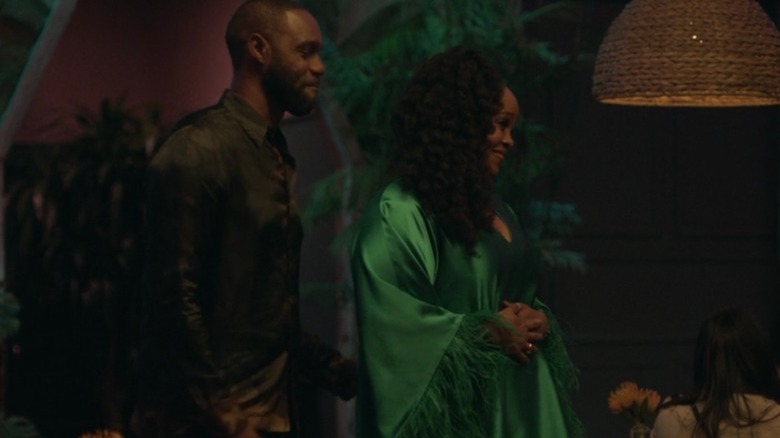 "Insecure" doesn't give us time to process. The episode moves right along to Lawrence's birthday. He's on FaceTime with his parents when Issa calls. She's embarrassed that he actually answered the phone on his birthday rather than letting her leave a voicemail. I wish I could say she pivots gracefully, but in typical Issa fashion, she breaks into a Louis Armstrong impression instead. She tells Lawrence she's been thinking about him, and asks if she can take him out for his birthday. After all this time, it's kind of infuriating that Issa would hinge the future of their relationship on this last-minute plan, but hey, why not? Lawrence says he has plans, and after she hangs up, we see that he's meeting up with a lady friend.
Kelli's birthday is next. This whole episode seems like a great excuse to get the "Insecure" cast in as many gorgeous outfits as possible, but this birthday in particular really ups the fashion game. Tiffany is here with a new hairstyle and a puffy light pink dress, while Kelli sports a silk emerald dress with feathers, and Issa shows up in a shimmering cream and yellow halter top. Kelli takes the opportunity to tell the group she's pregnant, in a way that's just vague enough to briefly confuse Issa. Issa says she thought Kelli didn't want kids, but Kelli says being with her new boo has her getting into all kinds of things she thought she'd never try, "including butt stuff."
Lawrence And Issa Are Endgame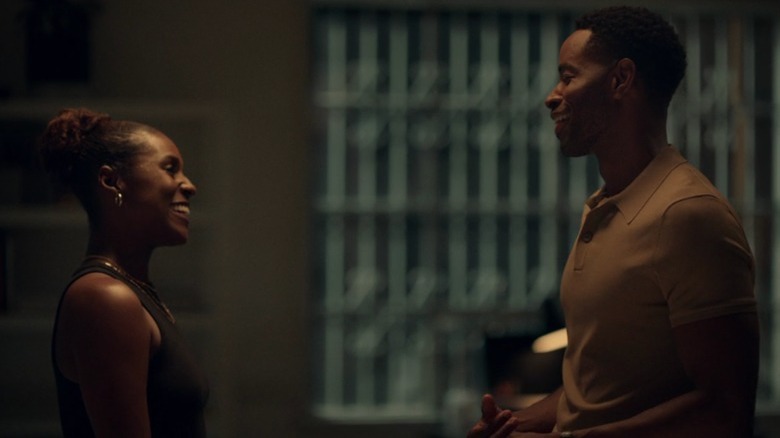 After the party, Issa gets one of her classic mirror pep talks from her passive aggressive inner voice. Issa is going steady with a new guy now, but seems detached, and when Lawrence calls, she goes to pick up the phone. Her mirror self says she'd better not answer it. "Why not?" Issa asks. "Because it's never gonna work, you dumb b****!" Issa in the mirror answers. She decides not to take the call, but she's not hyped about it.
The 40-minute finale has already taken us through a whole year of birthdays, but it keeps going. On Molly's next birthday, she and Issa talk about making it through the day without her mom. "When did s*** get so real?" Molly asks. They don't meet up, but share a phone call instead, and talk about all the life stuff that gets in the way of spending time together. It's a bittersweet but authentic moment that keenly captures how it feels to try to maintain friendships in adulthood.
Later, Issa meets up with Lawrence and shows him her new workspace. She talks about how far she's come, and how she's working to be less in her head about things. Finally, the two kiss. Now this is chemistry! They also knock over her coffee mug, but hey, it wouldn't be Issa and Lawrence if things didn't go a little wrong.
Issa's Happy Ending Is All About Friendship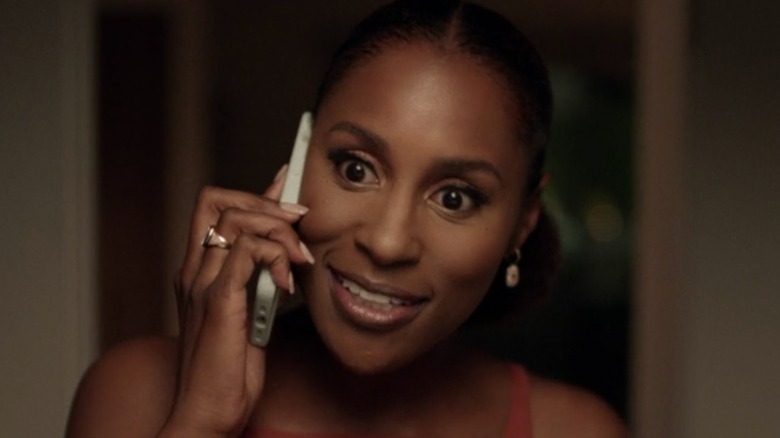 "Insecure" covers a lot of ground in its last few minutes. A year later, Molly marries her coworker Taurean (Leonard Robinson), with Tiffany, Issa, and Kelli as bridesmaids. Her dress is incredible, and the reception features a display in memory of her mom. After five years spent with this character, it really feels like we're watching one of our own friends get her happily ever after. Issa and Lawrence, back together, dance it out. Later, in another beautifully captured moment of friendship, Issa helps Molly take off her wedding dress. "As long as you're around, I'mma be okay," Molly tells Issa, and the two share a good cry.
"Insecure" has always been a love story between friends, and that central friendship is just as important as the romantic love the show explores. The last scene of "Insecure" shows Issa coming home to Lawrence and his son, sure, but it also ends with her talking to Molly on her honeymoon. Viewers spent so long speculating about who Issa would pick in the end, but Issa Rae and Prentice Penny have a better answer than any we could think of. She chose Molly.
After surviving their early 30s together, and making it through some of the worst moments of their lives together -- even if they were sometimes too caught up in guy drama to actually be there for one another -- the women of "Insecure" have chosen to do life with each other. Sometimes that means a phone call on your birthday, and sometimes that means flying across the West Coast to visit your friend when she's miserable. After five great years, "Insecure" signs off with an impressive legacy. The series portrays a dynamic, messy, hilarious friendship between young, Black, successful women, and it does so beautifully. With a finale that perfectly encapsulates the complicated love within all of its core relationships, Issa Rae and "Insecure" stuck the landing.
Read this next: The 15 Best Debut Films From Directors
The post Insecure Season 5 Ending Explained: Issa Chooses Love, But Also Friendship appeared first on /Film.