Old MacDonald had a Farm. E-I-E-I-O!  And on his farm he had a COW. E-I-E-I-O! With a moo, moo here and a moo, moo there. Here a moo, there a moo, everywhere a moo, moo. Old MacDonald had a Farm. E-I-E-I-O!
Kids LOVE to sing .  It's a great way to strengthen literacy skills.  Extend this kid-favorite song into a syllable counting game. It's fun to make and play with a cow, horse, goose, chicken and other barnyard animals.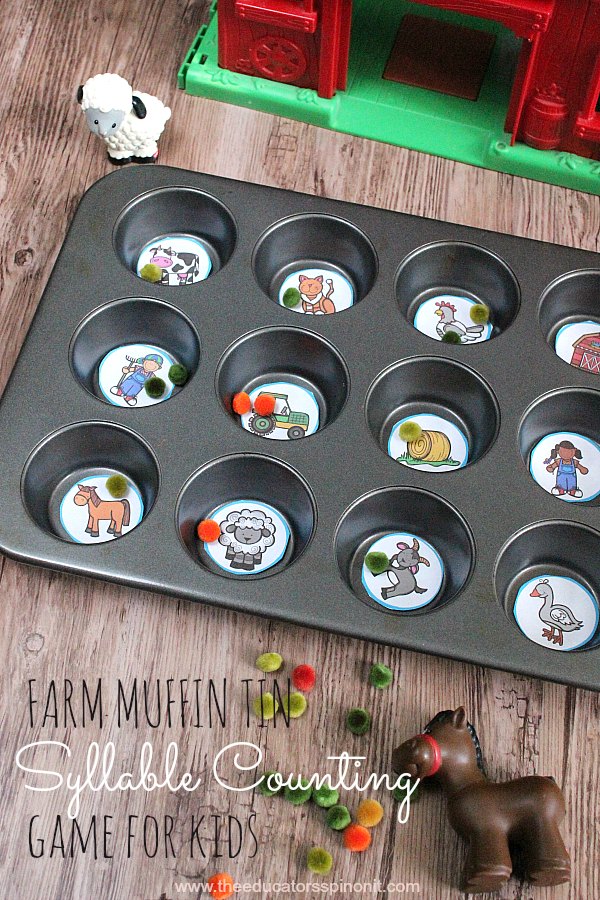 Affiliate links. Reprinted with permission from 100 Fun and Easy Learning Games for Kids.  Take a peek inside our book here!
Farm Muffin Tin Syllable Counting Game for Kids
Say and count syllables in this self-checking muffin tin game. Sneak in a little fine motor practice and boost early literacy skills while picking up pom poms. Fine motor practice helps strengthen muscles for writing. Challenge your fine motor skills with the addition of a grabber.  It makes it just a wee bit more difficult that way. Let the kids help draw the game pieces and you tie in art and creativity too.
Focus Skill: counting syllables in spoken words
Best for Children ages 3-7.
Materials for Farm Muffin Tin Syllable Counting Game
Directions to Make the Farm Muffin Tin Syllable Counting Game for Kids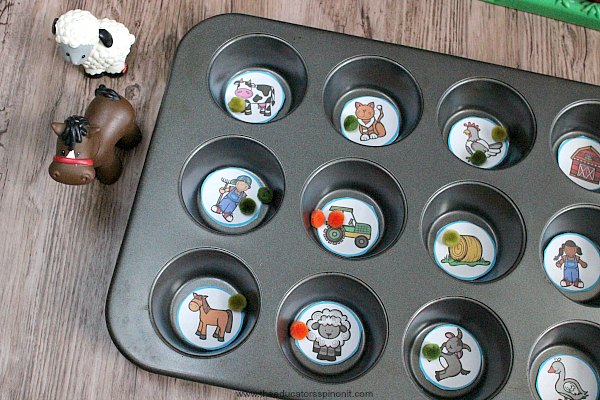 1. Trace around the 2-inch (5-cm) circle 12 times on the card stock.
2. Draw a picture of a person, place or thing inside each circle. Cutting pictures from magazines works too! Some autumn themed examples are
tractor, (2 syllables)
farmer, (2 syllables)
cow, (1 syllable)
hay, (1 syllable)
barn, (1 syllable)
chicken, (2 syllables)
rooster, (2 syllables)
horse, (1 syllable)
goose, (1 syllable)
goat, (1 syllable)
sheep. (1 syllable)
We couldn't think of any farm themed animal or symbol with 3 or more syllables. Can you?
3. Color and cut out each picture. OPTIONAL = Skip 1-3 and print the free muffin tin syllable game boards here.
4. Turn the circles over and make a dot for each syllable in the word. The back of the circle with the fence picture would have one dot; scarecrow would have two. A yellow highlighter or light pencil circles work best so they do not bleed through the paper.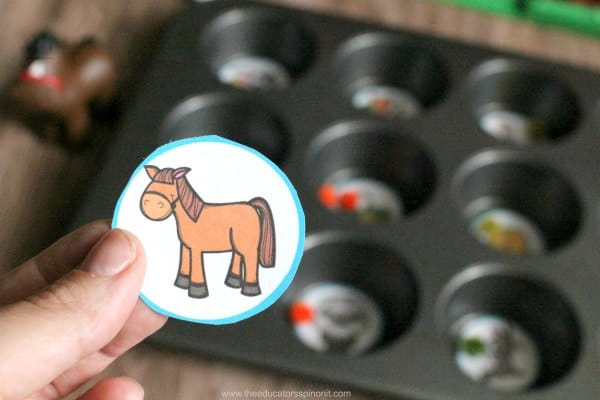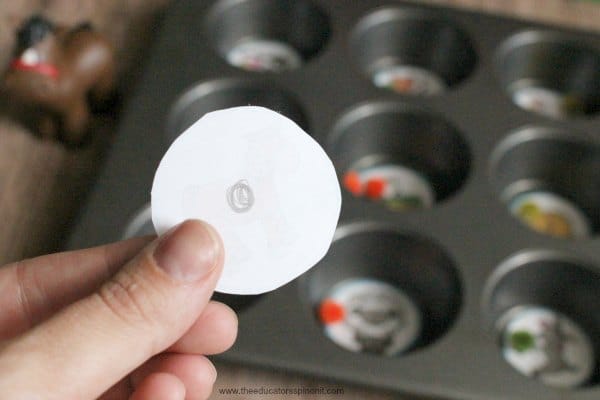 Directions to Play the Farm Muffin Tin Syllable Counting Game for Kids
1. Place the pictures, image side up, in the muffin tin. The player names the picture out loud and counts the number of syllables in the word.
2. The player drops the same number of buttons or pom poms as syllables in the tin.
3. Play continues until all compartments have been filled with  buttons. When this happens, the player self-checks and corrects the number of syllables by turning the picture over and comparing the number of buttons in each compartment with the number of circles on the back of the image.
Bonus Game Variations Farm Muffin Tin Syllable Counting Game for Kids

Place a set of wooden or magnetic alphabet letters next to the muffin tin. Have the children place the letter that represents the word's beginning sound on top of the picture. B for bard, s for scarecrow, a for acorn.
Tips on how to extend your farm play and learning to an hour or more (Because we all know young kids need a variety of activities!):
We sang Old MacDonald, read a few farm books, played the farm muffin tin syllable counting game, then had 15 minutes of free play with our Fisher-Price Little People Fun Sounds Farm.
You can also add in one of the following farm activities for kids that we have shared about here at The Educators' Spin On It:
Farm Theme: Make a Mystery Animal Book
LEGO Read and Build Farm Theme Literacy Activities
From Apple Orchard to Table Social Studies Lesson
Raising Chicks in the Classroom

25 MORE Farm Themed Activities for Kids to play and learn from some of our favorite bloggers:
FROM LEFT TO RIGHT:
Farm CVC Words // A Dab of Glue Will Do
Farm Counting Cards // Playdough to Plato
Expressing Feelings on the Farm // Liz's Early Learning Spot
Count and Graph on the Farm // Sara J Creations
Pigs in the Mud Alphabet Match // The Kindergarten Connection
Farm Animal Puzzles // Powerful Mothering
Farm Play Dough Activity // Mom Inspired Life
Farm Washing Sensory Bin // Coffee Cups and Crayons
Farm Counting Book // Recipe for Teaching
Interactive Farm Book // Mrs. Jones' Creation Station
Gross Motor Farm Game // Modern Preschool
Farm Animal Sorting // Still Playing School
Farm Fence Number Ordering Mats // Fairy Poppins
Farm Letter Sound Matching Clip Cards // Schooling a Monkey
Making Farm Footprints // Pleasantest Thing
Farm Muffin Tin Syllable Counting Game // The Educators' Spin on It
Farm Themed Old Maid // Stay at Home Educator
Farm Emergent Reader // The Letters of Literacy
Playful Farm Animals Hands on Math // Stir the Wonder
Farm Busy Box // Teach Me Mommy
Farm Animal Ten Frame Cards // Preschool Inspirations
Farm Addition Cards // The Stem Laboratory
Interactive Math Addition Book // DIY Farm Wife
Farm Animal Sentences // (Not Pictured) The Simplified Classroom
Old MacDonald's Farm Busy Bag // (Not Pictured) Adventures of Adam
The post Farm Muffin Tin Syllable Counting Game for Kids appeared first on The Educators' Spin On It.