Add some craft fun to your holiday season with this festive Christmas playdough and Christmas playdough kit idea. I've got you covered with everything you need from how to make the playdough to the printable playdough mat! This fun activity idea will keep your kids happy and entertained all season. 
I get it. If you live in the northern hemisphere, the weather around the holidays can be cold and miserable. And kids can only spend so much time inside without going stir crazy.
That's why I love giving my kids crafty activities! They kill boredom, teach cool skills and lessons, and are entertaining!
If you're looking for a fun way to keep the kids busy this holiday season, you'll want to check out this Christmas playdough kit idea!
Not only will it keep your kids busy, but it also makes a great DIY gift idea for other kids in your life.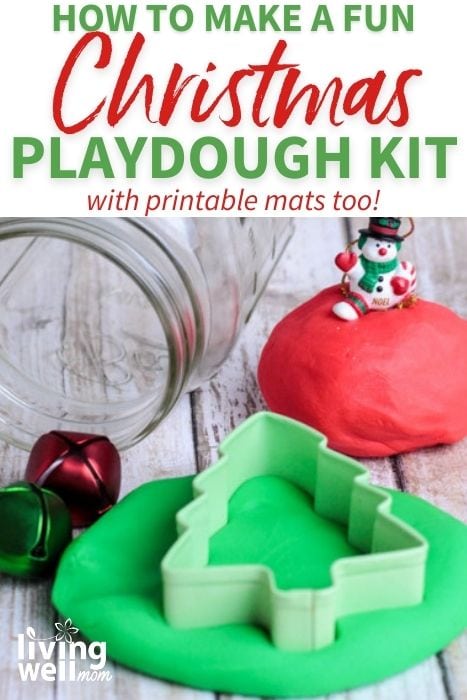 What is a Christmas playdough kit?
When my kids were really small, I decided I wanted to avoid store-bought playdough and began making my own. For a while, it was great! It didn't take a lot of time or effort to make, and the kids had a blast.
But after a while, I began to notice that the kids seemed to be getting bored with playing with playdough and cookie cutters. It was time to "up my game."
I saw an idea for some playdough mats, and I came up with a few basic designs. My kids had fun with playdough again and were using their imagination too! So I designed many more playdough mats.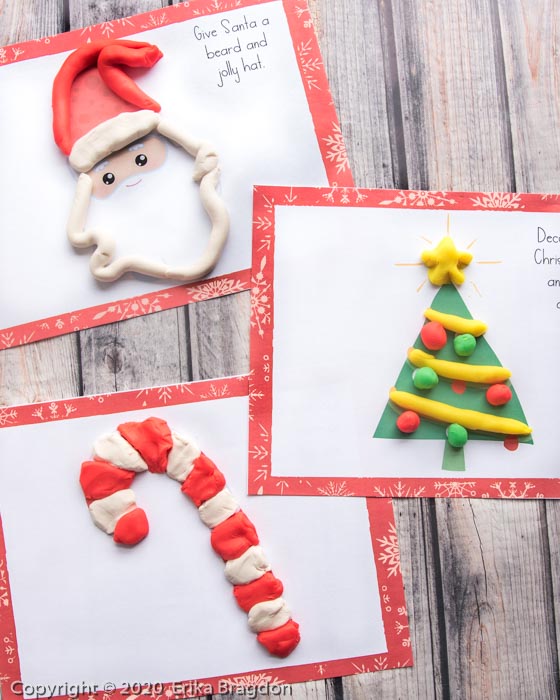 Take it a step further. A playdough kit is a playdough-based activity idea that has a few basic items in it: playdough, playdough mats, cookie cutters, or other objects for manipulating playdough. 
How To Make Christmas Playdough 
Since this kit is holiday-themed, I made my original easy recipe for homemade playdough and jazzed it up with holiday colors and a little peppermint extract.
What You'll Need To Make Christmas Playdough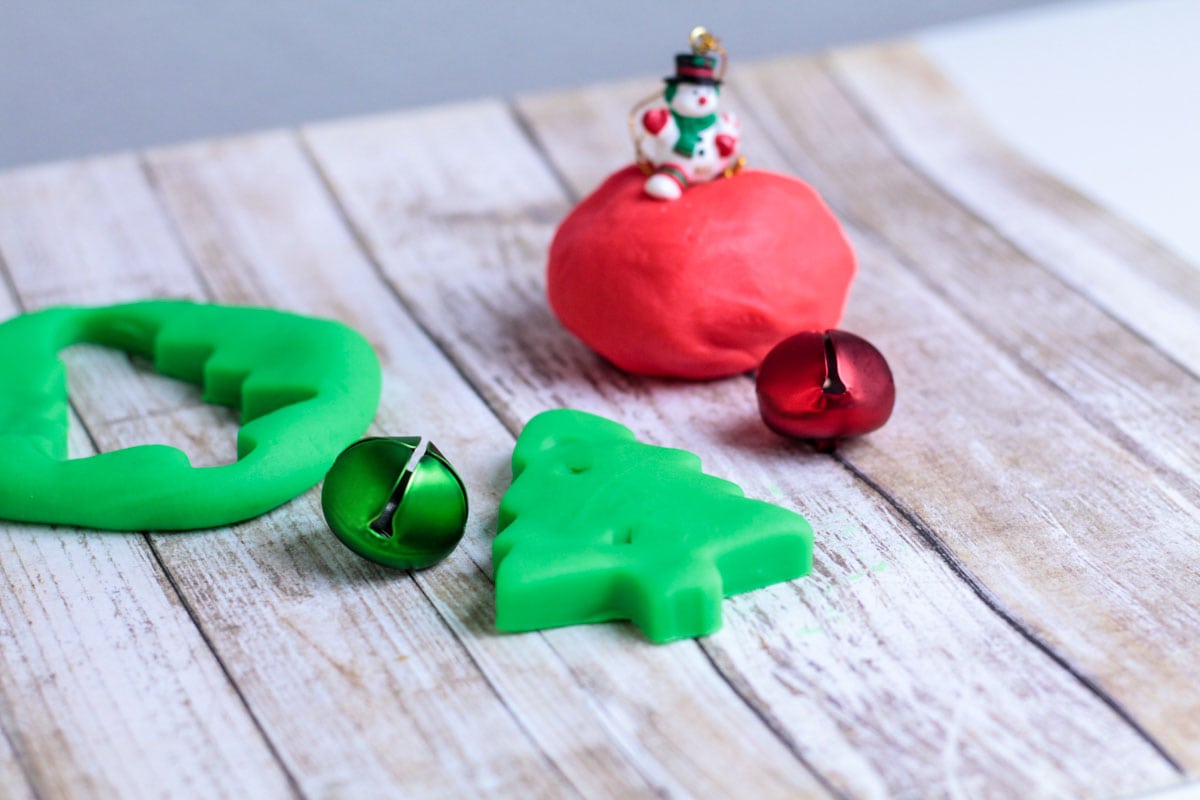 You just need a few ingredients. Gather up:
Christmas Playdough Instructions
This playdough is easy enough for your kids to help or even make it themselves! My 10 year, Nathan, has made several batches with me only supervising.
Here's the basic process for making Christmas playdough. If you want more details, check out my easy recipe for homemade playdough.
Mix the flour, salt, and cream of tartar together in a 2 quart saucepan.
Add the water, oil, and peppermint extract to the flour mixture. Ahhh, peppermint!
Turn on the burner to medium/low heat and stir.
Lumps are ok. If you don't break them up all up during this step – and I often don't – you'll work them out later because it's well…playdough. 
Keep stirring until the mixture starts separating a little at the bottom of the pan. Depending on how hot your stove is, it'll take 20 seconds to about 3 minutes.
Add the food coloring. If you miss that window of time when it's easiest to add the food coloring, don't fret. Your playdough will still be fine but you'll have to work the coloring into the dough by hand. 
As it get's hot, the mixture will start to form a ball of dough that will pull away from the edge of the pan.
Dump the ball of playdough onto a plate or piece of waxed paper to cool. It will be too hot to knead, so I usually let it cool for about 5 minutes before kneading it to get any lumps or food coloring mixed in completely.
One batch of this homemade playdough will make approximately the equivalent of 4 store-bought containers.
How To Make A Christmas Playdough Kit 
Ok, now it's time to use the playdough to create a super fun DIY stocking stuffer the kids love that costs you (or Santa) just pennies. It's a win-win!
Follow these directions to make your own mini Christmas playdough kits!
What You'll Need
How To Put Your Christmas Playdough Kit Together
Now it's time to assemble your kit! 
Collect The Objects You Want To Include
We went with an outdoor snow scene. Included in our kit were red and green playdough, a snowflake, a miniature snowman, red and green jingle bells, and a Christmas tree cookie cutter.
Add Them To Your Container
Our jar was just large enough to hold our cookie cutter, but if your container is smaller, you can just tie it around the outside of the container like we did for our Halloween playdough kit.
Decorate Your Kit Gift
Decorate the outside of your jar to match your theme. You can even include a card with activity inspiration ideas, if you like!
And don't forget to include my printable playdough mats – that's half the fun of this Christmas playdough kit!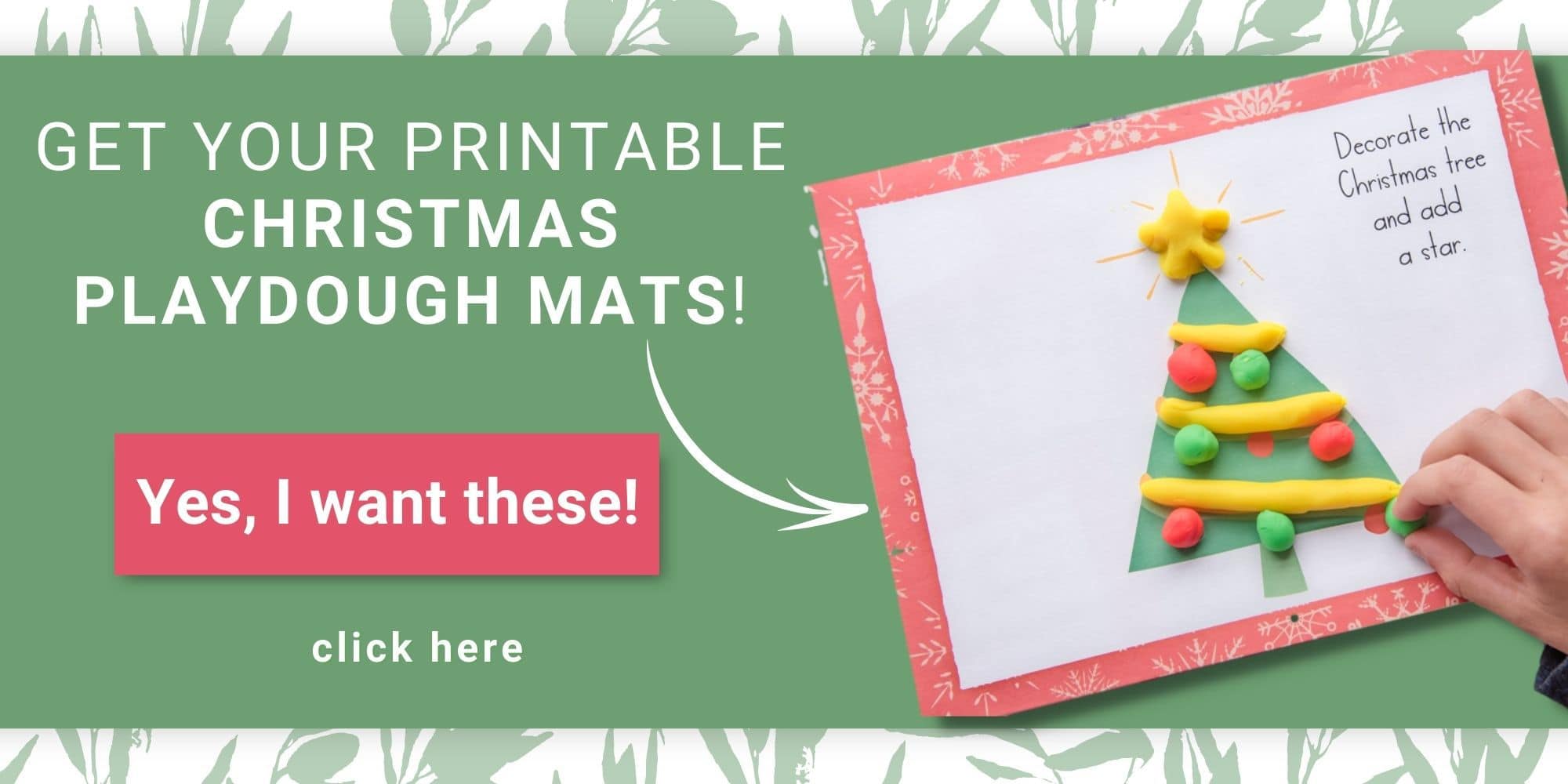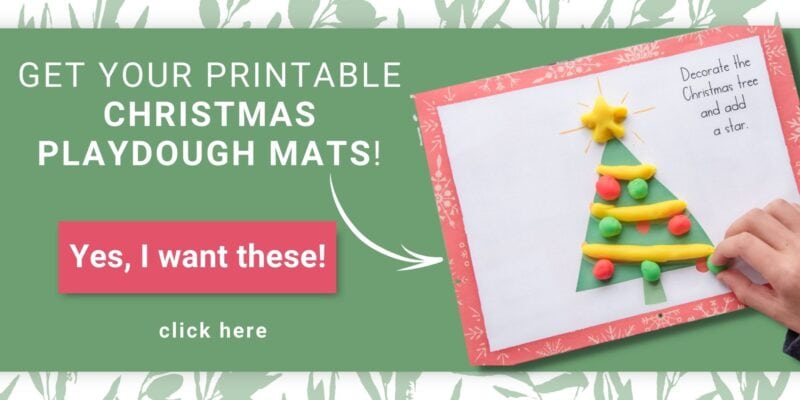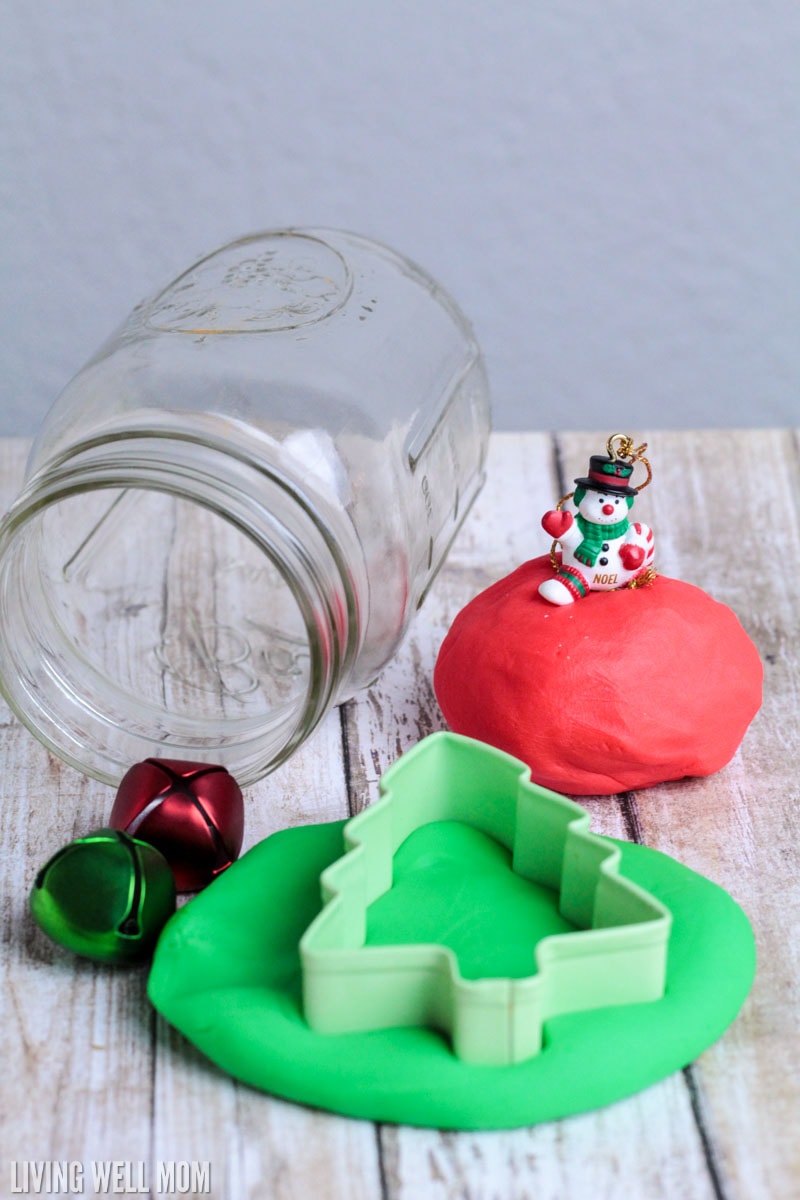 Tips For Making Christmas Playdough Kits
This project is extremely adaptable easy to personalize! You can add anything you want (that fits inside or attached to your container) to make a unique Christmas gift kids will love! 
Be sure to grab the playdough mats to make this gift idea even more fun and entertaining.
They have lots of fun interactive activities for kids to do. For example, they can give Santa a beard and a hat.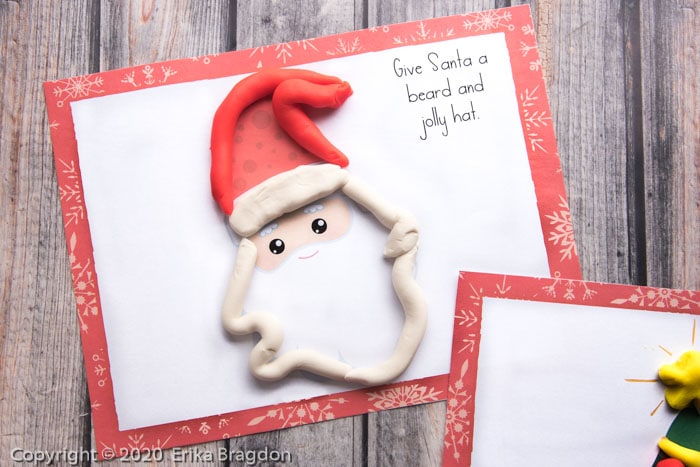 Or, your child can decorate a Christmas tree! I love this one because their imaginations make this activity extra fun.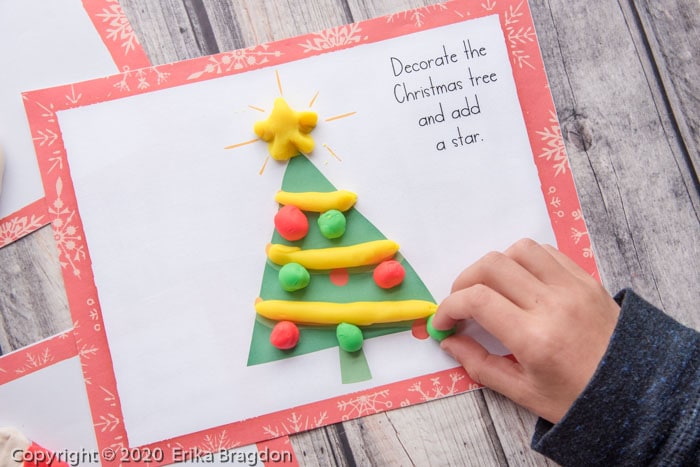 Truly, this kit (and particularly the mats!) make the perfect holiday stocking stuffer. As an added bonus, they will keep kids occupied when you're preparing Christmas dinner.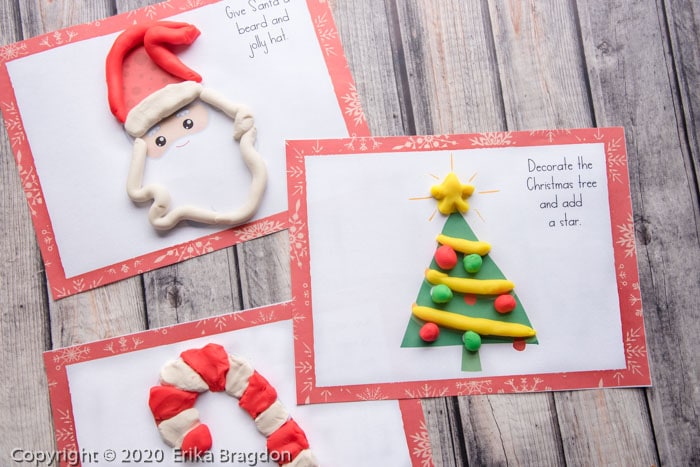 FAQs
Here are a couple of questions I see regularly from readers. If you have a question and don't see it below, please leave it in the comments so I can answer it!
How do you make playdough so colorful?
One common question I get is "how do you get such vivid colors?" Here's my secret: I use AmeriColor food color. A little goes a long way, it lasts forever, and the colors are amazing!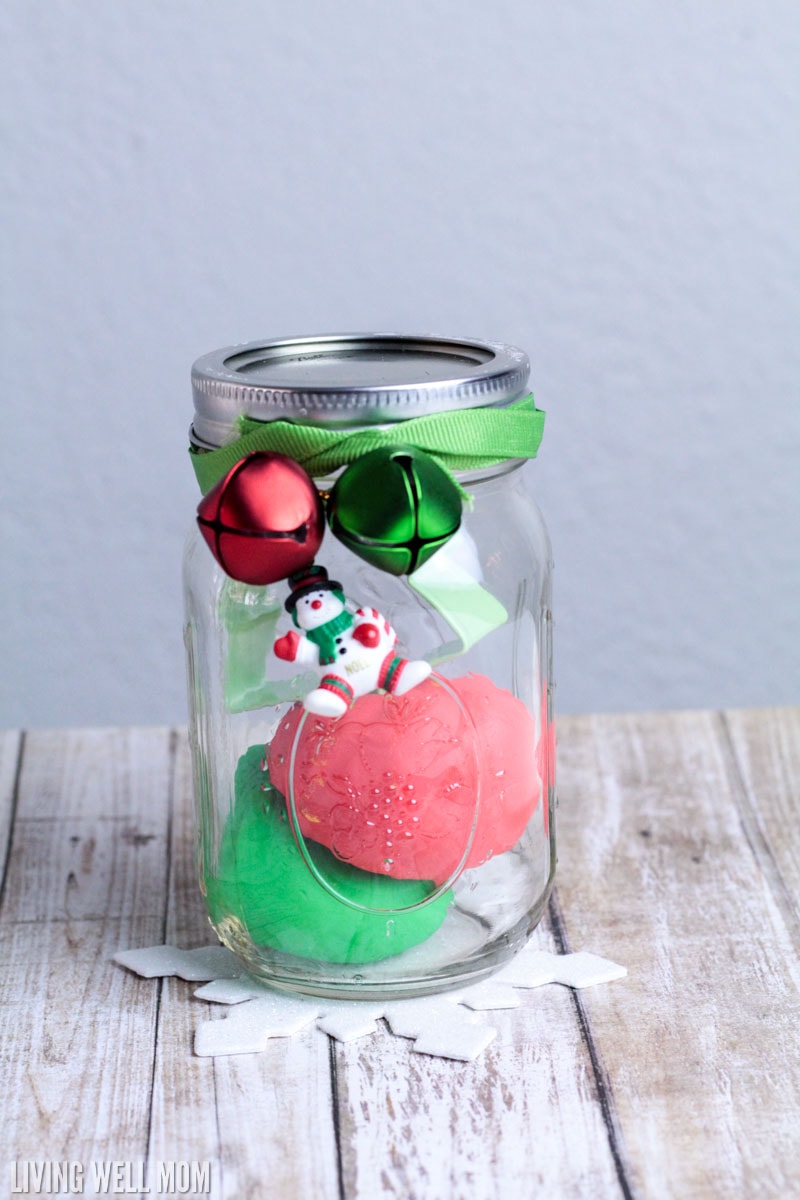 How can I fix lumpy playdough?
If your dough is a bit sticky, you can add a little more flour. We found that using this gel food coloring made brighter colors than using liquid food coloring.
Once your dough is completely cool, spend some time kneading it. This will make it even softer and help give it a "finished" look.
I hope you love this DIY gift idea! Kids will love using their imaginations as they play with this simple Christmas playdough kit. The gift will be well-loved by kids of all ages, and you won't have to spend a bundle to make it. 
More Playdough Fun:
Pin the image below to save the idea for later.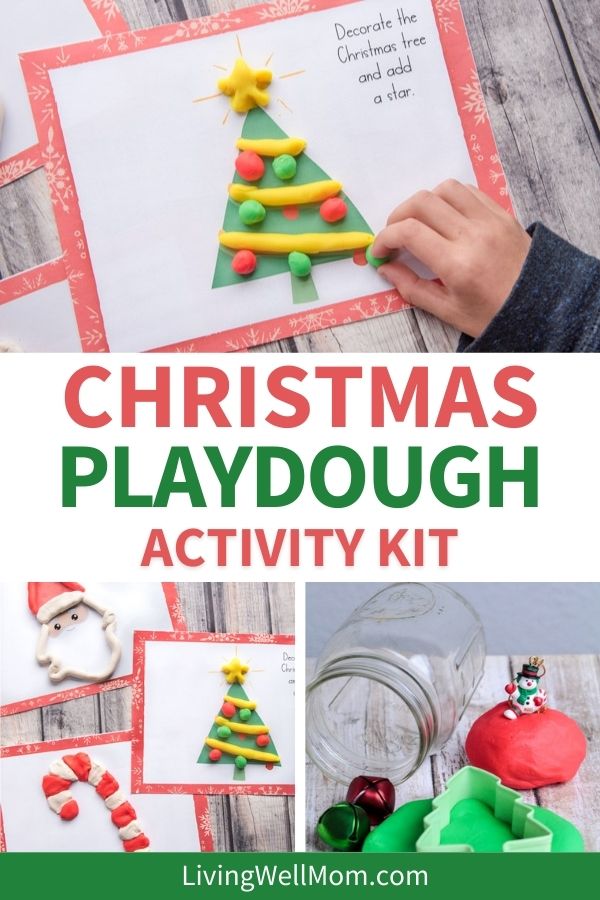 The post DIY Christmas Playdough Kit Gift Idea appeared first on Living Well Mom.