Halloween or not, we're all afraid of spiders (well, most of us are anyway), so the fact that these little critters are associated with the year's spookiest season is no wonder at all. Although most of us don't want spiders casually hanging around our houses, during Halloween, it seems that we can set our fears aside and use realistic spiders as decoration, and everybody just seems to love them!
Not only spiders, mind you, but everything related to them, such as spider webs, cocoons, and spider eggs, get us excited on Halloween, apparently. However, decorations producers seem to have picked up on that and started to supply a lot of spider-themed decorations to every local store so that we never run out of 8-legged and 8-eyed things to hang around the house on Halloween.
But wait, there's more; Halloween enthusiasts even started to make spider-themed food or include them as decorations on cupcakes, cookies, and various other snacks you could find at a Halloween party. So here's what's what: if you're among the ones who enjoy spider-themed stuff in your house this season, we've prepared a generous collection of crafts that you could try out this Halloween.
Halloween Spider Crafts
No matter what you're looking for, we have a lot of spider-themed Halloween crafts that you could try out this Halloween. In fact, they seem to be so popular that our editorial office had a hard time selecting only 50 from the vast collection we've gathered.
There's something for everybody here, from the hilarious Halloween spider hats to the more classic spider webs and pumpkin stencils.  We've even added a bunch of Halloween spider recipes for the most audacious among you who are up to cooking something spooky!
Each item in our guide also comes with a few instructions, so you could craft most of these decorations (or make these recipes) without straying away from this page. So, if you want to try out one or all of these Halloween spider crafts, go ahead and have fun!
1. Lollipop Spiders – Halloween Spider Decorations
These lollipop spiders are ideal for any Halloween party if you want to impress your guests with your creativity and decoration skills. Mind you, this is not a recipe; it's merely a decoration, so you'd better avoid your guests sticking these spider lollipops in their mouths by telling them that they're not, in fact, intended to be eaten.
On the other hand, our tutorial involves using an actual lollipop to create the spider's body, which means that you can technically eat it, but only by destroying the craft in the process. It's up to you whether you allow your guests to ruin your hard work for a few minutes of candy sweetness or not.
For this craft, you'll need a lollipop (any generic one will do), some grey yarn, red googly eyes (red is better, but you can also use other colors if you want to), black crepe paper, a glue stick, a pair of scissors, a small black and grey crafting pom-pomp, and four black and grey pipe cleaners. 
The number of pom-poms and pipe cleaners we've mentioned above is for just one lollipop spider.
For more directions on how to craft these cute spider lollipops for your Halloween party, make sure to head to the tutorial we've included above. It has comprehensive step-by-step instructions as well as helpful tips & tricks, and photos.
2. Popsicle Stick Monster – Giant Halloween Spider
This popsicle stick monster resembles a spider that's crawling on the floor, so it makes for an excellent decoration if you're looking to spook your guests this Halloween.
Here's what you'll need for each spider: four popsicle sticks, a round crafting pom-pom (just one color or multiple colors), black or blue paint, a glue stick (or any other adhesive), some googly eyes, and a pair of scissors.
Creating this popsicle stick monster to use as a decoration this Halloween shouldn't take you long, especially considering that the process is pretty much straightforward, and you can probably figure it out by simply glancing at the photo above.
However, if you want a complete rundown on how to create this "giant" Halloween spider using popsicle sticks, make sure to check out our tutorial above. It has detailed instructions accompanied by photos, which should help you understand what needs to be done at every step of the process.
3. Spider Web Decoration – Halloween Spider Web
If you want to make your own spider web, then this Halloween decoration idea is the perfect choice for you. Your web doesn't necessarily need to look like the one above; this design is entirely customizable, and you can quickly adapt it to your preferences. 
You can make a small web or a big one, with thicker threads or thinner ones, depending on the overall aesthetic you're gonna go with this Halloween.
You'll need some white yarn for this project, a glue gun (or any other type of adhesive), a pair of scissors, a pencil/pen, some popsicle sticks, a black crafting pom-pom, a black pipe cleaner, some googly eyes, a paintbrush, and some white paint.
After gathering all these items together, you'll have no problem crafting this spider-themed Halloween decoration by following our tutorial above.
The photo should be enough to figure out what needs to be done to make this spider web decoration, but if you're having a hard time piecing it together, just go ahead and access the tutorial above; you'll find both comprehensive instructions as well as helpful photos there.
4. Delicious Spider Web Halloween Cupcakes
We have some delicious spider web Halloween cupcakes on our own DIYs.com recipe list and they're also adorable, which is a plus. You won't need a ton of ingredients, but we can say you have to go bu some bananas and buttermilk. Oh, and dark and white chocolate, of course. 
It only takes about an hour to have these done and ready to eat, and we're only saying.. but you may want to make a double batch since they'll be gone before you know it. 
5. Yarn Spider Web – Spooky Spider
This yarn spider decoration from Homedit is perfect for your Halloween party because it doesn't necessarily look scary – it's cute and easy to make – but it still manages to give off a spooky vibe, which makes it fit for this hallowed night (and the following day).
For this project, you'll just need some black yarn, a pair of scissors, as well as adhesive tape. You'll use the sticky tape to attach the yarn-made spider web to your wall, obviously, so you might want to go with something that's wall-friendly; you don't want it to stick too well to the wall and peel off your paint once you remove it.
Therefore, we suggest you go with washi tape or painter's tape. Once you source all materials, you can start crafting the web.
 Although the process is not complicated at all, you might want to take a look at our comprehensive tutorial. Not only does it have easy-to-follow instructions, but it also provides you with photos to guide your steps.
6. Pipe Cleaner Spider Rings – Halloween Spider Decorations
If you want to make a spider for your Halloween party, but don't really feel like crafting a decoration or a garland in the shape of a spider, then why not make some cute rings instead? These pipe cleaner spiders are easy to make and super fun, so they deserve a spot on this hallowed evening's list of must-dos.
And these rings aren't just meant for Halloween decoration purposes; you can use them as actual accessories whenever you go out this October 31st too, which is pretty neat if we do say ourselves.
In order to make these rings, you'll need a few pipe cleaners (different colors) and some googly eyes. You can add in some other embellishments if you want, such as pom-poms, buttons, etc. So feel free to improvise and personalize this project just the way you like it! Actually, we suggest that you do so to avoid having an uninteresting final product.
7. Paper Plate Spider Craft – Spooky Halloween Crafts
As Halloween crafts ideas go, this one from I Heart Crafty Things is pretty cute and fun to make too. You'll need a few basic supplies such as paint (you can either go with black or various other colors), construction paper, yarn, googly eyes, pipe cleaners, and a glue gun; we're sure you already have most of these items in your Halloween decoration kit.
Once you've gathered all this together (that is: after getting the glue gun out and setting up the table and stuff), then it's time to start crafting! 
If you check out the photo above, you'll see that the process is pretty simple – although it does have its own share of steps – so it won't take much for anyone with even the smallest amount of Halloween crafting experience to complete this craft project.
Then again, if you don't feel like going through the trouble, you could always just go with the Halloween spider web or spider rings instead. You'll still get the same result, and it won't take as much effort to craft those.
8. Spider Web Halloween Wreath – Funny Spider
This Halloween decoration idea might not be anything spectacular or highly original, but we still think that it deserves its place on this list because of how easy to make and fun it is to hang! It only requires a few materials, a couple of minutes to whip it up, and, voila! You've got yourself the Halloween wreath decor like the one Kaminski Creations made.
To make this Halloween craft idea come true, all you have to do is grab a foam wreath form from your local craft store (or get one from Amazon) and wrap some white yarn around it. As you wind the string around the circular shape of the wreath, keep an eye out for any gaps or holes so you can cover them up with little bits of yarn.
Afterward, just paint a black circle in the middle and add some googly eyes. Once done painting and sticking on the eyeballs, it's time for a spider web! 
Pick up a few pipe cleaners and use those as the framework for your web; you'll need five or six pieces of pipe cleaner (they're bendable, so it's no problem if one piece breaks), which you can cut up and then staple to the wreath.
9. Handprint Halloween Spider Craft for Kids
We think this craft idea from The Best Ideas for Kids is great because it has a nice spooky vibe to it but isn't too cutesy or immature either – which is not something easily done when coming up with Halloween crafts ideas! We also like how well it fits into the decor – just attach a string, and you're done!
To make your spider decorations, you'll need to cover your child's palms with black paint, then stick their palms onto a piece of construction paper in a mirrored kind of way (use the photo above as a reference). 
Make sure to cut out the shape created by your kid's palms and fingers on the paper, and voila! You have a spider-like paper decoration!
Then just slap some googly eyes onto the painted fingers figure, and either stick the spiders on the wall or on a bright-colored piece of paper (orange looks excellent, and it's a nice touch for Halloween)!
Alternatively, you could take the shapes you cut out of the construction paper, cut a hole in them, drive some threat through the hole and attach the decorations through the house.
It really is that easy, so if you've just come home from trick or treating with kids, then this Halloween craft idea might be something fun for them to do while you clean up after dinner.
10. Spider Cookies – Halloween Spider Decorations
We think these cookies are adorable – even though they look pretty sinister too with their creepy lil' legs (eww)! The great thing about this Halloween craft idea is that it doesn't just have to be cookies; you can do it with any kind of sweet treat – pancakes, candies, chocolates, whatever you want!
All you have to do is use some other complementary sweets on each cookie so they'll look like the legs of a spider. For instance, if the body of the spider is thick (for example, a bun), you could use slices of orange or carrots to create the legs.
This craft idea would be even better if done in collaboration with kids, but don't let them eat all the cookies before Halloween night comes around; remember, these are treats for trick-or-treaters after all!
11. Halloween Spider Web Necklace – Spooky Spider
We thought this Halloween craft idea was perfect for kids because it's a necklace, and it's pretty simple to make. It doesn't look too complicated or unnatural either, giving you the ability to wear the accessory comfortably without worrying about people laughing at you.
To make your own spider web necklace, WikiHow says you'll need some stretchy string, a thin needle with an eye big enough to thread the string through it, some hot glue gun sticks, a ruler, and a pen/pencil. Once acquired all that equipment, then just follow these steps:
Measure out eight pieces of string which are each 4½ inches long, and loop one end of them together
Tie another single piece of string around the looped ends so it can be used as a necklace, then secure the ends with some hot glue
Take two of the eight pieces of string and tie them around one end of another piece to create a triangle, but before you do that, use the ruler to measure out how much space should be left in between each string
Repeat steps 2 and 3 for all eight strings, so you have an octagon made up of loose triangles
Once done, start gluing the triangles onto the center point where they all come together – this will take careful planning and measuring because if it's not perfect, your spider web won't look authentic!
Once it's complete, trim off any excess string or glue which isn't needed.
12. Spider Apple Pops – Spider Craft
These spider apple pops from Homemade Hooplah are not only a great choice for spider-themed Halloween treats, but they're also healthy, considering that the whole thing is based on apples.
All you need to create this delicious treat (per spider) is an apple, some pop sticks, white candy melts, chocolate whoppers, and some chocolate frosting.
First, you wash and slice the apples, then drive one pop stick into each apple slice, so that it resembles a lollipop. Afterward, you'll want to melt the white candy melts and use them to coat the apple slices. Place the coated apple slices onto a baking sheet that's lined with wax paper.
Use chocolate frosting to decorate the spider apple pops and draw legs for the spiders and whatnot.
Get creative by adding googly eyes to some or using sprinkles for legs and a mouth, and also try adding two of the pops together with some melted candy melts to create your spider's body. Finally, freeze the spider apple pops overnight and enjoy them chilled
13. Spider Egg Cupcakes – Halloween Spider
This Halloween craft idea isn't too complicated but will be a great accessory to serve with Halloween breakfast – plus, it'll be a big hit with the kids!
Since Halloween is a time for fun and scares, these spooky spider egg cupcakes are perfect because they're creepy enough to make your children squeal in delight without being too over-the-top that you wouldn't want to eat them!
To make some of your own, you'll need some baked cupcakes (you're on your own here), a bag of mini chocolate chips, some black icing, and toothpicks.
First, stick the toothpick into each cupcake, then place two chocolate chips on top with some black icing in between them, so they look like spider eyes. If you want, you can also add some googly eyes to make it even more Halloween-themed!
You could even go the extra mile and make it seem that the spider is resting on top of its eggs by adding tiny yellow, green, and white pieces of candy and use pretzels to make legs for your spider.
14. DIY Spider Web Vase – Spooky Spider
This spider-themed craft idea from Cut Out and Keep is perfect if you're looking for something simple yet elegant to decorate your house, especially around Halloween when everything is orange and black!
All you'll need are several vases in varying sizes (but make sure they all have flat bottoms), a bunch of plastic spiders, and some fake spider web. If you can't find fake spider webs, you can use a net or make the web manually by using wool instead – it will still give an authentic effect.
First, place the largest vase at the center of the table and the smaller ones around it. Then, start using the fake spider web to attach the smaller vases to the big one – make sure they're evenly spaced out!
Once done, place the fake spiders inside the vases and on the fake spider webs to make it seem like the spiders are nesting inside and around the vases. Now all that's left is light up some candles and turn off the lights to enjoy your Halloween table centerpiece.
15. Black Dough Spider Bun – Halloween Spider Decorations
If Halloween crafts for kids are what you're after, then make some of these menacing spider buns with your children because not only do they taste good, but they look pretty cool with all the decorative icing!
This Halloween craft idea requires a lot of patience and time, so it's perfect for preparing on the day before when you should have plenty of free time.
 You'll need a pack of doughnut mix, black food coloring paste (you can get this from cake shops case you don't have any), and Halloween cookie cutters (try to get ones that are easy to use).
First, divide the doughnut mix into several batches so you can add some black food coloring paste or cocoa powder to each one – you should do this until all the dough has a nice dark color. Then, roll each batch of dough out onto a floured surface and use whatever Halloween cookie cutter takes your fancy.
Alternatively, you could create a large, round bun to serve as the spider's body and several long ones for the spider's legs (8 for each spider).
Place the Halloween buns on either a greased tray or baking tray before baking them for 10-15 minutes in the oven. Once done, leave them to cool down completely before decorating them with icing or bright-colored candy (for instance, you could use red candy for the spider's eyes).
16. Spider Web Napkin Rings – Spider Cut Out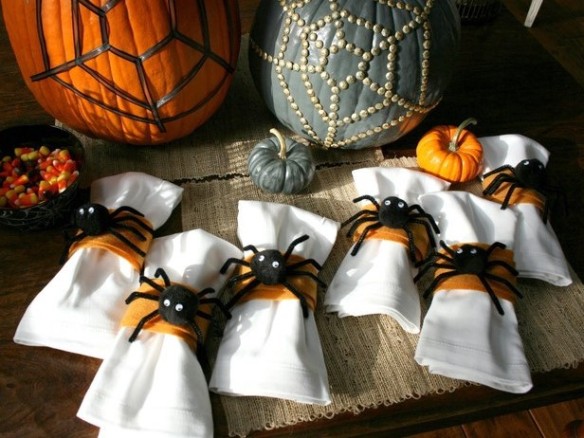 Another Halloween craft idea for kids or a project you can do with your partner – these spider web napkin rings from HGTV are easy to make, yet they're simple enough that they'll look fabulous on your dinner table!
To make these imaginative spider napkin rings, all you need is some white yarn and hot glue sticks – if you have a hot glue gun, this will be much easier as it basically does the hard part of gluing for you! Then, once you have those items ready, follow the next few steps. If you can't get everything ready, don't worry because there's still another option: sewing needles.
First, fold the yarn in half and thread it through one of the sewing needles. Tie a knot around the middle of the string before using the needle to "sew" 4 shapes onto your napkin ring – make sure you choose an arrangement that is symmetrical so it will create a lovely spider web pattern.
Once done, use either hot glue or hot glue sticks to secure the ends of the threads into place, ensuring that they're firmly stuck to prevent them from unraveling later on. Once done with this craft idea, enjoy the ease with which you'll be able to tuck your napkin into your shirt when you take a seat at your Halloween table!
17. Halloween Finger Puppets – Funny Spider
Looking for perfect Halloween craft ideas that you can do with your children? Then these spider finger puppets made by Dawn Warburton are exactly what you need because they're small and easy to assemble! Depending on the age of your children, you might need to help them with cutting out the felt pieces when they make their own Halloween crafts.
To make these cute Halloween spider-themed decorations, all you'll need is some black felt (the bodies), red thread (for sewing up the mouth), some stuffing material (to help form the body), pipe cleaners, and googly eyes or white thread.
First, cut out two rectangular pieces from the black felt – one for the front and one for the back. Then, use black thread to sew up all around the edge of each piece, making sure you leave enough room for your kid's finger.
Once done, sew the eyes and mouth of the spider using red and white thread. If you decide on googly eyes, you can skip sewing the eyes. Use the black pipe cleaners to create legs for your spiders.
Finally, decorate your finger puppet spiders by gluing googly eyes onto either side of their bodies, and enjoy your newly-made Halloween craft!
18. Spider Pillows – Spider Cut Out
Halloween spider-themed crafts don't just have to be for decorating – they can also be craft ideas for your pillows as well! 
If you're not picky about how big or small your Halloween decorations are this year, then these next few steps will show you how to make simple but spooky pillows out of regular old cloth.
To make spider-themed pillows like these ones on Etsy, you'll need either white or black felt (your choice), scissors, fabric paint, and Halloween ribbon (optional). First, draw your spider web shape onto the felt before cutting it out – once done, you can then use fabric paint to color in the webbing of your Halloween decorations.
After that's finished drying, hot glue around the edges of the pillow before adding Halloween ribbon onto one side for decoration purposes. This is really an optional step since Halloween crafts don't always have to be perfect or symmetrical for them to look nice!
19. Spider Meatballs – Halloween Spider Decorations
If you're looking for Halloween craft ideas, then these spider-themed meatballs will be a great project for you! If your children want to help out with Halloween crafts this year, this is one they'll definitely love doing – and eating afterward since it's also a meal!
To make these spider meatballs, you'll need some minced beef (or any kind of ground meat that you prefer) as well as the following spices: salt, pepper, oregano, paprika, cumin, and garlic powder. You will also need an onion and red bell pepper.
First of all, chop up the onions and peppers into small pieces before processing them with your chosen spices until they form a pasty consistency. Add in your ground meat and mix everything together really well, so it's evenly mixed – use your hands if you have to!
The next step is to simply roll out little balls of the mixture before placing them on an oven tray lined with parchment paper. The spider meatballs don't have to be perfect, so you can just roll them however you want!
Finally, bake your Halloween spider meatballs in the oven at 180 degrees Celsius for about 25-30 minutes or until they are thoroughly cooked through. 
Feel free to eat these spider meatballs while still warm with a side of pasta. After taking them out, use some pretzel sticks to create legs for the spiders and black olives for the eyes.
20. Spider Web Cheeseball – Halloween Spider
If Halloween spider-themed crafts fascinate your children during this time of year, then why not try making a decoration that's also edible? This project is a Halloween decoration that doubles up as a snack, perfect if you or your kid are having friends over for a spooky party!
To make these cheese balls, you'll need to start with cream cheese that's been softened in the microwave, Worcestershire sauce, cheddar cheese (shredded), milk, salt, and pepper to taste. You will also need black olives when it comes time to decorate the spider cheeseballs.
Mix together your softened cream cheese along with the Worcestershire sauce until they are evenly mixed. Then add in your cheddar cheese, being sure to mix all of this together very well, so there are no lumps.
After that, add in the milk and mix everything together really well before adding salt, pepper, and any other spices you want to include. Once ready, roll out your Halloween spider cheeseballs on cling film before covering them in black olives to create eyes. You can also use little pretzel sticks or anything else small to give your spider legs!
Finally, chill the spider cheeseballs in the fridge for at least an hour before serving on a plate with crackers.
21. Spider Web Lollipops – Funny Spider
Halloween spider crafts can be pretty fun to make if you're looking for some unusual decorations for your home during this time of year!
 For example, why not try making these Halloween spider lollipops? Not only are they spooky, but they are also edible, which means you can give them out as part of a treat bag or simply eat them yourself!
To make these Halloween sweets, you'll need rainbow drops (lollipops) that you can get from most grocery stores, sugar syrup, and black food coloring.
First of all, melt your rainbow drops in the microwave for around fifteen seconds before stirring to ensure they don't burn. Then add in a little bit of water before adding in the sugar syrup while you mix everything together really well with a spoon.
Once done, add a couple of drops of black food coloring until the mixture is a dark brown color. You will then need to pour this liquid into a lollipop mold or any other candy tin that's been sprayed with cooking spray.
Take another lollipop stick and place it inside the liquid before allowing it to sit for an hour. Once done, remove everything from the mold, and you will have your own Halloween spider lollipops!
22. Sidewalk Spiderwebs – Halloween Spider Web
If you're on the lookout for fun and original Halloween crafts for kids, then why not try making some spider webs on your sidewalk? This is an excellent alternative to more traditional decorations such as jack o' lanterns!
These craft projects can also double up as something of an outdoor game, especially if your children want to make shapes with their webs like hearts or stars using sidewalk chalk (which you can buy at any arts and crafts store).
To make these spiders webs, you'll need white glue, water, and food coloring. First of all, pour some glue into a bowl before adding in the water very slowly, so it doesn't get too runny. Then add in your food coloring until you have a uniform color that's dark enough for your spider webs to be effective at night!
Finally, you can use any kind of paintbrush to apply the mixture to any sidewalk surface, including driveways or pavements! It may take a little bit of practice to create perfect spider webs, but when you do, it will look great against the pavement leading up to your home during Halloween time!
23. Spider Bites – Spider Craft
With just a dash of creativity and thinking outside of the box, finding awesome Halloween spider crafts doesn't have to be difficult at all! For instance, just by taking a quick glance around the kitchen, we thought of baking simple yet delicious spider Halloween cookies.
First, you need to buy some pre-made sugar cookie dough. Once you've found your dough, you simply roll it out flat and cut the shapes for your spiders.
Once you have all of your spider cookies made, bake them according to package instructions. Now that they are done baking, you can decorate them however you'd like!
You can use frosting or chocolate chips for eyes or even color icing for the eyes! If you want to go the extra mile, why not make a web? 
Simply mix water with powdered sugar until it becomes thick enough to make a web shape over your cookies! That's all there is to it! Making Halloween spider crafts doesn't have to be hard or time-consuming. All you need is creativity and a little bit of time!
24. Spider on a Stick – Halloween Spider Decorations
If you're looking for some more spooky spider crafts this year, then why not try making these Halloween spiders on a stick? These easy-to-make spiders are perfect for store-bought cakes like store cupcakes or muffins as the spiders will sit neatly inside without ruining either one's appearance!
To make these things, you'll need: canned chocolate frosting (you can make your own if you prefer), orange food coloring, dark chocolate melting wafers (available from most grocery stores), and chocolate chips.
First of all, add the orange food coloring to the frosting until it's a dark shade of orange that you're happy with. Then, put your chocolate melting wafers into a microwave for ten seconds before slowly pouring them into the mixture and stirring slowly and carefully so that they don't burn or get too hot!
You should then end up with a multi-colored frosting which will make spiderweb slime! Place the icing in an icing bag before piping it over top of your cupcakes or muffin cakes. Finally, decorate each one with some dark chocolate chips (which will basically become Halloween spiders!) to finish your spooky spider crafts perfectly!
25. Pumpkin Spider Cupcakes – Funny Spider
Halloween spider crafts don't have to be difficult if you think outside of the box and creatively! For example, why not make some spider-y Halloween cupcakes using a circular cookie cutter?
You can then top your baked goodies off by adding chocolate spiders! They'll look great on a plate, and you can even add them to cookies, too, for even more added effects!
To make these Halloween cupcakes, you'll need: 12 oz white chocolate melting wafers (available from most grocery stores), 16 oz canned frosting, orange food coloring, icing bags, writing tips, and six chocolate spiders. First of all, you'll need to tint the frosting orange in order to make it resemble a pumpkin! Simply add some drops of orange food coloring until you're happy with the color.
Next, put your icing bag into a microwave for ten seconds before adding in your white chocolate melting wafers very slowly, so they don't burn or get too hot! Once done, simply spoon out the mixture when it's cool enough before putting at least one chocolate spider on top of each cupcake using the melted mixture as glue.
Finally, place them onto a baking tray before popping them into the fridge for an hour before serving on a plate with crackers! These Halloween cupcakes will be a smash hit with little and big kids alike!
26. Spider Popcorn Balls – Halloween Spider Decorations
If you're looking for some easy yet effective Halloween spider crafts, you should definitely try making some popcorn balls. You can turn them into spooky spiders by adding chocolate spiders on top! They'll look perfect on a plate with other goodies and are super easy to make too!
All you need is melted white chocolate (available from most grocery stores), one bag of microwave popcorn, the aforementioned six chocolate spiders, and black edible marker pens.
To make your popcorn balls, simply pop the kernels before heating up the white chocolate in order to create a sticky mixture. Then, pour your popcorn into a large mixing bowl before adding the chocolate mixture and stirring until it's coated!
Afterward, you can either use a spoon to scoop out balls of the mix or simply roll them with your hands. It's then just a case of putting six chocolate spiders on top of each one, and voila – they're ready to be eaten!
27. Spider Yums – Halloween Spider
Do you love spooky DIY Halloween spider crafts? Well, if so, then why not try making some yummy cookies instead? These spider cookies will look great on any plate and are simple enough for even the most inexperienced baking enthusiasts! 
To make them, you'll need 12 ounces of milk chocolate melting wafers (available from most grocery stores), 14 ounces of canned frosting, and several chocolate spiders.
To make your Halloween spider cookies, start off by placing your icing bag into a microwave before adding in the milk chocolate melting wafers slowly, so they don't burn or get too hot! 
Once done, spoon out the mixture when cool enough before piping it onto parchment paper in an almost circular shape. Then just add eight to ten black chocolate chips for decoration before popping them in the fridge for half an hour! You can then decorate them with some sugar eyes, and they're ready to be served on a plate at any spooky Halloween party!
28. Spider Sandwiches – Funny Spider
If you want to make some spooky spider-themed Halloween spider crafts this year then you could try making some yummy sandwiches instead. To do so, all you need are six chocolate spiders and a few of your favorite ingredients! You can also use any kind of bread or sandwich filling that you like.
To make some Halloween spider sandwiches, start off by placing your chocolate spiders onto the center of some pieces of bread before adding anything else that tickles your fancy! 
For example, it's traditional to add peanut butter to the area right around where the legs will sit, but you can be as creative as you like. It's then just a matter of popping them on plates before inviting guests over for some spooky fun!
29. Spider Queen Hat – Spider Cut Out
Are you looking for DIY spider-themed Halloween crafts that are easy to make? Well, if so, then how does crafting a spooky spider hat sound? It's perfect for children and adults alike, and all you need is some black fabric paint, a piece of cardboard or stiff paper, an old white t-shirt, some scissors, and adhesive craft webbing.
To make your very own spider hat, start off by using the dark fabric paint to draw the outline of eight large spiders on your sheet of cardboard or stiff paper. Then, cut them out before turning your t-shirt inside out and painting the area around the neckline black.
You should then be able to place each spider carefully over the stitching before using some adhesive craft webbing to connect them all together! Finally, you can make a few eyes using some white fabric paint before wearing your new spooky spider hat proudly everywhere that you go this Halloween!
30. DIY Spider Web – Halloween Spider Web
Looking for Halloween spider crafts that are easy to make but still awesome to look at? We bet that learning how to make a DIY spider web sounds great right about now, especially seeing as it's perfect for children and adults alike.
All you need is a piece of fine wire, sandpaper, some glue, paintbrushes in black, brown, red, yellow, orange, white, and silver, paper plates or newspaper to cover your work surface with, a few paint colors in gray and white, some chiffon fabric in bright green and purple, sticky tape, determination, and patience!
To make your very own spider web, start by cutting a piece of coarse wire at least 16 inches long. Then, file any rough edges down using the sandpaper before bending it into a circle and gluing each end down to form a simple spiderweb shape.
Next, cover the workspace with paper plates or newspaper before painting on some gray paint as a base coat for both colors of fabric paint. Once dry, you can then use your black paint to make some fine lines in an arching pattern before working on your red and yellow bands next! Finally, add on some orange spots as well as some silver glitter glue for extra effect if desired!
31. Spider Silhouette – Spider Cut Out
This Halloween, you should definitely try making a spooky black spider silhouette if you're looking for spooky, easy-to-make Halloween spider crafts.
It's perfect for children and adults alike, and all you need is some white cards, pencils, an eraser, scissors, some adhesive craft webbing, and two more colors of fabric paint.
To make your very own spider silhouette, start by drawing out the shape of eight large spiders on your sheet of white card before carefully cutting them out. Then, lay each one face down onto some paper towels before painting on four legs with your first color of fabric paint.
When dry, flip the spiders over to do the same with your second color before using some adhesive webbing to 'stick' them all together! Finally, you can use the eraser end of a pencil to make eight little eyes before hanging up your spooky spider silhouette this year.
32. Spider Door Hanger – Giant Spider
Running out of ideas for DIY Halloween spider crafts? If so, why not try making a spooky door hanger using just felt, pom-poms, and paint for a change? It's perfect for children and adults alike, and all you need is some black craft foam, scissors, some glue, a paintbrush, white, yellow, and orange felt green pom-poms, and sticky tape.
To make your very own spider door hanger, start by cutting out two sets of eight small circles from the black foam. These are best done by creating a template on paper first before cutting around it with scissors to use as a guide.
Once cut out, draw on some eyes with the pencil before gluing them onto each circle using the glue. Next, once dry, cover the foam with either white or orange felt so that they have an irregular 'spiderweb' look about them!
Finally, attach all sixteen pieces together using more adhesive craft webbing so that you have one long strand which can loop around doors before attaching a pom-pom spider to the end and hanging it up!
33. Spider Box – Spider Cut Out
Are you on the prowl for simple spider-themed Halloween crafts? If so, then we've got the perfect thing for you. This spooky paper mache spider box could be an excellent project for you this year. It's perfect for children and adults alike, and all you need is some newsprint or newspaper, white glue, twine or string, water, and masking tape.
To make your very own spider box, start by covering both sides of the empty cereal box with masking tape before adding on another layer in a crisscross pattern in order to create a web effect! Once dry, cut out eight small circles of newspaper or paper mache and glue these on top to make your spider's eyes.
Then, fill the box with some treats before adding another layer of masking tape so that you can easily cover it in white paper mache paste. Once dry, tie some string around the lid before cutting out the center web shape and re-attaching so that it can open! Finally, paint on either some black spots or a thick coat of white paper mache over everything before hanging up your spooky spider box this year!
34. Spider Bottle Opener – Halloween Spider Craft
Looking for simple yet still spooky Halloween spider crafts? Well, if so, then why not try making a spooky bottle opener using some wood? It's perfect for children and adults alike, and all you need is some plywood or chipboard, a saw, sandpaper, black acrylic paint, adhesive craft webbing, and four googly eyes.
To make your very own spooky spider bottle opener, start by cutting out the shape in either the plywood or chipboard. Then, use the saw to cut out any holes you may want before sanding over the edges lightly. Next, cut out four small circles from some black acrylic paint and use these to paint on your spider eyes before adding two adhesive craft webbing strands used as legs.
Finally, once dry, sand down any rough edges one last time before painting them either black or grey, depending on your preference! Finally, attach either a key ring for wall hanging or a metal bottle opener onto the back of the spider using more adhesive webbing so that you can pull off bottle tops with ease this Halloween!
35. Spider Shoe Clips – Halloween Spider
If you're out of ideas to decorate your house for your next Halloween party, you should definitely try making these cute spider shoe clips using some foam, adhesive webbing, six pipe cleaners, and four googly eyes.
To make your very own spooky spider shoe clips similar to the ones from this awesome Etsy store, start by flattening out the foam before cutting out two sets of eight small circles from each sheet. Next, draw on some web lines with a pencil before gluing them on top of each circle using the adhesive craft webbing.
Then, cut out sixteen smaller sections of black felt before attaching these to half of your pipe cleaners. After this is done, bend them at 90 degrees to create the spider's legs!
Finally, attach all the legs together and two more pieces on either side of each body section into a ring shape with six pipe cleaner sections! Finally, stick on either four black felt triangles or four googly eyes before using your spider shoe clips to decorate any shoelaces this Halloween!
36. Spider Window Clings – Paper Spider
Running out of ideas on DIY Halloween spider-themed crafts? If so, then you could give it a shot at making some spooky window clings using two different kinds of paper. They're perfect for children and adults alike, and all you need is some white paper, adhesive webbing, black paint, and a pair of scissors.
To make your very own spooky spider window clings, start by cutting out a large circle from the white paper and a slightly smaller one from either black or orange paper. Then, center your spider design in the middle of the white circle before cutting around it so that you have a perfect cut-out.
Next, add some adhesive webbing to both sides of your circles before sticking them back together with their wrong sides facing each other! Finally, paint over the entire thing with either black or orange acrylic paint to finish! Once dry, peel off from its backing and stick it onto your window this Halloween for an easy way to celebrate the season!
More Spider Themed Crafts
37. Construction Paper Spider Hats
No matter what time of year it is, our little ones have always loved playing dress up. If you add to that the Halloween spirit, it'll come as no surprise that there's at least one person in a costume in our house at all times throughout the entire month of October!
That's part of the reason we're always keeping an eye out for fun hats and headpieces that our kids can make very easily themselves. Even if they're made of paper, they'll provide hours of entertainment.
This funny spider hat by Little Buggie Tutu is the perfect example of what we mean! It's made simply by cutting shapes, pasting them together, and making a few strategic bends, but the way the legs bounce when you put it on makes it one of the most popular crafts in our house.
38. Bouncing Spider Craft
Speaking of things that bounce, are your kids a lot more into crafts that have a little bit of movement and action to them? These things are popular ideas in our house because not only do they get the fun of actually making the thing, but they also get to play with it afterwards, meaning a single craft can keep them busy for hours on end.
That's a bonus for both them and us! This funny little spider craft from Jolie Art is made using construction paper or foam, bent pipe cleaner for the legs, and a set of googly eyes but, most importantly, it's also made with a piece of black elastic thread for the web.
If you hold the thread with one hand and give the spider a light tug with the other, it'll bounce on the elastic like it's skittering around!
39. Pipe Cleaner and Bead Spiders
Is the part of the crafts you've seen so far that you picture your kids enjoying most actually the part where they get to bend and mould a shape? Our kids love doing that too because it makes them feel like they're actually building the final product from their own imaginations.
They're particularly huge fans of this kind of craft when the finished product can stand up! That's why we love helping them make these funny little spiders so much. Preschool Education for Kids shows you how to bend and mould some fuzzy Halloween coloured pipe cleaners to make a spider shape and also how to string beads along the legs to give the spiders spooky markings.
40. Paper Plate Spider Webs
Have you been trying to teach your kids the fine motor skills involved in sewing and embroidery in hopes that one day they'll love more detailed crafts like needlework and cross stitching as much as you do?
In that case, this paper plate spider web idea from No Wooden Spoons will serve a dual purpose for your family! Besides letting your kids building their own cobweb featuring a spider smack in the middle, it'll help them learn how to thread yarn through the holes to make a pattern in the centre too.
41. Paper Plate Handprint Spiders
Do you love the crafting idea we just described above but the only material you're missing right now to make it happen is the plastic spider, and your kids want to make that craft today? Then maybe it would be more fun to let them get a little bit messy in the spirit of Halloween, while also still getting to do the threading they want to get their hands on!
 I Can Teach My Child shows you how to make a very similar yarn and paper plate web but, instead of cutting out the middle of the plate and adding a plastic spider later, they suggest making painted handprints on the middle, turning those into your spiders, and threading a yarn web around, across, and over top of the spider to create a cobweb effect.
42. Spider Rice Crispy Treats With Pretzel Legs
Maybe the kind of DIY project your kids like helping with most is the kind you'll make together in the kitchen! This one certainly isn't an idea we'd let our kids do on their own, since you will be using the stovetop, but they're absolutely the kind of snack that your kids will love helping you put together! 
Toddlerapproved shows you how to make cocoa puffed rice squares but in a circular shape, adding pretzels and eyeball sprinkles while they're still warm to create little edible Halloween spiders.
43. Handprint Spider With Glitter Glue Web
Did you love the handprint spider idea but you're not sure your kids would do well with the yarn threading aspect of that craft? Perhaps they're still just a little bit too young for that part of the whole idea. In that case, check out this alternative version from Preschool Crafts 101!
They suggest simply drawing out the shape of a cobweb around the spider instead, but using silver glitter glue so it looks like the spider web is gleaming in the spooky moonlight.
44. Man-Eating Toilet Paper Roll Spider
Are your kids the kind of Halloween enthusiasts who are intent on making sure their Halloween crafts are actually spooky and not just cute kiddie versions of the spooky things they'll see in scary movies when they're older? In that case, we have a feeling they'll prefer something like this "man eating" spider from Molly Moo Crafts!
This one's a simple make using an empty cardboard toilet roll and, some pipe cleaners, and some googly eyes, but our kids couldn't stop laughing at the way a little figurine fit right inside the spider's cut mouth, like it was eating anyone who crossed its path. They played with theirs for hours when they were done crafting!
45. Mini Egg Carton Spiders
If you're going to have a series of simple "crafternoons" with your kids, would you prefer to make sure that the supplies you're using are an upcycling or repurposing opportunity on top of a health use of time?
We love crafts like that because they help us accumulate DIY tools naturally rather than going out and spending more money on things we don't necessarily need at craft stores. This adorable little bouncy spider idea from Find Craft Ideas is the perfect example of what we mean because it's made from a cut section of an empty egg carton. Paint it black, add some pipe cleaner legs give it some eyeballs and fangs, and voila- a spooky spider!
46. Yarn Woven Pipe Cleaner web
Perhaps your kids are ever so slightly older and they've actually been looking for crafts that are a little more complicated and let them do things like weaving, bending, and embroidering with yarn? In that case, this awesome handmade spider web idea from Easy Preschool Crafts is probably the best bet for them!
This tutorial shows you how to make a frame for the web from pipe cleaners and then how to weave the actual webbing from yarn wrapped around and around the frame pieces. We love the way they added a pipe cleaner spider too!
47. Balloon Wrapped Spider Web Mobile
Perhaps it's a rainy weekend and you're looking for a craft that requires a little more of a time investment so your kids have more to do… but you still want it to have a spooky Halloween theme and you know your kids just want to make spiders? In that case, we think we've found just the project for you! 
Keeping Up With the Craft Moms guides you through the process of making a yarn wrapping mobile around a balloon, popping the balloon, and adding DIY spiders to the dried frame so it looks like a rounded web. Hang it in the window for all to see!
48. White Glue and Glitter Spider Webs
Were you a big fan of the glitter glue cobweb idea but your kids are a little older and you know they'd rather make their own web from scratch, rather than simply squeezing some glue onto a page?
Well, thanks to this tutorial from Woo!, you can show them how to get a very similar effect but in a way they'll get a lot more entertainment out of! Create the web shape you want on a piece of wax parchment paper and sprinkle loose glitter over it while the glue is still wet.
Once the glue has dried, carefully siphon off the glitter than hasn't stuck (save it to use later) and then peel your new web slowly off the page! We like leaving these on flat surfaces like side tables or hanging them in windows and doorways. Our kids have made them in all different colours!
49. Cardboard Water Spout Spiders
The tale of the Itsy Bitsy spider might not be an exclusively Halloween story, but making a drainpipe spider of your own with your kids can provide days of entertainment and hey, a spider is a spider, right? 
Nature Loving Kids shows you how they created this funny little egg carton and construction paper spider on a string "web" that threads through a cardboard tube. Pull the top to make the spider get closer to the "water spout" and let it go to make the spider come rushing out.
50. Easy Stone Spiders
Perhaps you've already got some paint, glue, and random crafting supplies like googly eyes, but you're low on spider-making essentials like pipe cleaners and you don't have time to go buy any?
In cases like that, we always do what Uno Zwei Tutu did here and turn to our garden or our back yard to see if we can find natural supplies instead! They show you how to make funny little spiders from rocks and sticks that have been painted, glued together, and topped off with funny googly eyes.
Conclusion
All things considered, there are numerous spider-themed Halloween crafts you could try this year if you're a fan of spiders and feel like you're running out of ideas for turning your house into an actual den of horrors. If you're really into the whole spider aesthetic, feel free to use as many crafts and decorations in this guide as you possibly can.
We've tried most of these crafts for ourselves, and we can ensure you that they're not complicated at all, which means you'll have plenty of time to prepare an awesome party (if you're the host) or work on your horrific costume (if you're attending a party) without compromising on decorations.
Last but not least, whether or not you can pull off some of the more complicated crafts in our guide, remember that Halloween is about having fun in the first place. Our advice? Just go with it, either way, even if your spider cookies look like something went terribly wrong in a top-secret lab experiment. Your guests won't mind it, and if you keep the lights dim (like any reputable Halloween-party-hosting location), your decorations will undoubtedly be a blast!
The post 50 Spooky Halloween Spider Crafts, Decorations & Cookies appeared first on DIYs.com.