Click here to read 40 Easy Apple Activities for Kids to Experiment, Create & Learn on Hands On As We Grow®
---
It's apple picking time which also means its time to share some simple and fantastic apple activities for kids!
Yes, there's also some pretty darn cute apple crafts you can do with the kids.
But this list is compiled of just activities that use actual apples in them!
Stock up this season and have fun with it!
We have a nice apple tree in our backyard, as well as at Grandma's house, so we get lots and lots of apples! But don't nearly get through them all every year.
This year, I'm bummed. We are in the midst of a big backyard and garage project and the big machines knocked the apple blossoms off the tree! So we don't have any apples…
So we'll be heading to Grandma's house to do some of these crazy apple activities!
I never knew there was so much kids can do with real apples!
Doing simple seasonal fun things with apples. Learning and experimenting with apples. Cutting them open to see what's inside (and what to do with them!)!
I've found tons of apple activities for kids to do!
Plus, I even included some fun and easy apple treats at the end!
You'll want to make those with the kids for another activity! The kids will love to taste what they made.
These are all apple activities using real apples.
Here are my 40 apples activities for kids to do!
What's coming up next? Activities using pumpkins!
Just Plain Fun Apple Activities for Kids:
First off, we're just going to have some fun with apples!
If you haven't gone apple picking or bobbing for apples its a must!
But definitely take a look at the amazing apple puzzle idea, its my fave!
Add a Learning Twist in Apple Activities for Kids:
Don't just stop with the fun, add in some of these learning apple activities and the kids won't even notice!
Apple printing is a classic, but add in some patterning or learning the letter A, and you'll be set!
The Insider Scoop of Apple Activities for Kids:
Okay, now its time to cut open the apples and see what's on the inside!
Investigate why apples turn brown.
Have you ever seen the apple star?
But be sure to add in some toothpicks and start building, another fave of mine!
Apple Activities to Apple Treats:
Lastly, let's eat the apples after all the fun!
Include the kids in baking and cooking these apple treats!
They'll think they're even more delicious if they took part in preparing them.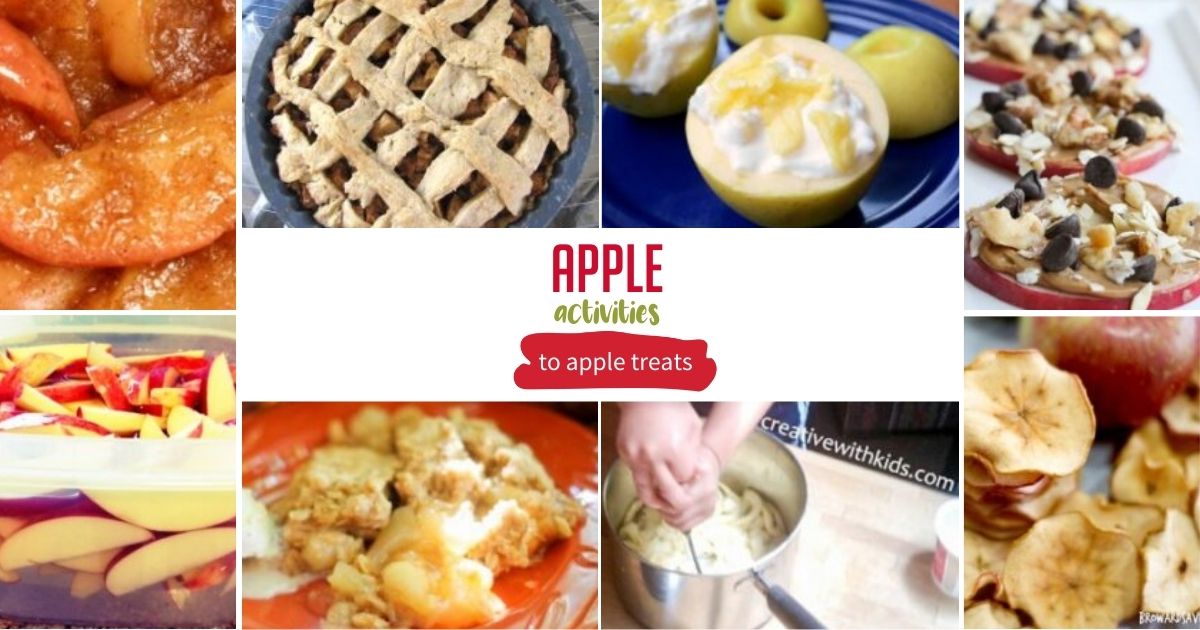 So many apple activities for kids! What's your fave?
These apple activities for kids also means that its the beginning of the fall season!
Here's some of my favorite fall posts for you to enjoy:
Pin these apple activities to save for later:
What are some of your favorite ways to have fun with real apples?
Share some of your ideas or go to activities for Apple season in the comments. We love to hear from you!